Discover
Radiant Whispers
Claim Ownership
Author: Gabriel Porras
Subscribed: 3
Played: 122
© All rights reserved
Description
All we have to comfort, guide us and sustain us in this straggling path called life are the radiant whispers that we grasp as a distant "sunrise of wonder" in our spiritual practice, in great works of literature, music, art, and in nature and blue skies. These are the Radiant Whispers. That's what this podcast is about. We will talk about culture and society, about ancient and modern history, literature and art with dramatized readings of poetry, fables, theatre, novels and stories. Subscribe -let's find radiant whispers everywhere.
Did you know human voices are travelling in interstellar space right now, beyond the confines of our Solar System? This is a fascinating story of human achievement and endeavour, and a tribute to the unique power of the human voice, "our exquisitely individual and intimate footprint in the universe".
Demosthenes Howls At The Sea by Gabriel Porras
At the beginning of chapter VII of his seminal work The Republic, Plato talks of a group of people who live in a cave, enslaved with chains around their neck and feet. They have never left the cave; the dark and humid walls of the cave, and the stale air inside, are all they know and breathe. They have never seen the outside world; all that their eyes ever witness are the shadows cast on the cave wall by a bonfire that burns behind their backs. Join me as we ponder on this beautiful allegory of life, knowledge and enlightenment.
Three of my favourite poems from Neruda's luminous collection Elementary Odes. Enjoy!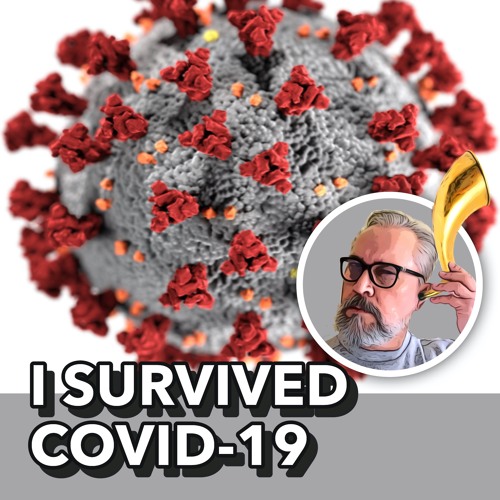 I survived COVID-19
2020-05-2919:11
1
I'm one of the blessed ones who survived the coronavirus attack. What brought me through that problematic trance, and what lessons did I learn? I share everything here with my best wishes. Credits: Written, presented and mixed by Gabriel Porras, professional voiceover artist Music: SIHOUETTE OF TIME'S IDEA, by Mid-Air Machine at www.freemusicarchive.org SOFT SHINE ON pad by Mike Russell at MRC.com HORIZON, by Josh Leake at Artlist.io
This is the Easter story: the last days of the most influential character in history, narrated with masterful detail and emotion by the Greek physician Luke, in chapters 22 to 24 of his Gospel. A dramatized reading in contemporary English that brings to the text nuances and drama that you may not have noticed before. Whether you have read it many times, or never, take this opportunity to remember -or discover for the first time- the meaning and significance of Jesus' last days on Earth. Credits: Written, presented and produced by Gabriel Porras Music: SIHOUETTE OF TIME'S IDEA, by Mid-Air Machine, www.freemusicarchive.org PURIFY, by Michael FK at Artlist.io DON'T LEAVE ME, by New Beginning at Artlist.io Text: The Message (MSG) Copyright © 1993, 2002, 2018 by Eugene H. Peterson
Do you ever feel so lonely and sad that you don't know where to turn? In moments like these, the best medicine the world can offer you is not money, sex or power, but love - a single compassionate person who'd be willing to listen to you. Today we read a moving story by Anton Chekhov that illustrates the anguished yearning we all sometimes have to speak to someone. The story is entitled Misery, and it takes us back to an old St. Petersburg covered in snow. Enjoy!
The Desert Oddysey
2019-12-2819:26
1
Do you know what happened to Joseph, Mary and the baby Jesus right after Christmas? They all became refugees. They were already dirt poor and homeless; now, they also became fugitives. Today we do a very different take on the Christmas story. God is in great mortal peril. Joseph and Mary – two kids who are barely 18 and 12 years old, most likely – have to cross six hundred miles (one thousand Kms) of lethal desert to save baby Jesus from the tyrant who wants to kill him. Incredibly, astonishingly, God incarnate put himself under enormous peril every day He spent among us on Earth.
Noah's Ark
2019-11-2735:47
1
Did you know that there are dozens and dozens of stories of a great flood in the most diverse and disparate cultures, from Japan to the Maya, from Babylon to Polynesia, from the Eskimos to the Australian Aborigines and Africa? Noah's Ark is the story of a vast ecological catastrophe caused by human blindness. Do you think this may be a relevant story nowadays? I believe it could be the most compelling and urgent story for our time, and I hope you'll agree with me once we read it together today.
Buenos días and welcome back to Radiant Whispers! Today it's all sheer fun and wild imagination with the big and spiky Roald Dahl, surely one of the most beloved writers of all time. And rightly so - who hasn't been thrilled, amused and delighted by his stories? They're just so quirky, vibrant and delightful that they stand on a class of their own. Dahl is one of those geniuses that are so ahead of the game that everybody else -Hollywood included!- is out of breath trying to catch up with them. You must have read or seen the movie and/or theatre adaptations of The Gremlins, Charlie and the Chocolate Factory, James and the Giant Peach, Fantastic Mr Fox, Matilda and of course The BFG - the story we read together today!
Juan José Arreola is one of the greatest Latin-American writers of the XX Century, one of the first to dare to abandon realism. This is how Professor George D Schade introduces Juan José Arreola and Bestiary, his "Book of Fabled Beasts": Arreola jabs at complacency and ruthlessly exposes pompous and hypocritical attitudes. He takes a depressing view of most human relationships, and in a large number of his stories and satires he chips away at love and its illusions… Whatever the subject of his satire, Arreola most often achieves his effects by a deliberate jumbling of phantasy and reality, a mingling of the logical and the absurd, a blend of imaginative frivolity and Orwellian grimness. (…) One of the most ingratiating and delightful parts of Arreola's collected works is his "Bestiary," consisting of twenty-six brief sketches. Here Arreola harkens back to that form which was so fashionable in medieval times with moralists and allegorizers, where certain virtues or characteristics were popularly attributed to certain beasts, real or imaginary. All of Arreola's beasts are real, their humanlike foibles and defects uncomfortably real too. Though Arreola's general outlook and some of the details in his bestiary will probably horrify the overly sentimental, still there are lyrical and poetic touches to offset to some degree the refined savagery of his satire. CREDITS Translation: George D Schade for the University of Texas Press Music: "Sihouette of Time's Idea" and "Roar of the Wild", by Mid-Air Machine, from their album So We Telepathy: freemusicarchive.org "Tu Enamorado"por José Alfredo Jiménez, arr. José Luis Espinosa V.
The Song of Wisdom is one of the oldest poems in world literature. It ponders how men are willing to face indescribable risks to descend into the bowels of the earth in tiny baskets or flimsy ropes to find treasure in hidden places that not even the penetrating gaze of the falcon will ever see; where not even the fearsome lion would ever dare to enter. Human beings will face any danger, overcome all fears and defy the most harrowing darkness in search of riches… but wisdom - which is the greatest of all trea
Today we open our space to a brilliant Franco- Argentinian writer: Julio Cortázar. We listen to one of his most celebrated stories, inspired by one of the most beautiful and enigmatic amphibians on Earth: the tiny Axolotl. Axolotl is a meditation on that mortal danger that loneliness is for us human beings. We see a lonely man disintegrate; we are witnesses to the way loneliness, the lack of friends and relationships that keep us mentally sane, can precipitate us into a pit of alienation when we lose our sense of identity and only our ghosts and the voices in our mind seem real.
The story we read today is by a true giant of Latin American and world literature, the Argentinian Jorge Luis Borges. The Circular Ruins is a masterpiece of fantasy literature, and deals with how dreams are manifested in reality… Borges' launching pad is a passage from Through the Looking-Glass by Lewis Carroll in which Tweedledee draws Alice's attention to the sleeping Red King, and claims that she is nothing but a character in the King's dream.
The story we read today takes us back to the mythical city of Babylon, that great capital on the banks of the Euphrates, acclaimed for those legendary hanging gardens that were one of the seven wonders of the ancient world. The prophet Daniel was transported there as a prisoner when he was only 12 or 13 years old, after the fall of Jerusalem to the Babylonians, in the year 587 BC, at the end of a terrible siege that lasted two years. His remarkable intelligence and supernatural gift to interpret king Nebuchadnezzar's strange dreams will open the way for him in his new city, Babylon, where decades later, being at the peak of his power and influence, he is betrayed and thrown into the lions' den.
Today I will read you a perfect story by the Portuguese José Saramago. Saramago won the Nobel Prize for Literature in 1998, after the publication of his novel Blindness, which is the most disturbing dystopia I have ever read. I promise you that all those apocalyptic TV series and movies that you've seen, where life in the future becomes impossible for the protagonists, pale before the stark but frighteningly real and credible world that Saramago manages to create. And he does not resort to any easy trick, like a Martian invasion or a nuclear war. In Blindness Saramago explores just one simple premise: what would happen if suddenly ordinary people like you and me went blind. It is something very chilling and devastating. But fear not, for the story by Saramago that I present to you today is light and charming like a breeze of fresh and invigorating air to help us fall in love with life. Two phrases -which will appear in the story- are the Radiant Whispers that will remain in our minds and in our hearts after reading the Tale of the Unknown Island. The first: "If you don't step outside yourself you'll never discover who you are." And the second: "That you have to leave the island in order to see the island; that we can't see ourselves unless we become free of ourselves. "
Today I am going to read you a fragment of an old text that is considered -and I quote- "one of the most noble works of world literature": the Book of Job. This is the story of a very wealthy man who lived 3,000 years ago, in the Bronze Age (the days of King David and King Solomon, the Iliad and the Odyssey 3,000 years ago)... The Book of Job is so splendidly well written that many experts place it on the same exalted plane as the works of Aeschylus and Sophocles, Dante, Milton and Goethe. Tennyson claimed that the Book of Job is "the greatest poem of ancient or modern times." Clearly a masterpiece, then.
Today I have the pleasure of reading you a story by the great Uruguayan writer Mario Benedetti. It is a great example of Benedetti's genius to create in just four or five pages a world of great emotional intensity. I sincerely hope you enjoy it as much as I have enjoyed recording it.
Today we talk about the thorny issue of identity and race in Latin America. In 2019 we remember 500 years since the beginning of the conquest of America at the hands of the Spanish conquistadores, and the new Mexican government is demanding from Spain today an apology for the events that occurred 500 years ago...
Today I'm reading you a text by the brilliant GK Chesterton, he of The Adventures of Father Brown and a great metaphysical thriller entitled The Man who was Thursday. Chesterton's prose and thought are dazzling, so you have to take it in little sips, often gasping with open mouth, because his mind is full of light and colours. The passage that I am going to read to you is from the last chapter of Chesterton's Autobiography, and it talks about deep, transforming gratitude...even for those little Dandelions that we blow and trample in the fields without ever paying them any attention or respect.
United States