Discover
5 Minute Networker
Claim Ownership
This week we focus on Job Seekers and finding referrals through a solid long-term networking strategy. Below are some resources that will hopefully be beneficial for those looking for employment or a change in their current career. Alberts List- https://www.eventbrite.com/o/a-list-sf-27381400441SmartSelling.Guru- https://smartselling.guru/for-job-seekersCareer Actions Ministries- https://www.careeractions.org/San Jose Library Works- https://www.sjpl.org/about-sjpl-works
Goal setting is very important in life overall. It is also very helpful when it comes to your networking process! How many events will you attend next decade? How many contacts do you want to make? These are questions you should have answered going into 2020!https://www.facebook.com/events/496921097575482/ Link to Networking Workshop in January.
One of the most important aspects of networking is understanding who you are, what your value is and clearly communicating that to others! This week, we start looking at understanding who we are as a tool to network better. I hope everyone has a Happy Thanksgiving! For a list of upcoming events, please visit Https://www.facebook.com/pg/SpeakerDees/events
Networking can be a grueling process for introverts! Take some of the pressure off of yourself by connecting before an event and performing a couple of activities that can pay huge dividends! I give you 5 tips that have helped me be successful with business networking.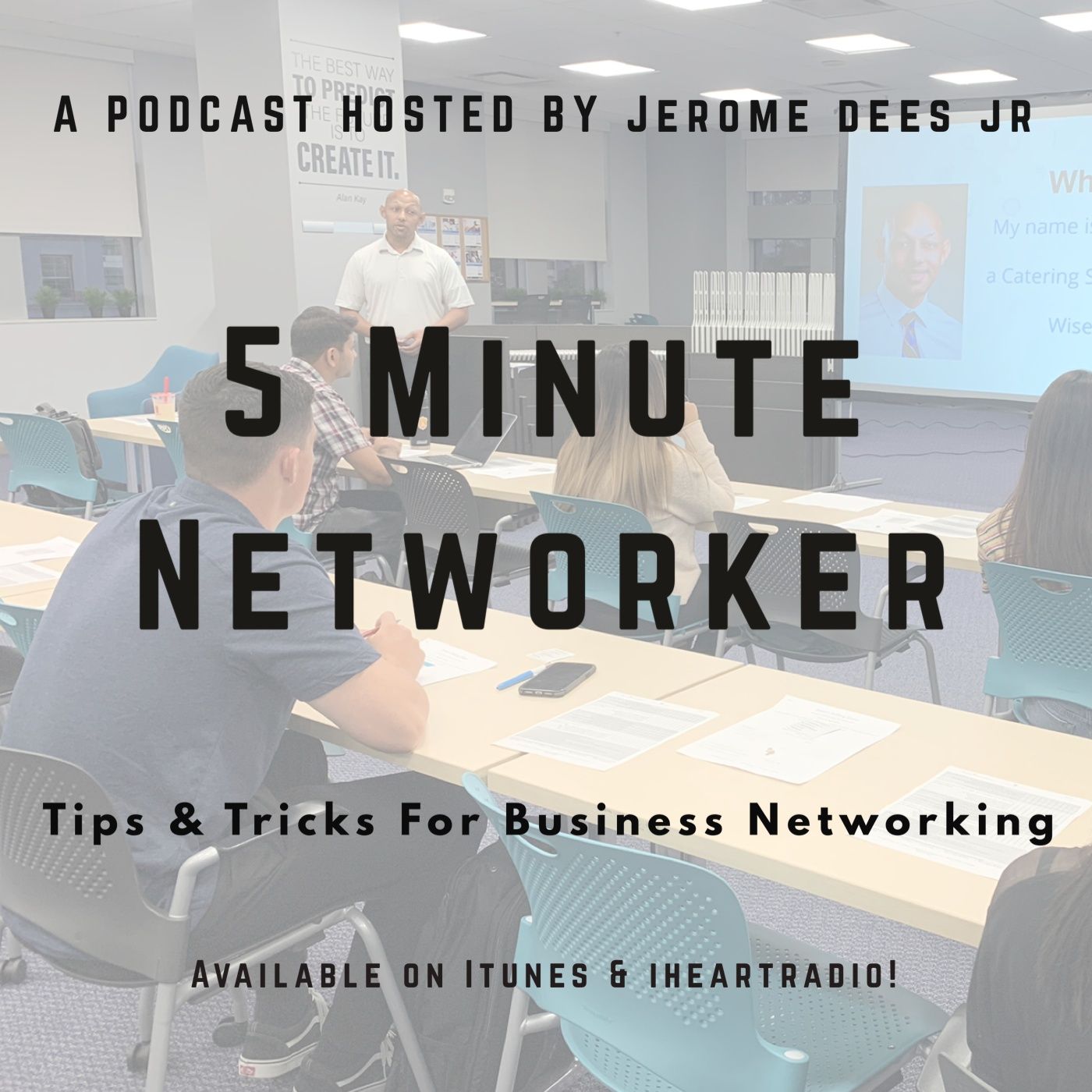 This week I share a few events I have coming up and challenge you to show appreciation to contacts you have on LinkedIn who have impacted your life! Sorry about the abrupt end to this weeks podcast... you will see what I mean :)
What if you found out that the way you are introducing yourself is what prevents you from creating deep connections with others?! Wouldn't you want to learn a better way? A simple tweak to your introduction can make all of the difference in the world. This week we look at an introduction technique that has worked very well for me over the past 5 years!
This week I discuss 5 ways to help build trust through Networking! I also have numerous local events over the next few months, so don't miss an opportunity to come out and join myself and others as we learns to network, sell and understand our true value!
The best way to keep networking simple is to focus on the basics. In working with a high school student who is with me for a summer internship, I have identified 5 things that can go a long way in helping you see amazing results from networking asap. San Jose Library on August 14th, Mountain View Library on August 22nd The Los Altos Chamber of Commerce on September 12th. Instagram & Twitter: @vicepresdees SmartSelling.Guru
We never know how what we do can influence the lives of others. Both directly and indirectly, we have the potential to make a huge impact on others and the world in general. This week I remind you to revisit those who have impacted you and do something to return the favor to others in your network.
Apologies for the sound quality this week as I am recording in Nashville TN! This week I share about a conference I am speaking at, update on my networking book and outline my Cafe Au Connection program. Upcoming Events:June 4th- Nashville TN- Takeout SymposiumJune 10th- Online- Introduction To Networking June 12th- San Jose CA- Intro To NetworkingJuly 10th- San Jose CA- Intro To Selling WorkshopAugust 14th- San Jose CA- Intro To NetworkingAugust 22nd- Mountain View, Ca- Intro To NetworkingSeptember 12- Los Altos CA- Speaker Series5 Minute Networker: Business Networking Simplified will be published this summer!
This episode I share my experience speaking at 2 conferences last week (CaterUP2019 & The 82% Micro Business Summit), I let you know what the second most used search engine in the world is and I give you a great tip for increasing your visibility after you attend an event! Came in a little over 5 Minutes this episode, but that extra 60 seconds is worth the time investment!
Notes from the Golden Gate Restaurant Industry Conference and The Foodservice Packaging Institute Conference. I also share that the location for an event can make all of the difference! As always, we aim to accomplish this in 5 minutes or less!
I give a brief updates on my progress with the 4x4 challenge and some quick notes about the SVO Annual Member Celebration and the 1 Year Anniversary Celebration for Pascal Chiropractic. As always, these items are covered in 5 minutes or less!
Networking can be Terrifying! I give you 5 things to start doing today to make it easier. I also challenge you with a challenge to meet new people and strengthen current relationships. As always, we strive to do this in 5 minutes or less!
Last week I spoke at a career fair in partnership with Albert's List and the University of Phoenix. I also attended a few events and have some reminders for you in how you should and should NOT present yourself. As always, covered in 5 minutes or less.
This week I share how being unselfish with networking led to a great career and remind you that TLC was right all along. As always, we strive to get this done in 5 minutes or less!
This week, I see how we are doing with flexing our networking muscles and I ask the most important questions when it comes to networking "why should they care"! As always, this is accomplished in 5 minutes or less!
This week, I share an experience from a networking event, drop a recommendation for the restaurant NOLA in Palo Alto (hope they see this and offer me a free meal lol) and I remind you to flex your muscles! As always, this is accomplished in 5 minutes or less!
To have great conversations at networking events, you must have the right mentality! It also can't hurt to have a few proven strategies to pull from. This episode explores listening, understanding, including others and a slightly different view of how to network. All of the above is reviewed in 5 minutes (and change this week).
This week I challenge you to look at your confidence level & ensure you present someone that others want to meet and connect with. As always, this is accomplished in 5 minutes or less!
United States