Discover
Curio Podcast
Claim Ownership
A chat about day one of Trump's impeachment trial. With drinks.
Have you ever wondered how trends, ideas, behaviors spread through society? We talk about The Hundredth Monkey, The Woozle Effect, The Tipping Point and more. Ep76
A sort of year end review with wine. Our friend Lou joins us as we throw a uterus around and learn that Kim's cousin is a world famous photographer and she never told Cass. Ep75
Ep74 Kim and Cass attend the Los Angeles rally the night before the impeachment vote. Clips from speakers include Katie Hill, Alyssa Milano, Rob Reiner, and Rev. James Lawson.
Protest
2019-12-1100:59:23
We talk about successful protests through history, current activist movements, and things we all can do to make the world a better place. Know your rights! CurioPodcast.org
Game night! Tonight we play Who Said It and Bad Libs with some despicable republican personalities. It's funny and sad. But what are we supposed to do, revel in the angst or laugh a bit? In this episode we choose laughter.
In episode 71 we get grateful. The how and why, health benefits, societal benefits, and some personal stories. Blog at curiopodcast.org
Salvaging American Democracy From the Dimwitted Narcissists at the Edge of the Earth. We invent a new drink called a Masha, in honor of the amazing Marie Yovanovitch and talk thru the week that was...
So. Many. Superstitions. From black cats to sneeze salutations, we are steeped in them for good or bad - or maybe just for fun. Most of the superstitions we share are bits of ancient lore passed down to us from our parents who learned them from their parents who's grandparents learned them from their parents who, well, you get it.
Awe, sounds so romantic, huh? A ménage a trois of evil functionality. It works for the greedy and depraved but everyone else gets screwed.
Nanny joins us as we try to figure out the biology and psychology of fear. Show notes at CurioPodcast.org
We're baaaaaaaack! Cass and Kim share stories about their traveling adventures. It was a nice break from the political poop storm in America but we talk about that too. Cass makes up another cocktail that we're calling Wanderlust: one part vodka, one part gin, one part lemon Italian soda, mint, lime, and ice cubes made with lavender and mint.
Ep65 is a dive into the history and mechanism of impeachment. And name calling. Show summary at curiopodcast.org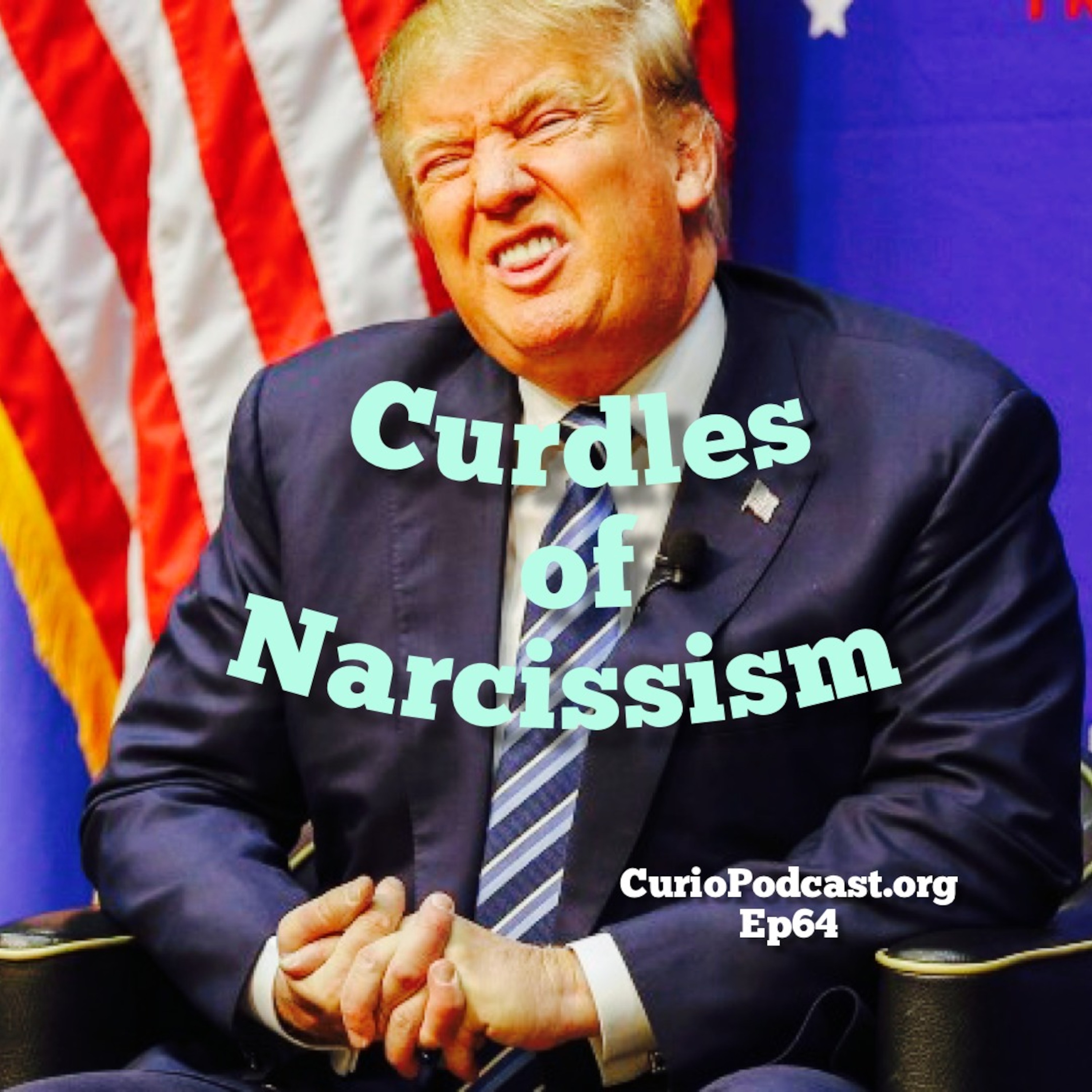 Or How to be a Narcissist by Donald J. Trump. We explore narcissism personality disorder, and then play Bad Libs to soothe the pain. Kim writes a brilliant, really the best, Yuge mad libs in the voice Trump. Nobody's ever seen anything like it! Check us out where ever you get Very Good, actually the Best Podcasts. Better than anywhere else, better than Sweden. They love us there but their golf courses...eh not the best.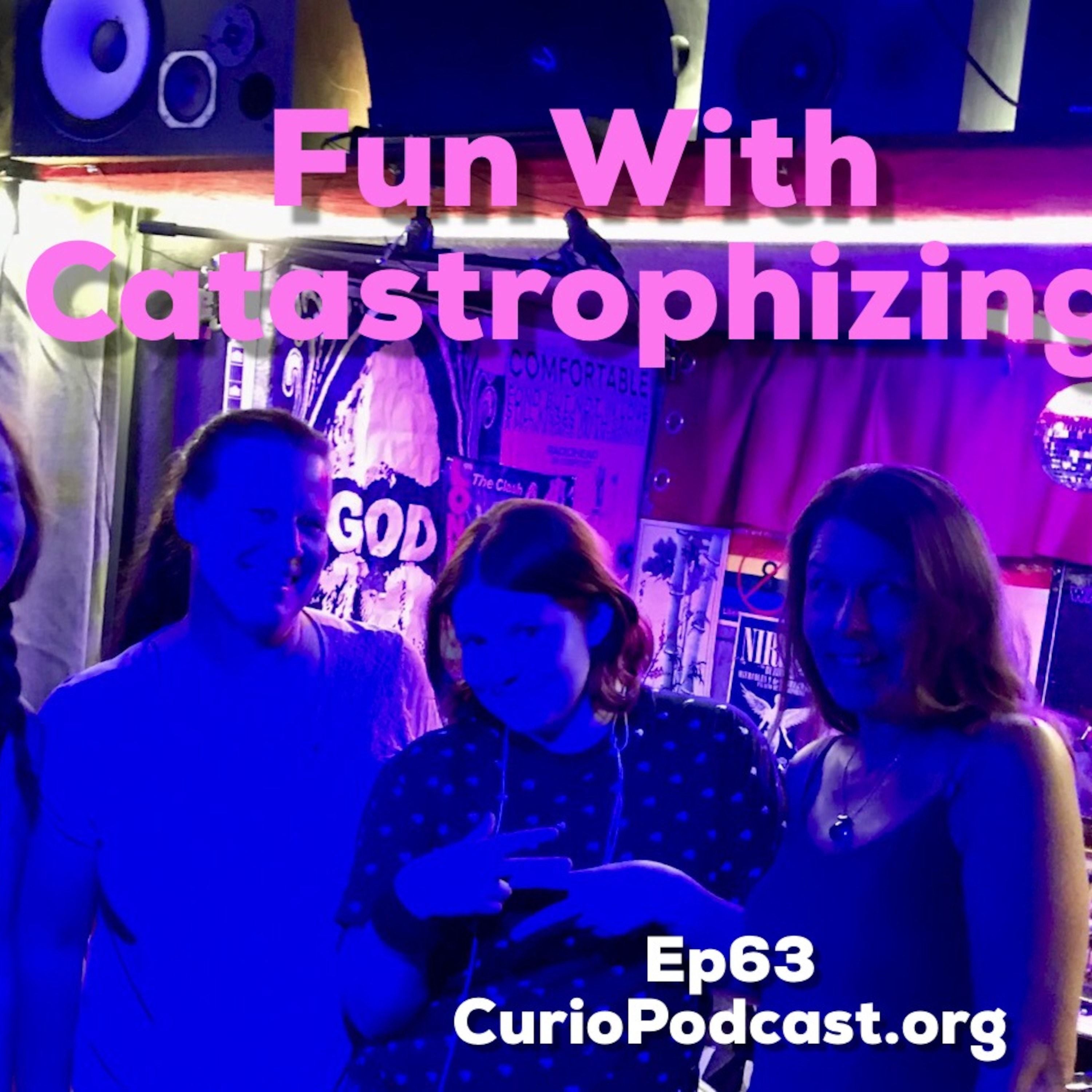 Ep63 - We are joined by our friend Beck and her daughter Abi to play a little game of real life Worst Case Scenario.
We had such a great time talking to Digger that we made two episodes! Continuing from part one, #metoo, vegetarianism, the bus ride from hell, and boobs in bikinis.
Our old friend Mike joins us to talk travel, culture, food, hitchhiking and more. Also, Kim coins the term Snowglobe Feces Festivals. Wine.
The forest is essential to life on earth, and as it turns out, really important for human health and happiness. Join us as we declare our love for trees (backed by SCIENCE!) Blog at curiopodcast.org
A Journey With Wine and Cake; we discuss the recent mass shootings and how it is intertwined with white nationalism and Trump's racist rhetoric. It's also Kim's birthday, and she encourages us to keep hope during this dark time.
Ep59 Beck joins us in studio to talk about what was stupid last week. With Vodka. Please see CurioPodcast.org for show notes. Music courtesy of Altadena Hotel (Quinn)
United States