Discover
DC on SCREEN
Claim Ownership
DC on SCREEN
Author: David C. Roberson and Jason Goss
Subscribed: 272
Played: 12,593
© Copyright David C. Roberson and Jason Goss
Description
The podcast that discusses and supports the DC Comics multiverse on film and television, gives honest opinions about projects upcoming and past and believes that every version of a property is valid – even if we don't want it to be. If it's been released, it's fair game, so beware of spoilers!
We have Ray Fisher updates, Flash restarting everything, and what we thought of DC FanDome Day 2!On this episode: Ray Fisher Says The Investigators Are Cherry-Picking |Jason Momoa and Kiersey Clemons Stands With Ray |DC FanDome Might Have Revealed the Official Justice League Snyder Cut Title |Junkie XL Previews New Justice League Theme at DC FanDome |Wonder Woman 1984 Delayed Until Christmas |Margot Robbie Says There's an Insane Harley Quinn Sequence in The Suicide Squad |Oh, No! Kevin Feige on a DC Set! |Unexpected Villains for the Sequel to Shazam! |Shazam Sequel Brings A Family of Superheroes |Black Adam Producer Sets Up Crossover Showdown With Shazam! |When The Rock Begins Filming |The Flash Producer Wants a Flash & Wonder Woman Team-Up Movie |The Flash Movie Restarts Everything, Features a Lot of DC Characters |Doom Patrol Gets Season 3 and Big News Coming for DC Universe |Titans Showrunner Says Season 3 is More Optimistic |Stargirl Showrunner Teases Grundy, Eclipso, and More in Season 2 |The Flash Showrunner Continues to Hate Spoilers Despite Spoiling Everything |The Flash Showrunner Says Season 7 Storyline Inspired by Recent Social Issues |The Flash: Carlos Valdes Says Cisco Is "Haunted" by Giving up His Powers |The Two Major Storylines of Batwoman Season 2 |Batwoman Casts Shivaani Ghai as Season 2 Villain Safiyah Sohail |Superman & Lois Creator Details Lana Lang's Role in the Series |Superman to Get New Suit, Son |Legends of Tomorrow Casts Lisseth Chavez as New Season 6 Character |Pennyworth Season 2: DC FanDome Panel Reveals Baby Batman Is Coming |Young Justice Season 4 Title and Key Art Revealed |Gotham Knights Team Addresses Approach to Costume and Character DLC |Thoughts on the End of 5G |What We Would Do Differently Next FanDome |
On this episode:DC Fandome Has 22 Million in Attendance! |Batman: The Animated Series is 28 Years Old |DC Hires Daniel Cherry, Former CMO of Activision, As New General Manager |Ray Fisher Vs. The World (Except Jason Momoa) |Wonder Woman 1984 Runtime Revealed, but Could Be Delayed Again |HBO Max Debunks Zack Snyder's Justice League Release Date |The Suicide Squad: who is Nathan Fillion's TDK? |James Gunn Reveals The Inspiration Behind The Suicide Squad |James Gunn Pushes For Harley Quinn Season 3 |The Batman's Robert Pattinson Tests Positive For COVID-19 |Production Has Not Resumed |Christopher Nolan Confident in Robert Pattinson's Portrayal of Batman |The Batman: Jeffrey Wright Reveals He Didn't Recognize Colin Farrell As Penguin On Set |The Batman: Jeffrey Wright Says He Doesn't Think There's One CGI Image in Entire Trailer |The Rock and His Family Tested Positive for Covid 19 |Shazam! Fury of the Gods: Zachary Levi Confirms Plans for Early 2021 Shooting Start |Batwoman Stars Begin Production on Season 2 |Lucifer Season 5 Resumes Production After Coronavirus Shut Down |Lucifer Season 6 to be 10 Episodes
Ben Affleck is BACK as Batman! And he's joining Michael Keaton in the Flash movie! Jason and Dave get into that, DC FanDome trailers and news for EVERYTHING! Here's the breakdown:Where was Val Kilmer? Was he the secret panel that got shuffled? Where were the Green Lantern things that were teased? Is it a part of FanDome Part II?Will There Be More Elseworlds Movies Like 'Joker' and 'The Batman'? |Wonder Woman 1984 – Official Trailer | DC Fandome | https://youtu.be/A6RqXKeA26UMichael Keaton is in 'The Flash' |Ben Affleck is Returning as Batman in 'The Flash' |The Flash is a Time Travel Movie! |Concept Art Revealed! |The Suicide Squad – Official Cast Reveal Trailer | DC Fandome | https://youtu.be/p5npfFzwWqwThe Suicide Squad – DC FanDome Exclusive Sneak Peek | https://youtu.be/VImYeXnr13QAyer and Gunn Are Supporting Each Other, and That's Nice |The Suicide Squad First Death Predictions |Justice League Star Ray Fisher Updates on Investigations of Abusive Behavior |Justice League Launches Official Snyder Cut Twitter Account Ahead of DC FanDome |Zack Snyder's Justice League Trailer | https://youtu.be/z6512XKKNkUZack Snyder Says The Flash Will Debut New Power in Justice League |Justice League: Zack Snyder Considered the Beard and Mullet for Black Suit Superman |Black Adam: Official Teaser | https://www.youtube.com/watch?v=N73oTiIIJe0Shazam! 2 Title Revealed at DC FanDome |Shazam!: Fury of the Gods Stars Tease a Secret Cameo |Is Sinbad in the Film? |Aquaman 2 to be More Serious and Contemporary |The Batman Confirmed to Be Separate Universe From Justice League |The Batman Teaser Released for DC FanDome | https://www.youtube.com/watch?v=NLOp_6uPccQThe Batman to Resume Filming in September |The Batman Adds The Eternals and Dunkirk Star Barry Keoghan |The Batman Trailer Makes Nirvana's "Something in the Way" a Best Seller on Digital Music Stores |The Flash: Season 7 Trailer Released at DC FanDome | https://youtu.be/MRPSSVB4IIEElongated Man Takes a Break |How Elongated Man's Absence Will Affect One Character|Titans: Curran Walters to Become The Red Hood |Titans Announces Barbara Gordon Coming to Season 3 |Titans to Cast Scarecrow in Season 3 |Stargirl Showrunner Geoff Johns Confirms Series Won't Be Changed Despite The CW Move |DC's Stargirl Score Released |Astra Logue Coming Back for Season 6 of Legends of Tomorrow |Swamp Thing Premiere Date on The CW Announced |Krypton Season 2 is on DC Universe |Lucifer Tops Netflix Charts After Opening Weekend |Lucifer Finally Officially Releases Tom Ellis's Soundtrack Songs |Harley Quinn Producers Still Haven't Heard From HBO Max Over Season 3 Renewal |Harley Quinn Coming to Blu Ray |Batman: The Long Halloween 2-Part Animated Film Announced |Batman: Soul of the Dragon Cast Announced |Justice Society: World War IIWB Montreal has CONFIRMED it is NOT a Part of the Arkham Universe |Batman: Gotham Knights Trailer Released | https://youtu.be/IhVf_3TeTQEGotham Knights Gameplay Trailer | https://www.youtube.com/watch?v=IhVf_3TeTQESuicide Squad: Kill the Justice League Officially Revealed With First Trailer | https://www.youtube.com/watch?v=2EVFYstVuVkListener Feedback
Dave is joined by Matthew Carroll who reacts (and geeks out) to the DC Fandome Trailers for the first time on air!Wonder Woman 1984 trailer 2The Suicide Squad Cast Reveal and Sneak PeekZack Snyder's Justice League TrailerThe Batman Teaser Batman: Gotham Knights TrailerSuicide Squad: Kill the Justice League
We love Stargirl season 1. And we talk about that love, the adaptation of Infinity Inc, characters into live action, why Geoff Johns chose to play MmmBop by Hanson, and a lot more!
We loved Doom Patrol Season 2! Want to know why? Listen at your own risk!
Justice Con has happened.Check it out here: https://www.youtube.com/channel/UCmbXef0QoqdIfcXUMj_DD7A On this episode: Zack Says The Runtime Will be Longer Than 214 |The Snyder Cut is Separate From What We Now Consider The DCEU |How Snyder is Editing in Quarantine |Zack Revealed Black Suit Superman Meeting Alfred |Zack Snyder Reveals When Justice League Teaser Trailer Will Debut |Justice League: Zack Snyder Says Legal Issues May Force His Cut to Be Renamed |Zack Snyder Reveals When We'll Find Out if Justice League Is a Movie or Series |Zack Snyder Says He's Finishing the Justice League Snyder Cut for Free |Justice League Director Zack Snyder Refuses to Use Footage Shot by Joss Whedon |Zack Says The Whole Thing was Shot in Imax Ratio 1:43:1 |Zack Snyder Addresses Green Lantern's Justice League Debut |Zack Snyder Reveals If It Was His Decision to Leave Justice League |Batman v Superman Actor Jeffrey Dean Morgan on DCEU Return: "We'll See" |Justice League Star Ray Fisher Says Joss Whedon Is "Probably Scared" of the Truth Getting Out |Dwayne Johnson's Black Adam Production Reportedly Delayed Until 2021 |Black Adam Casts Noah Centineo As Atom Smasher Opposite Dwayne The Rock Johnson |AT&T Releases HBO Max Numbers |Birds of Prey Is Coming to HBO Max in August |Batman Movies Returning to HBO Max Next Month |Sandman Not Throwing Things Out |Netflix's The Sandman Series Aiming for October Production Start |DC Universe Ends Yearly Subscriptions |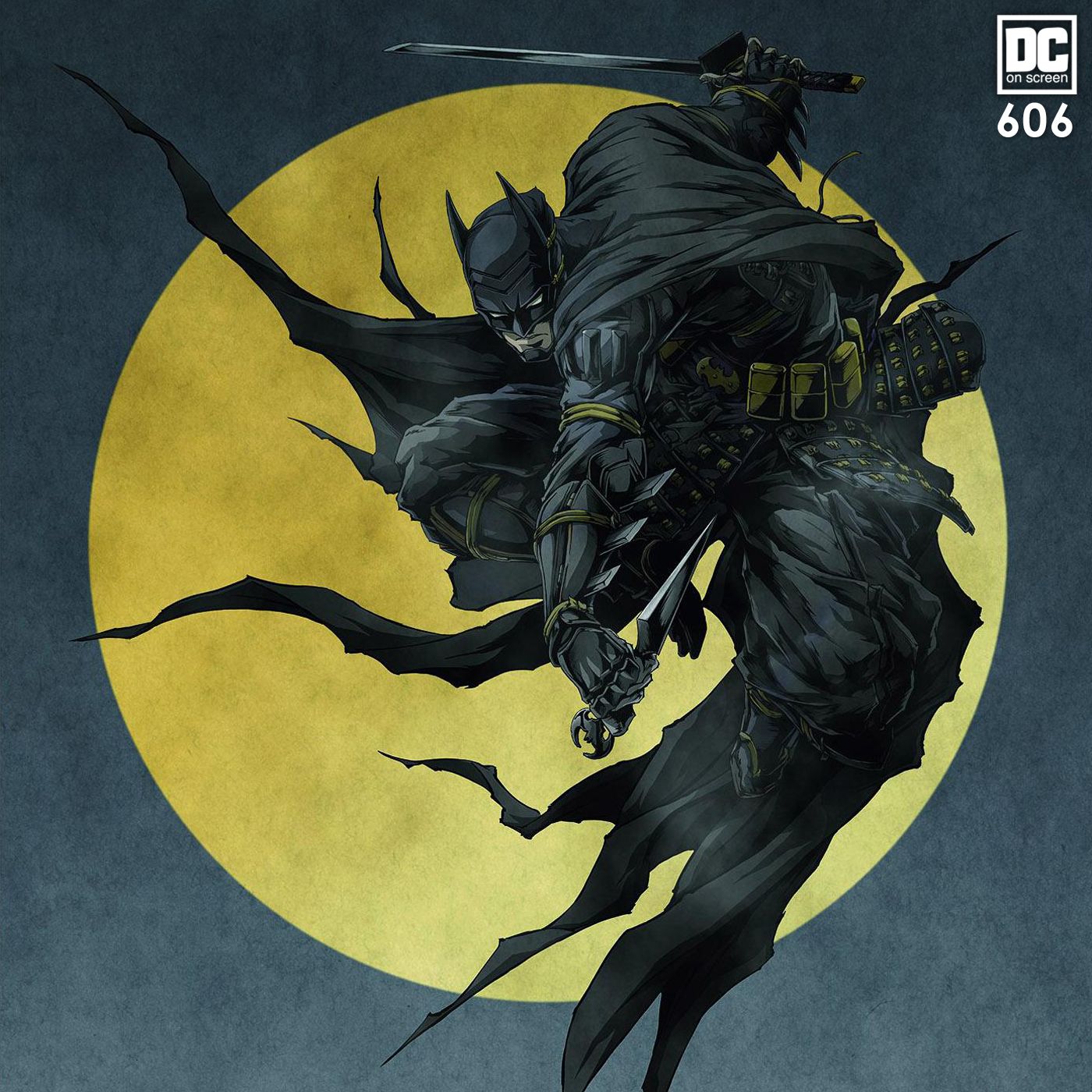 Dave and Christianna review the English-dubbed and Japanese versions of Batman Ninja! Start your quake engine and come with us on a journey to feudal Japan to ... well, we're not sure exactly... but there are cat puppets! The batmobile in a hut! Alfred brewing black tea from fermented green tea leaves! Bruce Wayne disguised as a western monk from a bat-based religious order! An unexplained bat prophesy that lets Batman have a ninja army he never really uses and a flute-controlled army of armored monkies fighting steam-powered robots piloted by Gotham City's greatest villains! So weird. But so cool-looking!Eastern Thought by Kevin MacLeodLink: https://incompetech.filmmusic.io/song/3692-eastern-thoughtLicense: http://creativecommons.org/licenses/by/4.0/
We love Harley Quinn Season 2, and we're having a great time talking about it on this episode!
Gross. Abusive. Unprofessional.
2020-07-1502:03:21
We stand with Ray Fisher.On this episode:* Ray Fisher Calls Whedon, Johns and Berg Out* Lots of People Back Ray Up* Zack Snyder Answers Justice League Questions on Vero!*HBO Max Has Replaced Theatrical BvS with Ultimate Edition*Henry Cavill Talks Crazy Rumors*The Batman to Have HBO Max Compansion Series About Gotham PD* Is There an Amazon Animated Series on the Horizon?*Avengers: Endgame Theoretical Physicist Consultant Working on The Flash*Batman Forever: The Ultimate Edition?*Ask Questions for Fandome!*Javicia Leslie Cast as New Batwoman*Stargirl Renewed for Season 2 on CW*Doom Patrol Has a Lost Episode?*Harley Quinn Coming to HBO Max *Neil Gaiman Talks Sandman for Audible and Netflix*Lucifer Season 5 Trailer*Listener Questions
With rumors rampant that Ryan Reynolds will return as the Emerald Knight in Zack Snyder's Justice League, Jason and I sat down and rewatched Reynolds' original 2011 adventure, reviewed it, then discussed studio shenanigans and a version of the script that wasn't shot!
Keaton Vs. Flashpoint Batman: Which do you prefer? Ryan Reynolds' Green Lantern seems to be hot on everyone's feeds these days! Is there something going on that we don't know? We also have every DC Film coming to HBO Max in July, plus Lucifer officially has a 6th and final season at Netflix!
Jason bids a fond farewell to a room that saw countless hours of Batman played and heard thousands of hours of podcasting for years before we ever hit "record." At the beginning of DC on SCREEN, there was East Forest. No matter where we go, how many more episodes of this podcast there are, or who we might become, a piece of that place comes with us.
We have viewed Legends of Tomorrow season 5! Now we shall review! Words are exchanged! Opinions proffered! Feelings! Expressed! Damn you, Klemmer! Give us back our Nora!
The Flash: Michael Keaton and Jeffrey Dean Morgan await at the gate! We also say goodbye to Joel Schumacher and are then joined by Scott McClellan (DC Films Squadcast), Effie Ophelders (Stealing the Remote), Chris Balga (World's Finest True Believers, Marvel Alliance), Brentacprime (Fans Without Borders, Marvel Squadcast), and Travis Hynes (Superhero Discussions, Super Civil Servant Podcast) to discuss our journey to 600 episodes, our common experiences podcasting in this fandom, our numbers through the DCEU tumult, where we're hoping to go, and what we're hoping to see. Come have a laugh with us!
We dig Batwoman season 1, but now that Ruby Rose and Kate Kane are exiting, does it even matter?This episode Dave is joined by Fans Without Borders and Marvel Squadcast host Brent!
This episode we're talking about Supergirl season 5 with some emphasis on the season finale!
Henry Cavill looks to be back for multiple DC films, Snyder's Justice League seems to need much more than $30 million to complete, plus our Lantern Spectrum alignment, and other listener questions!On this episode:*New Apple Podcasts Contest *HBO Officially Uses DCEU Designation*Henry Cavill Looks to be Back as Superman with Complications*Snyder's Justice League Will Cost More Than $30 Million*Henry Cavill May Need to Film Reshoots*More Knightmare Sequences Are Coming*How Snyder Influenced Suicide Squad*How BvS and Deadpool Changed Suicide Squad*Cathy Yan Knows Ayer's Pain*James Gunn Supports Ayer Cut*John Murphy is Scoring The Suicide Squad*Wonder Woman 1984 Pushed to August*WB in Talks with Margot Robbie About a New Harley Quinn Film?*The Batman Likely to Begin Shooting Again Soon*HBO Max DC Originals Will Have Much Bigger Budget Than CW Shows *J.J. Abrams Pitched Justice League Dark Himself *Doom Patrol Is Currently the Only DC Universe Series Moving to HBO Max *Supergirl Season 5 Is Now on Netflix *Lucifer Star Tom Ellis Officially Returning For Season 6 on Netflix *Must There Be a Superman?*The Truth About the Pipeline Toilets*Someone's Listening to All Our Old Episodes!*Brent Can't Refute Our Flash Opinions*What Spectrum of the Lantern Corps Do We Align With Most?*What Are the Weakest Seasons of The Flash*Should DCCW Lower Episode Counts?*Can Superman Beat Flash?*How Likely is Swamp Thing Season 2 on CW?*DC Band: Giving Our 4-man Line Up
The Flash: Season 6 is what we're reviewing in this episode! Get ready to hear us talk about what we liked and (oh-ho!) what we DID. NOT.
Zack Snyder's version of Justice League is being released on HBOMax! Can David Ayer's Suicide Squad be far behind? Where does this leave the DCEU? Plus, Ruby Rose has left 'Batwoman'! Where does this leave season 2? On This Episode:*Jason Eats Hat and Crow*A Special Ad From a Special Sponsor*Zack Snyder's Justice League to Release on HBOMax in 2021*Will a Deathstroke Film Be Viable Post-Snyder Cut?*Bullying Vs. Supply and Demand*What Other Heroes Would We Like to See in The Justice League?*Thoughts on Cavill's Future as Superman*David Ayer's Suicide Squad Exists and is Easy to Complete!*AT&T Gives Hope for Ayer Cut While Ayer Talks Cut Scenes*Is Ben Affleck's Batman Film Still a Possibility?*Has Robert Pattinson Been Fired in Favor of Ben?*Justice Society of America Being Considered Based on Black Adam Performance*Ruby Rose Exits Batwoman with Role to be Recast*The Reasons Ruby Left*Guggenheim Talks Creative Opportunity of Recasting*Actresses Who Actually Want to Be Kate Kane*The Flash Season 6 Is Now on Netflix *The Flash Season 6 Blu-ray to Include All Crisis on Infinite Earths Crossover Episodes
United States