Discover
DC on SCREEN: Zack Snyder's Justice League
Claim Ownership
DC on SCREEN: Zack Snyder's Justice League
Author: David C. Roberson and Jason Goss
Subscribed: 282
Played: 13,241
© Copyright David C. Roberson and Jason Goss
Description
The DC Comics multiverse on film and television is expanding, and we're here for it! News, reviews, and honest opinions about projects upcoming and past on a (usually) weekly basis! Though some are preferred over others, we do believe that every iteration of a property is valid and worthy of consideration!
We're counting down to Zack Snyder's Justice League with commentary tracks! If you've ever wanted to watch these movies with us, this is as close as you're likely to get!
We sat down and watched Zack Snyder's 'Man of Steel' together. We talked while the movie played. Play it when we say, and it'll almost be like you're there with us.
Mostly talking about Zack Snyder's Justice League trailer that dropped on 2-14, but also several other things...Episode #627:Zack Snyder's Justice League Trailer |Justice League Snyder Cut to Have 10-Minute Intermission |Not a Lot of Jokes |Justice is Gray Edition Coming |Zack Snyder Teases Batman and Joker's Knightmare Meeting in Justice League Snyder Cut |Zack Snyder: Warner Bros. Has "No Interest" in a Snyder-Directed Justice League 2 |First Look at Jared Leto's Eerie Joker in Zack Snyder's Justice League |Justice League: Zack Snyder Addresses Jared Leto's Missing Joker Tattoos |Zack Snyder Reveals Biggest Difference Between Blue Suit and Black Suit Superman in the Snyder Cut |Zack Snyder: Justice League Distribution Underestimates "Worldwide Demand" For the Snyder Cut |Why Harry Lennix's Martian Manhunter Reveals Himself in Zack Snyder's Justice League |Ray Still Wants and Apology |Zack Snyder Defends Batman v Superman's "Belittled and Made Fun Of" Martha Moment |Zack Snyder Reveals Batman v Superman: Dawn of Justice IMAX Remaster Update, Release Details |Wonder Woman 1984 4K Blu-ray and Exclusive SteelBook Pre-Order Details |Samberg Sets the Record Straight on His Relationship with Snyder |HBO Max Shows To Have Crossover With Everything |Peacemaker Secures HBO Max Release Window |Black Lightning Showrunner Says They're Trying to Bring Back Wayne Brady for Final Season |Black Lightning Showrunner Teases Arrival of Ishmael |Painkiller Series Will Feature Thunder and Lightning |Wonder Girl Not Moving Forward at The CW |Ava DuVernay's Superhero Series Based On DC Comics' Naomi Gets Pilot Order From The CW |
'Justice League' is rated R, the shock the horror! And we've got Steppenwolf smashing ponies, Shazadam is a thing and then isn't, and the Arrowverse is alive and well. Sorry, naysayers. Which, by the way, that's what that poor little gallop-gallop Steppenwolf smashed said, "naaaaaaay" Zack Snyder's Justice League Rating Revealed |Zack Snyder's Justice League Reveals New Look at Ben Affleck's Knightmare Batman |Zack Snyder Posts New Justice League Clip, Announces New Trailer Date |https://twitter.com/i/status/1358539775603482626Justice League: Zack Snyder Releases Vicious Steppenwolf Clip Ahead of New Trailer |https://twitter.com/i/status/1358861943629635585Zack Snyder's Justice League Commemorative Mini-Footballs On Sale For Limited Time |https://inktothepeople.com/jl-footballThe Suicide Squad Director James Gunn Says Film Is Finished, Praises WB for Not Interfering |Henry Cavill Not Appearing as Superman in Shazam! Sequel |Black Adam Still Black Adam |The Suicide Squad Spinoff Peacemaker Casts Nhut Le as Judomaster |The CW Renews The Flash, Batwoman, Legends of Tomorrow |Superman & Lois Premiere Encore To Air On TNT |Justice Society: World War II Release Date Revealed |
As God revealed himself to Moses on Mount Sinai, so too hath Zack Snyder revealed but a glimpse of the glory of his Jared Leto Knightmare Joker! Also, we've got a release date for Justice League, we've got a name for the kid playing TIM DRAKE in Titans season3, and questions from YOU, dear listener! All that and a whole bunch more...On this episode:New Apple Reviews |A Word About Fandom Civility |Zack Snyder Reveals a Glimpse of Knightmare Joker |'Zack Snyder's Justice League' Is Officially Complete |'Zack Snyder's Justice League' Gets Official HBO Max Release Date |Zack Snyder Releases New Image Teasing Larger Role for Martian Manhunter |Cyborg Will Have Four Arms! |He says the BVS Remaster is Finished.Fully-Armored Darkseid Revealed |Ray Fisher to Promote 'Zack Snyder's Justice League' Release for HBO Max Despite WarnerMedia Issues |Zack Snyder Reveals The Real Reason He Left 'Justice League' |'Wonder Woman 1984' Dominated Christmas Viewership Numbers In Revised Nielsen Ratings |'Wonder Woman 1984' Helps Push HBO Max and HBO To 41 Million Subscribers, Reaching Forecast Two Years Early |'The Suicide Squad': New Footage Revealed in HBO Max Trailer |'The Suicide Squad' Star Calls the Film "Absolutely Ridiculous", But "Really Moving" |Ezra Miller's 'The Flash' Reportedly Begins Filming in April |Catwoman Actress Michelle Pfeiffer Open to Return for 'The Flash' |'Shazam! Fury of the Gods' Star Meagan Good Reveals Sequel Begins Filming in May |'Aquaman 2': Dolph Lundgren Says DC Sequel Shoots This Summer |'New Gods' Writer Tom King Teases Ambitious Jack Kirby Movie |'New Gods' Writer Tom King Teases Mister Miracle Role |Every DC Movie and Show Coming to HBO Max in February |'The Suicide Squad' Director James Gunn Has More Spinoff Ideas Beyond Peacemaker |'Justice League Dark' Still in Development at HBO Max |'Titans' Casts The Batman's Jay Lycurgo as New Robin Tim Drake for Season 3 |New 'Superman & Lois' Trailer Released With More Actual Footage From Series |'Black Lightning' Season 4 Trailer Released |'The Sandman' Cast Announced! |Neil Gaiman Explains Why Tom Ellis Won't Be Playing Lucifer |DC's' Justice Society: World War II 'Trailer Released |'Harley Quinn' Seasons 1 and 2 Coming to Blu-ray in February |Jeffrey Wright Cast As Batman In New HBO Max Podcast Project |The Best DC Film Easter Egg |
HBOmax is Rumored to have a sequel to 'Batman: The Animated Series' in the works, we stand with Ray Fisher, but Warner Media stands with Walter Hamada and Geoff Johns, plus we make our 'The Suicide Squad' dead pool draft and so much more!On episode #624:'Batman: The Animated Series' Sequel Reportedly In The Works For HBO Max |'The Flash': Ray Fisher Says Warner Bros. Officially Moving on From Cyborg |Ray Fisher Releases Phone Call With Investigator Over 'Justice League' Claims |Ray Fisher Says He'd Return as Cyborg for Zack Snyder's 'Justice League 2' |'Zack Snyder's Justice League' Is 4-Hour Movie and Not a Miniseries Says Director |Netflix's 'The Sandman' Series Casts Gwendoline Christie |'The Suicide Squad' Spinoff 'Peacemaker' Begins Filming With James Gunn |'Titans' Casts Barbara Gordon |'Batwoman' and 'Superman & Lois' Crossover Officially Cancelled |'The Flash' Casts 'Shadowhunters' Star as New Ice Villain in Season 7 |Listener Feedback/Questions |'The Suicide Squad' Dead Pool |
'Wonder Woman 1984' and Ray Fisher updates, the 'Superman & Lois' teaser, plus whatever happened to that 'Green Arrow and the Canaries' show? All that and more in our first episode of 2021!'Wonder Woman' Director Patty Jenkins Is Still Mad About Studio's Forced Ending |'Wonder Woman 1984': Nearly Half of HBO Max Subscribers Watched on Opening Day |Research Firm Claims 'Wonder Woman 1984' Has Been Watched More Than 'Hamilton' and 'Soul' |Warner Bros. Wanted to Cut One of 'Wonder Woman 1984''s Two Opening Scenes |Wonder Woman 1984 Director Patty Jenkins Responds to Criticism of Controversial Steve Trevor Plot |Warner Bros. Submits 'Wonder Woman 1984' for Consideration in All Categories at Oscars, Including Best Picture |'Wonder Woman 3' in the Works with Gal Gadot and Patty Jenkins Returning |Kristen Wiig's Cheetah to Return in 'Wonder Woman 3'? |Patty Jenkins Addresses Working on 'Wonder Woman 3' and 'Star Wars: Rogue Squadron' at the Same Time |'The Batman' Filming Rumored To Be Grueling Process For Robert Pattinson |Managing Movie Superheroes Is About to Get a Lot More Complicated |'Justice League 2': Zack Snyder Says He Has No Plans To Continue After Snydercut |Warner Bros Extends Walter Hamada As President Of DC Films |Cyborg Cameo Written Out of 'The Flash'; Role Played by Ray Fisher Won't Be Recast |Geoff Johns Still Working With WarnerMedia, Despite Ray Fisher's Claim Writer Is Leaving Studio |Warner Bros. Promises to Pay Filmmakers Upfront for HBO Max Releases |'Man of Steel' IMAX Remaster Not Off The Table According To Zack Snyder |'Superman' Director Recalls Getting Death Threats When Film First Came Out |'Doom Patrol' Season 3 Production Underway |'Green Lantern' HBO Max Series Reveals New Details About Jessica Cruz and Simon Baz |'Batwoman': Black Mask Confirmed to Be One of Season 2's Big Bads |'Superman & Lois' Teaser |The CW Not Ordering 'Green Arrow and the Canaries' to Series |'Legends of Tomorrow' Season 6 Adds Aliyah O'Brien in Mysterious Role |DC's 'Justice Society: World War II' Cast Revealed |Listener Questions/Feedback |
Jason and Dave review 'Wonder Woman 1984'!
More Warner Media HBOmax fallout, Batman's r-rated f-bomb controversy, What time you can FINALLY watch Wonder Woman 1984 on HBOmax, Tyler Hoechlin's new Superman suit, and tons more—including us answering YOUR questions! Like who should Bob Odenkirk play in the DCEU? If we were Darkseid, which world we invade first? Should Space Ghost, Blue Falcon and other Hanna Barbara superheroes be integrated into the DC Universe? And a brand new voicemail for our beloved Widder Woman! Right after these messages from sponsors we have not approved of!WarnerMedia Concludes Investigation into Joss Whedon's Justice League Shoot |Gadot on Her Whedon Experience |Warner Bros. HBO Max Fallout |Christopher Nolan Blasts Warner Bros. Over HBO Max Deal |AT&T Chief John Stankey Defends HBO Max Movie Release Strategy: 'We Knew We Needed to Try Something Different' |WB Movie Stars Will Get Additional Pay For Streaming Release |Christopher Nolan Doubles Down on Warner Bros.: 'A Sign of Great Danger' for Unions, Artisans |AMC warns it'll run out of cash in January, calls out Warner Bros.' shift to HBO Max |Wonder Woman 1984's Gal Gadot, Patty Jenkins "Supports" HBO Max Move: No "Better Options" |Patty Jenkins on Doing Wonder Woman 3 |'Batman v Superman' Remaster Coming, Says Zack Snyder |Wonder Woman 1984 Director Patty Jenkins Doesn't Like Joss Whedon's Justice League |Joe Manganiello Opens Up About Returning to Deathstroke |Batman's F-Bomb and the R-Rated Justice League |Will Justice League Have a Post Credit Scene? |Zack Snyder's Justice League Premieres on HBO Max in March 2021 |Zack Snyder's Justice League: Director Teases Upcoming Second Trailer |Snyderverse: Finishing It Up With Comics |Snyder on Embracing the Multiverse |Zack on the Ayer Cut |Joe Manganiello Says Ben Affleck's Batman Solo Movie Was Going to Be "Really Dark" |Manganiello Reveals Plans for Unmade Deathstroke Movie |Wonder Woman 1984 Release Time on HBO Max Revealed |'Wonder Woman 1984' Has A Post-Credits Scene |Patty Jenkins Teases 'Wonder Woman 3' Story and Long Wait for Next Movie |Wonder Woman 1984 Opens Lower Than Expected |Release the Jenkins Cut? |Black Adam: Quintessa Swindell Cast as Cyclone |Margot Robbie Reveals Disappointing Update on Birds of Prey 2 Plans |New 'Peacemaker' Character Details Reportedly Revealed |'Batwoman' Season 2 Trailer Released | https://youtu.be/4EklKyqFPNoNew Superman Suit Pic Released From 'Superman & Lois' |Superman & Lois Casts Adam Rayner As Morgan Edge |Lucifer Season 6 Remains in Production Despite 13 Positive COVID-19 Tests |Who Should Bob Odenkirk Play in the DC Universe?You are Darkseid. Which world do you invade first?Should Jason Momoa Have Adopted a Thick Jud-From-Pet-Cemetery Maine Accent? |The Hypocrisy of certain DCEU Twitter People |Should Hanna Barbara Superheroes be Integrated Into the DC Universe? |What Have We Inferred From the Wonder Woman 1984 Reviews? |What Should the IMAX version of Batman v Superman be called? |A Voicemail From the Widder Woman: The Snyder Cut -- Four Pieces |
Joss Whedon Exits HBO's 'The Nevers' |Warner Bros Releasing All 2021 Movies on HBO MAX |HBO Max and Warner Bros. Movie Release Plan Overcame Major Doubts From Executives |Trading Box Office for Streaming, but Stars Still Want Their Money |Wonder Woman 1984 Will Only Be On HBO Max For A Month |HBO Max Free Trial Ending Before Wonder Woman 1984 Premiere |Wonder Woman 1984 to Be First Film Released on HBO MAX In 4K Ultra HD, HDR 10, Dolby Vision and Dolby Atmos |Wonder Woman 1984 Has Glowing Reviews | Wonder Woman 1984 CCXP Trailer |Heroes & Villains Deathstroke Image |Warner Bros. CEO Reveals Zack Snyder's Justice League to Be Released in A Few Months |Zack Snyders Says, "Let It Begin" |Expansion of the Snyderverse in Comics? |Clooney Says No One's Called Him for 'The Flash' |The Suicide Squad: James Gunn Says the Movie Is Almost Finished |James Gunn Debunks Green Arrow in Peacemaker Rumor |Remember The Empanadas! |Cat Vasko to Pen Female-Starring Plastic Man Movie |Starfire Pics |DC's Stargirl Casts Alkoya Brunson as Jakeem Thunder For Season 2 |Stargirl Season 1 Is Finally Coming to HBO Max |HBO Max Planning More DC Comics Series for International Markets |Black Lightning Ending After Season 4 |Black Lightning Star China Anne McClain Posts Emotional Video About Show Ending |The Flash Production Paused After Positive COVID-19 Test |David Ramsey Returning To Arrowverse, Playing Mystery Character On Legends Of Tomorrow |New Gods Director Ava DuVernay Developing DC Comics' Naomi for The CW |
Plus Zack Snyder's live stream tour, Stallone coming to The Suicide Squad, Keanu in Constantine 2, Painkiller and Wonder Girl coming to CW, and so much more!The Death of Superman Was Released 28 Years Ago Today |'Wonder woman 1984' To be Released on HBOMAX on Dec 25 |HBO MAX now available on Amazon Fire TV |Zack Snyder Releases Darkseid T-Shirt to Raise Money For Suicide Prevention |Zack Shows Us Martian Manhunter |Jared Leto's Joker Will Have a New Look in Zack Snyder's Justice League |Justice League: Jared Leto's Joker Wasn't Originally Part of the Snyder Cut |Zack Snyder's Justice League: Additional Photography Will Only Add 5 Minutes of Footage |Justice League: Ben Affleck Confirmed to Shoot New Batman Scenes for Snyder Cut |Justice League: Zack Snyder Details His Plans for Darkseid Past His Upcoming HBO Max Series |Zack is On Board Carla Gugino Playing Catwoman |Zack Still Wants to Make Dark Knight Returns |Justice League Director Zack Snyder Teases Major Robin Details for HBO Max Cut |Zack Answered My Question About Man of Steel |Zack Snyder Debunks Justice League 2 & 3 Rumors |Justice League: First Closeup Look at Zack Snyder's Version of Steppenwolf Revealed |Zack Snyder Interview - New Look for Joker, Snyder Cut 2021 New ScenesLeague of Mayhem Stream: Let's Talk Movies With Zack Snyder'Us UNITED' w/ Zack Snyder - Film Junkee Vodka Stream Zack Snyder Interview | From Snyder Cut To Zack Snyder's Justice LeagueZack Snyder's Justice League Gets a New Trailer | Zack Snyder Breaks Down the New Teaser | What kind of impact will the #HBOMax recut have on Ava DuVernay's New Gods ? |When ZSJL restores the Martian Manhunter reveal to the story, do you think it could lead to an HBO Max spinoff? |The Suicide Squad Casts Sylvester Stallone in Mystery Role |Aquaman 2 Star Amber Heard Says Filming Hopeful to Begin Next Year |The Batman Stuntman Reportedly Tests Positive for COVID-19 |Keanu Reeves' Constantine Co-Star Says Sequel Is in the Works |The Batman: HBO Max Spinoff Showrunner Exits Due to Creative Differences |New Green Lantern Series May Feature Dominators as Villains |Green Lantern HBO Max Series Will Reportedly Be Rated TV-MA |New Teaser Gives Us More Fun-Loving Bat |Black Lightning Promotes Chantal Thuy (Twee) To Series Regular |Black Lightning Spinoff Painkiller Gets Backdoor Pilot Order From The CW |Wonder Girl TV Series Being Developed, Featuring Latinx Heroine |Batman: Soul Of The Dragon Trailer Released |
Snyder's Robin Was Beaten to Death and Burned by Joker!DC Names a New Editor-in-Chief!Would we be interested in live-action DC characters interacting with animated versions?How would we want to see Leto's Joker included in Zack Snyder's Justice League?What does Alan Scott being gay mean for Jade and Obsidian?Which villains do we most hope to see in the HBO Max Green Lantern series?Can the monorail beat the Flash? Can Superman beat the Flash?Thoughts on John Boyega playing Jason Todd?We rank every season of Arrow from worst to best!If we could greenlight any HBO Max DC series, what would we choose?What non-Marvel crossover would we like to see with what DC character?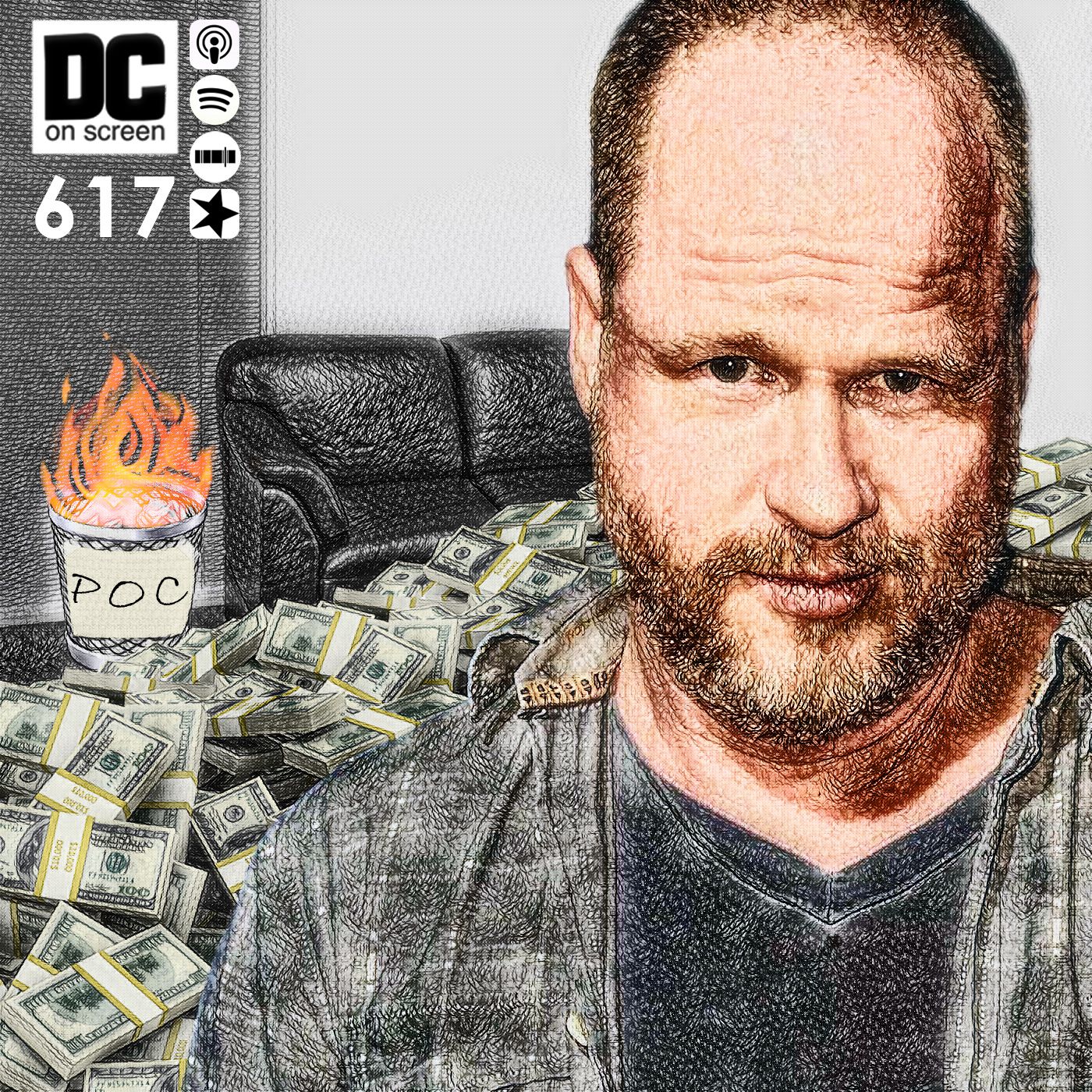 Profit and Joss
2020-11-0501:05:43
Why not take a break from worrying about which jackass will be running the country, and listen to us talk about what jackass got a person of color fired to somehow prove he's not a racist!Also, news on Zack Snyder's Justice League, The Suicide Squad, The Batman, and when some of the DCCW shows can be expected to drop!HBO Max Movember Amusement! |Justice League: The Joss Whedon Racism Scandal |*Sheraz Farooqi Forbes Article - https://www.forbes.com/sites/sherazfarooqi/2020/10/29/interview-ray-fisher-talks-toxic-justice-league-set-warnermedia-investigation-and-erasing-characters-of-color/?sh=17238dd22518*The Hollywood Reporter Article Exposing Forbes - https://www.hollywoodreporter.com/heat-vision/ray-fisher-accuses-warner-bros-execs-of-racist-conversations-during-justice-league-edit*Justice League: Joss Whedon's Racism Accusation Fallout Explained - https://screenrant.com/justice-league-ray-fisher-joss-whedon-racism-forbes/Almost All of Ray Fisher's Scenes in Justice League Theatrical Were Reshoots |Why Zack Snyder's Justice League Trailer Was Removed |David Ayer Says Warner Bros. Cut First 40 Minutes of Suicide Squad |David Ayer Cut Coming to HBO Max |Jason Kilar Supposedly Hints at Ben Affleck Batman |The Suicide Squad Plot Includes Secret Nazi Experiments |John Ostrander is in Suicide Squad |John Cena's Peacemaker: The Suicide Squad Spinoff Series Adds King Shark Actor Steve Agee |The Batman to Continue Filming Despite Latest UK Coronavirus Lockdown |The CW Premiere Dates For Batwoman, The Flash Revealed |What DC Characters Will Neil Gaiman Have Access to in Sandman? |Green Lantern Setting Rumors |
This episode we air our grievances with the Warner Pictures consumption and redistribution of Warner Max, we talk Jared Leto's return to the Joker in Zack Snyder's Justice League, Gunn's total freedom in killing off whatever Squad member he damn well wants, Michael Keaton's Kimmel bat proclamation, Static Shock produced by Michael B. Jordan-plus Jason Todd and Batwoman get new costumes, Marc Guggenheim leaves the Arrowverse, and will there be a new Supergirl on Superman & Lois when Melissa Benoist says goodbye at the end of Season 6? All that, and actually, quite a bit more!Warner Max Restructures as WarnerMedia Consolidates Film Production |Man of Steel Star Kevin Costner Won't Reveal If He's Returning for Zack Snyder's Justice League |Jared Leto's Joker Joins Zack Snyder's Justice League Reshoots |Joe has Deathstroke Hair |Ayer Responded with Leto being JL with praise hands emoji! |David Ayer Says His Suicide Squad Cut Is F-ing Amazing |The Suicide Squad Director James Gunn Says DC Comics Gave Him Free Reign With Every Character He Wanted |The Suicide Squad: James Gunn Confirms Movie Won't Have Reshoots |Sarah Shahi Cast In The Rock's Black Adam Movie |Michael Keaton on Being Batman in Flashpoint |Michael B. Jordan to Produce Static Shock Movie for DC Comics |The Dark Knight Returning to HBO Max |Aquaman Is Leaving HBO Max in November |HBO Max Sets Premiere Dates for Former DC Universe Shows |Season 3 of Titans is in Production! |Red Hood Costume Revealed! |Green Lantern Will Be Written Like a TV Show, But Produced Like a Movie, Says Guggenheim |Marc Guggenheim Has Left the Arrowverse |Stargirl Casts Eclipso, The Shade, and More for Season 2 |Batwoman Revealed |Batmobile Revealed in Batwoman |Superman & Lois Casts DeGrassi Alum in Villainous Role |Pennyworth Season 2 Adds Arrow's Jessica de Gouw and More |Stephen Amell Teases Return to Arrow After Dexter Revival Announcement |Rorschach Confirms Watchmen TV Series is DC Comics Canon |
This episode:The Batman Has Been Delayed Until March 4, 2022 |The Flash Has Moved From June To November 4, 2022 |Shazam! Fury of the Gods Moving to June 2, 2023 |Black Adam Has Been Taken off the WB Release Schedule! |'Wonder Woman' Director Patty Jenkins Warns Cinema Shutdown 'Will Not Be a Reversible Process' |Disney Shifting to Focus on Streaming |'Green Lantern' Given The Green Light at HBO Max |The Flash: Jay Garrick Actor John Wesley Shipp Confirms Season 7 Return |Gotham Actor Playing Zsasz on Batwoman |Legends of Tomorrow Makes Gary Actor Adam Tsekhman Series Regular for Season 6 |Batwheels: New DC Animated Series Coming to HBO Max |+Listener Questions
Lots of news and a birthday surprise for Dave! Hoo-Wee!*Birthday Surprise for Dave*Ray Fisher vs Warner Bros. Updates*Zack Snyder Planning New Justice League Shoot*Snyder Cut Reportedly Costing $70 Million to Turn Into Series*Diane Nelson Says Geoff Johns Abused Plenty of Comic Writers*John Campea Means to Leak an E-Mail on Accident* Justice League's Ray Fisher Says Ben Affleck's Flash Casting Reveal Was a Publicity Stunt *Snyder Cut Community Helps Raise ¼ Million for Suicide Prevention *Henry Cavill on Reshoots and Playing Superman Again *Joel Kinnaman Calls The Suicide Squad Heavily R-Rated And A F-ing Monster *James Gunn Teases More The Suicide Squad Characters to Appear in Peacemaker *'The Suicide Squad' TV Spinoff 'Peacemaker' Starring John Cena From James Gunn Ordered By HBO Max *James Gunn Won't Spoil The Suicide Squad by Revealing the Timeline for Peacemaker *The Batman Resumes Production, Robert Pattinson Cleared of COVID-19 *Black Adam: Aldis Hodge To Play Hawkman in the Rock's DC Movie *Supergirl to End After Six Seasons on The CW *Batwoman Casts Leah Gibson and Nathan Owens in Recurring Roles for Season 2 *J.J. Abrams Reportedly Working on Zatanna, Constantine Shows for HBO Max *Harley Quinn Showrunners Reveal the Only Characters They'll Never Kill Off *When Will Sandman Production Start *Batman: The Killing Joke Coming to Netflix
We have Ray Fisher updates, Flash restarting everything, and what we thought of DC FanDome Day 2!On this episode: Ray Fisher Says The Investigators Are Cherry-Picking |Jason Momoa and Kiersey Clemons Stands With Ray |DC FanDome Might Have Revealed the Official Justice League Snyder Cut Title |Junkie XL Previews New Justice League Theme at DC FanDome |Wonder Woman 1984 Delayed Until Christmas |Margot Robbie Says There's an Insane Harley Quinn Sequence in The Suicide Squad |Oh, No! Kevin Feige on a DC Set! |Unexpected Villains for the Sequel to Shazam! |Shazam Sequel Brings A Family of Superheroes |Black Adam Producer Sets Up Crossover Showdown With Shazam! |When The Rock Begins Filming |The Flash Producer Wants a Flash & Wonder Woman Team-Up Movie |The Flash Movie Restarts Everything, Features a Lot of DC Characters |Doom Patrol Gets Season 3 and Big News Coming for DC Universe |Titans Showrunner Says Season 3 is More Optimistic |Stargirl Showrunner Teases Grundy, Eclipso, and More in Season 2 |The Flash Showrunner Continues to Hate Spoilers Despite Spoiling Everything |The Flash Showrunner Says Season 7 Storyline Inspired by Recent Social Issues |The Flash: Carlos Valdes Says Cisco Is "Haunted" by Giving up His Powers |The Two Major Storylines of Batwoman Season 2 |Batwoman Casts Shivaani Ghai as Season 2 Villain Safiyah Sohail |Superman & Lois Creator Details Lana Lang's Role in the Series |Superman to Get New Suit, Son |Legends of Tomorrow Casts Lisseth Chavez as New Season 6 Character |Pennyworth Season 2: DC FanDome Panel Reveals Baby Batman Is Coming |Young Justice Season 4 Title and Key Art Revealed |Gotham Knights Team Addresses Approach to Costume and Character DLC |Thoughts on the End of 5G |What We Would Do Differently Next FanDome |
On this episode:DC Fandome Has 22 Million in Attendance! |Batman: The Animated Series is 28 Years Old |DC Hires Daniel Cherry, Former CMO of Activision, As New General Manager |Ray Fisher Vs. The World (Except Jason Momoa) |Wonder Woman 1984 Runtime Revealed, but Could Be Delayed Again |HBO Max Debunks Zack Snyder's Justice League Release Date |The Suicide Squad: who is Nathan Fillion's TDK? |James Gunn Reveals The Inspiration Behind The Suicide Squad |James Gunn Pushes For Harley Quinn Season 3 |The Batman's Robert Pattinson Tests Positive For COVID-19 |Production Has Not Resumed |Christopher Nolan Confident in Robert Pattinson's Portrayal of Batman |The Batman: Jeffrey Wright Reveals He Didn't Recognize Colin Farrell As Penguin On Set |The Batman: Jeffrey Wright Says He Doesn't Think There's One CGI Image in Entire Trailer |The Rock and His Family Tested Positive for Covid 19 |Shazam! Fury of the Gods: Zachary Levi Confirms Plans for Early 2021 Shooting Start |Batwoman Stars Begin Production on Season 2 |Lucifer Season 5 Resumes Production After Coronavirus Shut Down |Lucifer Season 6 to be 10 Episodes
Ben Affleck is BACK as Batman! And he's joining Michael Keaton in the Flash movie! Jason and Dave get into that, DC FanDome trailers and news for EVERYTHING! Here's the breakdown:Where was Val Kilmer? Was he the secret panel that got shuffled? Where were the Green Lantern things that were teased? Is it a part of FanDome Part II?Will There Be More Elseworlds Movies Like 'Joker' and 'The Batman'? |Wonder Woman 1984 – Official Trailer | DC Fandome | https://youtu.be/A6RqXKeA26UMichael Keaton is in 'The Flash' |Ben Affleck is Returning as Batman in 'The Flash' |The Flash is a Time Travel Movie! |Concept Art Revealed! |The Suicide Squad – Official Cast Reveal Trailer | DC Fandome | https://youtu.be/p5npfFzwWqwThe Suicide Squad – DC FanDome Exclusive Sneak Peek | https://youtu.be/VImYeXnr13QAyer and Gunn Are Supporting Each Other, and That's Nice |The Suicide Squad First Death Predictions |Justice League Star Ray Fisher Updates on Investigations of Abusive Behavior |Justice League Launches Official Snyder Cut Twitter Account Ahead of DC FanDome |Zack Snyder's Justice League Trailer | https://youtu.be/z6512XKKNkUZack Snyder Says The Flash Will Debut New Power in Justice League |Justice League: Zack Snyder Considered the Beard and Mullet for Black Suit Superman |Black Adam: Official Teaser | https://www.youtube.com/watch?v=N73oTiIIJe0Shazam! 2 Title Revealed at DC FanDome |Shazam!: Fury of the Gods Stars Tease a Secret Cameo |Is Sinbad in the Film? |Aquaman 2 to be More Serious and Contemporary |The Batman Confirmed to Be Separate Universe From Justice League |The Batman Teaser Released for DC FanDome | https://www.youtube.com/watch?v=NLOp_6uPccQThe Batman to Resume Filming in September |The Batman Adds The Eternals and Dunkirk Star Barry Keoghan |The Batman Trailer Makes Nirvana's "Something in the Way" a Best Seller on Digital Music Stores |The Flash: Season 7 Trailer Released at DC FanDome | https://youtu.be/MRPSSVB4IIEElongated Man Takes a Break |How Elongated Man's Absence Will Affect One Character|Titans: Curran Walters to Become The Red Hood |Titans Announces Barbara Gordon Coming to Season 3 |Titans to Cast Scarecrow in Season 3 |Stargirl Showrunner Geoff Johns Confirms Series Won't Be Changed Despite The CW Move |DC's Stargirl Score Released |Astra Logue Coming Back for Season 6 of Legends of Tomorrow |Swamp Thing Premiere Date on The CW Announced |Krypton Season 2 is on DC Universe |Lucifer Tops Netflix Charts After Opening Weekend |Lucifer Finally Officially Releases Tom Ellis's Soundtrack Songs |Harley Quinn Producers Still Haven't Heard From HBO Max Over Season 3 Renewal |Harley Quinn Coming to Blu Ray |Batman: The Long Halloween 2-Part Animated Film Announced |Batman: Soul of the Dragon Cast Announced |Justice Society: World War IIWB Montreal has CONFIRMED it is NOT a Part of the Arkham Universe |Batman: Gotham Knights Trailer Released | https://youtu.be/IhVf_3TeTQEGotham Knights Gameplay Trailer | https://www.youtube.com/watch?v=IhVf_3TeTQESuicide Squad: Kill the Justice League Officially Revealed With First Trailer | https://www.youtube.com/watch?v=2EVFYstVuVkListener Feedback
Dave is joined by Matthew Carroll who reacts (and geeks out) to the DC Fandome Trailers for the first time on air!Wonder Woman 1984 trailer 2The Suicide Squad Cast Reveal and Sneak PeekZack Snyder's Justice League TrailerThe Batman Teaser Batman: Gotham Knights TrailerSuicide Squad: Kill the Justice League
United States