Discover
Dopey: On the Dark Comedy of Drug Addiction
Claim Ownership
Dopey: On the Dark Comedy of Drug Addiction
Author: Dave and Chris
Subscribed: 5,240
Played: 381,737
© Copyright 2016 . All rights reserved.
Description
Dave and Chris had collectively been through dozens of rehabs, spent years in jail, and overdosed 500 million times. And they loved to laugh about it. That is until Chris tragically overdosed and died during the summer of 2018. This show was 80% debauchery and 20% recovery, now it's a little bit different. Rest in Peace Chris, you will be missed, and never forgotten| Stupid Funny Addiction Stories | Recorded in the Lower East Side of Manhattan | "It's Party Time. It's Excellent."

Do you have a sordid tale of drug and alcohol fueled mayhem? Email it to us at dopeypodcast@gmail.com and we will read it on the show!
This week on Dopey. Major league Dopey guest, lead singer of The Cro Mags, Iron Man competitor, Hare Krishna devotee and all around amazing guy John Joseph comes through to hit us with the dopey. Plus Ismael pops in, emails and much, much more on a crazy hardcore, positive mental attitude, crack relapse, Hare Krishna chanting, scholarship giving away, great Karneef sighting episode of Dopey!  
This week on Dopey! The nitty gritty on love addiction, obsession, heartbreak and relapse. We also  hear super high octane Dopey Sex stories. Bob Forrest calls in with a bad flu, to tell us about his crazy weekend playing with Thelonious Monster, The Red Hot Chili Peppers, Jane's Addiction and Fishbone. Dave talks dogs, the show, and more! Plus multiple international voicemails, emails Alan and much much more. On a very obsessive, and seriously debauched new drug store wine buying, super vodka drinking, vending machine cracked out, mile high club episode of Dopey.
This week on Dopey! Bill Blaber is back! He and Dave reminisce on some of their experiences in treatment. Dave tells a story how he 'Nyquil-dialed' Artie Lange to less than stellar results. Alan pops in to share some of his thrifty shopping techniques. Plus emails, reviews and super Dopey comedian Be Casper tells some crazy stories about tripping and getting arrested. Plus much much more on super sober, but also tres-trippy new new new episode of Dopey! 
This week on Dopey! In a nice change of pace we get a shorty strong Island episode. Crazy Dopey recovery Jedi type, Garrett tells his story of debauchery to recovery! We hear all about how through deep soul searching rage, anger and fear can turn into deep spiritual L-O-V-E! Plus emails, the wonders of ketosis, sponsorship and more! All that in a rock 'em, knock' em, sock' em, if it were star trek it would be spock 'em episode of your favorite podcast about dumb shit, addiction and drugs! 
It's Alan's 76th birthday this week on Dopey! We celebrated by having the Emmy award winning actress/drug addict/alcoholic extraordinaire Kristen Johnston calling in and laying down the Dopey. We hear all about Third Rock From the Sun, succumbing to opiate addiction and the long road back to recovery. Plus Dave's old friend Robbie tells a cataclysmic mushroom story. Plus emails, voicemails, reviews and an extra dose of Alan, (the birthday boy!!!)
This week on Dopey! First old friend and collaborator Brad calls in to stake his claim on Dopey. Then Brad and I take a walk down memory lane to recount how I fucked up our TV show and my life. After that we are joined by addict/alcoholic/podcast host/sober living owner and most importantly Rabbi, Asher G to hear his story of how his life of trauma, depression, addiction and suicidal tendencies turned to a spiritual life in recovery. And lastly, Linda finally returns to talk ketosis and to hear voicemails, read emails and reviews! PLUS a new original song by Alien Thing!!!! And much much more on a play the tape out, dope kicking, Suge Knight Blessing, Ketosis missing episode of Dopey! 
This week on Dopey!  Dave and his mysterious cohost are joined by punk rock legend, Handsome Dick Manitoba of the world famous Dictators. Here debaucherous tales of the lower east side in the 1970's. The glorious return of Alan criticizing the show! Plus Emails, Reviews and the winner of the Mountainside Scholarship! On a punks not dead, dope sick, love sick super emotional roller coaster of a podcast episode of Dopey! You'll laugh, you'll cry you'll want to listen again and again!
This week on Dopey! We get all Al Anonic! First we hear from my friend from work, Alex and what working with me when I was still high was like. And then we get into   the tragic overdose of his brother, Fermin. Then we hear from Stephanie Wittels Wachs the sister of comedian Harris Wittels and the host and producer of Last Day podcast. She talks about the opioid epidemic, losing her brother and the mission of Last Day. All that plus: Emails, Voicemails, review and much much more on a straight Al-anon vomiting while you run high on heroin type episode of Dopey!
This week on a very Dopey New Year's Special! We are joined by two old time Dopey friends in very different places in their addiction, and recovery. First up author of My Fair Junkie, Amy Dresner returns to the show to drop a little Dopey recovery on the nation. Then we are joined by Mr. Tighty Whities himself, Jeremy Turner. We learn all about his relapse, and his journey back toward recovery. Plus emails, music, and a quick classic memory of Chris. All that and more on a crack smoking, finger smelling, fentanyl popping, New Years Episode of Dopey!
This year on a Very Dopey Christmas Special we are joined by my old friend Peter, we learn a bit about the old days and Peter's new show handicapping sporting events. Then we hear some classic Dopey Christmas stories from special friends of the show Bob Forrest and Andy Roy. Alan pops in briefly and we hear from some heads in the Dopey nation! Merry Christmas Dopes! Keep your fucking heads up!
This week on Dopey! Dave has a lot of company as he and his mysterious friend, R.B are joined by NFL great, Reggie Brown, friend of the show and big time journalist Emily Sullivan and Alan. PLUS we get an update from Billy Barroo, and hear some tragic awful news from a new friend of the show. All that plus voicemails, emails, an unfortunate Artie update and much much more. On a straight learning disabled, bananas flambe episode of Dopey. 
This week on Dopey! The British invasion continues with Chris Dangerfield coming straight outta Cambodia and dropping Dopey like napalm on the nation. Then we hear from an old friend of the show on his recent relapse and Dave's old boss Danny shows up to document the Dopey. All that, PLUS Alan predicting the 3 million download mark, a straight fire Kiwi Voicemail, Dopey reviews, a new Dopey theme from Jon and much much much more on a down and dirty, straight up danger filled installment of Dopey! 
This week on Dopey! Television, film and Rock and Roll legend, Michael Des Barres calls in to kick around the Dopey. We hear all about coming up in the 70's, doing coke, the occult and much much more. Plus Alan pops in to wish the Dopey Nation a happy Holiday! And if you thought that was too much, Dave's college roommate Ryan calls in to talk about the time he and Dave robbed a kindly old weed dealer plus talk about his new website and podcast, Real Music History. Sit back relax and turn it way up to eleven for a rockin, rollin, rollicking, rehab needing episode of Dopey!
This week on Dopey! Film legend Lili Taylor comes to my dad's apartment to talk about her life in active addiction, her very long term recovery and her prolific Hollywood career. Dave also talks about doing the show without Chris and what it's like on his own. Plus a voicemail about copping abroad and the Dopey email to end all Dopey emails. Plus much much more on  a domestically docile yet still disturbingly debauched episode of Dopey.  
This week on Dopey! Legendary drug addict and pro skater, the great Andy Roy calls in and delivers the Dopey. From crazy chases evading the law to home invasions, to his amazing resurgence in recovery. Andy lets it all hang out. Plus! Dave gets cut at work, sober people carrying meth and much much more. On a rooting tooting, backside 720 degree danger fest episode of Dopey!    Also check out Andy Roy's podcast Ripride wherever you get your podcasts!
This week on Dopey! Aurora is back in New York City to celebrate 4 years clean! Alan returns to the show with a big announcement. English Dopey legend Mick comes through with the hard core Dopey Voicemail. Plus an Artie Lange sighting(stalking)! With emails, reviews and the humble beginnings of the alt recovery movement. All that and more on a rag tag, renegade and ragamuffin, recovery type rendition of Dopey.
This week on Dopey, a very working class New York City episode with the lower east side's own Johnny Irish shining a light on the early coke copping days in the East Village. Also we recap Dopeycon and hear some emails. Plus songs, an unpredictable Artie update, drug dreams and much much more on a wonderful, wastrel and working class episode of Dopey.
This week on Dopey! The legendary Cat Marnell stops by my dad's apartment proclaiming her last ever interview on drugs, addiction and dumb shit! We hear all about her sordid past, her meteoric rise, fall and rise again in the literary world. Plus Cat's thoughts on Artie Lange, her love of the NBA, TMZ, and her teen zine that started it all. All that PLUS the return of the Stash Word, emails, and much, much more on a cosmically comical yet still cacophonously carefree new episode of Dopey!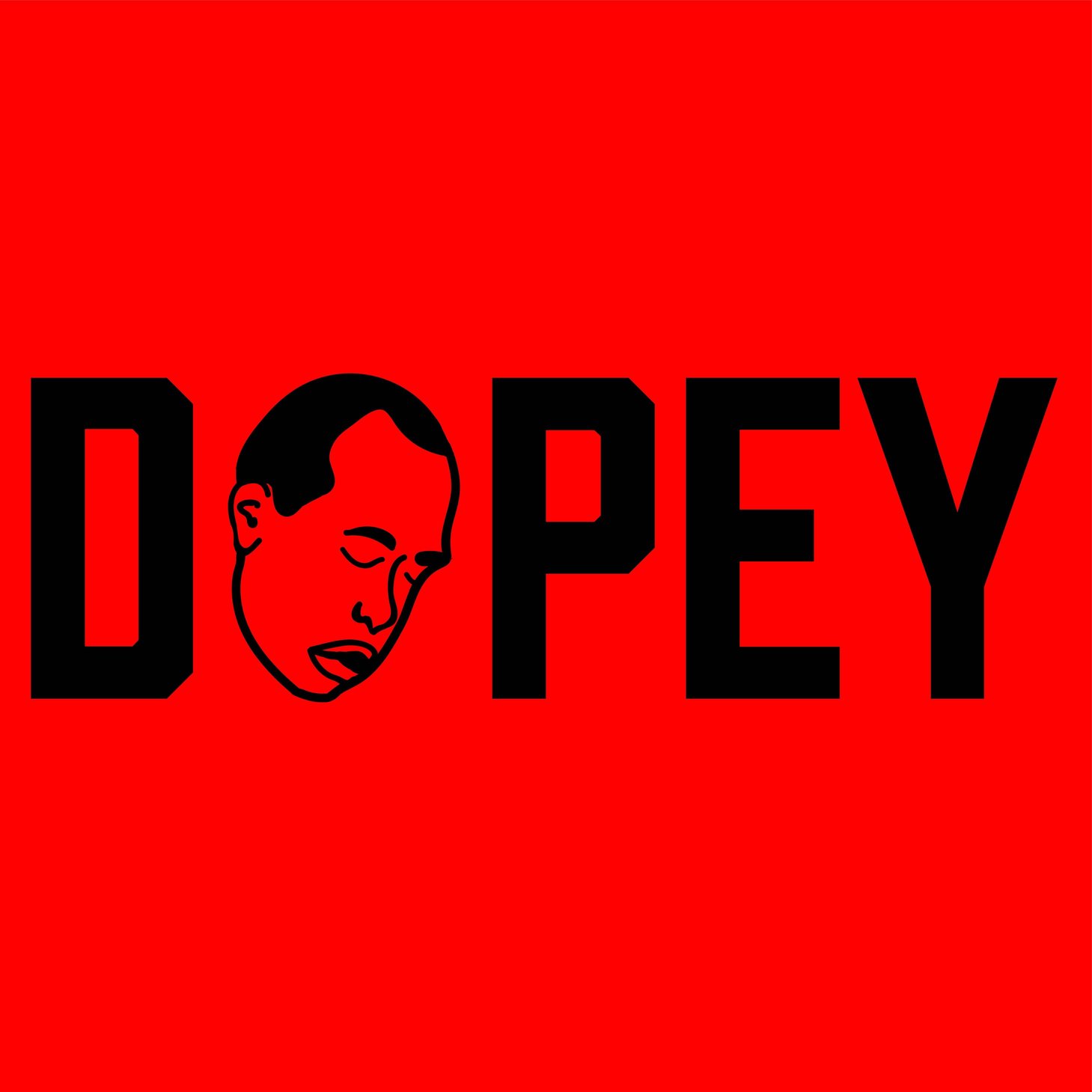 Dopey 209: DOPEYCON!
2019-10-1902:08:49
1
Allright all you Dopes out there, here's the moment you've all been waiting for DOPEYCON! On October 12th around 100 lucky Dopes got together in Manhattan to attend the first ever DOPEYCON! It was awesome featuring: Bill B. Rae, G-RAY, Namaste at Home Dad, Nick Flynn, Tim from Dank Recovery, Chris's sister, Arden O'Connor and my dad, Alan. We left we cried, we heard great music, ate black and white cookies and heard great stories about drugs, addiction and dumb shit. Sit back, relax and enjoy the magic that was Dopeycon. (Next year, we'll get a bigger venue and you all better come!) 
This week on Dopey! The one and only Jack Osborne calls in to talk a bit about growing up in a famous Rock and Roll family, his addiction and his recovery. We learn why you shouldn't mix Ambien and alcohol, and how he lives with Multiple Sclerosis. PLUS Bill rejoins us to hear about his dinner with Obama, shooting meth and the devil. All that plus voicemails, Freddie Kruger and other dumb shit! 
United States