Discover
ELLISTRONICS
Claim Ownership
Awesome World Eps9
2021-01-1901:10:38
1
Ellismate is back with episode nine of AWESOME WORLD!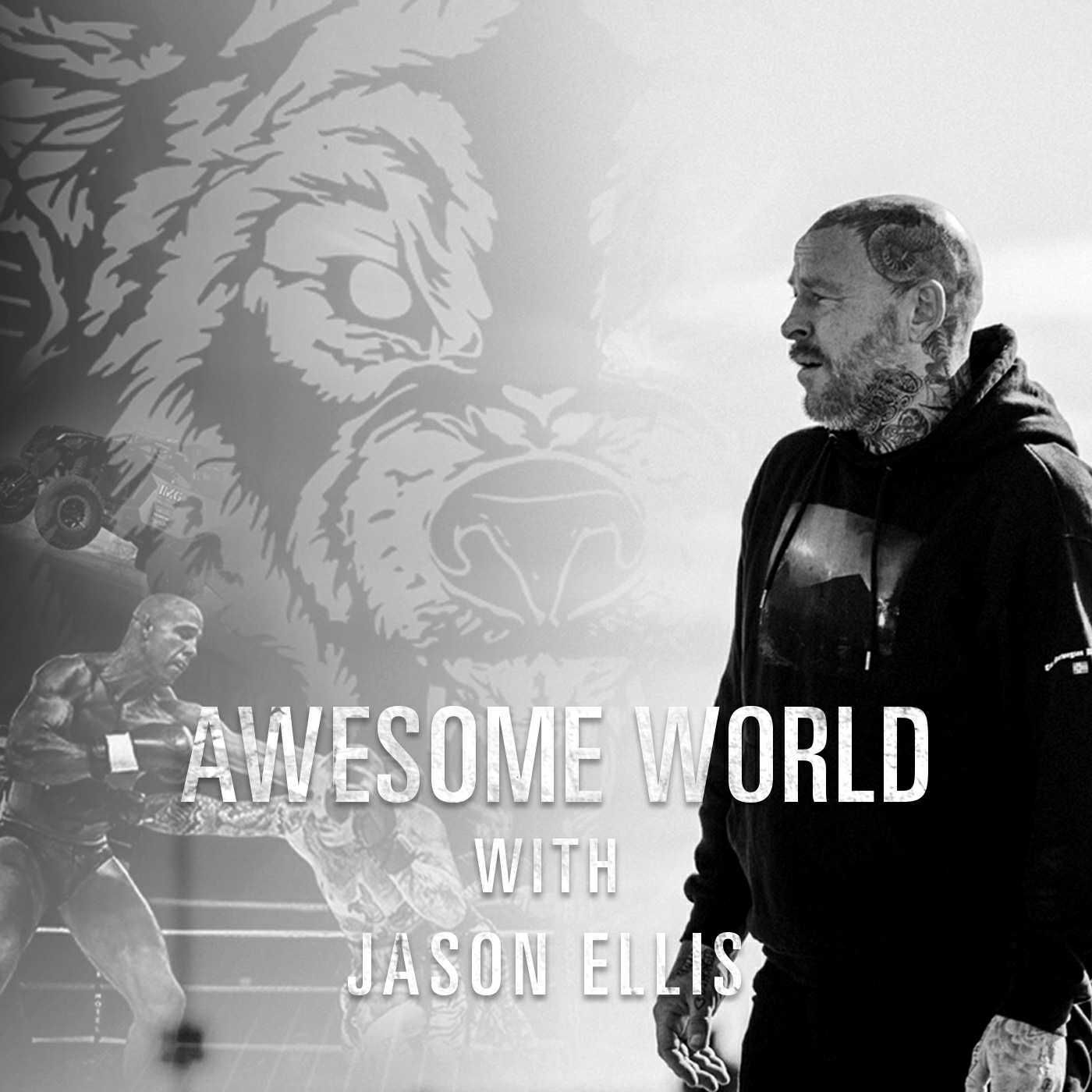 Awesome World Eps8
2021-01-1301:24:58
On this weeks show Jason chats with UFC Bantamweight Ashlee Evans-Smith.
On episode 7 Jason reunites with fellow vert legend Bucky Lasek.
Awesome World Eps6
2020-12-2901:02:14
On this weeks show Jason sits down with Adam Hunter. Adam is a stand-up comedian with a new special available now on UFC Fightpass.
Awesome World Eps5
2020-12-2301:02:08
3
Back with another episode of AWESOME WORLD. Check out our Patreon for more great content. Don't die!
This is not episode 4 of Awesome World, behind the scene look as Jason sets up the new Wolfkives Studio.
Awesome World Eps1
2020-12-0257:50
8
Episode One of AWESOME WORLD; Jason reflects back on his departure from SiriusXm and maps out his future in Podcasting.
Ladies and gentlemen this is (for now) the end of High and Dry. We would like you to join us in one last episode as we jump into the weird world that surrounds us. We would like to profoundly thank you for your support and interactions with this show over the past year. It has been a blast. We love you and thank you!
Jason and Katie are back! It's nice to have the gang reunited and back at it. We talk about staying healthy and the challenges of getting older while maintaining a competitive attitude, The Super...I mean the 'Big Game', gun control, domestic abuse, sexual boundaries, and Jason's ideas for some new and creative sex toys.  Sponsors: https://www.joinhoney.com/high
We are without our fearless leader Jason Ellis as he is recovering from illness. So we have invited one of the co-creators and producer of 'High and Dry' Cheyne Gilmore to sit down with Mike and talk about the biggest story in sports...The death of Laker legend Kobe Bryant.
Hung Yung Terrarist is a woman of many things: artist, rapper, polyglot and sex worker. It's hard to put this one in the bag or define what happened, but what we do know is she is a force to be reckoned with. Trying to understand who a person is can be hard, we are not sure if accomplished, but we had a good time, and an awesome conversation. So on to your seats because you may need to be sitting down for this one.
It's us and we are back! We have a very interesting guest today in Daphne Von Rey. Von Rey is a trans woman with a story to tell and is trying to bring awareness and break stigmas via the unexpected medium of stripping.
Today we have comedian and entertainer Jessimae Peluso. Jessimae is funny...Like really funny and we had such a good time having her stop by and talk with us. We get some good insights on what it's like to be a woman in the comedy scene and Jason talks about his past drug use and how he is pushing to be a voice for queer men.
Here is a special episode that we feel encapsulates the crazy, conflicted, funny and heartfelt charm of High and Dry. It's been an amazing first year for the podcast and we would like to thank you for your continued support as we grow this show. We promise we are working to make it bigger and better and we are looking forward to 2020. Happy New Year from the High and Dry family! List of appearances. (6:22) Mike's mountain lion story from High and Dry Episode 5: Porn, Shrooms, and Tittie Exercises (8:42) Rude Jude and the birthday toaster from High and Dry Episode 4: Rude Jude Angelini (15:58) Jason gets nudes of Mike's wife from High and Dry Episode 3: The First Time I Smoked Crack (19:38) Aubrey Marcus on psychedelics and love from High and Dry Episode 7: Aubrey Marcus (23:39) Jason and Katie go on an erotic swinger yacht from High and Dry Episode 11: I Can't Date Girls on Tinder (27:21) Buck Angel shares the emotional story of transitioning from female to male from High and Dry Episode 12: Buck Angel (33:38) David Arquette and his unique love of clowns and all things weird from High and Dry Episode 16: David Arquette (37:11) Jason fists and elf eared girl from High and Dry Episode 18: When it's Not Okay to Fight an Asshole (46:51) Dr. Drew confronts the homelessness epidemic in LA from High and Dry Episode 20: Dr. Drew Pinsky (52:12) Weldon Angelos being convicted unjustly for weed from High and Dry Episode 24: Weldon Angelos (60:12) Jason shits on a couch in Palm Springs from High and Dry Episode 32: Full Penetration—Jason's Birthday Weekend (70:18) Tounge darting butthole madness from High and Dry Episode 33: Dart Me Daddy — Mayhem Miller Pt. II (75:20) Leigh Raven shits herself in Prague from High and Dry Episode 34: Adult Film Actress Leigh Raven (79:14) Tito Ortiz agrees with Mikes take on what's wrong with America from High and Dry Episode 36: Tito Ortiz (87:24) Renato Laranja "Squid in a washing machine" moment from High and Dry Episode 37: Renato Laranja - "A Squid in a Washing Machine"
We had Miguel Garcia and Mark Rose of Always Evolving Pythons stop by the studio and bring some friends with them. Watch us lose our minds as things crawled, slithered, and bit their way into our hearts.
It's just the gang today and we talk about dick size, the Bible, and Jason's new book "Still Awesome". Jason also reveals his plans for a new stunt involving: skates, ramps, fire, and rubber bands. It's a classic High and Dry mix of the poignant and the absurd.
A Special BONUS Podcast Presentation: To celebrate the release of Jason and Tully's new book, "Still Awesome: The Trials and Tribulations of an Egotistical Maniac," they present an exclusive look back at the making of their NY Times bestselling first book, "I'm Awesome," through the never-before-heard making-of interviews! Pre-order "Still Awesome" now at JasonEllisBook.com!
United States