Discover
GotMead Live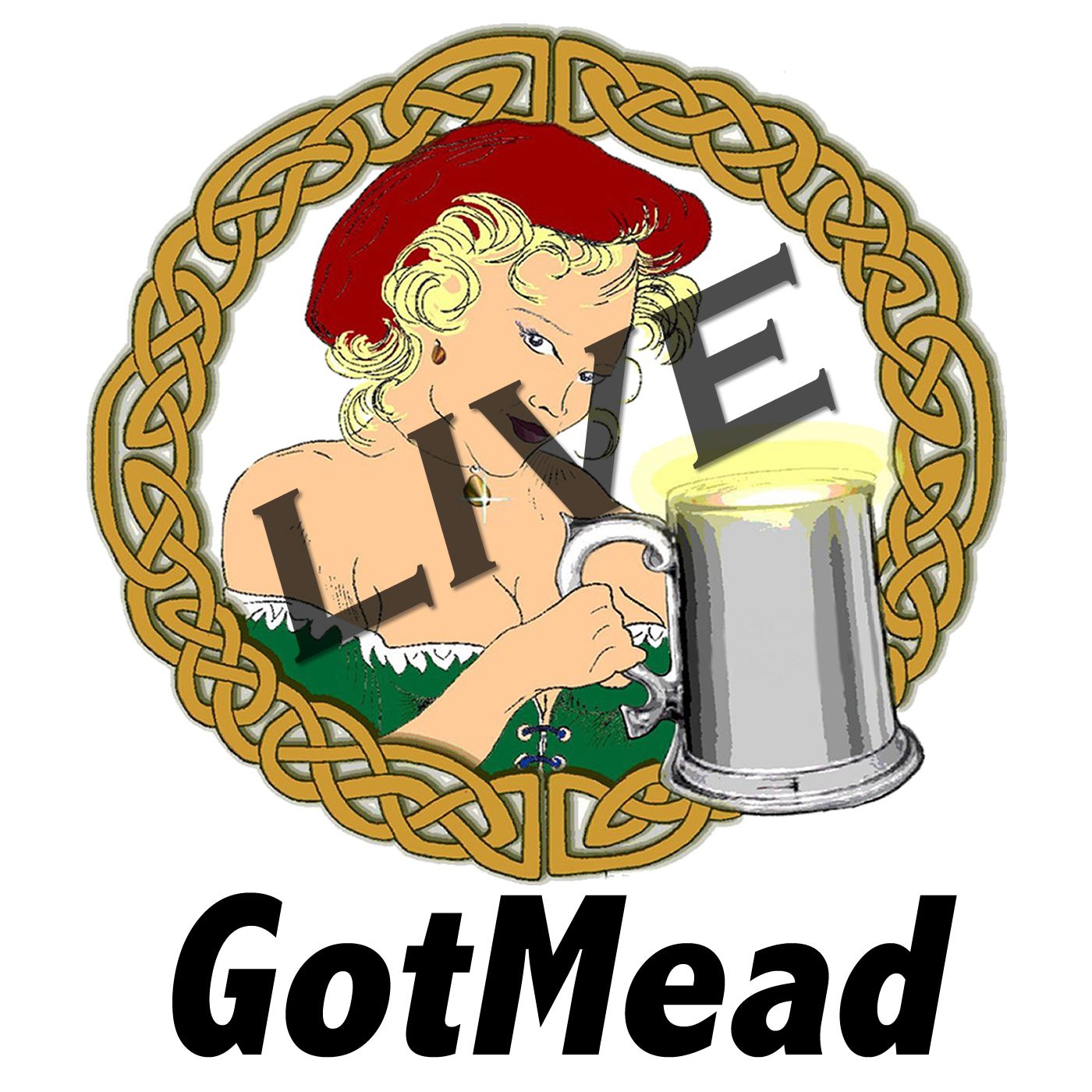 Claim Ownership
6-8-21 Tonight on Gotmead Live at 9PM ET/3AM Norway time, we're continuing our journeys around Europe & talking with Anders Riseng, co-owner of Askheimer Meadery in Askim, Norway. Askheimer Meadery is one of just a few meaderies so far in Norway, but that is changing, as mead awareness grows in Europe.Anders and his partner Jarl-Magnus teamed up with the idea of starting a meadery during a tasting session at the local beer club – Askim Beerclub,
5-11-21 This episode, we're headed off to the Netherlands, and hanging out with Jeroen Krikke, owner of Kollectiv Mead in Den Haag (The Hague). Jeroen is a long time mead maker, and has taken his love of mead commercial, with his small, but growing meadery.
4-27-21 This week on Gotmead Live we're going international! Our guest is Stian Krog, owner of Mjøderiet in Norway, the first meadery to bring back mead in that country. This episode is not live, we got together with Stian yesterday so he wouldn't be up at 3 am!
4-13-21 Tonight we're chatting with Pierre Rodrigue, a prolific wine and meadmaker living in Alberta, Canada.
3-30-21 Tonight we're talking Polish mead, and all other things mead with Kris Plizga and Scot Schaar. Both of these gentlemen are accomplished mead makers, and both are pretty darn good Polish mead makers.
3-2-21 Tonight we're back on our regular schedule, and are happy to be talking with Clint Walker and Chase Cohagan, of Walker Honey Farm and Dancing Bee Winery. Clint Walker III is a third-generation beekeeper and the owner of Walker Honey Farm in Rogers, TX.  In 2011, Walker Honey Farm opened Dancing Bee Winery as the mead making arm of the business.
Tonight at 9PM ET on GotMead Live, we'll be talking with Dustin Deisher and Jeff Anderson, award winning home meadmakers, on balancing mead & bench trials. Dustin & Jeff are both in the Lincoln Lagers Brew Club and have won many awards for their meads.
We're going to talk with Tom about mead, specifically mead in secondary. There is a lot that happens in secondary, like stabilization, clarification, backsweetening, adjuncts and adjustments.
Tonight @ 9PM ET, we'll be talking with Margot Phelps and the Maidmakers from Ancient Fire Cider and Mead. The Maidmakers are women who are making unique meads after honing their meadmaking at AF as they worked there. We'll be digging into their journey tonight.
Michelle Scandalis and Jeremy Kyncl, owners of Hierophant Meadery in Washington, with two locations on the Green Bluff loop in Mead, and a tasting room on Whidbey Island.Jeremy and his wife Michelle have a background in herbs and are focused on local-sourcing their mead ingredients and creating a uniquely local product. They love the 'back-to-nature' aspects of mead making, and all the nuances that plants can add to the mix at various stages of growth.
11-24-20 Tonight at 9PM ET on GotMead Live, we'll be talking with Sam Slaughter, a food and drink writer who has also written books on cocktails, and is a ten year home meadmaker.
11-17-20 Tonight at 9PM ET on GotMead Live, we'll be talking metheglins, (mead with spices), with multiple medal winning home meadmakers Amy Olsen and Josh Holbrook. We'll be exploring making metheglins, when and how to add spices, choosing your spices, flavor profiles and tips and tricks, as well as how to avoid problems.
11-10-20 Tonight at 9PM ET GotMead Live will be talking with Willie Wrede, owner of Meduseld Meadery in Lancaster, PA. Willie is a meadery owner (and a braggot fan), Marine, talented mead maker and a dad, and is now in process of opening a second location they're calling Artifice Ales and Meads.
11-3-20 Tonight at 9PM ET GotMead Live will be talking with Dan McNevin. Dan is a home meadmaker with a penchant for foraging his mead ingredients and also for making weirdomels (technically known as experimental meads).
10-20-20 Tonight at 9PM ET GotMead Live will be talking with Roger Wanner and Joe Abruzzo, owners of W A Meadwerks on Long Island in New York. They bill themselves as 'two guys making mead'. But it's more than that. They bootstrapped a meadery out of almost nothing, and are rapidly growing their place, even with all the problems from being in the middle of COVID.And now, they have gone even further, purchasing a larger space for their production. Expanding during the pandemic is tough enough, but they're getting it done. They are expanding their barrel program, while also creating a stream of new mead flavors. They're doing a bourbon barrel aged version of their Mazer Cup winner.
Tonight on Gotmead Live at 9PM ET, it's Fall (at least on the calendar, lol) and our minds are on cysers. Crisp fall evenings, cool temps, and a nice cyser, maybe around the fire with friends. What could be better?Cysers, mead made with apples or apple juice, are a popular mead style, and one that is getting more popular. We decided (really, it was Kevin's idea) that this time of year was great for talking about them, since the apple crop is coming in. And we thought getting the gold medal winners in cysers from 3 competitions, the Valhalla: The Meading of  Life, Valkyrie's Horn, and the Mazer Cup would be a great way to do it.So, we got Kevin Meintsma (who proposed the idea literally a few days before discovering he had won the gold at the Mazer Cup), Adam Bystrom who took gold at Valhalla, and Allan Martin, who took the gold in the Valkyrie's Horn.
9-29-20 Tonight on Gotmead Live at 9PM ET, we're meeting with Adam Crockett of Haymaker Meadery to talk about oaking meads.Over the last several shows, we've had a lot of folks asking about oaking meads, and so we're going to talk about that tonight. Adam has been experimenting with oaking for a long time, and gave a talk at MeadCon 2018 with Rocky Mountain Barrels on oak.
9-22-20 Tonight on Gotmead Live at 9PM ET, we're looking forward to talking with Keith Seiz and Alison Wuebbels with the National Honey Board.We'll be finding out what the Honey Board has been up to, and talking about their Honey20 Project, the Mead Crafters Competition (2nd year!), and the Honey Spirits Competition, as well as their other involvement with honey in craft beverages.
9-15-20 Tonight on Gotmead Live at 9PM ET, we're off to Florida to talk with some Sunshine State meadmakers. We have Brian Wing, co-owner/founder at Green Bench Mead & Cider, Cody Lenz, who is working on opening his own meadery, Three Hands Mead Company, and Joe Leigh, currently working on opening Zymarium Meadery. The Florida mead scene is hopping!
United States