Discover
GotMead Live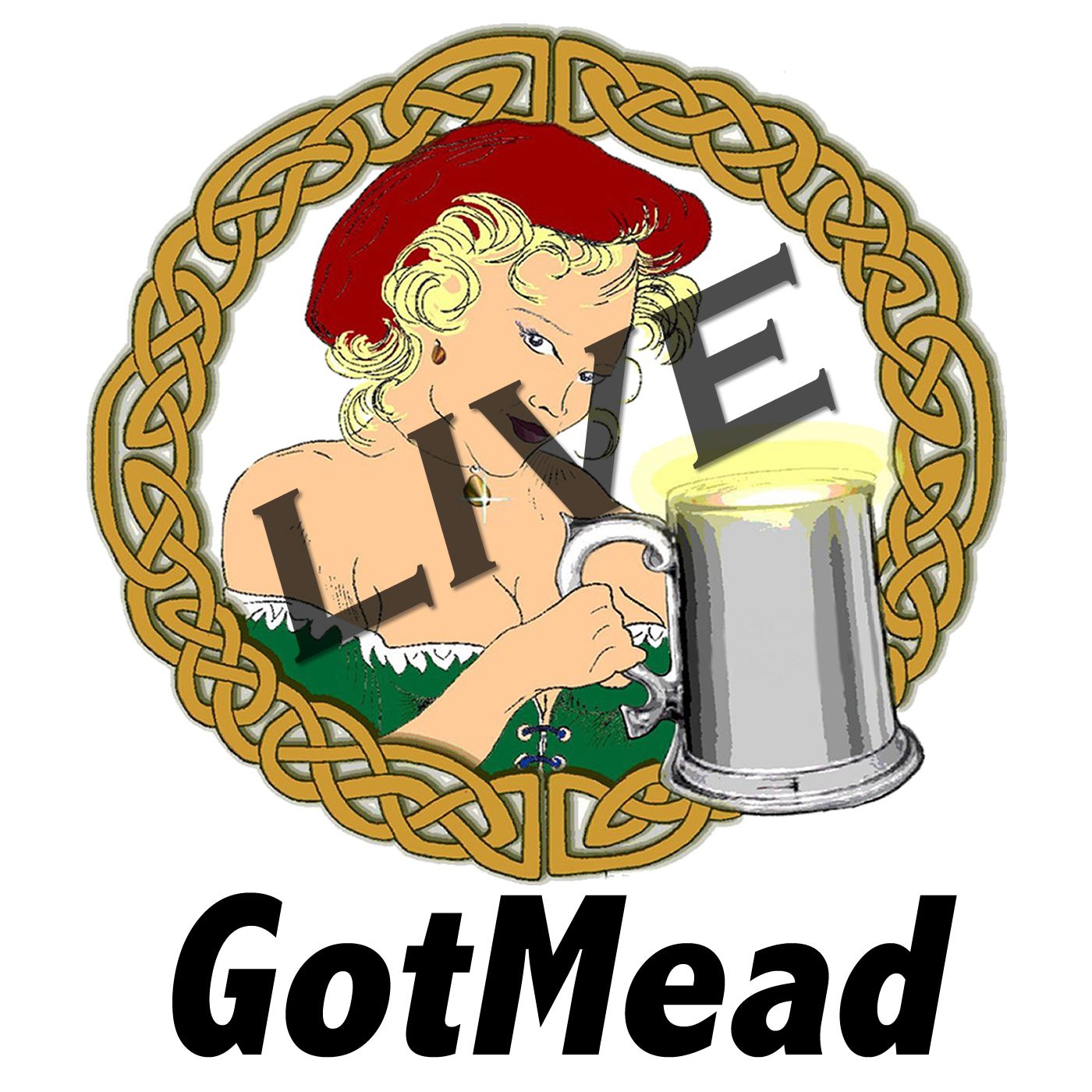 Claim Ownership
8-11-20 Tonight at 9PM ET, we are continuing our regional mead makers series and talking with Billy Beltz, Erick Holden and Harold Gulbransen, all in Southern California. Each is a very talented meadmaker, and we'll talking about (of course) meadmaking, and how they do things in SoCal.
8-4-20 Tonight at 9PM ET, we are going to talk more about session meads, which are the hottest thing in meadmaking these days. We'll be chatting with Rob Ratlff, author of "The Big Book of Mead Recipes" and "Let There Be Melomels", popular books of mead recipes. Rob's next book will be "Let There be Session Meads". We're also bringing in Kevin Meintsma, a very talented session mead maker. The conversation should be really good!
6-9-20 Tonight at 9PM ET, we're continuing our series, bringing on a group of talented meadmakers to talk shop, and going to Arizona. We'll be talking with Carvin Wilson, Allen Martin and Warren Earle. These gentlemen are prominent in the southwest brewing scene, and bring some powerful mead making chops to the table.
6-2-20 Tonight at 9PM ET, we're continuing our series, bringing on a group of talented meadmakers to talk shop, and we're starting in the midwest, this is part 2. We'll be talking with Adam Bystrom, Josh Holbrook and Matt Weide. They are part of a number of talented meadmakers in Minnesota that are making some seriously amazing meads, and each of them is making some amazing award winning meads. We're going to be talking mead, how they got into making it, what they've learned and what they're making now.
5-26-20 Tonight at 9PM ET, we're taking a different tack, we're bringing on a group of talented meadmakers to talk shop, and we're starting in the midwest. We'll be talking with Kevin Meintsma, Steve Fletty and Josh Mahoney. They are part of a meadmaking group in Minnesota that is making some seriously amazing meads, and each of them is an accomplished meadmaker. We're going to be talking mead, how they got into making it, what they've learned and what they're making now.
5-19-20 Tonight @ 9PM ET, we'll be talking with Tom Repas, Master Beekeeper & owner of Canyon Rim Honey Bees, providing bees and honey in the Black Hills of South Dakota. Tom speaks on beekeeping all over the country, and has presented several times at the AMMA MeadCon on both beekeeping and meadmaking. Tom has won a large number of awards for his mead as well.We'll be talking bees, breeding and hive management, and also about making great mead.[Read more] http://ow.ly/wWvV50zKT0T
5-12-20 Tonight at 9PM ET, we'll be talking with Aaron Schavey and Geoff Allen, owners of Boneflower Craft Mead in 'the Region' in northwest Indiana.Aaron and Geoff have been making waves with their mead for a few years now, and formalized their mead making by opening Boneflower in 2018.Geoff and Aaron are a couple of guys and a hobby that turned serious...sort of. After years of participating in the craft beverage scene, an introduction to Mead started them in an entirely new direction.
4-28-20 Tonight at 9PM ET we're talking with Matt Weide, a long time homebrewer and meadmaker.We'll be chatting on interesting things including alternative sugars in mead (like inverts, maple syrup and the like) and how they can be used in fermentation, bochet tips and tricks, making rhubarb mead, playing with honeyberries, the AMMA Home Governing Committee elections and the Valkyries' Horn competition.
Tonight we're talking with Kevin Meintsma, a prolific and talented meadmaker who is quite humble about his very well made meads.Kevin has been making mead since 1995, his first one being with a very dark honey that he later learned was eastern buckwheat (it had also been sitting in the workshop for 12 years!). It also had cloves, nutmeg, cinnamon, allspice and used champagne yeast. And no temp control or nutrients. That turned out, not surprisingly, poorly, lol. Kevin then opted to avoid mead until 2017 after that.He's been a homebrewer since the early 80's, and did stovetop extract brewing (as that was all there was at that point), using a scavanged pot. He did that for a few years, then stepped away to focus on life, work and family until 2010. Then, after coming back from a work assignment in England for 7 months, he got serious again about homebrewing and began making brews and entering competitions. He stewarded and judged at the Minnesota Mashout that year, and a few years later got his BJCP certification. He went on to get his Mead Judge endorsement as well.Since then, Kevin has taken multiple Best of Show awards for beer, cider and mead, including a beer Pro-AM with Minneapolis based Town Hall Brewing that sent him to the GABF Pro-AM competition. He notes this was one of the highlights of his brewing hobby.
Scott Schaar, head brewer at Crawford Brew Works and former distiller at Mississippi River Distilling Company. He is a BJCP beer and mead judge. Scot was the 2017 AHA Meadmaker of the Year (MMOTY) and shared the 2019 MMOTY award with Michael Wilcox and Carvin Wilson.He was the 2015 East Coast MMOTY; has won multiple mead, beer, and cider bests of show; and has had his recipes professionally made by Moonlight Meadery and Prairie Rose Meadery. Scot and his wife Karen earned their Level 5 certification in the European Mead Judging Programme this past year while judging the Kings of Mead competition in Poznań, Poland.Scott is very active in meadmaking, and turns up often in the Modern Mead Makers and GotMead Facebook groups. He was one of two people awarded an honorary Polish 'passport', along with Bob Slanzi, for his Polish style meads, which are excellent.Scott has also been active in promoting mead in his area and in his homebrew club, the St. Paul Homebrewer's Club, which also, in conjunction with the Minnesota Home Brewers Association puts on the Minnesota Mashout, one of the larger homebrew competitions in the US.
4-7-20 Tonight at 9PM ET we're happy to have the opportunity to hang out with Ken Schramm, owner of Schramm's Mead in Ferndale, MI.If you're new to the mead world, you may not be familiar with Ken (I'm sure there are one or two of you, lol). Ken, oft referred to as 'The Godfather of Mead' and is the author of The Compleat Meadmaker, arguably the book that launched a mead making revolution. Many meadmakers learned a lot about mead and meadmaking from Ken and his book. "The Compleat Meadmaker," is the current reference text of record on mead making.
We're back from a break that *should* have been because of MeadCon and Mazer Cup, but sadly we did not get to celebrate either of those events because of postponements. Make sure you're online or doing pickups to #buymead!We are tickled to have Pete Bakulic back tonight, it's been quite a while since we've been able to get him on the show.If you don't know of Pete, either you're new to the mead scene, or you've been hiding under a rock! Pete is President of the Mazer Cup International and a member of the American Mead Makers Association Home Governing Committee. He's been making mead for 40 plus years now, and does it *very* well. Pete is a regular poster and commenter on several mead groups on Facebook, and is a moderator on GotMead and Modern Mead Makers there. He's also an admin here on the GotMead forums, and one of our most prolific posters.
3-3-20 Tonight at 9PM ET GotMead Live will be talking with Steve Patik, an accomplished and award winning mead maker who will be speaking at the AMMA MeadCon in two weeks on braggots, along with Andy Brewer from Locavore Beerworks.Steve discovered mead over Thanksgiving dinner in 2012, and a year later was making it. Since then, Steve has been making mead in unconventional ways, yet successful.Steve is a regular entrant in mead competitions all over the country, and he consistently does really well, even taking a Best in Show now and again. His favorite styles to work with are traditionals and braggots, and he really shines with his braggots and is known for them in the mead world.
2-25-20 Tonight at 9PM ET GotMead Live will be talking with Roger Wanner and Joe Abruzzo, owners of W A Meadwerks on Long Island in New York. These guys are truly passionate about their mead, and managed to open a meadery in a place that's pretty darn expensive, and do it on a shoestring.Roger will be speaking at MeadCon this year on how they managed to open their meadery with very little up front. We'll talk meadery start up, meadmaking, and other meadly subjects.
2-18-20 Tonight at 9PM ET GotMead Live will be talking with Marina Marchese, the Honey Sommelier. Marina will be speaking at MeadCon 2020 this year, talking about honey sensory analysis and dong a live honey tasting.Carla Marina Marchese is a member of the Italian National Register of Experts in the Sensory Analysis of Honey, where she received her formal training as a honey sensory expert. Her book, The Honey Connoisseur co-authored with Kim Flottum (editor of Bee Culture Magazine) parallels the concept of terroir to single - origin honey directly matching floral sources to flavors and conceived the first U.S. honey aroma and flavor wheel.
2-4-20 Tonight at 9PM Eastern we're talking with Keith Seiz, who works with the National Honey Board, and he'll be speaking on Mead Perceptions; On Consumers and Mead Makers at the AMMA MeadCon in Broomfield, CO March 17-19.He'll be talking on whether consumer perceptions of mead match mead maker perceptions. The National Honey Board set out to find the answer to this question and more. This seminar will detail the findings of two surveys the National Honey Board Conducted with consumers and mead makers focused on the marketing of mead. Are mead makers aligned with consumer perceptions or is there a disconnect? At the seminar he'll answer this question and offer ideas on how to position mead based on what consumers are looking for in alcoholic beverages in 2020 and beyond.
Tonight at 9PM we are tickled to have on the show Laura Angotti, keynote at the 2020 MeadCon, and author of "Wellcome Mead: 105 Mead Recipes from the 17th and 18th Century English Receipt Books at the Wellcome Library" and "Cider and Perry in Britain to 1700: A Collection of Material from Primary and Selected Secondary Sources". She is also the owner of the Mystery of Mead website, where she discusses mead in history.
1-21-20 Tonight at 9PM ET we're talking with Tony Qualls, owner of Manic Meadery and speaker at the 2020 MeadCon, where he'll be giving a seminar on Maximum Fruit: Big Berry Bombs and Other Melomels.Tony is not just a meadery owner, he's also a musician. He toured in the band Groovatron for 12 years, doing over 1500 shows in 12 years (makes me tired just thinking about all that travel!).Tony is a lifelong entrepreneur, having run a vinyl record company, painting company and a bunch of other businesses. Plus he's a skilled tradesman in welding and carpentry (that would help with build out!).Tony has been married to his lovely wife Vanessa for 12 years, and they have two kids. Not to sit on his laurels, Tony plans to pursue law school and recording backlogs of musical material while running his meadery (getting tired again, lol). He likes to mountain bike and ride his motorcycle in his free time (he has free time?).Tony co-founded Manic Meadery with Keith Cantwell in 2018 in Crown Point, Indiana. Manic is a small batch meadery, and they also do wine and cider. They've gotten a lot of interest in their sweet dessert meads using whole fruit and often multiple adjuncts. Tony is also a BJCP mead judge, and holder of Mazer Cup awards for both home and commercial mead. The plans for Manic in 2020 include increasing self distribution, expanding their production space, and organizing a mead-only festival, the Sugarbelt Mead Fest.We're going to talk mead
Tonight we're kicking off our featuring of speakers at MeadCon, and opening with Sergio Moutela, owner of Melovino Meadery and the president of the AMMA.Sergio opened Melovino just over 5 years ago, and during that time he's learned a ton about operating a meadery, making better mead and what people like in a mead. He's wrangled with his state to allow meaderies to even exist, and juggled the need for space to expand with the reality of how hard it can be to find an ideal location for the meadery.He's also been very active in working on growing the AMMA and what it can do to help the mead community, both home and professional.Sergio is speaking at MeadCon 2020 (get your tickets, hotel and see the schedule there!), his talk is 'What I've Learned in Five Years'. We're going to delve into various issues with running a meadery, tease you on some of what he'll be talking about, and dig into some of the other things facing a meadmaker going pro.We'll also be talking about his collaborations, one of with is with yours truly, and exploring different mead styles. And we'll likely talk pyments as well, Sergio loves them!
Tonight's guest is Carvin Wilson, mead maker, mead industry supporter, and owner of Carvin Software. If you haven't heard of Carvin, you're not hanging out with mead folk. Carvin, who lives near Phoenix, AZ, is a long time mead maker, started getting involved nationwide with the mead scene several years ago.Carvin makes incredibly well done mead. Like amazing. (At some point I'm going to see about doing a trade deal with him, once the meads I'm working on are finished). He's taken quite a few medals at competitions all over the country.Carvin is a committed home mead maker, and pictures of the fermenters all over his home (and the laughing protestations of his lovely wife Robin to clear the table so they can do a dinner) prove this out.Carvin has presented both himself and as part of panels at the AMMA MeadCon, and is a member of the Home Governing Committee at the AMMA, and is managing the AMMA MeadMaker of the Year . He's on the American Homebrewers Association Governing Committee, and took over running the Mazer Cup Home Competition this year.So yeah, this guy is into mead. Kinda.Tonight we're rambling on a lot of things, like the Mazer Cup competition, the AMMA Meadmaker of the Year, the AHA, Mead Judging, Meadcon, Mead growth and trends and of course, talking mead and taking mead making questions.
United States