Discover
GotMead Live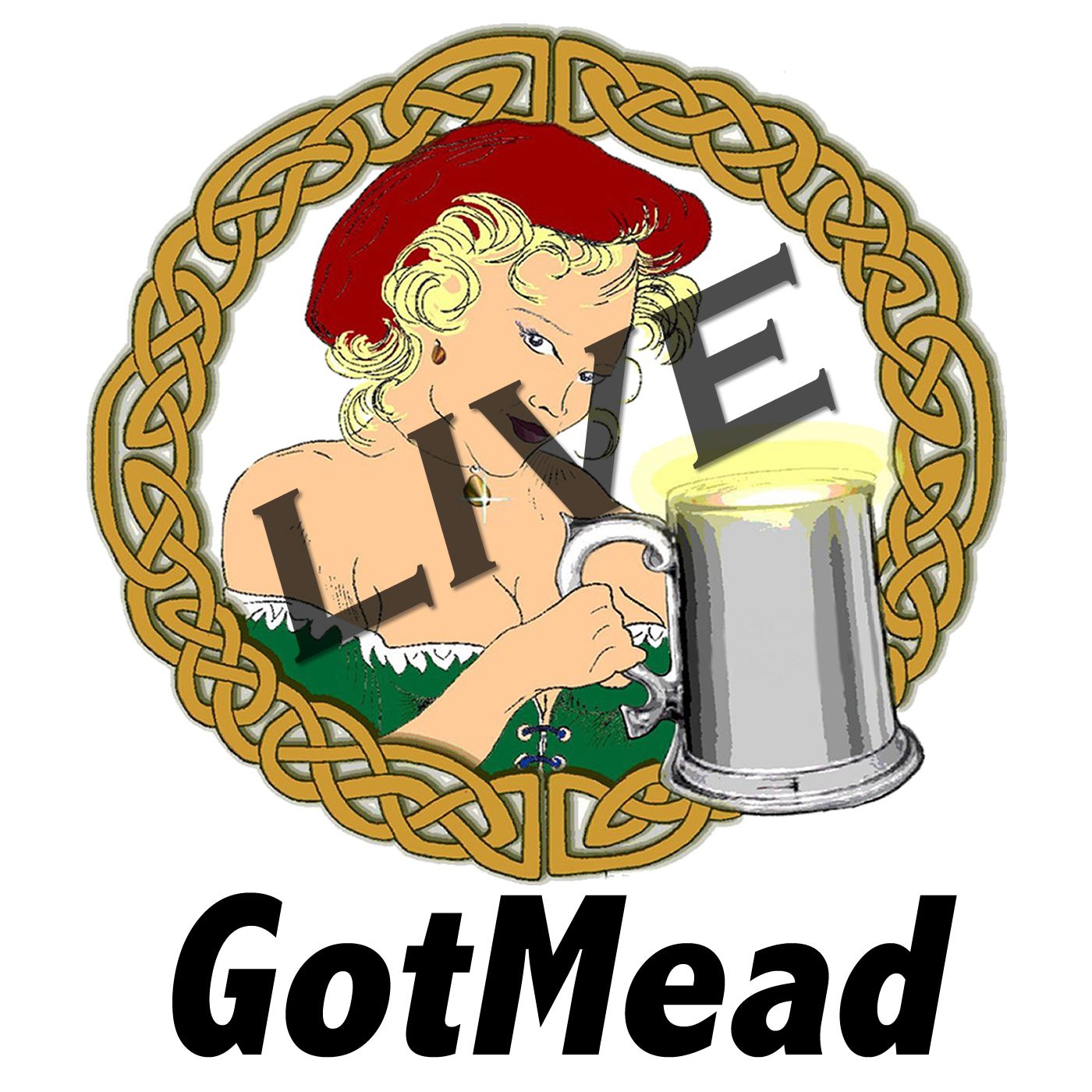 Claim Ownership
11-29-22 Tonight we're chatting it up with Manny Elgarresta, friend, mead maker, previous co-host on Gotmead Live and denizen of Miami. Manny has been making mead for quite a while, and has even converted his garage to making mead, enhancing it so he could make mead and beer in the Miami heat.Special for tonight, our last show of 2022, Manny has obtained 10 *gallons* of rare Florida Keys mangrove honey, and another 5 gallons of Keys wildflower honey. 180 pounds of rare, organic, unprocessed honey. And here at GotMead Live, Manny is offering these honeys to 10 special folks, to make a really special mead. We will be choosing talented mead makers from our faithful listeners to get a gallon of honey, and make a special mead from it.
Tonight we're headed to Illinois to talk with Luke Goucher and Carson Souza, proprietor and head brewer/meadmaker at Obscurity Mead. Obscurity Brewing was founded 6 years ago, and has been open for the last 2.5 years, with Obscurity Mead Hall being open for about 1.5 years.
Tonight we're talking with Chad Wiltz, owner and meadmaker at Garagiste Meadery in Tampa, Florida. Chad has been making mead since 2014, and opened Garagiste in late in 2017, after winning the Home Meadmaker of the Year in early 2017.Chad had a life-altering event (though he didn't realize it at the time) in 2014, when he visited a small meadery in Michigan and tried their meads. And that started a quest for him. He wanted to have more mead that was THAT good. Join us to see what he's up to and get some low down on how he does mead at Garagiste.
10-18-22 Tonight on Gotmead Live at 9PM ET, we're looking forward to talking with Keith Seiz with the National Honey Board. We usually like to have Keith and Alison on during National Honey Month in September, but this year we're doing October. We'll be finding out what the Honey Board has been up to, and talking about their Honey20 Project, the Mead Crafters Competition (5th year!), and the Honey Spirits Competition, as well as their other involvement with honey in craft beverages.
October 4, 2022 - Tonight we're headed to the west coast, to talk with Mark Tanner, owner of Seattle Mead Company and Deception Cellars in Washington state.
9-20-22 - Tonight is a night of mead and madness, as we welcome the Minnesota Mead Mafia gang to the show. Right on the heels of the Valyries' Horn Mead Competition, this bunch of maniacal mead makers have a lot of great info to bring, and even more craziness.
Tonight at 9PM Eastern on GotMead Live we're headed out to Colorado, to talk with Mike and DJ from Honnibrook Meadery. AJ and I met Mike and DJ at the 2019 MeadCon and MazerCup, and I was *blown away* by their salted mango session mead (and all their other meads). These guys are doing something right, and if you haven't tried it, you need to. Kevin visited them in 2022 and loved their meads.They're expanding, new location, new meads, and braggots! Join us to see what's up.
Tonight on Gotmead Live at 9PM ET, we will be talking with Dan Kesterson at Antelope Ridge Mead in Colorado Springs, CO. Their focus is on pyments, whole-fruit fermentation, and session meads.Join us to dive into mead with Dan!
We're hanging out with Bob Slanzi, beekeeper, meadmaker, industry influencer and general all around pretty cool guy. We're going to ramble around and talk mead both here in the US and in Europe.
4-26-22 Tonight on Gotmead Live, we're talking with Rachel Lipman, owner of Loew Vineyards, in Mt. Airy, Maryland, one of the oldest vineyards in Maryland. The mead production in the Loew family dates back to the mid-1800's in the Austro-Hungarian Empire, with a few prominent meaderies and distribution all over Europe. Rachel is one of the youngest winemakers in Maryland (if not the youngest), and she's pushing the boundaries in a male-dominated industry.
4-12-22 Tonight at 9PM ET we'll be getting together with RJ Cassle, head brewer and meadmaker at Bragging Rooster Beer, Mead and Cider in Warrenton, NC, just a half hour from Vicky's place. RJ is hard at work in getting Bragging Rooster to opening, which should be very soon!
Tonight we're talking with Pierre Rodrigue, home meadmaker in Alberta, Canada. Pierre has been with us before, he's an award winning meadmaker who likes to work with juice, and like us, is a flavor maven.
Tonight at 9PM ET, we're talking with Ian, Adam and Isaac Rushing, owners of Honey and Hops Brew Works in Front Royal, VA. Honey and Hops Brew Works is a meadery started on a shoestring, and the Rushing brothers have gotten it to a thriving business.
3-1-22 Tonight on Gotmead Live at 9PM ET, we're headed to paradise, Hawaii, that is. We're getting together with Shawn Darryl Harris, honey wrangler at Wao Kele Honey Farm, and meadmaker.
Tonight at 9PM ET, Gotmead Live will be talking with TJ Kline, President of the Savannah Brewers League and Organizer of the Domras Cup Mead Competition, which was held two weekends ago. We'll be talking mead, competing, and running a competition.https://bit.ly/3sEZdrL
2-1-22 Tonight we're hanging with Ty Wheeler, mead maker, and host of the 'TK and Drinks' video podcast.Ty is a denizen of Arizona, and is a dad of two boys and purchasing agent in his day life. By night, he's a podcaster and is working on mead distribution. At the beginning of COVID, he got laid off and decided to make a career in the mead industry. Join us as we talk meadmaking, distribution, and mead reviewing and judging.
1-18-22 Tonight on Gotmead Live at 9PM ET, we're talking with Mike & Cathy Rape, owners of The Ferm Meadery in Conroe, TX. They're making great mead in both session & full strength & spreading mead, music and food around. Join us to talk mead!
11-23-21 Tonight we're venturing back into the world of mead sensory analysis. Stephen from experimeads.com will be joining us again to talk about the latest mead experiments he's been conducting.Stephen is a home mead maker, three time Canadian mead maker of the year, and BJCP certified beer and mead judge. In the process of honing his craft, he has been testing the parameters of mead fermentation and conducts formal sensory analysis to compare methods. Given the lack of scientific evaluation of meads relative to wine and beer, he has been sharing his findings with other mead makers via experimeads.com to try and push mead quality to the next level.
11-9-21 Tonight we're headed to Texas to talk with Wendy Rohan and Rosie Haines at Rohan Wines and Meads in La Grange, situated between La Grange, Round Top and Fayetteville in south central Texas.Rohan Meadery is at Blissful Folly Farm. The farm is home to Rohan Wines and Meads, Blissful Folly hard ciders and La Grange Brewing Co.
United States