Discover
Hotboxin With Mike Tyson
Claim Ownership
Author: PodcastOne
Subscribed: 18,642
Played: 505,127
Copyright © 2002-2020 PodcastOne.com. All rights reserved.
Description
Listen as Mike Tyson, the baddest man on the planet, pours his soul into conversations with fascinating minds, celebrities and athletes in a studio full of smoke. Along with his cosmic millennial sidekick (former NFLer) Eben Britton, Kid Dynamite dives deep into the issues impacting us all today. This show will change the way you see the world.
Al B. Sure is not only bringing back the New Jack swag, he's also bringing back some of the best never before heard stories growing up with the Champ. Al and Mike are talking fame, fitness, and and coming up in an unforgettable era for the two stars! Thanks to our sponsors: Upstart.com= Hurry to Upstart.com/Tyson to find out HOW LOW your Upstart rate is. Raycon Wirelss Earbuds= Get 15% off your order at BUYRAYCON.com/Tyson 
Eminem
2020-03-2058:35
25
Will the real Marshall Mathers please sit down for a rare and revealing conversation on the set of his new music video Godzilla ? Yes he will.
Sugar Ray Leonard
2020-02-2601:08:42
23
Its the Humble in El Segundo when two Boxing Titans shock the world with an epic heart-to-heart and reveal the truth behind being a champion.
Make some noise for Drink Champs as they set the new Hotboxin record for most people stacked inside the Hotbox.
Mike is a vegan bodybuilder, Golden Glove Boxer, and once was a fugitive from the law. He brought his pop, Manny, who used to train the Champ for a surprise visit to the Hotbox.
Van Jones
2020-02-0601:11:27
5
Van Jones is like the Van Gogh of fighting for justice and human rights. But Van Gogh never helped pass bi-partisan criminal justice reform.
The OGs who fired the first shots in the East Coast vs West Coast war started at the bottom, only to end up on the grind with 2Pac, Snoop Dogg, Suge Knight, and Dr. Dre.
John has written books and Mike is an open book of the greatest stories ever known to the universe. Coincidence?
As the VP of Athlete Health and Performance for the UFC, Jeff gives us the down low on pissing dirty in professional sports. Listening probably won't help you pass a drug test at work, but it couldn't hurt.
Break the shackles of a slave mentality with the nitro-filled power of one of Hip-Hop's greatest moguls.
What happens when "The World's Most Dangerous Man" comes onto the "The World's Highest Podcast"?
She walked into the Hotbox as a fighter, and she walked out as a Champion.
Sportscaster Jim Gray
2019-12-2301:07:23
4
According to Jim, this episode is too valuable to be given away free as a podcast. So in the spirit of the holidays, consider this episode the best gift you'll ever get.
William Shatner
2019-12-1701:06:18
13
As you listen to this episode, imagine a version of Star Trek where the role of Spock is played by Mike.
Comedian Michael Blackson
2019-12-0901:02:04
11
His story is like Coming to America, but instead of being the secret prince of Zamunda and working at McDowell's, he was just a funny guy from Ghana who worked at Domino's Pizza.
Never call a Made Man a liar at a sit down, never gamble with money you don't have, and NEVER, EVER open Al Capone's Vault.
The Baddest Bitch and the Baddest Man on the Planet step into the Hotbox to share their triumphs, mistakes, and ego-trips.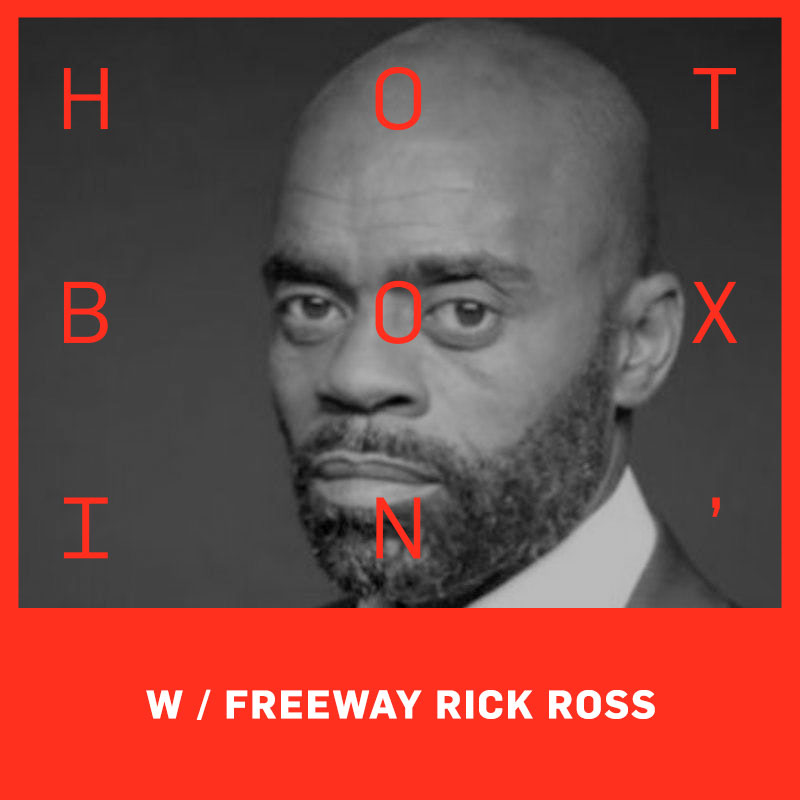 Freeway Rick Ross
2019-11-1801:10:07
14
The Real Rick Ross (not the rapper) was an aspiring tennis pro before becoming one of the largest cocaine traffickers in Los Angeles and getting wrapped up in the Iran-Contra scandal.
The Game
2019-11-1827:37
9
Mike used to call him Baby Game, but now he's officially a grown man with platinum records, a cannabis company, and experience crossing over into the afterlife.
Evander Holyfield
2019-11-1101:10:23
31
Season two sparks off with the Bite Heard Around the World. The two Heavyweight Champs chat about Evander's hilarious start to boxing, rooting for each other on the amateur boxing circuit, and finally going head to head in one of the most infamous battles of professional sports. My mama said, "You better listen to this episode! Exclusively available on Apple Podcasts and PodcastOne".
United States