Discover
Just Short of a Length with Roy & HG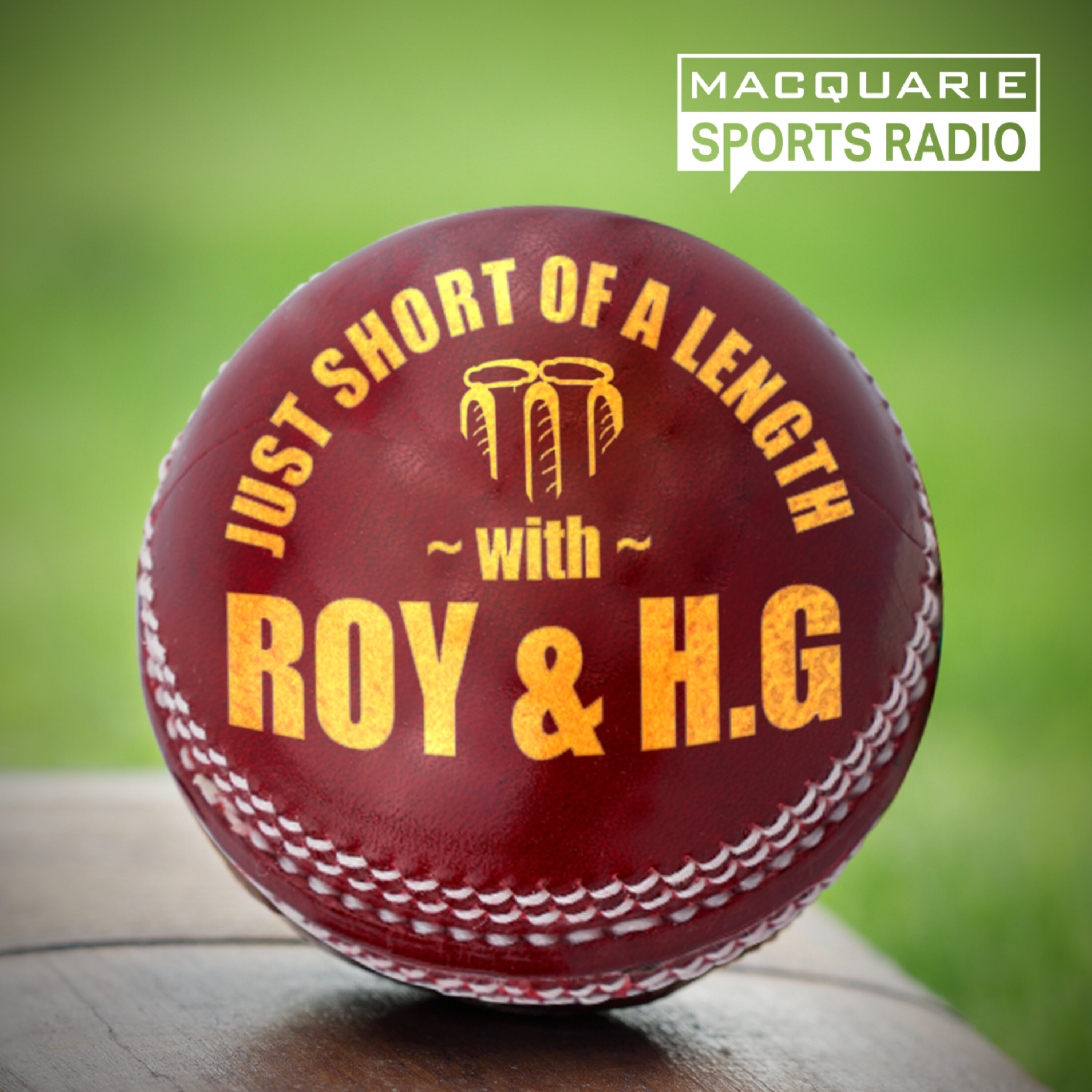 Claim Ownership
Just Short of a Length with Roy & HG
Author: Macquarie Sports Radio
Subscribed: 921
Played: 21,383
© 2020 Macquarie Media Limited
Description
Just Short of a Length with Roy & HG – coming off the long run and dancing to the sweet sounds of chin music. Australia's favourite sports commentary duo have a new home on Macquarie Sports Radio and they're on the front foot for the balls, the bouncers, the beamers, the back foot barrages, and whatever else is hurled their way. Hear Just Short of a Length with Roy & H.G, 10:00am – 12:00pm Saturday..
Lengthers, Genuine, Quiet, Hard Working Australians; roll up your sleeves, put on your bib and dig in to the final feast of the year!  Jeff Fenech's brain will be donated to science and boy oh boy are the possible learnings limitless. Following the Marrickville Maulers lead, brains should be compulsorily acquirable by the newly established National Brain Register, whose research focus on two main categories: Badly Damaged Brains, and Brains of Extraordinary Achievement, with Fenech's brain belonging to the former, and Jim Molan's belonging to the latter. Science. y = k/x - Brains Warner's law of Inverse Proportions. The more runs David 'Brains' Warner makes, the less we seem to like him. Go figure. Scores of 300-plus used to be applauded, but Brains is busy swatting off criticisms amid a smattering of applause.  The soul of Australian Boxing has been tickled, warmed, nourished. Genuine, quiet, hard-working Australians just want to feel good and nothing makes us feel better than watching two blokes put their dukes up in the ring. Tim Tzsyu, all soul. Justin Hodges? Somewhat less soul, but points for trying.  What next for Israel Folau? A stint in supercars? A night at the speedway? Formula 1? Where is there the most money to be made? The Sport of Court paid handsomely, but what next? Roy's theory could be on the money... The AFL has been universally whacked for relentlessly tinkering with the rules. The NRL has closely observed the AFL's experience and, in a stroke of 'genius', has decided to do exactly the same thing. New season, new rules, new ways to complain about the refereeing? After all, it's all about the fans and the fans like bagging the refs more than they like watching the game.  ScoMo is draining the swamp by merging government departments and the newly combined super departments are a little surprising. Here's a question: why isn't there a minister for Rugby League? A perfect opportunity for Big Mal to re-enter politics. Genuine, Quiet, Hard Working Australians who love Rugby League and vote.  Thanks for tuning in, writing in, downloading and sharing Just Short of a Length with Roy and HG in 2019! Have a Merry Christmas and we'll be coming in from the long run again in 2020!
Bend over, Lengthers, and get ready for a strip search; Horse Force is on patrol! Gigs are up for grabs in the strip search unit, just in time for Operation Stink. Have you got what it takes? Is sport under an existential threat in Australia? Does the future of the Australian park feature players? One worrying thesis suggests sport's popularity is waning. Waning! In Australia! Making matters worse, waiting in the wings to take centre stage when sport collapses... is gaming. Video games! Can you believe it? Instead of wandering into the middle with a Gray Nichols under the arm, young Australians are sinking into sofas with an Xbox in one hand and a Playstation in the other! It's a gross betrayal of Australian values. We're calling for a Royal Commission.  Everyone is worried about the Koalas, rightfully so. But only 4000 tigers remain in the wild and there are many more sporting teams named after tigers than koalas! The Richmond Tigers, known experts in animal husbandry, have tooled up and are on a mission to help their struggling mascot. Always keen to lend a hand, Roy and HG have a proposal: A Tiger sanctuary in the South Western suburbs of Sydney.  Sydney's race tracks are awash with cocaine and local magistrates have had it up to here. "Another race day on cocaine?" asked an exasperated judge, fed up with a vast number of coked-up racegoers wandering into his courthouse. Cocaine, MDMA, cobalt - and here we were thinking people simply wanted to punt! Next thing you'll be telling us is that cocaine was detected at the ARIA Awards! For two years at least, the AFL has been criticised by the wider footy community for incessantly tinkering with the rules. "Leave the game alone" fans screamed, frustrated by 6-6-6, score reviews, and the ill-fated AFLX. The AFL has listened, and the AFL has reacted… by proposing further rule changes, this time to the half-time break which apparently lasts far too long. Solution: lop off a quarter. Four quarters becomes three thirds. Remove the slack.  Jason Day's back has conked out - again - forcing him out of the President's Cup and the Australian Open. Filling his spot in the International team is world number 43 Byeung Hun An. Big mistake. Have they not thought of Mark Hensby? The Aussie talisman has risen from world ranking position 2079 to 2061 -- in one week! Your emails arrive via RoyandHG@sportsradio.com.au and the quality of the correspondence remains unfathomably high. We'd watch Slaughterhouse Rules.  All of that and plenty more on Just Short of a Length with Roy and HG!
The time has come for a Root and Branch Examination. A Root and Branch examination of what, exactly? Australian Cricket. No Ball Rulings. Australian Rugby League. The Australian Olympic Team.  Australian Rules Football. Professor Drizzle's Drought Thesis. The discovery of the Fifth Force - a new kind of subatomic particle believed to be the missing piece in our understanding of dark matter. Tina Turner's pay packet. Sun Yang's hammer time doping debacle.  This only scratches the surface. The list is exhaustive. It's time, Australia. Root and Branch.  She moves in mysterious ways. Maybe it's because Bono's in town, but his lyrics speak a certain truth. Just ask Israel Folau, where Bono's 'She' is God, and her 'mysterious ways' include widespread bushfires as punishment for living in sin. However, if bushfires are payback from a vengeful God, surely it's over the sordid Sandpapergate, right? Bono was right, mysterious ways indeed. The Rugby League World Order has been turned on its head. New Zealand *scoff* has usurped the Kangaroos to claim the World Number 1 spot, a cruel blow coming shortly after Tonga towelled up the Aussies. And what about those Kumuls! Great Britain were an embarrassment, offering nothing in the face of a brutal onslaught from The Kumuls. Watch out, world. Rugby League's foundations are being shaken violently -- and filmed illegally. Sticking with Rugby League, was it wise to keep the chequebook locked up and not pay Tina Turner a cool million to bring back Simply The Best? The world's greatest campaign, sure, but those are big bickies. Thinking outside the box, which Australian Star is up to the task of lipsyncing the game's iconic anthem? Shortlist: Jessica Mauboy, Angie from the Bachelorette.  Sun Yang's swimming career hangs in the balance and could be determined by a Chinese tradie who was allegedly moonlighting as a drug test observer. What's the big deal? Are tradie's not honourable people capable of witnessing a drug test? Could explain why a hammer was used to break the vials of Sun Yang's blood, tools of the trade.  It's NIMBYism gone crazy. The Supercars is the best thing to happen to Newcastle since the Johns brothers, but try telling that to NERG, whose complaint is that the cars race dangerously close to houses. C'mon, who doesn't want broken bits of supercars landing in the yard? A spark plug in the roses, a ceramic disc break in the azaleas, a camshaft nestled in the variegated elm. NIMBYS. Your emails arrive via RoyandHG@sportsradio.com.au and the correspondence remains first class. All of that and plenty more on Just Short of a Length with Roy and HG!
The Clash of the Codes ended in a draw which can be seen as nothing but a huge victory for the quiet Australian. Noodles and The Stool went toe to toe to release the huge hatred both very effectively convinced themselves they had for the other. The boys dissect the fight and Roy explains why it's far more important to watch the audience as opposed to the actual fight. But a draw leads to the obvious conclusion that there needs to be a rematch. It needs to be bigger, it needs to be angrier, it needs to be soon. Maybe even next week? But in a time when our beloved sportsmen and athletes are under enormous scrutiny, Roy and HG feel there is more than ever a need for specific education to be available to those in the sporting industry. Fight trainers and promoters should have apprenticeships and tertiary courses available to them. There should be boxing academies teaching young boxers how to deal with the press and the School of Rugby League Lifestyle teaching our NRL stars exactly how they should enjoy the lifestyle of a rugby league player. Speaking of Bali lifestyles, as we do every year, we're being reminded that the NRL off-season is far more entertaining than the regular season so the boys want to know why on earth Todd Greenberg and the boffins at Rugby League HQ aren't promoting it more! However, if rugby league administrators really want to make the horrible mistake of curbing the poor overseas behaviour of our stars, our loyal listeners have stepped up again to provide possible solutions. All of that and plenty more on another edition of Just Short of a Length with Roy & HG!
Fresh off Vow and Declare's huge Melbourne Cup victory for quiet Australia, the question must surely be asked: is it time for a horse to receive the Anzac Medal? It was a win sorely needed for Australia after the Kangaroos shock loss to Tonga which has had major domestic and international geopolitical implications. China must surely now see that if they want to be taken seriously in the Pacific, entering the realm of International Rugby League is a must. Domestically, we have far bigger concerns though as it is clear to the boys that the Kangaroos have tragically lost 'the feel'. Do we need an enquiry? A royal commission perhaps. If so, it'll need to be headed by someone removed from the game. Someone with suitable expertise to investigate exactly where we lost 'the feel' and how we can get it back. The boys then turn their focus to racing, that of the motor variety to start and we have just one question: who on earth put a microphone in front of Max Vertsappen? In the horse variety, does anyone know if Frankie Dettori has ever actually won anything or is his continual inclusion in the Melbourne Cup and other major race the work of dark forces that need to be investigated by The Horse Force? The countdown continues to the Clash of The Codes between Barry 'Noodles' Hall and Paul 'The Stool' Gallen. But considering the fight is to be held in Margaret Court arena, we feel the great lady herself should somehow be involved in the evening.  Peter V'Landys says there's buckets of money for the NRL to tap into to spruce up suburban grounds, develop regional rugby league and expand the competition with new clubs. But one of our loyal Lengthers who resides in 'The Malabar Mansion' thinks that money should go into establishing a National Correctional Facilities Competition. We think he might be onto something but the boys think we should go bigger and take the proposed comp international. Just one of many invaluable contributions this week from you listeners via via RoyandHG@sportsradio.com.au. All of that and plenty more on another edition of Just Short of a Length with ROy & HG!
It seems the Australian cricket team coaching staff believe the future of pace bowling lies in being able to bowl backwards whilst sitting down considering the latest training regiment involves rowing. Mitch Starc isn't happy and we can understand why. The boys are happy to see the normally timid and well-mannered Paul Gallen employing grubbery tactics leading up to his Clash of the Codes fight. Nick-naming Barry Hall noodles is inspired and a tactic that is sure to garner a meek and subdued response from Barry. The experts are at it again! This time they've used their immaculate judgement to not rank The Melbourne Cup among the top 100 horse races in the world. The boys aren't having a bar of that and want the Border Force to investigate immediately! Speaking of, thanks to you listeners, Mick Fuller's Horse Force is taking shape. So much so that we think the Australian Border Force need to step back and relinquish their duties when it comes to travelling punters from overseas.  Top of Horse Force's priorities though must be, has to be, can't be anything other than investigating the alarmingly high cases of former jockeys going missing.  Over the last decade, thousands of former jockeys have simply vanished and HG suspects dark forces are at play. Do we need to dig up every race-track in Australia to get to the bottom of this? Well that will be a matter for the Horse Force to decide. In what has to be one of the most outrageous decisions of 2019, speed racing fans were blindsided by the NSW government's decision to demolish Sydney Speedway to make way for a train stabling yard of all things. The boys have seriously difficulty digesting this news. Do trains honestly need a place to have sleepover parties? Honestly! And the NRL have finally caught up to what's been Roy & HG's position for years - that rugby league is in the entertainment industry, not the sporting industry. New boss Peter V'landys has acknowledged this which makes us excited for what could be ahead in rugby league. A 24 hour NRL entertainment channel surely with shows such as Winger Wants a Wife and Bring on The Burgess Brothers. Invaluable contributions as always from the wider community, via RoyandHG@sportsradio.com.au All of that and plenty more on another edition of Just Short of a Length with ROy & HG!
Golf Month has reached a plateau, according to Golfing Australia, which means it's time to turn your attention to Just Short Of A Length's Cox Plate special. Australian Horse Racing has been riddled with turmoil this week, all because we don't have enough of the Force embedded in the sport. Make no mistake, a horse can absolutely retain it's dignity as dog food, but only with the proper policing. Enter stage-left; Mick Fuller's Horse Force and The Dignity Act. Tiger Woods is set to release his auto-biography. Can he trust anyone else to accurately portray his life? It's sprinkled with scandal, but nothing scaling the photographs of Bruce McAvaney and Winx living under one roof. The Wallabies are running up a storm, per usual, and now sights are focused on how they can bond with their Japanese counterparts. It could all start with one question; what are chopsticks? Shane Warne's new movie is set to be a hit locally, but there are questions that need to be answered to determine how it will fare internationally; Who can be trusted to direct the cricket scenes? Will there be musical numbers? Will they be done in Bollywood style? Still looking at the big-screen, the iconic film-to-be, King Of The Mountain, has sprouted new legs with a new appeal to Chinese audiences by shooting a re-staged Bathurst-1000 in Shanghai. It could even become a cross-genre smash-hit by portraying the cars as ghosts. NRL Bosses are set to receive $1-million in bonuses, despite an "embarrassing" grand final. The final word could sit with The Horse Force man himself; Peter V'landys. Do they look at game-day experience, or reinvest into grass-roots developments; e.g. Hogs For The Homeless. Correspondence from the field, strong as ever, via RoyandHG@sportsradio.com.au.    All of that and so much more on Just Short of a Length with Roy & HG!
Punters! Roy & H.G are off to the races for another weekend of massive collects! Fret not, and rest easy, as you can relive the disappointment with a highlights package and assortment of best bits. Roy and HG return Saturday 26 October on Macquarie Sports Radio.
Driving for show, putting for dough. Time to drag the bag, punters. Grip it and rip it, and get your daily dose of irons and morning woods - It's Golf Month!  Why not celebrate with a round at Adelaide Oval, Australia's newest golf course, and Adelaide's most exciting new attraction since St Peter's Cathedral opened its doors to worshipers and golfers alike.  Meanwhile, Sticky AKA Ricky AKA The Angry Ant AKA The Game's Greatest Thinker AKA Carlos Smearson was robbed. The Green Machine was dudded. Jared Waerea-Hargreaves was dudded (note to self: never ask the NRL to build an app, or Darren Lockyer to competently use one). And the people of Australia were dudded by OneRepublic, who took to Australia's Greatest Stage and failed play a single Cold Chisel or Midnight Oil cover. Rugby League eh. Typical.  Like the boot needed to be plunged any deeper into Sticky's battered and bruised disposition, but try telling Chooks coach Robbo that. Robbo had the audacity to brand Cooper Cronk "the greatest thinker to ever play Rugby League" -- in earshot of Sticky! The audacity!  Anyway, the Artist Formerly Known As The Game's Greatest Thinker decided to get out of Dodge and jet to Japan, parachuting into the English Rugby Union's World Cup camp to lend a hand to Eddie Jones. We used to have a word for that…. Treason… Can you believe they've never made a movie about Bathurst?! A gritty, contemporary drama, a high-octane thriller, a full-throttle blockbuster… King Of The Mountain, Starring Craig Lowndes. Box office bonanza. Roy and HG are searching for a producer and an appropriate soundtrack for a training montage.  Clear your schedule and set the bookie to speed dial because next weekend is a Punters Paradise. Starting Friday night, where riches will rain down on dishlickers like never before in the world's richest greyhound race, The Million Dollar Chase! It's been suggested a Best Tracksuit parade will replace Fashions on the Field as salt of the earth punters load up on Box 4. Followed by The Everest, what more needs to be said? Another week of massive collects! Your emails arrive via RoyandHG@sportsradio.com.au All of that and so much more on Just Short of a Length with Roy and HG!
The Boot Part Two has written Monday's headline for you: RUGBY LEAGUE IS THE WINNER!  The Chooks vs The Green Machine. Robbo vs the man they call Sticky AKA Ricky AKA The Angry Ant AKA The Game's Greatest Thinker AKA Carlos Smearson… AKA League's Funniest? Just ask the Gigglers in his posse, or wait until Sticky's biography hits the shelves. A national security risk sits pride of place on the Canberra chest: Huawei. ASIO aren't happy. Luckily, the ACT just legalised the GREEN in GREEN MACHINE, so will we see Northern Lights, or Oregon Diesel, or OG Kush emblazoned on the jumper? As for the Roosters, well, it's Poultry in Motion. But answer us this - does a lifetime of free Steggles chickens fall under the salary cap?  Victor the Viking, the big idiot in the boofhead suit, we salute you. We Viking Clap you! Congratulations on your 600th game as the Raiders Mascot. We're guessing the costume is more sweat than suit these days. There's a communist in our midst… a deep state agent, a behind enemy lines operative, a COMMIE. A Liberal!  A man who was a handful of votes away from being Prime Minister of Australia. A conservative monarchist(with a penchant for fishnet stockings. Alexander Downer - whodathunkit?!  Is Cameron Smith a communist?! Roy's just putting it out there… you be the judge, there's no prejudice here, it's just that he's in the zeitgeist, and the dots must be connected. Why has he retired without telling anyone, if that's really what's happened? Who knew what and when?! Where's Comrade Downer when you need him? Hall vs Paul. A cross-code bout for the history books. This has potential for limitless spinoffs, including Hall vs Paul: Table Tennis.  Is Kelsey Lee Barber our new Golden Girl? The power. The style. The technique. The victory. It was a javelin masterclass.  UFC243 - that came around quickly! There's no better way to start a Sunday than to flick on the boss and see someone kneeing another man in the throat. The Last Stylebender doesn't stand a chance against Robert 'The Reaper' Whittaker. Your emails arrive via RoyanHG@sportsradio.com.au - Beefy's idea of a Giants rebrand…. GWS GWS.  All of that and so much more on Just Short of a Length with Roy and HG!
Patriots, pilgrims, five-goals-no-behinds-kicking-fair-dinkum punters… The Festival of the Boot 2019 starts with a Big Big Sound wrapped in a Yellow and Black sash. It's the day Grub Greene has been waiting for since learning how to digitally probe the rods and cones of opponents in the junior Grub leagues.  And while the Big Dance is the focus on the day, eyes, ears and hearts yearn for the pre-match entertainment. Mike Brady's Up There Cazaly. Paul Kelly's ode to the MCG Leaps and Bounds. Icing on the cake goes to John Williamson, whose 46,354th rendition of Waltzing Matilda will move fans to tears.   All rise for Sir Kevin Sheedy, who ventured forth across the Anzac Bridge in search of a footy field in Western Sydney to stick a flag in and officially declare it AFL territory. Forget the fact that nobody in Western Sydney gave two licks about footy. Instead, focus on the fact that people love winners, irrespective of code. And those born in the west of the town are born winners.  Lucy Zelic found herself in hot water (but not in a barrel, at least) after calling Adelaide a "S***hole" on a podcast.  Lucy's not the first - nor will she be the last- to forget that microphones record what you say verbatim, and podcasts are published online for the world to consume and subsequently become outraged over. Roy was shocked to hear Lucy's comments, firm in the belief that it's possible to enjoy at least a couple of hours in Adelaide, provided there's a show on.  Taylor Swift has scandalously pulled out of her hotly anticipated performance at the Race that Stops The Nation. Questions must be asked and answers sought. What did Taylor Swift think she was singing at? And who told her horse racing is cruel? We're pointing the finger at Stella McCartney, who shares a pastel-hued and filled with whimsy vegan fashion line with Swifty. This has a real Stella McCartney stink about it.  What about those Wallabies, right? Give us a Woolies backed commemorative coin already - THAT'LL bring the fans back! Emails arrive via RoyandHG@sportsradio.com.au and the quality of your correspondence remains reliably high. Honourable mention this week to Bomber, whose one-punch-per-season quota for NRL players ought to be considered by Peter Beattie / Peter V'Landys as a matter of urgency. All of that and so much more on Just Short of a Length with Roy & HG!
It's hard to tell if we've got more fireworks coming from faulty pyrotechnics or from this country's sporting justice system. The NRL judiciary and AFL tribunal dominated the headlines this week and our boys are becoming concerned that the men and women who comprise these panels are becoming too much like C grade celebrities listening more to stylists and makeup artists than the lawyers and the fans. So bad is it now, that the old defence of "It wasn't me out there - I don't remember being on the field" can't even get our favourite grubs off from pulling opponents' hair and sticking fingers up their nose! Forget about climate strikes or oil prices, this is the major issue that needs to be addressed and in that spirit, Roy & HG put their heads together to come up with solutions. If our precious grubs are going to get suspended even when they're guilty, it's time to arm them on the field so they can do some proper damage and protect them off the field by replacing these pesky retired athletes with men and women from overseas that have zero connection to sport whatsoever. The Wallabies are about to start their Rugby World Cup campaign looking to utilise the artful tactic of focusing on any wins in the last decade to build momentum whilst ignoring any losses from the last month. After all, the boys agreed with one of your emailed suggestions that Fiji will bring a lot of momentum from their 1954 win against the Wallabies into this first game. But of bigger concern to the boys is how the Wallabies are currently promoting themselves to the youth of the country releasing special edition coins and wearing blazers and hats that are steel reinforced to keep the players from bursting out.  Instead, the boys feel like a World Cup team mascot would be far more effective and who better than to model this mascot on than the Wallabies own Tolu Latu asleep in a car. After all, Latu's defence was probably "It wasn't me in there" - what could go wrong? All of that and a whole lot more from the week that was in sports and general buffoonery.
Grubs. They're good for the game - just ask Kevin Sheedy, who this week delivered a golden nugget of grub wisdom: nice teams come last. Take a leaf out of Toby Greene's book and Get Your Grub On.   In the modern era, where Rugby League Centres of Excellence are becoming as common as Rugby League off-field incidents, all Centres should establish a School of Grub, where players are educated in dark arts of grubbery by a shady emeritus professor. Hair pulling, wing nutting, eye-gouging, facialling, wrestling moves, squirrel grips, straight arms, jumper punches, off-ball agro; important skills for any self-respectless footy head. If Serena Williams is to break Margaret Court's grand slam record, surely it has to happen at Margaret Court Arena! Cue the confetti cannons. In handing the honour over to the GOAT in waiting, Maggie could address the crowd and deliver a sermon, speaking in tongues. Taylor Swift's hotly-anticipated performance at The Race That Stops The Nation has punters and Swifties salivating in unison. Animal rights activists not so much - Taylor shouldn't have to put up with seeing a horse shot on the Flemington Straight! TayTay's Melbourne Cup gig is a win for everyone, but especially for her young fans who get to experience the pure ecstasy of backing a winner for the first time.  Your emails arrive at RoyandHG@sportsradio.com.au and the correspondence this week has been notably high quality. A parade for Steve 'Savant' Smith.The Rugby League Community Corp. Grub guidance. Genius.  When was the last time you worked out in the Gym of the Mind? When was the last time you utilised your box of mindset tools? If the answer to those questions is never and not once, then perhaps Collective Mind can help. Just don't ask for a referral from the Adelaide Crows… 73% of Rugby League fans say negative headlines do not put them off watching the greatest game on earth. Hair pulling, wing nutting, eye-gouging, sex taping, public defecation - people love it! All of that and so much more in a week where too much sport is barely enough!
Just a couple of beers, that's how it starts. Just a couple of footy players enjoying a couple of beers, all part of a winning diet. Simply The Best. Tina Turner's Rugby League anthem sounds as good now as it did then, arguably even better. But better can be better still, a universal fact which the NRL understands better than anybody. So how do you make Simply The Best Simply The Even Better? Two words. Dave. Grohl. Pizza and Coke. Tastes like Saturday night. But is it the diet of a champion? It might have been once upon a time, but Jeff Horn might need to consult a cookbook.  Has Roger Federer earned a wing at the Australian War Memorial? Just asking… He's proof that the Anzac Spirit can flow freely through foreigners. Just saying…  Do you know what violence loving American sickos need? Rugby League. The greatest game on earth deserves a little love from the US of A, and Jorge Taufua gave them a tantalising entree with his colossal hit on Cameron Munster. How a little Australian atmosphere might make all the difference.  Speaking of America… Hey Netflix, we've got an idea… The Book of Feuds… a miniseries. Starring Russell Crowe, complete with a case of Moet which may or may not have been nicked from those dirty Roosters. Also starring Sean Garlick, a renaissance man if there ever was one. Stage, screen, footy field, kitchen; Garlo's got it all. Have the Bombers finally put the supplements saga behind them? Kevin Sheedy thinks so, and who are we to argue with Sheeds.  Pilgrim and Patriot Martin got in touch via RoyAndHG@sportsradio.com.au with a detailed proposed curriculum for mandatory sports education in schools. After a nutritious lunch of pie and chips, we'll be enthralled with 5th period's Gallipoli and its Significance for Australian Sports Leadership Groups. That's some Anzac Spirit right there. All of that and so much more on Just Short of a Length with Roy and HG!
"I just want Australians to be Australians," said Rampaging Roy Slaven, voicing the sentiment of quiet Australians from all corners of the globe. "What's wrong with being Aussies, ey? I'll tell you what's wrong with it - nothing." Too. Bloody. Right.  Aussies. Sunburnt plains, girt by sea. From New York City to Old Trafford, we Meet as Friends and Part as Mates. That's Aussies for you.  It's the race that stops a nation and the musical matchup that stops the world. It's fresh… it's new… it's now… It's Bruce McAvaney, Shaun Mendes, Camilla Cabello and Taylor Swift. Bruce & Taylor Swift. Together again. They Meet as Friends and Part as Mates. Just don't let them in the mounting enclosure…  Sticking with music: Meatloaf, Billy Idol, the cast of Neighbours - when it comes to Grand Final Entertainment, the bar has been set unreachably high. Spare a thought for Ryan Tedder and One Republic as they Have a Go to Get a Go and this year's NRL GF. Will they open with Apologise?! Prior to the big dance, in the interest of simmering down tensions and extending hands across the water… should both captains, who Met as Friends and Parted as Mates, link arms and sing the national anthem? And while we're at it, remembering that footy players often possess hidden but sublime creative talents, how would Footy Players Got Talent fly at half time? DRS is maligned by many but misunderstood by most. Perhaps we should introduce DRS Fundamentals into schools, funded by Gonski, in hopes of the next generation becoming DRS natives. The review system is broken, but could it be fixed if the bowling team could review the data before they ask for a review? A review review, if you will?  And here we were thinking AFLX was dead. Thank God the EJ Whitten Legends Match gave the ailing format a desperately needed kiss of life.  Horn vs Zerafa has fight fans across the globe making a bee-line for the combat sports capital of the world - Bendigo! The Hornet says we should get ready for a "slugfest" and, if we're lucky, a "bloody brawl". The bloodthirsty residents of Bendigo's Japanese sister city are watching closely. The Showman looks at home in the City that Never Sleeps - hear Roy's rundown of attractions/distractions to learn why tennis sits down the pecking order. Your emails via RoyandHG@sportsradio.com.au All of that and so much more!
Don't get Roy started on Max Verstappen…  We got caught up in the hype. Lengthers, Hoop Dreamers, eternal optimists naive enough to think that any sport would look magnificent if only it were played on a footy field - all of us. Marvel Stadium has set Basketball back a hundred years. Worse than that - it's made Russell Crowe furious.  On the other hand, the geopolitical slyness is notable. It's an Australian snub to China, whose preparations for the upcoming Basketball World Cup have included a suite of freshly built AFL stadiums. It's Basketball Diplomacy. Australia 1, China 0. Reminder - don't get Roy started on Max Verstappen… Speaking of Stadium problems, we can add Hollywood to the expanding list of parties aggrieved by Sydney's new stadium build, which threatens to throw Tinseltown's local production plans into disarray. Fox Studios are next door, and incessant noise pollution coupled with vibrations caused by relentless jackhammering will prevent Chris Hemsworth from doing his best work in the latest Thor film. Roy has a simple solution - anyone got a walkie talkie? Sigh. What about those Wallabies… uttered once again with that familiar mix of disappointment, disdain, and disenchantment. We hadn't factored in the rain. Qantas can't be happy, Alan Joyce ought to pick up the phone and rattle a few cages.  Oh - don't get Roy started on Max Verstappen… Has Cameron Smith been brushed with the colour grub?  He referees the game better than those with the whistle. He wrestles like he's Stone Cold Steve Austin. And now there's the Wingnut. Hey, those ears aren't going to pull themselves! What's Peter Beattie said about Wingnutting? Nothing. Typical. Where's Peter V'Landys when you need him?
When the player's simply aren't performing to the required controversy levels expected by the NRL, administrators are left with no choice but to step in and fill the void. A $15k ring undoubtedly topped by a sorcerer's football shaped diamond to which all referees and officials come under immediate control - exactly what Doctor Greenberg prescribed. Contrary to popular belief though, the controversy lies not in why Barb Smith deserved such gift but why the extended Smith family weren't recognised and showered with gifts for their service and sacrifices as well. It's no wonder the NRL has ploughed through 50 club bosses in five years and the question must be asked: where will the game's next generation of fumbling bosses come from if kids desire only to be mere professional players? Elsewhere, the Bledisloe Cup decider is set to be the mother of all pressure cookers with Eden Park to become a couldron of hate. But if the Wallabies aren't pulling splinters out of their backside and needing to relieve themselves on the field, can we draw any conclusion other than the Kiwi's have all-together abandoned the national religion. Nick Kyrgios certainly understands the simple principle of added entertainment in sport and adding value for dollar. He just needs to lose the silly notion of moving his antics behind closed doors. Roy has some key advice for David Warner - one simple word starting with 'R' and ending with 'U-N-S'. And finally, the boys are proud to announce the newest addition to the Spring Racing calendar - The Trump Cup.  Come Jumbo Ozaki, come Hole in One, come In The Rough and come Niklaus, any horse birthed in ode to the great game of golf is invited to compete for the most prestigious of awards - a cut glass figure of the greatest President to have ever lived or been dreamt of. Plus your emails via RoyandHG@sportsradio.com.au. All of that and plenty more on Just Short of a Length with Roy & HG!
That's Golf!
2019-08-1001:23:00
1
It's not often that we see typically restrained professional golfers behaving more like rugby league reprobates but sometimes you've just got to throw your hands up and say 'hey, that's golf.' Danish golfer Thorbjorn Olesen mid-flight antics are straight from the footy trip playbook. Drunk? Check. Urinating in the aisle? Check. Common assault? Check. But hey… That's Golf! Sally Pearson has hung up her spikes and we salute you, Sally! In fact, Roy's idea to honour our greatest hurdler is rapidly gathering widespread support: The Sally Pearson Anzay Spirit Medal. Steve Smith is The Don 2.0 and the banned trio's redemption story is cinematic. Starring David Warner, AKA The Brains. Cameron Bancroft AKA Action Man. Steve Smith AKA Blind Guy. Justin Langer AKA The Game's Greatest Thinker. Three words: Box Office Smash. Speaking of cricket, to the vexed issue of balancing the WAGS. Do they keep the players grounded, or do they break the bond of men? Gossip among the WAGS, when fed back to the players, can lead to divided loyalties. Cricket is a soap opera, shall we schedule a test in Summer Bay? All bets are off at Collingwood -- or are they?! A spicy rumour was emphatically denied by the club but the source of the scandalous accusation has a distinctly Navy Blue whiff to it… old enemies on new media. It's the devil's work. The NRL is considering broadcasting judiciary hearings in a bid to improve transparency, and after the success of So You Think You Can Build A Stadium, Roy and HG have their reality TV producers hats on again. Karl Stefanovic could host it, and fans could punt on the punishment. Ratings bonanza. Where exactly is the Rugby League hall of fame? HG has scaled the East Coast and can't find it anywhere. And what are the duties of a hall of famer? Is it to stoke the fire igniting Rugby League's eternal flame? Why fracking bans should be lifted to convert the Eternal Flame to gas. Roy and HG rip through your emails which arrive thick and fast via RoyandHG@sportsradio.com.au All of that and plenty more on Just Short of a Length with Roy & HG!
Take a knee, lend and ear, and soak up the unfiltered inspiration from Australia's newest motivational luminary, John Eales: Build On The Confidence. Exactly how one Builds On The Confidence remains unclear. Regardless, it's a life lesson as suitable for the Wallabies as it is for sandpaper buffs, right-thinking patriots, God talks to me pilgrims, mad cricket punters, and bald-headed flogs. Which is to say, you and me.  The Australian Cricket Team must Build On The Confidence of true skipper Steve Smith's arousing Ashes knock, provided they're not too busy thinking up explanations for why they chose the numbers on their backs. Names and numbers are a blight on the creams, but give us an incredible insight into attitudes of numerology within the team. As for the umpires, clearly, they must Build On The Confidence of their third umpire safety net. Better still, maybe it's time to introduce electronic dismissals and robot umpires. Outs are not outs, not outs are outs. Analogue Umpires lack clarity, It's time to go digital. Bug in the ball? An array of sensors? If we can put a microphone in a stump, surely we can put a bank of sensors in a stump too?!  Feral footy fans face a beat down from the fuzz. Bald headed flogs beware. It's Orwellian, but that's typical from The Murderer at AFL HQ. We need more carrot and less stick. Perhaps the AFL could learn a lesson or two from the good burghers of Watsford Oval who have a high level of tolerance for the most colourful words in the English language. Bald Headed what now?! Start your engines petrol heads - it's The Winton Festival of Speed. Mustangs vs Camaro vs Torana vs Charge, plus a swap meet with a lovely collection of sideboards and French provincial buffets.  Jobs and growth. Lifters, no leaners. Have a go to get a go. Horse racing is not the domain of youths and should strictly be the domain of older Australians searching for work. Like Billy, the 46-year-old Japanese jockey who might be Australia's oldest apprentice. Have a go to get a go. Billy is a role model for older Australians on Newstart - where's the horse? Get Ready Queensland - and learn how Johnathan Thurston earned a cool 87 grand for his latest ambassadorial gig. Real and relatable.  Plus your emails via RoyandHG@sportsradio.com.au - learn more about Sticky Ricky's penchant for flipping quality used cars.  All of that and plenty more on Just Short of a Length with Roy & HG!
Put your egg beaters out. Masterchef's pulsing heart - the trio of judges - have been put out to grass-fed pasture. Ironically, for George at least, over a pay dispute. But opportunity knocks and the trio, backed up by the blue sky world of reality TV formats, could be the solution Sydney's latest construction crisis…. The Harbour City's demolished but yet to be rebuilt football stadium has been plunged into chaos after builder Lendlease was punted from the project. The solution? Masterbuilder. It's Masterchef, meets The Block, meets the not insignificant challenge of stadia construction with a budget as tight as its timeline. Two words: ratings bonanza. We're a nation of tradies, of architects, of armchair experts. Have a go and get a go, y'know? With Gary, Matt and George leading the charge, what could possibly go wrong? There's a conspiracy. A conspiracy to oust Peter Beattie as Rugby League's El Jefe. The clubs are flexing, set in their belief that Beattie lacks muscle, thus cannot flex back. The lid is lifted, the truth exposed, and it's got Charles Wooley and the 60 Minutes crew's fingerprints all over it. A hard day's rugby league needs a big cold beer, and the best cold beer is Frank Burge's 'The Immortal Pale Ale'. The Dirty Reds' legend has been immortalised - again - by having his face slapped on a limited edition tinny, which must surely rank as the game's highest honour. Mark Coyne & Mark Latham - what the hell is going on with Mark's and Taxi drivers? Subzero is sick, and the nation is nervous. The 1992 Melbourne Cup winner, 'Subbie' to his mates,  reached out to people - and the people reciprocated in kind. Subzero loved kids, whereas Rooting King hated them. Subbie's recent bout of colic saw him hooked up to drip after his kidneys showed signs of shutting down. Subbie is in our thoughts and our prayers, but no longer our black books. Plus all of your emails via RoyandHG@sportradio.com.au and plenty more. After all, it's a week where too much sport is barely enough.
United States