Discover
Linux Action News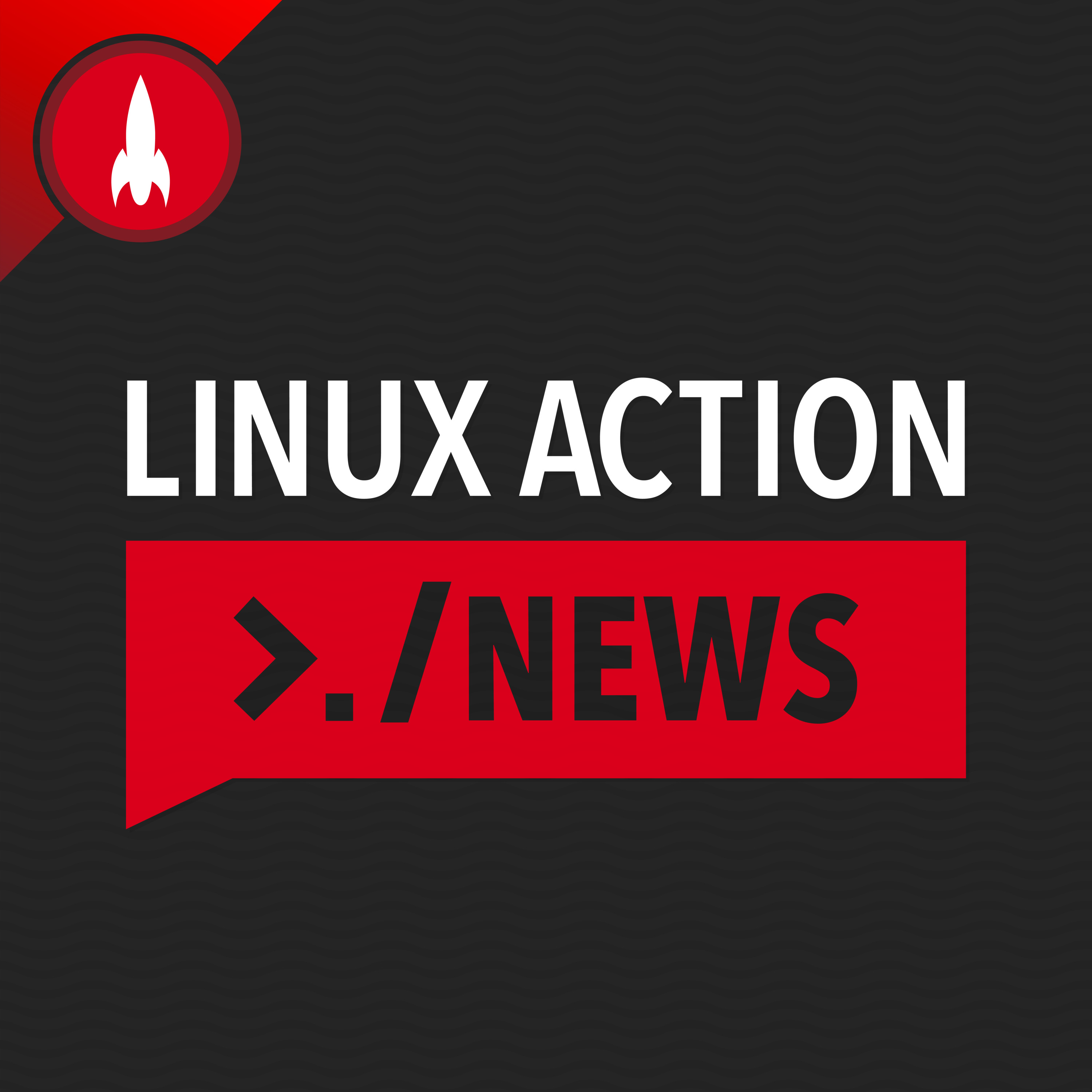 Claim Ownership
In what turns out to be our final publication, we say goodbye.
WireGuard officially lands in Linux. We cover a bunch of new features in Linux 5.6 and discuss the recent challenges facing LineageOS. Plus the PinePhone UBports edition goes up for pre-order, and our reaction to Huawei joining the Open Invention Network.
Mozilla puts your money where your mouse is and partners with Scroll to launch Firefox for a Better Web. We'll explain the details, and why it might just have a shot. Plus we try out Plasma Bigscreen, cover Telegram's really bad news, and much more.
Why Debian is facing one of its most critical moments yet, Microsoft and GitHub buy npm, and our thoughts on Linux Mint Debian Edition 4 "Debbie." Plus, why "Works with Chromebook" might be great for Linux, and using your GPU to fight the Coronavirus.
Solid releases from GNOME and Firefox, bad news for custom Android ROM users, and a new container distro from Amazon. Plus Mozilla and KaiOS team up to bring the modern web to feature phones, and the surprising way Microsoft is shipping a Linux kernel.
Let's Encrypt is forced to revoke customer certificates, the big change coming to FreeNAS, and the trick to running Android on an iPhone. Plus our concerns about Debian's future, and the unfixable Intel flaw announced this week.
Bruce Schneier puts his name behind Solid, Firefox starts to roll out DNS over HTTPS as default, and Microsoft's Linux first device ships to customers. Plus a birthday gift to Raspberry Pi users, Collabora comes to mobile, and more.
Microsoft Defender for Linux is in preview, Mozilla's VPN has a secret advantage, and why the community is calling out NPM Inc. Plus a new report about open source security, and more.
The week was packed with major project releases, we go through each of them and tell you what stands out. Plus an update from Essential, and NetBSD's first big ask in ten years.
Why we're disappointed in the CoreOS Container Linux transition, Mycroft goes troll hunting and the complicated story brewing at the GNU Project. Plus, a few community fundraisers.
The upcoming Linux kernels are packed full of goodies, Qt changes its licensing terms, and Thunderbird gets a new home. Plus our thoughts on IBM's CEO stepping down, and Google's new open-source security key project.
The real reason Rocket League is dropping support for Linux, Wine has a massive release, and the potential for Canonical's new Android in the cloud service. Plus, our take on the FSF's Upcycle Windows 7 campaign, and the clever Chrome OS strategy upgrade for education in 2020.
Nextcloud's new release is so big it gets a rebrand, why Mozilla had a round of lay-offs, and the real possibility of Steam coming to Chrome OS. Plus, the sad loss of a community member, and more.
Are we overloaded with open source licenses? We consider a simpler future. Results from the Debian init vote are in, and why Amazon's new open source project might be worth checking out. Plus, our reaction to Google's search ballot scheme launch.
It's our annual predictions episode. We review how we did in 2019, and then set out to predict what we think will happen in 2020.
We review the major moments of the year's news, and discuss how they impacted our world.
Canonical releases a "mini-cloud" on your workstation, the KDE ecosystem has some big news, and the smart home might have just become more open. Plus Firefox's new DoH partner, and signs of life from the Atari VCS.
The first desktop Office 365 app arrives, Ubuntu commits to current and future Raspberry Pi boards, and why the near-term future of Linux gaming looks a bit rocky. Plus, our concerns with Google's clever long-term Fuchsia strategy.
Ubuntu Pro is a click away, and their kernel goes rolling on AWS. We process the range of announcements, while Mozilla cranks up the security and impresses us with DeepSpeech. Plus why Ubuntu is taking the Windows Subsystem for Linux so seriously.
We share Mozilla's concerns over Contract for the Web, and try out Kali Linux's new tricks. Also, our thoughts on the new Alexa Voice service coming to low-end IoT devices, and much more.
United States