Discover
Linux Action News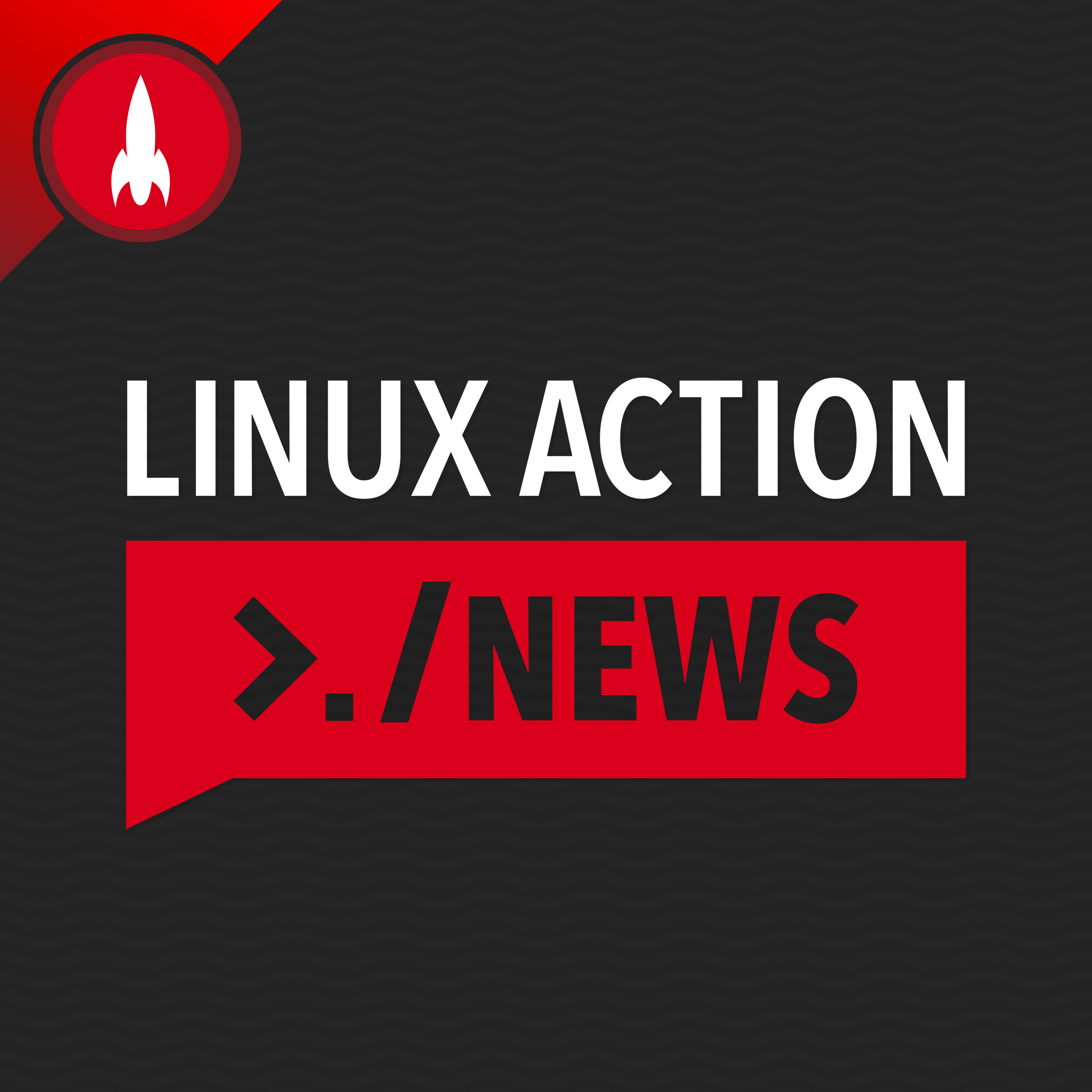 Claim Ownership
The major shift in the Linux landscape this week that was hardly noticed, and our thoughts on COSMIC from System76. Plus Google adds its weight behind Rust in the Linux Kernel, and the new security features landing in WSL2.
Don't buy that M1-powered Apple machine just yet, solving Wayland-driven fragmentation, and why Firefox is about to get an upgrade on Linux. Plus the imminent problem KDE solved this week, and more.
The first CentOS clone is out, but it's the second part of their announcement that might be the most important. Plus our reaction to SCO reigniting their decades-long fight with IBM and Red Hat, and the big news in GTK-land you might have missed.
GNOME 40 is out and we chat with the project's Executive Director about the technical and visual improvements in the new release. Plus the facts around RMS's return to the FSF board, and our analysis of the situation. Special Guest: Neil McGovern.
Mobile Linux OSes are looking better than ever this week, a new effort to keep legacy applications running on Linux, and the signals indicating a Fuchsia release is nigh. Plus a PSA for GNOME users, and a recently improved tool for the Raspberry Pi. Special Guest: Dalton Durst.
The A-Team assembled to make open source more trustworthy, why we might be about to find out how much SUSE is worth, and some essential project updates.
Canonical reveals long-term Ubuntu plans that you might have missed, and the "double ungood" warning from Linus this week.
Red Hat is still in damage control mode, a new hacker laptop called Framework makes bold promises, and what Google is spending money on in the Linux kernel. Plus why we've recently switched back to Firefox, and more.
We share some exclusive details about the Linux-powered gear that just landed on Mars, and the open-source frameworks that make it possible. Plus a major new feature coming to a Linux distro near you.
Microsoft and Ubuntu's relationship is under a new spotlight this week. Plus our rundown of the feature-packed 5.11 release, a Fuchsia surprise, exciting hardware news, and more.
The story behind a Microsoft repo shipping in Raspberry Pi OS, Canonical updates a special version of Ubuntu, and a couple of milestones the Linux world hit this week.
Google removes Matrix chat-client Element from the Play store, sudo has a major flaw with a long-tail, and Rocky Linux gets a boost.
Why we don't think Red Hat's expanded developer program is enough, our reaction to Ubuntu sticking with an older Gnome release, and a tiny delightful surprise.
Impressive updates for some beloved open source projects, and AlmaLinux—a leading CentOS alternative—is born. Plus Google's surprise for Chromium users, and we go hands-on with Podman's docker-compose support.
We explain the recent Qt upset, and then go hands-on with the new PeerTube release. Plus Wendell from Level1Techs joins us to discuss his thoughts on porting Linux to the Apple M1. Special Guest: Wendell Wilson.
A lot of open source development was packed into 2020, we recap some of the standout moments you should know about.
Our annual predictions episode kicks off with a review of what we got right and wrong for 2020, and then we speculate wildly about what could happen in 2021.
Another Google project meets an untimely demise, but we find the silver lining. Plus new Matrix goodies, why AWS is investing in Blender, and more.
We explain the major changes to CentOS this week and break down the top four criticisms. Plus Google makes their Fuchsia intentions a bit more clear, and why Linux 5.10 is a BIG deal.
Desktop Linux users saw a lot of new features land this week, and SUSE might just have a new cloud-winning strategy. Plus Michael Larabel from Phoronix joins us to discuss the state of Linux hardware support in 2020. Special Guest: Michael Larabel.
United States