Discover
Maximum Medicine Radio
Claim Ownership
Author: Transformation Talk Radio
Subscribed: 1
Played: 15
© Copyright Transformation Talk Radio
Description
Sometimes being human has its challenges. Our physical health falters, our spirits sag, our dreams don't immediately come to fruition. What is a person to do? Welcome to the power of Maximum Medicine Radio. Join me, Doc Martin, in conversations that will blow your mind about healing. In our hit show, Doc Martin addresses the scientific with bridging to the mystical approaches to give you a new narrative about Maximum Medicine. Let's open the door to explore new possibilities.

In this live call in show, we will journey into the extraordinary genius of the human body and talk about other beliefs that impact being your multidimensional self. We seek the seen and the unseen, and explore the Earthbound and the Other Worldly. All with the purpose of calling forth the Maximum You. A You that is more in alignment with your highest destiny, expanded into your fullest capacity.
Scientists and mystics keep telling us that we are not separate. And that in the quantum Universe, down at the tiny level, things are not things yet but clouds of possibilities. Within our bodies, photon (light) emissions may indeed be the master communication network. Join me and my guest Lynne McTaggart to talk about accessing the realm of possibility and using intention to heal others. In 2020, shift your method of healing to include more intention -- and watch for the miraculous!!
Each day we are faced with choice points. How we proceed very much depends on the thoughts we have, the energy field we inhabit, and the Helpers we ally ourselves with. Join Dr Pat and Doc Martin in discussion of bringing shamanism and power Helpers into our everyday lives, one decision at a time.Watch live on Facebook. www.facebook.com/transformationtalkradio/
Every day we are faced with conflicts, some large, some small. Sometimes our decisions are right for the other person but leave us lacking. What if we were able to put our self-worth and value into any equation, honoring ourselves each decision we made? Join Doc Martin and Dr Georgia Herrera (Christian mystic, chiropractor, energy healer and wellness coach) in a discussion of how to bring love to any encounter, especially self-love. Dr Georgia will lead us in sacred prayer.
Does the world seem Bat S %$ Crazy? How do we stay sane and grounded in (the best) reality? Join Doc Martin and Dr Pat to talk about how to thrive when crazy times are all around us. We will talk about techniques to stay grounded, centered, balanced, and aligned.
Ready to cocreate with the Stone People? Learn how so much wisdom and power can be gained from connecting deeply with the energies and intelligences of Stones. Robert Simmons, renowned author of books of the metaphysics of stones, will share his mystical experiences and what he learned about alchemical power of healing from the Stone People. Join us for a meditation connecting us to the wisdom of stones.
The Mayan god Tezcatlipoca dared the Underworld to face the chaos each night, only to arise in the dawn. With him was an obsidian mirror, used to peer into the truths of the world. In our times of crisis and turmoil, we can use obsidian to peer into our smokey truths. And then bring forgiveness to our human flaws, restoring our collective soul s balance. Join Doc Martin and Dr Pat to talk about how we can own our shadow sides and heal them with forgiveness. An energy practice with obsidian will be shared.Watch live on Facebook. www.facebook.com/transformationtalkradio/
Each time we want something new in our lives, we need to change. Sometimes change is scary, especially the big changes we want to undertake. Call in the energy of the jaguar for courage to plan new ways of living. Join Doc Martin and Dr Carl Greer in discussing his book, The Necktie and the Jaguar, and ways he found to bring in important changes in his life.
A truly comprehensive approach to healing incorporates multiple approaches. Doc Martin shares the multilayered way she tackles a client s issue. The perspective is fluid, circular, and brings in the power of the elements, the directions, energetic vibrations, and where the client is in her healing journey. Join Doc Martin and Dr Pat as they discuss these "wheels of medicine".
Mongolian shamanism has been around since recorded history. Join Doc Martin and Bachi Nyangar in introducing Huhchir who is a ninth-generation shaman. In trance, Huhchir brings forth the spirit of ancestral shaman Hasar Uvuu. We will be live and will have Hasar do short readings for callers.
In order to truly shift anything, or to create or manifest anything, you need to get your thoughts in the right place. You need to have vision, and clarity, and be willing to transform. Doc Martin and Dr Pat will talk about the Mindfulness Matrix a composite of key belief patterns that should be embodied to have the most power in the journey of your transformation.Call in! 1-800-930-2819Watch live on Facebook. www.facebook.com/transformationtalkradio/
Past lives how do they influence us now? Do we come back to grow? Is there such a thing as a soul contract? Peter Woodbury, who specializes in past life regression, joins Doc Martin to discuss hypnosis, past lives, and what he has learned studying the Edgar Cayce material. Peter will also teach us the basics of self hypnosis for change and growth.
So much has been stripped away since COVID. However, there is an energy of regrowth, reinvention, and finding what really matters. Join Doc Martin and Dr Pat to discuss the process of threshing (sorting) seeds from the straw (chaff). What have you let go of? How has your life changed? Have you found your truer self?
Spiritually, we are being called to move into higher frequencies, to embody more light the Ascension process. Tim Whild joins Doc Martin to talk about his memories from Atlantean times, and the work he does assisting us to move into higher dimensions. He will share an activation as well. Watch live on Facebook. www.facebook.com/transformationtalkradio/
What if healing could happen rapidly, just in the snap of fingers? Energy medicine has that potency! Key components are Intuition and Intention called I squared because their power in combination multiplies the effect. Join Doc Martin and Dr Pat to discuss the way of the future of medicine accelerated and sourced from our thoughts. Join us live on FB or call in.Call in! 1-800-930-2819Watch live on Facebook. www.facebook.com/transformationtalkradio/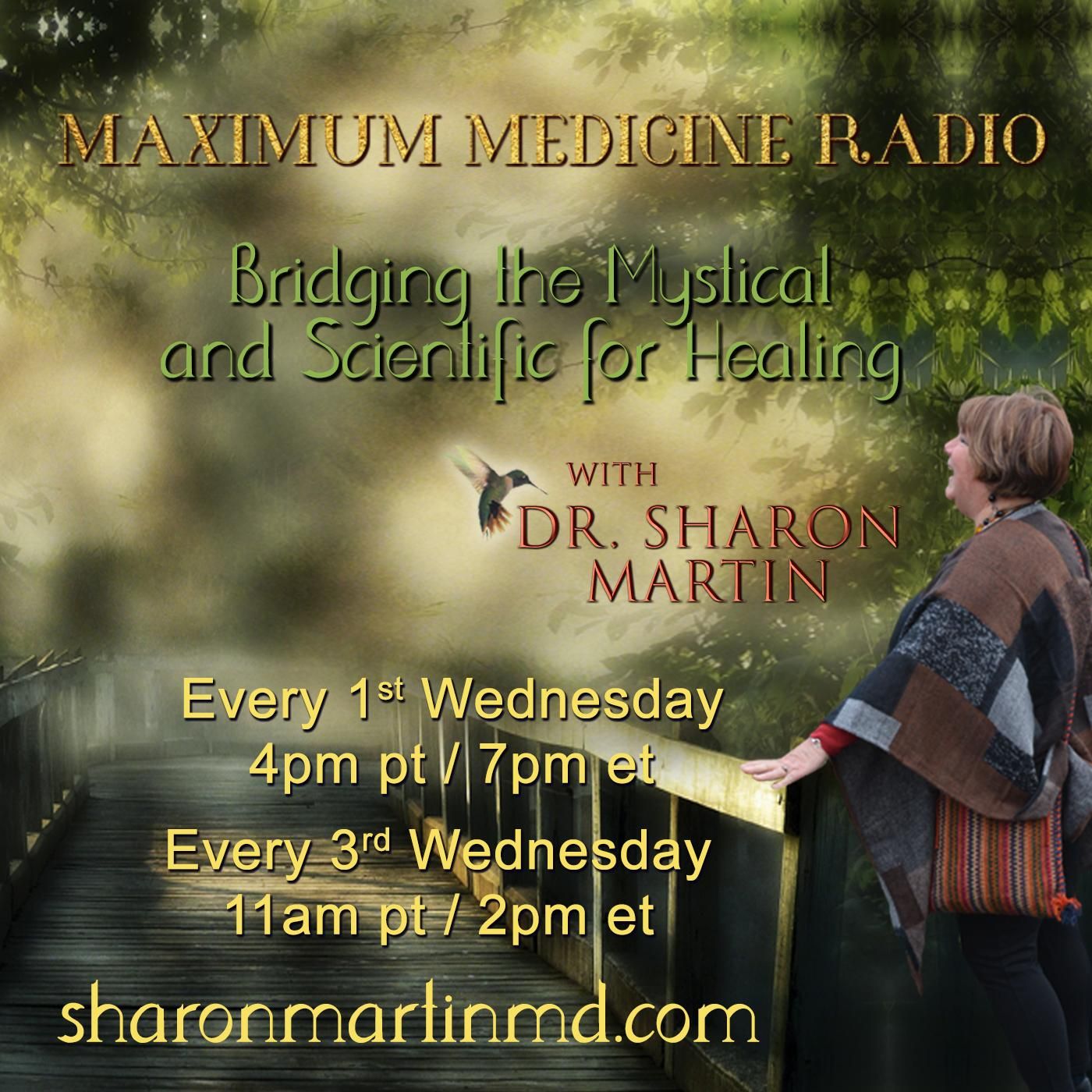 We (our energy bodies included) have been tossed about for several years; finding restoration can be hard. Using her stones as her allies for shamanic healing, Doc Martin offers an hour of REST her energetic REset and STabilization process. Connect by call or FB live to participate to get energetic sustenance. The healings will be directed for all, regardless of ability to be present.
For years there have been three parallel tracks of healing allopathic medicine, energy medicine, and shamanistic practices. Imagine the power if the three approaches were blended! And what about the limitations? Join Doc Martin and Dr Pat to talk about how Doc Martin pulls these three valuable tracks together in a new age of healing.Watch live on Facebook. www.facebook.com/transformationtalkradio/
Perhaps you have a challenge but do not know how to tackle it. You might have a flash of insight, but still cannot pin down what is the best way to proceed. You need more knowledge. Maybe techniques for refining what is true pendulum, muscle testing, tarot cards or reading the stones will give your clarity. Doc Martin reviews processes to refine your awareness and gain access to subtle realms of knowledge.Call in! 1-800-930-2819Watch live on Facebook. www.facebook.com/transformationtalkradio/
EFT (emotional freedom technique) or tapping can help clear the emotional triggers of anxiety and distress. Dr. Dawson Church, a renowned EFT practitioner and researcher, joins Doc Martin in discussions about this straightforward, easy to learn practice that reduces many forms of emotional pain. All it takes is a simple tap of your fingers and that heightened adrenal state is now calm and cohesive. Join us to see how!
The world is spinning around us how can we find relief? Sacred space is where we come, sit, deepen, reflect, and connect to Spirit. How can we make a space holy a portal to the cosmos? Doc Martin and Dr Pat will talk about the critical components of sacred space (a truly sweet spot) and lead us in setting up our own. Bring ingredients for your Space cloth, objects, candle, your desire.
Inaugurate begin or introduce, initiate. It is a New Year; what energies are NEW for YOU? What do you want to bring forward into this year and beyond? Join Doc Martin and Dr Pat in commemorating our newness with stone blessings and forward-moving energetics. Call in or tune in. Claim your new path! Call in! 1-800-930-2819Watch live on Facebook. www.facebook.com/transformationtalkradio/
United States