Discover
No Question About That - a Manchester United podcast
No Question About That - a Manchester United podcast
Author: No Question About That
Subscribed: 5,161
Played: 48,888
© Copyright No Question About That
Description
No Question About That is the leading fan-published podcast covering Manchester United. Twice a week, the podcast talks you through the latest games, news, and fan culture at the world's best supported club.

"Paul and Ed have consistently commented with intelligence and eloquence, giving a beautiful insight into the nature of contemporary football, and United in particular." - Simon Stephens, The Guardian
Hail St Mary's
2020-11-3001:23:16
1
On the main pod, it's a cliché, but let's run with it anyway - that was a Manchester United way to win. On Sunday United recorded an eight successive away win, coming back from 2-0 down to win 3-2 at Southampton with a 93rd minute goal. Punch the air with delight, it feels good to talk about a victorious United! Ed & Paul dissect victory at St Mary's and then look ahead to a crucial Champions League fixture against Paris Saint Germain at Old Trafford.
United win in the Champions League and it was *checks notes* really comfortable, even impressive at times. What's going on? Ed & Paul review United's victory over İstanbul Başakşehir and look ahead to Southampton away at the weekend. We chat to Guardian reporter Jamie Jackson about his new book Red Apprentice. Finally, there's a discussion about Diego Maradona's legacy after his death on Wednesday. Hasta siempre, Diego.
United returned to Premier League action after the international break and put in another low-key performance. Three points were gained via Bruno Fernandes' 12th penalty for the club, but it was far from easy against one of the worst sides in the division. Ed & Paul break down United's performance and try and maintain some perspective ahead of a hectic few weeks ahead. There's also a look ahead to Tuesday night's crucial Champions League fixture against İstanbul Başakşehir and for backers a look back on the weekend's Premier League action.
The US elections loom large in the conversation as Donald Trump refuses to leave office and his lawyer, Rudy Giuliani, holds a press conference next to a dildo shop. Go figure. On the pitch, another wild swing in Manchester United's performance. Following defeat to Arsenal and Istanbul last week, Ole Gunnar Solskjaer's side secured a comfortable victory over Everton. After conceding first, United came back to score three fine goals and control the game. Why can't Ole get consistent performances out of this side? Ed & Paul discuss.
Manchester United lost to İstanbul Başakşehir with one of the most comically poor defensive displays of Ole Gunnar Solskjaer's managerial reign. Of any managerial reign. Just what has Ole been coaching all these months? The defeat places United in a more difficult Champions League position than should be the case. Ed & Paul discuss all the fallout and look forward to United's game against Everton at the weekend.
The Yada Yada
2020-11-0245:15
1
One step forward, one giant leap back. Twas always the way under Ole Gunnar Solskjaer's stewardship. Following the emphatic midweek victory over RB Leipzig, United lost at home to Arsenal, in desperately limp fashion. Ed & Paul discuss. There's some sad news to process, with Nobby Stiles passing away and Sir Bobby Charlton revealing a diagnosis of dementia. Finally, we look forward to United's midweek Champions League fixture against İstanbul Başakşehir. For backers, a rapid-fire review of this week's Premier League games.
United and Chelsea played out a bore draw in the Manchester rain. With neither manager opting for much ambition, highlights were reduced to a dubious VAR decision and a handful of decent saves from new Chelsea keeper Edouard Mendy. Ed & Paul discuss.Then there's a look ahead to the midweek Champions League fixture against RB Leipzig and next weekend's clash with Arsenal. For backers, a rapid-fire review of this week's Premier and Champions League games.
We'll always have Paris, it was said during the darker times last season, but apparently it's a regular occurrence after Ole Gunnar Solskjaer's side won victory at Parc des Princes for the second time in as many years. This time was different though. United's manager out-thought his competitor as the Reds first contained, then dominated, and Sir Marcus scored. Ed & Paul discuss.There's a debate about the the bloodbath on United's balance sheet and a preview of the weekend's game against Chelsea.
Well, that's one way to recover from a disastrous defeat! United recovered from the 6-1 hammering at Tottenham's hands and an early goal at St James Park to record a comfortable win. Ole Gunnar Solskjaer's team left it late, but goals from Harry Maguire, Bruno Fernandes, Aaron Wan-Bissaka and Marcus Rashford took the reds to three much-needed points, while Juan Mata turned back the clock. Ed & Paul discuss all the fallout.Then there's a Champions League fixture at Paris Saint Germain on Tuesday night. Can United repeat the miracles of 2019? For backers, all the week's Premier League action.
Hammered by Jose Mourinho's Tottenham in the worst performance by a United side since, well, you know that day. The sickening result, together with the club's inability to manage any coherent transfer policy has Ed & Paul questioning the players, manager and leadership. One horrendous day. For backers, something about other Premier League results, as if anybody cares.
United beat Brighton in the Carabao Cup, putting in the most comprehensive performance of the season to date. Goals from Scott McTominay, Juan Mata and Paul Pogba sealed a place in the last eight. Ed & Paul review the action and briefly look ahead to Spurs at the weekend (For a fuller preview, see our previous episode).
United got very, very lucky, but the first three points of the Premier League campaign are now on the board thanks to Bruno Fernandes' 100th minute penalty winner. Jose Mourinho moaned, but apparently United really can do whatever they want, including scoring after the final whistle has blown. Ed & Paul enjoyed it very much!There's also a brief look back on the midweek Carabao Cup victory over Luton and a preview of this week's rapid rematch against Brighton in the same competition. For backers, we review this week's Premier League action.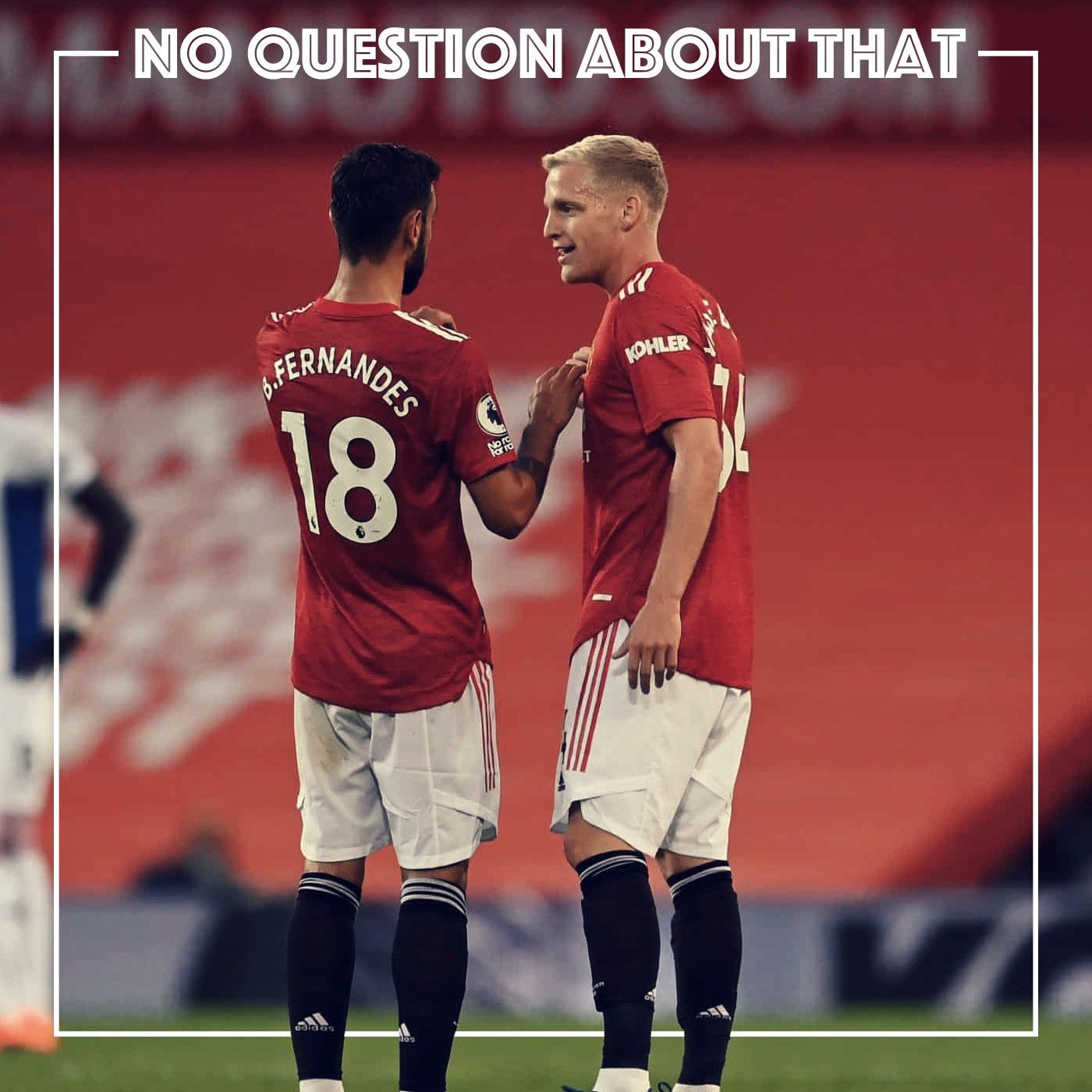 Underbeeked
2020-09-2101:23:30
1
Let's not start as we mean to go on! United finished last season limping over the finish line following an outstanding series of post-lockdown results. Ole Gunnar Solskjaer's policy of using a small squad eventually told, with players suffering from fatigue by the end of the campaign. Little more than a month later and a strange mix of under-prepared and over-tired players arrived back in Carrington, some with no more than 10 days rest, all having played no more than one preparatory fixture. These are some major caveats against an awful performance in losing to Crystal Palace at Old Trafford on Saturday. Ed & Paul discuss (panic!)There's a preview of the season to come and, for Patreon backers, we review Amazon's All or Nothing.
It's the hope that kills you, so goes the cliché. And while United will look back on defeat to Sevilla with some disappointment, especially with Romelu Lukaku and Ashley Young in Friday's final, Sunday's 2-1 loss concludes a season of some progress. Ole Gunnar Solskjaer's side reached three cup semi-finals and finished third in the Premier League - much better than many hoped during some dark moments in January. Ole has built a side with identity; one that scores some great goals and attacks with flair. There's more than hope in that.On the final show of a year-long season, Ed & Paul look back on the Europa League semi-final, look forward to what United need to do over a short summer to progress, and hand out some awards! For backers, we look at the Champions League quarter and semi-finals.
United sneak past FC Copenhagen to book a place in the Europa League semi-final, but it took extra time to do it. Ed & Paul look back on Monday's victory and wonder why the game was so close despite United having 13 shots on target. Then there's a look ahead to Sunday night and a one-off semi against Sevilla - José Mourinho's nemeses from 2018. For backers, at look at the current state of affairs in the Champions League.
Europe. Britain may be separated from the continent by a body of water, but United will be heading to the Europa League final eight mini tournament in Germany next week anyway. It was inevitable after United's 5-0 victory over LASK in Austria back in March, of course, but the Reds made sure with a hard-fought win at Old Trafford on Wednesday night. Ed & Paul mull over a forgettable game, look ahead to next week's fixtures in Cologne, and talk transfers and contracts!
At one stage this season Ole Gunnar Solskjaer's team was in 14th place in the Premier League, far closer to the relegation zone than earning a place in the Champions League. United's post-lockdown form has earned a place at Europe's top table, making up a gap of 15 points on Leicester and over-taking Chelsea in the process. Ed & Paul discuss United's 2-0 victory at the King Power Stadium and the implications for United's future. There's also a brief preview of the upcoming Europa League Round of 16 tie against LASK.
Squeaky Bum Time
2020-07-2342:53
1
Another match, more dropped points. United's draw with West Ham has put participation in next season's Champions League in doubt, with Ole Gunnar Solskjaer's shattered team now requiring a point or better at Leicester on Sunday. Ed & Paul look back of the game against the Hammers and forward to the weekend's crucial fixture.
United were comfortably beaten by Chelsea in the FA Cup semi-final at Wembley. Defeat came as manager Ole Gunnar Solskjaer switched up a winning formula and David de Gea dropped another clanger. It was a one-off, but are there longer term consequences and questions that result? Ed & Paul discuss.For backers, we review the week's football.
United delivered when it mattered against Crystal Palace on Thursday night, but it was much harder work than the 2-0 scoreline might suggest. Sublime goals from Marcus Rashford and Anthony Martial earned United three very critical points. Ed & Paul look back on all the action, discuss the fallout from Manchester City's CAS ruling, and look ahead to the FA Cup semi-final against Chelsea at Wembley.
United States