Discover
Nonsense Password
Feb 12 21
2021-02-1302:02:47
The show will now be fortnightly on Fridays 10PM-midnight, with maybe some shows in between. We talk about the Super Bowl and how well Pat Mahomes played, buying something only to have your inbox blown up, the Trump impeachment trial, GABBA, Free Britney, True Blood, the Twitter hack,  and other stuff. With Somsense Password and The Wampus Cat.
January 31 show
2021-02-0102:12:56
I come back as my heart healed from my platform screwing me again. I talk about all sorts of things: Q, Joseph Robinette Biden Jr, masks, covid, whacky parents and all sorts of other things. A real hoot.
Birthday episode
2021-01-1402:01:59
I'm a grown man now, and it's a birthday full of miscues. The show gets derailed and descends into the common hysteria before Chill Will chills with me and then the show is enigmatically ended by Podbean an hour early. 
January 10, 2021
2021-01-1102:57:18
First show back, now doing 1 show a week. I sing, I rant about the insurrection and the stupid state of things. I play a clip from @lesdogg and @Schwarzenegger . Check your filters and clean out your humidifiers.    Everything at nonsensepassword.com
I'm joined by Yuza Bigman and Dr. YOU and we talk about positivity, changing your mindset, coping with the modern world, the connection between body and mind, Wim Hof, and all that stuff.  ***** Check out the Nonsense Password Lounge, live nightly at 10PM central US on PODBEAN. Boku yama yama hog.   Thanks for listening to the Nonsense Password podcast which is available at the podcatcher of your choice: PODBEAN (for the podcast & the Nonsense Password Lounge LIVEcast), Google Podcasts, Apple Podcasts, Spotify, TuneIn, PlayerFM, ACast, Castbox, Podcast Addict, Amazon Alexa, iHeart Radio, Media Monkey, Himalaya, Radio Public, Castback, Luminary, and others.    The Weekly Show is timely, where Special Character talks about what's going on with himself and in the world. Art, music, movies, politics, day-to-day life, rants and ramblings. Highlights from the Nonsense Password Lounge, a live show on Podbean, are also included on the Weekly Show. These drop on Sundays.   Waveplays, Nonsense Password trips that are like audio dramas - aka audio fiction, aka radio plays - only way more hip, consisting of both standalone pieces and miniseries.    Specials, the interviews, essays, and other stuff, will also stay present in the Nonsense Password podcast feed.    If you enjoyed the show, please like, rate, share, subscribe, or whatever it is you do to help the show and the cult by spreading the word.   Nonsense Password merchandise and other designs are available at RedBubble, in the Nonsense-PW store, and at TeeSpring, in the Nonsense Password store.   There is also Nonsense Password YouTube, Facebook page, Instagram, and now even a Soundcloud.   The official website is nonsensepassword.com and you can email Special Character at specialcharacter@nonsensepassword.com.   Good luck, Twitter: @nonsensepasspod
A High Noon Hootenany at the Nonsense Password Lounge on Podbean. With Bubbles, Rick, Parmidaw,  Mini Milt, Homeboy88 (Kaliman), Trumpass,  STP, Donny Womack.     
New Generation Speaks join the cult. WIth Miltdog (from F*** Space), Rome, and Klare. And Vanilla Ice (not really). Lara finds herself in the Lounge, then finds herself joining a cult.    Check out the Nonsense Password Lounge, live nightly at 10PM central US on PODBEAN. Boku yama yama hog.   Thanks for listening to the Nonsense Password podcast which is available at the podcatcher of your choice: PODBEAN (for the podcast & the Nonsense Password Lounge LIVEcast), Google Podcasts, Apple Podcasts, Spotify, TuneIn, PlayerFM, ACast, Castbox, Podcast Addict, Amazon Alexa, iHeart Radio, Media Monkey, Himalaya, Radio Public, Castback, Luminary, and others.    The Weekly Show is timely, where Special Character talks about what's going on with himself and in the world. Art, music, movies, politics, day-to-day life, rants and ramblings. Highlights from the Nonsense Password Lounge, a live show on Podbean, are also included on the Weekly Show. These drop on Sundays.   Waveplays, Nonsense Password trips that are like audio dramas - aka audio fiction, aka radio plays - only way more hip, consisting of both standalone pieces and miniseries.    Specials, the interviews, essays, and other stuff, will also stay present in the Nonsense Password podcast feed.    If you enjoyed the show, please like, rate, share, subscribe, or whatever it is you do to help the show and the cult by spreading the word.   Nonsense Password merchandise and other designs are available at RedBubble, in the Nonsense-PW store, and at TeeSpring, in the Nonsense Password store.   There is also Nonsense Password YouTube, Facebook page, Instagram, and now even a Soundcloud.   The official website is nonsensepassword.com and you can email Special Character at specialcharacter@nonsensepassword.com.   Good luck, Twitter: @nonsensepasspod
Raw, unedited show. The 1st time I met Homeboy88, in honor of his birthday. With Demon, TimmyBoy (as Bernie Baby), Low Battery, MCL771, Alien, Miltdog2020,  Toilet, Stan, E.T,, Batman, Grim Reaper, Optimus Prime,  Homeboy88, The Devil, Mexican Jesus, Blu Bell.    Check out the Nonsense Password Lounge, live nightly at 10PM central US on PODBEAN. Boku yama yama hog.   Thanks for listening to the Nonsense Password podcast which is available at the podcatcher of your choice: PODBEAN (for the podcast & the Nonsense Password Lounge LIVEcast), Google Podcasts, Apple Podcasts, Spotify, TuneIn, PlayerFM, ACast, Castbox, Podcast Addict, Amazon Alexa, iHeart Radio, Media Monkey, Himalaya, Radio Public, Castback, Luminary, and others.    The Weekly Show is timely, where Special Character talks about what's going on with himself and in the world. Art, music, movies, politics, day-to-day life, rants and ramblings. Highlights from the Nonsense Password Lounge, a live show on Podbean, are also included on the Weekly Show. These drop on Sundays.   Waveplays, Nonsense Password trips that are like audio dramas - aka audio fiction, aka radio plays - only way more hip, consisting of both standalone pieces and miniseries.    Specials, the interviews, essays, and other stuff, will also stay present in the Nonsense Password podcast feed.    If you enjoyed the show, please like, rate, share, subscribe, or whatever it is you do to help the show and the cult by spreading the word.   Nonsense Password merchandise and other designs are available at RedBubble, in the Nonsense-PW store, and at TeeSpring, in the Nonsense Password store.   There is also Nonsense Password YouTube, Facebook page, Instagram, and now even a Soundcloud.   The official website is nonsensepassword.com and you can email Special Character at specialcharacter@nonsensepassword.com.   Good luck,   Twitter: @nonsensepasspod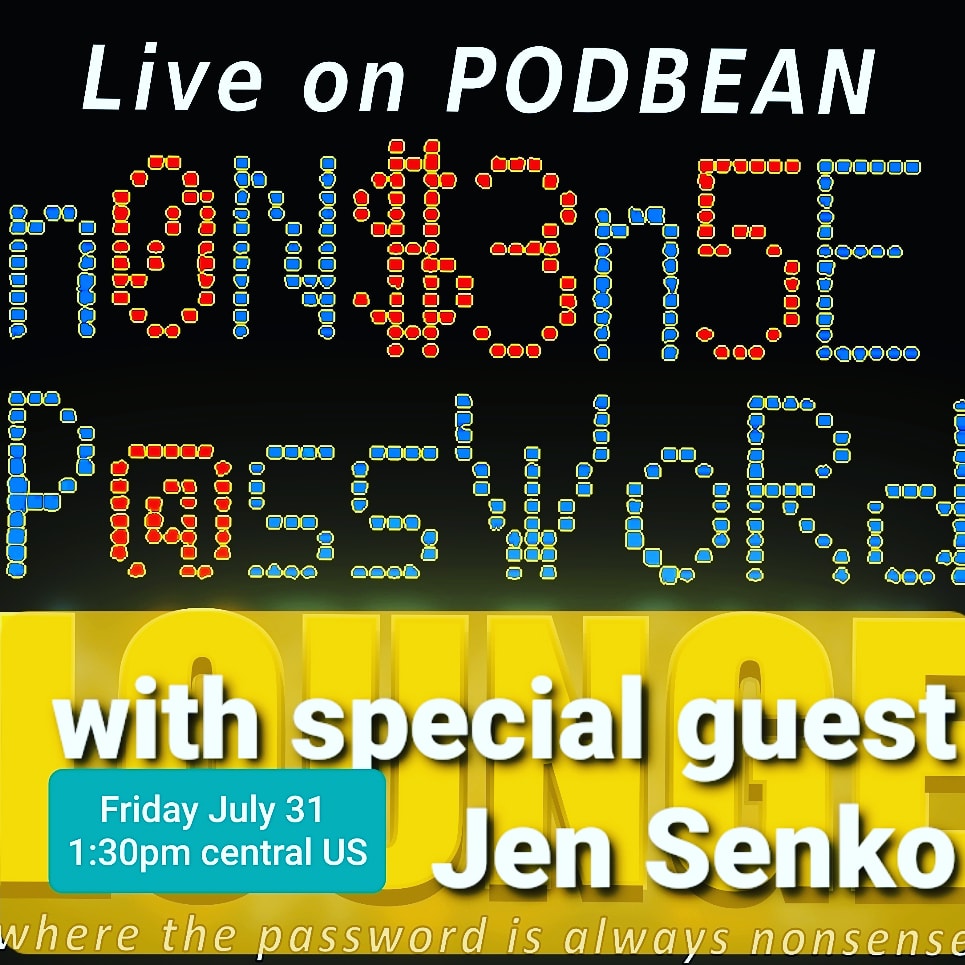 JEN SENKO interview
2020-08-0202:12:10
The Nonsense Password Lounge is thrilled to have its first guest, documentary filmmaker, author, voice actor Jen Senko.   Senko made The Brainwashing of My Dad, The Vanishing City, and Roadmap Warrior Women.   We talk about the nature of misinformation in the media, the political landscape in America, and Bill Plympton.    Check out the Nonsense Password Lounge, live nightly at 10PM central US on PODBEAN. Boku yama yama hog.   Thanks for listening to the Nonsense Password podcast which is available at the podcatcher of your choice: PODBEAN (for the podcast & the Nonsense Password Lounge LIVEcast), Google Podcasts, Apple Podcasts, Spotify, TuneIn, PlayerFM, ACast, Castbox, Podcast Addict, Amazon Alexa, iHeart Radio, Media Monkey, Himalaya, Radio Public, Castback, Luminary, and others.    The Weekly Show is timely, where Special Character talks about what's going on with himself and in the world. Art, music, movies, politics, day-to-day life, rants and ramblings. Highlights from the Nonsense Password Lounge, a live show on Podbean, are also included on the Weekly Show. These drop on Sundays.   Waveplays, Nonsense Password trips that are like audio dramas - aka audio fiction, aka radio plays - only way more hip, consisting of both standalone pieces and miniseries.    Specials, the interviews, essays, and other stuff, will also stay present in the Nonsense Password podcast feed.    If you enjoyed the show, please like, rate, share, subscribe, or whatever it is you do to help the show and the cult by spreading the word.   Nonsense Password merchandise and other designs are available at RedBubble, in the Nonsense-PW store, and at TeeSpring, in the Nonsense Password store.   There is also Nonsense Password YouTube, Facebook page, Instagram, and now even a Soundcloud.   The official website is nonsensepassword.com and you can email Special Character at specialcharacter@nonsensepassword.com.   Good luck,   Twitter: @nonsensepasspod   
Defund Popski's Essay: A disagreement. Posted by Popski's request. Featuring Popski, Taz (from TazHazWordz), Ace (from Unapologetically Unfiltered), Bubbles, 'rona Rick, Miltdog2020 (from F*** Space), Bandz (from Hear Me Out w/Bandz), Chill Will (from the Keeping Positive, I can't stand yall show), and New Generation Speaks.       Check out the Nonsense Password Lounge, live nightly at 10PM central US on PODBEAN. Boku yama yama hog.   Thanks for listening to the Nonsense Password podcast which is available at the podcatcher of your choice: PODBEAN (for the podcast & the Nonsense Password Lounge LIVEcast), Google Podcasts, Apple Podcasts, Spotify, TuneIn, PlayerFM, ACast, Castbox, Podcast Addict, Amazon Alexa, iHeart Radio, Media Monkey, Himalaya, Radio Public, Castback, Luminary, and others.    The Weekly Show is timely, where Special Character talks about what's going on with himself and in the world. Art, music, movies, politics, day-to-day life, rants and ramblings. Highlights from the Nonsense Password Lounge, a live show on Podbean, are also included on the Weekly Show. These drop on Sundays.   Waveplays, Nonsense Password trips that are like audio dramas - aka audio fiction, aka radio plays - only way more hip, consisting of both standalone pieces and miniseries.    Specials, the interviews, essays, and other stuff, will also stay present in the Nonsense Password podcast feed.    If you enjoyed the show, please like, rate, share, subscribe, or whatever it is you do to help the show and the cult by spreading the word.   Nonsense Password merchandise and other designs are available at RedBubble, in the Nonsense-PW store, and at TeeSpring, in the Nonsense Password store.   There is also Nonsense Password YouTube, Facebook page, Instagram, and now even a Soundcloud.   The official website is nonsensepassword.com and you can email Special Character at specialcharacter@nonsensepassword.com.   Good luck,   Twitter: @nonsensepasspod 
The initiation of Sam (with Alpha Mike and Miltdog (from F*** Space). The Obscure Curio calls in with new information about the Gateway Process (with Bubbles).   Check out the Nonsense Password Lounge, live nightly at 10PM central US on PODBEAN. Boku yama yama hog.   Thanks for listening to the Nonsense Password podcast which is available at the podcatcher of your choice: PODBEAN (for the podcast & the Nonsense Password Lounge LIVEcast), Google Podcasts, Apple Podcasts, Spotify, TuneIn, PlayerFM, ACast, Castbox, Podcast Addict, Amazon Alexa, iHeart Radio, Media Monkey, Himalaya, Radio Public, Castback, Luminary, and others.    The Weekly Show is timely, where Special Character talks about what's going on with himself and in the world. Art, music, movies, politics, day-to-day life, rants and ramblings. Highlights from the Nonsense Password Lounge, a live show on Podbean, are also included on the Weekly Show. These drop on Sundays.   Waveplays, Nonsense Password trips that are like audio dramas - aka audio fiction, aka radio plays - only way more hip, consisting of both standalone pieces and miniseries.    Specials, the interviews, essays, and other stuff, will also stay present in the Nonsense Password podcast feed.    If you enjoyed the show, please like, rate, share, subscribe, or whatever it is you do to help the show and the cult by spreading the word.   Nonsense Password merchandise and other designs are available at RedBubble, in the Nonsense-PW store, and at TeeSpring, in the Nonsense Password store.   There is also Nonsense Password YouTube, Facebook page, Instagram, and now even a Soundcloud.   The official website is nonsensepassword.com and you can email Special Character at specialcharacter@nonsensepassword.com.   Good luck,   Twitter: @nonsensepasspod 
Posted by Hog Cult Demand. A "debate" with another podbean host whose show used to be relevant (at 29:20) comes at me and the cult in a hail mary attempt at publicity, a surprise hilarious caller relevant to the previous weekly show, and obsession with a recently declassified CIA document. With Bubbles, Miltdog (from F**** Space), 2dumbasses, Ace (from Unapologetically Unfiltered), Wampus Cat (from Horror Biz!), Haze (from The Haze Experience), Dennis Lee (from Tall Tales and the Rabbit Hole), MCL771 (from The Bullshit Show), 2-K (from Raw Talk), and The Obscure Curio.   Check out the Nonsense Password Lounge, live nightly at 10PM central US on PODBEAN. Boku yama yama hog.   Thanks for listening to the Nonsense Password podcast which is available at the podcatcher of your choice: PODBEAN (for the podcast & the Nonsense Password Lounge LIVEcast), Google Podcasts, Apple Podcasts, Spotify, TuneIn, PlayerFM, ACast, Castbox, Podcast Addict, Amazon Alexa, iHeart Radio, Media Monkey, Himalaya, Radio Public, Castback, Luminary, and others.    The Weekly Show is timely, where Special Character talks about what's going on with himself and in the world. Art, music, movies, politics, day-to-day life, rants and ramblings. Highlights from the Nonsense Password Lounge, a live show on Podbean, are also included on the Weekly Show. These drop on Sundays.   Waveplays, Nonsense Password trips that are like audio dramas - aka audio fiction, aka radio plays - only way more hip, consisting of both standalone pieces and miniseries.    Specials, the interviews, essays, and other stuff, will also stay present in the Nonsense Password podcast feed.    If you enjoyed the show, please like, rate, share, subscribe, or whatever it is you do to help the show and the cult by spreading the word.   Nonsense Password merchandise and other designs are available at RedBubble, in the Nonsense-PW store, and at TeeSpring, in the Nonsense Password store.   There is also Nonsense Password YouTube, Facebook page, Instagram, and now even a Soundcloud.   The official website is nonsensepassword.com and you can email Special Character at specialcharacter@nonsensepassword.com.   Good luck,   Twitter: @nonsensepasspod 
Ashton goes full Karen on Bubble pt 3. With Miltdog (from F*** Space), Cha Cha, Bubbles, Ace (from Unapologetically Unfiltered), P0etic (from Whole-E Shit podcast), Bandz (from Hear Me Out w/Bandz). With the information regarding the podbeef Jon Divito took upon himself and went way out of his way to start with the Nonsense Password Lounge.   Check out the Nonsense Password Lounge, live nightly at 10PM central US on PODBEAN. Boku yama yama hog.   Thanks for listening to the Nonsense Password podcast which is available at the podcatcher of your choice: PODBEAN (for the podcast & the Nonsense Password Lounge LIVEcast), Google Podcasts, Apple Podcasts, Spotify, TuneIn, PlayerFM, ACast, Castbox, Podcast Addict, Amazon Alexa, iHeart Radio, Media Monkey, Himalaya, Radio Public, Castback, Luminary, and others.    The Weekly Show is timely, where Special Character talks about what's going on with himself and in the world. Art, music, movies, politics, day-to-day life, rants and ramblings. Highlights from the Nonsense Password Lounge, a live show on Podbean, are also included on the Weekly Show. These drop on Sundays.   Waveplays, Nonsense Password trips that are like audio dramas - aka audio fiction, aka radio plays - only way more hip, consisting of both standalone pieces and miniseries.    Specials, the interviews, essays, and other stuff, will also stay present in the Nonsense Password podcast feed.    If you enjoyed the show, please like, rate, share, subscribe, or whatever it is you do to help the show and the cult by spreading the word.   Nonsense Password merchandise and other designs are available at RedBubble, in the Nonsense-PW store, and at TeeSpring, in the Nonsense Password store.   There is also Nonsense Password YouTube, Facebook page, Instagram, and now even a Soundcloud.   The official website is nonsensepassword.com and you can email Special Character at specialcharacter@nonsensepassword.com.   Good luck,   Twitter: @nonsensepasspod 
Billy explains racial dynamics in Hawaii. This is Ashton goes full Karen on Bubbles pt 2. With New Generation Speaks and Somesense. Check out the Nonsense Password Lounge, live nightly at 10PM central US on PODBEAN. Boku yama yama hog.   Thanks for listening to the Nonsense Password podcast which is available at the podcatcher of your choice: PODBEAN (for the podcast & the Nonsense Password Lounge LIVEcast), Google Podcasts, Apple Podcasts, Spotify, TuneIn, PlayerFM, ACast, Castbox, Podcast Addict, Amazon Alexa, iHeart Radio, Media Monkey, Himalaya, Radio Public, Castback, Luminary, and others.    The Weekly Show is timely, where Special Character talks about what's going on with himself and in the world. Art, music, movies, politics, day-to-day life, rants and ramblings. Highlights from the Nonsense Password Lounge, a live show on Podbean, are also included on the Weekly Show. These drop on Sundays.   Waveplays, Nonsense Password trips that are like audio dramas - aka audio fiction, aka radio plays - only way more hip, consisting of both standalone pieces and miniseries.    Specials, the interviews, essays, and other stuff, will also stay present in the Nonsense Password podcast feed.    If you enjoyed the show, please like, rate, share, subscribe, or whatever it is you do to help the show and the cult by spreading the word.   Nonsense Password merchandise and other designs are available at RedBubble, in the Nonsense-PW store, and at TeeSpring, in the Nonsense Password store.   There is also Nonsense Password YouTube, Facebook page, Instagram, and now even a Soundcloud.   The official website is nonsensepassword.com and you can email Special Character at specialcharacter@nonsensepassword.com.   Good luck,   Twitter: @nonsensepasspod 
This episode contains graphic language. FOR THE RECORD: Ashton goes full Karen on Bubbles, part 1. With Cha Cha, Haze (from the Haze Experience), Dajuisher, Chill Will, and Fox Da Cypher.   Check out the Nonsense Password Lounge, live nightly at 10PM central US on PODBEAN. Boku yama yama hog.   Thanks for listening to the Nonsense Password podcast which is available at the podcatcher of your choice: PODBEAN (for the podcast & the Nonsense Password Lounge LIVEcast), Google Podcasts, Apple Podcasts, Spotify, TuneIn, PlayerFM, ACast, Castbox, Podcast Addict, Amazon Alexa, iHeart Radio, Media Monkey, Himalaya, Radio Public, Castback, Luminary, and others.    The Weekly Show is timely, where Special Character talks about what's going on with himself and in the world. Art, music, movies, politics, day-to-day life, rants and ramblings. Highlights from the Nonsense Password Lounge, a live show on Podbean, are also included on the Weekly Show. These drop on Sundays.   Waveplays, Nonsense Password trips that are like audio dramas - aka audio fiction, aka radio plays - only way more hip, consisting of both standalone pieces and miniseries.    Specials, the interviews, essays, and other stuff, will also stay present in the Nonsense Password podcast feed.    If you enjoyed the show, please like, rate, share, subscribe, or whatever it is you do to help the show and the cult by spreading the word.   Nonsense Password merchandise and other designs are available at RedBubble, in the Nonsense-PW store, and at TeeSpring, in the Nonsense Password store.   There is also Nonsense Password YouTube, Facebook page, Instagram, and now even a Soundcloud.   The official website is nonsensepassword.com and you can email Special Character at specialcharacter@nonsensepassword.com.   Good luck,   Twitter: @nonsensepasspod   
My own Dad, the greatest guy I ever knew, disowned me for making a joke about Donald Trump. Including calls from 2Dumbasses, Kapz, Wampus Cat (Horror Biz), El Carpe (from Low Standards & Pours), Chill Will, Miltdog (Fuck Space).   ***** Check out the Nonsense Password Lounge, live nightly at 10PM central US on PODBEAN. Boku yama yama hog.   Thanks for listening to the Nonsense Password podcast which is available at the podcatcher of your choice: PODBEAN (for the podcast & the Nonsense Password Lounge LIVEcast), Google Podcasts, Apple Podcasts, Spotify, TuneIn, PlayerFM, ACast, Castbox, Podcast Addict, Amazon Alexa, iHeart Radio, Media Monkey, Himalaya, Radio Public, Castback, Luminary, and others.    The Weekly Show is timely, where Special Character talks about what's going on with himself and in the world. Art, music, movies, politics, day-to-day life, rants and ramblings. Highlights from the Nonsense Password Lounge, a live show on Podbean, are also included on the Weekly Show. These drop on Sundays.   Waveplays, Nonsense Password trips that are like audio dramas - aka audio fiction, aka radio plays - only way more hip, consisting of both standalone pieces and miniseries.    Specials, the interviews, essays, and other stuff, will also stay present in the Nonsense Password podcast feed.    If you enjoyed the show, please like, rate, share, subscribe, or whatever it is you do to help the show and the cult by spreading the word.   Nonsense Password merchandise and other designs are available at RedBubble, in the Nonsense-PW store, and at TeeSpring, in the Nonsense Password store.   There is also Nonsense Password YouTube, Facebook page, Instagram, and now even a Soundcloud.   The official website is nonsensepassword.com and you can email Special Character at specialcharacter@nonsensepassword.com.   Good luck,   Twitter: @nonsensepasspod    *****
This weekly show is interrupted by sad news about one of the most important members of the hog cult and one of the pioneers of Podbean Live: PodGod. Appearances by Timmyboy, Fox Da Cypher, Eric, Taz, and Miltdog.   Check out the Nonsense Password Lounge, live nightly at 10PM central US on PODBEAN. Boku yama yama hog.   Thanks for listening to the Nonsense Password podcast which is available at the podcatcher of your choice: PODBEAN (for the podcast & the Nonsense Password Lounge LIVEcast), Google Podcasts, Apple Podcasts, Spotify, TuneIn, PlayerFM, ACast, Castbox, Podcast Addict, Amazon Alexa, iHeart Radio, Media Monkey, Himalaya, Radio Public, Castback, Luminary, and others.    The Weekly Show is timely, where Special Character talks about what's going on with himself and in the world. Art, music, movies, politics, day-to-day life, rants and ramblings. Highlights from the Nonsense Password Lounge, a live show on Podbean, are also included on the Weekly Show. These drop on Sundays.   Waveplays, Nonsense Password trips that are like audio dramas - aka audio fiction, aka radio plays - only way more hip, consisting of both standalone pieces and miniseries.    Specials, the interviews, essays, and other stuff, will also stay present in the Nonsense Password podcast feed.    If you enjoyed the show, please like, rate, share, subscribe, or whatever it is you do to help the show and the cult by spreading the word.   Nonsense Password merchandise and other designs are available at RedBubble, in the Nonsense-PW store, and at TeeSpring, in the Nonsense Password store.   There is also Nonsense Password YouTube, Facebook page, Instagram, and now even a Soundcloud.   The official website is nonsensepassword.com and you can email Special Character at specialcharacter@nonsensepassword.com.   Good luck,   Twitter: @nonsensepasspod 
Weekly Highlights: Meeting She Says... from South Africa and Kunta from Ghana.    Check out the Nonsense Password Lounge, live nightly at 10PM central US on PODBEAN. Boku yama yama hog.   Thanks for listening to the Nonsense Password podcast which is available at the podcatcher of your choice: PODBEAN (for the podcast & the Nonsense Password Lounge LIVEcast), Google Podcasts, Apple Podcasts, Spotify, TuneIn, PlayerFM, ACast, Castbox, Podcast Addict, Amazon Alexa, iHeart Radio, Media Monkey, Himalaya, Radio Public, Castback, Luminary, and others.    The Weekly Show is timely, where Special Character talks about what's going on with himself and in the world. Art, music, movies, politics, day-to-day life, rants and ramblings. Highlights from the Nonsense Password Lounge, a live show on Podbean, are also included on the Weekly Show. These drop on Sundays.   Waveplays, Nonsense Password trips that are like audio dramas - aka audio fiction, aka radio plays - only way more hip, consisting of both standalone pieces and miniseries.    Specials, the interviews, essays, and other stuff, will also stay present in the Nonsense Password podcast feed.    If you enjoyed the show, please like, rate, share, subscribe, or whatever it is you do to help the show and the cult by spreading the word.   Nonsense Password merchandise and other designs are available at RedBubble, in the Nonsense-PW store, and at TeeSpring, in the Nonsense Password store.   There is also Nonsense Password YouTube, Facebook page, Instagram, and now even a Soundcloud.   The official website is nonsensepassword.com and you can email Special Character at specialcharacter@nonsensepassword.com.   Good luck,   Twitter: @nonsensepasspod 
Nonsense Password Lounge highlight: A conversation with Klare from Ireland.   Check out the Nonsense Password Lounge, live nightly at 10PM central US on PODBEAN. Boku yama yama hog.   Thanks for listening to the Nonsense Password podcast which is available at the podcatcher of your choice: PODBEAN (for the podcast & the Nonsense Password Lounge LIVEcast), Google Podcasts, Apple Podcasts, Spotify, TuneIn, PlayerFM, ACast, Castbox, Podcast Addict, Amazon Alexa, iHeart Radio, Media Monkey, Himalaya, Radio Public, Castback, Luminary, and others.    The Weekly Show is timely, where Special Character talks about what's going on with himself and in the world. Art, music, movies, politics, day-to-day life, rants and ramblings. Highlights from the Nonsense Password Lounge, a live show on Podbean, are also included on the Weekly Show. These drop on Sundays.   Waveplays, Nonsense Password trips that are like audio dramas - aka audio fiction, aka radio plays - only way more hip, consisting of both standalone pieces and miniseries.    Specials, the interviews, essays, and other stuff, will also stay present in the Nonsense Password podcast feed.    If you enjoyed the show, please like, rate, share, subscribe, or whatever it is you do to help the show and the cult by spreading the word.   Nonsense Password merchandise and other designs are available at RedBubble, in the Nonsense-PW store, and at TeeSpring, in the Nonsense Password store.   There is also Nonsense Password YouTube, Facebook page, Instagram, and now even a Soundcloud.   The official website is nonsensepassword.com and you can email Special Character at specialcharacter@nonsensepassword.com.   Good luck,   Twitter: @nonsensepasspod     
Nonsense Password Lounge highlight: A conversation with Exoticah from North Carolina.   Check out the Nonsense Password Lounge, live nightly at 10PM central US on PODBEAN. Boku yama yama hog.   Thanks for listening to the Nonsense Password podcast which is available at the podcatcher of your choice: PODBEAN (for the podcast & the Nonsense Password Lounge LIVEcast), Google Podcasts, Apple Podcasts, Spotify, TuneIn, PlayerFM, ACast, Castbox, Podcast Addict, Amazon Alexa, iHeart Radio, Media Monkey, Himalaya, Radio Public, Castback, Luminary, and others.    The Weekly Show is timely, where Special Character talks about what's going on with himself and in the world. Art, music, movies, politics, day-to-day life, rants and ramblings. Highlights from the Nonsense Password Lounge, a live show on Podbean, are also included on the Weekly Show. These drop on Sundays.   Waveplays, Nonsense Password trips that are like audio dramas - aka audio fiction, aka radio plays - only way more hip, consisting of both standalone pieces and miniseries.    Specials, the interviews, essays, and other stuff, will also stay present in the Nonsense Password podcast feed.    If you enjoyed the show, please like, rate, share, subscribe, or whatever it is you do to help the show and the cult by spreading the word.   Nonsense Password merchandise and other designs are available at RedBubble, in the Nonsense-PW store, and at TeeSpring, in the Nonsense Password store.   There is also Nonsense Password YouTube, Facebook page, Instagram, and now even a Soundcloud.   The official website is nonsensepassword.com and you can email Special Character at specialcharacter@nonsensepassword.com.   Good luck,   Twitter: @nonsensepasspod   
United States