Discover
Pints and Provisions
Claim Ownership
Pints and Provisions
Author: Pints and Provisions
Subscribed: 7
Played: 107
© Copyright 2018 Evan Pike. All rights reserved.
Description
When hobbies become obsessions, we often like to share what we know and love about them with others.  Although we have dedicated the most time learning the ins/outs of beer, brewing, and breweries, we have also extended our knowledge on those things that complement it: bourbon, wine, coffee, food, and cooking.  Listen in to Evan, Ryan, Mark, and Dan, and with periodic guests, dissect those crafts that we love to imbibe.
Hey everyone, back again with another episode on an up and coming brewery from Tulsa, OK, named American Solera.  What a beautiful fall night we had recording on Mark's patio and sipping on some of this breweries most think and viscous stouts.  Both "Son's of Darkness" and "Dollar for Dollar" were perhaps some of the more gooey, inky, and chewy barrel aged stouts we have drank; definitely a treat!  We also added our new "Provision of the Week" category so tune in to see what Pint and Provision we thought was the best since we were together.  Cheers from P+P!!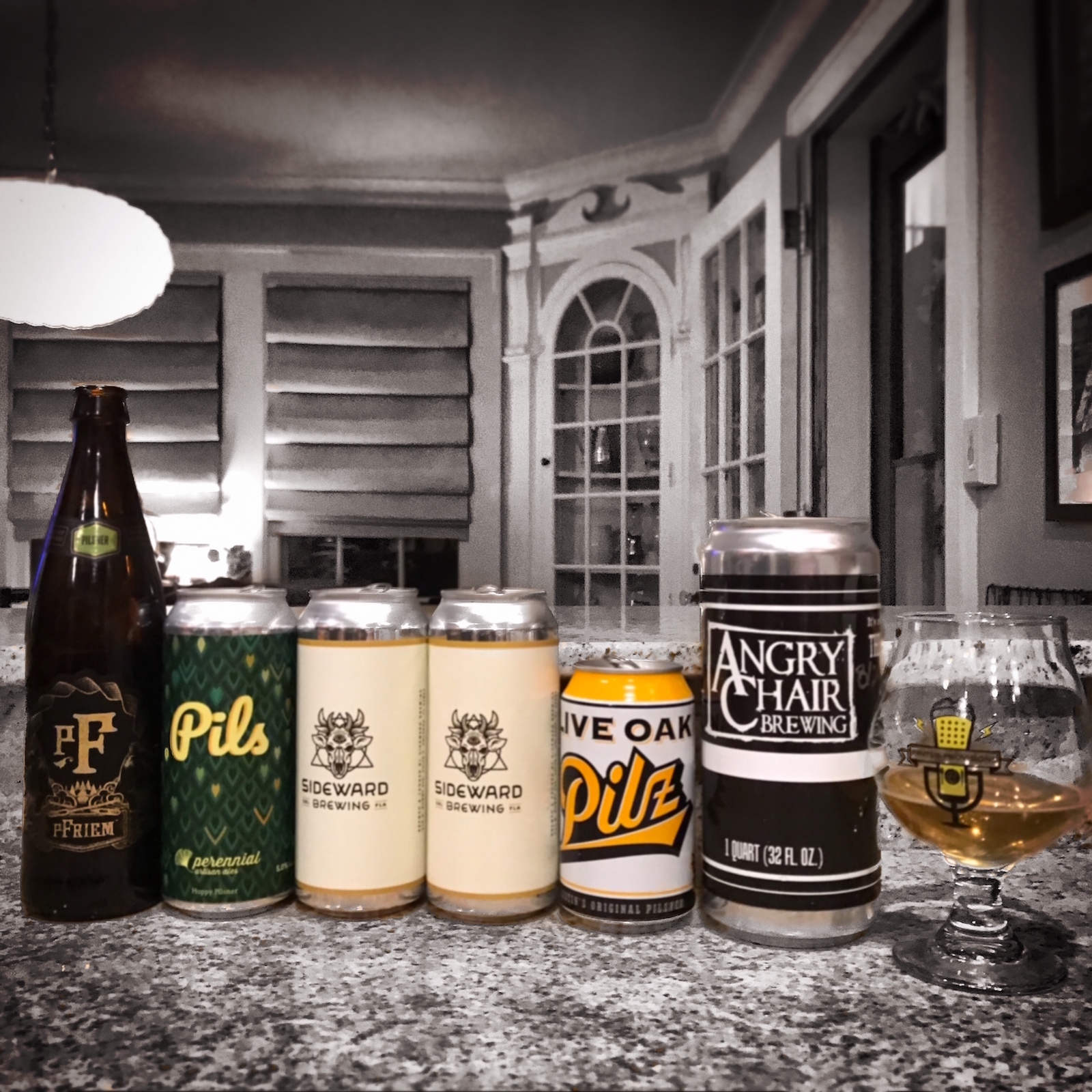 It's crispy time!  An episode dedicated to the ever refreshing, light, and bubbly beer, the pilsner.  When it's hot out and you don't want to grab a hazy or adjunct stout, these can be the most satisfying brews out there and craft breweries are bringing them to the masses.  We taste these crisp lagers from all over including Perennial Artisan Ales, Pfriem Family Brewers, Live Oak Brewing Company, Sideward Brewing Co., and Angry Chair Brewing.  Listen in to how they stack up and why most craft brewers turn to pilsners and other lagers as their "go to" while they are on the job.  Cheers!!
Evan, Ryan, and Kyle sit down to break down how to sample and taste hops and malt.  We also had a chance to enjoy a couple shared beers from some generous folks we know on the East Coast.  Marc sent us "Less Than Alone" a bourbon barrel aged stout with vanilla beans from Triple Crossing Beer in Richmond, VA, and Adam sent a great beer from Troon Brewing, an up and coming brewery.  Not to be forgotten but the Modem Tones from Modern Times Beer provided a great warm up.  We very much appreciated all these unique and flavorful beers from some good friends willing to share!!  Tune in to hear how they all went over and how good we were at tasting our hops and malt samples!!
In June, Evan attended the Craft Beer and Brewing Magazine's Brewer's Retreat in Boothbay Harbor, Maine, and we covered all the highlights.  This is an annual event where attendees learn and brew with some of craft beer most well known master brewers from breweries such as Russian River Brewing Co., Other Half Brewing, Monkish Brewing Co., and Trillium Brewing Co.  Kyle, Ryan, and Evan sampled some of the beers brewed at the retreat including a maple amber from Sean Lawson of Lawson's Finest Liquids, a coffee and vanilla  milk stout by Neil Fisher of Weldwerks Brewing Co. and Vinnie Cilurzo's of Russian River brett blonde. We also discussed Portland as a beercation destination which included great breweries such as Bissel Brothers, Oxbow Brewing Co, and Allagash Brewing Co.  Tune in to learn all about the retreat, the master brewers and their breweries and how the beers from the retreat turned out!
Ryan, Dillon, and Evan talk to our friend Dennis about his work at a local, large volume distillery.  We learned a lot about the process of distilling and what makes it unique.  Dennis also makes wine and home and we compared and contrasted these methods with brewing.  We felt it necessary to bring a beer that represents the cross-over with wine such as a Cantillon Vigneronne and a one that brings in the process of barreling with 3 Floyds Brewing '19 Marshmallow Handjee.  For those that like the technical aspect of these processes, this one allowed some "nerding" out on the science behind it.  We also let Dillon pull a blind beer on us off the Pour Bros tap-wall which was a fun challenge.  Cheers everyone from P+P!!
Eoghan is the writer for the blog Brussels Beer City and we were excited to have him join us for a conversation of all things Belgium.  Bryan joined Evan stateside and we talked with Eoghan and Chad, who were in Brussels, for a dive into the beers that excite their drinking culture.  We simultaneous sampled beers from Brasserie de la Senne, Brouwerij 3 Fonteinen, and Westvleteren.  Eoghan talked about the brewer mentality of Belgian brewers and why the taproom model isn't like it is in the states.  What excites Belgians about American beers?  What's the drinker's culture in Brussels?  What do brewers think of American Lambic style beers (hint: they laugh)?  Tune in to this honest and thoughtful discussion with our fiends in Brussels, it was definitely a fun time!!
The summer has been keeping us all busy but we are back with an amazing new episode with our friends Michael and Jenna.  Jenna hosts her own YouTube channel (ieatallthechips) to showcase her enthusiasm for all things chips.  We paired some amazing beers, such as 3 Floyds Brewing's 'Rrari Crochet, Perennial Artisan Ales' Blue Ridge, and Brouwerij 3 Fonteinen's Oude Geuze Golden Blend with some complimentary spuds to highlight each offering.  It was an entertaining time sipping great beers, crunching great chips and not to mention a drop in from Bryan, Trey barking, and a broken glass.  We also had the privilege of sampling a bottle of Mook Meadery's "The Big Montana", a strawberry vanilla milkshake style mead which was a big hit with the crowd...thanks to DJ!!  Tune in to hear from Jenna tell us about her YouTube channel, how she became such a chip enthusiast and if she thinks cheese puffs are chips or not!  This was a fun one for sure, cheers from P+P!!!
We went big for our 50th episode as we blind tasted, guessed, and ranked some of the biggest, barrel-aged, non-adjunct stouts to come out of St. Louis.  A total of 8 of us tested 6 monster beers from Perennial Artisan Ales, Side Project Brewing, and Main & Mill Brewing to see which ones stood out from an already crowded field of contenders.  Tasted were Side Project's Beer:Barrel:Time Batch 1 & 2, Perennial's Maman '17, '18, and the double barrel version from The Wine and Cheese Place in addition to Main & Mill's Carpathian.  Lots of fun and a little disagreement to determine who was best at determining which beer was which and we also get to see how our total rankings ending up for the 6 beers between all of us. Thanks as always to Pour Bros Craft TapRoom in Peoria Heights for hosting! Cheers from P+P!!
Lots of fun stuff here with Evan, Ryan, and Kyle talking first about the now defunct Valiant Brewing Co. and their Russian mega stout, Marshmallow Quantarium.  Seemed like a successful brewery but closed its doors and left a big wake behind it with this white whale which delivered a big vanilla bomb of a stout with a fullness and sweetness like many of the best out there.  So why do some good breweries fail?  We also discuss the reasons collaboration can build a brewery.  Shout outs to New Glarus Brewing and keeping it nostalgic when we travel to Wisconsin, the soon to open Hop Station in Mishawaka, IN, and Mook Meadery, whom we still are looking for samples from.  Ryan also touches on his brief trip up to this years Dark Lord Day at Three Floyds Brewery in Munster, IN.  Cheers from P+P!!
The Fox Pub in Peoria celebrated its 6th annual brewfest where Ryan and Evan headed to enjoy some brews on a cool and rainy midwest day.  We ran down the list of some of our favorites of the day including beers from Lil' Beaver Brewery, Wake Brewing, Triptych Brewing, Pollyanna Brewing Company, and Bent River Brewing Co.  Nick of Bearded Owl Brewing shared some of his highlights of the day and we also spoke with Matt Rixner who continues his pursuit to bringing a great draft beer festival to Peoria.  It was a fun and loud time (pardon the background noise, but we were at a festival!!) with many great local and regional brews and fantastic people to enjoy them with, cheers!!
United States