Discover
Pop Culture Happy Hour
Marriage Story
2019-12-1100:16:48
4
What's the opposite of a love story? It might be the new Noah Baumbach film Marriage Story, starring Adam Driver and Scarlett Johansson as a couple we meet when they're just starting their divorce. For the next two hours, we watch them argue and negotiate over how to separate and how to co-parent their young son. Marriage Story also stars Laura Dern and Ray Liotta as aggressive divorce lawyers and Alan Alda as a gentler hand who tries to give less combative representation. Baumbach both wrote and directed the film, which is now streaming on Netflix. And the film recently picked up six Golden Globe nominations.
The movies and the mob have made a winning combination for decades. The Godfather, Goodfellas, The Departed — and that's on top of television projects like The Sopranos. Now, Oscar-winning director Martin Scorsese brings you The Irishman, and he's put together quite a cast. Robert DeNiro plays a hit man, Joe Pesci is his boss, Al Pacino is Jimmy Hoffa, and that's before you even get to Harvey Keitel, Bobby Cannavale, Ray Romano and others. In a sign of some of the changes shaking up the industry, The Irishman comes to you via Netflix, and is available to stream now. (Donate to a local station at donate.npr.org/happy)
The Morning Show
2019-12-0400:18:12
2
Apple TV Plus launched a few weeks ago, and its highest profile series was unquestionably The Morning Show. Apple spent a massive amount of money on it and landed a cast that includes Jennifer Aniston, Reese Witherspoon and Steve Carell. It's the story of a morning news show that winds up in turmoil after the male anchor is fired following allegations of sexual misconduct. Aniston plays the female anchor left to pick up the pieces with a new partner, and Witherspoon is the local reporter who unexpectedly gets hired by the show after she goes on a rant while she's working at her previous job and the video goes viral.
Who can possibly play Fred Rogers? That's a question that the new film A Beautiful Day In The Neighborhood tries to answer with a performance from Tom Hanks as the beloved TV host. In the movie a journalist played by Matthew Rhys has a transformative experience with Rogers that reshapes his relationship with his troubled father. A Beautiful Day In The Neighborhood is directed by Marielle Heller, who most recently made the Melissa McCarthy film Can You Ever Forgive Me? It uses unconventional techniques to place the journalist's story within Rogers' land of make believe.
Knives Out
2019-11-2700:14:22
3
Whodunit? Was it Jamie Lee Curtis? Chris Evans? Michael Shannon? Don Johnson? Toni Collette? This is the question at the center of the marvelous new comedy Knives Out. The film is directed and written by Rian Johnson, of films like Looper and Brick as well as Star Wars: The Last Jedi. The stellar cast goes on and on to include Ana de Armas, Daniel Craig, LaKeith Stanfield, and, playing the man in the whodunit to whom it was done, Christopher Plummer.
1.3 billion dollars will buy a lot of ice. That's how much Frozen made after its release in 2013. The film also gave Disney princess fans two new favorites in sisters Anna and Elsa, and it made a star of Olaf the talking snowman. Now the band is back together for Frozen 2, which finds Anna and Elsa on yet another adventure.
The Crown
2019-11-2000:17:16
4
Netflix's The Crown is back for season three, and it's got a fresh polish in the form of a brand new cast playing the British royal family. This time out, the great Olivia Colman steps into Claire Foy's sensible brown shoes as Queen Elizabeth. This season follows the Royals from the mid-60s to late 70s, as we watch them contend with both external events — labor strikes, a mine disaster, a possible coup — and with internal strife — Margaret's wild ways, Charles coming-of-age, and the fact that Philip's still the same insufferable prig he always was.
Dolly Parton might be one of the most famous women in the United States. She's one of our great country singers, she produces television including an upcoming Netflix series, and she has her own theme park. And now, inevitably, she's the subject of a podcast. The nine-episode series, Dolly Parton's America, from Jad Abumrad of Radiolab, talks about Parton's life, her music, her home, and what she means to other people.
Last Christmas
2019-11-1300:15:15
2
There are a lot of Christmas movies with a lot of different inspirations. The new film Last Christmas, is inspired by Wham! song of the same name. The film is directed by Paul Feig and written by Bryony Kimmings and Emma Thompson, and stars Emilia Clarke and Henry Golding. It tells the story of a woman who's struggling to get back on her feet after an illness knocked her out.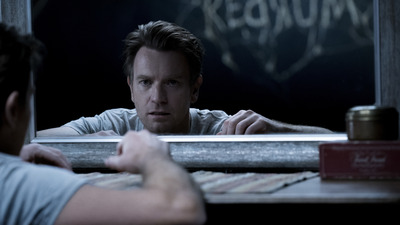 Doctor Sleep
2019-11-0800:22:28
4
Stephen King's novel the shining was about a haunted hotel and a boy named Danny Torrance with psychic powers. In 2013, Stephen King wrote a sequel. In that book Danny Torrance is all grown up, but still haunted — literally and figuratively — by the ghosts of his past. He's played by Ewan MacGregor in the new film Doctor Sleep, which adapts King's novel.
Watchmen
2019-11-0600:19:23
4
HBO's series Watchmen is not strictly an adaptation of the landmark comic book series by Alan Moore and Dave Gibbons — it's technically a sequel. It stars Regina King as an ex-cop in Tulsa Oklahoma who's not-so-secretly the masked vigilante Sister Night. It also stars Don Johnson and Tim Blake Nelson, alongside Jean Smart and a very odd Jeremy Irons, who are both playing characters from the comic. Showrunner Damon Lindelof has set the show within a big, weird world that keeps getting bigger and weirder, even as it seeks to comment on some very contemporary, real-world issues.
We know — you're tired. The next presidential election is still just over a year away, but it feels like the last one never ended. And if that's how you feel, imagine what it's like for folks who cover this stuff for a living. We asked Ayesha Rascoe and Danielle Kurtzleben from the NPR Politics Podcast to tell us what pop culture they turn to when they need a break.
Dolemite Is My Name is a new Netflix biopic about comedian Rudy Ray Moore, who created a flamboyant alter ego and became a blaxploitation legend in the 1970s. The film stars Eddie Murphy, who's joined by a fantastic cast that includes Keegan-Michael Key, Tituss Burgess, Craig Robinson, Mike Epps and Wesley Snipes. It's a behind the scenes look at the making of the 1975 cult hit film Dolemite.
Jojo Rabbit is already an Oscar favorite. The dark comedy from director Taika Waititi won the audience award at the Toronto International Film Festival. That's preceded a best picture nomination in 10 out of the last 11 years. Based on a 2004 novel by Christine Leunens, the film follows Jojo, a German boy who remains loyal to Adolf Hitler as World War II winds down. In fact, he envisions the leader as his imaginary friend.
Parasite
2019-10-2300:16:48
6
Even if you've seen a lot of movies about class struggle, you can bet you've never seen one like Parasite. From director Bong Joon-ho, it tells the story of two families, one with a lot of money and one that's just struggling to get by. Parasite won the top prize, the Palme d'Or, at this year's Cannes Film Festival, and it's South Korea's entry into this year's Oscars race.
The Emmy-award winning series Breaking Bad chronicled the transformation of Walter White, a mild-mannered high school chemistry teacher played by Bryan Cranston, into a ruthless and deadly crystal meth kingpin. It ended in 2013, after six seasons. The show also starred Aaron Paul as Cranston's punching-bag of partner-in-crime, Jesse Pinkman. Now, series creator Vince Gillgan has written and directed a new Netflix movie that explores what happens to Jesse in the immediate aftermath of Breaking Bad's finale.
Last month at an Advertising Week event in New York, Linda Holmes had the chance to sit down with a legend of public radio and of good conversation. Terry Gross has hosted Fresh Air since 1975. She still brings listeners daily conversations about news and books, film and science. Today, we're sharing an edited version of that conversation.
Ryan Murphy and his collaborators are responsible for everything from Glee to American Horror Story. And now, they've made their first project for Netflix. It follows Payton Hobart, a high school student determined to be president of the student body, and one day the United States. Murphy has gathered another of his impressive casts: Ben Platt, Gwyneth Paltrow, Bob Balaban, Bette Midler, and of course Jessica Lange.
Summer is turning to fall where we are, and that means it's time for a couch, a blanket, and a book. Fiction and nonfiction, essays and memoirs, we've got some ideas for things you can read this fall. And we're bringing in a couple of our favorite book lovers to help us out.
In the new Todd Phillips film Joker, Joaquin Phoenix plays Arthur Fleck, an aspiring comic. Neglected by the world and beaten down everywhere he turns, Fleck does what any discouraged clown would do: he becomes a menace.
United States