Claim Ownership
Author:
Subscribed: 0
Played: 0
Description
Imagine having a telescope that could allow you to see whether a syndrome will manifest in the future. Imagine being able to use it to cure diseases before they can even occur. For Dr. Thomas McElrath, MD-PhD in the Division of Maternal-Fetal Medicine at the Brigham & Women's Hospital, this telescope exists and is called LIFECODES. The LIFECODES Biobank is an extensive biobank of samples collected for over 14 years with data on over 6,000 pregnancies. It is used to look at biomarkers associated with pregnancy complications and the effects of environmental exposures on pregnancy outcomes. In this episode, we have interviewed Dr. McElrath to talk about his recent work published in Nature. He has leveraged these data to shed light on normal pregnancy progression to uncover new biomarkers that can be used to diagnose syndromes months before clinical presentation.  "Zenyatta is my Spirit Animal and Hyacinths'' music composition administered by Rukudzo © 2022 Rukudzo Kanyemba. All rights reserved.
We do not often think about our past as a species. What are the changes that made us like we are now? When, where, and why did these changes happen? Can we go back in history and find the answers to these questions? Archaeologists reconstruct human behavior in the past, mainly using things that people left behind, or this is what they used to do. In recent years, the possibility to study ancient DNA has revolutionized our way of looking at the past. Ancient DNA allows us to explore human diversity in different places and times and understand what factors shaped it, revealing mysteries about our history. We have interviewed Mary E. Prendergast, Assistant Professor of Anthropology at Rice University and a leader of one of the largest-scale studies of ancient DNA in Africa. Listen to this episode to find out how Dr. Prendergast and her team could use ancient DNA from individuals who lived between 18,000-400 years ago to explore how people interacted as far back as the last 80,000-50,000 years. Music by Doug Maxwell, "A good day on the African Planes" and Joel Cummings, "Robots and Aliens".  
Alzheimer's disease affects millions of people and their families. Scientists have made extraordinary progress characterizing the pathology of Alzheimer's and working to find effective treatments. As scientists continue to unlock more and more about the disease and how to combat it, how can we address the challenges currently facing doctors, patients, and caregivers? In this 360 Perspective episode, we talk about the history of Alzheimer's, the stigma surrounding it, disparities in healthcare, and the impacts on caregivers. We interviewed Drs. Carl Hill, Stephanie Kalb, Jason Karlawish, Gad Marshall, and Stephen Salloway to discuss these issues. Music credits: Myuu - "Suspicious" Sneaky Snitch Kevin MacLeod (incompetech.com). Licensed under Creative Commons: By Attribution 3.0 License Additional music provided by Aaron Troutman.
Puberty may seem like a chaotic phase of life, but the process is precisely controlled by a series of timed signals beginning in the brain. Before we are born, a set of neurons secreting GnRH (gonadotropin-releasing hormone) migrate to the brain and set up the hub that will control reproductive processes. During this time, these neurons recruit newborn astrocytes, and they stick together throughout life. In this episode, we speak with Dr. Vincent Prévot, Director of the Development and Plasticity of the Neuroendocrine Brain Team of INSERM, to discuss his research on the neuroendocrine regulators of reproduction. Dr Prévot tells us about how the GnRH neurons actively recruit astrocytes, and how this process can be interrupted. Listen to hear more about the processes that lead to puberty, environmental factors that affect the natural timing of puberty, and why it is important for puberty to happen at the "right time." Additional music provided by Aaron Troutman.
The disease that would ultimately become known AIDS was first diagnosed in June 1981. At that time, researchers had not yet determined what caused it, and by the time most patients presented with symptoms, they had only months to live. After four decades of effort by the global research community, the development of promising experimental HIV vaccines has now finally come true. We have interviewed Dr. Paolo Lusso, Chief of the Viral Pathogenesis Section at the National Institute of Allergy and Infectious Diseases, to discuss his research in developing and testing promising HIV vaccines. In this episode, Dr. Lusso explains why it took so long to develop a vaccine with the potential to defeat this "master of disguise and transformation", words he uses to refer to HIV. Listen to this episode to learn more about the immune system, the process of developing a vaccine, and the challenges scientists had to face to stop the most invisible of all viruses.  "I miss you (reimagined)", music composition administered by Rukudzo © 2022 Rukudzo Kanyemba. All rights reserved.
"Every gambler knows that the secret to survivin' is knowin' what to throw away and knowin' what to keep...". Have you ever listened to "The Gambler" by Kenny Rogers? He knew how to play the game right, and it turns out that so does our body! Dr. Phil Jones, a Professor of Cancer Development at the University of Cambridge UK, works on uncovering the dynamics of cell behavior. He found that human cells play a dice game, balancing the odds between production and shedding. This game protects the genomes of our cells, throwing out most of the damage we accumulate during our lives. However, mutations can change the game's rules and increase the odds in favor of dividing cells, potentially leading to cancer. Acquiring mutations is easier than we think: ultraviolet light in sunshine or tobacco-derived chemicals can cause extensive mutations in our body. Despite this, our tissue can surprisingly continue to look and function normally. Listen to this episode to learn how normal tissues restrain the expansion of mutant clones, so very few of them progress to form tumors. Phew!
In the words of Dr. Ali Khademhosseini, "There is no question that tissue engineering will one day transform medicine." After his first research experience at the University of Toronto, Dr. Khademhosseini fell in love with tissue engineering and its significant and life-changing impact on healthcare. Today, at the Terasaki Institute in Los Angeles, Dr. Khademhosseini focuses his research on developing various approaches to merge microfabrication techniques with hydrogel biomaterials to generate complex 3D tissues that mimic the natural cellular environment. In addition to being the author of more than 500 journal papers and speaker at more than 300 invited lectures, he is also the recipient of more than 60 major national and international awards and has been selected by Thomson Reuters as one of the World's Most Influential Minds for five consecutive years. In this episode, Dr. Ali Khademhosseini tells us his story of discovery and passion for tissue engineering and shares some of his secrets for success. Are you in need of some inspiration? This episode is for you. "Believe that you are resolving important things; if you do your work, you can change the world." - Dr. Ali Khademhosseini
In 1846, Dr. John Collins Warren and William T. G. Morton performed the first public demonstration of surgery under an anesthetic. Today, anesthesiologist and statistician Emery Brown combines his fields of expertise and applies a computational approach to answer questions about neuroscience and to research how anesthetics interact with the central nervous system. Brown is a faculty member at Massachusetts General Hospital, Harvard, and MIT, and in this episode, he highlights that, while anesthesia practices in the operating room have evolved over the 175 years since Warren and Morton's first anesthesia demonstration, medical understanding of how anesthetics work is still limited. His work pioneers a new approach to administering anesthetics to patients—by reading and using electrical activity in the brain to determine the appropriate dose of anesthetic. Brown's curiosity is inspiring, as his exploration of diverse interests expands beyond biomedicine to foreign languages—in this episode, he also speaks on his approach to language learning and how he utilizes language learning in a clinical context. Music by Kevin MacLeod licensed under CC BY 4.0.
Have you ever felt demeaned, harassed, or humiliated at work? During their training, our future doctors and scientists may often encounter hostile work environments upheld by their supervisors. The academic culture emboldens the bullies and discourages students from speaking up when they experience harmful treatment. Why do bullies continue to thrive in academia, and how can the scientific community take action?  In this episode, we discuss abusive supervision in academia with Dr. Sherry Moss, Professor of Organizational Studies at Wake Forest University, and Dr. Morteza Mahmoudi, Assistant Professor of Radiology and Precision Health Program at Michigan State University. We consult Dr. Bob Sutton, an organizational psychologist and author of "The No Asshole Rule," and Dr. Steve Anderson, former Director of the Driskill Graduate Program at Northwestern University, to render a multi-layered perspective on the state of bullying in academia.
Magnetic Resonance Imaging (MRI) is considered one of the major innovations in the world of diagnostic radiology. By virtue of its flexible and noninvasive nature, MRI is one of the best tools we have to image the human body. However, conventional MRI scanners are gigantic machines that cost millions of dollars and weigh up to three tons - they are therefore limited in their distribution and point-of-care applicability. Wouldn't it be amazing if we could shrink conventional MRI scanners into portable machines that could be plugged in almost everywhere and provide imaging diagnostics in situations where it would otherwise be impossible? Does this sound like science fiction to you? Listen to this episode to learn how Dr. Clarissa Cooley and her collaborators at the Martinos Center for Biomedical Imaging are working on transforming room-size scanners into TV-size machines that can be transported by cart.
How wonderful would it be if you could deposit your skin cells at a medical facility and get an organ you need within weeks, ready to be transplanted? For decades, scientists have relentlessly worked to recapitulate functionally and physiologically relevant human organs in the lab. Some approaches rely on engineering an unfeasible number of genes in cells or on external cues like growth factors and mechanical signals. But these organs are far from overcoming the barriers of complexity, reproducibility, and time sensitivity, and are thus not ready to be applied in the real world. In today's episode, Dr. Mo Ebrahimkhani, a scientist at Pittsburgh Liver Research Center, discusses how his team used a machine-learning algorithm (called CellNet) to engineer genetic nodes in the stem cells, resulting in the generation of human liver organoids in less than three weeks. Importantly, these organoids were able to capture the complexity of a mature liver. Also learn here how the body map of organs can contribute to the rapid advancement of the field of regenerative medicine. Inspired by Kevin MacLeod is licensed under CC BY 4.0.
Have you ever wondered whether the brains of computer programmers are wired differently? Are there specific parts of the brain that are dedicated to computer coding? Scientists have outlined other networks in the brain, like those involved in language, but the neural basis of computer code comprehension has remained a mystery. We might call Python, Java, and C++ programming "languages," but are they represented in the brain in the same way as natural languages? Anna Ivanova, a scientist at MIT's Department of Brain and Cognitive Sciences, chats with us to uncover the answer. Her research uses functional MRI to find the areas in the brain most activated by reading computer code and whether they overlap with those activated by reading natural language. We also discuss the history of coding and the possibility that humans could evolve a brain network solely responsible for computer programming. Music by Kevin MacLeod licensed under CC BY 4.0
Every day devices like the thermometer and stethoscope have become mainstays of modern medicine, but recent advances have significantly improved the ways in which doctors can confidently make diagnoses. While some procedures can be complicated, invasive, and expensive, we are getting closer to overcoming these barriers with the use of technology. In this episode, we discuss the interface between engineering and medicine with Dr. Michael Cima, a leading expert in the field of materials science and engineering. He discusses the development of a medical device that can identify excess fat and scar tissue in the liver – and the best part is that it's non-invasive and portable. The device will allow doctors to easily screen at-risk patients for liver damage, helping them make treatment decisions to prevent the progression of non-alcoholic fatty liver disease (NAFLD). Dr. Cima also tells us about the many hats he wears as an engineer, scientist, entrepreneur, and mentor. Music by Kevin MacLeod licensed under CC BY 4.0. 
Professor Paula Hammond is a pioneer in chemical engineering, as well as the Department Head of Chemical Engineering at MIT and a faculty member at the Koch Institute for Integrative Cancer Research. Her interdisciplinary work focuses on nanoparticle technology with wide-ranging applications. Hammond's work has and will greatly shape the future of drug delivery, with her nanoparticles able to target hard-to-treat cancers like ovarian cancer. Using her nanoparticle approach, she is currently developing a way to regenerate bone and treat osteoarthritis. She is proud of her visibility within her field, both as a testament to her passion to create new solutions to big problems and to show African Americans and women that their voices are both necessary and important in scientific research. Music by Kevin MacLeod licensed under CC BY 4.0.
Keywords like "tissue-engineering", "bio-engineered organs", and "3D printing" were considered to be science fiction until only a decade ago. Today, creating living tissue that can repair or replace damaged organs is rapidly becoming reality. The field of regenerative medicine holds enormous potential in changing the way doctors treat many medical conditions. However, the road to advance lab-grown organs from the bench to the bedside is still a long one and requires scientific superheroes to overcome the challenges posed by the anatomical complexity of the human body. Whether this is your first time learning about regenerative medicine or you're an expert, you won't want to miss this episode. Dr. Anthony Atala, a world leader in the field of Regenerative Medicine, discusses his 18-year project of developing a lab-grown uterus that can support live birth in an animal model that may one day soon provide a significant treatment option for women with uterine factor infertility. "Half Mystery" by Kevin MacLeod is licensed under CC BY 4.0.
It's 10 pm on a Friday night. You already had dinner, and you could swear your stomach couldn't handle even another crumb of bread. All of a sudden, your friend offers you some chips, and you tentatively pick just one. Twenty minutes later, all the chips are GONE…! Wondered how that happened? You are not the only one! While the mechanisms by which the brain regulates and controls our appetite are still largely unknown, Dr. Scott Sternson and his team have developed cutting-edge tools for integrating molecular and systems neuroscience which hasadvanced our understanding of the neural circuits associated with thirst and hunger. Ready to listen? Well then, sit back, relax and… go grab your chips!
In the 1970s, most company advisory boards were male-dominated, and it was unconventional for an academic scientist to transition to industry. Yet, Dr. Vicki Sato, an accomplished academic scientist at Harvard University, quickly progressed through many executives and leadership positions at numerous companies, including Biogen Inc. and Vertex Pharmaceuticals, Inc. Today, she is a chairman of the board at Vir Biotechnology and Denali Therapeutics. As one of the early biopharma pioneers, Dr. Vicki Sato shares her eclectic career journey and some hard-earned lessons, as well as the changing face of the biotech industry and the current urgency of science-driven entrepreneurship. This episode will certainly inspire any aspiring scientist to reflect on their own career journey! This episode is sponsored by the Blavatnik Fellowship in Life Science Entrepreneurship at Harvard Business School. "Inspired" by Kevin MacLeod is licensed under CC BY 4.0
Have you ever wondered what happens in the brain during sleep? Or what regulates which substances can enter your brain and which can't? When we think of the brain, we think of neurons. However, neurons can't do all of this work by themselves! The cerebrospinal fluid (CSF) is a significant player in the brain and helps carry out vital functions, such as cleaning your brain during sleep! So why do we know so little about it? Learn more about the CSF and its fundamental roles in the brain with Dr. Madeline A. Lancaster, a Group Leader in the Cell Biology Division of the Medical Research Council (MRC) Laboratory of Molecular Biology in Cambridge, UK. She explains why we should pay more attention to the CSF and how, thanks to the recent in vitro models developed in her lab, we can now study this vital fluid like never before.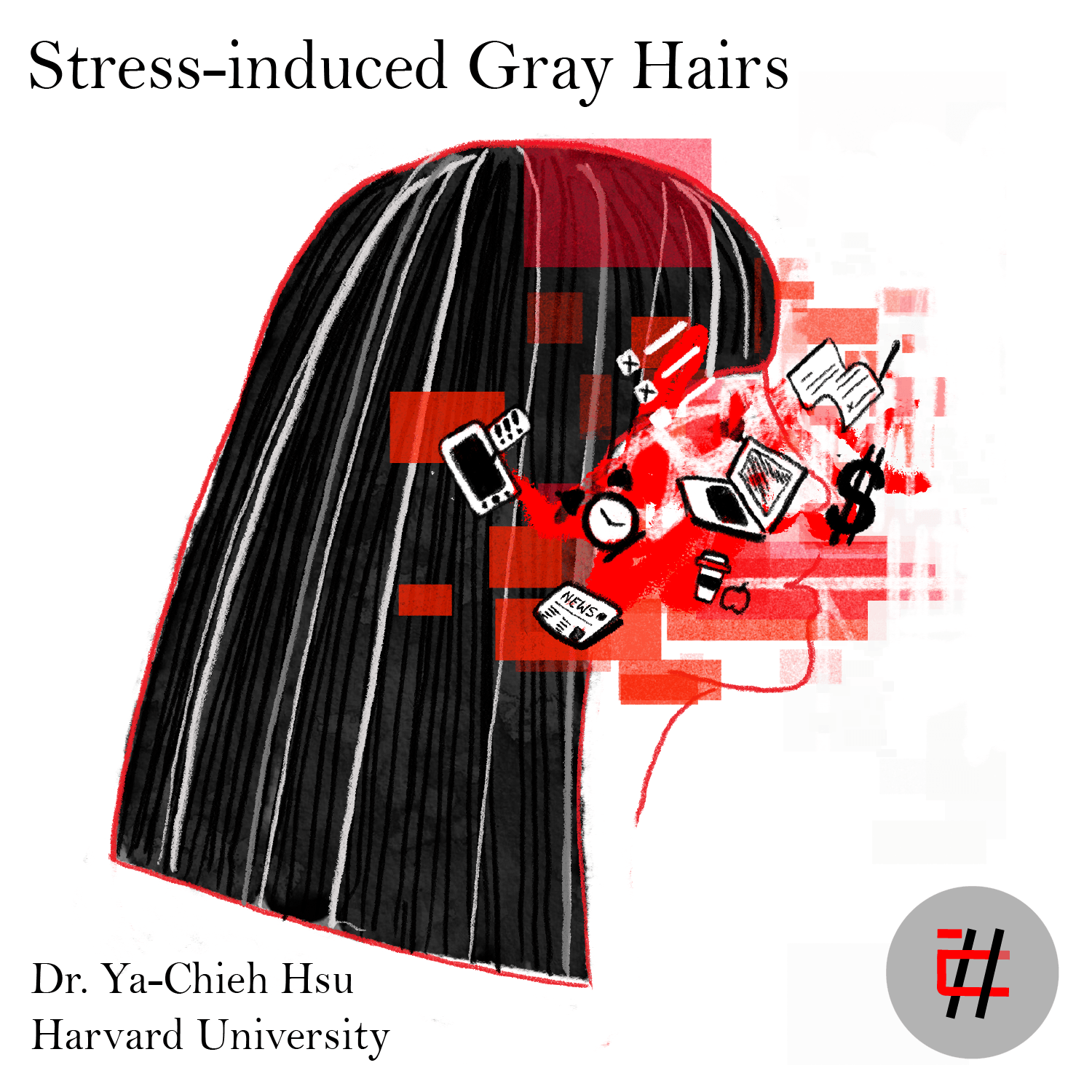 Have you ever seen gray hairs on someone? And do they almost immediately blame it on the stress in their life? Well, they could be right! For the first time, researchers have found that key players responsible for the transient flight-and-fight stress response are also involved in permanent stress-induced hair pigment loss. The finding, which was published in the journal Nature, discredited popularly postulated hypotheses regarding stress-induced gray hairs and suggests hopeful pathways to modify the damaging effects of stress on stem cell pools in other organs. Listen to Dr. Ya-Chieh Hsu, an Associate Professor of Stem Cell and Regenerative Biology at Harvard Stem Cell Institute, as she explains how her team zoomed in from the systemic stress response down to the cellular and molecular dynamics of this exciting biology. "Half Mystery" by Kevin MacLeod is licensed under CC BY 4.0.
This week we are joined by Parkinson's disease expert and neurosurgeon Jeffrey Schweitzer, MD, PhD, of Massachusetts General Hospital in Boston. He takes us through a recently published case study in the New England Journal of Medicine on a novel autologous transplantation treatment for Parkinson's disease. Parkinson's disease is a prevalent and debilitating neurodegenerative disease that primarily affects dopaminergic cells in the brain. It has many existing treatments available, but many lose efficacy over time. This single case study presents evidence that transplantation of a patient's stem cells-derived dopamine neurons into the brain may pave the way forward for treatments that have better longevity and reversal of symptoms than other available treatments on the market.
United States