Discover
Sex Is Medicine ~ Intimate conversations about sexuality, spirituality, PLEASURE, and personal growth
Claim Ownership
Sex Is Medicine ~ Intimate conversations about sexuality, spirituality, PLEASURE, and personal growth
Author: CTR Network
Subscribed: 675
Played: 11,178
© Copyright CTR Network
Description
Sex Is Medicine is a one-hour sexual wellness podcast that explores the connection between sexuality and spirituality, pleasure, and personal growth with an emphasis on how each of these factors impacts the health and wellness of our body, mind, and soul!
Tune in every Thursday evening at 7 pm Pacific to get answers to YOUR questions about all things sexual, explore the inherent connection between sexuality and spirituality, and learn some of the most practical and effective tools for healing body, mind, and sex.
Join thousands of listeners and tune in to new episodes of Sex Is Medicine Podcast EVERY THURSDAY evening at 7 pm Pacific on Contact Talk Radio Network.
Find out more at
www.deviwardtantra.com
Join Devi Ward Erickson and her panel of certified Experts for the final episode of 2021!Devi and her crew answer listeners questions about:* Keeping and maintaining and erection with new partners* How to find time to practice Tantra* The reality of wet dreams* Why Gspot vibrators are a SCAMJoin us for the last episode of the season and make sure to subscribe to Sex Is Medicine in iTunes, Spotify, and Youtube
There are many articles written about "toxic masculinity", but how does "healthy masculinity" show up? And in a culture rooted in largely toxic values with very little pleasure and connection-based sex education available, how do cisgender men learn how to be healthy, loving, compassionate, and EMPOWERED Men?Join Devi Ward Erickson and Certified Sex Educator, Kristopher Lovestone as they discuss his new book Conscious C*ck: The Empowered Sexuality Manual For Men.Find out:* What Healthy masculinity for cishet men looks and feels like* Boundaries & consent as a self-empowerment practice* Sex education for men* Communication tools for relationship success* Building intimacy through authenticity* How this information is relevant to men of colorJoin us for this lively and activated conversation!
How do you integrate the practice of Tantra without absorbing potentially harmful cis-heteronormative narratives?This episode is for radical anti-assimilationists, those who want to get past the trauma stories of linen pants, and those who know enlightenment doesn't happen by turning a blind eye to pain, suffering, and the oppressed.Join Devi Ward Erickson and her guest TK as they discuss Queering Tantra and what that looks like.In this episode find out...-queering the language of tantra - deciding whether we want to use terms like feminine/masculine, top/bottom, receiving/giving-how to integrate body pleasure and ways of dealing with dysmorphia-how kink can help-deliberate immediate presence vs open empty space-what it means to be fiercely vulnerable with language you choose-how to create and use your own terms-tantra as an integrated lifestyle: breathing life and presence into all you do
How does one go from being a Catholic Nun to a sexually empowered Tantrika? In this episode of Sex Is Medicine, Devi speaks with Certified Sexologist and Certified Authentic Tantra Practitioner, Laurie McCraken about her extraordinary journey from Catholic Nun, to Body Sex Practitioner, to Tibetan 5 Element Tantric Healer.This episode is a MUST for those starting their journey of sexual healing and wanting inspiration, direction, and hope
Join Devi Ward Erickson and Relationship Coach and practitioner of ​​​​Kashmir Shaivism, Mel Cassidy, as they discuss the historical roots of Neo-Tantra in the West.In this episode, find out:*The importance of lineage in authentic Tantra*The signs and symptoms of not practicing Tantra within a lineage*The sinister roots of Neo-Tantra*How "sex magick" started as ritualistic abuse of underage boys and girls and how it is NOT in any way related to authentic Tantra.*How to be an ethical practitioner of Neo-TantraJoin us for a joyfully expressive interview in which we are sure to press many Neo-Tantra buttons!
Relationships can often bring up our deepest and most challenging wounds. Because of cultural "norms" polyamorous and ethically non-monogamous relationships can bring even more challenges to navigate. So how and where can we learn to "ride the waves" of relationship and transform those potential breakdowns into profoundly healing breakthroughs?Join Devi Ward Erickson, and sexual liberation extraordinaire, Brittany Policastro @sexually_liberated for a deep dive into the healing aspects of conscious relationships and the healing power of non-monogamy.Listeners will learn how to:⚡️Heal through the lens of relationships⚡️Remaining sovereign within your relationships⚡️Sustaining your relationship with yourself (both sexually and intimately) while connecting with another⚡️How multiple partnerships can be deeply fulfilling and also very challenging⚡️How owning our shit is key to healing and creating supportive relationships⚡️The difference between rules and boundaries
Join Devi Ward Erickson and her team of ACS Certified Sexologists for another episode of "Ask A Sexologist" as they discuss troubleshooting your tantra practice and embodying spiritual sex. In this episode find out:*Tantra Tips for helping Trans women cultivate their sexual charge*Lasting longer and the 4 stages of becoming multi-orgasmic*Taoist exercises for increasing erection*How to heal sexual trauma with spiritual practice*How to cultivate a meaningful tantra practice
Breasts are symbolic of nourishment, sustenance, and quite literally, life itself. Breasts can also be a source of orgasm and pleasure for those who own and enjoy them.Join Devi Ward Erickson and Certified Sexologist, Davia Frost as they discuss how to awaken the power and glory of breast orgasms!Find out:*How to cultivate self-love with breast massage*How to create a "Breast Love" ritual for yourself*The physiological AND psychological benefits of having a "Breast Love" practice*Exploring ALL of your erogenous zones*Lend a helping hand...Breast Massage with partnersTune in to this AASECT award winning show!
Our ability to give, receive, and respond to pleasure is largely dictated by our sense of emotional and physical well-being. From a very basic physiological perspective, if you don't feel safe – physically, emotionally, or psychologically – your sexual function simply doesn't function. Or, certainly not as well as it could/should. There are a LOT of stressors in our Western lifestyle that can impact our sexual experience, many of which go unnoticed because they are so common and normalized. One ongoing and all pervasive stressor for POC that often gets overlooked is that of racism, and the impact of racism on the physical, mental, emotional, and sexual well-being of POC.Join Devi Ward Erickson and Mental health professional, Chioma Janelle, as they discuss the impact of racism on BIPOC mental health and how that can affect our sexual experience.Find out about:*How intergenerational trauma manifests and replicates itself.*The effects of colonization in fostering Trauma*How Trauma affects our nervous system, relationships and how we relate and connect to one another*Healing from "The superwoman syndrome"*The power of Black resilience*How POC ACTUALLY find healing vs what's currently offered in the available systems of "healing"*How Black bodies are misdiagnosed due to racism and overwhelm*Using Black Feminist approach as a way of healing- using community and collective space, creativity, and PLEASUREJoin us for this AASECT Award winning show.
Have you ever wondered how to get your sexy back and feel good in the process? Between work, the kids and their activities, and taking care of your aging parents, you fall into bed exhausted every night. You remember a time when sex was the best thing ever, but now, you can take it or leave it. If you know there is more to life and love but just don't know how to achieve it, then you've come to the right place!Dr. Brandye Manigat, MD has been helping women "Get Their Sexy Back" and address the root causes of a lackluster sex life. Join her and Devi Ward Erickson as they discuss:Why sex is WAY more than just a frivolous thrillWhy our sex life today is not our mother's sex lifePhysiological benefits of sexYour biggest sex organ?Female sexual response - what's within the realm of normalHow to activate your pleasure pointsManifesting the life you want with PLEASURE!Another episode you won't want to miss from this AASECT award winning show!
Join Devi Ward Erickson and her delightful team of Certified Sexperts: Karen of Explore The Art of Tantra, Rosie Bitts and Lucia Vasquez as they answer listener's questions about:Sexual fantasies - the good, the bad, and the consensual?Can sexual chemistry be learned?Can Tantra help reconnect after cheating?Communicating your sexual desires with your partner
Our biggest sex organ is our brain, and yet, being "in your head" can be an obstacle to your experience of pleasure. Dr. Heather Bartos shares her tips and tricks for getting out of your head and INTO your senses to rewire your brain for pleasure!In this episode find out:- What's happening in the brain and nervous system during sex?- How your beliefs about sex are wired into the brain by age 8!- Why your prefrontal cortexes may be getting in the way of your orgasm- How to use neuroplasticity to work through old sex beliefs and habits- The neurobiology of female pleasure- How to maximize (and troubleshoot) your brain's ability for magnificent sex.
Join Devi and her guest, Lystra Sam as they discuss the healing power of women and a feminine-led society…Find out:*Why is Sisterhood important for healing?*How does community play a role in healing?*What role does community play in business?*What does healthy feminine leadership look like and why is this the key to a new world order?*What would a healthy, flourishing, female lead capitalist society look like?
David Wraith studied sex education at the feet of "Bi-sexual white women"(Shouts out to Annie Sprinkle and Betty Dodson!). Now his mission is to inspire other Black men to embrace their full sexual selves by being a model for body love and sexual self-acceptance. From hosting clothing optional workshops, to educating the public about the 3 C's of polyamory (communication, consent, and ???) David Wraith is a force to be reckoned with in the field of pleasure activism and sex-positive education.Join Devi and David as they discuss:- Why representation in sex education matters- The healing power of public nudity- Celebrating polyfu*kery!- Practicing the 3 C's of ethical polyamory- Sexual self-acceptance specifically for black menAnd more!
Join Devi Ward Erickson and her team of certified sexologists, Rosie Bitts, Sequieta Whitfield, Lucia Vasquez and Karen Craig of Explore The Art of Tantra as they answer YOUR questions about:Anal pleasure and peggingDiscussing your sexual desires in partnershipHealing porn addiction with TantraStoking the fire of your libidoHow to have vaginal orgasmsLearn to use Sex As Medicine with this AASECT award winning show
According to recent studies, approximately 91% of cis-gender women are unhappy with their bodies. I too have spent most of my life at war with my physical body, attempting to starve and "cleanse" it into an idealized concept of beauty that only 5% of the population represents.But all that has changed for me recently. I no longer feel a need to punish my body for not conforming to Hollywood's standards of beauty. I no longer need to starve, cleanse, or raw food my body into submission. I have jiggles, and cellulite, and stretch marks, and a big, giant, juicy butt that doesn't fit into a size 6 pair of jeans anymore, and for the first time in my life, I DON'T HATE MYSELF because of this.Now I look in the mirror and see beauty in the swells and curves. The ROUNDNESS of my belly, my hips, my thighs has become a thing to admire, as opposed to a source of self-recrimination and disgust.So, I wanted to talk about this new found inner peace and body acceptance. How did I go from feeling tortured by and hating my body, to feeling peace, ease, and body -love?Join me and my friend and colleague, Rosie Bitts as we discuss how to free yourself from the shackles of body shame that this society imposes upon us, and her upcoming book project "Body-Love".We discuss:*The origins of body shame and how society conditions us for self-hatred*The role that trauma plays in body shame*How the "wellness" industry reinforces body shame*Healing your brain with diversity*How our partner's influence body shame and acceptance* How 5 Element Tantra has helped heal our body shameTune in to this AASECT award winning show!
According to this week's Sex Is Medicine guest, it's almost predictable that a woman will lose her interest for sex in a long-term relationship. Many women feel broken when that happens and start to believe that they're just not that sexual.This week, Irene Fehr shares with Devi the four dangerous myths that women subscribe to that actually kill women's libido, why women's libidos are actually starving, and what we need to feed our libido for a healthy sex life in a long-term relationship.Find out...1. The four myths that kill women's libidos and make women feel "sexually broken" when they're not2. What happens in a long-term relationship that affects women's interest in sex3. The 4 "nutrients" many cis-gendered women need to feel sexual in a long-term relationship4. It takes both the woman and her partner to nourish her libido; the role of men in her libido5. How the quality of sex we are having impacts our libido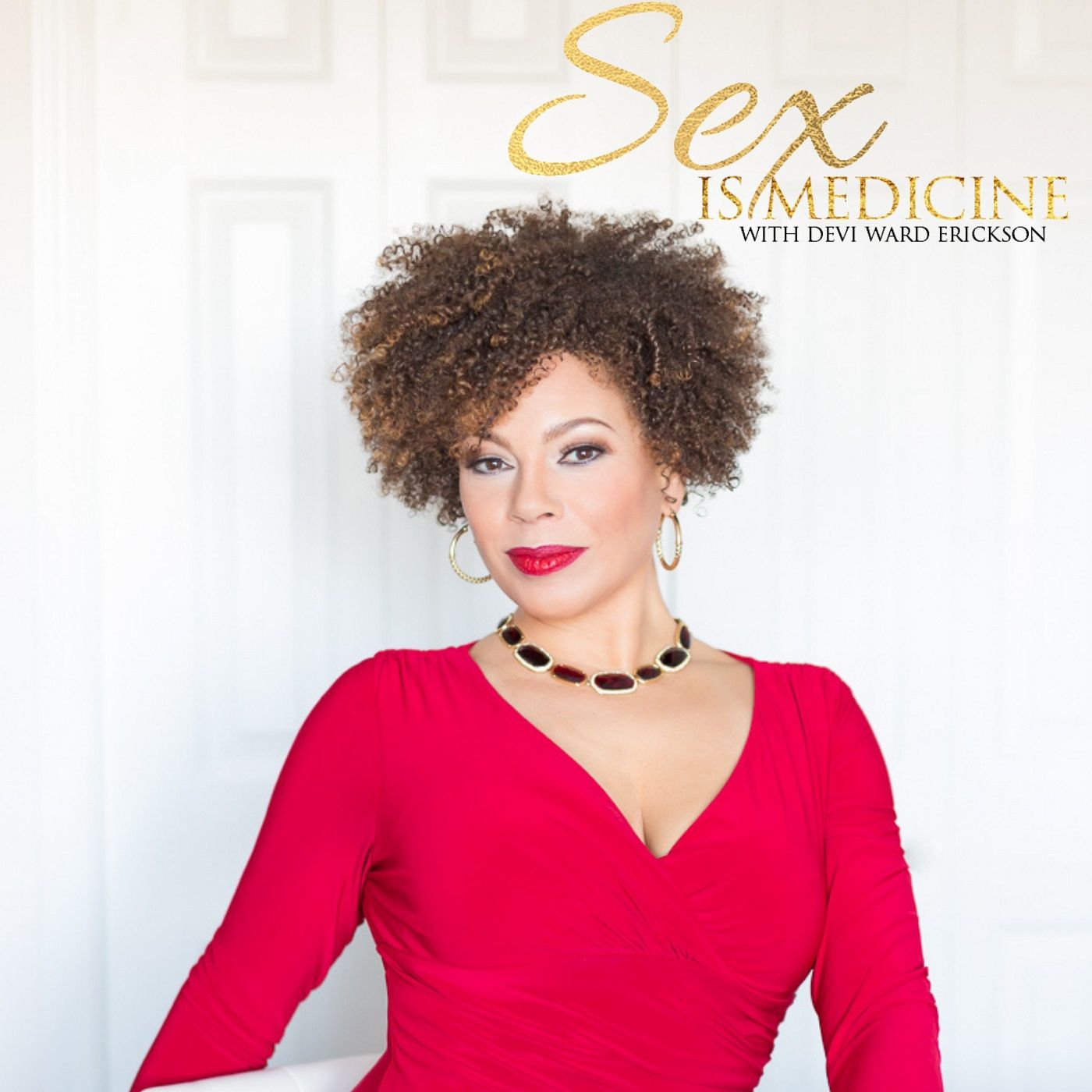 How important a role does sexual pleasure play in your life? Should the quality and quantity of your orgasms matter? Join Devi and author Steve Bodansky as they discuss the why and how of cultivating more pleasure and better orgasms!Tune in to find out:*The importance of orgasms for a happy healthy life.*Techniques for increasing sexual pleasure*Sexual communication skillz!*Prioritizing YOUR pleasure as a giver*The powerful energy of pleasure
How does diet affect sexual function? Can changing your diet improve your ability to experience pleasure? Join Devi Ward Erickson and acupuncturist and herbalist, Christine DeLozier, L.Ac.,as they discuss the role that your diet can play in supporting consistently great sex!• The trifecta of great sex!• How does diet affect our sex lives?• How does diet affect women's sexual function in particular?• What if you already have good sex? Will this diet help?• How long do we have to eat this way to see changes in the bedroom?• Are there foods that are bad for sex?• How does Traditional Chinese medicine promote sexual health?
In this episode of Sex Is Medicine, Devi speaks with two highly accomplished male tantric practitioners, Vayne Thomas Jr and Brion Craig, both of whom have done the "work" to create a life of sexual and personal empowerment.Tune in to find out:What does "sexual empowerment" mean?What does this look like for Black men specifically?What are some of the obstacles Black men need to overcome?The vital need for community in your healing journeyWhat tangible changes will you see in your life?Don't miss this AASECT award winning show about sexuality, spirituality, pleasure, and personal growth!
United States