Discover
#SkillsWorldLive Radio Show
#SkillsWorldLive Radio Show
Author: FE News
Subscribed: 17
Played: 683
© Copyright FE News
Description
Presented by Tom Bewick, #SkillsWorldLive Radio Show builds on the popular podcast series, #SkillsWorld on FE News, where Tom interviewed some of the leading figures shaping the post-compulsory education and skills systems, including apprenticeships.
Originally created to help bring people together and connect the world of FE during the coronavirus outbreak, season 2 of the #SkillsWorldLive Radio Show will take place every Friday 10:30am to 11:30am.
Supported by the Federation of Awarding Bodies, their Platinum Partners' programme, and in association with FE News, #SkillsWorld Radio Show Live will carry:
— weekly interviews with special guests making headlines from around the globe
— phone-ins for people working in the Further Education and skills sector, including apprenticeships
— analysis of the key issues affecting employers, learners, providers and awarding bodies
— top tunes from the 80s, 90s and 2000s
Your World. Skills World.
Available for broadcast, download and replay on the FE News website (
www.fenews.co.uk/skillsworld)
and other channels (e.g. Spotify, iTunes and Sound Cloud).
Team:
Presenter: Tom Bewick
Editor: Gavin O'Meara
Digital Producer: Ellie Hanson
Policy: Dr Rebecca Conway
Operations: Karen Daws
E-mail:
skillsworld@fenews.co.uk
This week, presenter Tom Bewick, was asked to question a panel at the Battle of Ideas Festival taking place in London.
This week, we're in Leeds as we co-produce the show, sponsored by Pearson, with BTEC Media Production students at Leeds City College's Quarry Hill Campus.
Delivering a keynote speech to the Bruges Group on Monday 3 October, Jenkyns told a gathering of party members that she felt the government had another major fight on its hands, at least equivalent to the Brexit process. On the FE and skills brief, minister Jenkyns said: "A skilled modern economy competing on the global stage requires technical skills just as much as it needs graduates. Yet the current system would rather our young people get a degree in Harry Potter studies than an apprenticeship in construction. Now, it doesn't take magic powers to work out that this is wrong, which is why the government is committed to putting the broomstick to good use and carrying out a spring clean of low-quality courses. If a course isn't providing someone with a positive outcome leading to a well-paid job, then it makes no sense why the government should be funding it, especially taxpayers. "We're injecting more flexibility in the funding system, and we are changing the landscape of how qualifications are funded and making it easier to access education whatever stage in your life."
The Great Skills Debate at the Labour Party Conference.For the first time, Skills World Live Radio Show hit the main party political conference season, starting with Labour in Liverpool.It comes at a time when:The UK is the second slowest in the G7 for productivity grow (output per hour worked)British employers have slashed investment in workplace skills by up to a fifth since 20052 million adults have fallen off the community education rollsThe number of apprenticeship opportunities for young people under 25 has nearly halvedIn England, the government is threatening to axe thousands of qualifications at Level 2 and belowPresenter, Tom Bewick, leads a discussion with a panel of invited guests:Toby Perkins MP, Shadow Skills MinisterSonia Sodha, Observer, Chief Leader WriterAlan Woods, OBE, Co-Chair, Federation of Awarding BodiesKatie Orr, TQUK
This week, Dr Jo Saxton, the Chief Regulator at Ofqual, makes her inaugural appearance on the Skills World Live Radio Show.Presenter, Tom Bewick, interviewed the quango chief about four key issues:The roll out of plans to tackle grade inflation as a result of the pandemic?What lessons will be learned from the delay to some VTQ results this summer?One year on from taking on the role, how is her 'true north' agenda going and what does it mean in practice for regulation?How will the Skills Act and IfATE's new role in approving qualifications avoid a bureaucratic nightmare?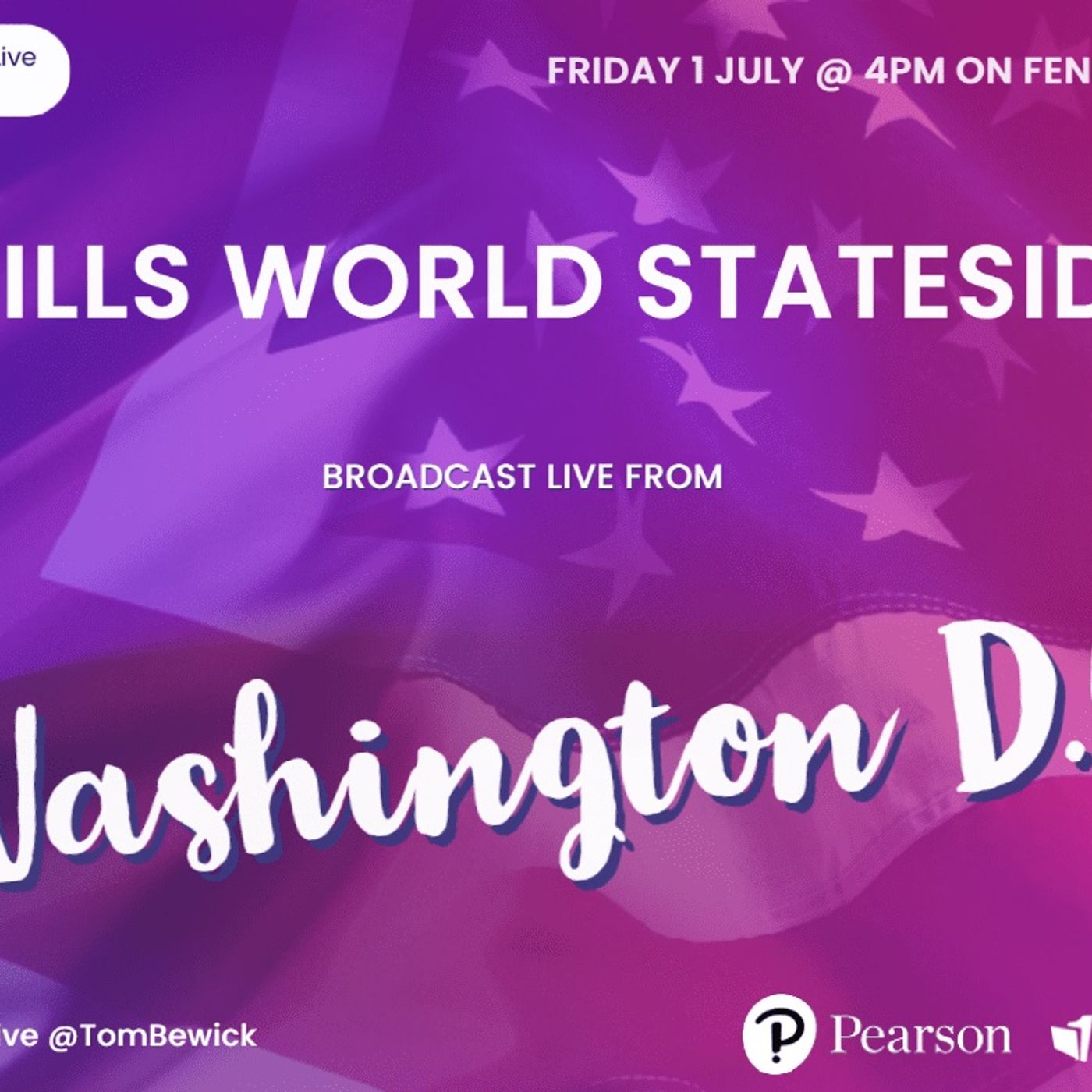 After a short break, the award winning Skills World Live Radio Show is back with its 'on the road' format of the podcast!This week, we're co-producing the show with Level BTEC Media Production students at Walsall College in the West Midlands. Sponsored by Pearson.Themed, 'Levelling-up through further education and skills in the West Midlands', the students ask all the hard hitting questions of our panel. These include:Is levelling up just a slogan?Is free speech compatible with keeping students safe?Should the government be axing BTEC qualifications?Will lifelong learning ever become reality?Presenter, Tom Bewick, is joined by his super informed panel of guests:Sharon Blyfield OBE, Head of Early Careers, Coca-Cola Europacific Partners LimitedFiona Aldridge, Head of Insight and Intelligence – Economic Delivery, Skills and Communities, West Midlands Combined AuthorityJames Norris, Assistant Principal, Walsall CollegeMelissa Tisdale, Advanced Practitioner at Walsall College and FE Lecturer of the Year Winner
Check out our Christmas special of the programme (!) When Tom Bewick shared the presenter mic for the first time with the UK's employment minister, Mims Davies MP. Before entering Parliament, Mims was previously a local BBC radio DJ. So, the Skills World Live production team were honoured to record an episode with Mims, which was all about how the Department for Work and Pensions has been working to prevent a public health crisis from turning into a employment crisis during the pandemic. On the back of better than expected employment figures (unemployment at 4.2%), including a record number of vacancies (1.2 million) in the British economy, Mims and Tom, interviewed guests who have been at the front line of delivering these impressive results.
After the successful FAB conference, where the programme aired two outside broadcasts, the Skills World Live Radio Show returns to its familiar surrounds of the livestream studio. On this week's show, Tom Bewick goes Head to Head with Lord Shipley, the chair of the House of Lords committee on youth unemployment. He explores the committee's central recommendation to gear two thirds of all apprenticeships in future towards the under-25s. Following committee stage and second reading of the Skills Bill in the House of Commons recently, Labour's shadow minister for skills, Toby Perkins MP, chats with Tom about the latest developments of the passage of the legislation; and what Labour's strategy will be for FE and qualifications at the next general election. In the Final Take segment of the show, Tom talks to Gemma Creamer, a volunteer with the Beyond Trust non-profit that has a big vision to support the country's 40,000 care leavers.Tom himself grew up in care, so find out more as to why this is a subject so close to both his and Gemma's hearts.
In this week's show, Skills World Live presenter Tom Bewick, looks at the impact of the recent Budget and Spending Review for FE and skills. The Department for Education says the three year settlement for FE will result in a 26 per cent real terms increase on levels invested in 2019. However, analysis by the Learning and Work Institute has found that by 2025, spending will still be on average, £750 million less on FE than it was in 2010.There is a special segment looking at the ongoing controversy of the Level 3 qualifications review, including analysis of education questions in the House of Commons on Monday; and later in the week, the appearance of the education secretary and DfE perm sec, at the Education Select Committee. Featuring in this week's episode: Nadhim Zahawi MP, Secretary of State for Education Susan Acland Hood, Perm Sec, DfEVera Hobhouse MP, Liberal Democrat Robert Halfon MP, chair of the Education Select Committee Alun Francis, Principal of Oldham College and Deputy Chair, Social Mobility Commission Stephen Evans, Chief executive, Learning and Work Institute
Welcome back to a brand new season of the Skills World Live Radio Show! Thank you for sticking with the number one podcast in FE. In this episode, presenter, Tom Bewick, explores why we have a skills crisis in the UK and what can be done about it. After all, you can't read a newspaper or switch on a news channel at the moment without one story or another about supply chain shortages, caused by not enough HGV drivers, abattoir workers and even bricklayers. The skills crisis comes at a time when various business lobby groups have been calling on government to relax immigration rules which will allow more overseas visas to be issued, now that the UK has ended unfettered immigration and free movement with the European Union. In our Head to Head segment this week Tom talks to the former Labour Treasury minister and chief economist at the Institute of Directors, Kitty Usher. He is joined by Viren Patel, the Open University's business development director, who has teamed up with the IoD to produce the Annual Business Barometer — a handy snapshot of employer sentiment on workforce skills. In The Final Take this week, Tom talks to Baroness Fox of Buckley (Claire Fox) about the recent Battle of Ideas Festival in Westminister, organised by the Academy of Ideas; and her thoughts on the Skills Bill, which came back to the House of Lords this week at Report Stage. We're now taking a short break for the half term and will return with episode 2 of the new season on the 5 November!
To end Season 3 of the radio show, I was delighted when Alun Francis, the principal and chief executive of Oldham College invited us to record the last episode of the series at the campus business centre which has recently been constructed. It was a real pleasure to have such close involvement with the college staff teams and wider student community.The end result is a version of the show on tour, in front of a live audience. My panel included:~ Cllr Shaid Mushtaq, Cabinet Member for Education and Skills in Oldham~ Susanna Lawson, Co-founder, and CEO of OneFile~ Alun Francis, Oldham College's PrincipalWith questions from:~ Natalia Chudy, Level 3 Law student~ Alexander Newton Hall, Level 3 Law student~ Matthew Taylor, Level 3 Uniformed Public Services (UPS) student~ Taylor Richardson, T Level Digital Production, Design and DevelopmentWhat was great about this recording was getting a real appreciation, in just one local community, for the transformative power of further education. For the fact that FAB's members, working with college tutors, are delivering literally hundreds of great qualification courses that are giving real life chances to young people. It includes, of course, the new T-Levels that will feature more prominently in FE from September 2023.Crucially, we talked about the difficult issues in FE as well, like the fact equality and diversity debates need to move beyond the abstract and find more practical solutions.I want to thank FE News and everyone for your support on this digital journey. And, above all, to say to those who are considering transforming your own digital delivery: don't let your desire for innovation and change be drowned out by those miserable sceptics, who, let's be honest, don't like to see too much innovation and change, particularly when it roundly exposes their own mediocrity.Season 4, with more innovations, will return in mid-October!
The #SkillsWorldLive Radio Show is back! In this 50-minute special the show's presenter, Tom Bewick, asks the important question "Will the Spending Review deliver for FE?".After the news, Tom speaks to Rt Anne Milton the Former skills minister, Julian Gravatt from Association of Colleges and Luke Sebiata from the IFS for their views.After an extended length interview Tom speaks to Emily Carver, Head of Media at the Institute of Economic Affairs.
During this week's show, Presenter, Tom Bewick focusses on the Post-16 review of qualifications at Level 3 and the recent Skills for Success report from The Open University and Be the Business.Tom kicks of the show with a 1-2-1 interview with Chief Executive of VTCT and Federation of Awarding Bodies co-chair, Alan Woods. Following on from the 1-2-1, Tom interviews guests:Stewart Segal, Executive Director at Youth Employment UKCatherine Winter, Managing Director, Financial Capability and Community Outreach at The London Institute of Banking & FinanceKatie Orr, Awarding Director at TQUKIn the final segment of the show, Tom speaks to Anthony Impey (Chief Executive of Be the Business), Jane Dickinson (Digital Skills Lead at The Open University) and Rich Bishop (Web Consultant Developer & SME ambassador) all about their recent report on supporting business leaders with digital adoption.
In our 13th episode of the third season, Tom Bewick dives into the Baker Clause and the current state of careers advice.In the first 1-2-1 interview of the show, Tom interviews Ruth Gilbert, Honorary Fellow, UCL Institute of Education and Group Education Director at Qdos/Manor. In the first chat segment of the show Tom speaks to William Baldwin, Principal at Brighton, Hove & Sussex Sixth Form College and former pupil, Gemma Creamer, who is a care leaver, aspiring barrister, recruitment specialist and student ambassador at Greenwich University.In the final part of the show Tom interviews IMI's (Institute of the Motor Industry) Chief Executive Officer, Steve Nash. Steve was Chairman of the IMI for five years, before becoming President in November 2009 and then CEO in 2013.
United States