Discover
Startup Canada Podcast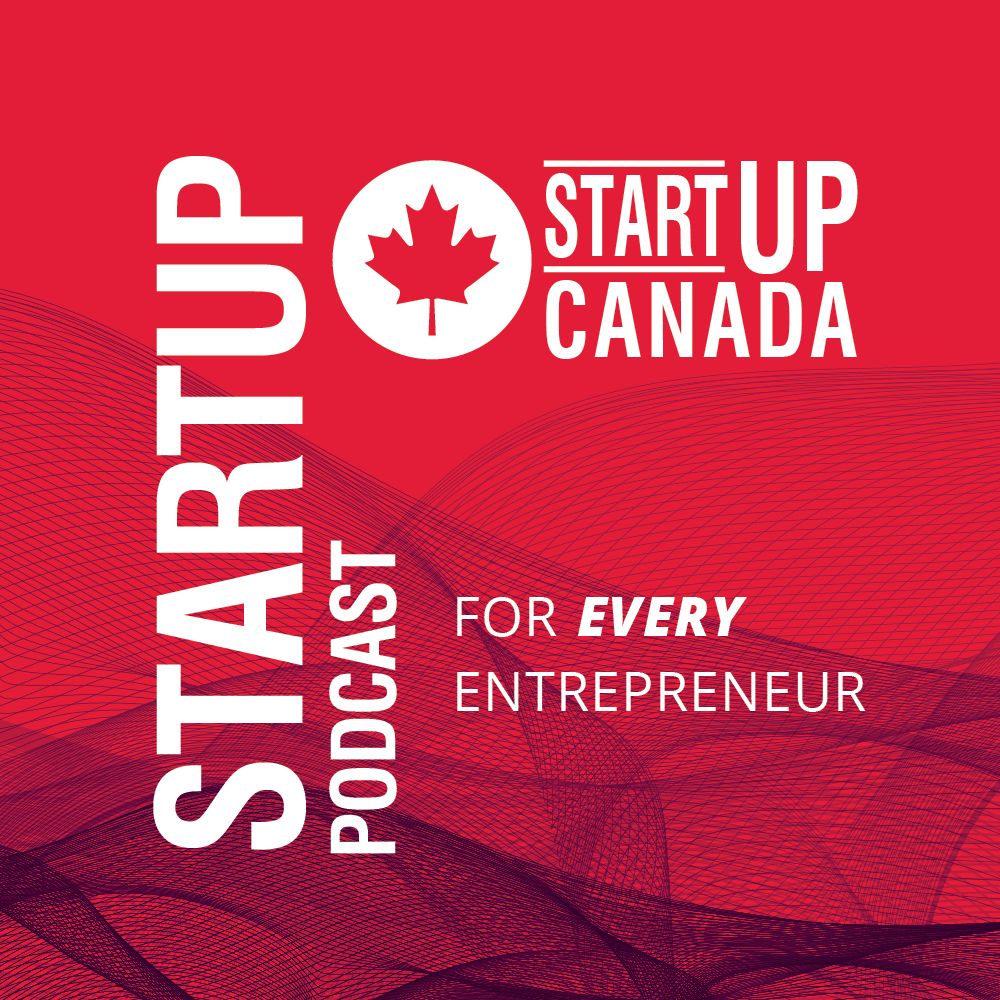 Claim Ownership
Wondering how to best prepare for your entrepreneurial future? Then Bruce Croxon, Partner at Round13 Capital, wants to talk! Bruce Croxon made his mark as a digital pioneer by co-founding Lavalife and revolutionizing how people connect. Under his direction, he grew this early tech start-up into the marquee brand in online dating with over two million users. Partner, chairman and CEO, Croxon helped lead the company's growth from four to 600 employees, while achieving revenue of just under $100 million. Since the sale of Lavalife, Bruce has been active as both an investor and advisor in growth-stage companies in the technology sector. As an ex Dragon on CBC's Dragons' Den, he added a broad range of businesses and products to his portfolio that tapped into his passion for digital media, health, and marketing. Croxon currently helms Round13, a company dedicated to investment in growth-stage Canadian tech companies. He also co-hosts The Disruptors on BNN and CTV, a weekly show spotlighting Canadian business and believes our entrepreneurs can hold their own with anyone in the world. ""It's active work to focus on your goals, one of the most common mistakes I see entrepreneurs make is sensing early success, and pivoting six or seven different directions." In this week's episode of the #StartupCanadaPodcast, sponsored by Mastercard and Ceridian, Bruce investing in your own success, and starting to do so as soon as possible.
Has your business roadmap been thrown out the window and you're wondering what direction to pivot in? Then Razor Suleman, CEO and Co-Founder of Elevate has some advice. Razor Suleman is a successful serial entrepreneur, investor and champion of the Canadian technology ecosystem. Currently, Razor is the CEO & Cofounder of Elevate, an organization committed to the advancing the Canadian technology ecosystem. Elevate's mission is to unite the world's innovators to solve society's biggest challenges. The organization was created in partnership with Toronto Mayor John Tory along with 150 community and corporate partners. Razor is also the CEO of Design Exchange, a cultural institution that provides access to hands-on design-based learning for Canada's next generation youth. Previously, Razor is Founder & former CEO of Achievers, a corporate social network focused on employee engagement that was backed by legendary VC Sequoia Capital. Razor built Achievers from an idea to a company with a $100M in revenue in less than 10 years. Achievers was acquired by Silicon Valley based Blackhawk Networks (which is owned by Silver Lake Partners) in July of 2015 for $150M. "You know what attracts capital investors the most? Customers." In this week's episode of the #StartupCanadaPodcast, sponsored by Mastercard and Ceridian, Razor discusses the Canadian entrepreneurial landscape, and his thoughts on the future of entrepreneurship in Canada.
Sometimes self-doubt can be a barrier to your own best self, and Amanda Truscott would call that another step on the entrepreneurial journey. Amanda Truscott is Co-Founder and CEO of Rithmik Solutions, which builds advanced analytics for predictive maintenance on mining equipment. She's also a NextAI Entrepreneur and the author of Creative Unblocking: Bypass Self-Doubt, Tap Your Genius and Complete Your Best Work. While her colleagues combine data science with decades of experience working on equipment in mines, Amanda specializes in the intersections of creativity, technology and communications. Amanda has a Master's Degree in Journalism with an emphasis on multimedia, and she brings a unique and human-centred approach to industrial transformation. "It's pretty rare for a lot of people to not feel self-doubt in this journey, but being able to get done what you need to get done is often about moving through that doubt." In this week's episode of the #StartupCanadaPodcast, sponsored by Mastercard and Ceridian, Amanda discusses the importance of breaking through self doubt, and the importance of coincidence in influencing decisive action.
Sometimes when you don't fit the mould, you need to break it – just ask Sonya Satveit, Founder & CEO, Qanik DX Inc. Sonya's journey to becoming a FemTech Founder began with her own health story. When unaddressed hormone issues led to two miscarriages, Sonya realized our healthcare system wasn't designed to serve the unique needs of women. The guiding principle, "let your pain become your purpose" led her to become a women's health advocate through her blog Hormone Soup. When the blog reached women in 175 countries, she knew she had to do more to help so she set out to transform women's health. Sonya founded Open Source Health which piloted the first precision medicine platform for women's health – a multinational project involving multiple stakeholders from the US, Canada and Europe. Sonya published the results in the peer-reviewed journal, Learning Health Systems. She didn't stop there, her vision to remove the gatekeepers to lab testing, give women control over their data and empower them with knowledge resulted in her latest venture - a company called Qanik DX. She and her team have developed a mini-lab for the home to allow women to test their hormones and get real-time results delivered to their smartphone all in the comfort of their own home. "One of the biggest things is I don't fit the stereotype of a typical tech founder. I don't check all the boxes, and I saw that as an opportunity to redefine what being a founder looks like." In this week's episode of the #StartupCanadaPodcast, sponsored by Mastercard and Ceridian, Sonya discusses the importance of carving out your own corner in entrepreneurship.
Just because you're busy doesn't mean you're doing good work, and Jonathon Moody, President and COO of Versature, will be the first to tell you. Growing up north of Toronto, Jonathon attended the University of Ottawa and began working in Ottawa's thriving tech sector during the late 90s. Jonathon has spent more than 15 years helping organizations change the way they do business through technology. With a background focused on the internet, hosted technologies and most recently 'cloud services' Jonathon focuses on helping firms of all sizes realize the business changing benefits of services such as Salesforce.com, Google Apps, Asana and hosted communications such as Versature's Hosted PBX. Jonathon is active both in and out of work; he races sailboats north of Toronto and in the nation's capital, organizes Versature's hockey team and is a certified ski instructor. "I always fall back on one thing, we always want to do it right, we always aren't in a rush." In this week's episode of the #StartupCanadaPodcast, sponsored by Mastercard and Ceridian, Jonathon discusses the importance of taking a measured approach to entrepreneurship and how to make the most of your time.
There's no formula for entrepreneurship, but if you talk to Colin Christensen you might find a map! Colin is a "been there done that" entrepreneur & mentor. Awesome wins, excruciating failures, lessons everywhere. He's a curator of all good things business and built a free (for now) tool-suite for entrepreneurs and mentors to start and grow business (EntrepreneurRoadmap.ca). Utilizing these tools Colin has occasionally consulted larger businesses, launched a micro-lending app pilot project in Honduras that grew internationally and ran an Accelerator in the Hemp and Cannabis space. He is currently working to take the Entrepreneur Roadmap international as a tool for entrepreneurs everywhere. Most of what he does surrounds The Entrepreneur Roadmap, and he has just finished a choose-your-own-adventure book on it, which is in editing now. Also keeping up with his entrepreneur side, he also has another team with patents for reinventing drywall to be lighter, fireproof and mould-proof. "I believe everybody is an entrepreneur at heart, everyone has a great idea but not everyone knows how to build a business around it." In this week's episode of the #StartupCanadaPodcast, sponsored by Mastercard and Ceridian, Colin discusses the importance of knowing you've got guidelines on your entrepreneurship journey, even when you're going offroad.
It's important to know about the potential risks that come with managing a business - just ask Julian Valeri, Manager of Risk Solutions at Sovereign Insurance, Alberta on our show today. Julian is an insurance professional with experience in underwriting, claims, loss control and risk management. For over 30 years, he has worked his way through various positions within the insurance industry. Julian's job involves working with businesses to identify possible risks that could negatively impact the company's operations and cash flow while recommending plans and strategies to minimize those risks. When he's not working to protect businesses across Canada, Julian is the past president of the Ontario Risk and Insurance Management Society as well as the Lead Instructor for the Certificate in Risk Management Program at the University of Toronto School of Continuing Studies. He is also currently a Board Member for the Society of Fire Protection Engineers (SFPE), Southern Ontario Chapter. "Entrepreneurs face risks that other business segments don't necessarily have to consider. " In this week's episode of the #StartupCanadaPodcast, sponsored by Mastercard and Ceridian, Julian discusses how to manage and protect your business from risk.
Sometimes the talk you talk is as important as the walk you walk – just ask Priya Chopra, founder and CEO of 1Milk2Sugars (1M2S). 1M2S is a thriving public relations agency specializing in influencer marketing, social media and media relations. Under Priya's leadership, 1M2S has grown to include offices in Montreal, Toronto and New York, offering bespoke communications services to prominent and international lifestyle brands including NIVEA, Pfizer, Marriott Hotels, L'Oreal and more. Priya has been recognized by the Forbes Agency Council, Bloomberg Canada, Ernst & Young Entrepreneur of the Year Awards, and the Chamber of Commerce to name a few recent distinctions. Most recently, Priya was awarded the PR in Canada Women in Communications award in the "Founders" category. In addition to being an accomplished business leader and highly sought-after communications professional, Priya is trilingual and is a proud mother of three. "We really believe in PR as a source of authenticity and credibility. That's our driving force." In this week's episode of the #StartupCanadaPodcast, sponsored by Mastercard and Ceridian, Priya discusses the importance of public relations in the world of entrepreneurship.
Like so many other things, entrepreneurship is easiest with support. Nevin Buconjic will tell you the same thing! Nevin is an award-winning serial entrepreneur, author and startup ecosystem builder. Nevin has started eight companies over his career, and counseled hundreds of entrepreneurs and small businesses. He is the author of two books, including Starting Your Own Business: An Entrepreneur's Guide, available on Amazon. He's also currently Manager of Trade & Investment with the City of Sault Ste. Marie, working to attract business and investment to SSM, and part of the team that attracted a $1 billion manufacturing facility investment to the community in 2019. In 2013 Nevin founded StartUP Sault Ste. Marie – and has been building a supportive community for entrepreneurs in Sault Ste. Marie ever since, hosting over 70 events and meetups. He enjoys working with entrepreneurs, startups and growth companies, and thrives on building ecosystems, supporting entrepreneurs and building community. "If entrepreneurs come together to make a community of support they can make a big impact." In this week's episode of the #StartupCanadaPodcast, sponsored by Mastercard and Ceridian, Nevin discusses the importance of community in entrepreneurship.
It's never been more important to tell your story, just ask – just ask Vinod Rajasekaran, Publisher and CEO of Future of Good. Vinod is Publisher & CEO of Future of Good, a new digital content platform with a mission to make the world of social impact smarter through digital content. Future of Good covers stories, innovations, and trends shaping social impact in Canada. Future of Good also produces the Future of Good Summit, the premier gathering of impact-focused leaders who want to navigate the trends, tensions, and transformations shaping how we do good. Vinod was Co-founder and Executive Director of Impact Hub Ottawa, the largest multi-sector social innovation environment in Canada's capital. He recently oversaw strategy and business model development as the founding Managing Director of Rideau Hall Foundation, chaired by former Governor General David Johnston. Vinod also launched Canada's social R&D network as a Fellow with SiG working to seed ecosystem conditions to strengthen embedded R&D capacity in Canada's non-profits. As a result of his work, Canada's new Social Finance Fund includes capital for social R&D. His ground-breaking work in social R&D is referenced around the world. Vinod is on the Advisory Board to the Equality Fund. He was designated as a Global Shaper by the World Economic Forum, is a member of the Banff Forum community, and is a recipient of The Queen Elizabeth II Diamond Jubilee Medal for his contribution to Canada. "We're at a pivotal moment in time right now, where this decade will demonstrate to future generations how much we care about the future of humanity and the planet." In this week's episode of the #StartupCanadaPodcast, sponsored by Mastercard and Ceridian, Vinod discusses the importance of social entrepreneurship in shaping tomorrow's world.
It's never been more important to help every Canadian through times like these – just ask Darrell Schuurman, CEO of the Canadian Gay and Lesbian Chamber of Commerce. Darrell is an advocate for affecting social change through the economic empowerment of LGBT+ entrepreneurs. Growing up in small town Alberta in an entrepreneurial family, Darrell had a passion for business, and knew the struggles small businesses face. But as someone who felt that he had to hide his true-self, he knew even more the struggles facing LGBT+ people. He soon realized that he could combine his passion for business and his commitment to supporting LGBT+ inclusion, while leveraging his entrepreneurial background. In 2003, he co-founded he CGLCC, Canada's LGBT+ Chamber of Commerce, a national not-for-profit organization with a mission to expand the opportunities and advancement of the LGBT+ business community in Canada. Now with a team of 10, Darrell and the CGLCC is proving that LGBT inclusion is good for business and good for Canada. "For Canada to grow and for our communities to grow, we need to realize and understand the importance of an inclusive economy." In this week's episode of the #StartupCanadaPodcast, sponsored by Mastercard and Ceridian, Darrell discusses the importance of inclusivity of entrepreneurs and diversity of thought in Canadian business.
In an age where everyone has a soap-box to stand on, it's more important than ever to carve out your corner in the digital marketplace – just ask Kevin Chan, Global Director and Head of Public Policy at Facebook Canada. Kevin Chan is the Global Director and Head of Public Policy at Facebook Canada. In his role at Facebook, he has travelled across the country meeting tens of thousands of small businesses, working with his team to help entrepreneurs grow their businesses and find new markets both in Canada and abroad using both Facebook and Instagram. "Digital presence is essential, digital presence is easy, and digital presence has zero to minimal cost." In this week's episode of the #StartupCanadaPodcast, sponsored by Mastercard and Ceridian, Kevin discusses the importance of treating opening digital channels like you're opening store doors, especially when local business isn't so local.
In an age where everyone has a soap-box to stand on, it's more important than ever to carve out your corner in the digital marketplace – just ask Kevin Chan, Global Director and Head of Public Policy at Facebook Canada. Solon Angel founded MindBridge Ai in 2015, with a seer's insights into how important artificial intelligence would become for accounting - specifically audits - in just a few years. A true advocate for Ai in the profession, Solon's company MindBridge AI has played an important part in what is now the inevitable change in audit technology globally. "Digital presence is essential, digital presence is easy, and digital presence has zero to minimal cost." In this week's episode of the #StartupCanadaPodcast, sponsored by Mastercard and Ceridian, Solon discusses the business of AI in Canada, and how to stay on the hunt.
Ever wondered if your business could solve more than just your customers' problems? Then Tonya Surman, CEO of the Centre for Social Innovation wants to talk! Tonya is one of Canada's leading social entrepreneurs. Her clients: people and planet. Her superpowers: visionary ideas that inspire, models that harness collaboration, and spaces that accelerate systemic change. Highlights from her 20-year career include co-founding and leading the Centre for Social Innovation, a pioneer in the coworking and social enterprise movements that has catalyzed more than 100 world-changing initiatives; developing the Constellation Model, a multi-stakeholder partnership framework that was used to ban toxic chemicals in baby bottles and organize 40,000+ Ontario nonprofits into a network with policymaking clout; creating the Community Bond, a groundbreaking social finance tool that raised $6.3 million to purchase $25 million in real estate to house 70+ social entrepreneurs; and launching Catapult, a micro-loan fund that galvanizes government, corporate and nonprofit partners. "I hope entrepreneurs reflect on what entrepreneurship is, as it's ultimately a tactic to get some outcome out of the world, a tool to make the change we want to see in the world." In this week's episode of the #StartupCanadaPodcast, sponsored by Mastercard and Ceridian, Tonya discusses how your business can make the change your community needs – whether that community is local, national, or global.
Want to build a business that's about more than a bottom line? Wayne Miranda, Social Finance Investment Readiness Lead at the McConnell Foundation wants to help you do it! Wayne's passion is to grow ventures that generate a social and environmental impact. Presently, he's leading the social finance investment readiness work at McConnell Foundation. This is a new program launched to help nonprofits, charities, co-operatives, and social enterprise for-profits access social finance to enhance their impact. Prior to joining McConnell Foundation, he was the Director of Growth at the Centre for Social Innovation, Managing Director of TechSoup Canada, and Founder & CEO of Growth Mosaic in Ghana. Wayne has helped put to work over US$21 million to build hundreds of social ventures. "Business as usual just isn't good enough anymore – in this next century we need to recognize profit isn't the end, it's just a signal you're onto something good." In this week's episode of the #StartupCanadaPodcast, sponsored by Mastercard and Ceridian, Wayne discusses the future of social entrepreneurship, and how to build a better world with business.
From the smallest of places can come the biggest of ideas, and Patrick Farrar, CEO of Startup Zone PEI will be the first one to tell you that! As a startup advisor and mentor for several businesses, Patrick has helped launch and foster several social startups, leading efforts in raising millions in financing. Attending Jonkoping International Business School in Sweden, the top school in the world for research on Family Business and Entrepreneurship, Patrick conducted research on developing long-standing businesses. His experience and love for start-ups pull him towards other ventures that bring added value to the Canadian economy through business creation and employment. Drawing on startup experiences, he's inspired to enhance the support and training of ambitious entrepreneurs. This has led him to the Startup Zone, a business incubator that helps entrepreneurs start and grow their businesses. "Everyone underestimates PEI, though we're one of the smallest provinces in Canada when it comes to entrepreneurs there's a lot of supports considering our size." In this week's episode of the #StartupCanadaPodcast, sponsored by Mastercard and Ceridian, Patrick discusses the future of East Coast entrepreneurship, and keeping an eye on the island!
Everyone has a story they can bring to life – a mantra by which Jeanne Lam, General Manager of WattPad, says the company lives by each and every day! Jeanne Lam is a senior executive with over fifteen years of experience working in technology and high-growth consumer startups. She is the General Manager of Wattpad, a global multi-platform entertainment company that is home to a community of more than 80 million people. Prior to Wattpad, Jeanne led growth and user acquisition at Shapeways, the world's largest 3D printing service. She has also worked at Yahoo as Director of Platform Strategy, and mobile payments company, GoPago, as Head of Marketing & Business Intelligence. Before her startup career, she spent three years as a management consultant at Accenture. "The business wasn't driven from sourcing content, it was about creating a network effect that needs to exist for the business to grow, scale, and accelerate without the need for a marketing budget." In this week's episode of the #StartupCanadaPodcast, sponsored by Mastercard and Ceridian, Jeanne discusses the importance of building in processes that make your business self-driven, and starting with your eye on a global prize.
There are business relationships, and then there's your relationship with your business – and Anne Whelan, CEO of Seafair Capital will tell you that just like in romance, you can fall in, out, and back in love with it! A Canadian entrepreneur, innovator, community and business leader. As the founder and CEO of the Seafair group, she has grown a small, family business into a thriving portfolio of small-and-medium-sized organizations. ​In addition to leading her group of companies, she is also a director of the Bank of Canada, and of CSA Group, a Canadian standards organization with global operations in testing, inspection, and certification. She has received many accolades for entrepreneurship and leadership at the national level, including being named to Canada's Top 100 Most Powerful Women by WXN in 2016 and Atlantic Business Magazine's CEO of the Year in 2014. "Running a business isn't that different than a relationship, I'm sure all the listeners have fallen out of love with somebody at some point. That's where you need to evaluate what you want out of the business and what will bring you fulfillment." In this week's episode of the #StartupCanadaPodcast, sponsored by Mastercard and Ceridian, Anne discusses the importance of staying true to what you love about your business, and balancing the other aspects alongside it.
It's never been a better time to be a woman entrepreneur in Canada, as Janet Bannister, Partner at Real Ventures will tell you! Janet is a Partner at Real Ventures, a leading source of capital for entrepreneurs who are building the next generation of leading tech companies. Janet has led investments in over a dozen companies and works actively with founders to help them build large, industry-defining companies. Not only is that, but Janet is also very active in the Canadian tech ecosystem; she is on the Board of Communitech in Waterloo and Vector Institute in Toronto as well as the Toronto Region Board of Trade. She is also an active advisor at MoveTheDial, DMZ, Creative Destruction Lab and the Research Board of the University Health Network. In 2004, Janet launched Kijiji.ca and grew it to become one of the most visited websites in Canada. "More capital is definitely going into the hands of women, which is very exciting – I'd say at least 3-5 times the amount." In this week's episode of the #StartupCanadaPodcast, sponsored by Mastercard and Ceridian, Janet discusses the importance of bringing funding to women entrepreneurs everywhere, and how best to pursue it.
Buying local doesn't only mean customers from your community, it also means thinking big corporate as well! A topic that Nicole Verkindt, Founder and CEO of the OMX, breathes fire on. Nicole Verkindt is the Founder & CEO of Canadian technology company, OMX (theomx.com). OMX is a powerful procurement platform specialized in driving socio-economic returns. The platform measures local spend and socio-economic impacts, including ESGs, or Environmental, Social, and Corporate Governance indicators, and other sustainability metrics. Previously, she led a global, high tech manufacturing business. She was also a "Dragon" on CBC's Next Gen Dragon's Den, which was dedicated to early stage technology businesses. She was named Startup Canada's national woman entrepreneur of the year in 2017 and received the Canadian Advanced Technology Peter Brojde award for Next Generation leadership. "We're constantly talking supply chains as opportunities to do better for your local community, but it's time to put your money where your mouth is." In this week's episode of the #StartupCanadaPodcast, Nicole discusses the importance of procurement from local companies to big business, and how startups can find their place in massive supply chains.
United States