Discover
Survey Says
Author: Survey Says
Subscribed: 2
Played: 26
© Copyright 2023 All Rights Reserved
Description
A podcast created and hosted by Mel Maltby with lovely co-hosts Alex Mackintosh and Matt Thomas where different perspectives of all kinds of life topics are discussed and shared with you!
Mel Maltby and Matt Thomas have returned for another season of Survey Says. In their welcoming episode back they talk about different aspects of the modern phenomenon Gaming. They asked questions in a recent survey to the public about their favourite games to play, favourite console to play on and what games they played growing up. If you're interested in the publics perspective on Gaming and to learn more about what Matt and Mel play together on stay-in-date-nights, this is the episode to listen to.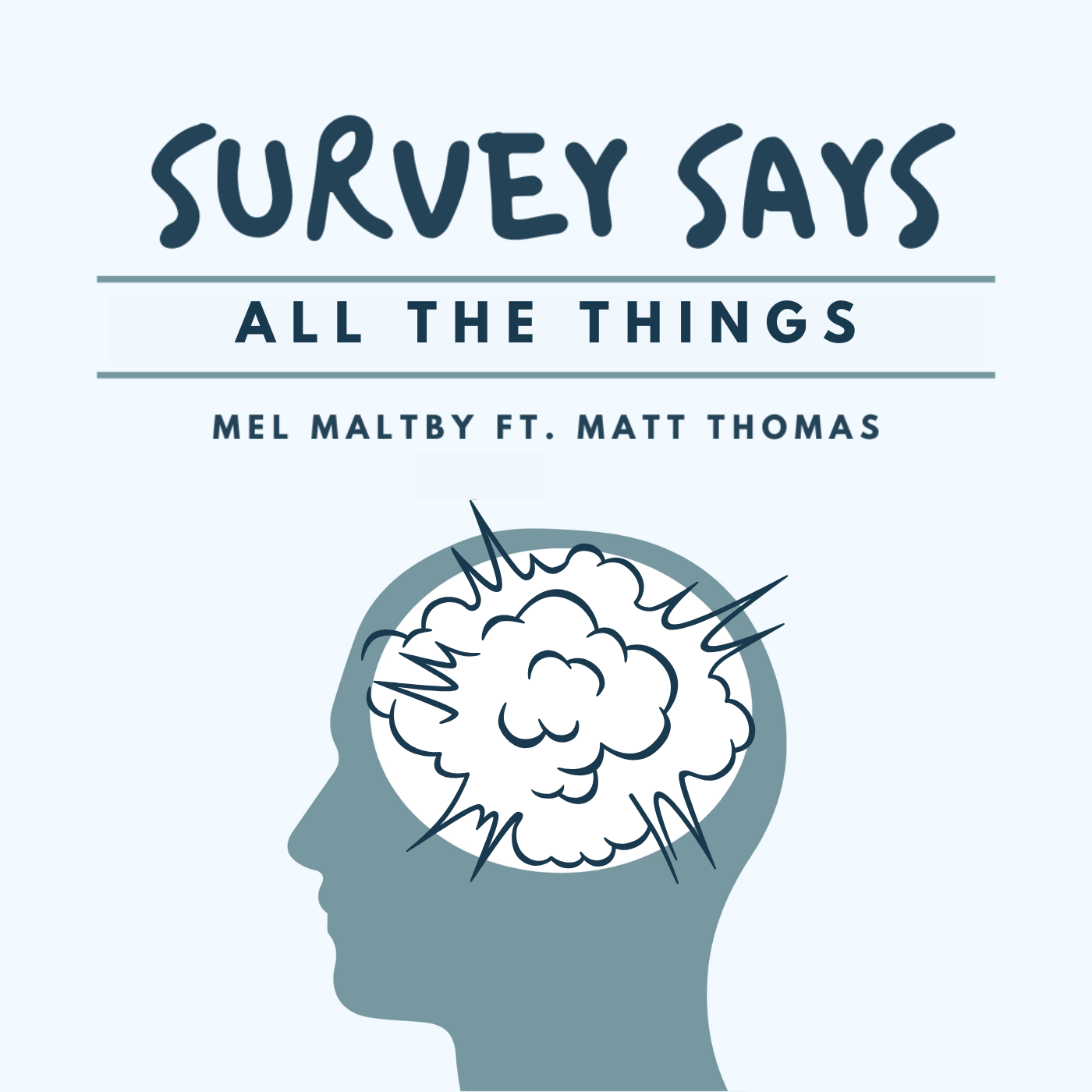 Mel Maltby and Matt Thomas chat all about The Environment and how you can help out. Matt is studying Environmental Science at Uni, so he's the best person to talk about this topic with. They cover topics such as recycling, how to help the environment and Global Warming/Climate Change (as well as a lot of side stories and information from Matt's big brain).
In this episode, Mel Maltby and Alex Mackintosh chat about how Makeup came into their lives. The questions asked for this weeks episode were, 'How often do you wear makeup?' 'What staple makeup product could you NOT live without?' And, 'How old were you when you started wearing makeup?' The girls discuss their experiences then share your responses from the survey.
With the recent obsession with Tik Tok brewing from COVID forcing us to stay inside our homes, many people started posting videos for the hell of it and gaining million of views and tens-of-thousands of followers from doing so. Ashe_Media (Liam) is one of the guys who has reached the status 'Tik Tok Famous'. He's been recognised on the streets from his 15 second videos reviewing cake mixes from Woolworths, and has had articles posted about said cake mix reviews. Matt and Mel had the pleasure of interview him for the post recent episode on Online Influencers, and asked him about his life since "blowing up" on Tik Tok, and what he thinks about the online community.
2020 has brought us many things, the rise in online entertainment being one. With lockdown in place and not a lot to do, social media has become a primary source of communication and entertainment amongst... well, everyone. Over this year, general online attention has crossed to Tik Tok resulting in a bunch of accounts reaching 60K+ followers after posting a bunch of 15 second videos. A couple of the accounts reaching these numbers are WooliesGuy (now known as MattWynneThomas, yes the co-host) and Ashe_Media. In this episode, Mel and Matt interview the fresh-food-people jingle singer Ashe_Media about his experience becoming a Tik Tok 'famous' user and his views on online 'fame'. A long with chatting to Ashe_Media, hosts Mel and Matt talk about your responses to the survey posted asking, "Do online influencers actually influence you?, "Given the option, would you want to be an online influencer/internet famous?", and "What are your general thoughts about online influencers/internet fame?"
Have you ever met bigger Taylor Swift fans than Mel and Alex? The answer is heellll nahhh! In this weeks episode of I'd Be The Man, Mel and Alex finally get to spend an hour talking about all things Taylor Swift. They asked you Swifties the hard questions and made you chose your favourite album (sorry), share your Taylor discovery stories and share your opinions on whether your prefer Country or Pop Taylor.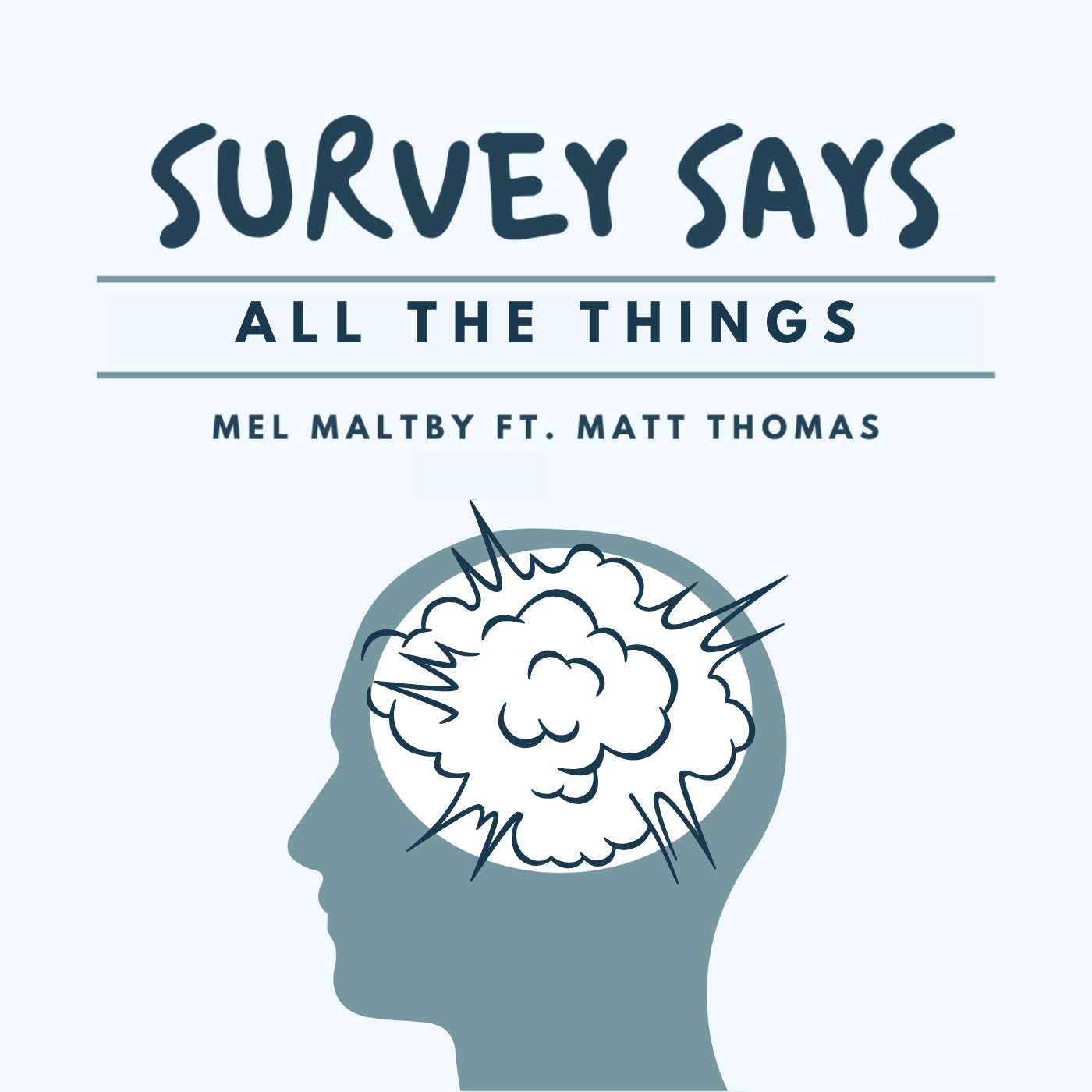 Love Coffee? Us too. Mel Maltby and Matt Thomas talk everything coffee, because of course they would. They asked the questions, "How long have you been drinking coffee and why did you start?", "What is your preferred kind of coffee?" and "How often do you drink coffee?" The responses featured in this episode are from their newest survey as well as their own thoughts, opinions and experiences.
Mel Maltby and Alex Mackintosh speak from experience when asked questions that make them decide between preferring the single life or the relationship life. The questions asked in the survey released for this episode were 'Would you rather be in single or in a relationship?', 'Tell us your best worst date story.' and 'Do you prefer a self-care night in or a date night out?' For each question there are also responses shared from survey responders. Also, there's a guest appearance of the other co-host, Matt Thomas.
Let's get... as physical as we can get while talking about fitness? Mel Maltby and Matt Thomas asked questions about fitness and exercising that survey responders answered. The questions were, "Was improving your fitness a New Years resolution for 2020?", "How important is a healthy diet compared to regular exercise?", and "How do you prefer to exercise?" Have a listen as they share the fitness journeys of complete strangers as well as their own. Time to get motivated... or eat another slice of cake... porque no los dos?
Host Mel Maltby takes on this topic alone and discusses the different perspectives and meanings of 'happiness' by survey responders. She dissects and shares answers to questions like "Do you think money can buy you happiness?", "What is your definition of happiness?" and "How happy are you right now?" Along with her view on the questions, she shares life stories and advice to a more positive life-style.
Welcome to a conversation on the Wizarding World of Harry Potter. Mel Maltby and co-host Matt Thomas are joined with guest Brandon Atkins, host of Coast FM's 96.3's Friday night show, to answer a few questions any Potterhead has already pondered. The discussion includes answers from the hosts as well as participants in the recent surveys. Questions include, "What house would you be in?", "Which Deathly Hallow would you choose?", and "What is one controversial consequence magic from Harry Potter would have in the real world?"
Mel Maltby and her brother Christian, who is taking over for Alex this week, share their thoughts on social media. The questions and answers are from the survey put out last month that the public responded to. Questions include discussions on the impact social media has on mental health, what the most used platform is and if the public have a secret account for stalking users on instagram as a guilty pleasure.
Want some of life's biggest questions answered? You've come to the right place. Mel and Matt chat about what the meaning of life is, whether it's ever okay to break the law and the truth. They share their own thoughts on the matters as well as the responses collected in the survey.
Podcast host Mel Maltby and blogger Alex Mackintosh (Tales of A Blonde) share your stories submitted in the survey as well as many of their own experiences when it comes to fate and coincidences, most importantly their story of how they met and how their lives have intertwined ever since.
It's time to talk tech. Mel and Matt gather the thoughts and opinions of the masses on the topic of Futuristic Technology to share them with you. Want to know if the majority of people think AI is more dangerous or beneficial? This episode has everything you need to know and more.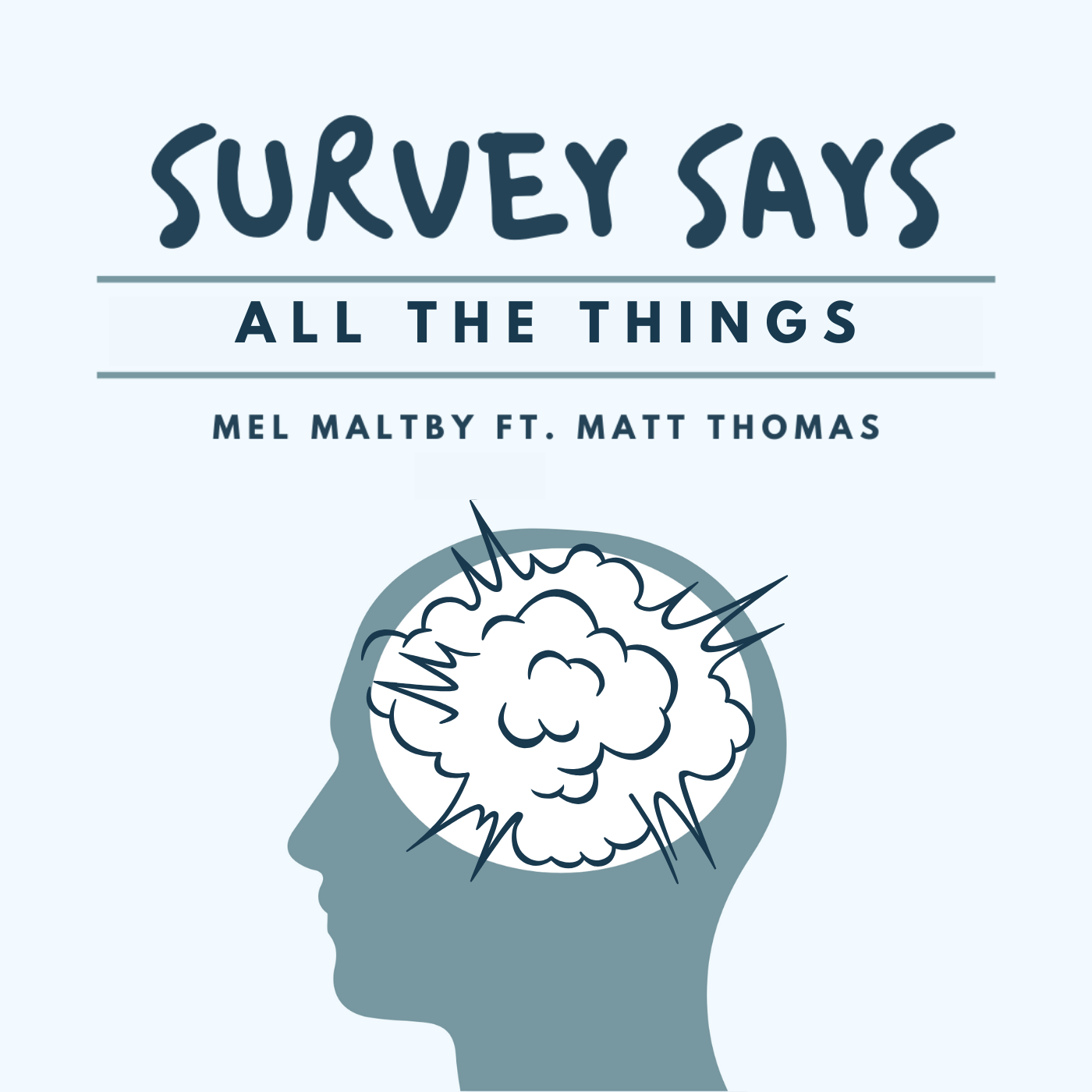 This is the podcast you are look for *hand movement*. Convinced? The force is with us. Mel and Matt chat Star Wars and yes that does mean 40 minutes of nerd talk. They asked YOU the questions and discuss the answers as well as their own. Want to know what the favourite Star Wars movie is among the public, what we would actually use the force for, and if the public is tempted by the Dark Side? Have a listen.
As equality activists, Mel and Alex have no limits when it comes to discussing the amazingness of Women and 'Girl Power'. In this episode, they share their thoughts on different Girl Power icons, the definition of Feminism and empowering Women in every day life.
Ever wondered if you're going crazy by believing in theories that are neither confirmed nor denied? In this episode, Matt and Mel go through different Conspiracy Theories believed by the masses and share with you what they believe in, and what YOU believe in.
The tea has been spilled... in this episode Mel and Alex don't hold back as the main topics of conversation are who should pay for the first date, best break up stories and coming out of a relationship stronger. The results include stories from the hosts as well as the survey responders.
Ready for a full nerd out? Mel and Matt dive deep into the ways of The Marvel Cinematic Universe and asked you guys your opinions on different aspects of it. They share the most sought after Infinity Stone, discuss whether Thanos did the right thing by destroying half the universe and compare Avengers to find out who is favoured by most. DISCLAIMER: Major spoiler alerts.
United States