Discover
TED Talks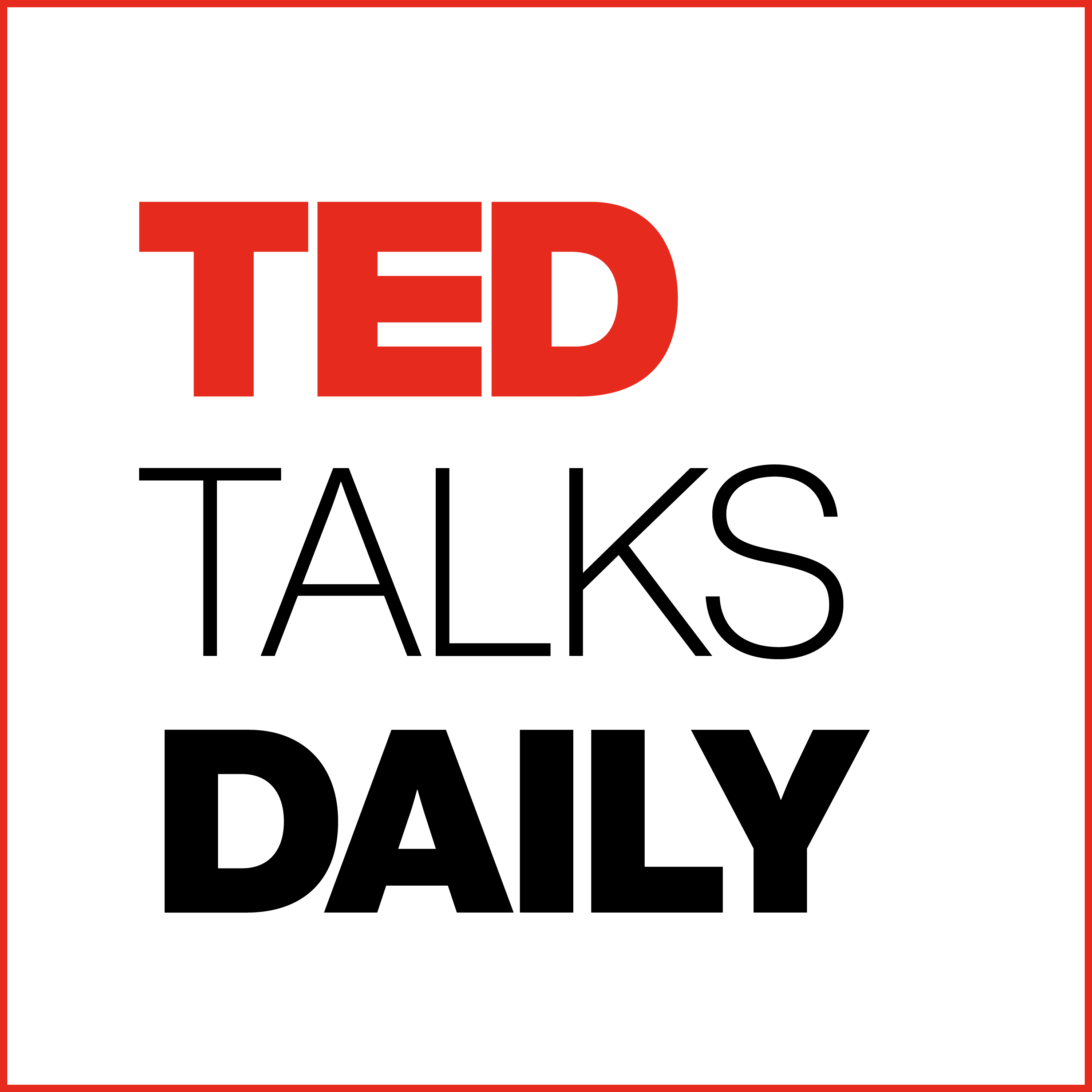 Claim Ownership
TED Talks
Author: TED
Subscribed: 8,451
Played: 88,026
© Creative Commons: https://creativecommons.org/licenses/by-nc-nd/4.0/
Description
Want TED Talks on the go? Every weekday, this feed brings you our latest talks in audio format. Hear thought-provoking ideas on every subject imaginable -- from Artificial Intelligence to Zoology, and everything in between -- given by the world's leading thinkers and doers. This collection of talks, given at TED and TEDx conferences around the globe, is also available in video format.
A few weeks before his release from prison, Jarrell Daniels took a class where incarcerated men learned alongside prosecutors. By simply sitting together and talking, they uncovered surprising truths about the criminal justice system and ideas for how real change happens. Now a scholar and activist, Daniels reflects on how collaborative education could transform the justice system and unlock solutions to social problems.
Hollywood needs to stop resisting what the world actually looks like, says actor, director and activist America Ferrera. Tracing the contours of her career, she calls for more authentic representation of different cultures in media -- and a shift in how we tell our stories. "Presence creates possibility," she says. "Who we see thriving in the world teaches us how to see ourselves, how to think about our own value, how to dream about our futures."
Profit, money, shareholders: these are the priorities of most companies today. But at what cost? In an appeal to corporate leaders worldwide, Chobani founder Hamdi Ulukaya calls for an end to the business playbook of the past -- and shares his vision for a new, "anti-CEO playbook" that prioritizes people over profits. "This is the difference between profit and true wealth," he says.
Conventional meat production causes harm to our environment and presents risks to global health, but people aren't going to eat less meat unless we give them alternatives that cost the same (or less) and that taste the same (or better). In an eye-opening talk, food innovator and TED Fellow Bruce Friedrich shows the plant- and cell-based products that could soon transform the global meat industry -- and your dinner plate.
Bill Gates hopes to solve some of the world's biggest problems using a new kind of philanthropy. In a passionate and, yes, funny 18 minutes, he asks us to consider two big questions and how we might answer them. (And see the Q&A on the TED Blog.)
"Confidence is the necessary spark before everything that follows," says educator and activist Brittany Packnett. In an inspiring talk, she shares three ways to crack the code of confidence -- and her dream for a world where revolutionary confidence helps turn our most ambitious dreams into reality.
In a talk about understanding and practicing the art of healthy relationships, Katie Hood reveals the five signs you might be in an unhealthy relationship -- with a romantic partner, a friend, a family member -- and shares the things you can do every day to love with respect, kindness and joy. "While love is an instinct and an emotion, the ability to love better is a skill we can all build and improve on over time," she says.
Recorded live at TED2019 for the TED Interview podcast: Roger McNamee -- early investor in Facebook turned outspoken critic -- sits down for an extended examination of big tech's missteps, and where we go from here. (Audio only)
E-cigarettes and vapes have exploded in popularity in the last decade, especially among youth and young adults -- from 2011 to 2015, e-cigarette use among high school students in the US increased by 900 percent. Biobehavioral scientist Suchitra Krishnan-Sarin explains what you're actually inhaling when you vape (hint: it's definitely not water vapor) and explores the disturbing marketing tactics being used to target kids. "Our health, the health of our children and our future generations is far too valuable to let it go up in smoke -- or even in aerosol," she says.
"If I should have a daughter, instead of Mom, she's gonna call me Point B ... " began spoken word poet Sarah Kay, in a talk that inspired two standing ovations at TED2011. She tells the story of her metamorphosis -- from a wide-eyed teenager soaking in verse at New York's Bowery Poetry Club to a teacher connecting kids with the power of self-expression through Project V.O.I.C.E. -- and gives two breathtaking performances of "B" and "Hiroshima." Sarah is also the host of TED's podcast "Sincerely, X." You can listen on the Luminary podcast app at luminary.link/ted.
United States