Discover
Talk Ain't Cheap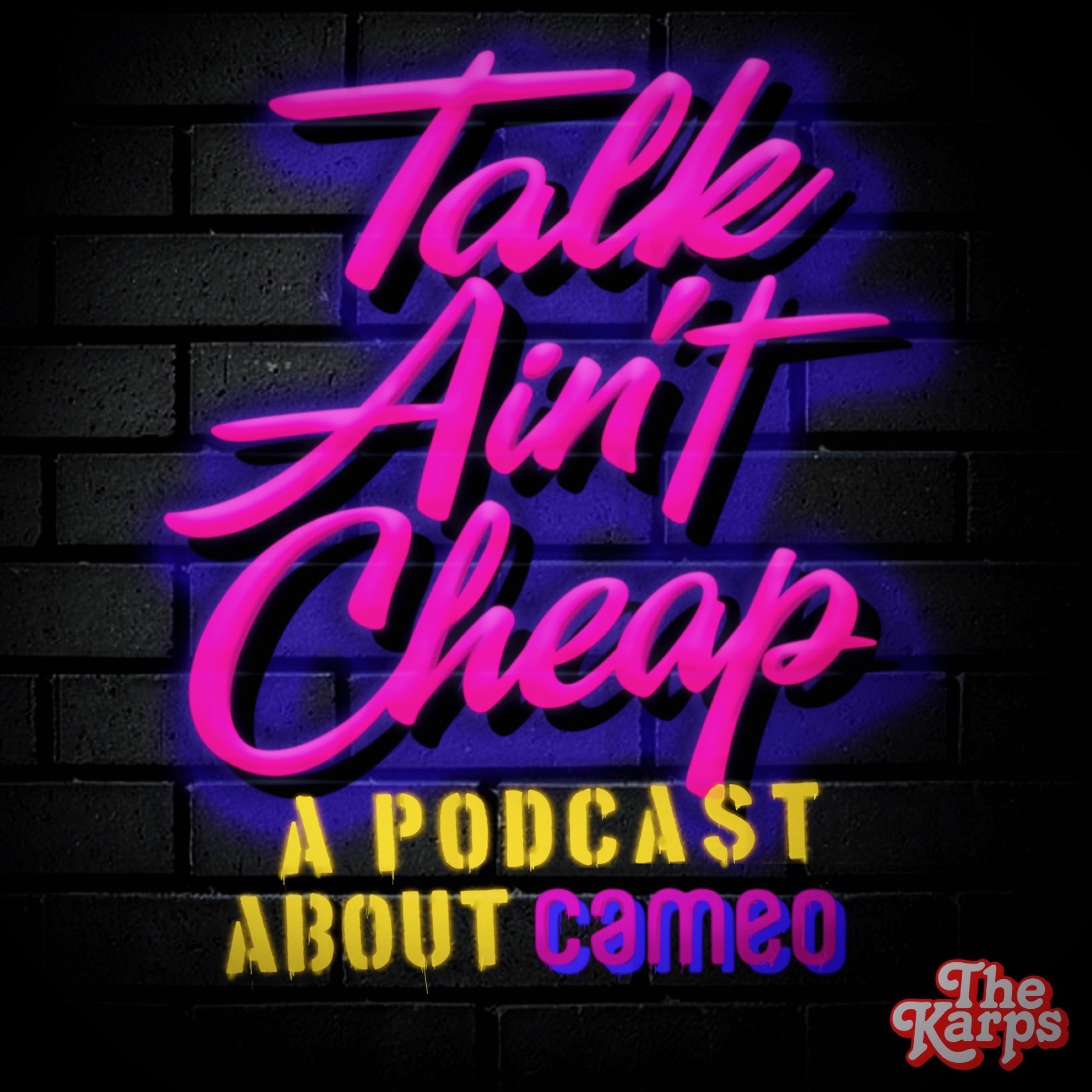 Claim Ownership
Author: Jensen Karp & Danielle Fishel Karp
Subscribed: 44
Played: 1,351
© 2021 Talk Ain't Cheap
Description
Jensen Karp and Danielle Fishel Karp sit down to dissect the Cameo website, one celebrity at a time. Is your favorite reality star, actor, athlete or Tide Pod eating TikTok phenom worth your hard earned dollar? We'll let you know.
Theme song by Jordan Katz & Kenny Segal

This week, Jensen & Danielle revisit a favorite past episode where they analyze the stunning Cameo work of Caroline Calloway, Dr. Oz and Stephen Baldwin.
This week, Jensen & Danielle revisit a favorite past episode, looking into the Cameo accounts of singer / motivational speaker William Hung, R&B diva Keri Hilson and basketball dad, Lavar Ball.
This week, Jensen & Danielle revisit a favorite past episode, looking into the Cameo accounts of Jon Kassir, the voice of The Cryptkeeper, WWE Legend Kurt Angle and Dr. Sandra Lee, aka Dr. Pimple Popper.
It's a true week of characters as Jensen & Danielle bring a critical eye to the Cameo accounts of celebrity veterinarian Dr. Jan Pol, the man behind Biff Tannen, Tom Wilson and Needle Nose Ned Ryerson, actor Stephen Tobolowsky. Who will be fun and who will need a refund?
The only working couple in Hollywood take to Cameo once again to critique messages from Jonathan Goldsmith, aka The Most Interesting Man in the World, actor, and former voice of Hulk Hogan, Brad Garrett & R&B legend Guinwine. Who will ride that pony and who will be a phony?
Another episode of Cameo analysis from the critical duo of Jensen & Danielle, this week breaking down the accounts of artistic pool player Jaden Dupree, reality dad Jon Gosselin and the Pink Power Ranger, Amy Jo Johnson. Who deserves the spotlight and who will sit alone in the dark?
It's an epic week in Cameo analysis, as Jensen & Danielle go straight to the source with the accounts of Shark Tank's Daymond John, comedian / host / suit connoisseur Steve Harvey and the infamous voice of Movie Trailer Guy. It may surprise you to hear this, but get ready as they induct a new member to Bargain Club AND Danielle gets political.
Jensen & Danielle continue working through the entire Cameo website & app, focusing this week on wrestling legend Ric Flair, Snoop Dogg's "spiritual advisor" Bishop Don Juan and Sugar Ray frontman Mark McGrath. Find out who holds value and who just holds water (and what Ric Flair thinks about your wife).
Jensen & Danielle face three new Cameo adversaries, all in the name of saving you money and time. This week they peek at the accounts of comedian / controversial human being Steve Rannazzisi, basketball legend Dennis Rodman and the voice of Muppet Baby Fozzie, Greg Berg. Which celebrity will stand above the rest and who is just a total snorefest?
Jensen & Danielle once again dive into the Cameo deep end with looks at the accounts of Motown legend Dionne Warwick, voice of the Cocomelon mom Kristen Princiotta & Mike "The Situation" Sorrentino. Who goes beyond your request and who should just give it a rest?
Another week, another 3 celebrities for Jensen & Danielle to study from the website / app Cameo. Listen in as they investigate the work of boy bander Nick Lachey, a woman billed as The Tooth Fairy and an Elvis / clown mash-up known as Clownvis Presley. It's time to find out who doesn't disappoint and who will make you loudly say, "Yoinks?"
Jensen & Danielle continue their search for Cameo bargains by studying the clips of Seinfeld standout (and sure, baseball star) Keith Hernandez, the voice of Roger Rabbit Charles Fleischer & rapper Mike Jones. Some wild cards this week, as your hosts decipher the vid Gods, from the rip offs.
Jensen & Danielle concoct another weird trio of Cameo celebrities, all in hopes of helping you pick someone worth their weight in personalized gold. This episode analyzes the work of singer / dancer Paula Abdul, Drake's father Dennis Graham and reality TV pioneer, Heidi Montag. Find out who is worth taking out a loan and who is worthy of a disappointed moan.
Coming off the heels of Chris Klein's surprise induction, Jensen & Danielle venture off into 3 new Cameo accounts to look for a b-word. This week they examine Jerry Springer bodyguard Steve Wilkos, actor Donald Gibb (Ogre from Revenge of the Nerds) and Napoleon Dynamite himself, Jon Heder. Who deserves a receipt and who deserves to get beat?
It's a new year, but the same premise. Jensen & Danielle study the Cameo work of legendary supermodel Cheryl Tiegs, pro wrestler "Big Poppa Pump" Scott Steiner and actor Chris Klein. And with that in mind, a new celebrity gets inducted into the Bargain Club.
Jensen & Danielle ring in the New Year with 3 new celebrities from the Cameo site, all in hopes of figuring out who, if anyone at all, is a good deal. This episode they look into the work of magician / comedian Justin Willman, professional gamer Thick 44 and Brady Bunch alum, Barry Williams. Who will be worth the cream and whose price tag will be totally obscene?
It's the most wonderful time of the year - when Jensen & Danielle take a look at some yuletide celebs on Cameo and let you know if it's a gift or a lump of coal. This episode, they hang the stockings with some Christmas analysis of actress Marilu Henner, singer Darlene Love and Zack Ward, who played Scut Farkus in "A Christmas Story."
With Christmas just around the corner, and Mall Santas being 6 feet away, we know some will look to Cameo for their annual dose of Kris Kringle. So Danielle & Jensen took a peek at the 25 Santa accounts currently on the site to let you know who sleighs supreme.
It's episode 24 and Jensen & Danielle find out the truth about Kenny G while analyzing the Cameo accounts of Creed frontman Scott Stapp, political meme Ken Bone and underrated rapper Mystikal. Meep meep, Dawson. Meep meep.
Jensen & Danielle get down to business - Cameo business that is. It's time to take a look at the celebrity messages of NBA superfan Clipper Darrell, football legend Warren Sapp & musician / possible best friend Kenny G. Who pulls their weight and who should dissipate?
United States