Claim Ownership
Author:
Subscribed: 0
Played: 0
Description
Jack and Artie are back on the mic with an awesome episode that's gonna blow your minds!! First up, we review and break down the second trailer for The Super Mario Bros. Movie, starring Chris Pratt, Jack Black, Charlie Day, Anya Taylor Joy and Seth Rogen. This new trailer gave us a first look at Luigi, Princess Peach and Donkey Kong while featuring references to games like Mario Odyssesy, Mariokart and Super Mario 64, so our breakdown was truly epic.Dad also returns to the podcast for Tales From the Dollar Bin, in which he reviews the debut of a few "regrettable superheroes" from the '60s such as Spyman and The Fab Four (not the Beatles!) while Jack reviews the epic crossover between The Uncanny X-Men and The New Teen Titans.We wrap everything up by reviewing the new Guardians of the Galaxy Holiday Special and continuing into our breakdown of the new trailer for Guardians of the Galaxy Vol. 3. Will this film live up to its precursors? Will the soundtrack experiment with later eras? Which character's death will make Star-Lord so mad? We discuss!!ReplyForward
Jack and Artie are back with another exciting episode, and this week they are joined by special guest Jerry Buckner from the iconic '80s music duo Buckner & Garcia! Known as one of the geniuses behind the unlikely top ten hit Pac-Man Fever, Jerry comes onto the show to chat with us about the stories behind his iconic debut album comprised entirely of songs about retro arcade games, the theme song him and his team did for Wreck-It Ralph, what it was like performing the very same venue that made the Beatles famous in America and more!
Boy oh boy do we have an astounding episode for you this week, because in this episode we are joined by comics legend Jim Shooter!!! Best known as the former Editor in Chief of Marvel Comics and the founder of Valiant, Jim is also responsible for writing the Secret Wars storyline, the first time Superman and Flash raced, the second Spider-Man/Superman crossover and countless other iconic events. Listen to us talk with Jim about co-creating the Transformers, breaking into the comics industry as a teenager, the impact he made on Marvel history and more!
55 years ago this week, Roger Patterson and Bob Gimlin recorded the iconic footage of Bigfoot walking through the woods of Bluff Creek, California. Decades later, the film has become the iconic symbol of cryptozoology and in this awesome giant-sized anniversary episode, Jack and Artie are joined by some squatching legends to get to the bottom of the mystery behind the Patterson/Gimlin film.First we are joined by the legendary Cliff Barackman, known as the research analyst on the Animal Planet series "Finding Bigfoot". Cliff has made all kinds of revolutionary discoveries within the world of sasquatch and is the curator of the North American Bigfoot Center in Oregon. Cliff comes on to the show to talk about his thoughts on the legacy of the PGF, the crazy adventures he went on during his televised search for bigfoot and the recent discoveries he's been making at his base of operations in Oregon.Next we are joined by documentary filmmaker extraordinaire Aleksandar Petakov, known for his cryptozoology films like Sasquatch: Out of the Shadows, On the Trail of Champ and the currently running beyond the trail YouTube series. We interview Aleksandar about the time's he's come closest to catching a bigfoot on camera, some good places in New Hampshire to go squatching and what it was like appearing in a comic book.Huge shout out to Cliff Barackman and Aleksandar Petakov for making such an awesome episode possible!!!
On this week's episode, Jack and Artie are joined by iconic comic book artist and cartoon producer Ethan Nicole! Ethan is best known as the artist co-creator of the Axe Cop series that he created with his then-five-year old brother Malachai in 2009 and has worked as a story editor on Veggie Tales in the House, Bunicula and Teen Titans Go!. Ethan joins us to talk about the inspiration behind his latest projects, the various awards he's won over his career, his favorite Axe Cop characters and more!!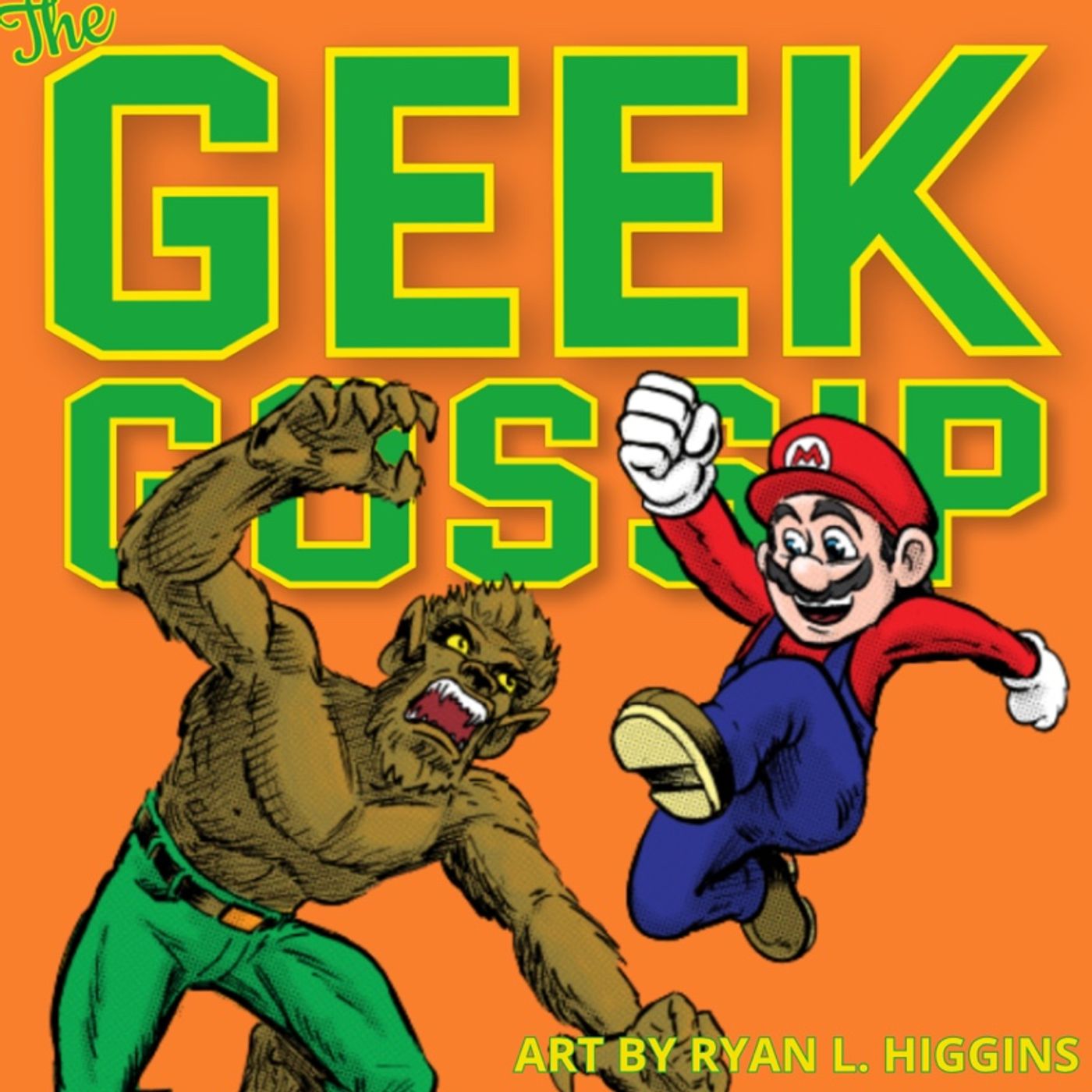 It's a very wide assortment of topics covered in this week's episode! We open with a breakdown of the newly released trailer for Illumination's Super Mario Bros. movie then later reviewed the new Disney Plus Marvel Studios Special Presentation, Werewolf by Night. Plus, we analyze the recent announcement of Hugh Jackman returning as Wolverine in 2024's Deadpool 3.Our Uncle Russ later joins us for The Battles, in what may be one of our most bizarre debates yet - Mario vs. Werewolf by Night!! What will it be, the plumber or the lichenthrope? Marvel or Nintendo? Mushrooms or the Full Moon? You decide!! Cast your vote now by clicking this link - https://www.thegeekgossip.com/the-battles
On this episode, we have an exciting interview unlike any we've had before, because we are joined by the singer-songwriter genius behind the band Kirby Krackle, nerd rock pioneer Kyle Stevens!! Listen to us chat with Kyle about the inspiration behind his pop culture themed music, his songwriting process, the tour he went on with "Weird Al" Yankovic, his music being featured in the Guardians of the Galaxy cartoon and more!Be sure to look for Kirby Krackle's music on your chosen streaming service and visit their website, kirbykracklemusic.com ! Special thanks to Kyle Stevens for making this fantastic episode possible!!!!!
Geek Gossip live at GraniteCon!! Join Jack and Artie for the recordings of their panel discussion at New Hampshire's main comic convention Granite State comic con as they are joined by special guests Black Caravan's Rich Woodall, Perhapanauts co-creator and Young Hellboy artist Craig Rousseau and Eisner recipient Freddie E. Williams II known for his work on comic crossovers.Listen to us chat with these fantastic creators about their most recent and upcoming work, their stories and experiences at past comic conventions and their takes on epic versus battle ideas. Plus, there's a Q&A, where audience members get to ask questions to these awesome creators!!
This week on the Geek Gossip, Jack and Artie open with an exciting announcement of an upcoming Geek Gossip appearance and get into discussion on the new trailer for upcoming musician biopic on Roku for the accordion playing, Hawaiian shirt-rocking song parodist, Weird: The Al Yankovic Story. In Tales from the Dollar Bin, our dad joins us to review Challengers of the Unknown #79 and Adventure Comics #459 while Jack reviews The Fox by Dean Haspiel and Mark Waid and The Angry Birds Movie: Big Movie Eggstravaganza.We also review Spider-Man: No Way Home - The More Fun Stuff Version and break down the director announcement and casting rumors for the upcoming MCU Fantastic Four movie
This episode of the Geek Gossip podcast is one of our best yet, because this week we are joined by Max Rebo himself Simon J. Williamson, known for his puppeteering work in films such as Return of the Jedi, Little Shop of Horrors, the Dark Crystal and various Muppet movies. We talk to Simon about his career in the film industry, the physical challenges he ran into while filming The Dark Crystal, some fascinating stories from the set of Star Wars and his take on Max Rebo's appearance in The Book of Boba Fett.For The Battles, our Uncle Russ joins us for what may be our wackiest and most imaginative battle yet - an intergalactic battle of the puppet bands, in which the Max Rebo band from Star Wars takes on Dr. Teeth and the Electric Mayhem Band from Muppets! What'll it be - aliens or sentient puppets? Jabba's jams or rock 'n' roll? Animal's drumming or Max Rebo's keyboard styling? You decide! Cast your vote now by clicking this link: https://www.thegeekgossip.com/the-battlesSpecial thanks to Simon J. Williamson for making this terrific episode possible! Be sure to visit his website, https://simonjwilliamson.wordpress.com/
When it comes to news within the world of geekdom, you know that your bros Jack and Artie have got you covered, and in a week full of lots of awesome news you can totally count on us! We start out by reviewing the new epic series of animated shorts I Am Groot on Disney Plus starring the loveable tree-like baby alien from Guardians of the Galaxy in five new hilarious and intelligent shorts with amazing animation. We also break down the recent announcement of a live action Pac-Man movie based on the classic arcade game, coming soon from the producer of the Sonic the Hedgehog films.Our dad also joins us for Tales From the Dollar Bin, in which he reviews some awesome Steve Ditko classics like his lesser known character from Charlton Static and the comics Ditko did for the American kaiju film Gorgo while Artie reviews a cool issue of Flaming Carrot signed by Bob Burden and Jack reviews the second Batman/Predator crossover.
Boy oh boy do we have an exciting episode planned for you this week, folks! To hit off the awesomeness, Jack and Artie revive classic Geek Gossip guest segment the Jetpack Launchpad, in which our good friend Rich from Jetpack Comics & Games returns to the show to talk about his reaction to appearing on a variant cover to Daniel Warren Johnson's "Do a Powerbomb", the most popular books in the comics world today, our thoughts on the new Thor movie and more! Plus, we hit him with the lightning round!We also break down their thoughts on the announcement for a theatrically released computer animated Teenage Mutant Ninja Turtles movie titled "Mutant Mayhem" coming out August 4th, 2023 from the Directors of "Mitchells vs. the Machines" and we review the new special "LEGO Star Wars: Summer Vacation" on Disney Plus.Our dad also joins us for Tales from the Dollar Bin, where we review some awesome classic adventures featuring characters like the Challengers of the Unknown, Dial "H" for Hero, Godzilla and the Kool-Aid Man. Special thanks to Dad and Rich for making this fantastic episode possible!!!
Jack and Artie are back on the mike with another awesome episode! We hit off this week's epic installment to the Geek Gossip saga by reviewing the new massively online multiplayer co-op based fighting game MultiVersus from Player First Games, starring all your favorite Warner Bros. characters such as Batman, Shaggy, the Iron Giant, Bugs Bunny and more!We also discuss the announcement of Shang-Chi director Destin Daniel Crettin will be handling the directors duties of the fifth Avengers film coming in May of 2023, The Kang Dynasty plus we also break down our thoughts on the toy leaks revealing that classic alternate reality Spider-Man character Spider-Punk will be appearing in Spider-Man: Across the Spider-Verse.
San Diego Comic Con is back, and this time there's tons of massive announcements within the world of geekery from legendary studios and creative geniuses themselves! Like always, your bros Jack and Artie Higgins from the Geek Gossip are here to discuss all exciting updates from Marvel Studios, DC, Dungeons & Dragons and more!Right off the bat, there's new trailers for Dungeons & Dragons: Honor Among Thieves, Black Panther: Wakanda Forever, I Am Groot, Black Adam, She-Hulk: Attorney at Law, SHAZAM!: Fury of the Gods and more, but that's not all. Marvel Studios announced the entirety of their Phase Five titles and some highlights from Phase Six, including a new Daredevil series, a Thunderbolts movie, Captain America: A New World Order, two Avengers films coming out in 2025 titled The Kang Dynasty and Secret Wars, plus a whole bunch of other exciting stuff I can't fit into this description!Our dad also joins us for Tales from the Dollar Bin, in which we review some first appearances of crazy characters like Ace Arn: The Ultra Alien (who has the most convoluted origin story ever) and Ravage 2099 (who Stan Lee came out of his retirement to write) plus a whole bunch of other fun sci-fi stories.
Today is a revolutionary day in Geek Gossip history, for we are joined by very special guest and indie comic sensation Keith Gleason! Known as the creative mastermind behind Mighty Mascots from Alterna Comics and the organizer of annual geek culture event Plastic City Comic Con, Keith joins us to talk about the inspiration behind his comics, his career with Reckless Sidekick Productions, organizing his own comic convention and more!In Tales From the Dollar Bin, our dad joins us to review a bunch of awesome comics we got at Plastic City Comic Con Including works from local creators such as Cthulhu vs. Uncle Sam, Runners and a good batch of Alterna as well as some old school reads we got from some back issue bins including a neat Lee-Romita Spider-Man trade, reprints of the classic Stan Lee/John Buscema run on Silver Surfer, a Murderfalcon Ashcan by the show's good friend Daniel Warren Johnson and more.The long awaited return of our Uncle Russ to the Battles segment has finally arrived, and this time he joins us to debate an epic clash requested by a listener, and that is none other than He-Man and his faithful companion Battle-Cat going up against Boba Fett on his trusty Rancor steed! In this clash of space-fantasy calvary, who shall triumph? Will it be melee or range? Tech or magic? Hero or rogue? You decide! Cast your vote now by clicking this link - https://www.thegeekgossip.com/the-battlesHuge thanks to Keith Gleason and everyone who made this fantastic episode possible!!
This week on the Geek Gossip, Jack and Artie hit off another fantastic episode by bringing the THUNDER with an exciting review of the latest film from Marvel Studios directed by Taika Watiti, Thor: Love and Thunder! We also celebrate the 40th anniversary of classic sci-fi film Tron, the underrated cult classic that pioneered computer animation and aged phenomenally. Our dad also joins us for Tales from the Dollar Bin, in which we review lots of awesome old comics such as that time Thor joined the circus, the story of the Beatles told in the Mighty Marvel Manner and more classic T.H.U.N.D.E.R. Agents adventures!
Jack and Artie are back and their bigger than ever with an awesome interview featuring a guest unlike any other! Motern Media's Matt Farley, the genius behind hilarious bands such as the Toilet Bowl Cleaners, Papa Razzi and the Photogs and Moes Haven along with films such as Slingshot Cops, Freaky Farley, Magic Spot and more! Matt has written over 23,000 songs about everything from poop to Timothee Chalamet and directed over 15 awesome movies so be sure to listen to us interview Matt about his creative process, influences, career and more in one of our most inspiring and hilarious interviews yet! Be sure to visit Matt's website https://moternmedia.com/, follow him on Twitter and Facebook and play his music on your chosen streaming service.Jack and Artie also talk about the newly announced release date for the upcoming Ghostbusters: Afterlife follow up, the trailer for the LEGO Star Wars: Summer Vacation Disney Plus special featuring the legendary "Weird Al" Yankovic and, of course, their spoiler-free review of the latest season of Stranger Things.Special thanks to Matt Farley for making this awesome episode possible!
Artie sits at the microphone for a quick conversation about why there hasn't been Geek Gossip episodes in the past few weeks. Artie also goes over some news topics including Jurassic World, Stranger Things, Venom and more in this one brother episode.
Boy oh boy do we have an awesome episode for you this week! Daniel Warren Johnson, the creative genius behind comics such as Extremity, Murderfalcon, Wonder Woman: Dead Earth and Beta Ray Bill returns to the Geek Gossip to discuss the upcoming release of his latest project, the pro-wrestling themed comic Do A Powerbomb! Coming this June from Image Comics, we interview Daniel about the inspiration behind this project, the types of events we will see play out here as well as his latest comic Jurassic League #1 from DC comics as well as some other ideas of his he's in the process of developing.Our dad also joins us for Tales From the Dollar Bin, in which he reviews Invaders #9 from Marvel in the Silver Age as well as Sgt. Werewolf Volume 01: War Is Hell from Project Pandora Entertainment with awesome writing from our good friend Rich Woodall while Artie reviews Marvel Two-In-One #27 where the Thing teams up with Deathlok while Jack reviews the four issue mini-series Green Lantern Vs. Aliens by Ron Marz and Rick Leonardi. Special thanks to Daniel Warren Johnson for making this phenomenal episode possible!!
On this week's action packed episode of the Geek Gossip podcast, Jack and Artie are joined by legendary martial arts film stuntman Chris Casamassa, well known for his portrayal of Scorpion in the original Mortal Kombat films and his stunt work for Batman in 1997's Batman & Robin along with some work for films such as Blade and The Karate Kid. Chris talks to us about all the awesome moments of his career such as wearing the Batman costume for some epic fight scenes, the experience he had bringing life to video game icon Scorpion, the un-predicted success of The Karate Kid and more!!Our Uncle Russ later joins us for the Battles in which we have one of our most classic Geek Gossip debates ever: Scorpion vs. Batman! With an undead samurai taking on the world's greatest detective, there are many ways an epic match up such as this can go down. However, you folks, the listeners, get to decide who wins by clicking this link - https://www.thegeekgossip.com/the-battles Special thanks to Chris Casamassa for making this fantastic episode possible!!
United States