Подборка
The Naked Pravda
Claim Ownership
The Naked Pravda
Автор: Медуза / Meduza
Подписка оформлена: 1,226
Воспроизведенные: 29,983
© Medusa Project, SIA
Описание
Meduza's English-language podcast, The Naked Pravda highlights how our top reporting intersects with the wider research and expertise that exists about Russia. The broader context of Meduza's in-depth, original journalism isn't always clear, which is where this show comes in. Here you'll hear from the world's community of Russia experts, activists, and reporters about issues that are at the heart of Meduza's stories and crucial to major events in and around Russia.
Last week, on May 25, the digital-rights group Access Now broke a story revealing that Pegasus spyware was used to hack civil-society figures in Armenia. Notably, these infiltrations took place against the backdrop of the conflict with Azerbaijan over Nagorno-Karabakh — making this investigation's findings the first documented evidence of Pegasus spyware being used in the context of an international war. Never heard of Pegasus? Well, buckle up. Developed by the Israeli firm NSO Group, this frighteningly sophisticated piece of hacking software is capable of infecting both iOS and Android devices through so-called "zero-click" attacks. In other words, it can worm its way into your phone — often by exploiting vulnerabilities that the manufacturer has yet to find and fix — and you'd be none the wiser. Once installed, Pegasus grants total access to your device, allowing the hacker to not only view your messages, emails, and photos, but also track your phone's location, record calls, and use the camera and microphone to capture what's going on around you. "Basically, the attacker gets control of the settings and has even more control than you yourself have over your device," Natalia Krapiva, a tech-legal counsel at Access Now, told Eilish Hart, editor of Meduza's weekly newsletter The Beet, in an interview for this week's show. Timestamps for this episode: (3:46) What is Pegasus spyware? (5:31) What is NSO Group, the Israeli firm that developed the tool? (7:25) Access Now's investigative findings (12:56) Reactions from those targeted in this spying campaign (15:15) Who is behind hacking all these figures in Armenia? (19:28) Using Pegasus in the context of a war (22:50) Reactions to Access Now's investigation (25:20) International spyware policymaking, going forward
After February 24, 2022, when many Western Internet companies withdrew from Russia, and the Russian state itself outlawed other online platforms, the RuNet's future seemed uncertain. How would Russia's Internet market develop? Where would the authorities turn for the technology needed to pursue "digital sovereignty" and more advanced censorship tools? More than a year later, the RuNet hasn't collapsed, Russia's biggest Internet tech company Yandex posted almost $136 million in profits last year, and Russia's means of policing of online speech are more hidden from the public than ever. At the same time, Yandex is carving itself up, selling off assets and moving entire divisions abroad to stay competitive internationally. And networks like YouTube and Telegram, which host a lot of content the Kremlin hardly welcomes, are still available in Russia. To get a sense of the current state of the Russian Internet and online free speech in Russia today, The Naked Pravda turns to Dr. Mariëlle Wijermars, a CORE fellow at the Helsinki Collegium for Advanced Studies at the University of Helsinki and the coauthor of the recent article "Digital Authoritarianism and Russia's War Against Ukraine." Meduza also spoke to Sarkis Darbinyan, the senior legal expert at RosKomSvoboda, an Internet watchdog that's monitored the RuNet since the early days of the Kremlin's coordinated online censorship. Timestamps for this episode: (4:41) The Russian state's ongoing efforts to court prominent bloggers (10:43) Facebook and Instagram in Russia today (12:28) The story behind RosKomSvoboda (14:26) How Russia's Internet censors are getting smarter (16:58) Roles for artificial intelligence in Internet censorship (18:35) What Russia might block next (21:03) How Russian law enforcement find, flag, and prosecute illegal online speech (24:16) Global trends in Internet censorship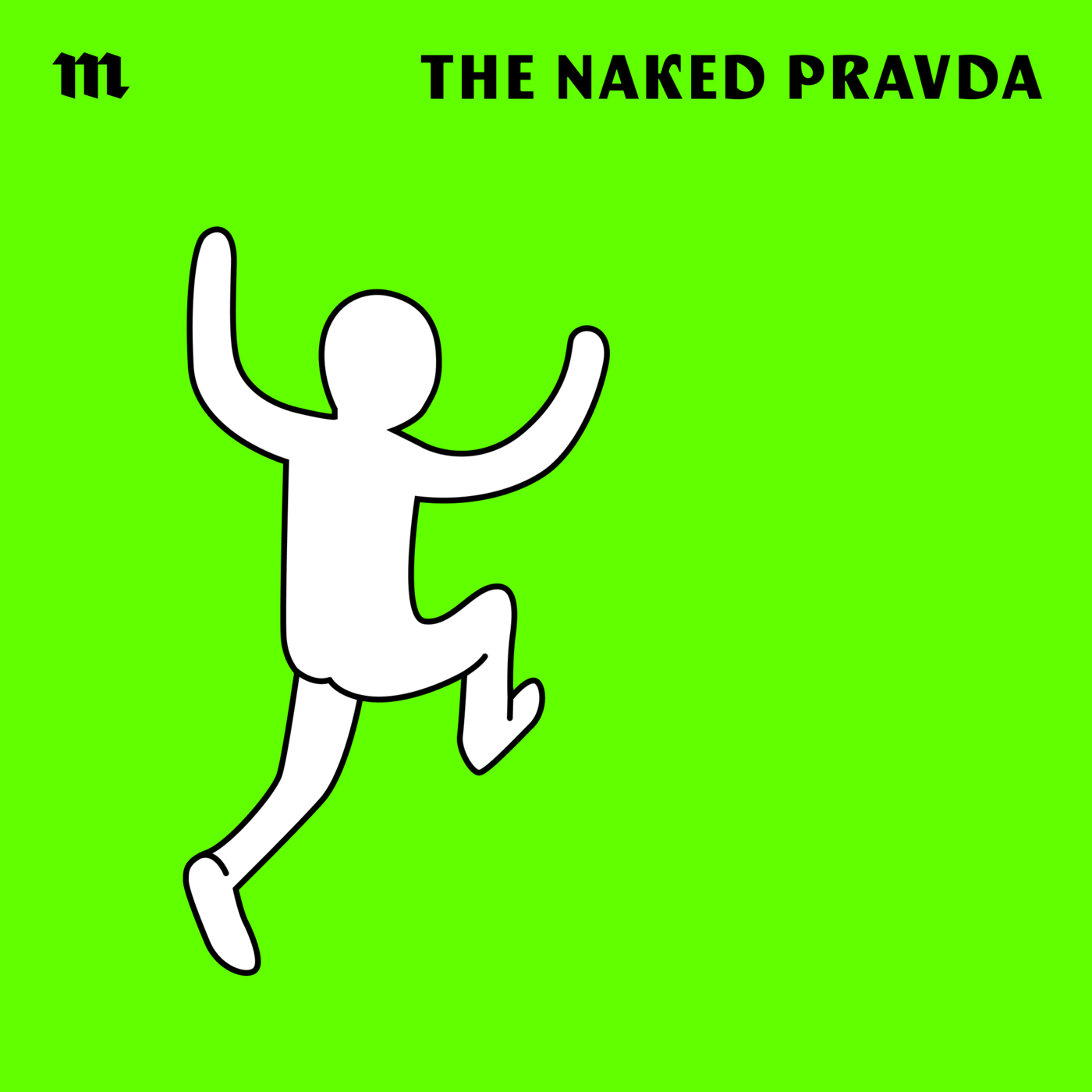 Russia is notorious for its political prisoners, and the authorities have only added to this population by adopting numerous laws since the February 2022 invasion of Ukraine that outlaw most forms of anti-war self-expression. Figures like journalist Ivan Safronov and opposition politician Alexey Navalny were already locked up before the full-scale invasion, and now they're joined by politicians like Ilya Yashin and Vladimir Kara-Murza. As relatively unknown activists are dragged into court for minor anti-war actions and the Kremlin takes hostages like American journalist Evan Gershkovich, Russia's prison system is regularly in the news, but how is it actually built and what's life like for those inside and their loved ones on the outside? For answers, Meduza turns to Professor Judith Pallot, the research director of the Gulag Echoes project at the University of Helsinki's Aleksanteri Institute (you can find the project's blog here), and journalist Ksenia Mironova, the cohost of the Time No Longer (Времени больше не будет) podcast, where she interviews experts and the friends and relatives of political prisoners. Mironova is also the partner of Ivan Safronov, another journalist now serving a 22-year "treason" sentence in prison. Timestamps for this episode: (1:48) A word from The Beet (6:31) How big is Russia's prison population? (11:01) The prison system's history of "reforms" (17:48) Is today's system reverting to the Gulag? (20:00) Conditions behind bars (28:19) Comparing the Russian and Ukrainian prison systems and appreciating civil society's oversight (34:05) Ksenia Mironova on the lives of political prisoners and their partners
Bloggers and news outlets in Russia are abuzz with speculation about what could be the start of Ukraine's long-awaited spring counteroffensive. Experts have had months to speculate about what shape the counteroffensive might take and what its chances of success are, but recent attacks in Moscow, Crimea, and border regions raise other questions about how the Russian authorities are guarding territories that are, from Kyiv's perspective, behind enemy lines. To learn more about how Russia defends against Ukrainian drone attacks and special operations, and what these tactics mean for Kyiv's war effort, Meduza spoke to military analyst and Foreign Policy Research Institute senior fellow Rob Lee and investigative journalist and The Insider editor-in-chief Roman Dobrokhotov. Timestamps for this episode: (4:21) Were the May 3, 2023, drone strikes on the Kremlin a Russian false-flag operation or a Ukrainian special operation? (9:09) How hard is it to track UAVs? (12:16) The war's growing symmetry (18:30) The costs of a drone attack fleet (23:02) Attributing attacks inside Russia and Crimea (25:46) The effects of bombings inside Russia (29:04) The state of Russia's homeland defenses
Victory in the Second World War, in Europe anyway, came a day later to the Soviet Union. That's a technicality, of course. Germany's definitive surrender was signed late in the evening on May 8, and it was already May 9 to the east in Moscow. This month marks the 78th anniversary of that victory, and though the West has enjoyed one more calendar day in this post-war world than Moscow, the defeat of the Nazis has remained central to Russian national identity and political culture in ways that would probably make your head spin if you're from Europe or North America. On this week's episode, Meduza looks at the role of Victory Day in modern Russia, focusing on memory politics and how the Putin regime uses the holiday and the legacy of the Second World War generally to achieve its own ends during Russia's bloody invasion of Ukraine. At the time of this release, May 9 is just a few days away, and the holiday is unusual this year because numerous cities across Russia have actually canceled their public parades and moved festivities back to the virtual spaces they inhabited at the height of the coronavirus pandemic. The war in Ukraine has forced some changes in one of Russia's holiest of holidays. This week's guest is Dr. Allyson Edwards, a lecturer in global histories and politics at Bath Spa University in England. Her research specializes on the topics of Russian militarism, youth militarization, and the use of history and commemoration. Timestamps for this episode: (5:41) How did the Russian state's modern-day WWII mythology come to be? (11:49) What might today's Russian militarism look like without the Great Patriotic War? (13:39) What happened to the anti-militarism side of Victory Day? (16:33) Is this Putin's militarism or Russia's militarism? (18:24) What role does "humiliation" play in all this? (20:59) The Immortal Regiment (23:06) This year's parade cancelations
Formal treason charges and denied bail for journalist Evan Gershkovich, a rejected appeal from opposition politician Ilya Yashin (who's serving an eight-and-a-half-year prison sentence for spreading supposed "disinformation" about Russian war atrocities in Ukraine), reportedly new felony charges against jailed anti-corruption icon Alexey Navalny, and 25 years behind bars for Vladimir Kara-Murza, the anti-Kremlin politician who helped lobby into existence the Magnitsky Act, which authorizes the American government to sanction foreign government officials around the world (especially in Russia) that are human rights offenders, freezing their assets and banning them from entering the U.S. These courtroom news headlines are all from just the past few days. And this doesn't even touch on the thousands of cases against less prominent, sometimes nearly invisible activists and even apolitical types who find themselves caught in the teeth of Russia's increasingly brutal prosecution of political disloyalty. As political persecution in Russia escalates to something resembling moments from the Stalinist period, supporting the legal system's victims and simply understanding its intricacies become matters of life and death. And that is at the center of work by the journalists, lawyers, and activists who make up a project called OVD-Info. To explain the organization's operations, The Naked Pravda spoke to journalist and activist Dan Storyev, who serves as the managing editor of OVD-Info's English-language edition and the author of The Dissident Digest, a weekly newsletter summarizing and explaining major events in Russia's domestic political repressions. Timestamps for this episode: (4:57) What is OVD-Info? (8:32) Who qualifies for assistance from OVD-Info? (9:59) What assistance can OVD-Info offer to victims of political repression? (14:19) What factors determine whom the Putin regime actually prosecutes? (17:02) What legal statutes are most common in political prosecutions? (20:43) The ruling against Vladimir Kara-Murza (23:39) Prison life in Russia today
Throughout its full-scale invasion of Ukraine, Moscow has repeatedly and regularly carried out attacks where it's either tolerated civilian casualties as acceptable collateral damage or even embraced indiscriminate tactics deliberately. Considered alongside what's happening domestically in Russia, where political repressions underway for years already suddenly escalated to something approaching martial law, it's fair to say that state terrorism is a key component in the Kremlin's war policy today. But the Putin regime doesn't have a monopoly on terrorist violence, as two prominent assassinations have demonstrated in the past several months. Last August, pro-invasion propagandist Daria Dugina, who's also the daughter of Eurasianist philosopher and ideologue Alexander Dugin, died behind the wheel of a car after a bomb under the driver's seat exploded as she drove home from a festival outside Moscow. More recently, on April 2 of this year, a pro-invasion blogger named Maxim Fomin, better known as Vladlen Tatarsky, perished at a café in St. Petersburg when a bomb hidden inside a gift exploded in his face at a speaking event. The ideological targeting here recalls attacks in late 19th- and early 20th-century Russia, but what's the history of terrorism as a phenomenon, as a concept, and as a word in Russia? For answers, The Naked Pravda turned to two scholars: Dr. Lynn Ellen Patyk, an associate professor at Dartmouth College and the author of Written in Blood: Revolutionary Terrorism and Russian Literary Culture, 1861–1881, and Dr. Iain Lauchlan, a senior lecturer in history at the University of Edinburgh, where he focuses particularly on the Russian Revolution and the Stalin era, and the history of intelligence, conspiracy, and espionage. Timestamps for this episode: (5:07) The origins of revolutionary terrorism in Russia (11:03) Assassination campaigns and escalating violence into the 20th century (19:14) Domestic terrorism vs. foreign terrorism (20:55) Two waves of terrorism (23:51) Studying terrorism from a literary perspective (29:52) The role of women then and now in terrorist attacks
A new investigative report published jointly by Meduza and The Bell looks closely at Rostec, one of Russia's key state corporations, and its campaign to exert control over the public discourse on Telegram about Rostec's operations and executives. Rostec is responsible for developing, manufacturing, and exporting high-tech products in aviation, mechanical engineering, radio electronics, medical technology, and a lot more. This is the Kremlin's arms conglomerate, controlling outfits like the Kalashnikov Concern, Uralvagonzavod, Avtovaz, and many more factories that make the war machines now wreaking havoc in Ukraine. Rostec is as serious as they come, and its long-time CEO, Sergey Chemezov, has been running the show since 2007 since the state corporation was founded in 2007. The history between Chemezov and Vladimir Putin goes back to the 1980s when the two were both Soviet intelligence agents in Dresden. So why does an enterprise with so much clout bother with bloggers on Telegram? And what does it say about the information available to Russians in an age without an independent press? Journalist Svetlana Reiter, who coauthored Meduza's report on Rostec and Telegram, joins The Naked Pravda to discuss the story. Timestamps for this episode: (6:48) What's so special about Vasily Brovko, Rostec's director of special assignments (10:09) What's so special about Telegram in Russia? (13:37) Fighting extortion albeit with ulterior motives (23:03) Anonymity on Telegram or a lack thereof
In a new investigative report, journalists at Mediazona counted 536 service-related felony cases filed in Russian garrison courts against soldiers since the full-scale invasion of Ukraine started last year. Most of these charges involve AWOL offenses, often resulting in probation sentences that allow offenders to return to combat. More serious crimes include refusal to obey orders, striking a commanding officer, and outright desertion. Citing national-security grounds (and orders from Russia's Defense Ministry and Federal Security Service), military courts frequently conceal information about cases involving "crimes against military service." Mediazona dug through available records and spoke to attorneys to learn what it could about this growing wave of insubordination among Russian troops. To discuss the investigation, Mediazona reporter and data-team journalist David Frenkel joined The Naked Pravda. Timestamps for this episode: (4:02) Why Putin doesn't rescind his mobilization execution order (8:51) Is AWOL the most common offense by Russian soldiers or merely what Russia's military courts prefer to prosecute? (14:52) Rational choice if you're a Russian soldier who doesn't want to fight in Ukraine (16:39) Morale and discipline (24:54) Conscientious objection (26:39) Show trials and judges' "preventative talks" with soldiers
Show host Kevin Rothrock revisits noteworthy news stories in Russia from mid-March 2023 and celebrates 99 episodes of The Naked Pravda by reading some listener feedback. Timestamps for this episode: (0:01) Evgeny Prigozhin's Wagner Group paramilitary cartel starts recruiting on Pornhub (2:26) Russia knocks an American UAV into the Black Sea (3:52) The Russian Orthodox deacon who turned to Afro-Brazilian mysticism and invented a wife to cohost his anti-Ukrainian hate blog (5:44) How Kirill Butylin got sentenced to 13 years in prison for throwing Molotov cocktails at an army recruitment center (7:41) The story of Masha Moskaleva, the sixth grader taken from father after she turned in an anti-war drawing for art class (12:19) The latest srach (shitstorm) within the Russian opposition sparks a debate about sanctions relief and exit routes for "good oligarchs" (14:52) To celebrate 99 episodes of The Naked Pravda, Kevin shares some reviews from listeners
Late last month, there was a sudden and brief explosion of news reports in Russia and Ukraine about an ascendant youth movement of violence supposedly built around the subculture of anime fans. According to vague stories in the media, fistfights were breaking out at shopping malls and other public places as part of a transnational campaign by something called "PMC Ryodan." After a large fight in St. Petersburg led to dozens of arrests of Ryodan and anti-Ryodan youths, a federal lawmaker in the State Duma even appealed publicly to Russia's Interior Ministry, demanding a ban on all content associated with "PMC Ryodan." There was mass police action in Ukraine, too, where officials called PMC Ryodan an instrument of "Russian propagandists" leading an "informational-psychological operation" to "destabilize the internal situation in Ukraine." It turns out that the hysteria surrounding this youth subculture almost completely misunderstood the sporadic violence. Semantically, the first thing to grasp is that "PMC," or private military company, is used facetiously when describing the Ryodan group. Members of this anime fan community are actually more likely to be the targets — not the instigators — of the brawls breaking out at youth hangouts. In fact, it seems the group got its "PMC" nickname after its followers started fighting back against the jocks who like to bully them. The PMC Ryodan scare was especially perplexing abroad, where casual observers typically view Russian youth culture through the lens of a pro-Kremlin/anti-Kremlin dichotomy. But most young people in Russia, just like most people anywhere, don't live and breathe polemics at every moment of the day with every fiber of their being. So, what can we say about Russia's youth culture beyond the familiar Kremlin-based divide? The Naked Pravda asked two scholars for answers. Timestamps for this episode: (6:41) Dr. Kristiina Silvan, a postdoctoral fellow in the Russia, EU's Eastern Neighborhood, and Eurasia research program at the Finnish Institute of International Affairs, describes the differences between contemporary Western sociological methodologies and research approaches from the USSR. (10:06) Dr. Felix Krawatzek, a senior researcher at the Center for East European and International Studies in Berlin, compares survey studies and fieldwork. (13:04) The political vs. apolitical (22:34) Russian-language culture and subcultures spreading internationally online (25:31) The significance of so-called "soccer hooligans" and gopniki (32:13) The 1990s as a reference point
On Thursday morning, March 2, a few dozen armed men crossed over from Ukraine and raided two small towns in the Russian border region of Bryansk. The militants — described as "Ukrainian saboteurs" in hurried Russian news reports and later identified as soldiers in the so-called Russian Volunteer Corps — posed for some pictures, recorded a few breathless videos, and retreated back into Ukraine in short order. Conflicting reports followed about clashes with the incursion group: the Russian authorities said a couple of motorists were killed, but there are some odd inconsistencies in the footage later released by the Federal Security Service, while the militants themselves say they got into a shootout in one town but didn't see anyone killed. The March 2 incursion itself is fairly underwhelming, and it's hardly the first of its kind in the Bryansk area, where Russia's border with Ukraine is notoriously hard to defend. What makes the raid stand out is the leader of the group behind it: Denis Nikitin, a Russian neo-Nazi with a long history of far-right activism across Europe and especially, most recently, inside Ukraine. For more about Nikitin and the Russian Volunteer Corps, The Naked Pravda spoke to journalist Michael Colborne, who heads the Bellingcat Monitoring Project and authored the 2022 book From the Fires of War: Ukraine's Azov Movement and the Global Far Right. Timestamps for this episode: (3:56) What is the Russian Volunteer Corps and who is Denis Nikitin? (13:49) What is Denis Nikitin's ideology? (20:19) The ties between the Russian Volunteer Corps and Ukraine's Armed Forces (24:23) Previous border incursions into the Bryansk region (30:57) Probably not a Russian false flag
Amid an escalating public conflict between Russia's Defense Ministry and Evgeny Prigozhin, The Naked Pravda builds on last year's episode about the warlord-tycoon, looking more closely at the paramilitary cartel he fronts. To understand how Wagner Group should be defined, why its brutality is so valuable to Moscow, and how its recruitment of prisoners has played out, Meduza spoke to three experts. Timestamps for this episode: (3:55) Candace Rondeaux (a professor of practice and fellow at the Melikian Center for Russian, Eurasian, and East European Studies and the Center on the Future of War at Arizona State University, and the director of Future Frontlines at New America) explains how Wagner Group is best defined. (5:50) Andreas Heinemann-Grüder (who teaches Political Science at the University of Bonn in Germany and is a senior researcher at the Bonn International Center for Conflict Studies) break down how Russia's mercenaries practice "exterminatory warfare." (7:38) Bellingcat training-and-research director Aric Toler talks about Wagner Group's promises of pardons and burials with honors. (10:07) Andreas Heinemann-Grüder says Wagner's recruitment of prisoners undermined the group's internal cohesion and "didn't work out" in the end. (14:21) Why does Moscow need Wagner Group at all in the middle of an invasion openly waged by Russia's official military? (17:41) Candace Rondeaux explains the difference between designations for organized crime and terrorism, from a foreign policy perspective. (22:27) Wagner Group as a front for Russian state corporations' interests abroad. (24:21) Aric Toler examines what funerals for three 1990s-era crime bosses recruited by Wagner say about the group's dubious promises to inmates. (28:14) Candace Rondeaux highlights the ways in which Wagner Group is a social movement too. (31:50) How to read Prigozhin-linked channels online and Russia's Z-blogosphere more broadly. (37:10) Why ending the war demands a resolution to Wagner Group's fate.
In early February 2022, as Russia massed more than 100,000 troops on the border with Ukraine, Hungarian Prime Minister Viktor Orbán traveled to Moscow on what he described as a "peace mission." Standing alongside Vladimir Putin at a press conference, Orbán urged other Western countries to adopt a "Hungarian model" of relations with Russia — one supposedly based on "mutual respect." Just a few weeks later, the Kremlin launched a full-scale invasion of Hungary's neighbor, Ukraine.  For Orbán and his government, the invasion came as a shock. And for a brief moment, it seemed as though Budapest would finally reverse its longstanding pro-Kremlin stance. But instead, Hungarian officials have opted to walk the line, supporting round after round of EU sanctions against Russia and welcoming more than 2.1 million Ukrainian refugees, while also blocking the passage of weapons through Hungarian territory to Ukraine, brandishing their EU veto power, and refusing to forsake Russian energy imports.  To find out more about Russian influence in Hungary and its impact on the Orbán government's response to the war in Ukraine, The Naked Pravda sat down with three expert guests.  Timestamps for this episode: (1:36) Journalist Szabolcs Panyi from the Budapest-based investigative outlet Direkt36 on the money trail coming from Moscow and uncovering Russian espionage in Hungary.  (10:44) Andras Tóth-Czifra, a non-resident fellow at the Center for European Policy Analysis (CEPA) and the Foreign Policy Research Institute (FPRI), on Hungary's response to Russia's full-scale invasion of Ukraine.  (14:14) Zsuzsanna Vegh, a visiting fellow at the German Marshall Fund of the United States and a lecturer and researcher at European University Viadrina, on how the Orbán government's business-as-usual Russia policy puts Hungary at odds with its European partners. 
In the initial months after Moscow launched its full-scale invasion of Ukraine, hundreds of thousands of people left Russia. Some were fleeing the war's economic repercussions or the country's accelerated descent into authoritarianism, while others saw emigration as a moral necessity. Then, in September, Putin's mobilization announcement set off a new wave of panic, causing another 700,000 or so to leave Russia in a span of just two weeks (though some have since returned). A huge number of these wartime emigrants ended up in Kazakhstan and Kyrgyzstan, sparking what some have termed a "Russian migrant crisis." The result on the ground in these countries has been an unprecedented reversal of a decades-old status quo that had Central Asian migrants moving to Russia to perform manual labor for relatively high wages, often while being subjected to racism and mistreatment from locals. To learn about how this reckoning has played out on a human level, The Naked Pravda spoke to migration researcher and journalist Yan Matusevich, who's spent the last five months conducting interviews with Russians newly arrived in Central Asia. Timestamps for this episode: (5:16) Who are the people who have moved from Russia to Central Asia? What makes this a 'monumental' moment? (19:41) How have people in Kyrgyzstan and Kazakhstan reacted to the influx of Russians? What difficult conversations has this migration forced people to have? (28:54) Who gets overlooked in the discussion about wartime migrants to Central Asia? (35:40) How do these migrants from Russia fit into traditional migration categories? Are they refugees? Asylum seekers? None of the above? (45:01) Why did Kazakhstan recently make its visa laws slightly less friendly to Russian citizens? How will this affect Russian emigrants there? (52:51) Why do some Russians in Kyrgyzstan and Kazakhstan fear being deported to Russia? Is this likely to happen?
On May 11, 2022, The Washington Post announced that it was establishing a new bureau in Kyiv with Isabelle Khurshudyan leading coverage as Ukraine bureau chief. Elements of The Post's expansive coverage dedicated to the war in Ukraine include a 24-hour live updates page on The Post's site, a Telegram channel for news updates (now with more than 40,000 subscribers), and a database of verified, on-the-ground footage. Ms. Khurshudyan joined The Naked Pravda to talk about The Post's Kyiv bureau and her experiences reporting on Russia's invasion of Ukraine. Timestamps for this episode: (2:38) How did The Post's Ukraine bureau come about? Will it remain in place after the war ends? (7:19) How readers in the United States respond to reporting about the war in Ukraine (10:07) How "burnout" affects journalists reporting in Ukraine on the war (13:43) How to get embedded with the Ukrainian military (18:14) Finding information about Ukraine's occupied territories where there are no Western journalists (20:52) Navigating the wartime legal and cultural sensitivities surrounding certain kinds of speech (25:57) War reporting vs. hockey journalism
Writer Anna Arutunyan, author of "The Putin Mystique: Inside Russia's Power Cult" (2014), has a new book out about the early pivotal years of Russia's invasion of the Donbas, titled "Hybrid Warriors: Proxies, Freelancers and Moscow's Struggle for Ukraine." A longtime journalist, former International Crisis Group senior analyst, and now a Wilson Center global fellow, Arutunyan draws on interviews, reporting from the warzone, and other research to reconstruct the relationships between civilians, non-state actors, and the Kremlin that developed after Moscow annexed Crimea and began its intervention in the Donbas that spiraled into the godawful war we see today. Timestamps for this episode: (3:24) Is "hybridity" still a meaningful research topic in the war today in Ukraine? (5:56) Is Vladimir Putin's "power vertical" a myth? (10:48) Has Putin's ideology evolved over the past two decades or is it all improvised? (15:08) Does Putin still have the flexibility as a leader to backtrack in Ukraine and end the war? (19:39) What a sense of disenfranchisement and victimhood can do. (25:30) What's the use of empathy? (28:42) Vladimir the Bureaucrat.
On this week's episode of The Naked Pravda, Meduza speaks to anthropologist Jeremy Morris about foreign Russia scholars' growing reliance on state television as a means of monitoring what is thought to be public opinion. Dr. Morris, a professor of Russian and Global Studies in the School of Culture and Society at Aarhus University in Denmark, argues that researchers should devote more attention to less controlled platforms on social media and exercise more caution when generalizing based on survey data collected in Russia. For more of Dr. Morris' methodological insights, check out his blog: Postsocialism.org. Timestamps for this episode: (4:39) A recent viral video from the Luhansk region released by Graham Phillips (11:19) Viral videos vs. state propagandists' rants (16:09) Problems with surveys and survey data (28:03) How to use social media for research (responsibly) (33:32) So, how should we measure Russians' support for the war?
In an article titled "Ukrainian Voices?" recently published in New Left Review, sociologist Volodymyr Ishchenko warns that talk in the West about Ukraine's "decolonization" often focuses too much on "symbols and identity" and not enough on "social transformation." Representing the war in Ukraine "as an ideological conflict of democracy against autocracy" is intellectually inconsistent, he writes, and "works poorly" with audiences across the Global South. Dr. Ishchenko criticizes the identarian articulation of Ukraine's decolonization, which he says reduces the agenda to "anti-Russian and anti-communist identity politics"; it's an obstacle to "a universally relevant perspective on Ukraine." In the days since it was released, Dr. Ishchenko's article has won praise and provoked fierce criticism from peers and pundits alike. This week, he joined The Naked Pravda to respond to some of that feedback and delve a bit deeper into the ideas he raised in the essay. Timestamps for this episode: (4:40) The article's academic origins (6:52) Has the "decolonization" agenda lost its way? (11:34) What's an alternative form of decolonization in Ukraine? (15:35) What are the differences between Ukraine's "privileged voices" with access to the West and the Ukrainians who remain largely unrepresented abroad? (23:00) Don't call it an ideological conflict of democracy against autocracy? (29:52) Criticisms of Soviet nostalgia
Given current events in Russia and Ukraine, much of today's expertise about Russia is again created remotely. It simply isn't safe for many journalists and researchers to be in the country today due mainly to the militarized censorship of speech related to the invasion of Ukraine. So, what happens when Russia experts are forced to work outside of Russia? When access to audiences, writers, and source material narrows so suddenly, how does our grasp of Russia change? To explore these issues, The Naked Pravda turned to Olga Irisova, a German Chancellor fellow at the Alexander von Humboldt Foundation and the editor-in-chief of the analytical platform Riddle, which the Russian authorities recently banned as an "undesirable organization." Timestamps for this episode: (4:12) What is Riddle? (7:25) How has the war in Ukraine and "undesirable" status affected Riddle's work? (14:30) Has Riddle faced any pressure from Westerners? (20:37) The current state of Russia expertise (25:16) Are there major differences between the Russia expertise generated by Russians and foreigners? (29:40) What makes a good essay?
United States