Claim Ownership
Автор:
Подписка оформлена: 0
Воспроизведенные: 0
Описание
Save Meduza!https://support.meduza.io/enAfter Russia launched a full-scale invasion of Ukraine in February 2022, five Hollywood giants — Disney, Warner Bros, Universal, Sony Pictures, and Paramount — all stopped releasing new films in Russia. Netflix, which was producing multiple shows in Russia for the domestic market, has also suspended all service there. Amazon Prime has halted streaming in Russia, too. All this comes just as the entertainment industry was hoping to rebound from two years of pandemic shutdowns and concerns. Russian movie theaters are now on the verge of collapse, and the country's streaming services — seemingly poised for a major expansion before the war — are scrambling to keep subscribers by restocking their catalogues and hoping for success with original programming. To find out where Russians will find their future entertainment, Meduza turned to three experts in the nation's television and film industries. Timestamps for this episode: (2:48) AR Content Creative Executive Ivan Philippov breaks down what trends in Russian entertainment (9:01) Kinopoisk podcast host and former editor-in-chief Lisa Surganova explains the current state of Russia's streaming services (16:00) Filmmaker and film and television researcher Egor Isaev weighs the loss of coproduction deals with Hollywood studios and U.S. streaming services (23:02) Surganova explains how TV and cinema funding work in Russia (29:14) Philippov looks at the struggling movie business from the Kremlin's perspective
Save Meduza!https://support.meduza.io/enEarlier this week, the European Union passed a landmark agreement banning most Russian oil imports into the region by the end of the year, though the embargo features a temporary exemption for imports delivered by pipeline in order to overcome opposition from landlocked Hungary. In late May, the U.S. Treasury declined to extend a license that allowed Russia to make payment on its sovereign debt to U.S. holders, possibly accelerating the prospect of Russia defaulting on its government debt. To discuss these major developments and more happening in the sanctions campaign against Russia in response to its invasion of Ukraine, The Naked Pravda welcomed back Dr. Maria Shagina, a political risk analyst and sanctions expert who works as a Diamond-Brown Research Fellow for Economic Sanctions, Standards, and Strategy at the International Institute for Strategic Studies. Timestamps for this episode: (1:48) What's the significance of Russia's current account surplus? (6:15) Has Western unity on economic sanctions against Russia peaked, or is the EU and U.S. capable of more? (7:52) What determines the divisions inside the European Union when it comes to confronting Russian aggression? (11:11) What are the main drivers of a potential global food crisis? (12:28) Does the West risk alienating large parts of the world by forcing higher energy costs on the Global South? (19:05) How have the sanctions against Russia affected the push for greener energy sources? (23:25) Have economic realities now put Russia definitively on an eastward trajectory? How fundamental is this to the country's future development?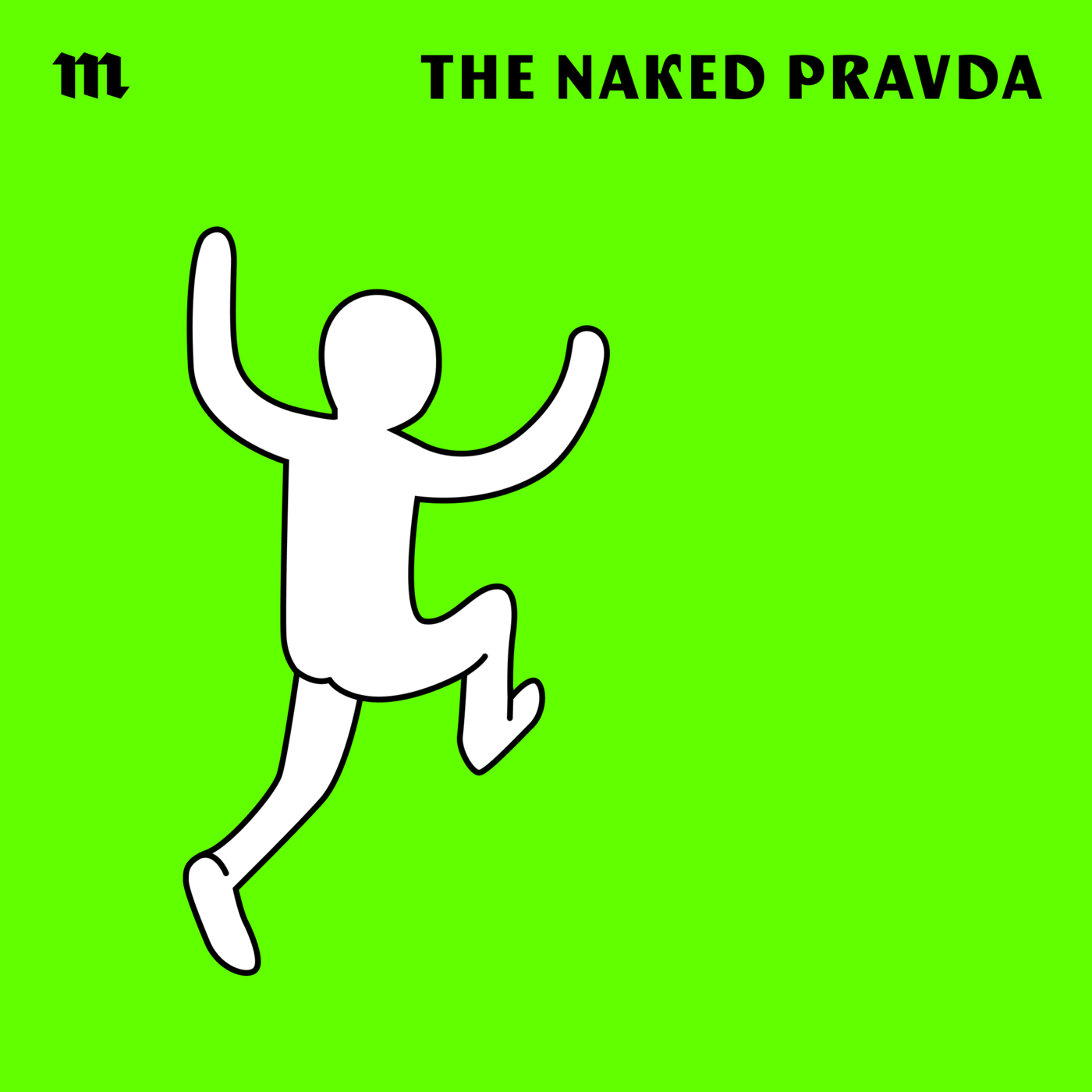 Genocide in Ukraine
2022-05-2201:40:40
1
Save Meduza!https://support.meduza.io/enThrough speeches by political leaders and in television broadcasts that have blanketed the country (as well as new territories recently seized by force), the Kremlin has argued breathlessly that Ukrainian statehood is a historical accident weaponized by Russia's enemies. This rhetoric, which essentially denies the existence of an independent Ukranian identity, has reached not only millions of civilians but also the Russian troops now in Ukraine, where journalists, the local authorities, and international observers have been documenting and cataloging these soldiers' acts of violence against noncombatants. As the world learns more about the atrocities committed against the Ukrainian people, Ukrainian law enforcement and officials throughout the West have begun the process of investigating, designating, and prosecuting these acts. For a better understanding of this work and its challenges, The Naked Pravda spoke to four experts about war atrocities in the context of Russia's invasion of Ukraine, focusing particularly on genocide as it's understood both legally and in terms of history and politics. The scholars who joined this discussion: Erin Farrell Rosenberg, an adjunct professor at the University of Cincinnati's College of Law, and an attorney specializing in international criminal law and reparations Eugene Finkel, an associate professor of international affairs at Johns Hopkins University, and the author of "Ordinary Jews: Choice and Survival during the Holocaust" Dirk Moses, a professor of Global Human Rights History at the University of North Carolina at Chapel Hill, the author of "The Problems of Genocide: Permanent Security and the Language of Transgression," and the senior editor of the "Journal of Genocide Research" Maria Varaki, a lecturer in international law at the War Studies Department at King's College London, and the co-director of the War Crimes Research Group Timestamps for the main sections of this episode: (4:15) The legal terms used to designate mass violence and crimes in warfare, and genocide's special legacy (36:11) How war crimes and genocide are prosecuted, establishing genocidal intent, and upholding justice (1:04:21) The politics of genocide allegations, and the consequences of taking them seriously
Save Meduza!https://support.meduza.io/enThe past nine weeks of all-out war have completely upended civilian life throughout Ukraine. After withdrawing from around Kyiv and Chernihiv in late March, Russian forces are ostensibly refocusing their invasion on taking Ukraine's eastern and southern regions. With many cities, towns, and villages already in dire humanitarian situations, civilians living in these areas are faced with the difficult choice of attempting to evacuate or bracing themselves for an escalated offensive. Meanwhile, residents of the Kyiv region are clearing the wreckage Russian forces left behind and trying to adjust to a "new normal." For insight into civilian life in some of Ukraine's most wartorn areas, Meduza turned to two Ukrainian experts who have been reporting on the ground throughout the war.  Timestamps for this episode: (1:38) Maria Avdeeva, research director at the European Expert Association, on documenting Russian war crimes to combat disinformation and the critical humanitarian situation in Kharkiv.  (12:30) Journalist and Public Interest Journalism Lab co-founder Nataliya Gumenyuk on the atmosphere in Kyiv, how local leaders and civilian volunteers keep Ukrainian towns running, and the humanitarian situation in Ukraine's eastern and southern regions.  (23:45) Avdeeva on why the local government in Kharkiv is clearing debris and planting flowers while still under attack.  (25:42) Avdeeva and Gumenyuk on rebuilding Ukraine after — and during — the war.  (31:00) Gumenyuk on what makes reporting on this war different and what she wants international audiences to know about Ukraine.
Save Meduza!https://support.meduza.io/enThe Russian North Caucasus has played a special role in the invasion of Ukraine. Journalists estimate that at least 60 men from Dagestan died fighting for Russia by March 23, indicating that this republic had lost more soldiers, by far, than any other region in Russia. In terms of public messaging, Chechen ruler Ramzan Kadyrov has been one of the loudest cheerleaders for the "special operation," rattling his saber at every opportunity and declaring the seizure of Ukrainian territories before it's actually happened. Across the North Caucasus, one of the most crucial factors when it comes to military service is the absence of alternatives. Unemployment is higher in this region than anywhere else in Russia. It's the highest of all in Ingushetia, where it exceeds 30 percent. To find out more about the war's impact here, The Naked Pravda turned to Ingush journalist and activist Izabella Evloeva and independent political and security analyst Harold Chambers. (Also, Meduza extends a special thanks to journalist Katie Marie Davies for her assistance with dubbing parts of this episode.) Timestamps for this episode: (3:26) How does unemployment affect support for the war? (4:37 and 9:15) How regional leaders have responded to the invasion (6:39) The felony "disinformation" case against Izabella Evloeva (11:11) The colonial relationship between Russia and Ingushetia (12:13) Popular attitudes about the war (13:54) Could the war go so badly for Russia that it creates unrest back home? (15:00) Ramzan Kadyrov's changing public image
Save Meduza!https://support.meduza.io/enFollowing the full-scale invasion of Ukraine, the Russian authorities imposed military censorship in all but name, annihilating the entire domestic free press. Within a week of Moscow's "special operation in the Donbas," the television station Dozhd and radio station Ekho Moskvy both shut down, ending 12 and 32 years, respectively, of independent journalism. In late March, after a 28-year run, the newspaper Novaya Gazeta suspended all reporting until the end of the war, citing warnings from the federal censor. Many of the journalists who worked for these outlets have already fled Russia, but they continue their work at new platforms, on their own channels at YouTube, Telegram, and elsewhere. For a better understanding of this new guerilla reporting, The Naked Pravda spoke to two independent journalists now operating from outside Russia to find out how they're managing this job: Farida Rustamova (who uses Telegram and Substack) and Ekaterina Kotrikadze (on Telegram and YouTube). Timestamps for this episode: (2:43) Did Russian independent journalists lose the fight against Kremlin propaganda? (10:23) How has military censorship damaged the quality of reporting and information available from Russia? (18:55) Rustamova's path to Substack. (26:52) Kotrikadze on TV Rain's plans for the future. (36:23) Did Kotrikadze see the full-scale invasion coming?
Save Meduza!https://support.meduza.io/enThis week's guest is Meduza special correspondent Lilya Yapparova, who just spent several days in Chernihiv, reporting on how the Russian invasion has destroyed local families and upended residents' lives. She managed to leave the city just before Russian troops besieged it again. Now back in Kyiv, still reporting on the war, Lilya joined the podcast to talk about her latest article, "'Mom, please make it stop': Meduza special correspondent Lilia Yapparova was in Chernihiv in the final days before Russian troops cut it off from the outside world. Here's what she saw." Timestamps for this episode (4:37) What would you ask Zelensky or Putin? (8:39) On the nature of war reporting (10:55) How does a journalist engage people who are caught in the horrors of war? What was it like to visit Chernihiv and report on events there? (15:47) Do Ukrainians treat Russian journalists as "aggressors"? Is there anti-Russian hostility from ordinary Ukrainians? (18:17) The return of the barter economy, and the greatest true romance story ever told (21:38) What are some of the internal conflicts among the Ukrainians defending the cities now under Russian onslaught? (26:14) Will Ukrainians ever forgive the Russian people for this war?
Save Meduza!https://support.meduza.io/enWe're now more than three weeks deep into Moscow's full-scale invasion of Ukraine, and many are asking the question: What information is still reaching Russians? Unless you're using a VPN to tunnel beneath the state's censorship, Instagram is blocked, Facebook is blocked, Twitter is blocked, and YouTube is probably next. The independent news media is in tatters, and it looks like the main social networks left standing will be domestic services like Odnoklassniki and Vkontakte, which enforce the Kremlin's political censorship — and then there's Telegram. For a better understanding of what this means for Russia's information space — focusing particularly on Russians' increased reliance on Telegram — The Naked Pravda welcomes back Dr. Tanya Lokot, an associate professor in Digital Media and Society at the School of Communications at Dublin City University in Ireland, and Dr. Mariëlle Wijermars, an assistant professor in Cyber-Security and Politics at Maastricht University in the Netherlands. The two scholars recently coauthored an article published in the journal Post-Soviet Affairs, titled, "Is Telegram a 'Harbinger of Freedom'? The Performance, Practices, and Perception of Platforms as Political Actors in Authoritarian States." Timestamps for this episode: (4:02) Is Telegram a "harbinger of freedom"? (5:05) How does Telegram's lack of moderation potentially endanger vulnerable groups? (8:10) How vulnerable are Telegram users to government snooping? (11:06) Why do users stick with Telegram if there are serious security concerns about the service? (13:16) On Telegram head Pavel Durov's mixed messages in Ukraine (17:30) Are the U.S. social media giants any better? (20:32) Revisiting Telegram during the 2020–2021 Belarusian protests (21:11) What content is available on Telegram during Russia's invasion of Ukraine? (26:36) That year between 2018 and 2019 when Russia "blocked" Telegram (31:10) What's next for the RuNet?
Save Meduza!https://support.meduza.io/enIn the days since Vladimir Putin ordered a full-scale invasion of Ukraine, the Western world has imposed crippling economic sanctions on Russia designed to force extreme costs on the Kremlin for its aggression. In the Biden administration's words, the measures will "weaken the Russian defense sector and its military power for years to come and target Russia's most important sources of wealth." Russian economy expert and Foreign Policy Research Institute fellow Maximilian Hess says he worries that the looming financial collapse in Moscow could resemble 1918 more than the 1990s. He joins this week's episode of The Naked Pravda to explain what he means. Timestamps for this episode: (4:25) How bad could this get? (8:03) Floating currency and frozen stock trading (11:01) The return of a planned economy? (12:41) Shortages of critical products (15:32) What's the message behind the sanctions? (19:58) Russia's retaliatory options
Save Meduza!https://support.meduza.io/enOn February 21, Vladimir Putin delivered a nearly hour-long televised lecture on Soviet history, describing what he clearly believes are the flimsy foundations of Ukrainian statehood and arguing that the government in Kyiv owes its territory today to the supposed generosity of the Bolsheviks, particularly Vladimir Lenin. To assess this presentation of Ukrainian and Soviet history, Meduza spoke to Dr. Faith Hillis, a professor of Russian history at the University of Chicago, where she specializes in 19th and 20th century politics, culture, and ideas, exploring specifically how Russia's peculiar political institutions — and its status as a multiethnic empire — shaped public opinion and political cultures. Her most recent book, "Utopia's Discontents: Russian Exiles and the Quest for Freedom, 1830–1930," is the first synthetic history of the Russian revolutionary emigration before the revolution of 1917. Timestamps for this episode: (3:21) Why history is almost irrelevant to what is happening on the ground in Ukraine today (7:57) Moscow's "gifts" to Ukraine (12:08) How the Bolsheviks reconstituted the empire (19:08) Ukrainian civic identity and "code-switching"
Save Meduza!https://support.meduza.io/enMeduza spoke to the two hosts of a special project organized by the Monterey Initiative in Russian Studies at the Middlebury Institute of International Studies. In roughly 16 hours of interviews, "The Ambassadorial Series" features in-depth conversations with eight of the living former U.S. ambassadors to Russia and the Soviet Union, each featuring personal reflections and recollections on high-stakes negotiations, as well as discussions about a range of geopolitical issues that still dog today's relations between Moscow and Washington. The Naked Pravda asked the two women who hosted the interviews, Jill Dougherty (an adjunct professor at Georgetown University, a fellow at the Wilson Center, and CNN's former Moscow bureau chief) and Dr. Hanna Notte (a senior research associate at the Vienna Center for Disarmament and Non‑Proliferation), what they learned from talking to the ambassadors who represented America in Moscow over the past three decades. Timestamps for this week's episode: (3:06) How "The Ambassadorial Series" came together. (4:49) What sets apart 1990s U.S.-Russian diplomacy. (11:39) Key inflection points over the past 30 years. (18:45) Lessons that stand out in U.S. ambassadors' recollections. (23:00) The death and rebirth of Kremlinology in the Information Age.
Save Meduza!https://support.meduza.io/enThree decades after the collapse of the Soviet Union, the Eastern European breakaway states of Transnistria, South Ossetia, and Abkhazia exist in a sort of geopolitical limbo. Born out of wars that ended in deadlocks in the early 1990s, these self-governing regions remain unrecognized by most of the world and dependent on Russia's backing. This isolation presents a unique set of challenges for cultural creatives living and working in these regions, as well as for journalists trying to help them tell their stories to the wider world. To find out more about the evolving contemporary cultures of Transnistria, South Ossetia, and Abkhazia, The Naked Pravda turns to Calvert Journal features editor Katie Marie Davies.  Timestamps for this week's episode: (2:19) Summarizing recent analysis and expert opinions from Michael Kofman, Leonid Bershidsky, Fyodor Lukyanov, Andrey Kortunov, Alexander Baunov, and Vladimir Denisov. (7:11) The Kadyrov regime's war on the Yangulbayev family in Chechnya. (9:18) A new documentary film about Alexey Navalny, and Russia's continued crackdown on the imprisoned opposition leader's anti-corruption movement. (10:47) After German regulators pull the plug on Russia Today, Moscow responds by kicking out Deutsche Welle. (12:02) Calvert Journal features editor Katie Marie Davies discusses the challenges faced by creatives building new cultures in Eastern Europe's breakaway states. 
Save Meduza!https://support.meduza.io/enJanuary 2022 kicked off with a flurry of tense diplomatic talks between Russian and Western officials. Moscow is seeking wide-ranging security guarantees in Europe, while simultaneously massing upwards of 100,000 troops along its Western border. The buildup has provoked international concern that Russia plans to escalate the long-simmering conflict in the Donbas into a full-fledged war, leaving the United States and NATO scrambling to deter a potential re-invasion of Ukraine.  With both Russia and Ukraine making international headlines daily, and the conflict in the Donbas entering its eighth year, Meduza speaks to two journalists, one in Ukraine and the other in Russia, about how ordinary people in these two countries view the prospect of an all-out war. Timestamps for this week's episode: (2:29) Journalist and media manager Angelina Karyakina, head of news at UA:PBC and co-founder of the Public Interest Journalism Lab, answers questions about the mood on the ground in Ukraine amid the looming threat of increased Russian aggression. (19:36) Moscow-based freelance journalist Uliana Pavlova discusses her experience reporting on the complex question of how the Russian population views the Kremlin's brinkmanship. 
Save Meduza!https://support.meduza.io/enIn the past two weeks, Russia has demonstrated its capacity to project military power at different corners of its periphery, sending troops to Kazakhstan for a small but symbolic peacekeeping operation and pressing sweeping security demands in Europe, where the West has accused the Kremlin of plotting a war of aggression against Ukraine. The Naked Pravda reviews three essays by political analysts in Russia about the nation's evolving geopolitics and speaks to two experts about the events in Kazakhstan and changing dialogue between Moscow and Washington. Timestamps for this week's episode: (5:22) Reviewing National Research University Higher School of Economics International Relations deputy director Dmitry Novikov's January 9, 2022, essay on how many in Moscow already see Joe Biden as a lame duck president. (6:44) Reviewing Russian International Affairs Council director-general Andrey Kortunov's January 4, 2022, essay about the fundamental "discrepancies" today between Russian and Western worldviews. (9:24) Reviewing PIR-Center consultant Alexander Kolbin's January 12, 2022, essay on Russia's struggle against "self-censorship" and fight for a "legitimate basis" for its own "cultural, economic, and military expansion." (13:09) EurasiaNet Central Asia editor Peter Leonard answers questions about the CSTO peacekeeping mission in Kazakhstan and about how the nation's political system compares to Russia's. (25:44) Russia in Global Affairs editor-in-chief Fyodor Lukyanov discusses the logic behind Moscow's grievances in Europe and the tensions still escalating in Ukraine.
Save Meduza!https://support.meduza.io/enOn this week's show, The Naked Pravda looks back at some of the journalism and scholarly work in 2021 that made significant contributions to our knowledge about Russia. These nine articles feature incredible fieldwork, insights into how power works in Russia, and compelling stories that you might have missed over the year. Meduza spoke to the authors of three of these articles — Julia Ioffe, Pjotr Sauer, and Maria Danilova — and we asked historian Sean Guillory of The SRB Podcast for his five favorite scholarly books on Russia and the Soviet Union released in 2021. Timestamps for this week's episode: (3:15) "A Black Communist's Disappearance in Stalin's Russia: What Happened to Lovett Fort-Whiteman, the Only Known African American to Die in the Gulag?" by Joshua Yaffa (The New Yorker) (6:25) "Climate Change Is Melting Russia's Permafrost — and Challenging Its Oil Economy" by Ann Simmons and Georgi Kantchev (The Wall Street Journal) (8:58) "On a Pacific Island, Russia Tests Its Battle Plan for Climate Change" by Anton Troianovski (The New York Times) (11:51) "The Great Russian Oil Heist: Criminals, Lawmen, and the Quest for Liquid Loot" by Sergei Khazov-Cassia (RFE/RL) (15:47) "Inside Wagnergate: Ukraine's Brazen Sting Operation to Snare Russian Mercenaries" by Christo Grozev, with contributions from Aric Toler, Pieter van Huis, and Yordan Tsalov (Bellingcat) (21:48) "Lyubov Sobol's Hope for Russia" by Masha Gessen (The New Yorker) (28:05) Meduza speaks to Julia Ioffe about her story, "'These Bastards Will Never See Our Tears': How Yulia Navalnaya Became Russia's Real First Lady" (Vanity Fair) (45:22) Meduza talks to Pjotr Sauer about his investigation, "A Royal Mark Up: How an Emirati Sheikh Resells Millions of Russian Vaccines to the Developing World," coauthored with Jake Cordell and Felix Light (The Moscow Times) (54:07) Meduza asks Maria Danilova about her report, "Russia Has an Opioid Crisis Too — One of Untreated Pain" (Vice) (1:04:11) Sean Guillory discusses "Cold War Correspondents: Soviet and American Reporters on the Ideological Frontlines" by Dina Fainberg (1:10:09) Sean talks about "Utopia's Discontents: Russian Émigrés and the Quest for Freedom, 1830s-1930s" by Faith Hillis (1:14:05) Sean recommends "Navalny: Putin's Nemesis, Russia's Future?" by Jan Matti Dollbaum, Morvan Lallouet, and Ben Noble. (1:18:32) Sean recalls why he loved "Flowers Through Concrete: Explorations in Soviet Hippieland" by Juliane Fürst (1:22:05) Sean ends his list with "The Things of Life: Materiality in Late Soviet Russia" by Alexey Golubev (1:24:03) Closing remarks and a reminder to contribute to Meduza if you're not already doing so! "The Naked Pravda" comes out on Saturdays (or sometimes Fridays). Catch every new episode by subscribing at Apple Podcasts, Spotify, Google Podcasts, or other platforms. If you have a question or comment about the show, please write to Kevin Rothrock at kevin@meduza.io with the subject line: "The Naked Pravda."
Save Meduza!https://support.meduza.io/enThe lawyers and journalists who worked with the Team 29 project specialized in Russia's most hopeless political prosecutions — the treason case against journalist Ivan Safronov, the extremism charges against Alexey Navalny's Anti-Corruption movement, and dozens more indictments all but doomed to convictions. Earlier this year, the project was forced to disband after Russia's federal censor started blocking its website. In November 2021, the Justice Ministry designated Team 29's former members as "foreign agents" and many of those people subsequently fled the country. Valeria Vetoshkina, today's guest on The Naked Pravda, is one of those people.  Timestamps for this week's episode: (0:00) Filmmaker Alexander Sokurov lectures Vladimir Putin about Russia's "constitutional crisis" (4:23) Analysts and experts battle in op-ed columns and online over the right strategy in Ukraine (6:46) Moving closer into the Kremlin's orbit than ever, the social network Vkontakte gets new owners (11:02) The head of Russia's Federal Investigative Committee has no sense of humor and no patience for exoneration (13:21) Human rights lawyer Valeria Vetoshkina, a former member of the now dissolved Team 29 project, describes her education in law school and the state of her field in Russia today "The Naked Pravda" comes out on Saturdays (or sometimes Fridays). Catch every new episode by subscribing at Apple Podcasts, Spotify, Google Podcasts, or other platforms. If you have a question or comment about the show, please write to Kevin Rothrock at kevin@meduza.io with the subject line: "The Naked Pravda."
Save Meduza!https://support.meduza.io/enEarlier this week, events in space flirted with a real-life adaptation of Alfonso Cuarón's 2013 motion picture "Gravity" when the Russian military blew up an inoperative Soviet satellite that had been orbiting the Earth since the early 1980s. Moscow insists that the debris didn't get within 40 kilometers (25 miles) of the International Space Station, but NASA says the astronauts and cosmonauts aboard ISS were awakened early and ordered to retreat to their docked spacecraft in case an impact prompted an evacuation. U.S. officials say they've tracked 1,500 pieces of orbital debris caused by the Soviet satellite's destruction, but there are likely "hundreds of thousands" more smaller pieces that also endanger anything or anyone in their path. According to NASA, this trash will circle the Earth for decades, posing a constant threat to the operations of all spacefaring nations. Russia says the Americans are a bunch of hypocrites. To shed some light on Russia's weapons test, independent analyst and disarmament expert Pavel Podvig to returns to The Naked Pravda. Timestamps for this week's episode: (6:09) Standup comedy in Russia: reviewing Denis Chuzhoi's new special, and Vera Kotelnikova weighs the usefulness of speaking up for persecuted colleagues (10:17) Corruption news: Crimea arrests its potty-mouthed culture minister, Mediazona investigates two possibly wrongfully jailed police officers outside Rostov, and Novaya Gazeta unearths an honest judge in Chelyabinsk (13:47) Pavel Podvig joins the show "The Naked Pravda" comes out on Saturdays (or sometimes Fridays). Catch every new episode by subscribing at Apple Podcasts, Spotify, Google Podcasts, or other platforms. If you have a question or comment about the show, please write to Kevin Rothrock at kevin@meduza.io with the subject line: "The Naked Pravda."
Save Meduza!https://support.meduza.io/enOur main story this week is Russia's place in Europe's energy crisis. Political risk analyst Nick Trickett, the author of the OGs and OFZs newsletter, joins the podcast to explain what consumers want from Moscow, why being a "swing producer" is inherently political, and how inflation endangers ordinary Russians. Timestamps for this week's episode: (3:28) Law enforcement news: Hooded thugs disrupt a film screening at Memorial, and police arrest a prominent university administrator (9:46) Culture wars: Parents in St. Petersberg oust a biology teacher for using Instagram to share sex ed, and comedians in North Ossetia apologize in tears for a suggestive joke about "thigh pie" (13:48) Nick Trickett breaks down Russia's place in Europe's energy crisis, focusing on gas deals and inflation "The Naked Pravda" comes out on Saturdays (or sometimes Fridays). Catch every new episode by subscribing at Apple Podcasts, Spotify, Google Podcasts, or other platforms. If you have a question or comment about the show, please write to Kevin Rothrock at kevin@meduza.io with the subject line: "The Naked Pravda."
Save Meduza!https://support.meduza.io/enOur main story this week is the treason case against Ilya Sachkov, the 35-year-old CEO of the cybersecurity firm Group-IB. On Wednesday morning, September 29, hours after officials raided the company's Moscow office, a local court jailed Sachkov for the next two months, pending trial. That will likely be extended several times, as the authorities collect more evidence. The Naked Pravda explores why Sachkov may have been arrested and asks what his case means for Russia's cybersecurity industry and Moscow's troubled cooperation with the United States against cybercrime. Timestamps for this week's episode: (2:12) Developments in Russia's expanding regulation of "foreign agents" (7:57) A blogger's scandalous offense, plus RT enlists the might of Russia's federal censor in its battle with YouTube (13:00) Dr. Josephine Wolff, an associate professor of cybersecurity policy at the Tufts University Fletcher School of Law and Diplomacy (16:58) Dr. Julien Nocetti, an associate fellow at the French Institute of International Relations (19:45) RFE/RL journalist Mike Eckel "The Naked Pravda" comes out on Saturdays (or sometimes Fridays). Catch every new episode by subscribing at Apple Podcasts, Spotify, Google Podcasts, or other platforms. If you have a question or comment about the show, please write to Kevin Rothrock at kevin@meduza.io with the subject line: "The Naked Pravda."
Save Meduza!https://support.meduza.io/enEarlier this month, Moscow was one of just a few regions in Russia to offer electronic voting in three-day parliamentary elections. In the capital, multiple opposition candidates led in-person voting but ultimately lost when electronic votes were added late to the final tallies. In the week since the voting ended, the campaign teams for several losing candidates have compiled and presented evidence that they say proves voter fraud in the online ballots.  The Naked Pravda returns for its second season with interviews featuring economist Dr. Tatiana Mikhailova and BBC Russia reporter Liza Fokht in an episode devoted to assessing the opposition's claims of electronic voter fraud. The show begins with a roundup of news stories from the week (cases of censorship in Russia and commentary in the Russian media about life in the West). Dr. Mikhailova joins the podcast at 13:31 and Liza Fokht's remarks begin at 22:32. "The Naked Pravda" comes out on Saturdays (or sometimes Fridays). Catch every new episode by subscribing at Apple Podcasts, Spotify, Google Podcasts, or other platforms. If you have a question or comment about the show, please write to Kevin Rothrock at kevin@meduza.io with the subject line: "The Naked Pravda."
United States