Discover
The School of Greatness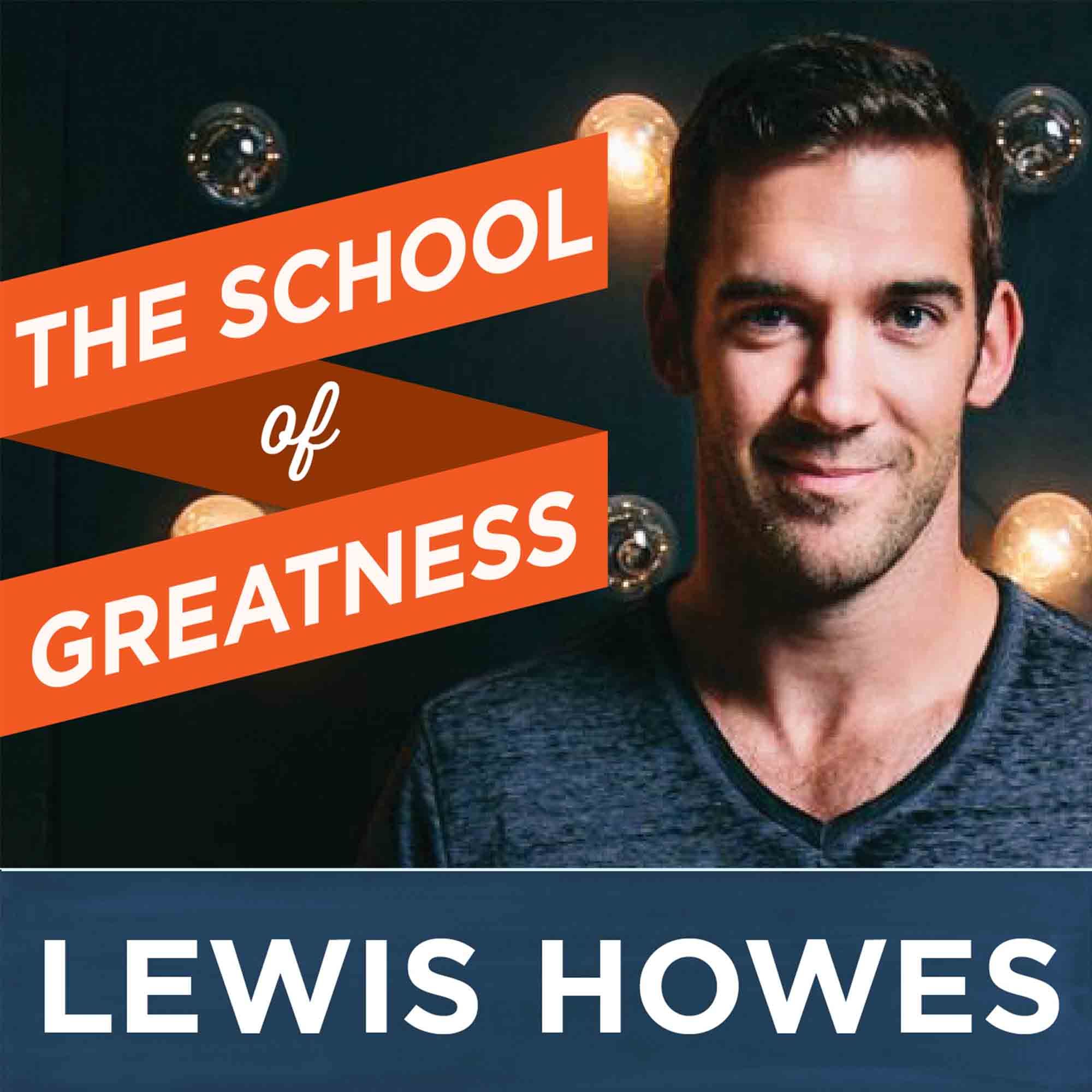 Claim Ownership
The School of Greatness
Author: Lewis Howes
Subscribed: 194,021
Played: 2,693,094
© All rights reserved
Description
Lewis Howes is a NYT bestselling author, Lifestyle Entrepreneur, former pro athlete and world record holder in football. The goal of the School of Greatness is to share inspiring stories from the most brilliant business minds, world class athletes and influential celebrities on the planet to help you find out what makes great people great.
YOU NEED TO TALK TO SOMEBODY. So many of us (especially men) are afraid to open up about what we're going through. We often don't even tell the people who are closest to us. For whatever reason, we think we have to suffer alone. But there is freedom in sharing your struggles. Whether it's depression, low self-esteem, or something like erectile dysfunction, you need to be able to tell your doctor. For this Five Minute Friday, I revisited a conversation I had with Bill Phillips where he talked about the importance of getting help for depression and other problems. Bill is the former Editor-In-Chief of Men's Health Magazine and the author of The Better Man Project. Learn how to talk to your doctor and confront your health issues in Episode 888.If you enjoyed this episode, check out the video, show notes and more at http://www.lewishowes.com/888 and follow at instagram.com/888
OUR THOUGHTS ARE DREAM KILLERS. The bigger the dream, the more fear you're going to have. But to grow, you have to take on new challenges. It's a real catch-22. I'm very curious about fear and self-doubt. In fact, I'm writing a book about it. In this new year, I want to challenge you to change the way you think about the things that scare you. I want you to start embracing difficult situations and stop letting yourself get in your way. Once you do, nothing will stop you. So how can we harness our thoughts so they start to work for us and not against us? On today's episode of The School of Greatness, I'm re-sharing a previous episode about facing fears with the creator of the "Five Second Rule:" Mel Robbins. Mel Robbins is the most booked female speaker on the planet with a 7 figure speaking business. Oh yeah, she's also a bestselling author, a former criminal defense attorney, a CNN commentator, happily married for 20 years, and a mom of 3 kids. But what I really fell in love with about Mel was her passion, energy, straight-talking truth, and beautiful vulnerability. I'm pumped to re-share Mel's incredible wisdom about how she overcame procrastination, fear, and low self-confidence after a devastating career blow and financial hardship. Get ready to laugh, cry, and learn how to master your thoughts to create extraordinary results on Episode 887.Some Questions I Ask:Once you mastered your thoughts, did you have no more fear? (13:30)When did you discover the 5 Second Rule? (16:34)What area of your life has the 5 Second Rule had the biggest impact? (38:22) Is there any area of your life that you still lack confidence in? (41:54)In This Episode You Will Learn:The definition of habits (the good and bad side of them) (7:19)Why it's so important to control your thoughts versus your feelings (11:56)What anxiety really is (15:45)How we make decisions (26:05)The neuroscience behind why the 5 Second Rule works (30:39)How to use the 5 Second Rule in business negotiations (37:45)What successful people do in their minds to keep moving ahead no matter how they feel (40:07)Plus much more…If you enjoyed this episode, check out the video, show notes, and more at www.lewishowes.com/887 and follow at instagram.com/lewishowes
DECLARE YOUR VISION. The end of the year is time to reflect on where you've been and where you're going. I'm using this episode to share my biggest lessons and regrets from 2019. One of the most significant changes for me this year was in my romantic life. I went from being in a relationship that wasn't working to being with someone who is a force multiplier in my life. I had to be aware of my relationship patterns to break them. Are you taking the time to investigate your past and envision your future? Or are you just going to work and coming home and putting on Netflix? It's time to wake up to your dreams. On today's episode of The School of Greatness, I talk about the 13 lessons I learned this year. This has been a year of transition for me, and I'm so happy with where I am right now. I've gone all-in on love. I can't wait to see what big things are around the corner. So get ready to learn the things I've learned this year on Episode 886.In This Episode You Will Learn:The top three episodes of the year (06:00)Why you need to kill your ego (8:00)How to invest in your closest friends (12:00)What I've learned from romantic relationships (20:00)The importance of mission statements (28:00)How I forgive people in my past (35:00)
IT'S NEVER GOING TO BE PERFECT. We all have this vision of the ideal life. We work hard and get everything done. All of our relationships are in great shape. We take time to exercise and eat right. But the truth is, there is no magical destination. And even if we reach that place, it could all be destroyed in an instant by one of life's famous curveballs. Instead of looking at balance like a happily ever after, look at it as something you constantly need to reevaluate and adjust. For this Five Minute Friday, I revisited a conversation I had with Jay Papasan where he shared his philosophy of counterbalance. Jay Papasan is the co-author of The One Thing: The Surprisingly Simple Truth Behind Extraordinary Results. He wants you to be purposeful about the way you spend your time. Learn how to tackle the myth of work/life balance in Episode 885.In This Episode You Will Learn:About work/life balance and if it's possible (02:00)Why balance is a verb, not a noun (02:30)How to counterbalance (03:00)If you enjoyed this episode, check out the video, show notes, and more at http://www.lewishowes.com/885 and follow at instagram.com/lewishowes
USE YOUR PAIN AS AN ARROW. None of us like to feel unpleasant emotions. Whether it's pain, anxiety, or stress, we numb them with food, alcohol, and overscheduling. But there's a lot we can learn from discomfort. Instead of drowning your feelings, get curious about them. Your envy can lead you to your passion. Your anxiety can show you your authentic self. And your pain might be asking you to comfort something in your past that is keeping you from your future. Unless we embrace where we're from, we'll never get where we're going. On today's episode of The School of Greatness, I talk with some of the most inspirational women on the planet: Elizabeth Gilbert, Rachel Hollis, Sarah Blakely, Glennon Doyle, Mel Robbins, and Lisa Nichols. Elizabeth Gilbert is the author of Eat, Pray, Love. Rachel Hollis is the bestselling author of Girl, Wash Your Face. Sarah Blakely is the founder and CEO of the massively popular women's apparel brand SPANX. Mel Robbins is the author of the 5-Second Rule. Glennon Doyle is the creator of the online community Momastery. Lisa Nichols is a bestselling author and motivational speaker. These women share their experiences in overcoming limitations from their past to become the powerhouses they are today. Like Elizabeth Gilbert says in this episode, if your only goal is to be at the very top, you're going to be disappointed. So get ready to learn from these vulnerable, powerful women on Episode 884.Some Questions I Ask:How do you follow your passion? (11:18)What's the biggest challenge for moms? (16:30)How did Oprah help you succeed? (25:00)How has the 5-4-3-2-1 rule helped you the most? (32:00)In This Episode You Will Learn:The danger of only wanting to be on top (10:00)Jackhammers vs. Hummingbirds (14:00)What causes anxiety (19:00)How Sarah went above and beyond for Spanx (24:00)How Sarah's dad encouraged her to fail (28:00)About the 5-4-3-2-1 rule (29:00)About the transformative yoga class Glennon Doyle took (37:00)How suffering is a choice, and what we can learn from pain (39:00)Why it's important to be non-negotiable (48:00)If you enjoyed this episode, check out the video, show ntoes and more at http://www.lewishowes.com/884 and follow at instagram.com/lewishowes.
IS YOUR PERSONAL BRAND MAKING YOU MONEY OR COSTING YOU TIME?The last time Rory Vaden joined the show, he shared some strategies we could use to create influential personal brands — insight that helped me shift the focus of my business and scale it to the next level.We hear a lot more talk about personal brands today than we did even just a year or two ago, but I still don't think people are acting seriously enough when it comes to establishing, scaling, or monetizing their brands.I am not exaggerating when I say there is no way I would be where I am today, personally or professionally, if I hadn't started getting strategic and intentional about branding over 10 years ago. And, as time goes on, personal branding is only getting more important — for all of us.Luckily, things are a lot easier for us today than they were for me back then. There are hundreds of successful personal brands you can model, online marketing tools are only getting more accessible and easier to use, and most importantly, we are being guided by one of the world's leading experts on influence.In today's episode of The School of Greatness, we discuss why personal branding isn't just a fad, why it's actually only becoming more important, and the five best ways you can start monetizing your brand today.Whether you're an entrepreneur, freelancer, or employee, pay close attention to this episode, because Rory brings the heat (again) and his advice will be transformative — if you take action. And if you're really serious about monetizing your personal brand, you can book a free brand strategy call with Rory's team.Let out a sigh of relief, because you're about to find clarity on how to monetize your personal brand and scale your business in Episode 883.Some Questions I Ask:Why is personal branding still so important? (7:57)What are the five best ways to start monetizing your brand (AKA how to get P.A.I.D.S.)? (16:46)How does someone know which of these five ways to monetize a personal brand is the best for them? (40:07)What is ONE thing that listeners can do now if they want to monetize their personal brand? (1:00:58)In This Episode, You Will Learn:How people become "Twitter rich but dollar broke" (10:20)How you can monetize your audience without ever selling something to them (19:20)What my personal branding journey with Rory looked like & what we did to make my business more scalable (28:50)The advantages and disadvantages of P.A.I.D.S. (40:30)Why "you need to make sure your influence doesn't grow wider than your character runs deep" (1:07:10)Plus much more...If you enjoyed this episode, check out the video, show notes and more at www.lewishowes.com/883 and follow at instagram.com/lewishowes
Own Your Pain
2019-11-2900:06:48
5
YOU CAN'T DISMISS PAIN. So many of us try to cover up our pain. We eat too much, buy too much, and drink too much in order to not feel anything. I used to avoid my feelings. I didn't have the tools to process heartache and loss so I found another outlet: inflicting pain on the football field. But pain doesn't just disappear- it will find another way of coming to the surface. For this Five Minute Friday, I revisited a conversation I had with Brene Brown where she explained how hate is just a mask for pain. Dr. Brené Brown is a research professor at the University of Houston where she holds the Huffington Brené Brown Endowed Chair at The Graduate College of Social Work. She has spent the past fourteen years studying courage, vulnerability, shame, and empathy and is the author of three #1 New York Times bestsellers – The Gifts of Imperfection, Daring Greatly, and Rising Strong. If you look at the world today, people are pointing fingers looking for someone to blame so they don't have to confront what's inside. We are much better at causing pain than feeling pain. Learn how to tolerate discomfort in Episode 882.In This Episode You Will Learn:How Brene thinks we can heal the country (2:00)The reason why people hate (2:30)How Lewis had trouble dealing with loss (03:00)The toxic type of leadership you need to be aware of (4:00)If you enjoyed this episode, check out the video, show notes and more at http://www.lewishowes.com/882 and follow at www.instagram.com/lewishowes
WE FEAR WHAT WE DON'T UNDERSTAND. The future doesn't have to be scary. You don't have to put your energy into building bunkers, hiding gold bars in the ground, and preparing for the end. The future can be full of possibility. There are so many exciting advancements happening in the fields of science, health, and space. But you have to change your mindset from fear to positivity. The world is magic. On today's episode of The School of Greatness, I talk about the future of health and technology with a transformative leader and visionary: Peter Diamandis. Recently named by Fortune as one of the "World's 50 Greatest Leaders," Peter H. Diamandis is the founder and executive chairman of the XPRIZE Foundation, which leads the world in designing and operating large-scale incentive competitions. He is also the executive founder of Singularity University, a graduate-level Silicon Valley institution that counsels the world's leaders on exponentially growing technologies. Peter repeats his "Massively Transformative Purpose" to himself throughout his day to give him focus. His passion is the key to his success. So get ready to get excited about the technology of the future on Episode 881.Some Questions I Ask:Isn't every generation going to be the best time in the world moving forward? (11:00)Have you ever doubted yourself? (33:00)Did anything shift in you when your boys were born? (41:00)Does the future make us dumber? (48:00)Is there anything missing in your life? (1:02:00)In This Episode You Will Learn:About your MTP, or "Massively Transformative Purpose" (17:00)About Peter's goals for longevity (23:30)The four keys to longevity (26:00)Three questions you can ask to help you find your passion (31:00)Why you should consider banking a placenta (54:00)The single most important skill everyone needs (1:11:00)If you enjoyed this episode, check out the video, show notes and more at http://www.lewishowes.com/881 and follow at www.instagram.com/lewishowes
SUFFERING COMES FROM SELF-OBSESSIVE THINKING. I used to be terrified to speak in public. I'd get nervous before getting in front of any kind of group. But then I trained in meditation and learned to switch my mindset. Instead of being so focused on me, I focused on being of service. Now, I love getting in front of a crowd. Once you connect to a purpose that is bigger than yourself, you can overcome the obstacles holding you back. On today's episode of The School of Greatness, I talk about the value of coming from a place of faith and service with a Democratic presidential hopeful: Tulsi Gabbard. Tulsi Gabbard is the first female combat veteran to ever run for president and the first female combat veteran ever elected to Congress, along with Tammy Duckworth. She has served for seven years on the Foreign Affairs, Armed Services, and Homeland Security Committees, where she's been intimately involved with sensitive, national security issues. Tulsi is an introvert who had to push herself to be the type of person who felt comfortable knocking on doors to share her message. Now she communicates her plan for the future on one of the biggest platforms in the world. So get ready to learn how to lead with love on Episode 880.Some Questions I Ask:What has been the most challenging lesson you've learned in the past year? (3:00)What has been the situation in your life that challenged your faith the most? (15:00)Did you always think you had a great calling? (19:00)Did you always think you were a confident person, or did you doubt yourself? (21:00)How do you prepare yourself for an interview where you might be under attack? (29:00)What are the non-negotiables in your marriage? (40:00)What is your greatest fear and your greatest Superpower? (54:00)In This Episode You Will Learn:The meaning of "aloha" (03:00)Tulsi's opinion of "cancel culture" (04:00)Tulsi's interesting multi-faith upbringing (04:00)How being in service to others can help with nerves (28:00)How meditation helps Tulsi resists the temptation of ego (47:00)What makes a great leader (51:00)If you enjoyed this episode, check out the video, show notes and more at http://lewishowes.com/880 and follow at instagram.com/lewishowes
MONEY IS A GREAT SERVANT BUT A BAD MASTER. Money can get a bad rap. You hear stories of people who worked so hard to get it, and it left them feeling unhappy. Some people even call it the root of all evil. But what if you used money as a tool for happiness? If you spend it wisely, it can help you have better health, better relationships, and more time for the things that fill you up. Instead of making money the problem, make it work for you. For this Five Minute Friday, I revisited a conversation I had with Gretchen Rubin where she talked about her research on happiness and money. She says that happiness, like money, should be something we observe in the good times and the bad. Learn how to improve your relationship with happiness in Episode 879.In This Episode You Will Learn:Why you need to think about happiness in the good times and the bad (2:00)How money relates to happiness (03:00)The difference between buying things and experiences (3:30)If you enjoyed this episode, check out the video, show notes and more at http://www.lewishowes.com/879 and follow at http://www.instagram.com/879
YOUR EGO NEEDS FEEDING. We all have addictions. Some of us know exactly what habits we need to break. Others don't even realize we're addicted to unhealthy patterns. Whether it's smoking, relationships, or simply being addicted to ourselves, we could all benefit from mapping out our habits to begin to understand them. It's important to foster our curiosity. If we can learn to investigate our minds the way we investigated our environment as children, we can begin to understand ourselves.  Sometimes it's our ego that we continue to feed. Other times it's a false sense of reward we think we're receiving from an old habit. Through mindfulness, we can learn to experience our habits as they are and not as we remember them. When we do this, we can begin breaking even our most challenging addictions. On today's episode of The School of Greatness, we discuss optimizing habits, breaking addictions, and transforming your life with one of the kindest addiction psychiatrists and mindfulness experts that I have ever met: Dr. Jud Brewer. Dr. Jud Brewer is the Director of Research and Innovation at the Mindfulness Center and associate professor in psychiatry at the School of Medicine at Brown University, as well as a research affiliate at MIT. As an addiction psychiatrist and internationally known expert in mindfulness training for treating addictions, Dr. Jud has developed and tested novel mindfulness programs for habit change, including both in-person and app-based treatments for smoking, and emotional eating and anxiety. So get ready to learn how mindfulness can free you from addiction on Episode 878.Some Questions I Ask:What was the hardest addiction for you to overcome? (11:05)What is the first thing people can do to self-assess themselves? (21:45)What are the 5 or 6 common addictions that most people have? (22:30)Are meditation and mindfulness the solution to everything? (36:00)Are there any addictions that you have not been able to overcome? (46:55)What's the difference between a habit and an addiction? (50:00)Is mental illness something that can be cured? (54:30)What is the difference between mindfulness and overthinking? (57:50)In This Episode You Will Learn:About the ego and how many people are addicted to themselves (13:25) How mapping out your habit loops can help you understand the truth about your experiences. (21:00)The power of curiosity (20:00) About reward-based learning (26:30) The science behind reward-based learning and how it helps us understand changing behavior (31:30) How to hack cravings with curiosity (34:30) How Dr. Jud's apps help you map out your habits and start your habit-breaking journey (42:00)About positive habits and when they become problematic (45:00) About the two types of curiosity (52:00) Why we continue to struggle so much when the answers are often right in front of us (59:00) The science behind the effect of true generosity, kindness, and connection on our habits (1:07:00)Plus much more...If you enjoyed this episode, check out the video, show notes and more at http://www.lewishowes.com/878 and follow at instagram.com/lewishowes
FIND YOUR STEADY STATE. We all hear it. The voice in our heads that tells us to quit or that we're not good enough. The goal isn't to eliminate the voice. Our job is to make sure we never give that voice any power. We must silence the doubt and maximize our belief. Whether it's physical training or business, when things are challenging learn to break things down into digestible pieces. Accept the discomfort and let it go. Keep your mind on your dreams no matter what. Do whatever you need to do to motivate, inspire, and strengthen your mind daily. Once you do, you will be complete and anything is possible. In today's episode of The School of Greatness, I talk about building a healthy mindset and the need for body, mind, and soul alignment with retired Navy SEAL veteran, competitive Ultrarunner, and business owner: Chadd Wright. Chadd Wright had a successful career in the SEAL teams serving as a Team Leader on multiple deployments as a SEAL instructor and Master Training Specialist. Retiring in 2019, he is now a part-time defense contractor, business owner, entrepreneur, competitive Ultrarunner, and husband. Chadd teaches us how to persevere through times and challenges. He has a fantastic story that will inspire anyone. So get ready to learn about focus, goals, and the power of the mind on Episode 877. Some Questions I Ask: What does "3 of 7" mean? (06:30)Tell us about your journey to becoming a Navy SEAL. (15:00)Why did you sacrifice your life for your dream of being a Navy SEAL? (24:25)How did it feel when the doctor-approved your Navy SEAL training after the heart procedure? (28:45)How do you manage your mind during tough times? (37:40)What was your main job as a Navy SEAL? (55:00)How do you deal with self-doubt? (58:10) In This Episode You Will Learn: Chadd's interesting story to becoming a Navy SEAL (07:00)How Chadd stayed true to his goal despite being told no (11:00)Why you should never let go of your goal. (21:20)The importance of breaking down challenges into small pieces. (34:20)Words we should and should not say to ourselves during tough times. (45:50)How to maximize your resources or tools to accomplish your mission. (01:01:26)The power of connecting and nourishing your body, soul, and spirit. (01:16:40)If you enjoyed this episode, check out the video, show notes and more at ww.lewishowes.com/877 and follow at instagram.com/877
IT'S NOT ALL ABOUT YOU. Many of us want to have an impact on this world. We want to be a positive force in people's lives. When we can take a step back and consider how our actions affect others, we can discover the joy in being of service. The way you deal with the people in your business and personal life is essential. Practicing the habit of service will increase the amount of happiness in your life and might also ripple out into your business. For this Five Minute Friday, I revisit a conversation I had with Shep Gordon, where he discussed why he is devoted to serving others. Shep Gordon was the manager behind mega-talents like Alice Cooper, Blondie, and Teddy Pendergrass and knew everyone who is anyone in the music and Hollywood business. He is also credited with creating the role of celebrity chefs through his work, bringing them into the spotlight. His fantastic career has led to both a documentary about his life (directed by Mike Meyers) and a recent memoir written about him, published by Anthony Bourdain. Shep Gordon thinks we could all enjoy the art of service when it comes to life and business. Learn about the power of serving others in Episode 876.In This Episode You Will Learn: The importance of service and focusing on others. (2:50)Building a brand based on happiness. (3:30)The importance of reinventing yourself. (4:30)How he found his passion for life. (4:55)If you enjoyed this episode, check out the video, show notes and more at http://www.lewishowes.com/876
LOVE THYSELF. Our wounds often rob us of the life we were meant to live. Many of us live with pain and regret. It becomes a vicious cycle. We have the power to break the cycle. You deserve to heal. You deserve to love yourself. It is possible to move through life as a healed person. There is no reason to live in pain. Your best life is waiting for you. All you need is the courage and commitment to make it a reality. On today's episode of The School of Greatness, I talk about what it takes to heal yourself, love yourself, and empower others around you with "The Millenial Oprah": Cleo Wade. Cleo Wade is a best-selling author, artist, mentor, activist, and poet. Her work reflects her spirit and her belief in the power to create change through self-love, commitment, self-care, and social justice. Cleo was named one of America's 50 Most Influential Women by Marie Claire. She sits on the board of The Lower East Side Girls Club, The National Black Theatre in Harlem, as well as the advisory board of Gucci's Chime for Change. So get ready to learn how to heal yourself and love deeper, wider, and bigger on Episode 875. Some Questions I Ask: How do we start to heal a wound? (3:55)How do we get to a place of deserving and feeling worthy? (10:20)What are the ingredients of a big life? (14:40)How does someone deal with self-doubt? (22:00)What's the most significant trauma you've had to overcome in your life? (27:37)In This Episode You Will Learn: Why everything is a habit. (2:20)That no matter what we've been through, we deserve our healing. (5:00)The importance of allowing yourself to have your dreams. (11:30)The difference between an opinion and a belief system. (22:00)How to prepare for moments where you'll need self-care. (25:00)How individuals dealt with someone being violent, disrespectful, or uncivil towards them during the civil rights movement. (35:45)Why men need to learn how to share their emotions. (40:00)If you enjoyed this episode, check out the video, show notes and more at http://www.lewishowes.com/875 and follow at instagram.com/lewishowes.
DREAM TO LIVE. Growing up in a dysfunctional household is tough. It can feel like you are in a nightmare. The only things that can keep you going day-to-day are your hopes and dreams. Jerry West has a fantastic story to tell. He's been through it all. Just like me and many others, he dealt with significant adversity as a child. He managed to persevere and achieve at the highest levels in spite of every difficulty. Dreams are the light that brightens your way in the darkness. Stop thinking of hardship as a detriment. Look at it as your extraordinary power. On today's episode of The School of Greatness, I talk about achieving and making it through difficult circumstances with an NBA icon: Jerry West. Jerry West is an author, executive, and former NBA basketball player. He is a basketball legend who played with the Los Angeles Lakers from 1960 – 1974. While with the Lakers, he won an NBA Championship and was named an All-star fourteen times. The NBA modeled its logo after Jerry West. After retiring as an NBA player, he became an executive and helped bring the 'Showtime' brand of basketball to Los Angeles. After leaving the Lakers organization, he worked as a general manager for the Memphis Grizzlies and as an executive for the Golden State Warriors. He currently serves on the executive board for the Los Angeles Clippers. So get ready to learn about achieving through adversity, the power of dreaming, and the importance of loyalty on Episode 874. Some Questions I Ask:How did you learn to build belief in yourself? (22:00)What role did your father play in your childhood? (23:30)How do you find your niche in life? (34:30)What was the greatest lesson you've learned from your father? (59:00)How do you build mental toughness? (01:01:00)What advice do you give to people who don't know how to dream? (1:09:00) In This Episode You Will Learn:How having a competitive spirit can help you achieve your dreams. (15:00)The importance of loyalty in business. (20:00)Why you should never give up on the quest to do something significant in your life. (25:00)About the three kinds of people: Fighters, Floaters, and Fleers. (39:00)Why everyone should always continue to dream. (01:09:00)If you enjoyed this episode, check out the video, show notes, and more at http://www.lewishowes.com/874 and follow at instagram.com/lewishowes
Simplify Your Sales
2019-11-0800:06:54
2
FALL IN LOVE WITH YOUR CLIENT. The world is full of people waiting to bring their incredible ideas to the marketplace. Many entrepreneurs first think about how great their idea is and how rich they'll get. Before you unleash your masterpiece to the world, take a moment to think about who your product is really for. Entrepreneurs often start with marketing and building business plans. Many don't make it as far as understanding the outcome they are trying to achieve. Start with the end. Start with the transformation and work backward. Learn to fall in love with your client, not your product. Once you know who you're creating for and what the outcome will be, everything else will fall into place. For this Five Minute Friday, I revisited a conversation I had with Darren Hardy, one of the most successful entrepreneurs I know. He shared his thoughts on the three biggest mistakes people make in sales. Darren Hardy is a successful entrepreneur, speaker, author, and publisher of Success Magazine. Learn about sales, business and how to find an audience for your project in Episode 873.In This Episode You Will Learn:The three grave mistakes people make about sales (2:00)How to simplify the sales process. (3:00)Why you should fall in love with the results you want for your clients. (3:15)Why you should start with the transformation. (4:25)If you enjoyed this episode, check out the video, show notes and more at http://www.lewishowes.com/873 and follow at instagram.com/lewishowes
PLAY THE LONG GAME. The cover of a book never tells the entire story. People often assume that successful people have had an easy life. Many, though, have persevered through extremely painful life events. Sometimes it takes accepting your reality in order to move forward. Sometimes it takes forgiveness. You will face setbacks and some of those setbacks might be tragic. Preparation and process can get you far. But sometimes you need to dig even deeper and release yourself from trauma in order to truly move forward. You will be tested. But keep going. Face your reality, follow your dreams and live with purpose. On today's episode of The School of Greatness, I talk about turning tragedy into triumph and living out your rock star dreams with an NFL superstar and elite magician: Jon Dorenbos. Jon Dorenbos is a former NFL long snapper football player. He played for the Buffalo Bills, the Tennessee Titans, and the Philadelphia Eagles. He also has a successful career as a magician. He has appeared on America's Got Talent and on The Ellen Degeneres Show. Jon is open about the difficult situations he faced in his life. But by choosing happiness, he has come out on top and is living his 'Rock Star' life. So get ready to learn about forgiveness choosing happiness on Episode 872. Some Questions I Ask:Can you tell us about your emotional and powerful life story? (8:35) Have you spoken to your father since the tragic incident? (24:40)When did you find peace and forgiveness? (41:00)What was the biggest lesson you learned from your dad? (50:20)What was your goal at that point in your career? (01:08:00)How did you find out that you needed open-heart surgery? (01:14:45) In This Episode You Will Learn:How an alter-ego will help you get through challenging times. (4:25)About the power of finding peace during a difficult time. (20:00)How to practice forgiveness. (41:00)Why you need to make smarter decisions when you have a family. (50:20) How to set goals that help you plan your life. (01:08:00)Why you need to avoid self-pity. (01:19:00)If you enjoyed this episode, check out the video, show notes and more at www.lewishowes.com/872 and follow at instagram.com/lewishowes
BE MILITARY MINDED. A lot of people think that leadership means having all the answers. Barking orders at your team, hoping they stay in line and obey. Pretending to know it all even when you don't. True leadership is understanding human nature. What if leaders accepted responsibility for any mistakes made on their teams? We have to stop thinking of leadership as a destination. It is a journey where we listen, learn, and strategize with our teams, not for them. It's not about ego; it's about humility, balance, accountability, and execution. In today's episode of The School of Greatness, I talk about the art of leadership with a retired Navy SEAL officer and a business consultant: Jocko Willink. Jocko Willink is a decorated retired Navy SEAL officer, author of the book 'Extreme Ownership: How U.S. Navy SEALs Lead and Win,' and co-founder of Echelon Front, where he is a leadership instructor, speaker, and executive coach. Jocko spent 20 years in the U.S. Navy SEAL Teams, starting as an enlisted SEAL and rising the ranks to become a SEAL officer. As commander of SEAL Team Three's Task Unit Bruiser during the battle of Ramadi, he orchestrated SEAL operations that helped the "Ready First" Brigade of the U.S. Army's First Armored Division bring stability to the violent, war-torn city. Task Unit Bruiser became the most highly decorated Special Operations Unit of the Iraq War. Jocko returned from Iraq to serve as Officer-In-Charge of Training for all West Coast SEAL Teams. There he spearheaded the development of leadership training and personally instructed and mentored the next generation of SEAL leaders who have continued to perform with great success on the battlefield. In 2010, Jocko retired from the Navy and launched Echelon Front with Leif Babin, where he teaches the leadership principles he learned on the battlefield to help others lead and win. Jocko has put together leadership principles that will help you become a successful leader. So get ready to learn the art of strategy and leadership on Episode 871.Some Questions I Ask:What did you learn when you took on the leadership role as a Navy SEAL? (09:00)How do you make sure that your intent is felt all of the way down the chain of command? (17:30)Do you have a mission and mantra for your company? (23:00)Is there a connection between leadership and human nature? (36:30)How important is feedback from your team? (52:00)What's the most important relationship we have in our lives? (1:10:30)In This Episode You Will Learn:The toughest challenges when becoming a Navy SEAL leader. (9:00)The most humbling moment on the battlefield. (11:45)How to take responsibility when you're in a big organization. (19:30)Why leadership is about understanding human nature. (36:30)Two things leaders can do to improve immediately. (54:00)How to handle yourself when your ego wants to respond. (01:00:10)How to take ownership of your decisions in life. (1:02:30)If you enjoyed this episode, check out the video, show notes and more at http://www.lewishowes.com/871 and follow at instagram.com/lewishowes
Fight for Fearlessness
2019-11-0100:06:17
6
DO YOUR JOB. If you want to be a leader, you must learn how to master your feelings. That is what life requires from leaders in any field. If you do not currently possess these characteristics, there are ways to acquire them. First, be honest with yourself. You need to take it one step at a time. You must be consistent and practice habits that will improve your confidence. Little by little, your self-confidence will grow, and your fear will take a back seat. Soon you will be able to handle any situation confidently and courageously. For this Five Minute Friday, I revisited a conversation with Captain Dale Dye, where he shared strategies to help eliminate fear and build leadership skills. Captain Dale Dye served in the US Marines for 22 years, he received 3 Purple Hearts for his injuries sustained while in Vietnam, and he dedicated a second career to bringing realistic depictions of war to Hollywood screens. Captain Dale Dye says that you need to conquer your emotions if you want to be successful. Learn how to face your fears and be a better leader in Episode 870.In This Episode You Will Learn:How to maintain your bearing and conquer fear. (2:30) How to stop thinking about yourself. (3:13)What you can do to get the job done. (4:05)The power of displaying confidence in any situation. (4:35)If you enjoyed this episode, check out the video, show notes and more at lewishowes.com/870 and follow at instagram.com/870
We want a direct path to success.  But the road is never straight.  What makes it special isn't just the destination but the journey that shaped us. Along the way, we discover ourselves.  We pick up skills and learn how to deal with our fears and emotions.  But the emotions that took us to the top often will not keep us there.  We must learn a new set of skills to maintain our success and go further.  In today's episode of The School of Greatness, I talk about dealing with anger, preparation, and the journey to success with a Hollywood star: David Walton. David Walton is a talented actor who rose to prominence on television and is well known for his role on the comedy series "New Girl" and for his character Will Freeman on the successful series "About a Boy." So get ready to learn about emotional growth, how to handle relationship conflicts, and mastering your emotions on Episode 869.Some Questions I Ask:Do you ever feel insecure as an actor? (21:30)Why do you think we hold on to anger and frustration? (27:00)What's the best part and the worst past about the acting business. (46:30How do you deal with your fear? (52:00)What questions would you ask Tom Cruise? (50:00)What advice would you give to actors who fear their work will be judged instead of appreciated? (55:00) In This Episode You Will Learn:The effects of alcohol on our behavior. (18:00)Why the destructive forces of shame and guilt are so powerful. (20:00)Why we all want to feel loved. (21:30)How to confront your partner or spouse in a relationship. (32:00)How to make it through the challenges of an acting career. (44:30)The importance of dealing with your fears. (52:00)If you enjoyed this episode check out the video, show notes and more at http://lewishowes.com/869 and follow at instagram.com/lewishowes
United States