Discover
The Underground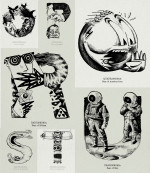 for scary season, the Youth Collective hosts the show on Phobias, things we're scared of, and things you are scared of! "ALPHOBIET 2019" by Nacho Gallego is licensed under CC BY-NC-ND 4.0
Sail to Change interviewLuna - ChelseaMaeve - InterhavenVirgil - how to make enemiesMika - Bonnie and ClydeThomas - Ignorance
Ideas about what is bad, movies, etcAlso, an interview with author Dylan Meconis about her book "Queen of the Sea" and with the group Passion Impact, not bad at all.....
We talk about World War Two Thomas gives a brief historyLes Bronin plays Leap FrongElizabeth tells us about the making of the Atomic bomb From the Portfolio of Pauline - Rumble Rumble RumbleMetallica - oneMaeve has another in her on going series INTERHAVENThe B...
Elizabeth - apocolypseVirgil - dramatic childhood where they thought everything was "the end of the world"International School of Beaverton - field trip and interview about animal rightsLuna - Chelsea PieceMaeve - Interhaven episodeTristain - apocolyptic music piec...
We study myths and legends, and have an interview with Alex Gino, author of GEORGE and  YOU DON'T KNOW EVERYTHING, JILLY P!
Credits:Luna - Chelsea PieceElizabeth - PoermTristain - the Lonliness epidemic in JapanRoya - it's a weird move to distance yourself from people when we already feel alone. why do we do it?  "Tiny helmet" by Carlos Scheidegger is licensed under CC BY-SA 2.0
The focus is on us, the KBOO Youth collective!Lots of vox pops on how we got here, what are our favorite pieces, and how you can join us!
United States