Discover
The Underground
The Underground: HUMOR
2020-01-23--:--
Umi and Luke interview folks from Hand2Mouth Theater about their project with Roosevelt High School Virgil reviews the 2010's Maeve brings us another episode of Interhaven Luna brings us another episode of Chelsea Stories Mika has a commentary on "Laugher as the Best Medi...
The Underground: YELLING
2019-12-26--:--
A philosophical debate on yelling Yelling for self defense the stand up Friends of the Children - a profile Yelling and Emotions
The Underground: FAMILY
2019-11-28--:--
Mika and Kai - Family Lore James and Andrew - College Possible Interview Virgil - Blood Family v Chosen Family Thomas - KBOO as a family Elizabeth - Fiction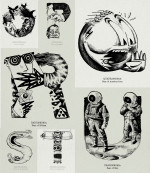 for scary season, the Youth Collective hosts the show on Phobias, things we're scared of, and things you are scared of! Luke - Scariest Thing that's happened to You? Vox Pop Mika - Profile on 2 phobias virgil - Thoughts on Fear Naimh -Systematic Desensitization Virgil...
Sail to Change interview Luna - Chelsea Maeve - Interhaven Virgil - how to make enemies Mika - Bonnie and Clyde Thomas - Ignorance
Ideas about what is bad, movies, etc Also, an interview with author Dylan Meconis about her book "Queen of the Sea" and with the group Passion Impact, not bad at all.....
We talk about World War Two   Thomas gives a brief history Les Bronin plays Leap Frong Elizabeth tells us about the making of the Atomic bomb From the Portfolio of Pauline - Rumble Rumble Rumble Metallica - one Maeve has another in her on going series INTERHAVEN The B...
Elizabeth - apocolypse Virgil - dramatic childhood where they thought everything was "the end of the world" International School of Beaverton - field trip and interview about animal rights Luna - Chelsea Piece Maeve - Interhaven episode Tristain - apocolyptic music piec...
We study myths and legends, and have an interview with Alex Gino, author of GEORGE and  YOU DON'T KNOW EVERYTHING, JILLY P!
Credits: Luna - Chelsea Piece Elizabeth - Poerm Tristain - the Lonliness epidemic in Japan Roya - it's a weird move to distance yourself from people when we already feel alone. why do we do it?     "Tiny helmet" by Carlos Scheidegger is licensed under CC BY-SA 2.0
The focus is on us, the KBOO Youth collective! Lots of vox pops on how we got here, what are our favorite pieces, and how you can join us!
We'll tell stories, there's a group discussion, and we'll talk about the whys and hows of stories we tell     "Rosita." by Guillermo Gedé is licensed under CC BY-NC-SA 2.0
The story BEHIND the story Elizabeth - how to writ a good back story for your characters Luna - Chelsea Piece Olivia interviewed her Dad, Brian Michael Bendis, an award winning comic book writer Nyrten did the monthly PUNishment Colin - planned obsolecence "juggling" b...
Stories of taking risks, and ideas of safety - and halloween music! We also feature an interview with Maya from Art-A-Thon.  The Art-A-Thon is a 12-hour art making extravaganza to change the world, and we're looking for students who want to participate by creating an origin...
We spend the hour talking about election day 2016, where people were, how they felt about the adults selling out our future, and all things that will define our generation for years to come   "" by Cherry Darlin' is licensed under CC BY-SA 2.0
Roya and Adora talk about how we're desperate for people to like us, What would you do for a Klondike bar what have desperate people been driven to? anxiety and depression   We're desperate. Get Used To It "IMG_7595" by MarcoLG1980 is licensed under CC BY-NC-ND 2.0
United States