Discover
The Zero Waste Countdown Podcast
David Rachelson is the Vice President of Sustainability at Rubicon Global and he works with businesses of all sizes, municipalities, and smart cities to find solutions to their waste. Rubicon Global is a technology company that powers a digital marketplace, provides a suite of SaaS products for waste, recycling, and smart city solutions, and collects and analyzes data for businesses and governments worldwide. Using technology to help turn businesses into more sustainable enterprises and neighborhoods into greener and smarter places to live and work, Rubicon's mission is to end waste in all of its forms by helping its partners find economic value in their waste streams and confidently execute on their sustainability goals. The company is a Certified B Corporation, affirming that Rubicon meets the highest standards of verified social and environmental performance. Through its technology, Rubicon is transforming the entire category of waste and recycling.Rubicon Global is headquartered in Atlanta, GA, and has core teams in New York, NY, San Francisco, CA, St. Louis, MO, and Tinton Falls, NJ. Rubicon has been named a Great Place to Work in 2018 and 2019 and was awarded as one of Glassdoor's "Top Ten Companies with Seriously Impressive Benefits" in 2018. David accepted an award in Davos on behalf of Rubicon Global in the Digital Disruptor category in 2017. Episode Music Credits: Open Those Bright Eyes Kevin MacLeod (incompetech.com)Licensed under Creative Commons: By Attribution 3.0 Licensehttp://creativecommons.org/licenses/by/3.0/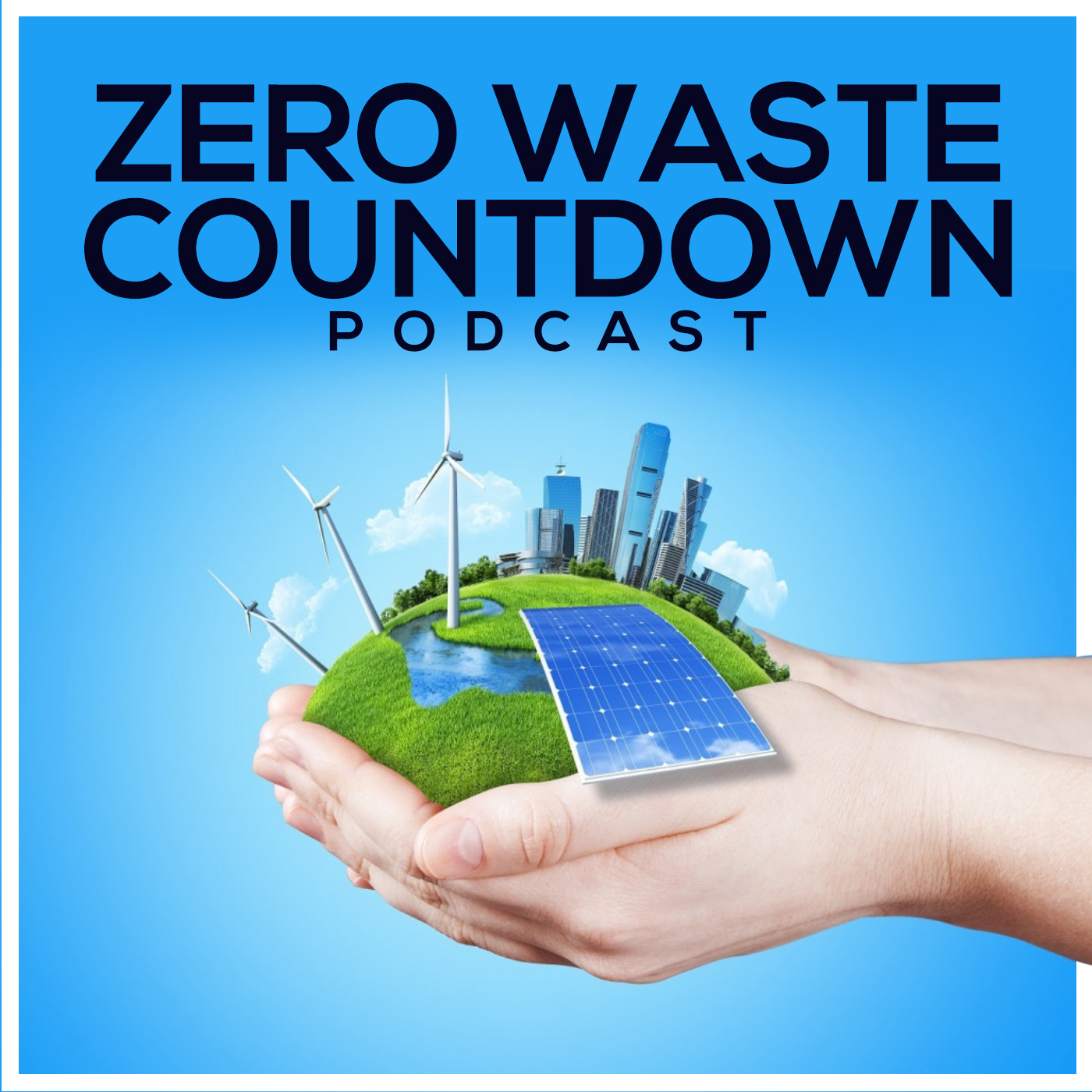 "Stop eating beef, you're killing the planet!" is a message we see nonstop. But is beef really killing the planet?Large factory farms have a negative impact on the environment and so do cattle grazing on burnt out rainforest so we know that a lot of beef production is harming the planet. But what about Canadian beef?Quinn Curran is a 4th year biology student at Queen's University who has a keen interest in nutrition and works for a naturopath. Her father, John Curran, is a sustainable family farmer located a few hours east of Toronto. His herd is part of a natural cycle that arguably benefits the land while providing nutrition with hardly any carbon footprint.This episode explores the other side of beef, the sustainable side, and discusses how beef farming, if done right, can actually be beneficial for not only people but for the planet too.
Fergus Moore joins the ZWC to talk all about his company Revive Eco that he founded with Scott Kennedy, in order to divert coffee waste from the garbage across Scotland. Coffee grounds are still rich in uses after they make coffee, and Fergus is working on a way to extract oils from used coffee grounds that could one day replace palm oil.
Have you ever seen a cyclist biking through the city in the dead of winter when there's snow on the ground and it's freezing cold? If you're from Ottawa, that might have been JP Torunski, an avid cyclist who also lives a zero waste lifestyle.
Deep in the Amazon jungle, scientists have found soil called terra preta, thousands of years old, made from human waste that's still fertile for growing crops today! Everything ancient civilizations used went into a midden heap after they were done with it - pottery, fish bones, food scraps, human waste - and then once it was burned, the midden created such valuable soil that it's still thriving at least 3,000 years later.What a different waste management system the ancients had, compared to our toxic landfills and incinerators of modern times. But, the ancients never had to deal with plastic.Biochar is charcoal made from organic matter instead of charcoal from fossil fuels, and it has some surprisingly valuable uses. Tom Miles is the Executive Director of U.S. Biochar Initiative, Chair of International BioChar Initiative, and the president of TR Miles Technical Consultants Inc., and he joins the show from Portland to talk all about biochar and healthy soils.If you're interested in building your own healthy soil this episode is for you!Ken Burns' Dust Bowl documentary on PBS  
Jocelyn Moroneaux has a bachelors in business and a masters in applied environmental science and has used both to create Waste Not Farms, a closed loop company collecting food scraps from offices in Toronto. Jocelyn brings the food scraps back to her farm north of Toronto and feeds all of it to her worms. The worms, in turn, eat the food scraps and excrete worm castings, a highly viable growing medium. Laura and Jocelyn discuss the worm business, detrimental farming techniques, microbes in soil, tilling vs. no tilling, ancient growing knowledge, and how to have a healthy garden soil. If you're interested in buying some of Jocelyn's Soil Booster, you can use the discount code Jocelyn gave us zerowastepodcast for 20% off soil booster bags and soil-aid tea bags. 
 Don't Skip The Dishes… EAT The Dishes!Marissa Bergeron lives in Vancouver and creates vegan soups and hot chocolate in cups we can eat afterwards.These aren't just any cups and bowls – soups are served in delicious bread cups people just can't get enough of.Plastic waste is a big problem that spans our entire planet – from Mt. Everest down to Marianas Trench, and everywhere in between. Marissa offers an alternative that happens to be delicious, vegan, and good for us and the planet.MUSIC CREDITS: Open Those Bright Eyes Kevin MacLeod (incompetech.com)Licensed under Creative Commons: By Attribution 3.0 Licensehttp://creativecommons.org/licenses/by/3.0/About P&G's Approach to Citizenship.
Do you want to help the environment but aren't quite sure what to do? Have you thought about starting a Zero Waste Group in your local community? Kristina Mattson is a nurse, mom, wife, and co-founder of the group Zero Waste Saint Paul Minnesota and she's been successful in passing packaging ordinance in her city, engaging with councillors, and hosting popular meetups for the zero waste community.Music Credits:Johnny Cash. (1964). Big River. Sony Entertainment.Open Those Bright Eyes Kevin MacLeod (incompetech.com)Licensed under Creative Commons: By Attribution 3.0 Licensehttp://creativecommons.org/licenses/by/3.0/About P&G's Approach to Citizenship.
Larissa Rose is the Director & Senior Environmental Consultant at Glowing Green Australia. She is a passionate advocate for environmental education, sustainability, renewable fuels, and environmental management across the country.  Larissa has spent extensive time advocating and engaging government, regional and rural communities, lecturing at universities and teaching at schools on the economic, social, health and environmental benefits of renewable fuels. She has led environmental education programs in Queensland schools, devised sustainability plans and environmental auditing for schools and companies nationally. Glowing Green Australia provides services for clients in environmental auditing, advisory for development approval applications, waste management plans, carbon impact assessments, sustainability plans, ecological reporting and facilitation and embedding environmental education programs into schools.Larissa has represented Queensland and Australia speaking on a numerous global conference stages from United Nations COP level, through to significant domestic speaking roles in Australia from public community forums to national conferences all within her respective knowledge themes. As Managing Director and Founder of the Queensland Renewable Fuels Association (QRFA), and the Senior Environment Consultant and Director of Glowing Green Australia, Larissa is evidently committed to delivering outcomes for industry and offers her drive to succeed, her practical and theoretical knowledge and experience to her industries.
Filmmaker Julia Barnes joins the ZWC for another episode to talk about her new upcoming film, Bright Green Lies. Her last film, Sea of Life, took Julia around the world to point out the mass extinctions currently happening in our oceans. In her new film, Julia exposes the myths that solar and wind will save us from climate change. 
United States