Discover
Uncolonized
Claim Ownership
Uncolonized
Author: The Chonilla Network
Subscribed: 63
Played: 904
© Copyright The Chonilla Network
Description
Uncolonized is a funny and blunt podcast about race, politics, and culture, from a Canadian perspective. Hosted by Comedian Gavin Stephens, and Writer/Musician Daniel Grant, Episodes drop every Monday. This podcast is part of The Chonilla Network. A podcast collective with content to make you laugh, think, and learn.
This week Toronto decided to remove a homeless encampment by force. We took a look at how our cities are becoming increasingly hostile for the poor and working-class. While real estate has replaced manufacturing as the primary only economic source in these metropolises. We also took a look at the neo-liberal CIA and military commercials designed to entice the young. This is the last episode of season 7, thanks again for listening and sharing the podcast. We'll be back in a few weeks to begin work on season 8.
This week we took a look at London Ont. terror attack, and why just being an ally isn't enough in this day and age. We looked at articles from co-workers of the terrorist, and even the 'Minster of racism' (as we called him) and his colour blind comments that got him booed at the vigil for the family who were the victims of the attack.
This week Gavin & Daniel discuss the recent discovery of the remains of 215 indigenous children at a Kamloops residential school. We talked about the church's response and the blame-shifting of the Canadian government. In the wake of the discovery of this tragedy many people in the indigenous community, may be dealing with not only grief but intergenerational trauma, the following is a list of resources and hotlines dedicated to supporting Indigenous people in crisis. 24/7 supports:KUU-US Crisis Line1-800-588-8717Indian Residential School Survivors and Family1-866-925-4419Mon – Fri, 8am – 8 pm PT:Weekends, 10 am – 2pm PT:Tsow-Tun-Le-Lum Society1-888-403-3123British Columbia ResourcesAboriginal Wellness Program604-675-2551 or 1-866-884-0888Canadian Mental Health Association - British Columbia Division1-800-555-8222HeretoHelp1-800-661-2121National Crisis HotlinesKids Help Phone1-800-668-6868Crisis Services Canada1-833-456-4566 or text 45645First Nations and Inuit Hope for Wellness Help Line1‑855‑242-3310
S07E07: Harriet Review
2021-06-0701:33:38
This week Gavin & Daniel Reviewed the 2019 controversial film, Harriet. We went a little long on this one, but we had a lot to say about this movie. Enjoy.Harriet Movie Wikkipedia https://en.wikipedia.org/wiki/Harriet_(film)Harriet is a 2019 American biographical film directed by Kasi Lemmons, who also wrote the screenplay with Gregory Allen Howard. It stars Cynthia Erivo as abolitionist Harriet Tubman, with Leslie Odom Jr., Joe Alwyn, and Janelle Monáe in supporting roles. A biography about Harriet Tubman had been in the works for years, with several actresses, including Viola Davis, rumored to star. Erivo was cast in February 2017, and much of the cast and crew joined the following year. Filming took place in Virginia from October to December 2018.Harriet had its world premiere at the Toronto International Film Festival on September 10, 2019, and was theatrically released in the United States on November 1, 2019, by Focus Features. It received generally favorable reviews from critics, who praised Erivo's performance and found the film sincere but formulaic, and was a moderate commercial success, grossing $43 million worldwide against its production budget of $17 million. The film received several accolades and nominations, particularly for Erivo's performance, which garnered her nominations at the Academy Awards, Golden Globes, and the Screen Actors Guild. For the song "Stand Up," Erivo and Joshuah Brian Campbell received Oscar, Grammy and Golden Globe nominations.
We explored the WEF (World economic forum) and their 'Great Reset' plan. Is it bad? Can it harm us? Is COVID really a distraction for the elite to take over?
This week Gavin and Daniel explored the individualistic nature of the self-help industry. We talked about the industries need to deny systemic issues as well as toxic positivity and MLM's
Kamala Harris is out here telling the world, that America isn't a racist country. We handled it this week
This week's episode Gavin and Daniel review the Disney + series The Falcon and The Winter Soldier, starring Anthony Mackie and Sebastian Stan.
This week Gavin & Daniel discussed black victims of police brutality and the inevitable negative campaigns against their characters after their deaths.
We're back for season 7. This week we discussed the Ford government's threat of police action in regards to COVID lockdowns, and how it affects marginalized communities.
We took a look at the Atlanta shooting that happened a couple of weeks ago. We also talked about Canada's rise in anti-Asian hate, and what we need to protect our elderly.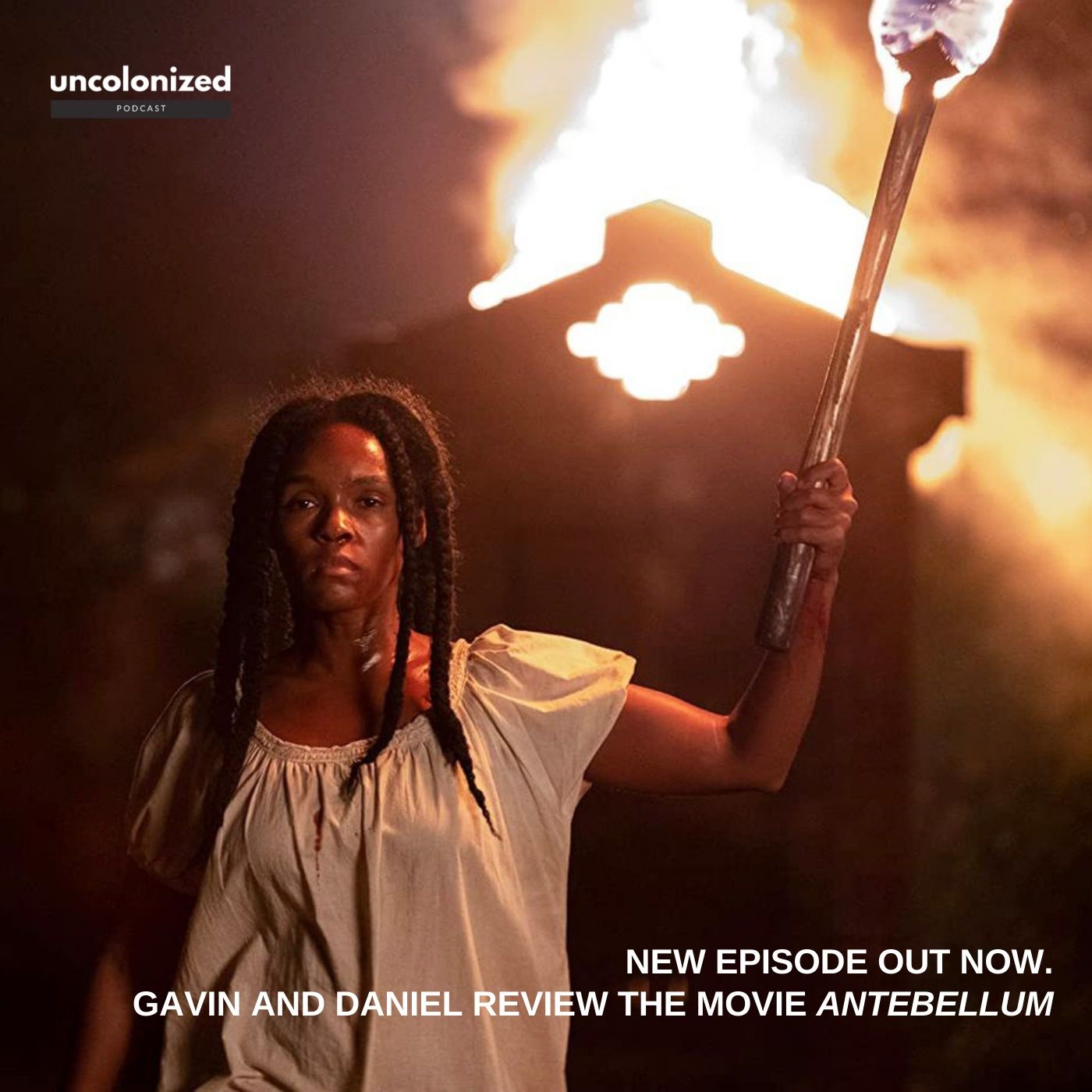 S06E09: Antebellum Review
2021-03-2201:11:59
We watched the Antebellum, so we could share our thoughts on the film Antebellum is a 2020 American thriller film[5][6] written and directed by Gerard Bush and Christopher Renz in their feature directorial debuts. The film stars Janelle Monáe, Eric Lange, Jena Malone, Jack Huston, Kiersey Clemons, and Gabourey Sidibe, and follows an African-American woman who finds herself in a Southern slave plantation and must escape. -Wikkipedia
Gavin and Daniel discuss the city of Toronto's court order to stop carpenter Khaleel Seivwright from building tiny shelters for unhoused people
This week we took a look at Digital Black Face. We had an interesting conversation on this unique phenomenon from the internet age.
On this episode of Uncolonized, Gavin and Daniel looked at the fallout from Hamilton School trusties silencing student trustee Ahona Mehdi. She claims they made anti-black and anti-muslim comments, and we here to call out systemic racism when we see it.
This week Gavin & Daniel reviewed the Steve McQueen anthology series Small Axe (Amazon Prime)Small Axe is a British anthology film series, created and directed by Steve McQueen. The anthology consists of five films which tell distinct stories about the lives of West Indian immigrants in London from the 1960s to the 1980s.[1] Two episodes of the series were selected in the official competition of the 2020 Cannes Film Festival. The series premiered on 15 November 2020 on BBC One in the United Kingdom and on 20 November 2020 on Amazon Prime Video in the United States.[2][3][4] The title references a proverb – "If you are the big tree, we are the small axe" – that was popularised by Bob Marley in his 1973 song "Small Axe". - Wikipedia
Gavin and Daniel wanted to talk about black capitalism, and liberalism and how it affects the movement. So they did. You're welcome.
It seems some people on the Left don't know their fasc(ist). So this week Daniel and Gavin, broke down this group and why we can't trust them.
Actress /Director Michelle Latimer is another white person claiming to be indigenous. Gavin and Daniel take a look at his phenomenon and break down why neoliberal institutions like the CBC love surface level idpol.
Well, it went and happened. The grocery store ran out of hummus and white people stormed the capital. I kid. Seriously though this week on our Season Six primer, Gavin and Daniel discuss (finally) the US capital riots, and what it means for that country.
United States