Discover
nerdfest Podcast: Movies, TV, Trivia and Fun!
Claim Ownership
It's buff or bluff time! Can you work out the truth from the nerds' devious lies? Topics today include method acting in boxing films, the incredible career of Frances McDormand, and the life and times of Stanley Kubrick. Plus sometimes the truth is stranger than fiction, as Peter investigates real life espionage activities for his Buff or Bluff. Stay tuned for Andy's fun quiz at the end: guess the movie title from two clues in one!
129: Disappointing Shrinkage
2023-03-0501:02:57
It's reviews and recommendations time! We cover the start of Marvel Phase 5: 'Ant Man and the Wasp: QuantumMania'. Plus, 'Our Flag Means Death' has finally made it to these shores, much to Dan's delight. Peter reviews 'Extraordinary'. Jon revels in Blumhouse's latest horrifying creation, 'M3GAN'. And Hazel tells us why 'Till' should be winning all the awards. Speaking of awards, Hazel's got her hats out! It's time for our annual Nerdfest Oscars Sweepstake. But this time, all rules have been thrown out the window…. (An apology to our listeners as we did indeed get the date of the Oscars ceremony wrong! We were a week early :))
128: Sherlock Clones
2023-02-1956:36
It's time to lie to our closest friends again, as we play our Buff or Bluff quiz. Can you work out the truth from stories about the entertainment industry? Rounds include facts about re-used props in movies, the ridiculous diets that some stars undertake to prepare for a role, Sir Christopher Lee's record breaking antics, and the weird and wonderful guest appearances of Sherlock Holmes. Plus, Hazel gets us all excited for Greta Gerwig's upcoming Barbie film, by befuddling us (and herself) with the elaborate plots of previous Barbie outings. We round today's episode off with a "Higher or Lower" game of how many times movie stars have died in their movies. It's a really fun one folks - enjoy!
Dan discusses the similarities between Spielberg's mostly autobiographical 'The Fabelmans', and Terry Pratchett biography 'A Life with Footnotes'. Andy conducts a TARiffic review of 'Tar' (sorry, the puns don't get any better….). Jon reviews post-apocalyptic zombie thriller 'The Last of Us' (as an avid fan of the game, will he be converted?) Hazel recommends 'This is Us'. which she accidentally stumbled across when looking for 'The Last Of Us' and has completely fallen in love with. And Peter reviews the Gary Oldman MI5 thriller series "Slow Horses", with apologies in advance to our Slough-based listeners…
Jon, Ian, Andy and Peter riffle through the dusty attic of Ian's brain, attempting to find at least ONE thing he actually enjoyed over the past few weeks! We also play Buff or Bluff about early TV music shows, dodgy 80's computer game licences, famous actors' debut performances, and some ridiculously terse movie plotlines- Can you beat the team to guess which movies they describe?
It's the first Nerdfest of 2023, and Jon, Peter, Kerris and Dan have each been making 'most anticipated' lists of the stuff we're hyped for in '23. Adam Driver fighting dinosaurs! 'The Last Of Us' on TV! The return of Ghostface! A "fourth" Indiana Jones movie! And something about 'Groundhog Day'… What's on YOUR "must see" list? Get in touch and let us know!
It's our end of year show! Today our nerds - Peter, Jon, Hazel, and not one but TWO Ians, are all counting down our top 3 favourite things from the world of entertainment in 2022. It can be films, it can be TV shows, it can be games, it can be anything! So join us as we reminisce over what brought us joy in 2022. (Although, we do have to issue a warning- We start on an extremely controversial note, but the only way from a 'Moonfall' is up!) We wish all our listeners a fantastic Christmas. We'll see you in January with our countdown of what's coming in 2023.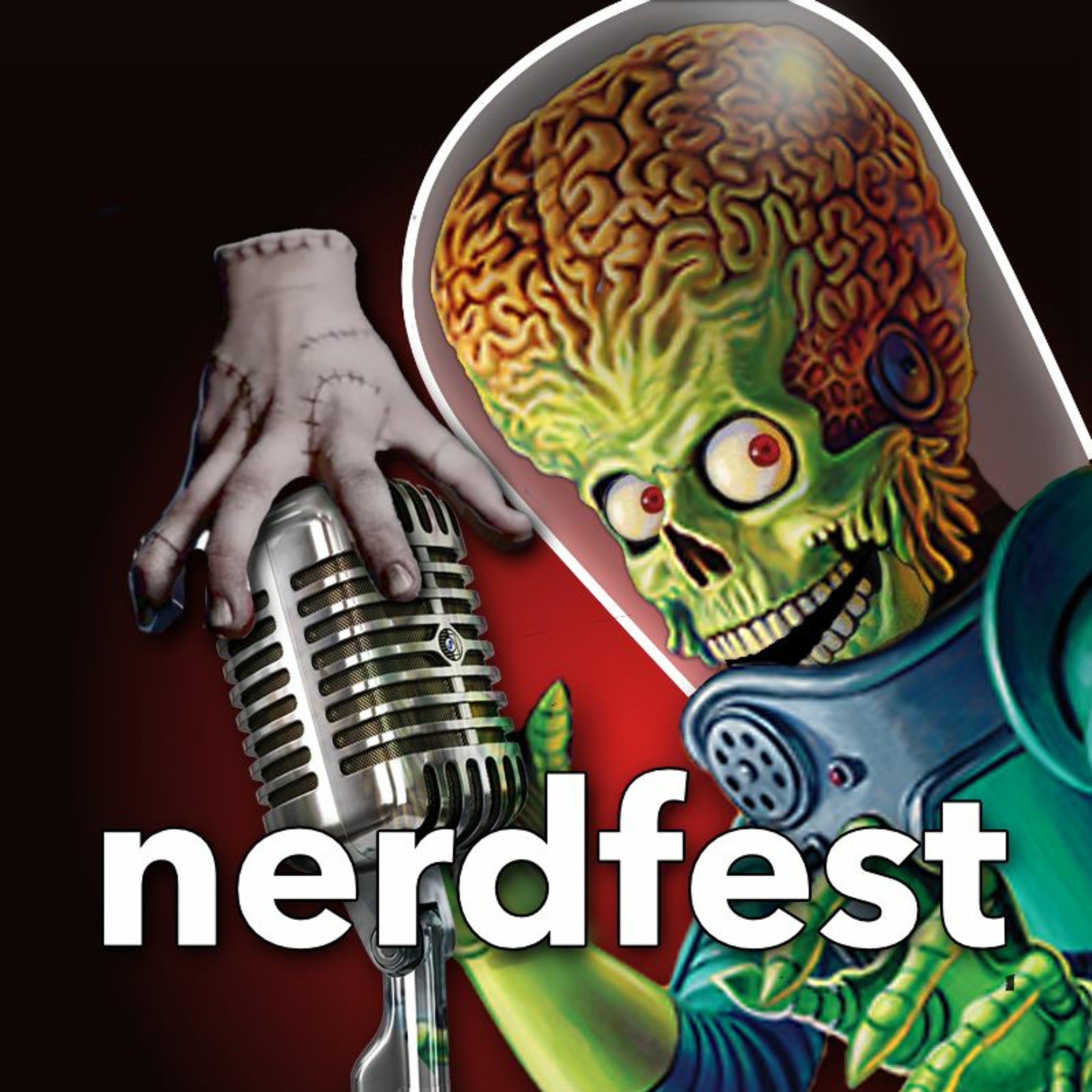 123: Finger Food
2022-12-0459:07
We bring new reviews and recommendations, including the return of Benoit Blanc in 'Glass Onion', the onscreen adaptation of 'Matilda the Musical', and a TV show all about everyone's favourite day of the week: 'Wednesday' ( the new series charting Wednesday Addam's school years). Dan talks about his love for 'Andor', as he reflects on what this series has meant to him (no spoilers if you haven't finished it yet!) Plus, we finally give in and let Jon review a new 'Hellraiser' film. Strap yourselves in!
We give our initial, spoiler-free thoughts on the latest offering from the MCU- 'Black Panther: Wakanda Forever.' Plus, in our Buff or Bluff quiz we have rounds on terrible films inspired by Alfred Hitchcock's 'The Birds', and the life and career of the T1000 himself, Robert Patrick. We also delve into some political history, with facts about the movie-watching habits of US presidents, and Jon brings his special blend of nonsense with trivia about the Amityville horror franchise. And we have the return of our 'Getting to Nerd You' segment, where we reflect fondly on some of our favourite movie-going experiences. Here's the crowdfunding link for Boho Arts that we talk about at the beginning. Thank you! https://www.spacehive.com/help-a-new-arts-venue-in-newcastle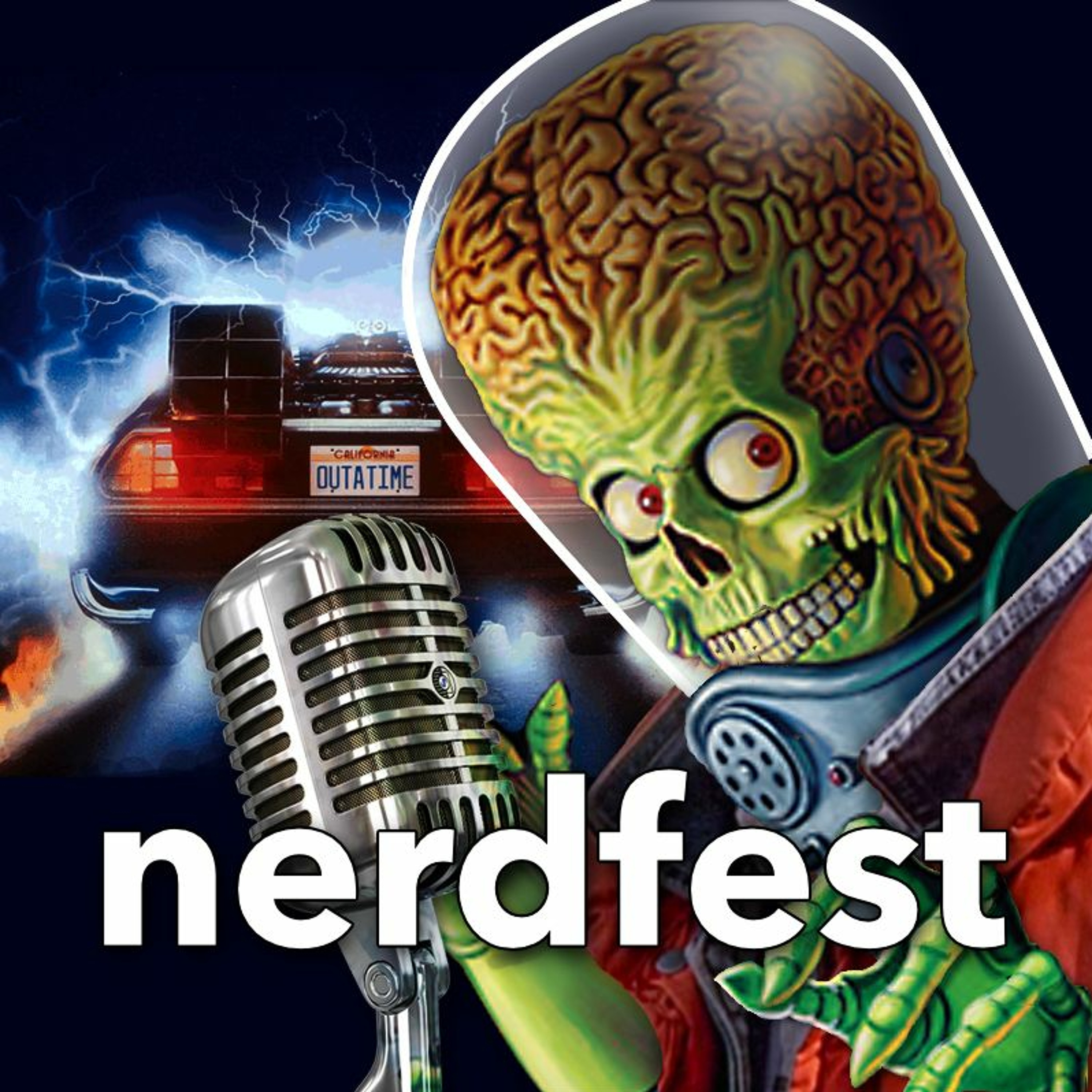 121: Martian McFly
2022-11-0657:48
We review the TV shows and films we've been enjoying recently, including Brendan Fraser's welcome return in 'The Whale', Korean Hitchcockian thriller 'Decision to Leave', Stephen Moffat's new drama 'Inside Man', and we head back to the Quick Stop Convenience store with Kevin Smith's 'Clerks 3.' Dan went to "that London" recently and saw 'Back to the Future: The musical'- his review has us all reminiscing about the 1985 classic, and unfortunately also inspires Jon to come up with some alternate musical ideas… Plus, Andy has a fun film quiz for us all at the end of the episode, which sees us try to guess the film titles from their adapted synopsis.
We're live and direct from Newcastle Fright Fest this episode, as Hazel, Jon, Peter and Ian pod in public to fill a Shameful Gap of 'A NightMare on Elm St'. We also Buff or Bluff each other about the wide range of Freddie tat to accompany that series, some implausible film festivals, the worlds crappiest superheroes, and historically bad movie reviews.

 Jon interviews Simon Donald (http:/simondonald.com), one of the founders of 'Viz' comic at the show, and the team disentangle some tortuous puns with a Change A Letter quiz.
In today's episode we give our first reactions to the newest Star Wars TV show on the block, Andor (that Squeeeeeeeee you heard was courtesy of Dan Watkins). Then it's Buff or Bluff time, where the nerds have to work out the truth from facts about Hollywood script doctors, franchise monsters in space, film dancers and dances, and Marvel theme park attractions. Plus, Andy has three plots for movies with tenuous links to whales, in honour of the wonderful Brendan Fraser and his return to leading man status in "The Whale". And finally, if you're in the area, come and see the nerds podcast LIVE on Sunday 9th October at Newcastle Fright Fest. We'll be recording a live episode, as well as interviewing lots of interesting guests. If you're coming, please come along and say hi - full details can be found at https://www.boilershop.net/events/2022/10/09/nerd-fright-fest-2022
118: Thor Loser
2022-09-2455:19
In this recommendations episode we discuss alternate history drama "For All Mankind" as well as off-the-wall dark comedy "The Baby". We also bow down once again to the legendary Sir David Attenborough with the release of "Frozen Planet 2." And as "Thor Love and Thunder" has now arrived on Disney Plus, Jon leads a spoilerific discussion about the Asgardian's latest (mis)adventure. Plus, it's that time again where one our lovely nerds gets one of their "Shameful Gaps" heroically filled. One of us has never seen John Carpenter's "The Thing" so recently watched it for the very first time, and is here to tell the pod world what they thought.
Buffs! Bluffs! And…patio advice? Today's episode takes us into Nintendo's naughty past, and the nuances (or lack, thereof) of Buck Rogers in the 25th Century. We also go behind the scenes of "Tremors", and Hazel has some wonderful facts (and one bluff) about Ed Kramer- iconic visual effects supervisor at ILM. We also give our initial thoughts on "Rings of Power" (we're divided on this one) and "The Offer"; which tells the story of the making of The Godfather. Plus, if you need any patio advice, or will do in the near future, Peter has you covered!
For this recommendations special we chat about the films and TV shows that captured our attention this week, including early impressions of "She-Hulk" and "House of the Dragon". Our personal picks include Jon's review of 'Sandman', a show he's waited desperately for for over 30 years. Does it live up to his dreamy expectations? Peter discusses 'Prey', Disney Plus' ambitious Predator prequel, and Hazel enthuses about 'Bad Sisters', a Sharon Horgan-led comedy drama whodunnit series on Apple Plus. Andy gets passionate about Netflix's 'Stay on Board: The Leo Baker Story', and finally Dan asks us to lower our inhibitions and hear about Jermaine and his two Clements, in 'Nude Tuesday' – leave it to Dan to lower the tone….
We recorded this episode in the evening for a change, and that inspired us to take a…well, slightly different tone… We have a portly-proportioned amount of nerdy trivia in this episode, as our Buff or Bluff quiz explores MCU character origins, films which were altered post-production, a box office bonanza from Peter, and tales from Schitt's Creek. Plus, Hazel has a very fun quiz for her 3 little pigs, as she has altered the synopses of many a much loved film. The nerds have to change one letter in the movies' title as a result. Come on - who wouldn't want to watch a film about a cyborg assassin that is sent back in time to give someone a curly hairstyle popular in the 80s? Goodnight listeners, and we hope that wherever you are, you're feeling smoooooooooth.
We're back after our summer break, and we start our show by revelling in all the glorious nerdness that was announced at the San Diego Comic Con. Then it's recommendations time. Dan has always wanted to be a cat (because a cat's the only cat that knows where it's at) and he finally gets his chance with new game 'Stray'. Peter howls about new Prime TV show 'Wolf Like Me', starring Isla Fisher and Josh Gad. Meanwhile Jon commits some 'Crimes of the Future' as he had the opportunity to watch David Cronenberg's latest (hear why Dan, "Couldn't be more out.") And finally Hazel gets all shook up by Baz Luhrmann's 'Elvis', a film she couldn't help falling in love with.
We're all shook up this week, as Andy, Hazel, Dan, Peter and Ian test each other in a round of Buff or Bluff fit for the King! Andy puts on his blue suede shoes for some Elvis Presley trivia (TREASURE APE!), while facts about George Clooney are always on Ian's mind. We also feature the return of Shameful Gap: when one of our nerds had never seen the 90s classic Cool Runnings, they realised it was now or never, and jumped in their Disney+ bobsleigh to right that wrong. A little more conversation AND a little more action, please? That's us! Thankyouverymuch, Nerdfest has left the building. TREASURE APE!
Never mind the bollocks, here's another Nerdfest episode! It's recommendations time, as our own rotten Jon discusses Danny Boyle's new limited TV series 'Pistol'. Ian Mayor is back with us on day release from The Void. He and his wife have been watching 'The Flight Attendant Season 2'; a Hitchcockian style dark comedy, and he's here to talk about why you should be watching it too. Peter reviews new sci fi series 'Night Sky', starring Sissy Spacek and J.K Simmons, who discover a portal in their backyard leading to another planet. And since Hazel has been AWOL with Covid n that, she has a trio of recommendations of things she's been watching whilst under the weather - 'Top Gun: Maverick', 'The Time Traveller's Wife' ("I'm going to bat for it because no one else will") and new Netflix series 'The Lincoln Lawyer.' May the anarchy commence.
This time Jon, Andy Peter and Ian Mac try to Bluff each other with "facts" about anthropomorphic appliances, random stories including Ryan Reynolds' day job, the unlikely dark endings of some nineties sitcoms, and the many bizarre things which movies got retitled in other countries. And our nerds have also been feeling the force of the new "Obi Wan Kenobi" series on Disney+.
United States