Discover
Tumble Science Podcast for Kids
Tumble Science Podcast for Kids
Author: Tumble / Gen-Z
Subscribed: 10,414
Played: 26,514
© All Rights Reserved 760770
Description
Exploring stories of science discovery. Tumble is a science podcast created to be enjoyed by the entire family.
Hosted & produced by Lindsay Patterson (science journalist) & Marshall Escamilla (teacher). Visit www.tumblepodcast.com for more information and educational content.
This is the last episode of Season 4, but stay tuned for our special summer lineup! We'll be back for Season 5 in fall 2019.Why are butterflies so colorful? That's what Zed, from The Petit Punk Podcast, wants to know. So we went on a family podcast field trip to the Museum of Natural History in Paris, where we met Zed, his mom Dana, and a butterfly scientist named Marianne Elias. Come with us as we visit the museum's private "butterfly library," and find out why some butterflies are toxic! Plus, we'll learn why Marianne climbs trees when she's not in her office. Also, a special original butterfly song from Dana & The Petit Punks!Love Tumble? Supporting us on Patreon is a great way to show it! Pledge at patreon.com/tumblepodcast. $5 a month gets you a shoutout and birthday greeting on the show, plus special messages from Lindsay & Marshall! Just $1/month gets you our bonus interview episodes featuring scientists on the show.Don't worry, summer birthdays - we'd never forget you! (One of us has a summer birthday, so we know how it can be.) Listen for your shoutout airing across ALL episodes this summer.
Why are hurricanes so powerful? Every year, monster storms develop in the Atlantic Ocean from June until November. It seems like they come out of nowhere. But scientists are working to predict them months, years, and even decades before they start. We'll discover what makes hurricanes so destructive, and why they might become even more intense in the future. Might it have something to do with gnomes that ride on hamsters? Listen and find out!To hear more from our interview with Suzana Camargo, listen on Patreon or our Castbox premium channel! It's just $1 to sign up at patreon.com/tumblepodcast. New patron and birthday shoutouts will be coming at our $5 Patreon supporters all summer long, even while we're on break, as well as special blogs and updates.We have free educational resources on the science of hurricanes on our blog at sciencepodcastforkids.com.Think others should know about Tumble? Leave us a review on Apple Podcasts or spread the word any way you like!
How does a country start its own space program? Come with us to Ireland to find out, and meet one of the students whose childhood dreams of launching a satellite are about to come true. Lana Salmon is part of a team from University College Dublin building Ireland's first-ever satellite. We get to step inside the lab and learn what it takes to design, engineer, and launch experiments into space. Want to learn more about EIRSAT-1? Visit our website at sciencepodcastforkids.com for great educational materials. We'll have more from our visit and interview with Lana on our Patreon and Castbox Premium Channels. Subscribe at patreon.com/tumblepodcast. Our episode is brought to you this week with help from Pact, which makes super-soft organic clothing for kids. Use code TUMBLE at wearpact.com for 20% off your first apparel purchase.
Why do seals have whiskers? Listener Karah's question dives into the wonderful world of whisker science. Robyn Grant, a self-described "whisker biologist" shares her discoveries of how whiskers work, from training a friendly seal named Moe to making slow-mo movies of super speedy "whisking." (You will find no cuter field of research… but if you do, tell us about it!) Listen to learn about humans' hidden whisker muscles and find out to rank whiskers like the pros!Want to learn more about whisker science? We have more from our interview with Robyn on our Patreon podcast feed! Subscribe for $1/month at patreon.com/tumblepodcast. You can also tune in on the Castbox podcast app by tuning into our Premium Channel.Find more whiskery educational resources on our blog, at sciencepodcastforkids.com.
Meet Ana Humphrey. She hasn't graduated from high school yet, but she's already discovered 560 places outside our solar system where we could find hidden planets. Ana won the 2019 Regeneron Science Talent Search with her project that used a mathematical model to pinpoint locations for exoplanet search parties. But Ana's story is more than a successful science fair project. Find out how Ana's love for science, math, and making a difference in her community helped her become a high school astronomer!You can hear our full interview with Ana on our Patreon and Castbox Premium channel. She has a great perspective to share on how science and math can be used to understand the world - and more on how her early concern for the environment helped lead her into space. Pledge now at patreon.com/tumblepodcast. A $1/month donation gives you access to all our bonus audio!Here are this week's new $5+ Patrons: Brynlee, Elijah, Nehemiah, Azariah, Lena, Izzy, Sevy, and Alex. Happy birthday to Anlin and Oren Mack, Ben (aka Benny Boo) Lena, Izzy, and Harley! For more, check out the blog on our website at sciencepodcastforkids.com.
How do cheetahs get their super speed? We talk to a cheetah scientist to find out why a spotted cat is the fastest animal on Earth. Cheetahs are literally built for speed! Anne Hilborn spent months scoping out cheetahs on the hunt in the grasslands of the Serengeti. We'll discover how cheetahs' incredible speed is linked to their survival - and what they do when being fast isn't enough. ****On our special bonus interview episode - available to our Patreon & Castbox supporters - Anne shares the amazing story of how being photographed while dropping cheetah poop on herself became both her most embarrassing and her proudest moment. Photos on the blog! Pledge at patreon.com/tumblepodcast. Only $1/month gets you double the Tumble, and $5/month comes with a shoutout on the show, a birthday greeting, and opportunities to be on the show!Castbox is an awesome listening app, and we've partnered with Castbox to launch Tumble Premium, a channel on the Castbox app featuring every episode and all our bonus interview episodes too! It's $1.35/month through the app, or $16/year. Want to learn more about cheetah science, and reputable conservation organizations? Check out our blog at www.sciencepodcastforkids.com.
Is there a hard edge to the solar system? This question led to a big, breakthrough discovery that changed the way we picture the solar system - and every other solar system in the universe. The Kuiper Belt is a gigantic field of small, icy objects beyond Neptune, "planet scraps" left over from the formation of the planets. For many, many years, no one believed it might exist. Until astronomers Jane Luu and David Jewitt decided to see what was out there. Jane Luu tells the story of how she helped discover the Kuiper Belt. We have an exciting announcement! We've partnered with Castbox to launch Tumble Premium, a channel on the Castbox app featuring ad-free episodes and all our bonus interview episodes too! It's $1.35/month through the app, or $16/year. You'll be helping support the show while listening on a great podcast app! Don't worry, we've still got the same great audio extras available on Patreon, too. This week, we have more from our interview with Jane Luu on 'Oumuamua, the mysterious, weirdly shaped, potentially alien (yes, THAT kind of alien!) space object. Pledge at patreon.com/tumblepodcast. Want to learn more about the Kuiper Belt? Check out our blog at www.sciencepodcastforkids.com.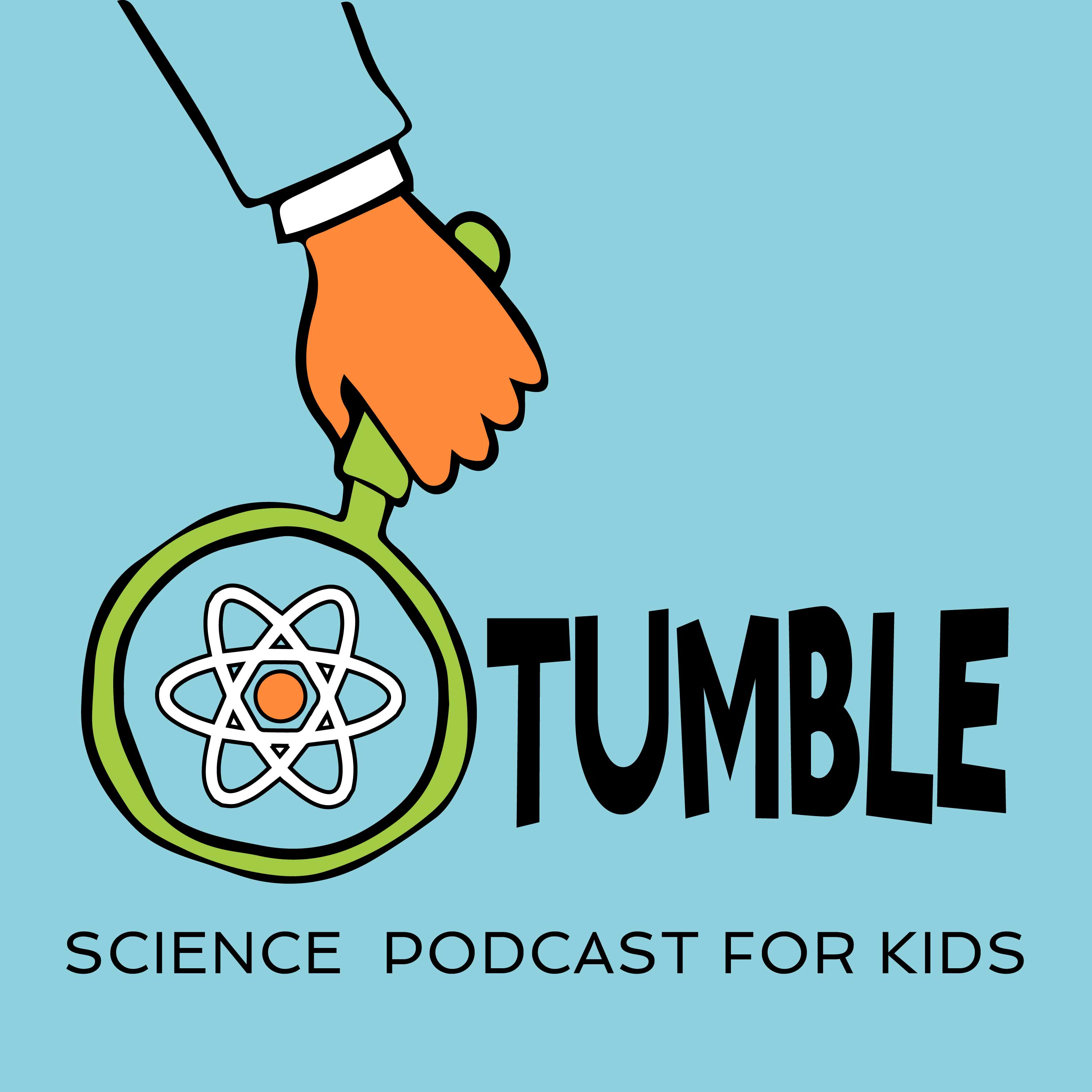 Hamster Versus Bacteria
2019-02-0800:15:43
1
Who would win in a competition, a hamster or bacteria? Place your bets, because we're going to tell the story of this epic science showdown. Danielle Tullman-Ercek is a synthetic biologist trying to find a better way to make life-saving medicine. To do it, she's engineering a bacteria cell to compete with a medicine-making hamster cell. Listen to find out what if Danielle and her bacteria have what it takes to win. What's a hamster cell doing making medicine, anyway?!If you engineered your own bacteria, what would it make and why? Draw a picture and email it to us at tumblepodcast@gmail.com! To learn more about synthetic biology, check out our blog.Want to learn more about cell biology and engineering bacteria? We have a special bonus interview episode with Danielle for our Patreon members! For only $1/month, you'll get twice the Tumble goodness to dive deeper into all our new episodes. Pledge here: patreon.com/tumblepodcast.
How do species get their scientific names? To find out, Lindsay and Marshall take a field trip behind the scenes at the Smithsonian National Museum of Natural History. That's where we meet Chris Mah, a sea star scientist who has discovered and named over 50 new species! (You might remember him from "The Surprising Story of Sea Stars' Sticky Feet.") Chris shows us next season's hottest new sea stars, shows off his amazing toy collection, and shares the secrets behind his super naming super powers.What would you name a new species, and why? Tell us at tumblepodcast@gmail.com.See Marshall's photos from our trip, including Chris' amazing office and the giant not-so-giant sea star he shows us in the episode. It's on our blog at sciencepodcastforkids.com.Hear a bonus "interview episode" with Chris Mah when you support Tumble on Patreon! Plus, hear from scientists from all our recent episodes! Pledge here: patreon.com/tumblepodcast
Do you love fossils, adventure, and spending time in small spaces? If so, you could become an underground astronaut! Marina Elliot, Becca Peixotto, and Kenni Molopyane found this unusual job description through a Facebook ad, and landed deep inside a cave that few people can access. The team of archeologists talked to Tumble in the middle of excavating Homo Naledi, one of the biggest recent discoveries on the human family tree. Find out how they squeeze through a 7 inch gap on their daily commute, and how their work could change the way we understand early human history. Hear more from inside the cave with Marina, Becca, and Kenni when you pledge $1/month on Patreon! Support Tumble and get bonus interview episodes of new episodes. Find out more about Homo Naledi, and how you can explore the cave in virtual reality, with resources on our blog.
United States