Discover
C2CEO Career-Comeback Stories
Claim Ownership
C2CEO Career-Comeback Stories
Author: CinderellaCEO
Subscribed: 2
Played: 6
© Copyright CinderellaCEO
Description
Hear Cinderella Career "Comeback" stories and learn how successful executives navigate business challenges. Our guests come from a wide range of businesses.
C2CEO podcasts offer anecdotes and stories that guide listeners to evaluate and continue to pursue their dreams. We have fun with our guests and create memorable lessons that listeners at all levels of their career will enjoy. Host Cary Broussard emphasizes you don't have to BE a CEO to think and act like a smart one.
Does your 2021 brand plan include writing a book, producing a podcast, blog or vlog? Tuskeegee professor of sales and marketing Faye Jackson joins author and CEO ON-Air host Cary Broussard to interview the very accomplished book editor Debra Englander, Dallas Liftfund director and author Tarsha Polk Hearns, and Red Raven publisher @Claudia Riemer Boutote on how books, podcasts and blogs expand personal branding platforms. Joyce Y. Griggs, blogger, and founder of the United States of Healthcare weighs in with branding expertise and tips.
When we were looking for a CEO who has successfully cracked the glass ceiling in finance, we thought of Cheryl Nash, CEO of Tegra118 (formerly Fiserv Investment Services). Cary Broussard interviews Cheryl as part of the C2CEO Learning Lab series, featuring CEOs and other highly successful leaders who share their stories and advice to ensure we all flourish going forward. Following Cary's interview with Cheryl Nash, Cary leads a panel discussion on 2021 Revenue Growth and Goal Setting with C2CEO advisors Faye Hall Jackson, a sales and marketing professor at Tuskegee University, Joyce Y. Griggs, Pharma marketing executive, Helen Bayne, hospitality business instructor with Lipscomb University and Linda Lingo, a financial coach and C.P.A.
C2CEO Host Cary Broussard interviews Ellen Voie, founder of Women in Trucking. Ellen was the Grand Prize Winner of the Cinderella to CEO Awards. We talk about why the trucking and transportation industry is a good career option for women and how women are a positive influence.
C2CEO (Cinderella to CEO) founder Cary Broussard's surveyed 200 national leaders in March and April of 2020. Her research revealed that 68 % of respondents (majority of whom were working women and a family breadwinner) would be willing to change industries/careers as a result of (or in spite of) the global pandemic. Now that women and men in mid-career, late, and early career stages have been laid off or furloughed, Cary draws on her own experiences and has tapped into the C2CEO network of advisors to provide transformational career and life-changing advice to help those exploring options with a "go-to" support podcast and website for confidence building and career supercharging. This podcast interview highlights career transition tips. We learn why a $2.5 billion landscape company hired a hospitality executive to lead their landscaping sales team. Cary explores how hotel and facilities operator Bob Marshall changed industries and career focus late in his career. She interviews Bob Marshall, now SrVP of Sales with Pennsylvania-based Brightview Landscapes, who was previously with Wyndham Hotels & Resorts, Accor Hospitality, Accenture, and Delaware North Companies. Bob emphasizes the value of relationship building, networking, and staying focused on winning. His tips include being open to opportunities, being trustworthy with team members, and realizing you don't have to be a "sales guy" to be great at sales. At the end of this interview, Cary wants listeners to consider their own transferable skills and how changing industries and careers can be the key to success in our new normal economy.
At two-foot-seven inches tall, Katherine Klimitas packs a punch of talent, energy and inspiration. Katherine was nominated for the 2019 Cinderella to CEO Awards for her inspirational life story.Katherine's winning personality comes through in this interview with Cary Broussard, host of Cinderella to CEO On Air. Katherine works as a fine artist, jewelry maker and graphic designer. Rod Stewart became a high profile client of Katherine's - engaging her to create and submit designs around the release of a new album. Katherine has a disability that has never allowed her to walk, run or move normally. She writes "I can't open a marker. I can't pour a glass of water. I often don't get the privilege of privacy. I need someone with me every second of my life. However, I learned that I could speak and that when I did, people not only listened but were also amazed. At age 30, Katherine is often mistaken for a baby because of her diminutive stature. A graduate of Loyola University, people assume that because Katherine is in a wheelchair, she is mentally disabled or deaf." We assure you, listeners, this young woman and her work will win your heart and your respect. She has written a book about her challenges living with the challenges of Osteogenesis Imperfecto. It is a book of hope, faith in one's self and encouragement for all.
Did you know the average American woman uses more than 12,000 tampons in her lifetime? That's a lot of up-close-and-personal time to spend with a product! Have you ever wondered what these products are really made of? Big companies that sell traditional period products are not required by the government to disclose their full ingredient list. Formerly a global sales executive with Pepsico, Coca-Cola, Nestle and others, Thyme Sullivan believes you have a right to ask what's in your products. Thyme is a finalist in the Cinderella to CEO Awards, nominated for her work in improving the environment. As Thyme puts it…"Tampons and pads should be free of dioxins, pesticides and toxins – period." As the Cinderella to CEO Judges put it, Thyme's energy and passion toward transforming the feminine hygiene product category deserves our full support. Thyme Sullivan started TOP (The Organic Project) to bring awareness to the overwhelming benefits of organic period products and how a small change can impact the world. TOP products are crafted with 100% organic cotton and are 100% biodegradable. Thyme, who is from Monterrey California, believes that every woman should have access to take care of her feminine needs so TOP Organics also partners in communities to donate tampons, pads and liners to those in need. A TOP subscription is more than period products delivered to your door, it's a change for the good. Go to www.toporganicproject.com and listen to our interview with Thyme Sullivan to find out how she and her team are transforming the world for the better. Listen to Cary Broussard, founder of the Cinderella to CEO Awards and author of the business book - From Cinderella to CEO interview Thyme Sullivan for her podcast, Cinderella CEO On Air.
Brad Frazier, a mentor in the Aimbridge Hospitality WLEAD program, started as director of sales with the company15+ years ago when Aimbridge managed a handful of hotels. Today, Brad is senior vice president of sales for Aimbridge, the largest, third party hotel management company in the U.S. Brad Frazier shares valuable mentoring tips, and how the women's leadership program at Aimbridge (WLEAD) has created a successful mentoring program that benefits women and men.Frazier was corporate director of business travel sales for Omni Hotels and director of sales and sales manager for Wyndham Hotels. He is a member of the Global Business Travel Association and the Mississippi State University M Club, and is a graduate of the University of Texas at Arlington.
Helping others up the Ladder of Success is a core value of Cinderella to CEO on Air. Cinderella to CEO stories are not gender-specific. This podcast interviews leaders who have navigated their way to a palace of their dreams. Today, we have Kevin Detz. He is Chief Accounting Officer at Aimbridge Hospitality. We asked Kevin to speak with us because he champions women and men in his role at Aimbridge, encouraging them to be the best they can be - while challenging them to make Aimbridge the best company it can be along the way. What does it mean to champion women? How did he decide this was important? We'll find out....
Gretta Brooks, founder and chief executive officer of SalesBoost, LLC, has developed a SaaS-based sales training technology solution for hotels to improve performance and increase results. A long-time techie and hotel executive with a passion for mentoring others, Gretta combined her expertise and passion to develop and obtain the provisional patent for the first voice analysis training system software for the hospitality industry.Gretta has a Cinderella story, not to mention a fairy tale name. She's a fan of the lessons of fairy tales and talks with Cinderella CEO On Air about her company, her love of mentoring and how using your voice can unlock the keys to the castle and boost your confidence, performance, and sales.Her web-based, on-demand sales development tool, SalesBoost, provides unlimited sales scenario simulation and immediate feedback to improve sales effectiveness. The training is self-paced and designed in a micro-learning format, a learning technique that delivers role-based content in short, easily digestible, segments.Having trained thousands in hotel sales for over 30 years as an executive with Omni, Hilton, and Aimbridge Hospitality companies, Ms. Brooks sees this learning and reinforcement model as a solution to the traditionally expensive and often ineffective sales training offered. For more details, go to www.salesboost.com.
As the daughter of the R in H&R Block tax services, Barbara Stanny grew up relying on her father, then her husband, to manage her money. But a devastating financial crisis became a personal wake-up call. Her journey to financial enlightenment is inspiring and is the basis for her best-selling books, and our interview with her on Cinderella CEO On Air. She's done hundreds of media interviews, including Time Magazine, The View, The New York Times, Forbes, MSNBC, Fox News, CNN, PBS and more. We're so honored to have her on our program.Barbara's message: "When you take charge of your money, you take control of your life." You may have read her books Secrets of Six-Figure Women, Overcoming Under Earning, Prince Charming Isn't Coming and her most recent Sacred Success. She's written a total of six books on the topic of financial and personal empowerment. A highly entertaining and sought-after speaker, Barbara teaches women how to map out their financial futures and shares her secrets of personal empowerment. For more information or to contact Barbara Stanny, go to http://www.barbarastanny.com.
I met Sean Magennis soon after I moved back to Dallas and began consulting with Earth Day Texas. Sean is a green energy entrepreneur from South Africa (with a great accent), and founder of Gateway Green Energy Holdings, LLC. In our interview, I spoke to Sean about his role as President and Chief Operating Officer of YPO (Young Presidents Organization). YPO has more than 24,000 members, in over 130 countries.Sean and I discuss that 50 percent of the YPO senior management team is comprised of women, and the majority of CEO members are men. He says today's C-level executives have to be better communicators. Learning how to avoid ambiguity takes a high degree of self-awareness. He provides examples of how to ask questions to avoid the triggers that cause one to over-react or act negatively. He comments on why the brilliant and former CEO of UBER stepped in it because he didn't have a trusted dialogue with all stakeholders. Learn how to ask people how you're being perceived to "nip" communication problems "in the bud" before they become a problem. Sean has broad international executive experience across the USA, Canada, the UK, Europe, Mexico, Asia, and Africa. He is the past International President of the Entrepreneurs Organization, (EO), one of the world's largest peer to peer networks of successful entrepreneurs over 16 years. Smart and as kind as they come, Sean has a BA degree from Rhodes University in South Africa with postgraduate diplomas in business management and financial management. He is a graduate of the Stagen Leadership Institute in Dallas and is married to businesswoman Maria Cintron.YPO is a global community of chief executives dedicated to becoming "Better Leaders through Lifelong Learning and Idea Exchange." For more information visit http://www.ypo.org.
We caught up with Jon Stein, the Founder and CEO of Betterment, Inc., in his New York office this summer. Jon launched Betterment to offer average investors access to first-rate, affordable financial advice. He talks about why he's okay with his team members bringing their kids to work, why books are important to him, who he admires in the financial world. and why being a trusted fiduciary advisor is his firm's purpose first and foremost.
Nora Moreno began her career in hospitality as a housekeeper. She gives us an inside account on what it's like to start from scratch, and love the journey along the way. She came from Mexico to the United States, and found her mentors and dream job at Aimbridge Hospitality. Today, she is Vice President of Human Resources for the largest 3rd party hotel management company in the country. Nora has a great voice, a special story and concrete advice on how to move up in an organization that you love.
Mike Lyons, actor and longtime hospitality and travel executive, talks about the trials and tribulations of this year's U.S. Presidential election with host Cary Broussard. Mike Lyons, popular Netflix hit House of Cards actor, discusses personal branding in politics. How personal branding and politics are intertwined and how we can develop our own brands.
Doug Rauch is our 10th Cinderella CEO podcast interview. The former president of Trader Joe's, now the CEO of the non-profit, Conscious Capitalism, Rauch also started a project called the Daily Table to bring fresh food to the inner cities. We interviewed Doug in Chicago at the National Conference of Conscious Capitalism. He shares his story of how he started with Trader Joe's, helped grow the grocery store chain, and gives advice on how to avoid "crapitalism!" We talk about how to excel as an entrepreneur, and why listeners may want to consider becoming "intrapreneurs" as an alternative. Doug talks making capitalism as a force for good, and why "Conscious Capitalism" caught his attention.(This is a re-edit of the first interview for better audio clarity).
Doug Rauch, the former president of Trader Joe's, now the CEO of the non-profit, Conscious Capitalism Rauch (he's also started a project called the Daily Table to bring fresh food to the inner cities). I interviewed Doug in Chicago, Illinois at the National Conference of Conscious Capitalism. He shares his story of how he started with Trader Joe's, and how he helped grow the grocery store chain. He gives advice on how to avoid "crapitalism," how to excel as an entrepreneur, and why listeners may want to consider becoming intrapreneurs within a company. And of course, he talks about Conscious Capitalism and how practicing its tenets are key to a company's success, and ideally making capitalism a force for good.
Lisa Earle McLeod, says that top performers want to improve their customers' lives. She's created a sales leadership consultancy based on the notion of "noble sales." Do you believe you have something valuable to sell? Lisa shares points like: 1. Don't feel sleazy if you're selling something you believe in that can help someone. Customers have free will to pick and choose. 2. It's your job to present your products, services, and yourself in the very best way. 3. Even Thomas Jefferson was in sales. He and others behind the Declaration of Independence had to convince their "constituents" that they had a very valuable idea. So how'd they do it? Listen to CinderellaCEO's interview with Lisa McLeod and learn how to improve your customers' lives.
Co-Chair of the International Conscious Capitalism Board, Doug Levy, author of Can't Buy Me Like, and founder of the 20-year old digital agency, MePlusYou, has found time to form a new start up called Tap Goods. I interviewed him a few weeks ago. He recommends reading these books, The Lean Start Up, Holacracy and of course Conscious Capitalism.
With all the talk in the press about companies adopting Holacracy, Cary Broussard explores why this unconventional practice is attracting some very successful companies and the Millennials who work for them. In her interview with Brian Robertson, founder and author of Holacracy:The New Management System for a Rapidly Changing World, we hear what it actually looks like to work within the Holacracy system and if it "works." Brian Robertson is a seasoned entrepreneur and organization builder. Very likable and approachable, Brian calls himself a recovering CEO - a job he now helps free others from with Holacracy. Cary met Brian at the National Conference for Conscious Capitalism this year and Brian generously gave his time for an interview during the conference. The official Holacracy book comes out June 2, 2015. Online Holacracy webinars, introductory workshops Certification Trainings, Practitioner Trainings as well as Advanced Coach training and certification are all available. Go to www.holacracy.com for more information.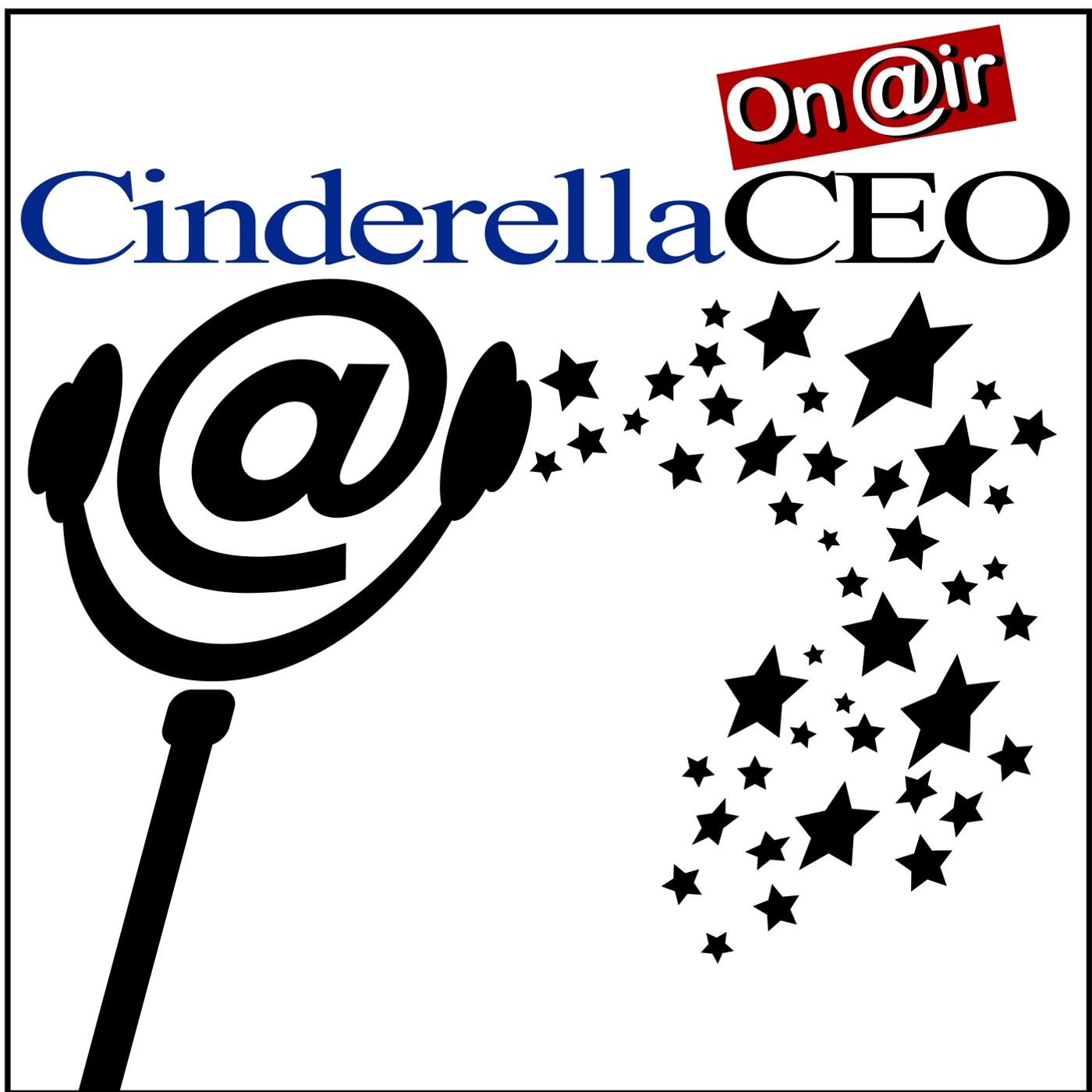 Candice Quarles, CEO of 9HappyPeople Lifestyle brands, is a brilliant civic leader and new mom. She talks to Cinderella CEO On Air about how her entrepreneurial venture will improve communities. Formerly an executive with Deloitte Big Four Accounting firm, and the Urban League of Dallas, her Masters in Human Resources, has prepared her well for her most important job yet.A Kickstarter campaign ahead, each purchase from 9HappyPeople lifestyle fashion brand helps create jobs in local, under-served communities like East and South Dallas. 9HappyPeople has modern, trendy designs that share positive messages, and every piece is high quality, made with the finest materials.When you buy 9HappyPeople, you are helping to combat poverty, unemployment and underemployment in your city. When you buy 9HappyPeople, you feel good.

Transform lives by choosing what you wear ...
9HappyPeople.com
#powerof9
United States