Discover
America's National Parks Podcast
Claim Ownership
America's National Parks Podcast
Author: RV Miles Network
Subscribed: 992
Played: 40,846
© Copyright 2018-2021 All rights reserved.
Description
This weekly story-based show takes you behind the events, people, and nature that have shaped our National Parks, and the 421 units managed by the National Park Service.
Welcome to this month's "News from the Parks" our monthly roundup of top stories from the National Parks.
If you dare, dip your feet into the icy water of St. Mary Lake. The glacier-fed water adds a new twist to the term "refreshing." It's one of many sensory experiences at a park that attracts more and more people who want to see the glaciers before they are gone.  Glacier National Park, in northern Montana, is a crown jewel of the United States. Its pristine landscapes draw millions of visitors a year, to see its majestic mountains, jewel-colored waterfalls, carpets of wildflowers, and wildlife ranging from bald eagles to mountain goats and bighorn sheep to grizzly bears. But mostly people come to see the glaciers, these fields of ice that – by definition – move under their own weight, picking up rocks and debris that sometimes stain their brilliant blue hue with a hint of grey.
Joshua Tree National Park in southern California encompasses parts of both the Mojave and Colorado Deserts. This unique ecosystem conjures images of the iconic trees, desert washes, wondrous boulders, rattlesnakes, and cactus blooms. But long before it became a national park (or even a national monument prior to that), this area was home to people, from Native Americans to pioneers – cattlemen, homesteaders, and miners – and where you find people, you find music.
Nestled between the San Bernardino and Coxcomb Mountains lies the confluence of the Mojave and Colorado Deserts, where the wind rushes through the rocks and valleys. At night it's the only sound, other than the occasional hoot of an owl and the sound of your own breath. This is the soundtrack of Joshua Tree National Park.
There's a newly nominated candidate for NPS Director, a position that has been vacant for more than 4 years. Meanwhile, well over half of Lassen Volcanic National Park has been burned by the Dixie Fire. It's time for this month's National Park News.
In early June 1912, residents of southeast Alaska began to feel earthquakes daily. Earthquakes are common in this region, which is well-known for its geologic instability, though these were getting stronger. The remaining two families at Katmai village evacuated, and they were just in time. On June 6th, the largest volcanic eruption of the twentieth century exploded. The skies darkened and the sun disappeared for more than 60 hours, and the aftermath of the explosion was felt hundreds of miles away. This week on America's National Parks: the Novarupta volcano in Katmai National Park.
  As fires rage across the west in what will likely be the worst year for wildland fires on record, brave people face them head-on, to save our structures and our lives. The fraternity of American firefighters has always been a boys club — today only about 4% are women. And wildland firefighters even more so. In the early 1980s, one woman was among the first to join the Arrowhead Interagency Hotshots, an elite National Park Service crew, stationed at Sequoia & Kings Canyon National Parks in California.  The text of today's episode comes from Women's Voices: Women in the National Park Service Oral History Project and the audio comes from an oral history interview conducted by Lu Ann Jones and Leah Baer of the National Park Service Park History Program earlier this year. 
Under the light of the moon, shelled creatures emerge from the ocean and make their way onto the sandy shoreline. They drag their bodies through the sand until one by one, they stop. Each migrant reptile will use her back flippers to dig a hole in the sand, depositing up to 100 eggs before covering them again for protection. The new mother will then follow the moonlight back into the safety of the ocean. It's early summer along this seashore, and something spectacular is occurring: it's sea turtle nesting season along the Outer Banks in North Carolina. A couple of months later, tiny turtles will emerge from the sand and their shells and begin the seemingly impossible journey back into the ocean, on the same sand their mother did years or even decades earlier. Although they face many challenges, these magnificent creatures are worth protecting.  This week on America's National Parks: the sea turtles of Cape Hatteras National Seashore.
Hottest days on record, new mask-wearing requirements, Congress has hearings on park crowding, lightning strikes several visitors to the Grand Canyon, and a whole slew of terrible park visitors.  It's time for the latest in National Park News. For less than a dollar an episode you can support the America's National Parks Podcast and help us continue to produce the high-quality shows you love and increase our writing staff, ensuring we can tell ALL the stories from all the parks.  Click the link below to join our community for as little as $3 a month.  https://www.patreon.com/NationalParksPodcast
Situated within the spray of the picture-perfect Nevada Fall stood a pioneer hotel that, for almost 20 years, welcomed guests to Yosemite National Park. Named La Casa Nevada or The Snow House, owners Albert and Emily Snow, like so many innkeepers of the late 1800s provided a valuable service to those wanting to escape city life in search of nature's stunning beauty and peace. If you were willing to make the trek, there was a moderately comfortable bed and a warm meal waiting for you. But as romantic as that all sounds, life as a Yosemite innkeeper was not for everyone. It was tough, rugged, work in a landscape that required determination not many could withstand. 
The sun can rise and set on this island nation in the middle of the Pacific. Known for its rainforest paradise and tropical reefs, these islands were originally settled by Polynesians more than 3,000 years ago, and continue to carry traditional Polynesian culture today. Colorful tropical reefs are part of the 4,000 acres of National Park that is underwater, though even reefs are threatened by human-caused climate change. Though we love to travel by RV here at America's National Parks, this one is only accessible by plane. This week on America's National Parks, we take a deep dive into the American Samoa.
A flash flood tears through Zion, Karens build Cairns in Petroglyph, endangered frogs are gettin' it on without any assistance in California, Grand Teton gets one BIG Teton of a new dump truck, a drunken kayaker gets 60 days in Jail and a 5-year ban from Yellowstone, a massive bear spray recall, and more. It's time for the latest in National Park News.   Resources Mentioned: https://www.nps.gov/aboutus/news/inde... https://rvmiles.com/major-bear-spray-... Pictured Rocks video: https://fb.watch/6tY-I0B1PF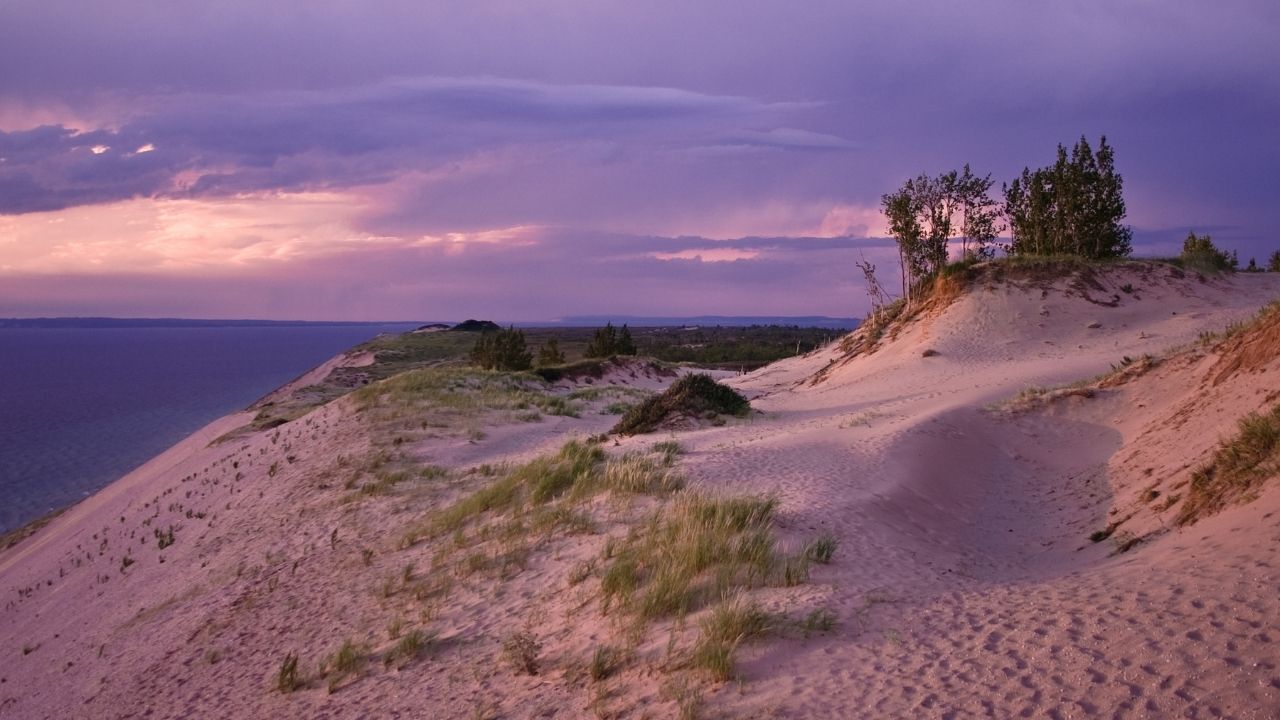 If you've never been there, when you think of Michigan, you may not imagine miles of sandy beaches, turquoise waters, and bluffs that tower more than 450 feet above one of the four Great Lakes that border the state. There are also inland lakes, lush forests, an island lighthouse, coastal villages and picturesque farmsteads. All of these fantastic features can be found in Sleeping Bear Dunes National Lakeshore.
Winding through Acadia's forests and mountains are 45 miles of historic roadways that are only for pedestrians, bicyclists, horseback riders, and carriages. These roads were carefully designed to follow the contours of the landscape and reach scenic vistas. Though enormously popular for recreation today, until recently it was not well-known who had the most prominent role in the development of these roads: John D. Rockefeller, Jr.
Yellowstone and Grand Teton shatter April attendance records, Zion sees a four-hour wait for its most popular hike, Biden's 2022 budget sees the largest appropriation for the National Park Service ever, an Instagramer apologizes, and so much more. It's time for this month's news round-up episode of the America's National Parks podcast. 
In the middle of North Dakota, one of the least visited states in the nation, sits one of the smallest and least visited National Park Service Sites. It's the place where Earthlodge people, the Hidatsa and Mandan, who lived along the Missouri River and it's tributaries, hunted bison and other game. The site was a major Native American trade center for hundreds of years prior to becoming an important marketplace for fur traders after 1750.    Today on America's National Parks, the Knife River Indian Villages National Historic Site, and the story of Buffalo-Bird Woman, one of the last Hidatsas born in the Knife River villages, in her own words, as portrayed by Grace Henry in the park film.
In 1680, one of the earliest Western accounts of coordinated fireflies flashing was recorded by a Dutch physician while traveling down the Meinam River in what is now Thailand. He wrote, "A whole swarm of these insects, having taken possession of one Tree, and spread themselves over its branches, sometimes hide their Light all at once, and a moment after make it appear again with the utmost regularity and exactness."  More than 300 years later and the synchronized flashing of fireflies is still a mystery.
Point Reyes National Seashore has recorded more than 450 species of birds, including 38 that are threatened or endangered. There are multiple factors that make it such a popular and birdy destination. For one, it has many unique habitats that provide food and shelter, such as coastline, forest, wetland, and open fields. The park's peninsula also juts out into the ocean, scooping migrants into the park as they travel along the coast. Due to these special features, the National Audubon Society has also named it an Important Bird Area.
It might not be common knowledge that the Yosemite Valley one of the crown jewels of the American landscape, known for towering natural splendor in its pristine condition, has a sister valley, within the National Park, that was flooded to create a water reservoir for the city of San Fransisco.  For over 100 years, Hetch Hetchy canyon, named with an indigenous word for a type of wild grass, has been called Hetch Hetchy Reservoir. And while turning back is a real possibility one day, Hetch Hetchy is still an amazing place to visit. Or it would be if it were a little easier.  Restore Hetch Hetchy is an organization with a plan to do just that, and Executive Director Spreck Rosekrans is our guest today on the America's National Parks Podcast.
Driverless National Park Shuttles are being tested, a new national trail is proposed, a homicide at Hot Springs, and more.  It's time for this month's news round-up episode of the America's National Parks podcast.  
United States