Discover
Paranormal Experienced with Kat Hobson
Claim Ownership
Paranormal Experienced with Kat Hobson
Author: WBHM-DB Birmingham, AL
Subscribed: 32
Played: 885
© Copyright WBHM-DB Birmingham, AL
Description
Paranormal experiences, investigation techniques & favorite locations shared by our guests to help entertain & educate our listening audiences! We include spiritual paranormal as well as ufology, cryptozoology & all other anomalous fields in our coverage.
Geister Maria Schmidt, the driving force behind so many projects in the paranormal field, joins Kat to discuss The World's Largest Ghost Hunt & National Ghost Hunting Day! The logistics alone are astounding, but she LOVES working for para-unity & somehow has done it for FIVE YEARS! This is year six!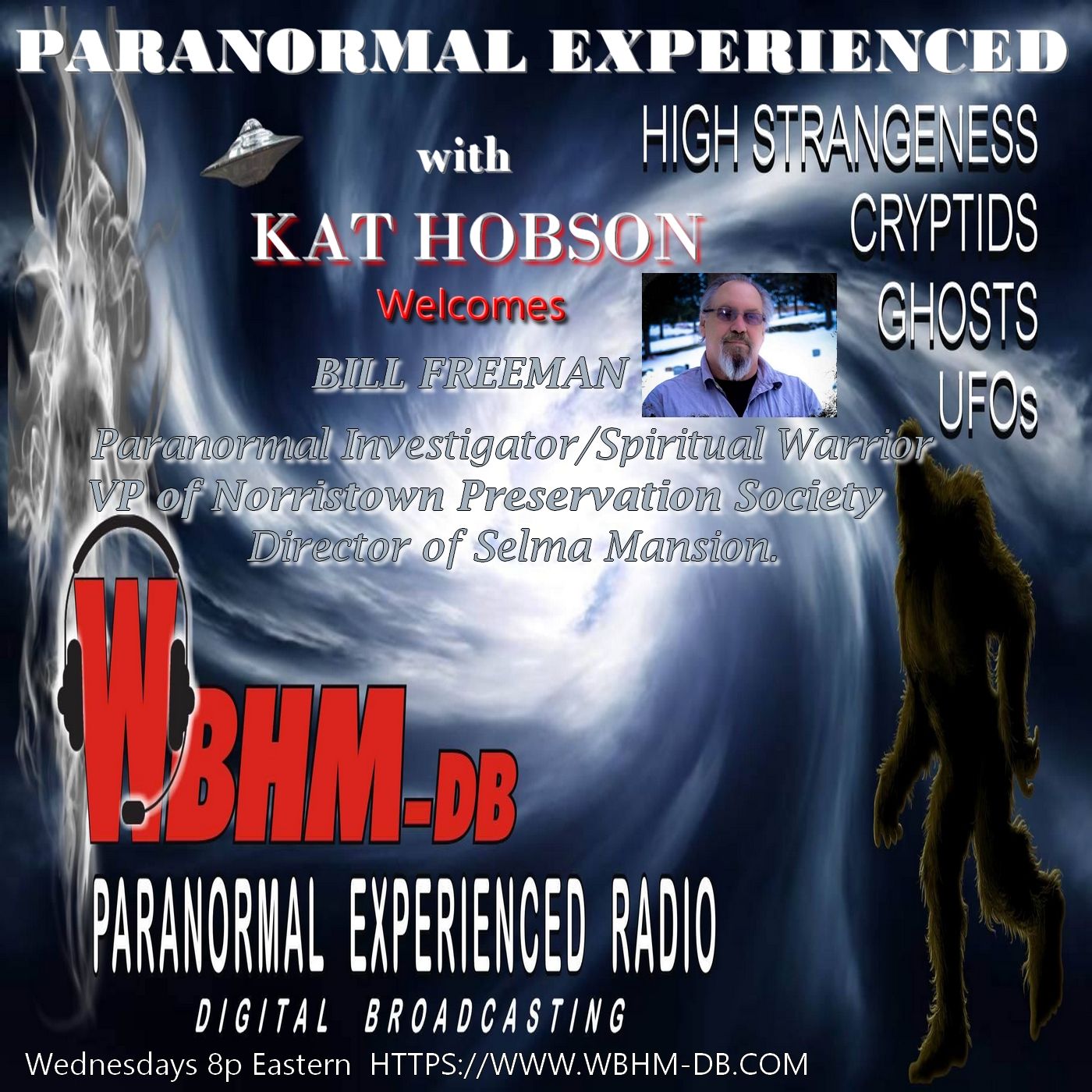 Bill Freeman has been a Paranormal Investigator & Spiritual Warrior for over 45 years.He is the Vice President of the Norristown Preservation Society & Director of the Selma Mansion.
Victoria Mundae is co-host of Haunted Road Media's Edge of the Rabbit Hole. She has founded her paranormal groupp Wyldwood Paranormal & is knonw as the Perfect Paranormal Storm. She joins me tonight to discuss all things paranormal & I am especially looking forward to her past life information, She is an interesting woman I know you will enjoy.
Dr. Terje Simonsen is an anomalous researcher who's work has taken him through the esoteric, occult & paranormal fields. He is seeking validation for the science of the paranormal, parapsychology. Join us for this great conversation!
Dr. Kimberly McGeorge joins me to discuss her research in alternative health combined with the energy healing fields. I'm looking forward to also discussing how she uses her psychic abilities to help people She is a fascinating person!
Meredith Herrenbruck is an NLP Life Coach & explores the connections between NPL, Family Soul Constellations & Huma Healing as well as how these different aspects from our mental programming can uncover the root cause of a person's issues
Courtney is an amazing professional & just a good person on top of that. She is a Spirit Medium as well as the owner/operator of Seaside Shadows Haunted History Tours, author of Revolutionary War Ghosts of Connecticut & Hauted Mystifc, an Ambassador for her upcoming Mysterious Adventures Tours Ireland expedition.& so much more. She is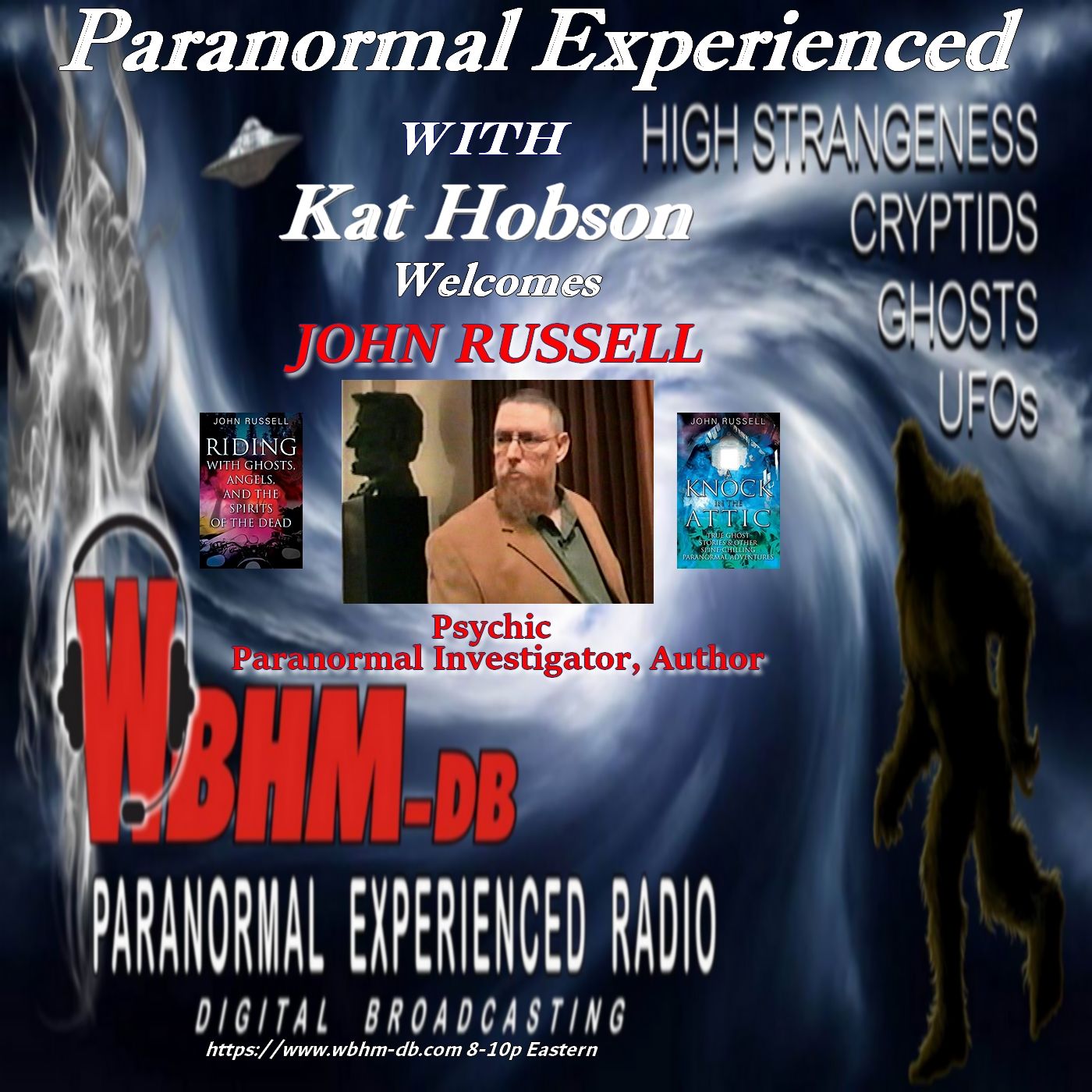 John Russell has been a psychic for almost 50 years. He has two books out, the newest being Knocks In the Attic. Riding with Ghosts, Angels & Spirits, his first, was a huge hit & Knocks in the Attic seems destinged for greatness too! Enjoy!
Kat is joined tonight by psychic medium, medical intuitive, paranormal investigator Beth Deering. Beth has great experiences to share & is great at doing so. You will enjoy her!
Nathaniel Gillis is a religious demonologist, a brilliant author & a gifted lecturer. He is the founder of Preternatural Epiphenomenal Philosophy. After living in a haunted house Nathaniel has, he has for twenty years, sought to define the nature of haunting phenomena, ghosts & high strangeness. When last we spoke his first book, A Moment Called Man was out & doing very well. Now his second book, The Skin That Crawls is coming out & I am interested to learn more about it! Nathaniel is an intense & interesting man. I enjoy talking with him & think you will enjoy him too!
Angie Mohle is the creator, researcher & presenter of THE WEIRD WORLD NEWS which airs at the top of the second hour of Full Spectrum Project. She is witty, smart, quick with a joke or a barb & just a lot of fun to listen to & kibbitz with! I think you're going to love her!
Rev. Rhonda Schienle is someone I enjoy greatly. Before I began this show I was not famiiar with people who had her skillsets. Over the years, that has obviously changed, but she still stands out to me as someone very special in her ability to teach, to guide, to share, and to care. As part of AWAKE, Inc. she expands those oportunites & her outreach to educate those who are seeking. She is also an interfaith minister. You are going to love her show!
Trey Hudson first joined me when he & his research team had experiences that were only matched by the high strangeness reported in locations such as Skinwalker Ranch. Then they surpassed even those reports. His new book The Meadow Project, Explorations into the South's Skinwalker Ranch, details those experiences & the evidence gathered so far. You're going to be amazed!
Gregg TJ Justice is the Owner & Event Coordinator of Paranormal Adventures Events. He is the Founder & Lead Investigator of R&R Paranormal, which is the a very gifted group of paranormal investigators. R&R is the Tennessee team for the popular TRUTHS OR LEGENDS In Your Hometown which airs on Amazon Prime. Gregg is great at finding little known & interesting locations for his events & the great service he provides those who attend. He is a serious investigator with a great sense of humor as well. I enjoy him & I believe you will too!
Brian Clune is the co-founder & historian for Planet Paranormal Radio & Planet Paranormal Investigations. He has authored several books, all well received. He is the co-host of The Full Spectrum Project here on WBHM-DB airing Thursdays fronm 8-10p EST. Brian has been involved with numerous TV shows including Ghost Adventures, Dead Files, Ghost Hunters, My Ghost Story & was the subject of a company documentary for the movie Paranormal Asylum.
Mai Hernon, traditional Irish singer & tv producer as well s owner of Secret Ireland Tours & Mike Ricksetter, publisher & CEO of Haunted Road Media as well as a prolific author, are great people coming together for an exciting project this summer. Mike will be the Ambassador for Mysterious Adventures Tours Ancient Mysteries of Ireland.
Tonight's show is a rebroadcast of the fab show with the one & only Allen Pancheco from 5.31.2019. Allen is an amazing person with a lot to share! You will enjoy him!
Carly Hall is a paranormal investigator/researcher as a result of surviving an extreme haunting. She is also a gifted speaker and teacher. You will enjoy this show from March 4th 2020! I hope you all have a very blessed holiday & are with those you love.
A rebroadcast of the great show with Jason Hewlitt from September of 2020 celebrating the release of his new book with Peter Renn "I Want to Believe: One Man's Journey Into the Paranormal"
John Gastil is a distinguished college professor at Penn State as well as an author. He has written several books relevant to his work which are outstanding and has recently turned his hand to fiction. I feel that was a great decision! His new book, Dungeon Party: A Novel, links a fantasy world and the people playing in it. It creates a feel for what gaming can truly be about, as well as life. Fairly heady stuff when you think of the paranormal possibilities that can be created with that level of intensity.
United States