Discover
Paranormal Experienced with Kat Hobson
Claim Ownership
Paranormal Experienced with Kat Hobson
Author: WBHM-DB Birmingham, AL
Subscribed: 31
Played: 831
© Copyright WBHM-DB Birmingham, AL
Description
Paranormal experiences, investigation techniques & favorite locations shared by our guests to help entertain & educate our listening audiences! We include spiritual paranormal as well as ufology, cryptozoology & all other anomalous fields in our coverage.
Paranormal investigations. Ufology & those New York Times articles. Hauntings. Conventions we miss & what we're looking forward to on the other side of the pandemic.Great-aunt Sally who is haunting YOUR house & what to do about it. THESE topics, or any really, are up for discussion tonight! WITH two exceptions. NO POLITICS & KEEP IT PG13 LOL
June Lundgren is a Psychic Medium, Investigative Consultant, International Author, Demon Seer and Animal Communicator. She is frankly amazing. We will be discussing the dark side of the paranormal including demons & earth-bound spirits.
Kevin Killen joins Kat on this episode! Kevin was born in the Phillipines but his family settled in Virginia. Growing up in northern Virginia, he found his passion for writing and the paranormal. Many of his early experiences take place in his childhood home in Falls Church. Ghosts and Me shares his 15-plus years journey of paranormal experiences ranging from phantom footsteps to shadow people. His current workplace, where he counsels recoving addicts, is very active. He is already working on Book 2 & can be reached at kkillenbt@gmail.com
Leitreanna Brown is a shaman, a healer, a demonologist, a 4th generation paranormal experiencer, a multi-media personality. She is also someone who has dealt in real life with having a reincarnated child who actually remembered his past life. She is knowledgeable, strong and well-spoken. I know you will enjoy her as much as I do,
This is a rebroadcast of my interview with Andrew Brewer, clairvoyant, astrologist, reader of pasat lives, film actor, AND voted one of the TOP 100 psychics in the world. His websites are rocknrollpsychic.com & andrew-brewer.com He is simply amazing. HE's been seen on SO many networks I can't possibly list them all, but they include ABC, NBC, PBS, HBO, TBS, USA, SCIFI. He's also a former corporate executive and a Certified Professional Boxing Fitness Trainer. Andrew is recognized as a leading authority on reincarnation and past lives as well.
This show was straight from the heart. Ronnie Dee, the relatively new owner of the wonderfully haunted Old South Pittsburg Hospital,shared so much information about his location and the volunteers who have helped him get it ready for investigations. After years of no maintenance the mold is being removed, the walls are clean and beautiful, the place has a completely different energy. And THAT is because Ronnie Dee had a vision.
Billy Sims is the Co-founder and lead investigator of Southern Nomad Paranormal and a member of Nightstalker Paranormal Research as well. With 17 years of experience to share, this is going to be a great discussion!
Coyote Chris Sutton is a shamanic practitioner/paranormal investigator who began his spiritual journey over 25 years ago. He has worked helping others bring harmony to their lives and uncover their spiritual gifts. He is a member of the Red Cedar Circle of SW Illinois following the Si-SI-Wiss medicine tradition and has received teaching in other shamanic traditions including the Lakota medicine path. "On Sacred Ground" premiered in 2018 with Coyote Chris as the host and this year the interview series "Shock and Awe: The Spiritual Journey of Coyote Chris Sutton" premiers. Both are on VidiSpace. Chris has also appeared on Ghost Adventures as well as the Dead Files Revisited and Ghost Lab. He is a frequent contributor to Scarefest Television as well as co-host with Sharla Hardin of the monthly series "The Spirit Drum" on Scarefest Television.
Nathaniel J. Gillis joins Kat tonight to discuss his work as a Religious Demonologist, his book A Moment Called Man, Preternatual Epiphenomenal Philosophy and why he thinks Demonology is the study of old life in a new way versus the study of new life.
Trey Hudson is founder of the Oxford Paranormal Society as well as a security specialist employed by the federal government. He has recently qualified as a MUFON field investigator as well. He and his team beleive in education and preparedness and focus on both. In the course of their experiences they found a need to form a separate division under OPS called Anomalous Studies & Observation Group.Wait until you find out why! And you thought Skinwalker Ranch was a happening place!
Sean Austin is a paranormal investigator, musician, singer, songwriter, and now author! He has been on Travel Channel's Ghost Loops, Destination America's The Demon Files and had appearances on the Haunting. He is an excellent investigator. He happens to have an EP dropping called Foresee and a new book as well titled Shadow Chaser written with David Weatherly. This is going to be a fun show!
Renee Dykes is a great paranormal investigator! She is Founder of Tennessee Nightstalker Paranormal Intrigue, Cast member of Truths & Legends in Your Hometown, A key member of Rednecks & Rainbows Paranormal and Paranormal Adventures Events. She is also the former Property Manager of the Old South Pittsburg Hospital. She has LOADS to share with us!
This is going to be an informative AND fun show with two of the most knowledgeable women in the paranormal field. Shelly Robertson is host of our own Ghost Talk Radio. She is the owner of the Old Paulding Jail, featured as the season two premier for the Travel Channel's Portals to Hell. She is also the founder of 187.PIDenise Pridemore is the host of our own The Paranormal Pride, co-founder of Pridemore Paranormal with her husband Ron and a former paranormal tour guide at the Sallie House. She is involved in all types of projects with different locations and events.
Robbin Terry, owner of Ashmore Estates & The Haunted R Theater joins Kat tonight to discuss his wonderful properties, his experiences and history in the paranormal world. He helps manage Rhodes Hall & the Cheney Mansion as well. Robbin has a heart for being the change he wants to see in the world by helping others. He welcomes those doing legitimate fundraisers to his locations quite often. I don't think anyone has left an event or private investigation at one of his properties without some sort of experience. I know I haven't!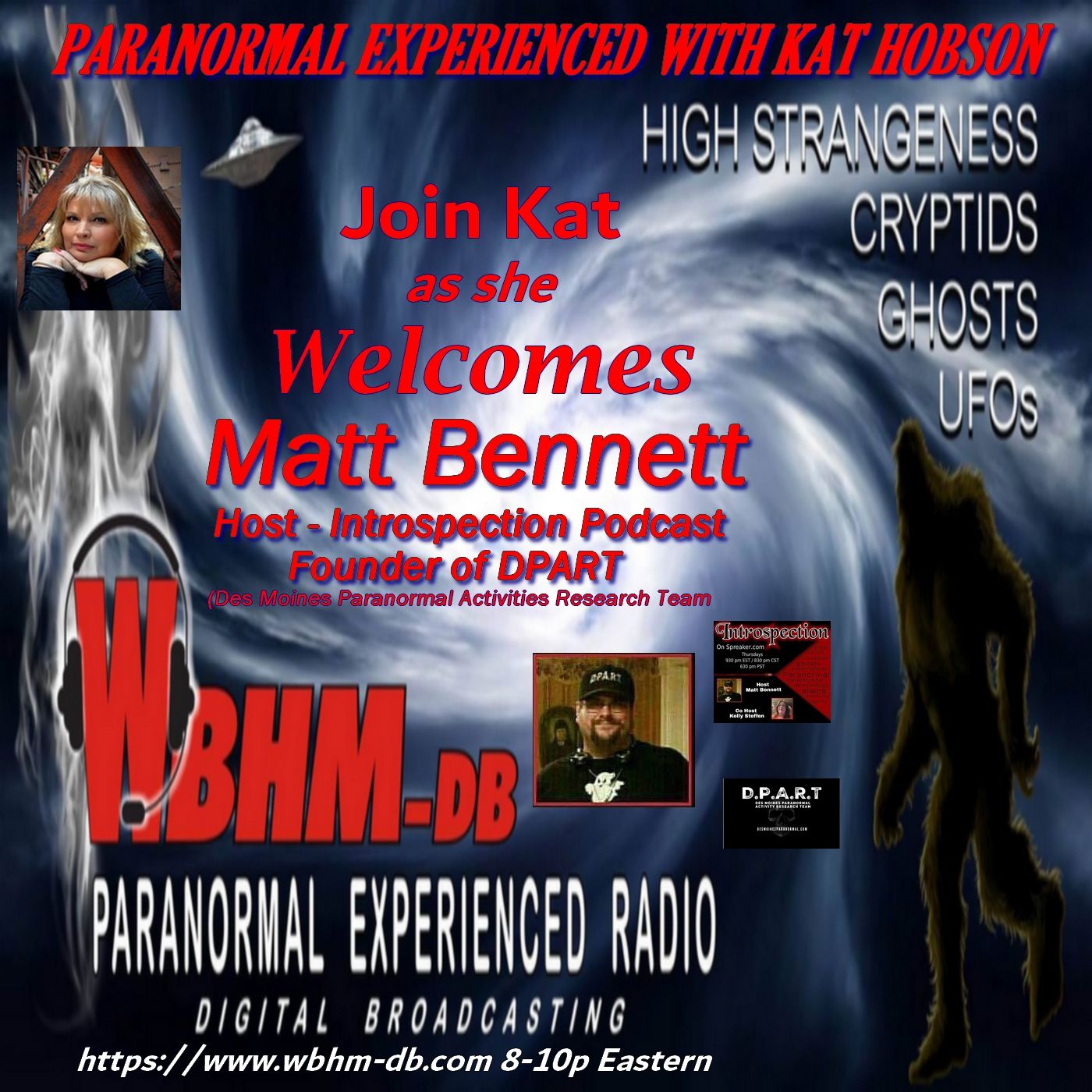 Matthew Bennett is the host of Introspection on the Sky Door Network as well as the founder of the Des Moines Paranormal Activities Research Team. Matt has a great deal of information to share about his experiences in the paranormal research field, his techniques, & locations he has investigated. This is going to be a fantastic conversation!
Frank Lee of ANSRS & C.A.S.P.I.R. joins Kat to discuss Conspiracy, Fake News & how to recognize when you're getting played!
Leslie Bearden Hyde is the owner of the Southern Ghost Girls Tours & Paranormal Investigations. She is a cast member of both the Amazon series Truth or Legends in Your Hometown & the television serious Southern Ghost Girls. She has a long history of performance in many fields & is charming, witty & smart! You're going to love getting to know her!
I, like everyone on this planet with the means to receive messaging from news agencies, have been warned, counseled, preached at & threatened with my very being that this SARS/Coronavirus/Corvid19 is to be the worst thing ever. And I respect the power of an unknown virus sweeping the globe. But if we living in constant fear with no relief, how do we raise our vibrations. This show addresses that.
A conversation with Shelly Robertson about activity & experiences in her intensely haunted Old Paulding County Jail. We will also be discussing the upcoming 2-hour Season 2 Premier of Portals To Hell which will be featuring her jail with Jack Osbourne & Katrina Weidman.
Kelly Jost-Janusz is a paranormal author. Her books include When The Dead Speak: The Art & Science of Paranormal Investigation as well as Secrets Buried in the Lemon Grove with another coming soon. She joins Kat for a great discussion about her writing, her Into The Night Paranormal Investigation team as well as her Into The Night Radio Show.
United States