Discover
The Grit City Podcast
The Grit City Podcast
Author: GCP Media
Subscribed: 50
Played: 228
Description
The Grit City Podcast is a weekly podcast, hosted from Tacoma, WA. - Affectionately called "Grit City" by people who know and love it.
Every Monday we release an episode highlighting business owners, entrepreneurs, authors, artists, and unique characters we know or happen to run into. Most often these are people that we feel personify the blue collar, hard work ethic people associate with "Grit". Sometimes it's a drug-fueled weirdo that we just met, drunk at a comedy club the night before. No matter what or who we are recording we want you to feel like you're hanging out with friends and taking part in a community of unique and interesting people.
The Grit City Podcast was launched during the summer of 2014 and had over 120 episodes between 2014 and 2017. The founders and original hosts are technology workers who met on the job and bonded over a common interest in the Seattle/Tacoma area. After a short hiatus at the end of 2017, The Grit City Podcast rebooted in 2018 with more friends and family involved. GCP's goal is to become the "Must Listen To" podcast around the Pacific Northwest, with a fan base of people around the world. People who identify with "Grit" and understand that The Reputation is Real.
We would love to hear how you found us. Get in touch here (/contact/) or: info@gritcitypodcast.com
Looking for a way to support the show? Check out our Patreon page (https://www.patreon.com/GritCityPodcast): https://www.patreon.com/GritCityPodcast

Billy White joins the guys for an update on what's been going on at Mary Mart in Tacoma. Mary Mart is a retail marijuana dispensary located nearby in the south Tacoma neighborhood. They're family-owned and operated and take pride in serving their local community. They pride themselves in being well-versed in their craft and love offering their expertise and insight when it comes to marijuana and its many applications. People can learn more about Mary Mart and their upcoming events by visiting their website at: www.marymart.com.4:13 – Justin invites listeners that are interested in sharing what's going on with them in Tacoma to reach out to the podcast, Billy gives the guys an update on what's new with Mary Mart, and shares that they've been open for 5 years. He talks about how they've expanded from a tiny shop ran by the owner and his dad to where it's at today, the cool people they have hired, and how it's now a became household name over the years. They talk about the different stores that have come and gone in the marijuana industry, Justin talks about his first visit there and the connections Mary Mart make with people in the community.15:30 – Scott gives an update on his broken knee, he gives props to Summit Physical Therapy in Puyallup, Billy shares information on the Exotics brand that they sell at the shop, and gives tips on how people can find the right marijuana for them. Justin talks about his most recent trip to the store, the different strains mixed as hybrids, and Billy shares his love for Pokémon Go. Justin and Billy give their reviews of the recent Dave Chappelle & Joe Rogan show in Tacoma, how great security was ran during the show, and the crazy traffic before the it.32:48 – They talk about Dave Chappelle and Joe Rogan renting out the whole theater in Rustin Way, where people can rent out the other theaters in Tacoma, and Billy explains where the next sample they tried came from. He talks about the different extraction methods that are used, Justin shifts the conversation to coaster questions, and Scott shares his appreciation of a good bartender at the shops. Billy answers the question on how many people in suits purchase marijuana, how the shop gets their weed to sell, and the difference between seeds and starts.48:07 – Scott tells Billy about the hidden Tacoma gem, The Manuscript Museum in Tacoma, Justin shares that Tacoma Art Museum is featuring Bart on TAM, and Billy talks about his recent trip to a Mariners game. Billy gives the guys some edibles to try, including one that's a mix of THC and CBD, the recent boom with drug stores selling CBD, and what THCA is. Justin tries the peach gummy and Billy shares where people can find Mary Mart. Thanks Billy for the samples and update on what has been going on in your world! Special Guest: Billy.
Local biologist, Suzanne Akerman, joins the podcast for another great conversation. Suzanne spends her days sharing her passion for animals with visitors at Point Defiance Zoo & Aquarium for the Wild Wonders Outdoor Theater. When she is not performing in shows or scooping poop, Suzanne is chair of Drinking for Conservation, a committee dedicated to conserving wildlife through fun social gatherings. Her hobbies include reading, solving crossword puzzles, trivia, dancing, and occasional modeling. Suzanne holds a B.A in English and an M.A. in Education from Pacific Lutheran University in Tacoma, and a M.A. in Biology from Miami University. She first talked with GCP last year, on episode 16. 2:10 – Justin shares where listeners can find them online, Scott shares the octopus story out of Australia, and they discuss the importance of people not messing with wild animals. Suzanne shares how people can participate in beach walks with the Point Defiance Zoo, what a naturalist means in terms of those working at the zoo, and gave updates on the new stuff happening there. She discusses the eight new red wolf puppies at the zoo, the endangered Malayan tapir born, and how long she has been working at the zoo.15:11 – Suzanne talks about the giant punch rats in Tanzania trained to sniff out landmines, Justin's cat raides the feathers she brought from the zoo, and she talks about the Drinking for Conservation events for endangered species. She shares what events they have coming up, they talk about preserving salmon, and Suzanne shares where people can find out more information on their events online. Justin talks about other ways the zoo gives back to the community, Suzanne talks about the sloth cookies she brought, and they dive into coaster questions.30:09 – Suzanne gives her thoughts on if there was a battle between a monkey and a shark who would win, the difference between a monkey and an ape, and weird conversations she has at the zoo with her fellow zoologists. She talks about how she would eat a platypus, different cultures that eat the head of animals, and what animal she would choose to help her survive in a zombie apocalypse. 43:24 – Suzanne shares the difference between ravens and crows, where people around the PNW can see ravens, and Justin talks about his crow friends. He talks about the different presents the crows have brought him and Michelle, Suzanne talks about University of Washington studies on crow intelligence, and where people can find her at the zoo. She talks about her favorite animals to work with at the zoo, how dangerous sloth nails are, and how people can get zoo memberships.Thanks Suzanne for the interesting conversation and info on the new things going on at the zoo! Special Guest: Suzanne Akerman.
This time the guys talk to Deane Benninghoven, certified hypnotist and artist located in Tacoma. Deane uses hypnotherapy to help adults and children overcome limiting and negative behaviors and chronic pain. He's trained to help clients with weight loss, stress and anxiety, to stop smoking, pain relief, changing behavioral and emotional patterns, and substance abuse. For more information, you can find him online at www.summithypnosisnw.com.00:02 – Justin presents Scott with his replacement Gerber that he lost during his trip to Alaska, they give a shout out to Die Cut Stickers, and Deane talks about getting into ornamental painting and architectural sculptures. He talks about the thought he puts behind his art, what brought him to the west coast, and when he moved to the PNW. Justin talks about Tacoma's history in the 80's and 90's, Deane talks about finding meaningful work in doing facial prosthetics with his wife, and how they generate the plaster.17:10 – Deane talks about what got him into hypnosis, the thoughts he and his wife have had on branching outside of the medical field, and explains what a hobo nickel is. He talks about finding inspiration from the materials he's using for the hobo nickel's, getting into an accident, and the 10 years it took him to get back into his artwork afterwords. They talk about how easy it is to get dependent on painkillers, how Deane helps others to deal with pain through hypnosis, and how he got into it.31:25 – Deane talks about the control he had when starting to use self-hypnosis, the great feeling it was to be able to do Yoga and hold his child, and what put him on the path to get hypnosis certified. He explains how he gets his clients into the state of hypnosis, using hypnosis to help a patient to stop grinding his teeth, and Scott talks about white line therapy.45:47 – Justin switches the conversation to Coaster Questions, Deane talks on if he thinks hypnotism in the entertainment business is real, and how hypnosis affects the brain. He talks on what he loves about hypnosis, Justin talks about his favorite teacher that introuced him to Hitchhikers Guide to the Galaxy, and Deane talks on how self-hypnosis helps with creating art. He talks on using hypnosis as a life hack, contracting with the Woodland Park Zoo, and how he came across the job. Many thanks to Deane for the great conversation on art, hypnosis, and getting into the flow space! Thanks also to Michelle for joining the team as a guest host!! Special Guests: Deane Benninghoven and Michelle R..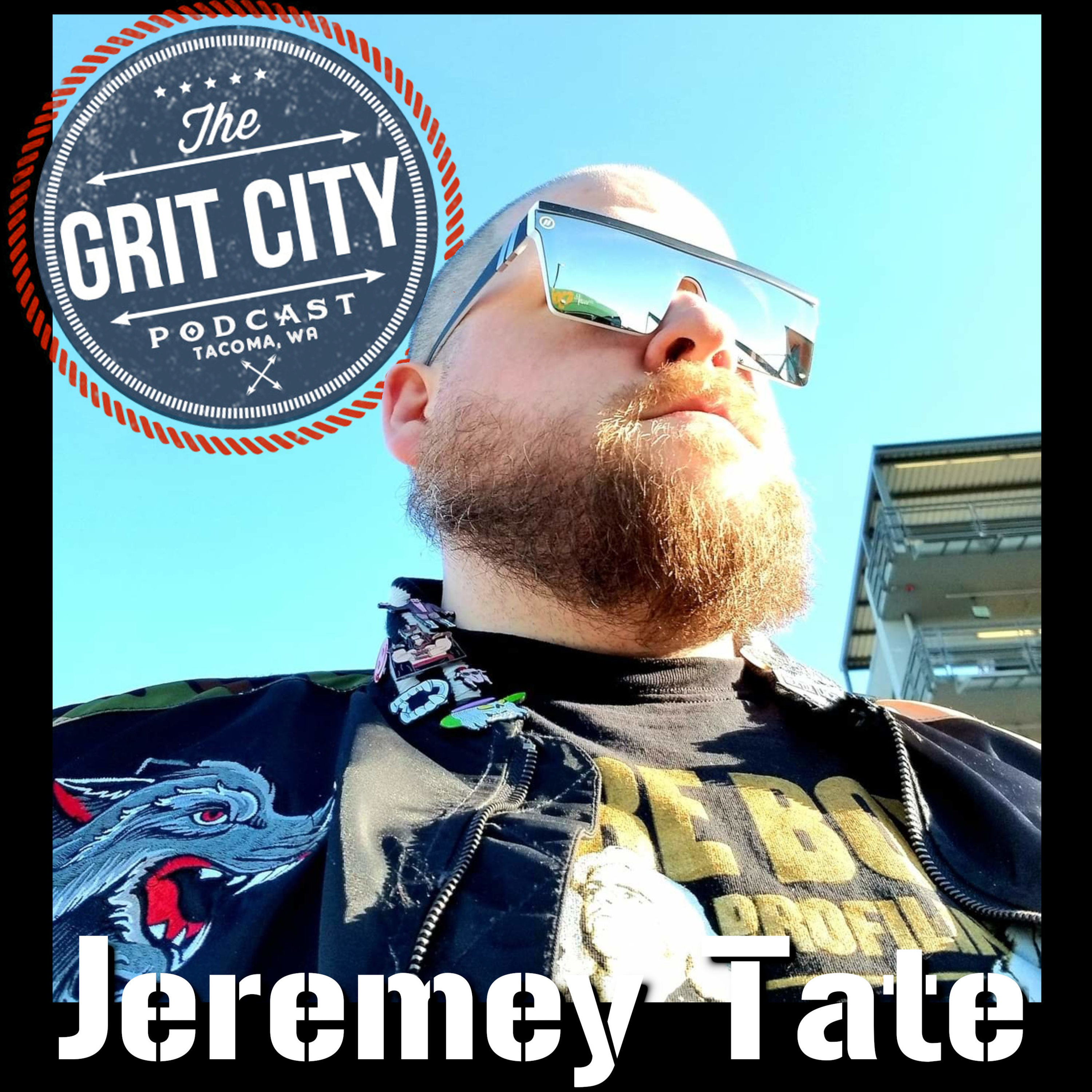 Jeremey Tate
2019-07-2901:00:03
This time the group talks with Jeremey Tate, host of the Grown Men Watch This S* * *? podcast. He also manages the hilarious @jaimsVanDerBeek Twitter account. This week they are also joined by guest host, Michelle!2:06 – Justin gives users information on how they can find GCP online, they talk about the heat in Tacoma, and catchup with Scott on him breaking his knee during their pub crawl in June. Justin talks about Brogan getting a beer facial while drinking from the boot, his battery running out on his Lime scooter a couple blocks from his house, and Jeremey brings up cities that worry about bringing Lime scooters to the town because of the injuries caused by them.13:53 – Topic goes to the explosion of Indie wresting in the PNW, Jeremey gives props to 321 Battle, and gives a shout out to his lady. He talks about the wresting company Without a Cause, Justin talks about wresting that happens at the Temple Theater, and Jeremey talks about the huge crowd involvement at the event. Conversation then goes to Jeremey's Twitter parody account, what was the trigger to the popularity of it, and his most recent event that blew up on Twitter. Jeremey talks about doing t-shirt designs for wrestlers, how daunting it is to learn Photo Shop, and his most surreal experience so far.27:35 – Justin presents Scott with a Gerber tool to replace the one he lost, his plan to replace Brogans backpack, and they talk about past teachers in middle and high school. Jeremey talks about the different schools he went to in the area, what it was like growing up in Puyallup, and painting faces at the Puyallup Fair. Michelle talks about her first shopping experience in Tacoma after moving to the area, Jeremey mentions Tacoma's Number One Fried Rice, and the friendliness of people in Puyallup.41:39 – Jeremey talks about the Witch, Please Market at Jazzbones, watching wrestling at Jazzbones, and other places that could host wresting events. Justin talks about Tacoma bringing back First Night, Scott talks about his trip to Paradise at Mount Rainier, and they discuss what would happen if the volcano went off. Michelle talks about hearing the lahar sirens going off, the recent earthquakes that went off in Washington, and if Justin and Michelle have earthquake insurance. Justin talks about his and Michelle's most recent scooter ride, they each talk about times when they have passed out, and Justin warns scooter rides to be aware of the road hazards in Tacoma.Thanks to Jeremey for joining the podcast and thanks Michelle for stepping into cohost! Special Guests: Jeremey Tate and Michelle R..
This episode is a Best Of when the guys talked to Brian Nelson, the mastermind behind Unleashed at Stadium Bowl in 2016. This year Unleashed at Stadium Bowl 2019 is happening on August 4th at 9 am. At the event, participants run the stairs in a competitive timed event or walk (untimed). The race covers the entire Stadium Bowl, 'weaving the stairs' by running up one staircase, and down the other. Total steps climbed 814, total descended 814 for a grand total of 1,628 steps. Participants can double the pain and double the glory by choosing the 2 Lap Option for a grand total of 3,256 steps! Registration is now open and will close at midnight on July 28, 2019. Race entry fee is $45, $35 for those with a military ID & first responders, and $15 for anyone 8-17 years old. For more information, visit their website at: http://unleashedatstadiumbowl.org/about/On that episode, Brian gave a great explanation of why he started his companies: 99.99999999% of all my failures were due to self-sabotage of one form or another, and this training teaches us how to get out of our own way to accomplish our values-aligned goals. In many ways, Unleashed at Grit360 are my attempts at solving the same problem.6:09 – Brian explains where the idea for Unleashed at Stadium Bowl came from and how the proceeds from the race are to support their animal rescue, Kindred Souls Foundation. He talks about how they were always looking for fundraising ideas outside the traditional fundraising model. In 2007 a friend suggested he run the stairs at the stadium. In 2011, one day after running the stairs, he remembers looking out at the sound where the idea come to him to race the stairs to help raise funds for their foundation.10:28 – Brian talks about the length of the race, ¾ of a mile, 814 stairs up, and 814 stairs down. He explains that at the beginning, they line everyone up at the uprights away from the water, leaving in 5 – 10 second intervals, with groups of five at a time. He then talks about the iconic scene at Stadium High School, what drives people to participate, and the inspirational support the participants have for each other.20:16 – Brian dives into the growing number of participants, starting at 120 members in the first race, they have grown to 471 participants and he expresses his want to hit 500. He also explains their community partnership where businesses that get 10 people to sign up for the race, are then treated like a sponsor, a benefit that helps get all of the public involved. He also expresses the overall objective of Kindred Souls foundation, which is to raise enough funds to expand to a no kill sanctuary. 30:14 – Brian discusses his career in the army until 97 and while enlisted, he did his undergrad and grad study. He left the army 97 but stayed in the guard part time. In 2002 he moved to an active duty position in the guard and served from 2002 – 2015. He then dives into his current position working for a tech company that does foreign language training and explains the new business him and his friend just started, Grit360 where they train mental skills and resilience to help learn who they are and perform at their best.Thank you to Brian for joining the guys and giving them an insight on Unleashed at Stadium! Special Guest: Brian Nelson.
This episode the guys are recording during their Boot to Boot event that happened June 29th, 2019. 1:50 - Justin kicks off the inaugural of the Boot to Boot event at their starting point, The Flying Boots and Wings of Tacoma, he shares where the bar is located, and they talk about where the original Wizards Keep was in Tacoma. Each of the guys share what they're drinking, Justin gives props to Rusty's bar The Church Cantina, and Brogan talks about the upcoming 'Steak Off'. They talk about drinking from the boot at their last stop and Justin shares history behind The Flying Boots.12:01 – Bill Baker shares his recent golfing success story, his contact information for those wanting to sell their home, and he a store about a crazy experience from when he was 10 years old. Justin gives information on The Camp Bar, Michelle talks about the lady they passed on their ride, and Derek from Sometimes Geek talks about the new show he's working on. He shares where people can find him online and they talk with the guys from the podcast 'Chasing Ghosts On Scooters In Bars'. 27:48 – Rusty and Brogan talk about their ride from The Camp Bar to The Harmon Hub, Justin talks about his scooter running out of battery live half way there, and they talk about the homeless man they saw along the way. They give the address and props to The Hub, the guys do the breathalyzer test, and Scott talks about the stunts he did on the way to the Rhein Haus.37:47 – Justin talks about winning meat at the Rhein Haus during their meet drawings on Monday nights, each of the guys discuss what they got in their boots, and Brogan shares the cost of all three. He gives info on where his business is located, they do a toast, and Brogan talks about his beer exploding in his eye. Justin announces that Brogan won the boot, Suzanne from Point Defiance Zoo joins them to share what's going on at the zoo, and talks about the upcoming Drinking For Conservation event. Thanks to everyone that came out! Special Thank You! to The Camp Bar for supporting the event. We had a great time!We'll see you all next time! Special Guests: Chasing Ghosts. On Scooters. In Bars., Derek G, Rusty, and Suzanne Akerman.
This time the guys talk to James Taylor, a Co-Promoter of the Jet City Comic Show that was founded in 2009. The goal of the con is to provide an affordable experience for fans and families in addition to promoting the comic book industry and expanding the awareness of comic books and their creators. Above all though, the thing that is most important to them is for everyone to have a fun and enjoyable experience! This year the convention is happening on October 26th. Through August 31st, people can get early bird pricing: Sunday Pass at $10.00, Saturday Pass at $15.00, and a Two Day Pass for $20.00 Those wanting more information can find them online at: http://www.jetcitycomicshow.com/.2:34 – Justin explains what their Boot To Boot event is, gives props to the Camp Bar in Tacoma, and James Taylor tells the guys about the Jet City Comic show happening in October. He explains where the idea for the convention came from, Justin talks about Emerald City Comic con being bought out by ReedPOP, and their intent to keep the JCCS convention local. They discuss the benefits of doing so, how people can get more information on the convention, and James gives his review of having the convention at the Tacoma Convention Center.12:45 – James talks about making the decision to move the convention from Seattle to Tacoma, Justin brings up the budding nerd culture Tacoma has had, and James gives his thoughts on conventions happening on a weekly basis around the country. They talk about the rising cost of living in Seattle, James shares the cost to attend the JCCS, and he talks about the Drink and Draw that happens Friday the before the show starts.27:40 – James discusses the different panels that they have at the convention, the shows that resounded with him when he was younger, and Justin shares his past love for the 90's show Kindred: The Embraced. Brogan talks about his disappointment in the Discovery Channel, including the show Cooper's Treasure, and if he would rather watch that show or National Treasure. He recommends the guys watch Kon-Tiki, they share their love of the movie Brotherhood of the Wolf, and Justin brings up the epic shows and movies that have ended this year. 41:14 – Justin talks about the Disney+ being the Netflix killer, he talks about how comic books help people improve their reading skills, and James talks about what comic books he feels would be good for kids getting started in reading them. Brogan brings up the show 'Bully Beatdown', him making up with his childhood bully, and James shares how people can find out more information on Jet City Comic Show. Thanks James for a great conversation and information on Jet City Comic show! Special Guest: James Taylor.
On this episode the guys sit down after their recording of the Flat Earth episode to give their review and also talk about their upcoming event Boot To Boot happening on June 29th. 1:40 – Justin shares where listeners can find them online, Brogan describes the flat earth disc coin that Mark Sargent shared with them on their pervious episode on Flat Earth, and Justin gives Brogan props for his coaster questions. Brogan gives a breakdown of the Flat Earth episode, they discuss the Anton Szandor LaVey movement from the 60's, and Justin requests that users give their feedback on that episode.10:33 – They chat about studies that show everyone believes in something weird, Jeff talks about the weird things that happened during the recording, and Brogan talks about checking out the Seventy 48 event in Tacoma. He shares meeting a racer from Fat Tug team that was participating in the event from Canada and Justin talks about the Lighted Boat Parade on Foss happening in December. 20:33 – Justin dives into their upcoming Boot To Boot event happening on June 29th, Scott gives props to the Camp Bar, and Brogan offers to buy drinks for anyone who wears a tux to the event. Justin shares a Reddit post reviewing Lime Scooters, Scott gives a breakdown on the pricing of the scooters, and the length of time it took to complete the practice ride.31:43 – Brogan reviews his electric bike, Justin talks about seeing two people riding on a Lime Scooter together, and recommends those attending the event to bring a helmet. He gives props again to their Big Foot and Flat Earth episodes, they setup a plan for a backpack drive at the event, and how people can help them out by becoming Patreon subscribers.
Steve Dunkelberger returns on this episode to talk PNW military history. Steve has been a working journalist for more than 20 years at various publications around the Puget Sound. In addition to being a journalist, he is also a judge for the Society of Professional Journalists National Sigma Delta Chi Journalism Awards. He has also has given lectures in the area on issues facing journalists, is a member of the Knights of the Pythias, and offers Drunken History tours of Tacoma. Steve has written two history books on the city of Lakewood and has just published his newest book on McNeil Island. He has also had several of his historical articles published on Historylink.org and in Columbia magazine. His past GCP episodes are Episode 10, a Best Of on Jake Bird, Episode 17 where the guys get to tour The Knights of Pythias's Commencement Lodge #7, Episode 44 where they discuss The Maury Island Incident, and Episode 61 where they talk Drunk History. 1:30 – Justin shares information on their Patreon account, talks about the upcoming Boot to Boot event on the 29th, and Jeff explains the rules behind Das Boot. Scott gives props to The Camp Bar, Justin discourages people from buying after market/trunk meet, and Steve shares where people can find him online. Steve then dives into PNW military history, he explains that the first 4th of July celebration happened on the west coast in 1841, and him and Scott debate why the celebration was on the 4th instead of the 5th. 15:01 – Steve talks about the 1854 war with the Native Americans, Pierce County voters in 1917 voting to float $2,000,000 bonds to buy land in Pierce County and gift it to the government, and the condition behind the vote. He talks about how the base was officially opened 9 months later, the patriotism parade oopsie, and then discusses the Spanish flu epidemic. 30:05 – He discusses the history behind McChord Air Force Base that started out as Tacoma Fields, it becoming the air force base in 1947, and the first official Air Force casualties being at McChord. Steve talks about how influential the military was on the PNW growth, Tacoma almost going bankrupt in 1898, and Fort Lewis being a WWII POW facility. 43:40 – Steve talks about the Stars and Stripes newspaper, the liberation edition, and he talks about his newest book on McNeil Island. He discusses Roy Gardner the king of prison escapes, farming that happened on the island, and where people can find his book. He talks about what's new with the Knights of Pythias, this History Happy Hour at The Swiss on July 18th, and Steve lets listeners know how they can pass story ideas to him. Thanks Steve for another great episode!! Special Guest: Steve Dunkelberger.
This time the guys talk with Mark Sargent on the Flat Earth theory. Mark is a PNW local growing up on South Whidbey Island, Washington. He has been researching Flat Earth since 2014. What was at that time to him the strangest conspiracy ever, after extensive research to debunk it, has turned into a theory he has come to believe and promote. In 2015, he started releasing a series of YouTube videos titled "Flat Earth Clues" which has grown to over 79,000 subscribers today. After being involved in the documentary Behind the Curve, Mark has travelled around the world to speak with other like-minded people on the topic.2:08 – Mark discusses how he got involved in the Flat Earth movement in 2014, Jeff talks about watching the recent documentary Mark was in, Behind The Curve, and Mark talks about manufacturing fireworks when he was attending Western in the 80's. He talks about moving to Boulder, Colorado in the 90's to working to develop games, the gaming crowd he hung out with in the early days of computer gaming, and he explains the concept of Flat Earth.22:19 – Mark talks about the events around the world that he's attended since the documentary came out, Jeff brings up the weird things that happen at Mount Adams, and Brogan talks about the Titanic conspiracy around insurance fraud. Justin talks about their upcoming pub-crawl, Brogan shares his recent bar discussion of Flat Earth, and Mark shares how climate change can happen in a dome. He explains spending 9 months trying to disprove the Flat Earth theory and answers the question on if people could actually dig to China.50:30 – Brogan asks about Star Fish Prime, the ring of fire, and the tides. Mark talks about watching his first video on Flat Earth, the type of atmosphere at the flat earth conventions, and how spirituality is linked with the flat earth concept. Conversation turns to each person's review on HBO's Chernobyl, PBS's NOVA, and Mark talks about his other favorite conspiracy theories, including the Panama Canal. Brogan inquiries about falling stars and Mark breaks down Sandy Hook shooting conspiracy for the group.84:23 – Jeff shares his appreciation to Mark for taking all the arrows and slings from people against on this theory, Mark shares how long he's been doing his YouTube channel, and how people can find it. He talks about his book Flat Earth Clues, The Skies the Limit, his upcoming book Flat Earth Clues, End of the World and he covers the Cruise to the Edge of the World. Thanks Mark for an eye opening conversation on Flat Earth! Special Guest: Mark Sargent.
United States