Discover
WE adventure NW Podcast
Claim Ownership
It's been 6 months since we've been in the studio to record. WE is back!!!! In this episode we talk about why, how and what has been going on in these last crazy months.
Zach falls 40 feet down the side of a mountain with lots of laughs attached and you have your pistol with you right?
Special guest Zach and Jess join us to talk about Idaho and it turned out to be one very late night of stories.
Shake down time! Things go wrong, very wrong.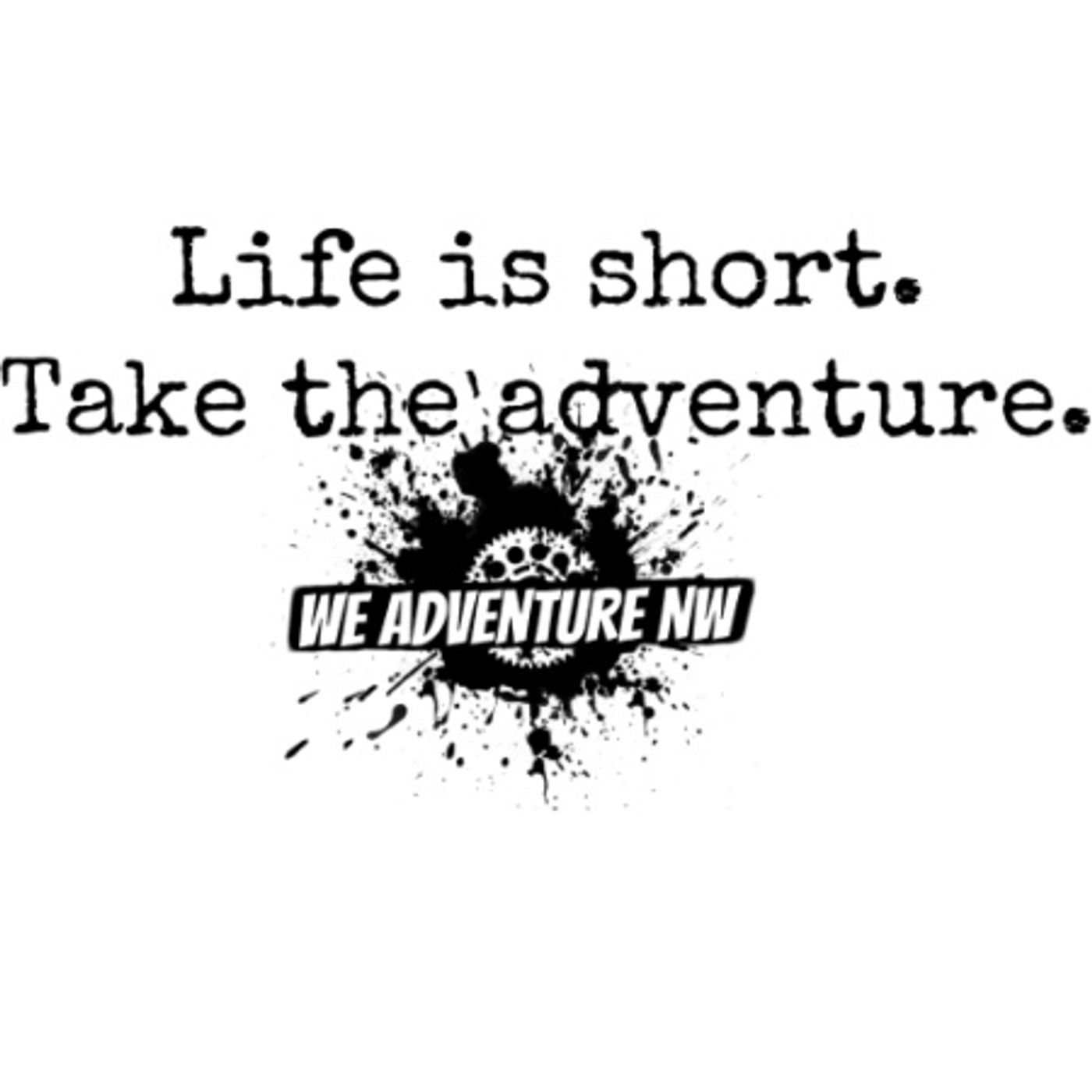 39. Nut Buster!!!!
2020-05-3133:43
Welcome to the show and please tune in for all of the latest and greatest about the Baja build! It is finally finished. Stay tuned, next episode is all about asecret gem of a ride.
As per usual, the Intern learns a lot about only having one nut and more.
WE go's Balls deep on the Baja build while the Intern thinks we only drink Tesla Light....wait...,what?
The Baja crew stopped by for a few Tecates and a whole lot of laughs.
$300 SWIMSUIT!!!!! that's insane.
Intern feels dirty as I use the word ______ in a sentence. Now let's take Baja.
Two sets of girlfriends at one time. Playing with fire? Wife knows and is okay with it.
WE is what?!?! KTM, Honda, roots!!!
WE and Seth AKA Squirrel, take the bikes out for a relaxing day of riding, but WE can't remember shit and Squirrel gets lost.
WE sits down with AKA Billy Soto and RP to talk Bikes, Baja and Beer.
Zach and I take a trip up to Washougal MX park and have one adventure after the next starting out with the drive up there.
I take a trip to a new OHV area find myself on the other side of the tracks. Not sure I'll make it back in time.
In this episode I take the Intern on a little adventure to Crater Lake. Her reaction is priceless.
This Episode we have a couple of our Arizona Patreon's stop by and talk UTVs and something about a casting couch.
Hey guys if you miss episode 24, you will probably want to go back and start with that episode first. Otherwise you may find that episode 25 is more of a train wreck then normal.
Welcome back, this episode went late into the night with some crazy antics and lots of stories. This episode includes our trip to China Hat where we participated in a poker run. The Intern and I recently recorded episode 23, The Pantless Podcast, but in this episode things get HUGE!!!!Hey guys, please remember to leave a 5-star review on your favorite podcast player! It sure does help us grow and gain new listeners. Also, share this podcast to your Facebook, Instagram and Twitter. You can send us listener stories to weadventurenw@gmail.com and then tune in to hear them read on a future podcast.Shout out to our AWESOME patreons!! If you would like to join in, visit www.patreon.com/weadventurenw ... we are always looking for beer money!Thanks again and we really hope you enjoy this episode!!
United States