Discover
Proof
Claim Ownership
Author: America's Test Kitchen
Subscribed: 8,719
Played: 143,980
© America's Test Kitchen
Description
We tell the weird and surprising and funny backstories around food and drink. The tales we haven't all heard yet, the ones that have been lost, the under-told. This is not a recipe show. And this is not a show about celebrity chefs or what they like to eat. Proof goes beyond recipes and cooking to investigate the foods we love (tiki drinks) and don't love (the grain bowl); ask the big questions (where do food cravings come from?); and uncover the hidden backstories that feed your food-obsessed brain. Hosted by Bridget Lancaster. A production of America's Test Kitchen.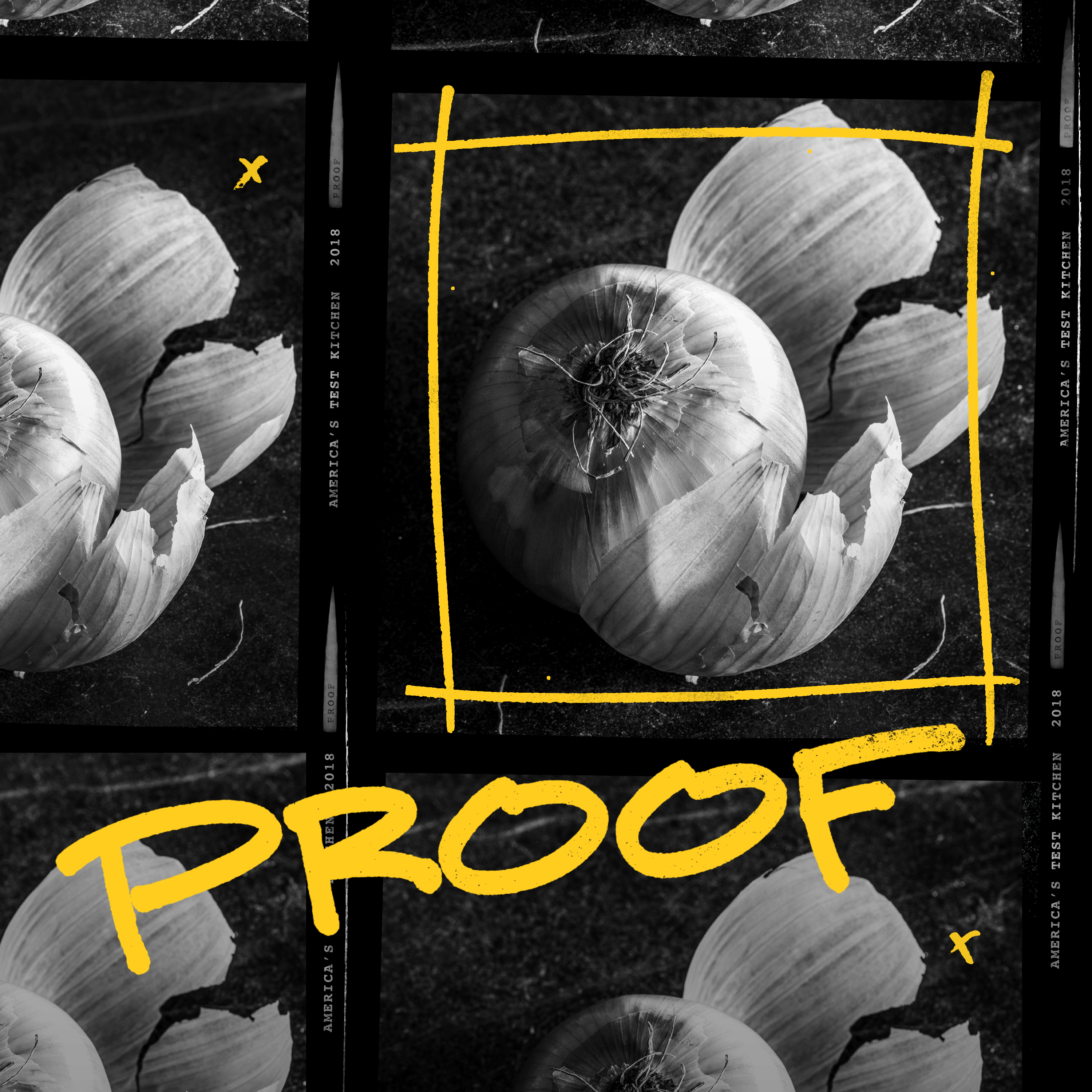 Science Diction host Johanna Mayer joins Bridget to talk about the history of Umami and MSG.
While we work on our next season, here's another podcast to check out: Brought To You By from Business Insider. Jack Daniel's is the top-selling whiskey in the world. For more than 150 years, it's been made using time-honored methods that go back to when Jack Daniel made the whiskey himself. (Yes, he was a real person.) But who taught "Mr. Jack" how to make that whiskey? Nearest Green, a formerly enslaved man. Unlike Jack Daniel, though, most people don't know his name, so one woman has made it her mission to tell the world his story one sip at a time.
The restaurant industry has been especially hard hit by the COVID-19 pandemic. 8 million restaurant jobs have disappeared around the country and some are projecting $80 billion in lost revenue in March and April alone. But behind the numbers and headlines are real people. This is the story of one family, struggling to save their bagel cafe in Boston. Take our Season 4 survey!
In 1947, the Peek Freans bakery of Bermondsey made a beautiful royal wedding cake for Queen Elizabeth's nuptials to Phillip, the Duke of Edinburgh. It was a showstopper: 6 feet tall, 6 tiers, and covered in beautiful white royal icing and exquisite decorations. The Peek Freans bakers were so proud of the cake, that they immediately made a replica, which sat on display for decades. Queen Elizabeth's replica wedding cake would end up in a museum. Until one day in 2015, when it was destroyed by vandals. They turned it upside down, splashed it with red paint, and marked it with "A" for anarchy. But that wasn't the end of the story. Over the next two years, hundreds of people would come together to make yet another replica of the replica royal wedding cake: For the Queen, for craft, or for Bermondsey.Take our Season 4 survey!
For competitive chili cooks, the ultimate accomplishment is taking home first prize at the Original Terlingua International Frank X. Tolbert-Wick Fowler Memorial Championship Chili Cook-off. The Terlingua chili cooks are a tight-knit group. And in 2003, they were suspicious of newcomer Don Eastep. And it turns out, they were right to be. Because Don didn't cook chili at that cook-off. Instead, he turned in a cup of chili to the judges, filled with samples of everyone else's chili mixed together. And then, he won first place. The 2003 Terlingua Cook-off would go down as the most scandalous event in the history of chili cooking. After the chili cheater was revealed, Don was banned from Terlingua, the Eastep family name was scorched, and the chili-cooking community was forced to answer the question: Can the ultimate chili crime be forgiven?Take our Season 4 survey!
How did the nem, a Vietnamese Spring Roll, become a prominent feature on Senegalese restaurant menus in New York City? The Journey of the nem is one of war, love, hardship, and chasing a dream. Over the last century, the nem has traveled thousands of miles, from Vietnam, to Senegal, and eventually, to find its new home in New York. The diaspora and the collective knowledge that traveled with it, shared over generations and across international cities, helped propel spring rolls from foreign novelty to everyday snack.Take our Season 4 survey!
Who Owns Nature?
2020-04-3045:59
3
The Plant Patent Act of 1930 is cited in a landmark Supreme Court case that extended patent rights to genetically engineered plants, animals, and bacteria. But it all started with Luther Burbank, aka the "Wizard of Horticulture." Burbank rose to fame in the early 20th century for his plant inventions like the Russet Burbank Potato. But, unlike his friends Thomas Edison and Henry Ford, Burbank was never able to patent his creations. After Burbank's death, his supporters would push a controversial bill through Congress legalizing patents on plants. But have these laws had unintended consequences in the modern age?
Yelp Therapy
2020-04-2345:41
2
Bryce has put his blood, sweat, and tears into building his business, a Williamsburg restaurant called Black Flamingo. This plant-based Latin-inspired restaurant is home to a basement disco, and widely celebrated tacos and cocktails. So when Tanya leaves a scathing Yelp review about her bad experience at the restaurant, Bryce is discouraged. A Yelp rating is proven to affect restaurant profit, which can make even one bad review devastating to a business owner like Bryce. When the Yelp platform does little to help facilitate resolution, is Bryce and Tanya's only hope of reconciliation to take their dialog "offline" and come face to face?
Seamus Blackley is the creator of the Xbox. He's also an ancient Egypt enthusiast and baking hobbyist. Yes, you heard that right. Via Twitter, he assembled a rag-tag team of specialists: an archeologist (Dr. Serena Love) and a biologist (Rich Bowman). Together, they created a grand scheme: extract dormant yeast from the nooks and crannies of ancient Egyptian pots stored in the vaults of the world's most prestigious museums and bake bread with it.
In 1927, more than 50 years before the first GMO crop hit the market, a scientist named Louis Stadler shot X-rays at barley. The result was a random mutation—a change in the color of the plant. While not particularly useful, it showed that with radiation, scientists could roll the genetic dice, press fast-forward on natural selection, and with enough rolls, maybe even uncover something new- a useful mutant. The Atomic Age would inspire a generation of scientists to blast crops with Cobalt-60 radiation. Even civilians got in on the action. But today, this type of breeding is all but forgotten. Is the possibility of an "Atomic Garden of Eden" worth the nuclear gamble?
4,500 year old yeast, atomic peanuts, and a cheating scandal at a chili cook-off. Season 4 goes even deeper to reveal what's on our plates and how it got there. Tune in for Season 4 of Proof beginning April 9.
We want to share with you a podcast from our friends at The Bitter Southerner called "The Ways of Waffle House" that attempts to answer a large question: How could a 2,000-store restaurant chain become, to Southerners, something more than just another place to eat?
Mystery Recipe is a new podcast from America's Test Kitchen Kids! With new episodes every Monday, Wednesday, and Friday, this short-form podcast will help kids AND their grown-ups uncover the fun, fantastical, and fascinating sides of food. Each week will have a different ingredient theme, which builds to the grand finale: a mystery recipe cook-along. Get excited about cooking (and eating) by digging into the deliciously silly and unexpectedly educational.
Our friends at This Old House have a new podcast called Clearstory. Hosted by Kevin O'Connor, Clearstory is a podcast that sheds light on the surprising stories behind our homes. The episode we bring you today, "Wood: Dead in the Water?", is all about old-growth wood found at the bottom of riverbeds that's used for beautiful furniture and flooring.
Oyster Mushroom Revolution
2020-01-0243:44
6
In Rwanda 26-year-old Christian has turned his mom's backyard into an oyster mushroom cultivation lab, with mushrooms sprouting here and there. And he's not alone. For a country still known internationally for its 1994 genocide, Rwanda's booming mushroom industry reflects hope for a brighter future. In Rwanda, is a better tomorrow just a mushroom farm away?
In part two of this investigation, reporter Ahmed Ali Akbar explores the underbelly of the secretive mango distribution industry. He uncovers the historical and economic reasons that importing mangoes from Pakistan has been so difficult — from regulation to irradiation. And he finally traces product to supplier.
Pakistani-American communities in the U.S. rely on dealers on WhatsApp to gain access to their most coveted treasure: Pakistani mangoes. And they pay a premium for it. In part one of this two-part investigation, reporter Ahmed Ali Akbar searches for answers. Why are Pakistani mangoes so hard to find? And why is the Pakistani community resorting to deals on WhatsApp to procure them?
Jamon, Y'all
2019-12-1245:02
1
In 2015, Will Harris, a farmer in southwest Georgia, partnered with Spanish entrepreneur father and son to bring Iberian pigs to the United States. The climate would be different (from hot, dry Spain to wet, humid Georgia) and so would the pigs' diet (they would eat Georgia pecans instead of acorns), but Harris figured this expensive gamble could pay off. Can jamón ibérico can be reduced to a simple formula (pigs + pasture + acorns), or is there more to the story?
Tracing Jambalaya
2019-12-0551:57
4
Reporter Kayla Stewart attempts to trace Gulf Coast dish Jambalaya back to its rumored roots in West Africa's Jollof Rice. Kayla's journey to find a connection between the two dishes takes her from her mother's Houston kitchen to the streets of Accra. But instead of a link, she finds that the history of African American food ways cannot be separated from the influences of slavery and colonialism.
A South African Entrepreneur, Leah Bessa, discovers that processing Black Soldier Fly larvae produces a milk-like substance, dubbed Entomilk. Can Leah's entomilk ice cream succeed as a dairy-alternative? Although South African populations have a traditional history of bug-eating, can modern society overcome its ick-factor to take advantage of all bugs have to offer?
United States