Discover
What's Up with Wendy
Claim Ownership
Author: What's Up with Wendy
Subscribed: 4
Played: 80
© Copyright What's Up with Wendy
Description
The What's Up with Wendy Podcast will indulge listeners with an in-depth conversation between Wendy Lowy Sloane and her special guests. Wendy's ability to connect with her guests has led to many repeat appearances from popular celebrities including Eric Stonestreet, Monica Potter, Nate Berkus, Lori Laughlin, Paul Reiser, and James Van Praagh.
Tamron Hall is an award-winning TV host, journalist, and philanthropist. She is the Host and Executive Producer of the daytime television show "Tamron Hall," which is produced and distributed in national syndication by Walt Disney Television. For her work on the show's first season, Tamron won the Daytime Emmy for Outstanding Informative Talk Show Host. "Tamron Hall" was also awarded the prestigious Gracie Award, which recognizes exemplary programming created by women, in its first season.Previously, Tamron was the first African American female co-host of "TODAY" and served as the anchor for "MSNBC Live with Tamron Hall." She received the 2015 Edward R. Murrow Award for her "TODAY" segment on domestic violence. Her special NBC News report "Education Nation: Teacher Town Hall" was nominated for an Emmy Award in 2011, and she served as a correspondent for the NBC News special "The Inauguration of Barack Obama," which won an Emmy for Outstanding Live Coverage in October 2010.Tamron is passionate about many causes, including domestic violence, homelessness, and literacy, and she has dedicated her time to many deserving organizations over the years.
Patricia Heaton is an Emmy-winning actress who has played not one, but two beloved TV moms. From 2009-2018 she starred in ABC's critically acclaimed comedy,The Middle. She is, perhaps, best known for her role as Debra Barone on the classic series Everybody Loves Raymond.  She won two Emmy® Awards for the role and was nominated 7 times. Heaton recently authored a best selling book for Simon & Schuster,Your Second Act. When Heaton's children left the nest, she discovered she had the time to pursue passions that were previously placed on hold, both personally and professionally. She now finds her greatest fulfillment in using her influence as a Celebrity Ambassador for World Vision. Through her own experience, Heaton became curious about other people's stories of second-act transitions. In the book, she shares wisdom from her own personal journey as well as insight from stories of numerous people across the country.
No name is more synonymous with the evils of Wall Street than Bernie Madoff. Arrested for fraud in 2008―during the depths of the global financial crisis―the 70-year-old market maker, investment advisor, and former chairman of the NASDAQ had orchestrated the largest Ponzi scheme in world history, fleecing thousands of investors across the globe to the tune of $65 billion. To this day, questions remain: Why did he do it? How did he get away with it for so long? What did his family know? Who is the elusive Bernie Madoff?In Madoff Talks, author Jim Campbell presents the most comprehensive, insider account of the Madoff saga to date. Based on exclusive interviews with all the players―the Madoff family and their associates, the Wall Street wheelers and dealers, the army of lawyers, analysts, and investigators, the victims of the scheme, and Bernie Madoff himselfCampbell is the host of the nationally syndicated radio show Business Talkwith Jim Campbell and his crime show Forensic Talk with Jim Campbell. He isknown for his hard-hitting interviews of leading figures from the worlds ofbusiness, politics and sports. Known for "firsts," Campbell snagged the firstextensive interview with former New York Governor Eliot Spitzer after hisresignation; the first interview with former Tyco CEO Denis Kozlowski after hisrelease from prison; and the first broadcast interview with former stock analystRoomy Kahn, a government informant in one of the biggest insider trading bustsin American history.
Chiara Bello is the founder and creator behind Chic Pig. When I saw Maria Menounos wearing one of Chiara's custom handmade rings made specially for her of her beloved Maximus I knew I too needed one of my beloved Lab Lucky. Celebrities Hilary Duff, Olivia Munn and Whitney Cummings are also clientele of Chiara.In my sit down with Chiara we learn all about how Chic Pig got started and the special technique used in making these amazing jewelry pieces.
Kelly Rizzo Saget (Yep! She's Bob Saget's wife) is the "rocker-chic" personality behind Eat, Travel Rock the popular on-demand entertainment series where she goes behind the scenes with master chefs, rockstars, and other creative industry heavyweights, while traveling the world. Named Travel Queen by Modern Luxury's Michigan Avenue Magazine for her jet-setting career, she shares her vast experience as a world traveler to help you plan your next great adventure. Learn about some hot new 'dream' destinations, and some unique tips to make travel both safer and easier. As CEO and President of Pure Romance, Chris Cicchinelli has grown a small, family business in Cincinnati into the world's largest in-home party company of its kind. A front-page story in the St. Louis Dispatch called Pure Romance "The New Tupperware of the 2000s." Learn how this amazing entrepreneur has become a dynamic motivational speaker and how he was able to create a $350 million a year business. It's a story that will excite, entertain, and inspire
You may be familiar with lifestyle blogger, fellow podcaster and author, Erin Washington. She is sharing her story of what it's like to live with and overcome an eating disorder. She is spreading knowledge on how she has learned to live with balance. Her book, Squats and Margarita is a gripping, raw depiction of living her life with an eating disorder and how she came through it. Erin reveals how she has fought her insecurities and found the secret to freedom and living a happy, healthy life. I ask Erin about struggling with her personal image growing up, getting help and what an average healthy day is like. Keep listening for a special moment with her adorable children!
Started in 2013, by Pamela Aflalo the concept for Nutty Bunny was simple enough, make a delicious and healthy non-dairy ice cream alternative for her daughter Sophie to enjoy. Her research turned up evidence linking allergies similar to Sophie's to dairy products. They decided to try eliminating Dairy from her diet and within weeks Sophie was symptom free. Pamela had trained at the Natural Gourmet Institute and she set out to make the most delicious and healthy non-dairy ice cream for Sophie. Pamela set herself a goal, to concoct the best, nutrient dense desert possible. And this is why all of her recipes with cashews as the base and only natural ingredients that are dense with nutrients for flavor. After a lot of trial and error, Sophie approved a recipe and Nutty Bunny was officially born and named after her childhood nickname. Nutty Bunny can be found in over 25 stores across the tri-state area and has recently opened a new commercial kitchen in Norwalk CT where Pamela oversees production. All Nutty Bunny Ice Cream is deliciously hand-crafted using only the finest organic and vegan ingredients nature has to offer.
Sharon Holand Gelfand, CN, FDN-P, is a functional, holistic nutritionist, speaker and author. She has worked with a wide variety of clientele, ranging from speaking at Fortune 500 companies including Priceline and Sysco Foods, to female entrepreneurs who feel like their bodies are betraying them, and are tired and frustrated, and are searching for answers. Sharon helps her clients get to the root of their most common health complaints with at home testing and flexible food choices so they have more energy, less stress and feel great again. When Sharon's son was diagnosed with Crohn's disease, it was a wake-up call: everything she thought she knew about food and health was wrong. She was motivated to change careers and received a masters in clinical nutrition and recently published her book: "The G.U.T. Method ®: Secrets Beyond Your Plate For A Healthier, More Energetic Life."Sharon is a member of the American College of Nutrition and is a Board Certified Holistic Health Practitioner.
This podcast features interviews with Hollywood's Hottest Chef Ronnie Woo and actress Tamera Mowry-Housley.Celebrity chef Ronnie Woo's client list reads like a Who's Who of Hollywood ~ Gwyneth Paltrow, Jessica Alba, Holly Robinson Peete, Charlie Sheen, and the list goes on and on… As the chef and owner of the hottest LA-based private chef company specializing in premiere four-star dining featuring his All-American take on creative Asian-American cuisine, Ronnie will serve up for your listeners some of the scrumptious recipes he shares at the homes of his A-list clientele.Having attended the Northwest Culinary Academy of Vancouver, Ronnie has a Masters in Marriage and Family Therapy as well as a Masters in Business Administration, significantly bolstering his business acumen while also enhancing his ability to connect with others. His prior experience as a model, having signed with Wilhelmina at the age of 19, provided him an early glimpse into the inner workings of the entertainment industry.Tamera Mowry-Housley is an actress, producer, host, and entrepreneur who has captivated audiences for over 20 years.Tamera co-hosted the Emmy-winning talk show, The Real, for six seasons. The Real is the first syndicated talk show in years to be renewed for a sixth season. The show won the "Outstanding Entertainment Talk Show Host" Emmy at the 45th Daytime Emmy Awards in April 2018.Tamera started her career in Hollywood alongside her sister Tia on the hit show Sister, Sister, which aired over 100 episodes from 1994-1999. Tamera and I talk about what's new in her career, including her recently-announced partnership with Hallmark, and some inside scoop on upcoming related projects in the works. We also discuss her partnership with Teladoc, and specific information on how parents can address health issues and start to take steps to care for themselves as well as their families during this complicated time.
Katherine Wehri Takayasu, M.D., M.B.A. practices Integrative Medicine combining traditional Western medicine with evidence-based complementary modalities at Stamford Hospital in Connecticut. She helps patients heal naturally with acupuncture, mind-body medicine, botanical medicine, nutrition, and lifestyle optimization. She is an Assistant Professor of Clinical Medicine at Columbia University/New York Presbyterian and teaches the next generation of doctors about healing the whole patient mind, body and spirit. For her own wellbeing, Dr. Katie practices what she preaches. She engages in yoga and meditation regularly and enjoys experimenting with plant-based cuisine in the kitchen. Visit Dr. Katie at www.DrKatie.com to discover Dr. Katie's Life Kitchen and on Instagram @DoctorKatie. Look for her book on living a plant-forward lifestyle to be published in 2021.
This podcast features Dolvett Quince, a Celebrity Fitness Trainer from The Biggest Loser and Jim Ryun, a three time Olympian, former World Record holder in the mile.Most recognized for his seven seasons as a trainer on the longtime hit TV show "The Biggest Loser", celebrity fitness trainer Dolvett Quince is one of the nearly 40 million people impacted by the disabling effects of migraine. In this interview I talked with him about his personal experience and struggle with migraine. He shares details about what motivates him, his struggle to find the right treatments to stop his migraines and how these struggles have impacted his life, fitness and wellness. Jim Ryun is a track and field legend, Olympian, former U.S. Congressman and 2020 Presidential Medal of Freedom recipient. Ryun has been hearing impaired for most of his life, having lost 50 percent of his hearing around the age of five due to a high fever, however the loss did not stop him from living an extraordinary life. In our talk Ryun share information about Phonak Lyric, the world's only invisible hearing aid, and how he is now able to confidently hear and interact in crowded noisy discussions and atmospheres.
This podcast features two interviews with fitness experts. First up is my interview with Jen Widerstrom and that's followed by my interview with Jamie Hess.Jen Widerstrom is a television star, entrepreneur and wellness industry leader as the Fitness Director of SHAPE Magazine and former, undefeated coach on NBC's The Biggest Loser. She is an esteemed go to expert in the entertainment industry featured regular on shows Dr. Oz, LIVE with Kelly and Ryan and The Doctors, is the best-selling author of Diet Right for Your Personality Type, and remains available to people everywhere as their daily get-fit motivator at WiderSTRONG.comIn my sit down with Jen we talk about ways to help meet health and fitness goals and how it might be different this year, about sticking with your plan and her time on the Biggest Loser and much more.Jamie Hess is the creator of @NYCfitfam. The daughter of TV journalist, Joan Lunden, Jamie grew up watching her mother inspire others to live their healthiest lives and committed to following in her footsteps. After her husband, George, proposed on the treadmills at Barry's Boot Camp, the duo began documenting their adventures on social media. They share tips on fitness, nutrition, mindfulness, and conscious parenting and have been named one of the "7 Fittest Couples on Instagram" by Women's Health. Jamie and I talk about tips for healthy steps to ease into this New Year like meal planning, full body wellness, eating habits and much more!
In remembrance of Mary Wilson, I'm sharing my 2017 sit down with her. It was such a privilege to be able to talk to her about her fame and her life. She was as gracious and generous as could be. We talked about her amazing career as part of the Supremes, getting that first hit record, the early days, her childhood, her diaries, her English teacher who inspired her and we even talked about clothes she wore. We giggled, we laughed and I'm reminded again, how very lucky I was to have that time with her.Wilson was a "trendsetter who broke down social, racial, and gender barriers." She began her career in Detroit in 1959 as a singer in a group that was then called The Primettes. They went on to become The Supremes, Motown's most successful group of the 1960s, with 12 No. 1 singles including "Where Did Our Love Go," "Baby Love," and "Stop! In the Name of Love."The Supremes' influence not only carries on in contemporary R&B, soul, and pop, they also helped pave the way for mainstream success by Black artists across all genres. In 2018, Billboard celebrated the 60th anniversary of Motown with a list of "The Hot 100's Top Artists of All Time," and listed The Supremes at number 16.
Christina Tosi is the rule-breaking, award-winning chef and founder of Milk Bar, whose inventive and nostalgic treats have fueled a national dessert empire with locations across the USA, a robust e-commerce platform, and products in grocery stores nationwide. Guided by classic American desserts with a witty and creative twist, Tosi is the creator of iconic treats like Cereal Milk, the Compost Cookie, and an elevated revision of childhood Birthday Cake. She is the author of three bestselling cookbooks: Momofuku Milk Bar, Milk Bar Life, and All About Cake, and she's set to debut her latest cookbook, Milk Bar: Kids Only in October 2020. A former judge on Masterchef Junior, the subject of Chef's Table's premier episode on pastry, and the host of her own weekly Bake Club series on Instagram. In this podcast we talk about her journey to Milk Bar, small businesses and her favorite treats.
Monty Moran is the former co-CEO at Chipotle Mexican Grill. Prior to joining Chipotle, he was head of litigation and then managing partner and CEO at the Denver-based law firm of Messner and Reeves, LLC, which he led for ten years. In this interview we talk about Monty's personal story and his journey to Chipotle and how Chipotle revolutionized the fast-food industry. We talk about his new book Love is Free. Guac is Extra.: How Vulnerability, Empowerment, and Curiosity Built an Unstoppable Team. The guide to being connected to your employees; How to build a business; Leadership and so much more. As you're about to find out, Monty is one of the best conscious leaders in the world. Monty is like No other CEO I've ever met or interviewed! You won't want to miss this!
Don't miss this very special edition of the What's Up With Wendy Podcast—my interview with the legendary Larry King.As a tv journalist, I always admired Larry and his skill as an interviewer—how he genuinely listened more than he talked. Because he knew how to make people feel comfortable, he was able to pull so much from anyone who was lucky enough to sit across from him. He was the best interviewer ever and one of the nicest guys in the business.In our 2016 interview, we talk about how Larry got the name "King," and the secret I learned from him that I shared with my kids. And of course, we had some laughs.He was as genuine as you would expect in this feel-good interview. We talked about kids and life and Larry's legendary interviews. And when I asked him if he ever got nervous before an interview, I was surprised by the two people who he mentioned made him anxious.Larry was a true icon, and interviewed some of the most famous people on the planet—tune in to hear who some of his favorite interviews were, and which one wore suspenders! Head over to my BIO and subscribe to listen on any of your favorite platforms! Share and like!
Alisa Bowens-Mercado is the Founder, CEO, and Brew-master of Rhythm Brewing Co. Affectionately known as "Lady Lager", she made history by becoming the first African-American, woman-owned beer brand in the state of Connecticut (4th in the Country). Alisa, a professional salsa dancer and instructor, glided on to the beer scene in 2018. Her passion for music, dance, and beer have played a significant role in her life. Both of Alisa's grandmothers were lager drinkers, and by paying homage to them, she is keep up the tradition.Recognizing a significant gap in the $114 billion beer industry, she has made it her mission to tap into an "untapped" and under served demographic in the Country.
Jenny Paul is a producer/actress whose series "Adulting With Jane" offers a unique way to offer a teachable moment using comedy to make uncomfortable topics more comfortable. This DIY Comedy series is best described as sitcom meets how-to video with a different expert/influencer appearing in each episode to teach Jane how to "adult." The cast is led by Paul as Jane, a 20/30 something with average millennial problems, and a star studded cast of expert/influencers in each season to teach Jane how to "adult." The shoppable comedy series is available on AdultingWithJane.com, Facebook Watch, IGTV, or Amazon Prime.
Kara Goldin is the founder and CEO of Hint, Inc., best known for its award-winning Hint® water, the leading unsweetened flavored water. Hint is valued at $150 million and has a presence in Whole Foods, Target, and other national chains. She has been named one of InStyle's Badass 50, Fast Company's Most Creative People in Business, Fortune's Most Powerful Women Entrepreneurs, Fortune's Most Innovative Women in Food & Drink and EY Entrepreneur of the Year for Northern California. The Huffington Post listed her as one of six disruptors in business, alongside Steve Jobs and Mark Zuckerberg. She says her goal is to help as many people as possible get healthier by making simple, better-for-you choices that are actually enjoyable.Click this link for more information on Kara's book Undaunted www.drinkhint.com/WhatsUpWithWendy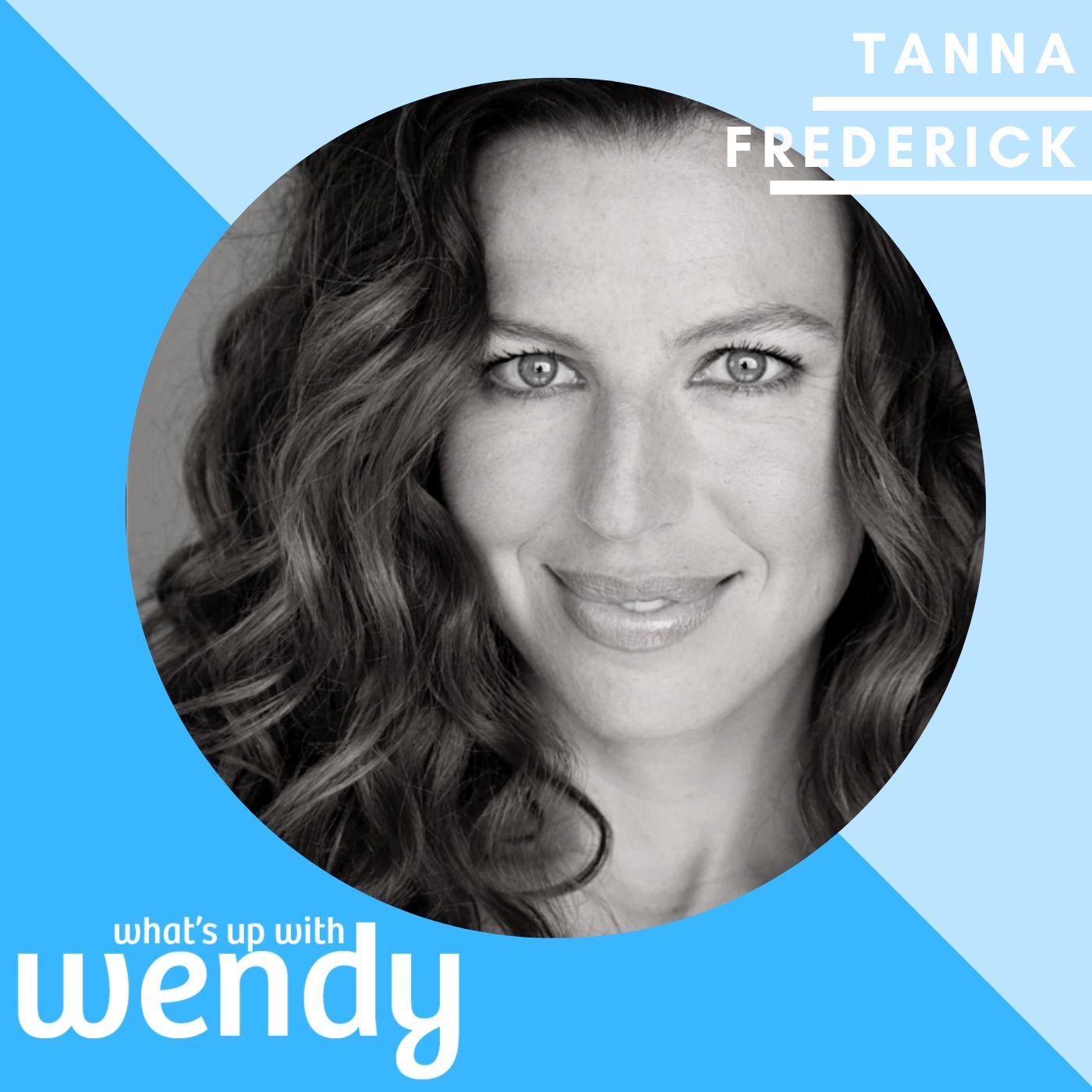 Tanna Frederick is the star of the award-winning film TWO WAYS HOME. She plays Kathy, a women newly diagnosed with bipolar disorder who is released from prison on good behavior and returns to her country home in Iowa to reconnect with her estranged 12-year-old daughter and her cantankerous elderly grandfather. In this podcast Tanna reveals that she has a lot of personal connections to her character. She has dealt with clinical depression, and her parents also have been involved in the world of mental health, including working with the organization National Alliance of Mental Illness (NAMI).
United States