Discover
Juice Guru Radio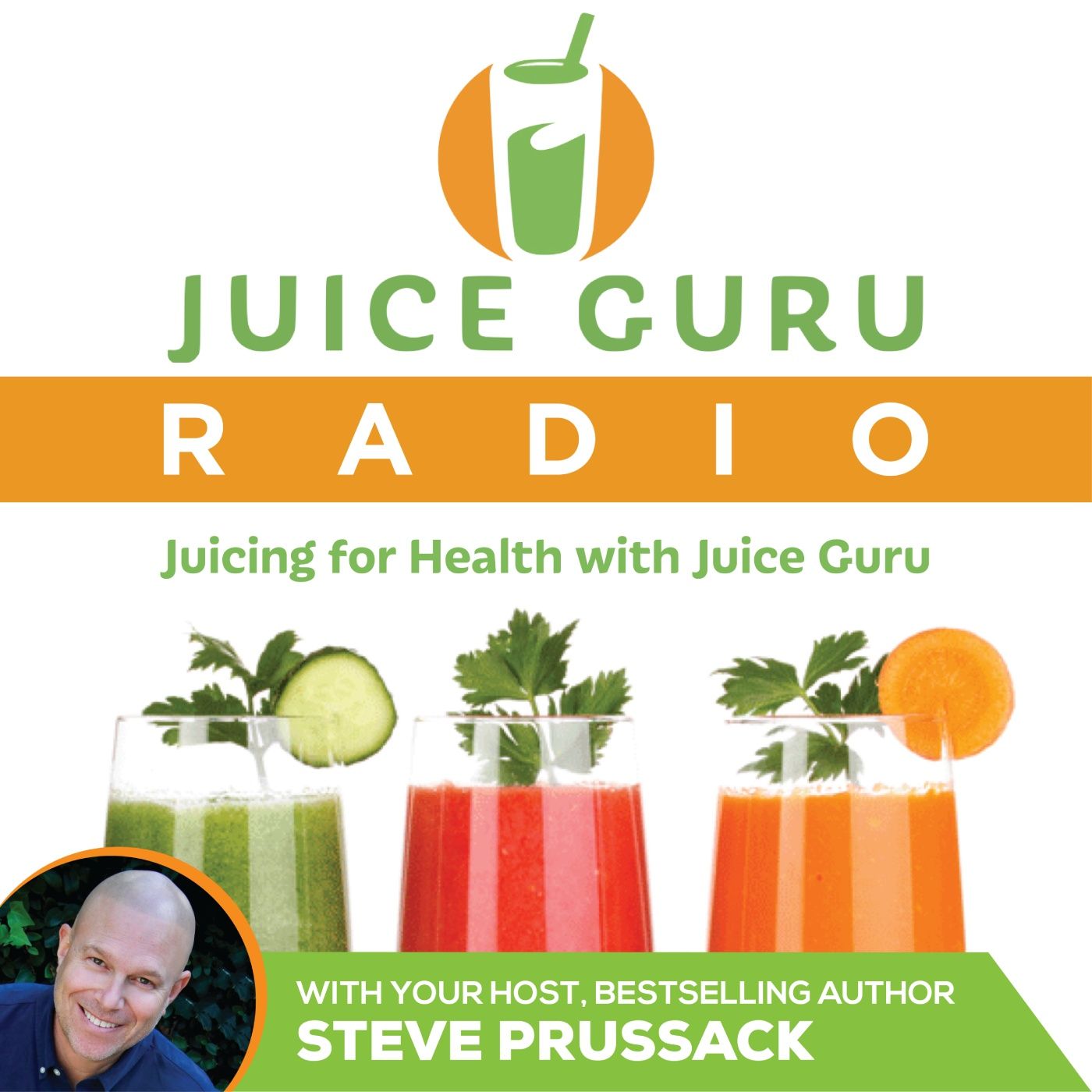 Author: Juice Guru Radio
Subscribed: 9
Played: 140
© Copyright Juice Guru Radio
Description
Juice Guru Radio is hosted by Steve Prussack, author of the bestselling books, "Juice Guru: Transform Your Life by Adding One Juice a Day" and "The Complete Idiot's Guide to Juice Fasting." You'll find out how the power and magic of juicing can change your life today. Each episode features special guest leaders in the juicing movement. Visit
http://www.juiceguru.com
for more information.
WhyHunger believes a world without hunger is possible. On today's show, find out from executive director of WhyHunger Noreen Springstead the steps we can take to create a world without hunger.
Here is the "skinny" on juicing... find out why and how to get started with juicing! You'll also discover how to create juices that are not only healthy, get you lean and energized... but taste DE-LICI-OUS too!
Find out Juice Guru Steve's TOP THREE TIPS for Juicing on a Budget. Money should not get in the way of your juicing habit. I'll explain how to juice on a shoestring budget.
In this episode, Juice Guru Steve Prussack answers questions about how to get started juicing and defines the Juice Guru Method. This protocol can help you get lean, energized, clear the brain fog and lift you from depression.
What is the Mucusless Diet Healing System by Prof. Arnold Ehret and what can it do for you?Here's what you'll find out:* How Prof. Spira lost over 100 lbs. and overcome ailments such as daily headaches, allergies, sleep apnea, and chronic sinus problems through the Mucusless Diet Healing System by Prof. Arnold Ehret?* What is pus and mucus-forming foods and which ones should be avoided?* What often misunderstood and ignored principle about the Mucusless Diet separates it from other "cleanses" or healing diets?
Diets are about giving up the foods you love. Juicing can help you get (and stay) lean while still loving your food and avoiding diets once and for all. Find out how with bestselling author Juice Guru Steve Prussack.
Megan Sadd, author of the 30 Minute Vegan Dinners and the Creator of Carrots & Flowers, one of the top plant-based cooking channels on Facebook shares with us her advice for people who are just beginning to explore plant-based food and She also explained why eating plant-based doesn't mean sacrificing flavor, time, or satisfaction.
Dotsie Bausch, a plant-powered and award-winning athlete shares with us how she overcomes her struggle with severe eating disorders and hindrances when she transitioned to a plant-based diet as an athlete.
Celebrity Vegan Chef Eddie Garza is one of the world's top 20 plant-based chef's by Foodable TV shares with us how he struggles with serious weight problems from an early age and how he transitioned to a plant-centric diet which helped him to naturally lose over 150 pounds and reverse his declining health.
Agnes Muljadi is a Los Angeles based entrepreneur, wellness coach, public speaker and vegan ballerina. Known as @artsyagnes on Instagram, Agnes' plant-based journey began in 2014 shortly after she discovered a rapidly growing tumor on her breast. Within a year subsequent to her diagnosis, Agnes radically changed her diet and lifestyle to begin transforming her health from within.
Danielle Sade author of The Aromatherapy Beauty Guide shares with us how to revolutionize our life by showing us the simplicity in making our own natural skin care products. She will give us tips on how to save thousands of dollars a year and contribute to a cleaner environment by these natural skin care products.
Dana Wilde, bestselling author of Train Your Brain and the creator of The Celebrity Formula shares with us why Mindset Matters Most. She also gives some pointers on how to use our mindset on a positive level even though we are raised in a negative environment and also how to move again after having the feeling of being unproductive.
Olivia Biermann shares the challenges and benefits of a plant-based diet and how she created a successful business reaching over a million followers with her message while following her passion.
Michael Ofei, author of The Minimalist Vegan shares with us how his plant-based lifestyle journey begins and what is the connection between minimalism and veganism as it relates to conscious consumerism.
Sunny Subramanian the author of "The Compassionate Chick's Guide to DIY Beauty" shares with us the benefits of making our own vegan beauty products and what are some of her favorite organic ingredients.
Carly Pollack, the founder of Nutritional Wisdom, shares with us the definition of Food Freedom and Discipline. She also discusses why every time we say yes to something we are saying no to something else and why we should welcome discomfort.
JL Fields shares with us how batch cooking can help new vegans and How advance planning can help save time and money.
Ronald J. Frey, Ph.D. shares with us what Interpersonal Psychotherapy is and Why our relationships are important in our healing process.
Celebrity journalist and NY Times Bestseller Jane Valez-Mitchell shares about her journey to a compassionate lifestyle and shows you tips on how to get involved spreading the truth about plant-based living (and juicing).
Mark Reinfeld the 2017 Inductee into the Vegetarian Hall of Fame and a multi-award winning chef and author of eight books shares with us How to Make a Living Spreading the Message of Compassion and The Importance of Knowing your Purpose to Motivate and Encourage Others to Discover their Passion.
United States