Claim Ownership
Author:
Subscribed: 0
Played: 0
Description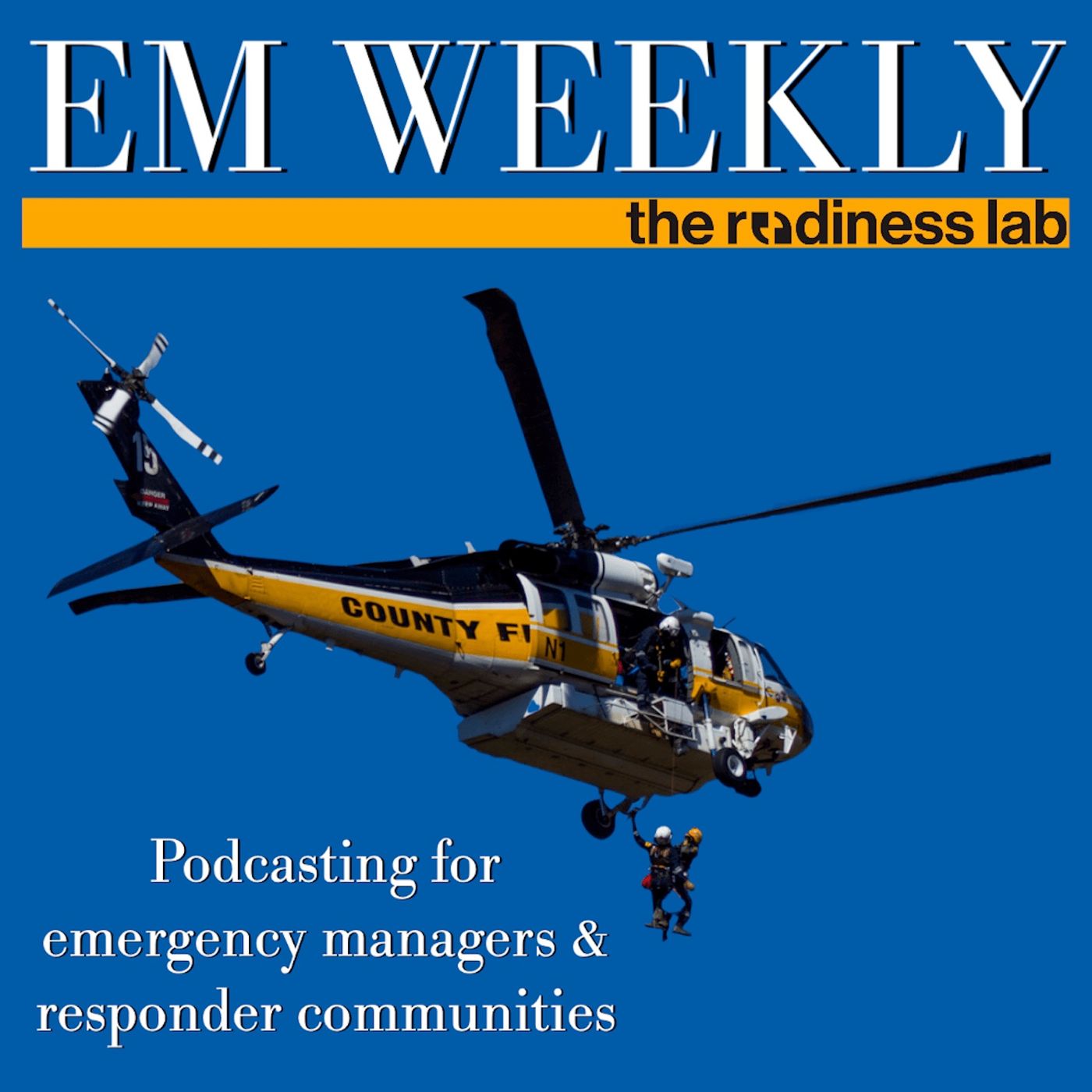 The EM Weekly podcast is saying goodbye to Todd De Voe on Feb 24th. In this final episode with Todd, he will, 'pass the mic,' to John Scardena, the host of the Disaster Tough Podcast. John is a fantastic host who will continue interviewing leaders in emergency and disaster management each week on his show.EM Weekly will continue to live on- the content and interviews that have helped so many emergency managers will remain on all podcast networks for our fans. The show has done amazing things to help the field and we will find new and exciting avenues to keep pushing the door open for emergency managers everywhere. Stay tuned!
StormGeo's team of experts focuses on meeting those challenges before they arrive. Their weather intelligence and advanced analytics empower their clients to make informed decisions when they need it most.They believe the most important decisions should be made based on leading-edge advanced analytics with the most reliable data. StormGeo's mission is to be a trusted resource their clients can turn to, guiding them through a rapidly changing future.
Over the last few years, the world has seen an increase in the number of wildland fires (bush fires in Australia) and the intensity of the fires. This week, we talk to two leading experts in using drones and other technology to help fight fires. Two organizations, the Advanced Mobility Collective ("The Collective") and Colorado's Center of Excellence Advanced Technology Aerial Firefighting ("COE"), have partnered up to combat this problem together, using advanced networked technology.
Elected officials need to understand their role in emergencies, their authority, and their responsibilities. In addition, they need to understand, the role of emergency management officials and the role of the EM before, during, and after a disaster. Elected Officials need to practice with emergency management officials before a disaster occurs. So how do we bring elected officials into the emergency management fold? LinksTodd De VoeWebsite - https://toddtdevoe.com/Website- www.crisis-cafe.comSpeak N Spark-https://bit.ly/3sTVUfrLinkedIn - https://bit.ly/3sVHL1g
So you put in your 30 years, it is time to hang up the boots and put away the uniform. What Next? I have advised some of the people that I am mentoring to have a plan for their future after public service, or even your next steps after your time in the private sector. As emergency managers, we need to lean forward to take care of ourselves.LinksTodd De VoeWebsite - https://toddtdevoe.com/Website- www.crisis-cafe.comSpeak N Spark-https://bit.ly/3sTVUfrLinkedIn - https://bit.ly/3sVHL1g
The Caribbean region is confronted with an increasing number of devastating storms and extreme weather events, as evidenced by the increasing length of the Atlantic hurricane season during which these storms can form, as well as their severity. These events require advanced government and institutional capacities to adequately prepare for an immediate response in their aftermath.LinksTrevor Johnson Jr., MSc.LinkedIn -https://www.linkedin.com/in/trevor-johnson-jr-38b543185/Todd De VoeWebsite - https://toddtdevoe.com/Website- https://leaders-cafe.mn.co/Speak N Spark-https://bit.ly/3sTVUfrLinkedIn - https://bit.ly/3sVHL1g
Aviation Emergency Management is not just a subcategory of the profession of emergency management, it is truly a discipline of its own. As we sit down with Dr. Jesse Spearo Senior Emergency Management Program Specialist, Fort Lauderdale/Hollywood International Airport, we take a deep dive into what it is like running an Emergency Management Department at one of the nation's top airports.LinksDr. Jesse SpearoWeb - https://discover.pbcgov.org/Airports/Pages/default.aspxTwitter - https://twitter.com/pbcgovFacebook -https://www.facebook.com/pbcgovLinkedIn -https://www.linkedin.com/.../jesse-spearo-phd-cem-fpem.../YouTube - https://www.youtube.com/user/pbcgov20Todd De VoeWebsite - https://toddtdevoe.com/Website- www.crisis-cafe.comSpeak N Spark-https://bit.ly/3sTVUfrLinkedIn - https://bit.ly/3sVHL1gEM WeeklyWebsite - https://bit.ly/3jj5ItlTwitter - https://bit.ly/31z8MeXFacebook - https://bit.ly/3dMlbRPLinkedIn - https://bit.ly/34mXyfzYouTube - https://bit.ly/2FQDhWdSponsorsDisaster Tech-https://www.disastertech.com/Doberman EMG-https://www.dobermanemg.com/The Readiness Lab-https://www.thereadinesslab.com/If you would like to become a sponsor or advertiserCall Jon Fontane (203) 970-8042
On January 6, 2021, the United States Capital was marched on by protesters that eventually overtook the building. A year later, EM Weekly sat down with the team on duty in the Washington DC EOC. We take a deep dive into what it is like to manage an event that the entire world is watching.LinksChristopher RodriquezWeb - https://hsema.dc.gov/Twitter - https://twitter.com/dcfireemsFacebook -https://www.facebook.com/HSEMADCTodd De VoeWebsite - https://toddtdevoe.com/Website- www.crisis-cafe.comSpeak N Spark-https://bit.ly/3sTVUfrLinkedIn - https://bit.ly/3sVHL1gEM WeeklyWebsite - https://bit.ly/3jj5ItlTwitter - https://bit.ly/31z8MeXFacebook - https://bit.ly/3dMlbRPLinkedIn - https://bit.ly/34mXyfzYouTube - https://bit.ly/2FQDhWdSponsorsThe Readiness Lab-https://www.thereadinesslab.com/If you would like to become a sponsor or advertiserCall Jon Fontane (203) 970-8042
You may have heard the old saying that making assumptions (or to assume) makes an ass out of u and me…well to assume goes deeper into making bad decisions and even worse execution. Assumptions are risky and can often be detrimental, particularly during high-stress times and crises. This week we will explore how and why you must stop making assumptions in your role as a leader.The Business Continuity ShowTwitter - https://bit.ly/3ojEIO2Facebook - https://bit.ly/2Tjqv5HLinkedIn - https://bit.ly/34mXyfzYouTube - https://bit.ly/3mePJyGAwards:https://blog.feedspot.com/business_continuity_podcasts/Sister ShowsEM StudentWeb - https://bit.ly/2Hw0sFxTwitter - https://bit.ly/31z8MeXFacebook - https://bit.ly/3dMlbRPLinkedIn - https://bit.ly/34mXyfzYouTube - https://bit.ly/2FQDhWdEM WeeklyWebsite - https://bit.ly/3jj5ItlTwitter - https://bit.ly/31z8MeXFacebook - https://bit.ly/3dMlbRPLinkedIn - https://bit.ly/34mXyfzYouTube - https://bit.ly/2FQDhWd
This year we are taking a look at the year that was and the predictions of the year to come. It has been a crazy 2021 and we may be looking at an eventful 2022. It is an election year, COVID is still a thing, Wildland Fires maybe even bigger (more fule), and what else can go wrong? May our predictions be wrong, or right depending on what our inner Nostradamus says! Happy New Year everyone!LinksTodd De VoeWebsite - https://toddtdevoe.com/Website- www.crisis-cafe.comSpeak N Spark-https://bit.ly/3sTVUfrLinkedIn - https://bit.ly/3sVHL1gThe Readiness Lab-https://www.thereadinesslab.com/If you would like to become a sponsor or advertiserCall Jon Fontane (203) 970-8042
The National Urban Search & Rescue (US&R) Response System (the System), established under the authority of the Federal Emergency Management Agency in 1989, is a framework for organizing federal, state, and local partner emergency response teams as integrated federal disaster response task forces. The System's 28 US&R task forces can be deployed by FEMA to a disaster area to provide assistance in structural collapse rescue, or they may be pre-positioned when a major disaster threatens a community.The System is a vital federal asset to support the continuous operation of critical government and business functions that are essential to human health and safety or economic security.The task forces are equipped and ready to deploy within six hours in various response models. When federal support is anticipated prior to an event such as a hurricane, System resources are often pre-positioned along with other federal responders to expedite support following the disaster.Each NIMS Type 1 US&R task force is composed of 70 members specializing in search, rescue, medicine, hazardous materials, logistics, and planning, including technical specialists such as physicians, structural engineers, and canine search teams. Joe HernandezWeb - https://www.disastermedicalsolutions.com/Twitter - https://twitter.com/joehern08071488Facebook -https://www.facebook.com/usarmedic/LinkedIn -https://www.linkedin.com/in/joe-hernandez-56269852/YouTube - https://www.youtube.com/user/CrushMedicineTodd De VoeWebsite - https://toddtdevoe.com/Website- www.crisis-cafe.comSpeak N Spark-https://bit.ly/3sTVUfrLinkedIn - https://bit.ly/3sVHL1gEM WeeklyWebsite - https://bit.ly/3jj5ItlTwitter - https://bit.ly/31z8MeXFacebook - https://bit.ly/3dMlbRPLinkedIn - https://bit.ly/34mXyfzYouTube - https://bit.ly/2FQDhWdSponsorsDoberman EMG-https://www.dobermanemg.com/The Readiness Lab-https://www.thereadinesslab.com/If you would like to become a sponsor or advertiserCall Jon Fontane (203) 970-8042
The use of Incident Management Teams in Law Enforcement is growing and being embraced. In the past, it was a common practice at an incident for fire and EMS first responders to stage at safe distances while law enforcement handled the incident on their own. As a result of several high-profile incidents, fire and law enforcement agencies have been re-examining the strategies and tactics used at significant incidents to improve outcomes while ensuring the safety of first responders.Todd De VoeWebsite - https://toddtdevoe.com/Website- www.crisis-cafe.comSpeak N Spark-https://bit.ly/3sTVUfrLinkedIn - https://bit.ly/3sVHL1gEM WeeklyWebsite - https://bit.ly/3jj5ItlTwitter - https://bit.ly/31z8MeXFacebook - https://bit.ly/3dMlbRPLinkedIn - https://bit.ly/34mXyfzYouTube - https://bit.ly/2FQDhWdSponsorsDisaster Tech-https://www.disastertech.com/Doberman EMG-https://www.dobermanemg.com/The Readiness Lab-https://www.thereadinesslab.com/If you would like to become a sponsor or advertiserCall Jon Fontane (203) 970-8042
Veteran, Firefighter, and now the first woman Administrator of FEMA. Ms. Deanne Criswell was unanimously confirmed by the Senate on April 22, 2021, as the 12th Administrator of the Federal Emergency Management Agency (FEMA). Ms. Criswell is the first woman confirmed to serve as the Administrator, where she leads the nation's efforts in helping people before, during, and after disasters. She brings with her an extensive career in emergency management with over 27 years of experience at all levels of government and the private sector.Deanne CriswellWeb - https://www.fema.gov/profile/deanne-criswellTwitter - https://twitter.com/FEMA_DeanneFacebook -https://www.facebook.com/imen.stao.5LinkedIn -https://www.linkedin.com/in/deanne-criswell-862bb2a/Todd De VoeWebsite - https://toddtdevoe.com/Website- www.crisis-cafe.comSpeak N Spark-https://bit.ly/3sTVUfrLinkedIn - https://bit.ly/3sVHL1gEM WeeklyWebsite - https://bit.ly/3jj5ItlTwitter - https://bit.ly/31z8MeXFacebook - https://bit.ly/3dMlbRPLinkedIn - https://bit.ly/34mXyfzYouTube - https://bit.ly/2FQDhWdSponsors Disaster Tech-https://www.disastertech.com/NDEM Expo-https://www.ndemevent.com/en-us.htmlDoberman EMG-https://www.dobermanemg.com/The Readiness Lab-https://www.thereadinesslab.com/If you would like to become a sponsor or advertiser Call Sitch Radio (714) 643-2500 X 1
A private-public partnership (P3) is any type of mutually beneficial cooperative arrangement, informal or formal, between two or more organizations of private industry and the public sector to enhance the life safety, economic security, and resilience of jurisdictions. To highlight the value of the private sector, nongovernmental organizations (NGOs), and other stakeholders. Activities to establish, support, and maintain P3s already exist; however, most jurisdictions are not actively or consciously leveraging their full potential. The focus of this document is to build P3s that provide shared benefits across jurisdictions.LinksJackie Koci TamayoTwitter - https://twitter.com/JackieKociLinkedIn - www.linkedin.com/in/jackiekocitamayoTodd De VoeWebsite - https://toddtdevoe.com/Website- www.crisis-cafe.comSpeak N Spark-https://bit.ly/3sTVUfrLinkedIn - https://bit.ly/3sVHL1gEM WeeklyWebsite - https://bit.ly/3jj5ItlTwitter - https://bit.ly/31z8MeXFacebook - https://bit.ly/3dMlbRPLinkedIn - https://bit.ly/34mXyfzYouTube - https://bit.ly/2FQDhWdSponsorsDisaster Tech-https://www.disastertech.com/Doberman EMG-https://www.dobermanemg.com/The Readiness Lab-https://www.thereadinesslab.com/
Emergency managers make time-sensitive decisions in order to protect the public from threats both natural and human-caused. Decision-making models can be used to develop better decision support tools, improve training, and understand how innovative, data and critical information affect the emergency managers' role in protecting the public.Disaster Tech's Decision science Integrated Collaboration Environment (DICE) is a comprehensive situational awareness platform that can take in data, models, and text to communicate across teams. Disaster Tech believes in arming risk, disaster, and emergency managers with high-quality technology that alleviates communication obstacles. DICE provides real-time situational intelligence for before, during, and after disasters by using streaming data, data management, and data visualization tools.LinksLee dePaloWeb - https://www.disastertech.com/about-usTwitter - https://twitter.com/disastertechincInstagram-https://www.instagram.com/disastertechinc/LinkedIn -https://www.linkedin.com/in/leedepalo/YouTube - https://www.youtube.com/.../UCx68T3tE2c9P0PrPWMpPlxw/videosTodd De VoeWebsite - https://toddtdevoe.com/Website- www.crisis-cafe.comSpeak N Spark-https://bit.ly/3sTVUfrLinkedIn - https://bit.ly/3sVHL1gEM WeeklyWebsite - https://bit.ly/3jj5ItlTwitter - https://bit.ly/31z8MeXFacebook - https://bit.ly/3dMlbRPLinkedIn - https://bit.ly/34mXyfzYouTube - https://bit.ly/2FQDhWdSponsorsDisaster Tech-https://www.disastertech.com/Doberman EMG-https://www.dobermanemg.com/The Readiness Lab-https://www.thereadinesslab.com/If you would like to become a sponsor or advertiserCall Sitch Radio (714) 643-2500 X 1
Have you ever wondered what it is like to work for the President of the United States?Leadership is the core of Emergency Management. Todd De Voe, Craig Fugate, and Pete Gaynor take center stage at the Natural Disaster and Emergency Management Expo for a captivating conversation on what it is like to work for the President of the United States. Both speakers will share eye-opening experiences from two of the nation's top agencies: FEMA and DHS. Craig Fugate and Pete Gaynor have both served as FEMA Administrators and Mr. Gaynor also served as the acting Secretary of Homeland Security.Join us in-person or virtually for a truly unique experience to hear insights from national emergency management leaders who have worked on both sides of the political aisle. The keynote session will be moderated by EM Weekly's podcast and webinars host, Todd De Voe.Todd De VoeWebsite - https://toddtdevoe.com/Website- www.crisis-cafe.comSpeak N Spark-https://bit.ly/3sTVUfrLinkedIn - https://bit.ly/3sVHL1gEM WeeklyWebsite - https://bit.ly/3jj5ItlTwitter - https://bit.ly/31z8MeXFacebook - https://bit.ly/3dMlbRPLinkedIn - https://bit.ly/34mXyfzYouTube - https://bit.ly/2FQDhWdSister ShowsThe Business Continuity ShowTwitter - https://bit.ly/3ojEIO2Facebook - https://bit.ly/2Tjqv5HLinkedIn - https://bit.ly/34mXyfzYouTube - https://bit.ly/3mePJyGSponsorsDisaster Tech-https://www.disastertech.com/NDEM Expo-https://www.ndemevent.com/en-us.htmlDoberman EMG-https://www.dobermanemg.com/The Readiness Lab-https://www.thereadinesslab.com/If you would like to become a sponsor or advertiser Call Sitch Radio (714) 643-2500 X 1
As emergency managers, we need to keep ourselves up to date on the trends and new information that is out there. In addition, we need to read about leadership, policy, economics, past disasters, and more. So, what are the books that emergency managers should have read in 2021, and what do they need to read in 2022? Join us as we explore our list and what the emergency managers have voted on for 2021!Soraya SutherlinWeb - https://emergencymanagementsafetypartners.com/Twitter - https://twitter.com/sorayasutherlin?lang=enFacebook -https://www.facebook.com/emsafetypartners/LinkedIn -https://www.linkedin.com/in/sorayasutherlin/Todd De VoeWebsite - https://toddtdevoe.com/Website- www.crisis-cafe.comSpeak N Spark-https://bit.ly/3sTVUfrLinkedIn - https://bit.ly/3sVHL1gEM WeeklyWebsite - https://bit.ly/3jj5ItlTwitter - https://bit.ly/31z8MeXFacebook - https://bit.ly/3dMlbRPLinkedIn - https://bit.ly/34mXyfzYouTube - https://bit.ly/2FQDhWdSister ShowsEM StudentWeb - https://bit.ly/2Hw0sFxTwitter - https://bit.ly/31z8MeXFacebook - https://bit.ly/3dMlbRPLinkedIn - https://bit.ly/34mXyfzYouTube - https://bit.ly/2FQDhWdThe Business Continuity ShowTwitter - https://bit.ly/3ojEIO2Facebook - https://bit.ly/2Tjqv5HLinkedIn - https://bit.ly/34mXyfzYouTube - https://bit.ly/3mePJyGSponsorsDisaster Tech-https://www.disastertech.com/Doberman EMG-https://www.dobermanemg.com/The Readiness Lab-https://www.thereadinesslab.com/If you would like to become a sponsor or advertiserCall Sitch Radio (714) 643-2500 X 1
Individual citizen involvement and ad hoc organization are increasingly being used in urban disaster prevention and management, taking advantage of new ubiquitous and collaborative technologies. Today there is a unique opportunity to leverage the work of crowds of volunteers. Are crowdsourcing approaches for disaster prevention and management something we ought to explore more?Emily Martuscello who has done extensive work on the power of crowdsourcing joins us at EM Weekly to take a deeper look at how emergency managers can use the crowd during disasters.Emily MartuscelloLinkedIn -https://www.linkedin.com/in/emily-martuscello-63a27459/YouTube - https://www.youtube.com/watch?v=lPYE-RNGa70Todd De VoeWebsite - https://toddtdevoe.com/Website- www.crisis-cafe.comSpeak N Spark-https://bit.ly/3sTVUfrLinkedIn - https://bit.ly/3sVHL1gEM WeeklyWebsite - https://bit.ly/3jj5ItlTwitter - https://bit.ly/31z8MeXFacebook - https://bit.ly/3dMlbRPLinkedIn - https://bit.ly/34mXyfzYouTube - https://bit.ly/2FQDhWdSister ShowsEM StudentWeb - https://bit.ly/2Hw0sFxTwitter - https://bit.ly/31z8MeXFacebook - https://bit.ly/3dMlbRPLinkedIn - https://bit.ly/34mXyfzYouTube - https://bit.ly/2FQDhWdThe Business Continuity ShowTwitter - https://bit.ly/3ojEIO2Facebook - https://bit.ly/2Tjqv5HLinkedIn - https://bit.ly/34mXyfzYouTube - https://bit.ly/3mePJyGSponsorsDisaster Tech-https://www.disastertech.com/NDEM Expo-https://www.ndemevent.com/en-us.htmlDoberman EMG-https://www.dobermanemg.com/The Readiness Lab-https://www.thereadinesslab.com/If you would like to become a sponsor or advertiserCall Sitch Radio (714) 643-2500 X 1
We are seeing an expansion of professional emergency management in the private industry. Carlos Francisco an expert in corporate security and podcast host joins EM Weekly to discuss how emergency management is fitting into the corporate safety landscape.Carlos FranciscoThe Corporate Security Translator podcast - https://thecstpodcast.buzzsprout.com/LinkedIn -https://www.linkedin.com/in/carlosfranciscocpp/Facebook - https://www.facebook.com/CertifiedCSTInstagram -https://www.instagram.com/thecorporatesecuritytranslator/Twitter - https://twitter.com/TheCSTranslatorYouTube - https://www.youtube.com/channel/UClFqUsKf1xT-T7sN8COfEXgTodd De VoeWebsite - https://toddtdevoe.com/Website- www.crisis-cafe.comSpeak N Spark-https://bit.ly/3sTVUfrLinkedIn - https://bit.ly/3sVHL1gEM WeeklyWebsite - https://bit.ly/3jj5ItlTwitter - https://bit.ly/31z8MeXFacebook - https://bit.ly/3dMlbRPLinkedIn - https://bit.ly/34mXyfzYouTube - https://bit.ly/2FQDhWdSponsorsDisaster Tech-https://www.disastertech.com/NDEM Expo-https://www.ndemevent.com/en-us.htmlDoberman EMG-https://www.dobermanemg.com/The Readiness Lab-https://www.thereadinesslab.com/If you would like to become a sponsor or advertiserCall Sitch Radio (714) 643-2500 X 1
While Data science is used to extract insights from the data after performing data preparation activities, decision science helps make the decision based on the insights with an aim to solve complex problems. Decision science integrates analytical and behavioral approaches to decision making. Decision science depends on data science to extract insights from the data. The decision science field integrates and builds upon data sciences by adding business context, design thinking, and behavioral sciences.Data scientists look at the data to extract insights and build models of high accuracy without caring much overall impact on business outcomes. However, decision scientists see data as a tool to make decisions. For decision scientists, the business problem is of paramount importance. Unlike data scientists, decision scientists need to have both business acumen and analytical ability.Bob KolaskyWeb - https://www.cisa.gov/bob-kolaskyLinkedIn -https://www.linkedin.com/in/bob-kolasky-92ab554/Todd De VoeWebsite - https://toddtdevoe.com/Website- www.crisis-cafe.comSpeak N Spark-https://bit.ly/3sTVUfrLinkedIn - https://bit.ly/3sVHL1gEM WeeklyWebsite - https://bit.ly/3jj5ItlTwitter - https://bit.ly/31z8MeXFacebook - https://bit.ly/3dMlbRPLinkedIn - https://bit.ly/34mXyfzYouTube - https://bit.ly/2FQDhWdSister ShowsEM StudentWeb - https://bit.ly/2Hw0sFxTwitter - https://bit.ly/31z8MeXFacebook - https://bit.ly/3dMlbRPLinkedIn - https://bit.ly/34mXyfzYouTube - https://bit.ly/2FQDhWdThe Business Continuity ShowTwitter - https://bit.ly/3ojEIO2Facebook - https://bit.ly/2Tjqv5HLinkedIn - https://bit.ly/34mXyfzYouTube - https://bit.ly/3mePJyGSponsorsDisaster Tech-https://www.disastertech.com/NDEM Expo-https://www.ndemevent.com/en-us.htmlDoberman EMG-https://www.dobermanemg.com/The Readiness Lab-https://www.thereadinesslab.com/If you would like to become a sponsor or advertiserCall Sitch Radio (714) 643-2500 X 1
United States