Discover
Marketing Food Online Food Entrepreneur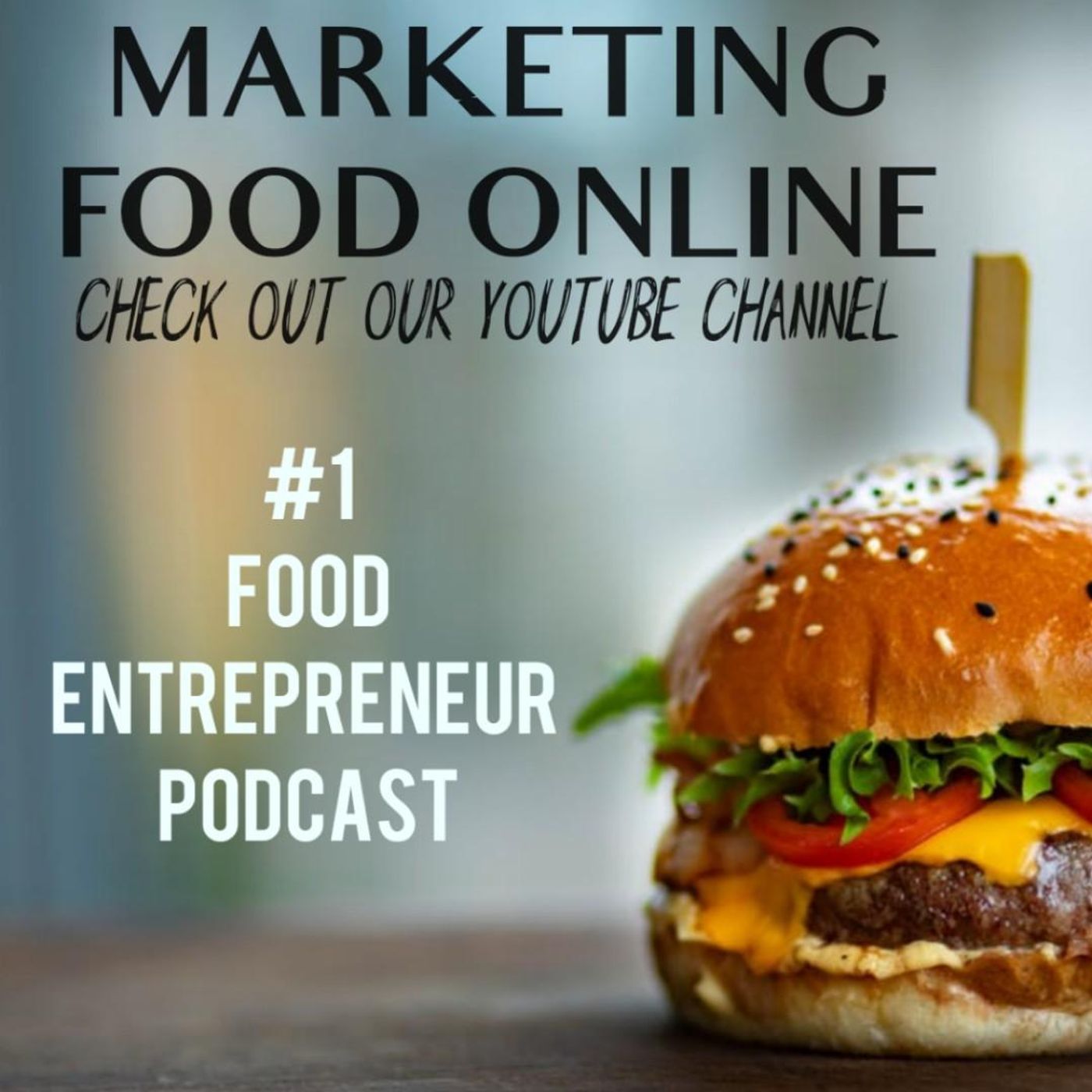 Marketing Food Online Food Entrepreneur
Author: Marketing Food Online
Subscribed: 132
Played: 2,580
© Copyright Marketing Food Online
Description
If you have ever wanted to sell your Recipe for a food product to the world but not sure where to start ? I will show you how I did it and created a 6 Figure business from scratch, and created a private label line of snacks/ candies/ cookies and more ALL ONLINE !! With my over 20 Years in the food business and operating 7 online stores, and private labeled 400 items I can show you how YOU can do the same ! Check out our YOUTUE channel. MARKETING FOOD ONLINE
Marketing Food Online Youtube channel is dedicated to helping new small business food entrepreneurs learn what it takes to start a small business. We have hundreds of videos explaining online food business, retail packaging and getting your food into retailers, Food trucks, and more! Check out Youtube channel and do subscribe. New content every day! If like our podcast give us thumbs up! Have questions let us know our site marketingfoodonline.com
Want over 400 videos and see new daily videos? Click here
FREE SUBSCRIPTION:
https://goo.gl/n7zTix
Check out these other resources for your food business:
Cottage Food Business email Consulting Program
http://bit.ly/2X7AScU
1 Hour PHONE Consulting with me
http://bit.ly/2VSZKUm
Food Product Consulting email Program
http://bit.ly/2Qrjs8H
Amazon Food Product Consulting
http://bit.ly/2W4tJO5
Website Designing for Your Food Business
http://bit.ly/2JEI0dJ
Website Design Help for your Food Business
http://bit.ly/2MofQWT
Checkout our Blog
http://bit.ly/2HTwQyw
Want to Start a HOME BASED food business not sure what you need THIS video Tutorial is for you
Learn everything you need to know to make money from home!
http://bit.ly/2wmN8ul
ADDITIONAL FOOD BUSINESS RESOURCE:
Sign up to MARKETING FOOD ONLINE NEWSLETTER AND GET 10% OFF ANY OF OUR SERVICES / PRODUCTS!
https://goo.gl/5M357L
PRODUCT PROMOTIONS:
1 PRODUCT PROMOTED :
https://goo.gl/qYjhpA
3 PRODUCTS PROMOTED:
https://goo.gl/evd1kY
PRODCUTS PROMOTED:
https://goo.gl/7G5BQy
START YOUR OWN SMALL BUSINESS GUIDE
https://amzn.to/2L25hDk
SPECIALTY FOOD BUSINESS GUIDE
https://amzn.to/2ISPOJa
HOMEBASED FOOD BUSINESS GUIDE
https://amzn.to/2scVOlz
FOOD BUSINESS ENCYCLOPIDIA (GREAT RESOURCE)
https://amzn.to/2sh8Opj
PROFITABLE LOCAL FARM BUSINESS SELLING PRODUCE
https://amzn.to/2ISfAJk
WANT TO START A HOME BASED FOOD BUSINESS?
https://goo.gl/3KwFBf
WANT TO SELL FOOD ON AMAZON ?
https://goo.gl/85eo8Q
ONE ON ONE PHONE CONSULTING 1 HOUR
https://goo.gl/ZgSuJN
FOLLOW US AT INSTAGRAM:
https://www.instagram.com/damianroberti
FOLLOW ME ON FACEBOOK:
https://twitter.com/brittlecandy1
JOIN OUR PATREON COMMUNITY FOR MORE BENEFITS!
Some of the links above maybe affiliate links when you click on them I may paid a commission.
What are the Best food Products to Sell Online [ Selling Food Online ]In the digital age, the world of food business is no longer confined to physical storefronts and local markets. Welcome to "Feast Your E-Commerce," the podcast that explores the delectable realm of selling food online!Join us as we embark on a culinary journey to discover the best food products to sell in the vast and ever-evolving world of e-commerce. Whether you're a seasoned online foodpreneur or just starting out in the digital food scene, this podcast is your ultimate guide to success.Our expert hosts will dish out mouthwatering insights and tips to help you navigate the online marketplace. From trending foodie fads to timeless classics, we'll explore the diverse array of products that can satiate your customers' appetites and keep them coming back for more.In each episode, we'll be joined by industry insiders, successful online foodpreneurs, and experts who will share their experiences and expertise. They'll reveal the secrets to sourcing, packaging, marketing, and delivering food products to hungry online customers.Whether you're interested in launching your own artisanal chocolate brand, selling exotic spices from around the world, or simply curious about what's hot in the online food market, "Feast Your E-Commerce" has you covered. We'll dive deep into the strategies and tactics that can elevate your online food business from a humble startup to a thriving digital sensation.Tune in to "Feast Your E-Commerce" and embark on a gastronomic adventure through the world of online food commerce. Discover the flavors that sell, the trends that tantalize, and the techniques that turn browsers into loyal customers. Whether you're an aspiring foodpreneur or just a food enthusiast, get ready to savor the insights that will spice up your online food business game.
What Insurance Coverage is Required for a Food Truck in Texas [ FULL TUTORIAL for Beginners]If you're a budding food truck entrepreneur in the Lone Star State, navigating the world of insurance can be as challenging as perfecting your signature dish. But fear not! In this comprehensive podcast episode, we've got you covered with a step-by-step guide to understanding the essential insurance coverage needed for your Texas food truck venture.Join our expert host as they break down the complexities of insurance into bite-sized pieces that anyone, especially beginners, can digest. From liability coverage to property protection, we leave no stone unturned. You'll learn not only what coverage is required by Texas law but also how to ensure your food truck and business are safeguarded in case of unexpected events.In this podcast, you can expect:🚚 A beginner-friendly approach to insurance for food trucks 📜 An overview of Texas-specific insurance regulations 💼 Practical tips on selecting the right coverage for your unique business needs 💰 Insights into managing insurance costs while maximizing protection 🌟 Real-world success stories and cautionary tales from experienced food truck owners 🔑 Key takeaways and resources to help you get started on the right trackWhether you're just starting or you've been dishing out delicious eats from your food truck for years, this episode will empower you with the knowledge and confidence to navigate the insurance landscape in Texas. Tune in to protect your dream, your business, and your customers while serving up culinary delights on wheels.
Do I Need a License to Sell on Etsy _ Do I have to Report Etsy Income [ Tutorial on Selling ]Welcome to another enlightening episode of [Your Podcast Name], where we demystify the world of online selling, especially within the captivating realm of Etsy. If you're a creative entrepreneur or just someone with a passion for crafting unique items, Etsy can be your gateway to turning your creativity into income.In this tutorial-style episode, we tackle two fundamental questions that often perplex Etsy sellers:Licensing for Etsy Sellers: We delve into the intricacies of whether you need a license to sell your handcrafted or vintage items on Etsy. Our expert guests break down the different types of licenses and help you navigate the regulatory landscape with confidence.Income Reporting for Etsy Sellers: Tax season can be daunting, but understanding your obligations as an Etsy seller is paramount. We provide a comprehensive guide on when and how to report your Etsy income, ensuring you remain compliant with tax authorities.Our insightful discussions cover:Legal Essentials: We walk you through the legal aspects of selling on Etsy, helping you determine whether your products require specific licenses or permits.Tax Tips: Learn valuable tips for managing your finances, tracking expenses, and staying organized during tax time.Seller Success Stories: Hear inspiring stories from successful Etsy sellers who started just like you and now thrive in the marketplace.Expert Advice: Our tax and legal experts share their knowledge, providing practical advice that Etsy sellers can apply to their businesses.Whether you're a seasoned Etsy seller or contemplating taking your first step into the world of e-commerce, this episode equips you with the knowledge and confidence to navigate the ins and outs of licensing and income reporting. Tune in now to transform your Etsy shop into a thriving online business and craft your path to financial success!
How to sell a food product from Recipe to a retail packaged food product tutorial🍽️ Ready to turn your delicious recipes into a marketable packaged food product? Join us on the "How to Sell a Food Product" podcast, where we take you on a flavorful journey from your kitchen to the retail shelf!📦 In this comprehensive tutorial series, we break down the intricate process of transforming your culinary creations into a successful food product business. Whether you're a passionate home cook, a seasoned chef, or an aspiring food entrepreneur, this podcast is your recipe for culinary success.👨‍🍳 Our expert hosts and guests share invaluable insights on recipe development, sourcing quality ingredients, food safety, product packaging, branding, marketing strategies, and navigating the complex world of food regulations. We leave no stone unturned as we guide you step by step through the entire process.💡 Learn from real-life success stories, industry veterans, and foodpreneurs who have turned their passion for food into profitable businesses. Whether you're dreaming of a signature sauce, artisanal snack, or a unique beverage, our tutorials will help you bring your vision to life.📈 Whether you're just starting or fine-tuning your existing food product, this podcast is your trusted companion on your entrepreneurial journey. From concept to consumer, we've got you covered.🎧 Tune in to the "How to Sell a Food Product" podcast and let's transform your culinary dreams into a delectable reality. Subscribe now and start your journey toward creating a retail-ready food sensation!
Profitable food business ideas Subscriber Question Selling food online or retailDelicious Profits – Navigating Online vs. Retail Food Business VenturesWelcome to another mouthwatering episode of "The Entrepreneur's Kitchen." In today's segment, we're diving deep into the flavorful world of the food business, answering one of the hottest questions sent in by our dear listener, Jamie – is selling food online more lucrative than traditional retail?Throughout this episode, we'll:Explore the ever-growing trends in the online food marketplace, from niche gourmet selections to health-conscious snacks.Understand the pros and cons of venturing into retail food establishments – cafes, restaurants, pop-ups, and more.Hear from seasoned experts who have carved out profitable niches in both domains, sharing insider secrets and success stories.Break down the costs, marketing strategies, and logistical challenges associated with each platform.Provide tips and strategies on how you can get started, whether you're looking to sell grandma's secret sauce or launch the next big health food brand.Whether you're a food enthusiast, budding entrepreneur, or just someone curious about where to invest in the vast world of edibles, this episode is sure to leave you hungry for more. Tune in, and let's cook up some business strategies together!Remember to subscribe and leave a review if you enjoy our content. Your feedback helps us serve you better! 🍔🍕🥗🍰📈🎙️
How to successfully sell coffee online? Is coffee a good ecommerce business?Title: A Deep Dive into Digital Beans: The Online Coffee Business ExploredI recently had the pleasure of tuning into an episode that promised a journey into the world of online coffee sales – and it delivered beyond expectations. From the aromatic trails of sourcing beans to the nuanced details of digital marketing, the episode titled "How to successfully sell coffee online? Is coffee a good ecommerce business?" was both an education and a revelation.The hosts brought in experts from various facets of the industry, offering listeners a 360-degree view of the coffee ecommerce landscape. I particularly appreciated their exploration of the challenges faced by online coffee entrepreneurs, juxtaposed beautifully with success stories that inspire.What made this episode stand out was its balanced approach. While it celebrated the potential of coffee as a lucrative ecommerce niche, it also shed light on the hard work and strategic thinking required to brew success in this domain. The discussions on the importance of branding, the role of sustainable sourcing, and leveraging customer testimonials were enlightening.Moreover, the dynamics between the hosts – their genuine curiosity and seamless conversation flow – added a layer of authenticity to the entire experience. By the end of the episode, I was left with not just actionable tips but also a deeper appreciation for the world of online coffee businesses.If you're contemplating dipping your toes into the world of coffee ecommerce or just love an insightful discussion on modern business trends, this episode is a must-listen.
25 TAX DEDUCTIONS for Home based Food Businesses 2024 [ FULL TUTORIAL LIST]Navigating the complex world of taxation can be daunting, especially for entrepreneurs in the burgeoning sector of home-based food businesses. If you're on a quest to maximize your deductions and secure financial stability in 2024, you've come to the right place. Welcome to our full tutorial list on "25 TAX DEDUCTIONS for Home-Based Food Businesses 2024." This video serves as your ultimate guide to understanding the labyrinth of tax deductions available to food business owners operating from home.In today's video, we will delve into the nuances of 2024 Tax Savings for Cottage Food Businesses, Tax Strategies for Home-Based Bakeries 2024, Maximize Deductions Food Business 2024, and so much more! Whether you're a seasoned veteran in the culinary arena or a passionate beginner ready to turn your love for food into a profitable venture, there's something here for everyone.What will you learn?Essential Tax Deductions for Food Startups 2024Home-Based Food Business Tax Deductions ExplainedIRS Tips for Home-Based Food BusinessesTax Loopholes Home-Based Food BusinessesWrite-Offs for Food Entrepreneurs 2024We will also cover vital topics such as Tax Prep for Food Businesses 2024 and Tax Incentives for Home-Based Food Businesses, ensuring you're fully equipped to navigate the financial intricacies of running a successful home-based food operation in 2024.Don't miss out on our bonus section, "Reducing Tax Burden Food Business 2024," where we share insider tips on how to strategically plan your financial year for optimum savings.Subscribe, like, and hit the notification bell to stay updated on our upcoming videos designed to help you make smarter business choices.
Can I Cook at Home and Sell [ HOW ANYONE CAN DO THIS FROM HOME TODAY!]Welcome to "Can I Cook at Home and Sell - HOW ANYONE CAN DO THIS FROM HOME TODAY!" the ultimate podcast that delves into the nitty-gritty of transforming your home kitchen into a profitable culinary venture. Are you a home cook with an innate knack for creating dishes that make taste buds dance? Have you ever wondered if you could turn that talent into cold hard cash, right from the comfort of your home? Look no further!In each engaging episode, we explore the endless possibilities that come with home-based cooking businesses. We walk you through the essentials—from crafting an irresistible menu to navigating local health and safety regulations. Discover the secrets of marketing your home-cooked delicacies and building a loyal customer base. Gain expert insights on sourcing quality ingredients, cost-effective packaging, and maximizing your profit margins.Whether you are an aspiring entrepreneur dreaming about launching a full-scale home-based food business or a home cook curious about monetizing your culinary skills, this podcast is your one-stop guide. Here, you'll find actionable advice, enlightening interviews with seasoned foodpreneurs, and even a sprinkle of recipes you can use to start your food-selling journey today!Join us every week to unleash the tremendous business potential that lies in your home kitchen. You bring the passion for cooking; we bring the roadmap to success. Together, let's create a recipe for turning your culinary dreams into reality. Subscribe now and never miss a delicious episode!
How Do I Start a Simple Food business [ 16 QUESTIONS YOU NEED TO ASK FIRST_ ]🍴 "How Do I Start a Simple Food Business [16 QUESTIONS YOU NEED TO ASK FIRST_]" 🎧Dreaming of starting your own food business? It's exciting, but where do you even begin? Tune in to this indispensable episode of "The Foodpreneur's Journey" where we simplify the process by tackling the 16 essential questions you absolutely must ask before diving in.⭐ What You'll Discover:What are the first steps in starting a food business?The importance of market research: Who are your competitors, and what's your edge?How to navigate legal requirements: permits, licenses, and more.Food safety protocols every new food business owner should know.Budget Planning: How much does it really cost to start a food business?Sourcing ingredients: Local vs. Wholesale.To franchise or not to franchise? Weighing the pros and cons.How to create a business plan that actually works.🎙️ Guest Experts:Sarah W., Founder of a successful food truck business.Richard K., Business consultant specializing in the food industry.Lisa P., Food safety inspector with years of experience.🛠 Toolkit:A downloadable checklist of the 16 must-ask questions.Template business plan for food businesses.Resource links for food safety guidelines and permits.🎯 Whether you're looking to open a café, start a food truck, or launch a line of sauces, this episode is your step-by-step guide to making it happen in a smart, efficient way.👉 LISTEN NOW to get the comprehensive overview you need before starting your food business journey.
Can I Sell Cottage Foods on Amazon [ Can I Sell Cottage Foods on Etsy] WATCH THIS NOW!🍪 "Can I Sell Cottage Foods on Amazon [Can I Sell Cottage Foods on Etsy] WATCH THIS NOW!" 🎧Welcome to another jam-packed episode of "The Foodpreneur's Guide!" Whether you're whipping up a storm of baked goods in your kitchen or fermenting kombucha in small batches, chances are you've considered scaling up your cottage food business. One of the most common questions we hear is: Can I sell my cottage foods on Amazon or Etsy?⭐ In this episode, we delve deep into the regulations, the possibilities, and the caveats of selling cottage foods on two of the largest online marketplaces: Amazon and Etsy.📝 What You'll Learn:The basics of the Cottage Food Law and how it varies state-by-state.Step-by-step guide on how to get your home-based food business Amazon-ready.Etsy: The creative marketplace. Is it a fit for your cottage foods?Quality Control: Meeting Amazon and Etsy standards.The dos and don'ts of labeling, packaging, and shipping.Real-life stories from cottage food sellers who took the online plunge.🎙️ Guest Speakers:Sally M., a cottage food operator who successfully transitioned to Amazon.Tim B., an Etsy seller specializing in artisanal foods.Jennifer L., a legal expert on food industry regulations.🛠 ToolKit:Checklists for Amazon and Etsy seller requirements.Direct links to state-specific Cottage Food Laws.Expert-recommended packaging solutions.🎯 Whether you're a seasoned foodpreneur looking to expand your customer base, or a kitchen-table startup wanting to take that next big step, this episode offers actionable insights you won't want to miss!👉 WATCH THIS NOW to elevate your cottage food business and reach a global customer base like never before!Don't forget to subscribe, rate, and review! Your support helps us bring more expert advice and tips straight to your ears.
What are Some Examples of Product Bundling Strategies [ how can I make bundles work for me ]🎙 What Are Some Examples of Product Bundling Strategies: How Can I Make Bundles Work for Me?Welcome to another exciting episode where we dive deep into the world of product bundling strategies! If you're a business owner, marketer, or just someone interested in maximizing value, this episode is specially crafted for you.Have you ever wondered why your favorite fast-food chain offers meals that bundle burgers, fries, and drinks together? Or why software subscriptions often include various features in one package? It's not a coincidence; it's a well-thought-out strategy to increase sales and provide better value to the customer.📌 In This Episode, You Will Learn:Fundamentals of Product Bundling: Understand the psychology and economics behind bundling.Real-World Examples: From the tech industry to fast food, we examine real-world case studies of successful product bundling.Pros and Cons: Why is bundling beneficial for some businesses but not others?DIY Bundling Strategies: Tips and tricks for creating your own bundle packages that resonate with your customer base.Maximizing Profit and Value: Learn how to find the perfect balance between making a profit and providing value to your customers.Consumer Perspective: An insight into what customers think of bundles and how you can make them more attractive.🎯 Who Should Listen?Small Business OwnersDigital MarketersProduct ManagersRetailersEntrepreneursStudents of Business and Marketing🛠 TakeawaysBy the end of this episode, you'll be armed with practical knowledge to implement or optimize product bundling strategies in your own business. So tune in to transform your product line and boost your sales today!Don't forget to subscribe, rate, and review. Your feedback helps us bring more valuable content to you.
How does a Commercial Kitchen Work [ How Do Commercial Kitchens Make Money ]🎙️ Welcome to "The Sizzling Kitchen: Unlocking the Secrets of Commercial Kitchens!" 🍳Have you ever wondered what goes on behind the steaming counters and bustling ovens of your favorite restaurants? How do these culinary playgrounds churn out delicious meals at the snap of a finger while also turning a profit? In this eye-opening episode of "The Sizzling Kitchen," we're peeling back the layers—literally—of the commercial kitchen world!🤑 How Do Commercial Kitchens Make Money? 💰 Our cutting-edge episode delves deep into the world of professional culinary art, uncovering how commercial kitchens are more than just a room full of appliances. They're meticulously designed profit engines, where every inch of space, every flick of the wrist, and even the air you breathe are calculated to maximize revenue.👨‍🍳 Featuring Industry Experts 📚 Hear from seasoned chefs, savvy restaurant owners, and other culinary insiders as they reveal their trade secrets. From menu psychology and ingredient sourcing to state-of-the-art kitchen technology, we dig into the tactics and strategies that separate successful commercial kitchens from the ones that fizzle out.🛠️ Understand the Gear and the Grind 🍔 We'll take you on an auditory tour of a commercial kitchen, breaking down the essential tools and equipment that make these places tick. Learn how the right kitchen design can shave minutes off cooking time, improve food quality, and ultimately, increase profits.🌍 Sustainability and Ethical Choices 🌱 Commercial kitchens are not just about money; they're also about making ethical and sustainable choices. Learn how modern kitchens are adopting eco-friendly practices that are not only good for the planet but also boost the bottom line.🎧 Why You Should Listen 🎯 Whether you're an aspiring restaurateur, a culinary student, or just a food lover interested in the behind-the-scenes action, this episode is your VIP pass into the hidden world of commercial kitchens. With engaging storytelling, expert interviews, and insider knowledge, you won't look at your favorite restaurant the same way again!So, put on your chef's hat and sharpen your knives—it's time to slice into the delectable world of commercial kitchens. Trust us, this is one episode you can't afford to miss!🔥 Hit that "Subscribe" button and join us in "The Sizzling Kitchen" for a culinary journey you won't forget! 🍴
How do I Start Selling My Homemade Dog Food [ How to Start a Pet food Business] 10 Steps🎙️ How Do I Start Selling My Homemade Dog Food? [How to Start a Pet Food Business] 10 StepsCalling all pet enthusiasts and culinary adventurers! Have you ever considered turning your knack for crafting scrumptious pet treats into a full-fledged business? If the answer is 'Yes,' then this episode is your go-to resource. We will take you through the complete blueprint of launching your own pet food business, focusing on homemade dog food.🐾 What You'll Discover:A step-by-step guide detailing the 10 essential steps to launch your pet food business.How to navigate through the legal labyrinth of permits, licenses, and regulatory standards specific to pet food.Expert insights on creating a unique and palatable recipe that stands out in the competitive market.Effective marketing strategies tailored for the pet food industry.How to manage the supply chain, from sourcing organic ingredients to distribution logistics.🎯 Who Should Tune In:Aspiring entrepreneurs keen on diving into the burgeoning pet food industry.Current pet food business owners looking to refine their operations and scale.Dog lovers interested in understanding the commercial side of pet nutrition.💡 Bonus Insights:Real-life success stories from those who have made it big in the homemade dog food business.Professional tips on maintaining quality control to build trust and brand loyalty.A downloadable checklist to help you stay organized throughout your entrepreneurial journey.Launching a pet food business, particularly focusing on homemade dog food, can be complex but incredibly rewarding. This episode deciphers the intricacies, lays out actionable steps, and arms you with the know-how to turn your passion for pets into a profitable enterprise.Don't miss out! Hit that "Play" button and let's embark on this entrepreneurial adventure together! 🎧🐶Whether you're just sketching out plans on a napkin or already mixing up your first batch of kibble, this podcast is your ultimate guide to making your pet food business dreams a reality.
Is It Illegal To Sell Food from Your Home [ 4 Things COULD HAPPEN ] Cottage Food Law🎙️ Is It Illegal To Sell Food from Your Home? [4 Things COULD HAPPEN] — Understanding Cottage Food LawEver wondered about turning your kitchen skills into a business right from the comfort of your home? Maybe you've heard of "Cottage Food Laws," but what exactly do they mean? Are you free to sell your famous cookies or homemade salsa to the public? Or are you stepping into a legal gray area?Tune in to this eye-opening episode as we dive deep into the world of Cottage Food Laws, the legislation that could make or break your home-based food business.👩‍⚖️ What You'll Learn:What Cottage Food Laws are and how they vary by state.The 4 potential outcomes when selling food from your home, including legal repercussions and fines.How to navigate permits, hygiene standards, and other regulatory hurdles.Real-life stories and expert insights on setting up a successful cottage food operation.🍪 Who Should Listen:Home chefs thinking about selling their creationsSmall food business ownersRegulatory officials interested in community healthAnyone curious about the intersection of food, business, and lawDon't let ignorance be the reason you miss out on an entrepreneurial opportunity—or worse, get slapped with a fine! Learn the ins and outs of Cottage Food Laws and arm yourself with the knowledge you need to turn your culinary passion into profit, legally.Hit that "Play" button and let's ge
70% HIGHEST PROFIT BAKED GOODS EVER! What are the highest profitable HOME MADE baked goodsWelcome to 'HIGHEST PROFIT BAKED GOODS EVER!' In this video, we'll unveil the secrets behind the most profitable homemade baked goods. Ever wondered which treats offer the best return on investment when baked from the comfort of your home? Whether you're starting a home-based bakery or just curious about maximizing your baking profits, this video is for you! Dive in as we crunch the numbers and reveal which delectable desserts can truly make your business rise. Don't forget to LIKE, SHARE, and SUBSCRIBE for more baking insights, tips, and delicious revelations!
Selling on Amazon Internationally Pros and Cons [ Full Tutorial From 10 YEARS SELLING]"Global Gains: Navigating Amazon's International Waters"Welcome to another insightful episode where we dive deep into the world of international selling on Amazon. With a decade of experience under his belt, our host shares a comprehensive tutorial on the ins and outs of expanding your business beyond borders.In this episode, we'll explore:The Allure of International Markets: Why selling internationally on Amazon can be the game-changer your business needs.The Roadblocks: From cultural nuances to shipping logistics, we'll discuss the challenges that come with global expansion.The Financial Landscape: Understanding taxes, tariffs, and the hidden costs of international selling.Cultural Nuances & Product Adaptation: How to ensure your product resonates with a global audience.Success Stories & Cautionary Tales: Real-life experiences from 10 years of selling. Learn from both the triumphs and the missteps.Tools & Resources: Essential tools that can make your international selling journey smoother and more profitable.Whether you're a seasoned seller considering a global leap or a newbie curious about international markets, this episode promises a wealth of knowledge. Tune in and equip yourself with the tools and insights to make informed decisions about selling on Amazon internationally.
What is The Target Market for Spices [ DETAILED TUTORIAL SPICE BUSINESS MARKET ]Dive deep into the aromatic world of spices with our latest episode: "What is The Target Market for Spices?" Whether you're a budding entrepreneur or a seasoned spice trader, understanding your target market is crucial for success. In this detailed tutorial, we unravel the intricacies of the spice business market, shedding light on consumer preferences, regional demands, and emerging trends. Join us as we explore the historical trade routes, modern consumption patterns, and the future of the spice industry. Packed with expert interviews, market analysis, and actionable insights, this episode is your comprehensive guide to mastering the spice business market. Don't miss out on this flavorful journey
Amazon FBA Business Model_ A Comprehensive Breakdown of Pros and Cons [ PODCAST]Amazon FBA Business Model: A Comprehensive Breakdown of Pros and Cons [PODCAST]Welcome to another episode of [Your Podcast Name], the show where we dive deep into the world of e-commerce, entrepreneurship, and the strategies that drive success. In today's episode, we're pulling back the curtain on one of the most popular and debated e-commerce models out there: Amazon FBA (Fulfillment by Amazon).Whether you're an aspiring entrepreneur, a seasoned seller, or just curious about how the world of online business works, this episode is packed with insights for you. We'll be breaking down:What Amazon FBA is: A beginner-friendly introduction for those new to the concept.The Pros: From hands-off fulfillment to the vast Amazon customer base, we'll discuss the many advantages that draw sellers to this model.The Cons: No business model is without its challenges. We'll delve into the potential pitfalls, hidden costs, and common misconceptions about running an FBA business.Real Stories from Real Sellers: Hear firsthand accounts from those who've been in the trenches, sharing their successes, failures, and lessons learned.Expert Tips: Whether you're considering starting an FBA business or looking to optimize your current one, our guest experts will provide actionable advice to help you navigate the Amazon landscape.So, grab your headphones, settle in, and join us as we unpack the world of Amazon FBA. Whether you walk away convinced it's the right model for you or decide it's not your cup of tea, you'll be armed with the knowledge to make informed decisions in your e-commerce journey.
Best Practices for Food truck Branding [ 11 WAYS TO BUILD AN AMAZING BRAND!! ]"Rolling Success: Best Practices for Food Truck Branding - 11 Ways to Build an AMAZING Brand!"Dive into the bustling world of food trucks with our latest episode, where we unravel the secrets to creating a standout brand on wheels! From the vibrant streets of LA to the bustling corners of NYC, food trucks have become more than just a quick bite – they're a culinary experience. But what separates the iconic trucks from the fleeting ones? Branding. Join us as we explore 11 proven strategies to elevate your food truck brand, ensuring not only mouth-watering meals but also a magnetic presence that draws crowds. Whether you're just firing up your food truck dreams or looking to revamp your rolling restaurant, this episode is your roadmap to branding success. Tune in and let's get rolling!
What is the Target Market for my Frozen Food Business [ FULL TUTORIAL MARKETING FROZEN FOODIn this frosty but fiery episode, we dive deep into the chilly waters of the frozen food industry as we address an important question: What is the target market for your Frozen Food Business? If you're immersed in the frozen food business or considering diving in, this episode is your masterclass in understanding and reaching your potential customers.Understanding your target market is like finding the North Star in your business journey – it guides all your strategies, decisions, and efforts. But how do you identify it in the sprawling, diverse landscape of the frozen food industry? And once identified, how do you reach out and resonate with them?In our 'Full Tutorial on Marketing Frozen Food', we not only help you identify your target market but also equip you with effective strategies to catch their attention and whet their appetites. We'll discuss demographic analysis, consumer behavior, marketing channels, and much more.Moreover, we've invited marketing gurus and successful frozen food business owners who have cracked the code of reaching their target market. They'll share their insights, experiences, and tips to help you navigate the icy but exciting terrain of marketing in the frozen food business.So, whether you're selling gourmet frozen meals or classic comfort food, this episode will help you identify and captivate your target market, turning curious consumers into loyal customers.
United States