Discover
The Food-Wine-Pets-Travel+ Podcast
The Food-Wine-Pets-Travel+ Podcast
Author: Food-Wine-Pets-Travel+
Subscribed: 0
Played: 2
© Copyright Food-Wine-Pets-Travel+
Description
Whether it's a pop-up tent, camper trailer or the latest whizz-bang 'mobile home' Aussies love their 'cubby houses' on wheels. This podcast series looks at everything from the people on the road to the latest and greatest 'stuff' that will make your 'playtime' safe & fun for the whole family
*** CARAVAN EDUCATION POLL RESULTS REVEALED! ***The Truck Friendly Program recently created their first 'Caravan Education Poll' with some amazing results. In this 'Podcast with Pictures', Ken Wilson - passionate safety advocate and founder of the Truck Friendly Education Program - explains and comments on the results of the six questions posed in the poll. +++ SHORT ON TIME? +++Listen to the whole podcast or skip to a question that interests you... Use the dots on the timeline as a reference...01:17 - Q1 - Should anyone towing anythingthat weighs more than 750kg requirea Towing Licence? - This usuallymeans caravans, larger boats, horsefloats etc04:36 - Q2 - Would Towing Courses helpimprove road safety awareness?07:06 - Q3 - Should there be an Australiawide maximum towing speed of100km/h.08:47 - Q4 - Annual weighbridge certicateto be produced on demand by policeAustralia wide11:47 - Q5 - Would you like to see FREEcaravan road safety workshops incaravan parks?13:00 - Q6 - Free internet based caravaneducationFeel free to add you comments below...
Have you ever watched the news and noticed a caravan rollover or an accident involving a truck and caravan?Sadly they're more common than you'd think – which is why we're keen to promote a new FREE site and service which will help both newbies and long-time travellers to check their weights plus learn more about how to help make the highways easier for the hard-working truckies who're delivering the stuff we need to survive.Someone who's passionate about this is Ken Wilson who you're going to hear a lot more about because he 's set up a free service to encourage people to be more aware of all the other vehicles on the road called the Truck Friendly Program.Brian caught up with Ken to find out more...
There's been plenty spoken & written about caravanners & 'nomads' generally not being able to go anywhere during the COVID-19 lockdowns, but what about the people who manage caravan parks? How are they coping? We wondered what life is like right now for Wendy & Vaughn Smith, managers of the beautiful Toowoomba Motor Village QLD (where we've been 'locked down for the past 2 months!). We also managed to get a bit of an update on the park and what it offers once the gates are open again.
We're on a 'zig-zag' tour of Australia keeping a very close eye out for the smaller, less commonly mentioned locations… like Miriam Vale, a very pretty little Queensland town located roughly halfway between Bundaberg & Gladstone.WikiCamps and various Facebook groups recommended Miriam Vale's local pub would be a great place to stay overnight – taking advantage of the fact it's a free-camp AND there is a bit of an implied hint we could return the favour by purchasing a drink or two and even a meal. :-) Turns out that was a great decision because not only were the meals we ordered typically huge and 'country style yummy' but we also learnt a lot about the town and its history from locals with our special guest & pub owner, Mitch Brennan.
Whether you are travelling with pets or just 'at home' the loss of any much loved K9 (or feline or feathered friend!) is devastating. But what was amazing is that we were doing an overnight 'free camp' at the very popular Babinda (FNQ) Rotary Park when Kaye spotted some excitement in the car park. It was obvious 'someone' was VERY happy to see this dog again... but why?
*** WHAT'S NEW AGE TRIBE HENTY 2020 ALL ABOUT? ***Back in 2018 Bryan & Lyndel Crow organised a major get together called 'Henty 2018' for the New Age Tribe - a 'club' for owners of the New Age Caravan brand.Lots of great educational stuff, discounted products and plenty of social catchups plus learning all about 'off-grid' camping.This year Henty 2020 promises to be bigger and better as Bryan Crow explains in this short 'Podcast With Pictures' thanks to www.FoodWinePetsTravel.com To book your spot for Henty 2020 just go to https://www.newagetribe.org/henty-2020 All New Age Caravan owners are welcome! NOT A NEW AGE OWNER?... Let us know what your club or group does on a regular basis to support your favourite caravan brand!
"Follow your dreams!..." That's exactly what Dave Kirk reckons is the 'secret' to a happy life - and that's just what he's done too.We met Dave & his lovely wife Marie at the Cool Waters Caravan Park in Cairns FNQ. Kaye was out walking one afternoon and heard someone playing guitar - pretty well as it happens!... Given her curiosity and love of music she went and checked it out and the rest of the story is in this podcast with Dave.From 'hitting the road' at the tender age of 14 to writing and recording several CD's Dave has an awesome story to tell.You can check out his CD's here: https://davekirk.com.au/
Most of us have seen the dances and heard the songs of aboriginal people around Australia complete with didgeridoos, clapsticks and fire.But what does it all mean?Well recently Brian was out riding his bike in a local park and managed to bump into Carl Fourmile - literally! - Carl is a Yidinji man from the land of Gimuy. Gimuy in case you didn't know is Cairns in Far North QLD :-)Carl's passion is for his people and their history and through regular performances of indigenous dance and story telling in Cairns he's creating a greater connection and understanding of Aboriginal culture for all Australians and international tourists alike.Last Friday Brian caught up with Carl again after one of the Minjil Dance Group's regular performances at the Hilton Hotel to see and hear first hand what the does.
After finally selling their house in Bendigo VIC, Robyn & Pete Robinson hit the road running with their much loved pooch Paddy. Both do occasional work on the road to help the budget but recently Robyn was offered an opportunity in a very remote part of Australia - Aurukun - a mostly indigenous town just a short 13.5hr drive from Cairns FNQ or 44hrs from Melbourne! Robyn is a qualified teacher and Art Therapist and is no stranger to working with indigenous people. She also has a great website called Kajeet - www.kajeet.com.au - where you can find out more about Art Therapy and its healing qualities.In this short podcast we managed to have a quick chat with Robyn to discover more about how they got on the road and WHY she is now off to Aurukun and what she'll be doing there with the local indigenous population - something she is very passionate about.
Ever wondered what doing 'The Big Lap' is like? So many people - young & not so young - are on the road these days and with social media you can almost join someone on their journey with plenty of photos & videos. But how many really share their thoughts via a podcast?Today we're chatting with Graeme Morris who - with his wife Sue have been documenting their multi thousand kilometre journey online with hundreds of great photos and plenty of selfies.Graeme also talks about the good bits and the not so good bits especially in some of our dying drought stricken regional areas. So sit back, relax (or if you're driving stay focussed on that road) as we share 'Living The Dream' with Graeme Morris.PLUS: Check out Graeme's amazing Facebook Photo Album here:http://bit.ly/LivingTheDream-2019
Their slogan is 'The Dream Continues' and that's exactly what they are doing, all because of Mark Evans and his wife Judy's passion for this amazing location created by Jose Paronella back in 1935. After Jose's passing the park was literally left to rot until Mark & Judy spotted the 'opportunity' to revive something so very unique to this country and something they've been doing over the past 26 years and continue to do so today.In the chat Mark talks passionately about how they got involved and what they see as the future for Paronella Park
There has to be something 'magical' that brings a person back to the same spot over a 40+ year period. But what could it be?....The name of the place, Clear Waters in the Cairns FNQ suburb of Brinsmead, speaks for itself with it's aptly name creek 'Freshwater' surround by palm trees, turtles and fish.During a casual stroll along the creek, Kaye came across this very caring family enjoying the local beauty and asked mum Michelle why the place is so special to them.Oh and no, there are no crocodiles here however Michelle has plenty to say about the number of crocs in and around Cairns and what needs to be done to keep people safe.
On our recent visit to Cardwell FNQ, we couldn't resist trying out a pie or two at the famous 'Jesse's Pies' - This amazing beachside pop-up kitchen has been in operation for over 40 years with brother's Rob and Greg Jesse launching their bright yellow van 29 years ago when their father retired from the local bakery. And while the boys are passionate about making & selling pies to travellers everywhere, they really do wish for a bigger and better future for the small town of Cardwell - all but wiped off the map by Cyclone Yasi in 2011.
One of the best things about travelling anywhere is the people you meet. And not long ago we stayed for a few nights at the Yass Showground in NSW as a sort of halfway stopover on our way to Melbourne via Wagga Wagga.In fact showgrounds & farmstays are among some of the places we plan on staying during our travels not only to save a bit of money but somehow you seem to meet THE most interesting people… Well somehow – while Kaye was stuck inside our van getting dinner ready… AGAIN!... Brian managed to grab a glass of wine and went over to the bus near us and introduced himself to the owners... Barbara & Ralph Benz.
Back in Feb. 2011 a Category 5 cyclone called Yasi all but demolished the beautiful town of Cardwell in far north QLD - gateway to Hinchinbrook Island.It's taken many years to get back to almost resembling its former self but there's still more to be done. We'll have a closer look soon at some of the issues this small community faces - meantime, we had a great couple of nights at the Cardwell Caravan Park and chatted with owner Colin Oke to find out why he loves the place so much! :-)
There's caravan parks... and then there's the Secura Lifestyle Magnetic Gateway Townsville QLD in the suburb of Cluden! - We spent a couple of nights here on our way north and really enjoyed the 'community spirit' of the park especially @ 5pm 'drinkies'. We also managed to chat with the new managers of the park and had a lot of fun chatting with some of the 'residents'.
Even if you're not a full-time 'nomad', growing your own herbs, spices & possibly some veggies not only adds a bit of convenience to your travels or lifestyle generally but can also help make your 'home on wheels' feel more like home.Brian caught up with Garden & Sustainability guru Adam Woodhams to find out how we might be able to grow a few of the basics as we travel this great country of ours.UPDATE:Yes we bought this from Aldi - paid the 'Special Buys' price and will update you when we've set it up!
The Truck Friendly Program has officially been underway for almost 12 weeks since its official launch at the 2019 Queensland Caravan, Camping & Touring Supershow.And while we've already had a couple of chats with the brains behind this great initiative Ken Wilson, we decided to pay him a personal visit in his hometown of Bundaberg QLD to find out how things are going. We'll have more soon!Learn more by visiting the website: https://truckfriendly.com.au/
You never know who you'll meet on the road or what they are doing unless you ask right?... Well we did just that recently when we thought we'd caught up with the famous 'blonde nomads'!...WRONG... but Glen & Kelly Warren and their 4 gorgeous kids have another equally fascinating story.You can read more about them on their website: https://www.onelazysunday.com.au/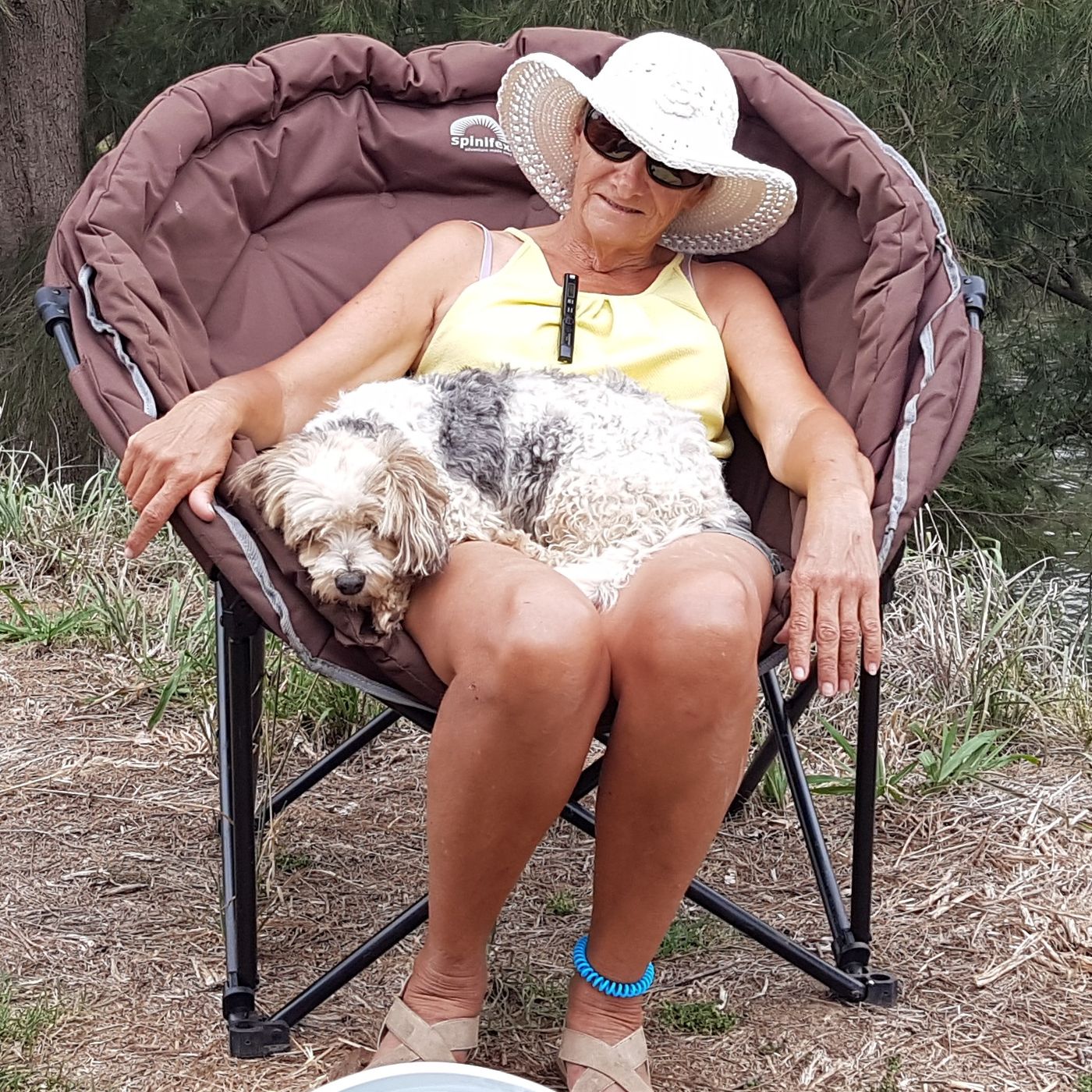 Ever wanted to travel this great country by car/caravan but you don't have a 'partner' or close friend to do it with? Especially as a solo female?Would YOU do it? We met up with the most amazing lady at the free camp at Jugiong NSW - Sandra who has been on the road for about 18 months now all alone - well actually she's not alone! - She travels with a small dog for company PLUS is a great communicator so manages to make many friends along the way....
United States