Discover
Virtual News Show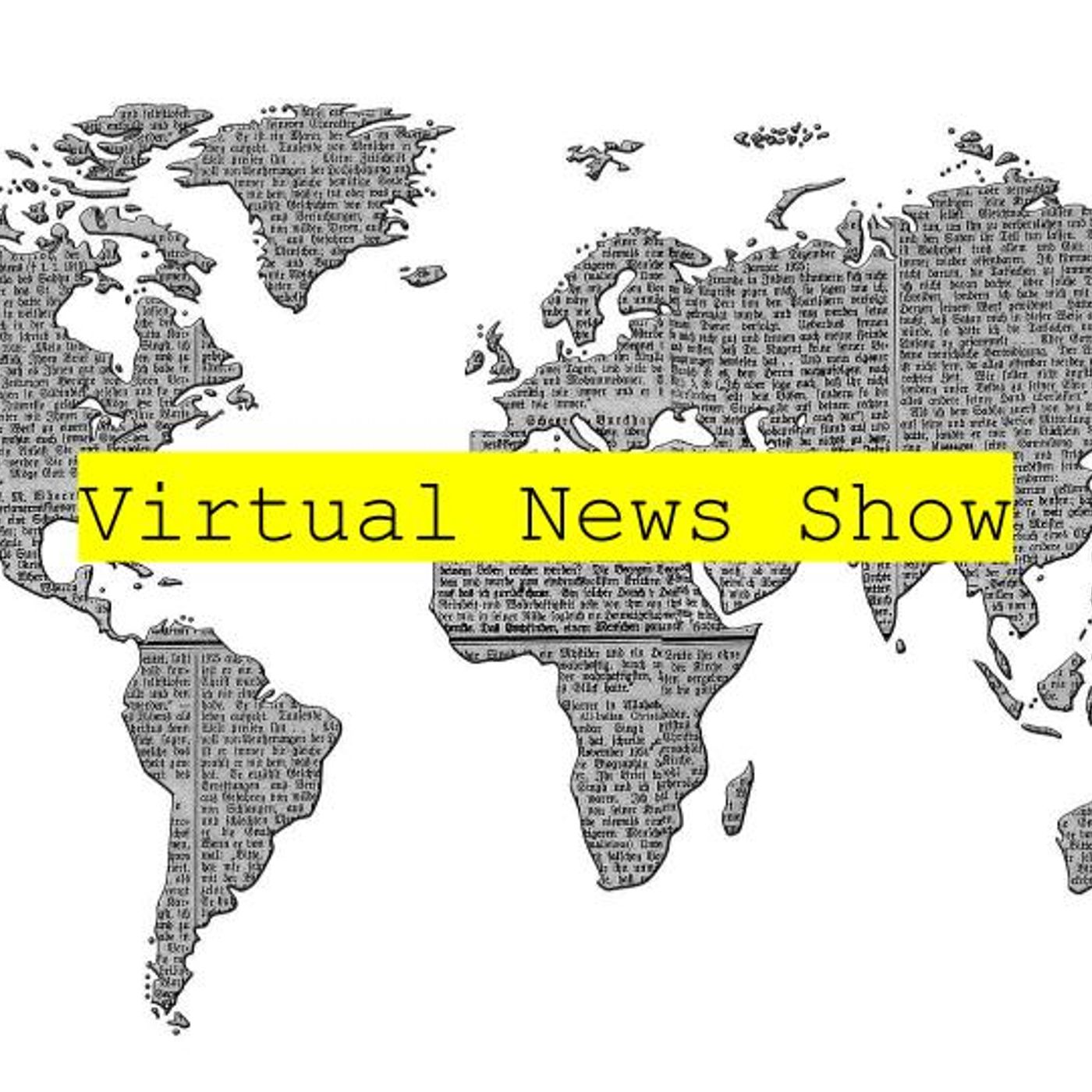 Claim Ownership
Author: Debbie Elicksen
Subscribed: 0
Played: 0
© Copyright Debbie Elicksen
Description
The format of the show bridges people and global communities together about living a purpose-filled life from your own back yard. The show celebrates community volunteers and leaders, community development, and those who creating real change with boots on the ground.
The original focus of Virtual Newsmakers was to feature everyday people who were bridging traditional and digital communications and empowering human communications through technology – people who using technology to tell great stories.
The goal of Virtual Newsmakers is to give people something worth listening to and provide immediate and insightful tips they can take away and implement into their business or lives that will make a difference.
www.virtualnewsshow.com
How do you meet and develop online networks and interesting connections? This archived interview is still every bit as relevant today.You've hear the term "building a community" all the time, but what does that really mean? Lisa shares how both corporate and personal businesses can learn to post their personal best, post their wisdom, and find authenticity in the digital realm.Lisa D. Sparks helps businesses navigate the Internet. She is the CEO of Verity Content and has a podcast called Be Heard! She helps her clients with great content. Her book is "Hood to Highrise: My journey from stepping on crack vials to strutting on marble tiles."www.lisadsparks.com
"The hardest thing about struggling is you feel like you have to suppress things. The more you suppress, the bigger the mess. Feel real. Feel everything. ... What made you happy today? What made you smile.""Dave Matthew Boddy is inspiring, motivating, and has an amazing story to tell. He has endured at least 15 concussions, which have cut short a career in professional wrestling and impacted other career choices. Dave is a writer, public speaker, mentor, and a champion for youth against bullying.He speaks about his struggle with mental health and managing day to day with debilitating effects from multiple head traumas. Note: The first portion of the interview is missing and some of that information (how his concussions happened and his endeavor to become a professional wrestler can be viewed in this archived interview with Susan Day here: https://youtu.be/ko59ZvGzfN4 .
This show was about solidarity, about women, and about using our voice to protest lenient sentencing, a biased justice system, and the unreasonable expectations that society places on women in our courts. This was a show to honor and support the Stanford Survivor: Jane Doe, whose name has become known as Chanel Miller, whose words have inspired and empowered a movement for change.Cynthia K. Seymour and Debbie Elicksen shared this broadcast with special guests: Sarah Cherry, Elizabeth Traub, Vilma Betancourt, Molly O'Day, Lorna Owens, and Grisel d'Elena.For the background on the story: The statement: https://www.buzzfeednews.com/article/emaoconnor/meet-the-two-swedish-men-who-caught-brock-turner#4ldqpgpThe two men who placed the assailant under citizen arrest: https://www.buzzfeednews.com/article/emaoconnor/meet-the-two-swedish-men-who-caught-brock-turner#4ldqpgp"You are a warrior — with a solid steel spine." -- a letter from Vice President Biden: https://www.buzzfeednews.com/article/tomnamako/joe-biden-writes-an-open-letter-to-stanford-survivor.
This archived show is about poker and its appeal; how to choose the best online poker site to play; the professional women poker players; and more.Sandra Wong is an entrepreneur, designer & marketing specialist with a background in media, web and game development. She specializes in social media strategy, integrated marketing and game design. She has consulted for 50+ private and public companies in many industries including natural resources, hospitality, entertainment and technology. Sandra was nomination finalist for Leader of the Year by Woman of Worth Awards in 2013.Sandra has launched apps that debuted at number one in its category and in the top 100 in appStore. She has been an integral part of over 25 app projects with some enjoying traffic numbers in the millions. https://twitter.com/astrogurl
Stephanie J. Castillo is an Emmy-winning documentary filmmaker with strong roots in multimedia, photography, producing, and news journalism. She worked in radio news in Hollywood, multimedia production in Pasadena, CA and Madison, WI, and as a news reporter in Honolulu. She started filmmaking in 1989, producing her first documentary with Hawaii Public TV. That film, Simple Courage: An Historical Portrait for the Age of AIDS, also won her an Emmy. Stephanie's 10th documentary, Thomas Chapin: Night Bird Song, won the Nice International Filmmakers Festival Award for Best Story.In this archived Virtual Newsmakers show, Stephanie shared how she leveraged digital/Internet technology to move her projects forward. You'll also hear how the tools of her trade have changed from her first Emmy-winning documentary until now. Her film trailer and information can be accessed at www.thomaschapinfilm.com.
From Sydney, Australia, Meri Amber is a singer/songwriter who uses Internet media to share her music, but she sees the web as a community more than just a marketing venture. Her tip to others is to treat social media as a conversation, not just a place to put up posters. This interview is from the 2013 archives, where Meri closed out our year, singing three of her songs.www.meriamber.com@meriamber
Kevin L. Jackson is a globally recognized cloud computing expert, who will discuss how network management in the cloud can help you leverage your business.Jackson is an Independent Thought Leader for IBM and Dell and Founder/Author of the award winning "Cloud Musings" blog. He has been recognized as a "Top 100 Cybersecurity Influencer and Brand" by Onalytica (2015), a Huffington Post "Top 100 Cloud Computing Experts on Twitter" (2013), a "Top 50 Cloud Computing Blogger for IT Integrators" by CRN (2015) and a "Top 5 Must Read Cloud Blog" by BMC Software (2015). There is much, much more. In this archived interview, Kevin simplifies cloud computing, what it means, and how it applies to individuals and companies. Simply, cloud computing has removed the barrier to business, where access to an Internet connection and data allows you to reach anyone from anywhere. http://www.GovCloudNetwork.comwww.linkedin.com/in/kjacksonhttp://blog.govcloudnetwork.comhttps://twitter.com/GovCloud
This archived interview with Shahid Buttar may have been done in 2016 but it still applies today.What rights do we have, how do we protect them, and how do we ensure we can maintain them? Shahid Buttar is the Director of Grassroots Advocacy at the Electronic Frontier Foundation (eff.org). He's a constitutional lawyer focused on the intersection of community organizing and policy reform as a lever to shift legal norms, with roots in communities across the country resisting mass surveillance. Shahid has also appeared on Al Jazeera's The Stream with Malik Bilal.Shahid is running for Congress in 2020. Here are some links to learn more about him and get in touch:https://shahidforchange.us/https://www.shahidbuttar.com/Twitter: @Sheeyahsheehttps://www.eff.org/
Steve Mesler was a member of the Night Train United States four-person bobsleigh team that won an Olympic gold medal in 2010. Steve and his sister Dr. Leigh Parise founded Classroom Champions, an organization that matches Olympians and Para-Olympians with a classroom anywhere in the world, to work with teachers and within the curriculum to deliver a mentoring program.In this archived interview, Steve describes how this program got started and how athletes can provide support for classrooms, no matter where they are stationed. For more information on Classroom Champions: https://www.classroomchampions.org/
Jim Moss is a former all star professional lacrosse player, who was not only a force to be reckoned with in the National Lacrosse League, but also a member of the Canadian Lacrosse Hall of Fame. His career came to an abrupt end in 2009, when he was diagnosed with Guillane-Barre Syndrome. Since then, he has founded an online gratitude project called The Smile Epidemic, which has morphed into Plasticity Labs. His company is a research and technology company that promotes behaviorism that fosters happiness.Jim teaches others to look for the pearl, no matter how bad your day is, and to take the power away from others determining your emotions.To learn more about Jim, find his Wikipedia page and you can reach him at plasticitylabs.com.
In this archived interview, Daniel Newman offers savvy advice for those entering the workplace, and for those who are already in the workplace or running their own companies. His advice really has no generational divide. He describes himself as a writer, blogger, thinker, and doer, and one of the big takeaways is you can sell more of yourself by "selling" less of yourself. You'll also learn what being mobile really means, and how millennials and younger generations can communicate with boomers in the workplace. Daniel Newman can be found in many places:https://fowmedia.comhttps://broadsuite.comwww.danielnewmanspeaks.com@danielnewmanUV@FuturumResearch@Broadsuite@MarketWatch
Robert Caruso is one of the most awesome people you can follow on Twitter. His engagement with his followers is 100%. He wrote the software for it. If your business is currently spending 80% of its time managing content in social media, rather than engaging with people, then you need to talk to Robert. Find him @fondalo @engage2connect or fondalo.com. Meanwhile, you will find some delicious nuggets in this archived interview on how not to be "that guy"on social media when automating your content.
A global conservation about the illegal rhino horn trade (and poaching of other endangered species) and how it impacts global security. It's not just a conservation issue.During the time of this archived broadcast, Kathryn Kure was a director with The eThekwini Community Foundation (eCF), which worked to uplift communities through private, public and civil society partnerships. There is a strong focus on sustainable communities, with a particular emphasis on gender rights and enabling green economy initiatives. Kathryn has a particular interest in the digital economy and disruptive technologies. She is the CEO of STEAM Foundation NPC (https://steamfoundation.org.za/). For more information about Kathryn Kure: LinkedIn: linkedin.com/in/kathrynkurePersonal Website: http://foodieschannel.blogspot.com/Company Website: http://www.datamyna.com/Blog: jauntingalong.blogspot.com/
Broadcasting social media versus connecting.Aliza Sherman and Danielle Smith discuss how to collaborate with a co-author or co-creator through virtual means. In this archived broadcast, they discuss the fluidity of social media, how brands can be responsive to customers, and that choosing a tech-savvy individual to work your social media doesn't mean they know how to connect. Their books: MOM, Incorporated and Social Media Engagement for Dummies.https://vivial.net/blog/social-media-engagement-qa-with-aliza-sherman-and-danielle-smith/
How many have reached out to query a business about a product or service on social media, only to have it fall on deaf ears? Dave Carroll is the man who created the viral music video "United Breaks Guitars" after employees from United Airlines broke his expensive guitar and refused to compensate him for it. A singer/songwriter, in this archived broadcast, Dave discusses how the company Gripevine (www.gripevine.com) was born, and how responsive brands equals raving fans.
In this very real archived interview from 2013, Chris Brogan shares his thoughts on New Media and how we can step into our humanity using technology. Here's a summary of a few of the key moments:1. When you are getting frustrated with being online or social media interactions, "Get Offline." 2. Teaching the New Generation of "World Dominators, Misfits and Freaks" (teens) how to succeed as a tomorrow's entrepreneurs. The system is not preparing them for a New Economy.3. Tech embodies and enables Passion - "One of Human Kinds greatest needs is to Share"4. Teens using Technology to share out to their friends... Technology empowers our ways of sharing ... and more.For more information about Chris Brogan: https://chrisbrogan.com/.
Chris Yates, started out as a broadcaster on traditional TV. He discusses his shift from traditional newscasting to producing online webcasts. He does not consider himself a social media expert and clarifies "All I did is change my channel." The important thing is to be able to tell a good story.He shares with us in this archived broadcast about his experience at the 2013 SxSW. He did stories on major brands and was the reporter to have the exclusive first interview Grumpy Cat and http://youtu.be/4xeZxfApufA . If the viewers and audience wants to see more about a topic, Chris Yates believes that there is journalistic value in giving the audience in what they want.There are lots of nuggets for up and coming podcasters and broadcasters in this archived interview.To find out more about Chris Yates, visit his website: http://HuddleProductions.com.
Jenn Herman is the Internet's Instagram Queen. She will be the first to tell you that Instagram isn't just another photo and video sharing social media site. When used effectively, it can up your marketing game to generate more traffic and thus grow your business.Jenn Herman has been featured in Inc.com and Social Media Today. She has a wealth of resources and tips on her website: www.jennstrends.com. This broadcast, while it is from 2016, it is still filled with great nuggets to help you navigate your success on this platform.Instagram: http://instagram.com/jenns_trendsTwitter: https://twitter.com/jenns_trendsLinkedIn: http://www.linkedin.com/in/jennherman/Facebook: http://www.facebook.com/jennstrendson...Google+: https://www.google.com/+JennHermanPinterest: http://www.pinterest.com/jennherman31/
United States