Discover
The Daily Life of Frank
Claim Ownership
The Daily Life of Frank
Author: Frank Mazzuca
Subscribed: 1
Played: 11
© Copyright Frank Mazzuca
Description
An unfiltered podcast for Dads, Husbands, and Average Guys.
Hi, my name is Frank and welcome to my podcast! I am a dad to two amazing kids. I have a girl who is 9 and a boy who is 7. I am a husband to an incredible wife of 15 years and if we are counting dating time it has been a total of 20 years. She has definitely earned her sainthood for putting up with me! I am also an average guy. I love sports, food, video games, and a cold beer. Each week on the podcast, I share relatable stories of being a dad, husband, and an average guy.
The Daily Life of Frank returns soon!
Frank is back and talks about a Labor Day incident that will always make him chuckle, getting a meat substitute he didn't ask for, what are the hardest games from NES, talks about going on an afternoon date with his wife and much more!
Frank is back this week and talks about the kids getting ready to go back to school, his son learning to ride his bike, going to the movies, and more!
Frank and his son went to see the TMNT movie this past weekend and he shares his full review. Plus, he shares a random thought, the kids going back to school, bringing his own chair to events, and more!
It's time for Frank to air out his daily grievances which include his thoughts on lemonade stands, speakerphones, and socks. Plus he talks about him and son bonding over a scary movie and what sporting event his son would like to go see. All this and more on Episode 241 of The Daily Life of Frank!
Frank is back from his family vacation and recaps all the fun he and the crew had including their Fourth of July party, trip to the zoo, visiting the waterpark, and more!
Sorry about the fan noise but with all these lights it's hot in here! Frank is back and recaps his Father's Day, his love for grocery shopping, obstacles at his son's birthday party, his new favorite baseball player and more!
The podcast for Dads, Husbands, and Average Guys (heck, anyone can listen) hosted by a Dad, Husband, and Average Guy returns this June!
It's time for one of Frank's favorite sporting events and he shares what he would like to do on Derby day. Plus he talks about his family's vacation this Summer, the upcoming neighborhood garage sale, and much more!
Episode 237: Inflation
2023-04-3023:44
This week, Frank talks about a parenting error he witnessed in person, searching for the Chicago Bulls mascot, random hairballs he keeps finding, almost fighting in flip flops, his weak sounding car horns, and all the damn inflation that is going on.
Safety first everyone! Frank talks about how he approaches safety, how he is enjoying this beautiful weather, his wife stealing his candy and much more!
My fears include snakes, heights, UFOs, interactions with people, and the Easter Bunny. This week on The Daily Life of Frank I share all about my fear of the giver of baskets filled with chocolate.
Frank is back and he wants to share why his son and daughter melted his heart this week. Plus he talks about an awkward exchange at the eye doctor, his son thinking he is colorblind, and much more!
Frank is back from vacation and shares all the happenings. Plus he talks about turning 40 and something new he was going to try but quickly faded away. Also, he shares his birthday feast he ate, a movie he saw, and a new TV show he is watching.
Frank has turned 40 and this week shares some advice he has learned the last 39 years.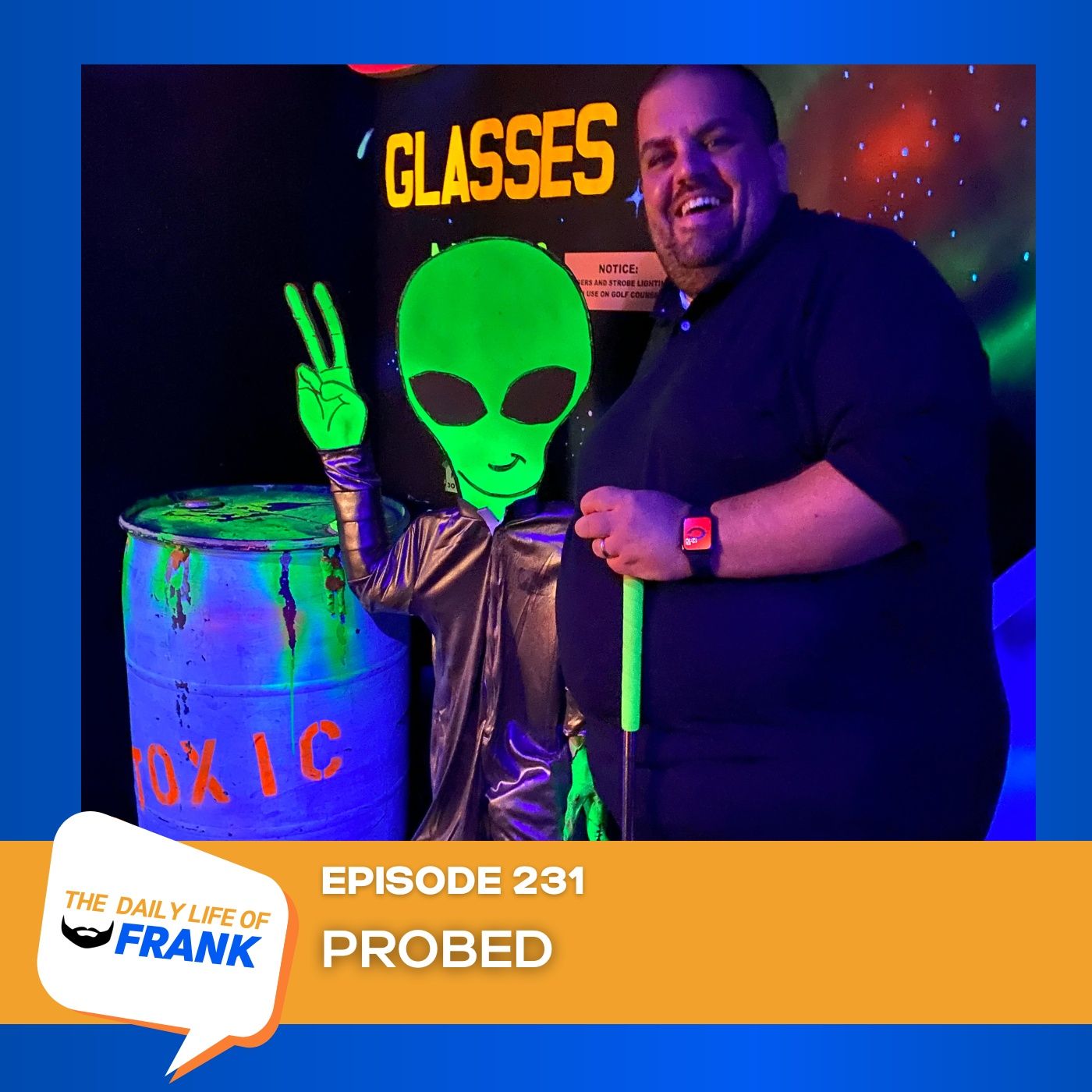 Episode 231: Probed
2023-02-1821:54
Frank recaps all the Big Game fun from last weekend, his trip to the doctors, his daughter's loyal following, his fear of aliens, and much more!
It's shaping up to be a big week with the big game and Valentine's Day on the horizon. Frank shares his football food and game plan. Plus he shares some friendly advice to men who just started dating by sharing a story of his first Valentine's Day with his wife that she doesn't let him forget 20 years later. All this and more on this week's The Daily Life of Frank!
Frank is a Dad, Husband, Average Guy, and Amateur Gambler. This week he has a couple of confessions he would like to get off his chest, and speaking of getting something off his chest, his son has some words for winter sticking around. All this and more on this week's The Daily Life of Frank!
Will it ever stop snowing? Why is my belly so big? Who is my son? These questions and more highlight the podcast this week.
The time has come for the changing of the guard. In fact, it may have come a lot sooner than Frank expected. Find out why Frank feels his son has officially transitioned to the man of the house.
United States