Claim Ownership
Author:
Subscribed: 0
Played: 0
Description
Star Spangled Sanford is one of Sanford's premier special events Tuesday, July 4th on the RiverWalk in beautiful Sanford, FL. Listen and learn about all the awesome happenings at the event, what to expect, parking, Kid Zone, food trucks, vendors, what to bring, what not to bring, etc. Have a great time celebrating July 4th with the City of Sanford at this family-friendly event. A special thank you to our sponsors: Waste Pro, Orlando Sanford International Airport, K92.3, CPH, Ladies 327, and Bud Light. We hope to see you there!
Learn what the Precautionary Boil Water Notice process and strategy are in addition to what online platforms are available to you to stay informed about critical city services.
Julia Brunson, Georgetown Steering Team Community Leader, and Dr. Connie Lester, Associate Professor, UCF History Department and Director of the RICHES Digital Archiving Project share historic background about the Florida Emancipation, in addition to oral histories (storytelling) and other educational components you can learn from on this day. The event will also include the reading of the Emancipation Proclamation by a man portrayed as Union Brigadier General Edward M. McCook. This is a free, family-friendly event, with crafts, games, food vendors, and more! Saturday, May 20, 2023, 12 pm-3 pm, at Hopper Academy, Sanford, FL.
Members of the City of Sanford REEI Committee share updates, goals, and insight as it relates to this official committee. Including discussions about Sanford Speaks, public meetings, and future plans for the REEI.
Join the City of Sanford on this episode as we speak with Caroline Garcia and Robin Theisen, two of three founders of a new local non-profit called the Sanford Cultural Guild. Both Caroline and Robin have great news to share about the Guild's upcoming Garden Tour happening on Saturday, May 6 from 10 am-4 pm. You don't want to miss all the incredible information they have to share about the Guild, the events, and their upcoming projects... all in the name of helping to "enhance the cultural and artistic significance of Sanford through valuable events and beautification projects."
In celebration of Earth Day on Saturday, April 22, 2023, join Seminole County's Environmental Services and Solid Waste Division to clean up litter from the St. Johns River. Learn more with Special Guest Oliver Bond, Solid Waste Division Manager for Seminole County. Locations include C.S. Lee Park, Mullet Lake Park, and our very own Sanford RiverWalk.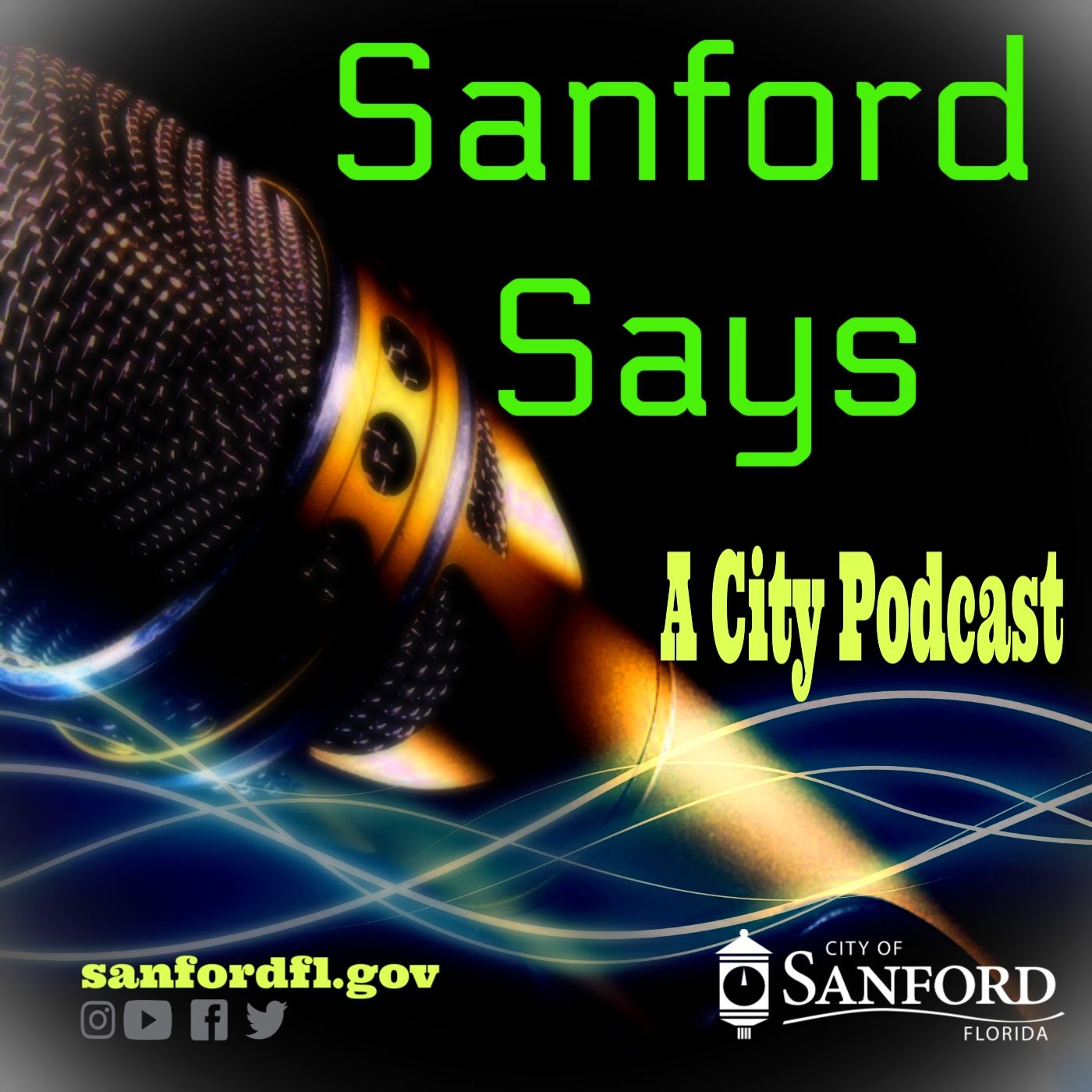 Join art enthusiasts, Moriah Russo, Director, Hollerbach's Art Haus, Virginia Poe, City of Sanford Public Art Commission Chairman, and Richard Reep, local artist on this episode as we discuss and share all things art including art access in Sanford and upcoming art events. Art Enriches Everyone.
Join topic experts on this episode to learn about water wise and water conservation events and important tips as we celebrate this April Water Conservation Month. The events are free, virtual, and in-person, with things like rain barrel basics, tree giveaways, shower head exchanges, and a chance for you to win a 7-gallon butterfly container. Thank you to our partners, Seminole County, the University of Florida IFAS Extension, and Florida-Friendly Landscaping.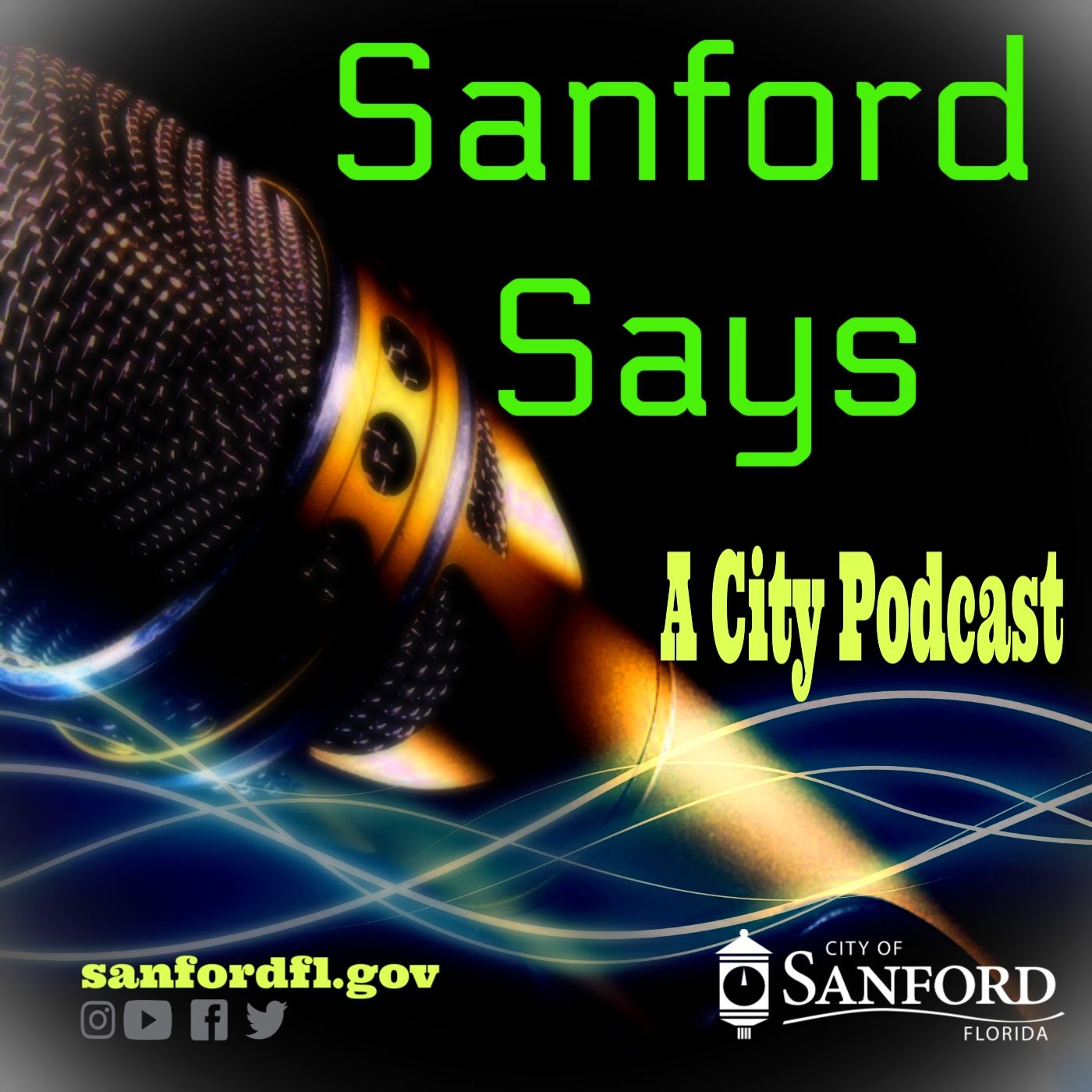 Join Tom Tomerlin, Economic Development Director, and Pamela Lynch, Economic Development Project Manager on this episode as they share the latest and greatest economic development news in the City of Sanford.
Nancy Sepulveda, Sanford Porchfest Co-Founder shares great, helpful information about this incredible free live music festival held in Sanford's downtown residential historic district. Your favorite CHARITY BASED MUSIC FESTIVAL is back and bigger than ever!Celebrating 6 years and more than $80k donated to the arts in Seminole County. 17 PORCHES - OVER 70 BANDS - ONE COMMUNITY - ONE CAUSE.This family and pet-friendly music festival operates on good vibes and good neighbors, where everyone plays a part in the magic. FESTIVAL OPENS at 11:00 am, PORCH PERFORMANCES 12:00-6:15 pm with a CLOSER PERFORMANCE at 6:45-7:45 pm. See you there!
Cedric Coleman, City of Sanford Utilities Operations Manager has taken time out of his busy schedule to sit with us and share expert information about the City of Sanford's vacuum sewer system.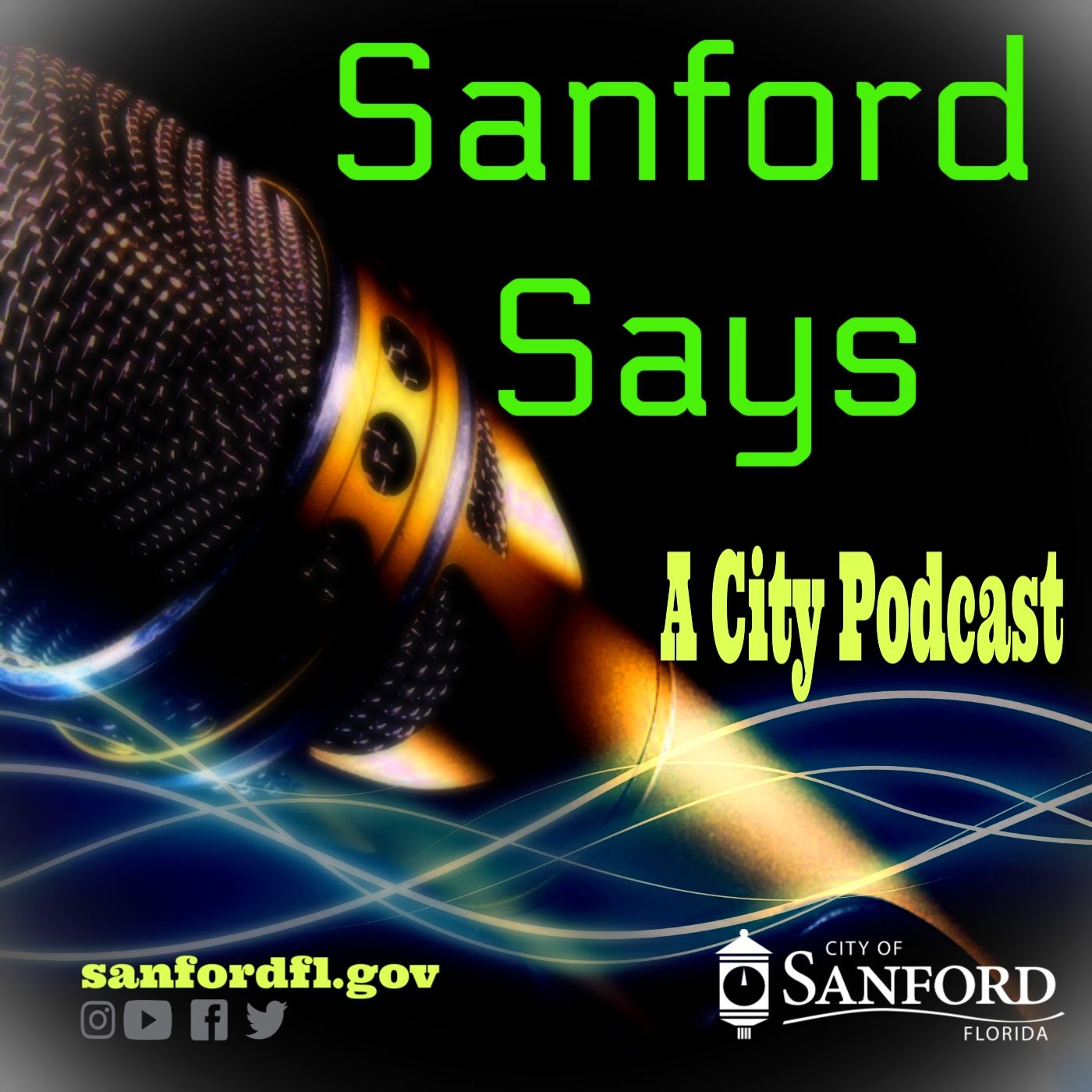 In this episode, straight from the source, Eileen Hinson, City of Sanford Planning Director shares information about the latest and greatest development projects occurring in the City of Sanford and how to access the interactive Development Map so you can be in the know about Sanford anytime, anywhere.
In this episode, City of Sanford Commissioner Kerry S. Wiggins, Sr. District 2 shares a wealth of information about the monthly community meetings the Commissioner hosts at the City of Sanford's Dr. Velma H. Wiliiams Westside Community Center. This is a public meeting open to all.This month's meeting will be held on January 26, 2023. All meetings start at 6 pm. City Department representatives and the City Manager will be in attendance to share city information with you. This month there will be an emphasis on Law Enforcement with the Sanford Police Department and the Seminole County Sheriff's Office presenting. Special Guests will also include representatives from Seminole County Public Schools. Please join us.
On this first episode of 2023 Season 4, Monica Myles, Public Affairs Specialist with the U.S. Small Business Administration, and Pamela Lynch, City of Sanford Economic Development Project Manager share great overall information about the disaster loan program and important deadlines to apply.Information pertaining to Hurricane Ian and Hurricane Nicole such as: who is eligible to apply, how can a person or business apply by tomorrow's deadline, (Jan. 12, 2023), if an applicant has not received a settlement from their insurance company or they have not received a response from FEMA yet, what should they do and what types of loans are available outside of tomorrow's deadline, etc.
In this episode, we discuss the SR 417 To Orlando Sanford International Airport Connector concept, feasibility, and mobility study, with special guest Brian Hutchings, Manager of Communications for the Central Florida Expressway (CFX) Authority, Kathy Putnam, Quest Tollway Services Program Manager, and Tom Tomerlin, City of Sanford Economic Development Director. CFX is studying a potential new direct connection between SR 417 (Seminole Expressway) and the Orlando Sanford International Airport. Join a stakeholder meeting to share your input.
Seasons Greetings and Happy Holidays! In this episode, City of Sanford Mayor Art Woodruff reflects on 2022 and shares that there is much to look forward to in 2023 for our great city. Hear directly from Mayor Woodruff on upcoming projects and other exciting news for the City of Sanford in 2023.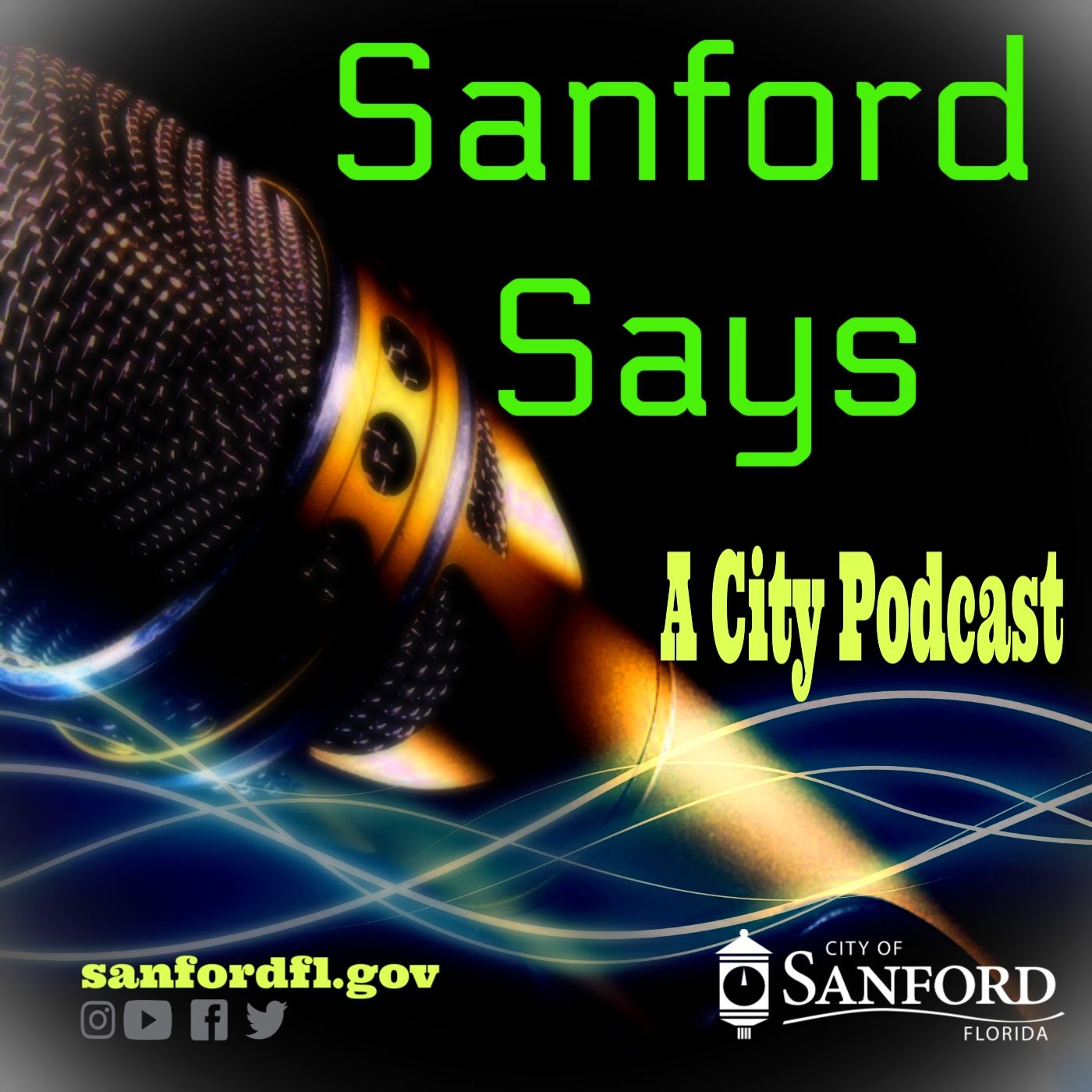 Christina Hollerbach, CEO of Hollerbach's German Restaurant joins us this episode to share information about this 3-day long annual historic event in Sanford, FL -- Oktoberfest, celebrating German food, beer, music, dance, and folk costumes. Learn how to pre-order your festband. (The event was rescheduled to this weekend November 4-6 due to Hurricane Ian). Don't miss out! Hollerbach's Oktoberfest 2022.
Celebrate the harvest of Sanford's Historic Georgetown neighborhood's rich history while celebrating the preservation of the past and the future. The History Harvest event is Saturday, October 15 from 12 pm-4 pm at Hopper Academy, 1101 S. Pine Ave. Julia Brunson, Historic Georgetown Neighborhood District Steering Team Leader, and Dr. Connie Lester, Associate Professor at UCF, Director of the RICHES Digital Project, and Editor of the Florida Historical Quarterly share information about the upcoming event on this episode.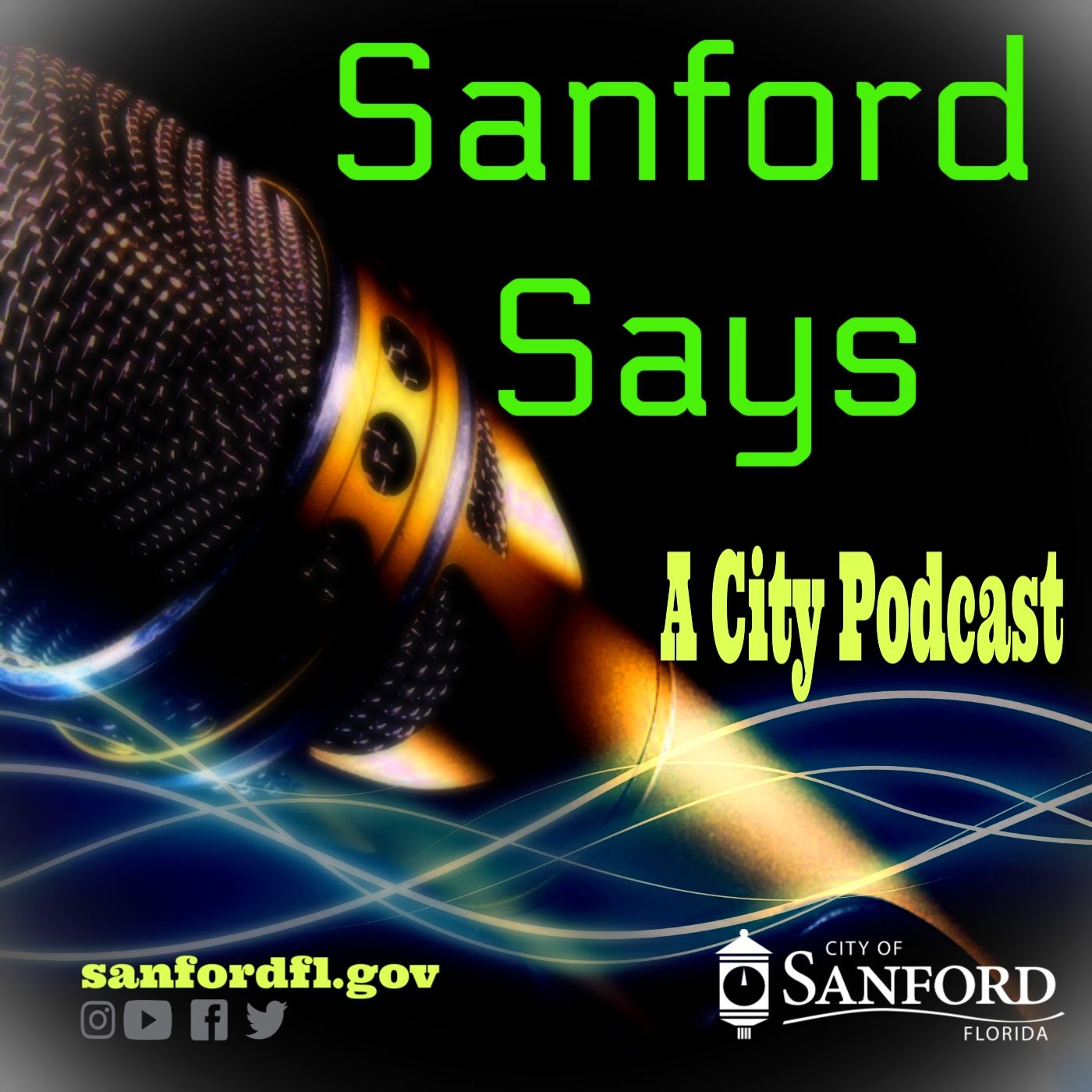 The Florida Department of Health in Seminole County in partnership with the Florida Department of Children and Family Services (DCF) brings you a free Family Health Fest. Saturday, September 17 Noon-4 pm at FT. Mellon Park in beautiful Sanford. In this episode, you'll learn about all the great vendors and happenings at this free community event for all of Seminole County.
Sanford is located on beautiful Lake Monroe learn about the City of Sanford's new Master Plan for the Downtown Sanford Marina to include potential new marina features and much more. Project Consultants share their expertise, key findings, and timeline in this episode.
United States