Discover
The Saturday Morning Super-Cast
Claim Ownership
The Saturday Morning Super-Cast
Author: Jeff McGee
Subscribed: 7
Played: 68
© Copyright Jeff McGee
Description
Let's celebrate the things that made it worth waking up on a Saturday: Cartoons and Cereal! Each episode of The Saturday Morning Super-Cast reminisces about the cartoons we enjoyed while we polished off a bowl of sugar-laden goodness!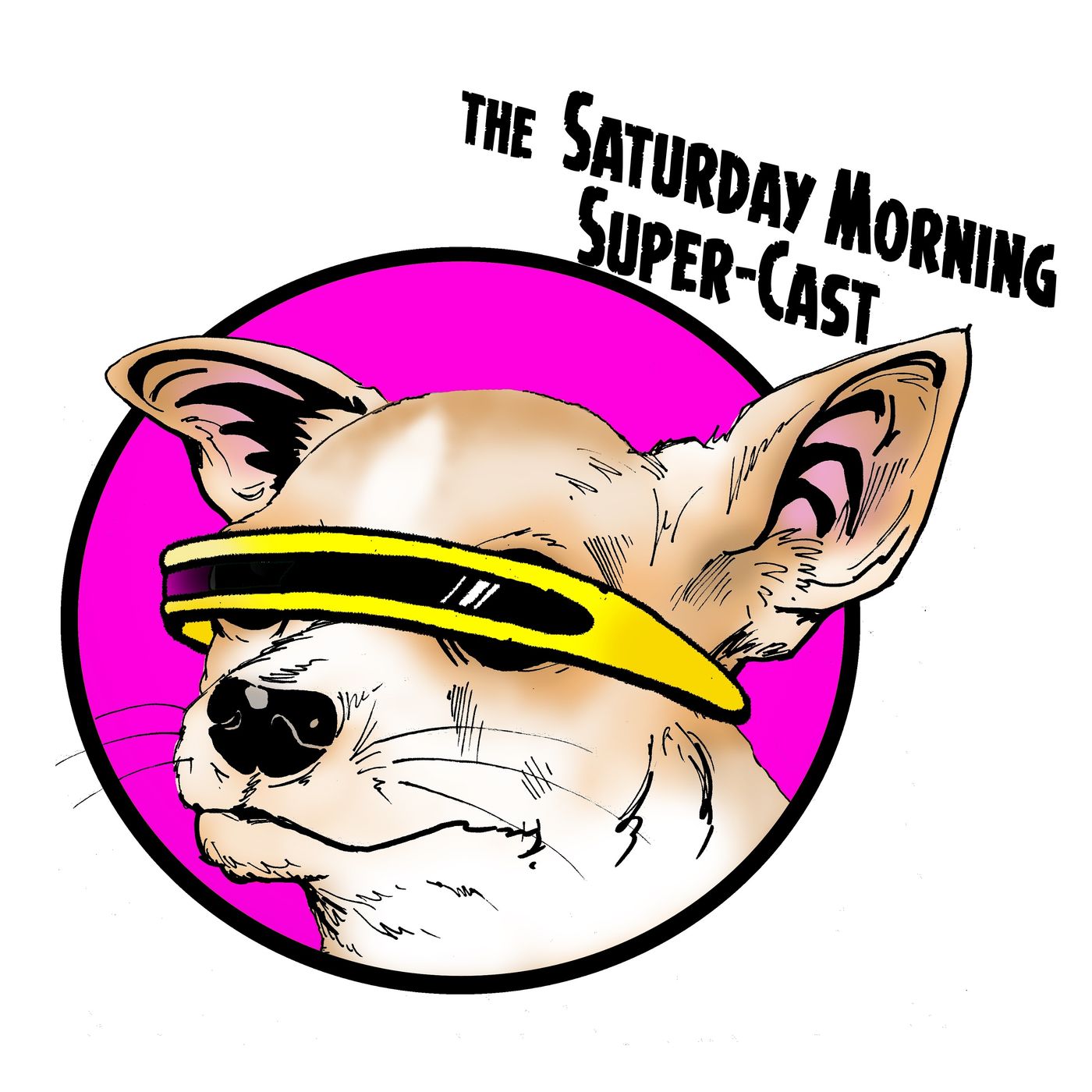 Cory has a special announcement for all of our listeners!
This week, the crew discusses the concept of taking the leftovers of all your cereals and dumping them in a bowl. Is this a sound marketing strategy? What about an animated version of John Candy? Listen and find out our thoughts about Camp Candy and Big Mixx!
Please Hammer Don't Hurt 'Em! But did Hammer indeed hurt us? You'll have to listen to find out as the crew discusses Hammerman! But first, they discuss just why a cereal that tastes like delicious cinnamon rolls just couldn't last on store shelves as Cinnamon Mini Buns.
Just how many Scooby Doo clones were there? We'll let you know when they stop. But THIS week's cartoon is not JUST a clone of Scoob, it also borrows elements from Josie and the Pussycats! Do these 2 elements combine for fun? Listen and find out! But first, the crew talks about yet another cereal that none of them ever got to experience, and Jeff is REALLY feeling left out. Crazy Cow was a weird cereal for a weird time: The 1970s. Grab your spoon!
This is a weird one folks. We have a cereal that none of us have tried and a show that none of us understand. Surprisingly it makes for decent audio! So join us as we discuss Apple Raisin Crisp and Pole Position, the only video game adaptation that made the story even sadder than the game!
A is for Apple! I can't remember the rest, but I bet the rest of the crew does! Find out as they remember Apple Jacks and discuss why Jeff is the only one who still eats them! Then, set the wayback machine for WAAAAY back as the team reviews the original Jonny Quest cartoon from 1964! How well has it held up? Depends on which element you're talking about. Listen to learn more!
This time out, we were challenged to remember our all-time favorite cereal prizes from our childhoods. Now you're thinking the same thing, right? It was a great trip down memory lane, which continued when we remembered our favorite time of day during school: RECESS!!! Was this the last great Saturday morning cartoon? It's a possibility!
Hold on a secondicus, you mean there was ANOTHER video game cartoon AND cereal for us to cover? You mega-beticus! Was the show annoying? Oh yeah. Was the cereal delicious? Kinda! The gang goes back to the video game well to discuss the longest Nintendo commercial ever, Captain N: The Game Master! But first, they discuss perhaps the greatest gimmick cereal every created: The Nintendo Cereal System!
We know video games don't make great movies, but can they make great cartoons? The SuperCast crew debates that very topic this time as they discuss the first ever video game anthology cartoon, the Saturday Supercade! But first they discuss whether video games can make good cereal with Donkey Kong and Donkey Kong Jr Cereals! It's a Power-Up Saturday!!!
Leave it to Disney to turn a sugary snack into a franchise! And to do it well! This time out, the crew discusses Disney's Adventures of the Gummi Bears and we find out just WHY they chose to go with this particular cavity-causing candy! But first, we get healthy with a bowl of Oatmeal Squares. Boring? Maybe. Delicious? Absolutely.
Aaaaayyyy....the SuperCast crew bounces around through time with the coolest character this side of Lando Calrissian: Arther Fonzarelli! That's right kids, even Happy Days got a cartoon! Sort of. Did it work? Welll....Corn Pops are good, huh? Before our intrepid heroes venture into the past, they enjoy a bowl of Corn Pops and discuss just why they've managed to survive untouched for decades.
Hi-Ho Silver! This time out we travel back to the old west to discuss that Masked Avenger, the Lone Ranger. Who wasn't really LONE because he had Tonto, but whatever. Before we go back in time that far, we have a single bowl of Total, because that's all you need, right?
Teen Wolf! It's a fun 80's comedy starring Michael J. Fox! So of COURSE it was a perfect candidate for a Saturday morning cartoon! The themes of the movie are great for such an endeavor. If ONLY the cartoon had followed those themes. What did it do instead? Listen and find out. But first, why did a cereal shaped and flavored like Ice Cream Cones last less than a year on to toy shelves? We may have an answer. But probably not...
As the SuperCast crew dives into 2021, they take a SLIGHT step back and discuss one of (if not THE) last Saturday Morning Cartoons, Fillmore! Was this a fitting swan song for the great Saturday Mornings of history? Listen and find out! But first, a lively debate is had about the decision by the makers of Cheerios to flood the shelves with every possible variety of toasted O's imaginable. Enjoy!
Yeah, we're a couple days late, but this way you can continue the holiday vibes for a little while longer!!! Join the crew as they remember their favorite animated Christmas shows, both episodic and specials!!! Happy Holidays to you and yours, and thank you for a great year for the Saturday Morning SuperCast!
Just like this podcast, this cartoon is 2 things in one! The Wuzzles was a fun mid-80's concept from Disney that combined 2 animals into every character. The SuperCast crew has fun discussing their favorite mashup, but only after they discuss their love of S'Mores and whether or not a S'Mores cereal is ever a good idea.
Can't we all just get along? If we're the Get-Along Gang, then we can! It's another creation of American Greetings that became a Saturday morning franchise, complete with toys! How does the show hold up, can we all still get along with it now? Listen to find out! But first, the crew discusses the lack of success of donut-based cereals, which turns out to be much more interesting than it sounds!
Have no fear, the SuperCast crew is here! And they're talking about everyone's favorite Shoeshine Boy, UNDERDOG! But first, they talk about one of the greatest debacles in the history of cereal: The un-sweetening of ALPHA BITS! How could a cereal once so great be brought asunder by something as silly as nutrition?
There was a time when you'd open up the latest issue of Mad magazine and find a wickedly written and cleverly illustrated parody of big-time Hollywood blockbusters, including eight of the nine Skywalker Saga films.Alas the magazine has become a reprint vehicle nowadays, the victim of downsizing and budget cuts. Lost amid this change? Mad's adaptation and satirical take on "The Rise of Skywalker," leaving completists bereft of one final story. But not for long. Tom Richmond and Desmond Devlin, both of whom charted years working for Mad, have undertaken an IndieGogo project -- Claptrap -- (https://bit.ly/2HCz3lk) that aims to expand upon Mad's vast library of film takedowns by adapting several films that, at the time, were overlooked or ignored. We sat down with the pair to discuss what it was like being a part of Mad, what prompted the IndieGogo and just how rich a vein "The Rise of Skywalker" was for a new version of "Mad Goes to the Movies."
It's time to get spoooooky!!! With Halloween right around the corner, the SuperCast crew decided it was time to go down in the cellar and poke around to see what sorts of frightful fun they could dig up. They found a charmingly goofy cartoon featuring Rick Moranis! Rick Moranis In Gravedale High is a little-known show that should be better-known. But before they school you, the SuperCasters discuss everyone's favorite once-a-year breakfast, the Monster Cereals!!! Which was your favorite??
United States