Discover
CockTales: Dirty Discussions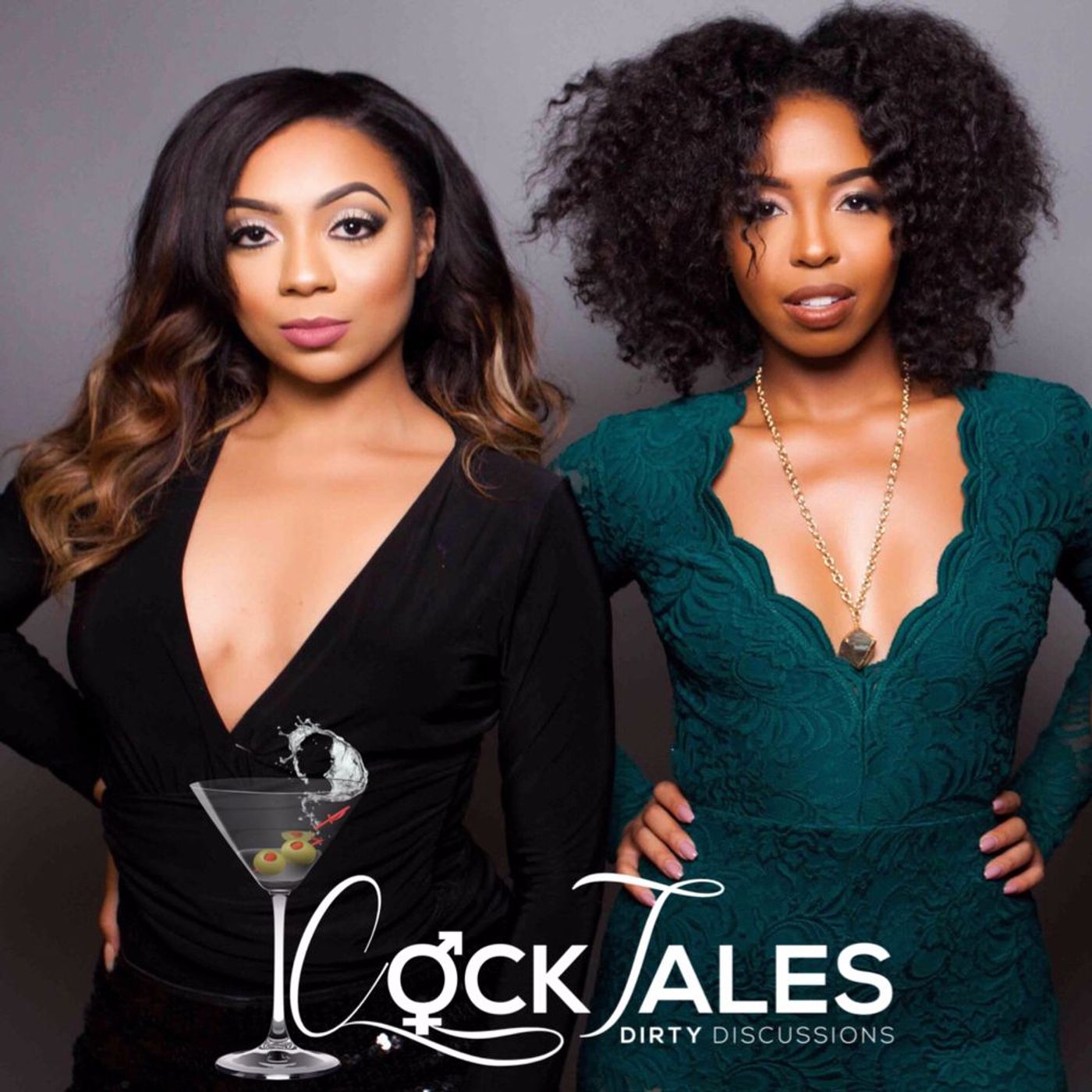 Claim Ownership
CockTales: Dirty Discussions
Author: Kiki Said So & Medinah Monroe
Subscribed: 76
Played: 1,353
© Copyright Kiki Said So & Medinah Monroe
Description
CockTales: Dirty Discussions is hosted by Kiki Said So and Medinah Monroe. Both women are in different stages of their love lives; one single and one in a serious long term relationship. The women give uncensored accounts about their sex and dating lives, relationships, and what it's really like to navigate the sea of love in Atlanta. On CockTales, the ladies gather over great drinks and discuss the latest happenings in their sexual experiences dating lives.
Has a man ever driven you so crazy you became the toxic one?New YouTube Channel! ----> https://www.youtube.com/channel/UCNHSfJ_42WUGw8vBD5vC7Iw Check Out Our Sponsors:DAME PRODUCTS- code: COCKTALESvisit www.dameproducts.com/cocktales Taste Vitamins: Use code COCKTALES10https://tastevitainc.com/cocktalesGet Your She Orgasms! Use code KIKISAIDSOwww.sheorgasms.com/kikisaidso Join On Us Patreon www.patreon.com/cocktales  Follow Us On Instagram @cocktalespodcast @kikisaidso @coffeebeandean  See omnystudio.com/listener for privacy information.
Is Medinah in love? How did Kiki almost lose her best friend? Listen as people in their lives continue to share drunken experiences with these two PLUS the ladies spend the rest of the episode discussing new things they want to try, have recently tried, and are still nervous to try.  Spoiler alert, Kiki went on a date...with a short man lol.
There are two sides to every story right ? Welp this week the ladies are getting the other side of their own stories lol or should we say the sober side? Sit back relax and listen to some good ole drunk fables starring your fave podcast duo and some specials guests.Want More? Join Patreon!www.patreon.com/cocktalesCheck Out Our Sponsors:Visit https://tastevitainc.com/?utm_campaign=cocktales&utm_source=leaddyno&utm_medium=affiliateand use code COCKTALES10 for a 10% discount **please use this link so they know we sent you**Check Out Taliah Waajid's Apple & Aloe line of products available at www.naturalhair.org Get 30% off with code CTTW (Also available at your local WalMart and Sally's Beauty Supply)Use Code KIKISAIDSO with every purchase of She Orgasms at www.sheorgasms.comPurchase Kiki's Digital Cookbook Klassy Bastehttps://kikisaidso.selz.com/item/klassy-baste-digital-cookbookMedinah has new stories on Dipsea use this link for a free trial:https://www.dipseastories.com/subscribe/?promo=medinah&utm_source=partner&utm_campaign=medinahJoin Kiki's Bookclubwww.patreon.com/kikisaidsoFollow Us On Instagram:@cocktalespodcast@kikisaidso@coffeebeandean
Can we make it through the episode without complaining about men? Listen up, we can appreciate a few things about men...and we'll take a shot for every complaint lol. Want More? Join Patreon!www.patreon.com/cocktalesFor Kristine Who Suffers from Vasculitis https://www.gofundme.com/f/z8qf9e-kristineCheck Out Our Sponsors:Visit www.lovecrave.com/products/vesper/ and use code COCKTALES to get a FREE engraving on your new Vesper necklaceVisithttps://tastevitainc.com/?utm_campaign=co%E2%80%A6edium=affiliate%E2%80%8Band use code COCKTALES10 for a 10% discount **please use this link so they know we sent you**Check Out Taliah Waajid's Apple & Aloe line of products available at www.naturalhair.org Get 30% off with code CTTW (Also available at your local WalMart and Sally's Beauty Supply)Use Code KIKISAIDSO with every purchase of She Orgasms at www.sheorgasms.comPurchase Kiki's Digital Cookbook Klassy Bastehttps://kikisaidso.selz.com/item/klassy-baste-digital-cookbookJoin Kiki's Bookclubwww.patreon.com/kikisaidsoHear Medinah on the Dipsea app for free here:https://www.dipseastories.com/subscribe/?promo=medinah&utm_source=partner&utm_campaign=medinahFollow Us On Instagram:@cocktalespodcast@kikisaidso@coffeebeandean
Aht aht! We know we're not married...yet, but we still wanna talk about it. We're talking about the fears we have, what we're not looking to change, and why some people stay miserable instead of moving on.Want More? Join Patreon!www.patreon.com/cocktalesCheck Out Our Sponsors:Visit www.lovecrave.com/products/vesper/ and use code COCKTALES to get a FREE engraving on your new Vesper necklaceVisittastevitainc.com/?utm_campaign=co…edium=affiliate​and use code COCKTALES10 for a 10% discount **please use this link so they know we sent you**Check Out Taliah Waajid's Apple & Aloe line of products available at www.naturalhair.org Get 30% off with code CTTW (Also available at your local WalMart and Sally's Beauty Supply)Use Code KIKISAIDSO with every purchase of She Orgasms at www.sheorgasms.comPurchase Kiki's Digital Cookbook Klassy Bastehttps://kikisaidso.selz.com/item/klassy-baste-digital-cookbookJoin Kiki's Bookclubwww.patreon.com/kikisaidsoHear Medinah on the Dipsea app for free here:https://www.dipseastories.com/subscribe/?promo=medinah&utm_source=partner&utm_campaign=medinahFollow Us On Instagram:@cocktalespodcast@kikisaidso@coffeebeandean
Let's talk about exclusivity, how do we get there and is it really what we want?Want More? Join Patreon!www.patreon.com/cocktalesCheck Out Our Sponsors:Visit www.lovecrave.com/products/vesper/ and use code COCKTALES to get a FREE engraving on your new Vesper necklaceVisit https://tastevitainc.com/?utm_campaign=cocktales&utm_source=leaddyno&utm_medium=affiliate​and use code COCKTALES10 for a 10% discount **please use this link so they know we sent you**Check Out Taliah Waajid's Apple & Aloe line of products available at www.naturalhair.org Get 30% off with code CTTW (Also available at your local WalMart and Sally's Beauty Supply)Use Code KIKISAIDSO with every purchase of She Orgasms at www.sheorgasms.comPurchase Kiki's Digital Cookbook Klassy Bastehttps://kikisaidso.selz.com/item/klassy-baste-digital-cookbookJoin Medinah on a Yoga Retreat at Paradise + Vibewww.paradiseandvibe.comJoin Kiki's Bookclubwww.patreon.com/kikisaidsoFollow Us On Instagram:@cocktalespodcast@kikisaidso@coffeebeandean
How do you know when it's time to let him go? Probably when you get tired of him breathing...Want More? Join Patreon!www.patreon.com/cocktalesCheck Out Our Sponsors:Visit www.lovecrave.com/products/vesper/ and use code COCKTALES to get a FREE engraving on your new Vesper necklaceVisit https://tastevitainc.com/?utm_campaign=cocktales&utm_source=leaddyno&utm_medium=affiliateand use code COCKTALES10 for a 10% discount **please use this link so they know we sent you**Check Out Taliah Waajid's Apple & Aloe line of products available at www.naturalhair.org Get 30% off with code CTTW (Also available at your local WalMart and Sally's Beauty Supply)Use Code KIKISAIDSO with every purchase of She Orgasms at www.sheorgasms.comPurchase Kiki's Digital Cookbook Klassy Bastehttps://kikisaidso.selz.com/item/klassy-baste-digital-cookbookJoin Medinah on a Yoga Retreat at Paradise + Vibewww.paradiseandvibe.comJoin Kiki's Bookclubwww.patreon.com/kikisaidsoFollow Us On Instagram:@cocktalespodcast@kikisaidso@coffeebeandean
This week we're discussing one of our favorite pastimes...threesomes. What's the best way to handle these sexual encounters? From the invitation to the exit, we map out proper etiquette and some tips on how to get what so many people want.Want More? Join Patreon!www.patreon.com/cocktalesCheck Out Our Sponsors:Visit https://www.lovecrave.com/products/vesper/ and use code COCKTALES to get a FREE engraving on your new Vesper necklaceVisit http://tastevitainc.com/discount/cocktales?redirect=%2F%3Fafmc%3Dcocktales%26utm_campaign%3Dcocktales%26utm_source%3Dleaddyno%26utm_medium%3Daffiliateand use code COCKTALES10 for a 10% discount **please use this link so they know we sent you**Check Out Taliah Waajid's Apple & Aloe line of products available at www.naturalhair.org Get 30% off with code CTTW (Also available at your local WalMart and Sally's Beauty Supply)Purchase Kiki's Digital Cookbook Klassy Bastehttps://kikisaidso.selz.com/item/klassy-baste-digital-cookbookJoin Medinah on a Yoga Retreat at Paradise + Vibewww.paradiseandvibe.comJoin Kiki's Bookclub www.patreon.com/kikisaidsoFollow Us On Instagram:@cocktalespodcast@kikisaidso@coffeebeandean
Fake shopping sprees, baby daddy confusion and quickies gone wrong. Sometimes life leads you to some pretty sticky situations. Check Out Our Sponsors:Visit www.tastevitainc.com and use code COCKTALES10 for 10% offCheck Out Taliah Waaijd's Natural Hair Care Products, especially the Apple & Aloe line we mentioned at www.naturalhair.org and use code CTTW for 30% off!Follow Us On IG@cocktalespodcast@kikisaidso@coffeebeandean Join Our Patreon:www.patreon.com/cocktalesPurchase Kiki's Cookbook Klassy Bastehttps://kikisaidso.selz.com/item/klassy-baste-digital-cookbookJoin Kiki's Book Clubwww.patreon.com/kikisaidsoMeet Medinah in Jamaica for Paradise + Vibehttps://www.paradiseandvibe.com/
This week we're joined by comedian, author, and fellow podcaster Jordan Power. He shares his stories of finding his dad on a gay dating site, STI's, sleeping with "straight" men, and soggy cookiesFollow Our Guest@jpowercomedyFollow Us@cocktalespodcast@kikisaidso@coffeebeandeanJoin Our Patreon:www.patreon.com/cocktalesPurchase Kiki's Cookbook Klassy Bastehttps://kikisaidso.selz.com/item/klassy-baste-digital-cookbookJoin Kiki's Book Clubwww.patreon.com/kikisaidso
This week Vanessa Fraction joins us as we run down her "what's off limits" list. Is road booty a no no? Have you heard of a Cleveland steamer? Us either, til now.Follow Our Guest and Keep Up With her@vanessafractionThis week we're catching up with you guys and trying to understand why someone's booty has gotten a little leaky!Join PatreonWww.patreon.com/cocktalesGet Kiki's Cookbook!kikisaidso.selz.com/item/klassy-bas…igital-cookbookGet Merch!www.cocktales-merch.creator-spring.com
This week we're catching up with you guys and trying to understand why someone's booty has gotten a little leaky!Join PatreonWww.patreon.com/cocktalesGet Kiki's Cookbook! https://kikisaidso.selz.com/item/klassy-baste-digital-cookbookGet Merch!https://cocktales-merch.creator-spring.com
This week we're getting in other people's business...we're discussing some of the most infamous cheating scandals among celebrities. Would you stay or would you go?Get Your Merch:https://cocktales-merch.creator-spring.comJoin Us On Patreon:www.patreon.com/cocktalesPurchase My Cookbook Klassy Baste:https://kikisaidso.selz.com/item/klassy-baste-digital-cookbookJoin My Book Club:www.patreon.com/KikisaidsoFollow Us!@cocktalespodcast@kikisaidso@coffeebeandean
This week we're joined by @thedevaarazel discussing submission. Join Us On Patreonwww.patreon.com/cocktalesFollow us @cocktalespodcast@kikisaidso@coffeebeandean
This week it's all about sex peeves!Join Us On Patreonwww.patreon.com/cocktalesJoin Kiki's Book Clubwww.patreon.com/kikisaidsoBuy Kiki's Cookbook Klassy Bastehttps://kikisaidso.selz.com/Join Medinah at Paradise + Vibehttps://www.paradiseandvibe.com/
This week we're joined by Tori & Lulu Piskin of the Got It From My Mama Podcast! Imagine having a podcast with your mom...about sex and dating. Whew!Follow Our Guests:@gotitfrommymamapodcastCheck Out Their Podhttps://podcasts.apple.com/us/podcast/got-it-from-my-mama/id1451022402Follow Us@cocktalespodcast@kikisaidso@coffebeandeanJoin Our Patreonwww.patreon.com/cocktalespodcastJoin Kiki's Book Club "Drinks & Reads"www.patreon.com/kikisaidsoPurchase Klassy Baste Digital Cookbookhttps://kikisaidso.selz.com/item/klassy-baste-digital-cookbookJoin Medinah on the Paradise + Vibe Retreathttps://www.paradiseandvibe.com/
This week Kelly Gordon joins us to discuss what it's like to have an active sex and dating life with a physical disability.Follow Our Guest@mskelgeeFollow Us@cocktalespodcast@kikisaidso@coffeebeandeanJoin Patreon www.patreon.com/cocktalesGet your copy of Klassy Baste Here:https://kikisaidso.selz.com/Check out Paradise + Vibehttps://www.paradiseandvibe.com/
This week it's our first time recording in 2021. Yall, we may have finally grown up a bit, well sort of.Join Us On Patreonwww.patreon.com/cocktalesGet your copy of Klassy Baste athttps://kikisaidso.selz.com/Join Kiki's "Drinks & Reads" Book Clubwww.patreon.com/kikisaidsoSign Up For the Yoga Retreat!https://www.paradiseandvibe.com/Follow Us!@cocktalespodcast@kikisaidso@coffeebeandean
This week Kiki & Medinah are joined by former athlete & current actor Antoine Morgan. They discuss everything from his time in prison to why he think some women are "extra". (5:00) Weird Sex: This week Kiki reminds us that It ain't safe everywhere, so be careful! Stay tuned to hear Kiki's cautionary tale that will help you avoid getting your dick, finger, eyes, or any other body part cut off! (7:22) I'm Curious To Know: The ladies play a game of "I'm curious to know" and let's just say… you might also be curious about these questions too. The ladies are unfiltered, per usual. Thank them later! (43:00) Advice Letters:If you want want Medinah & Kiki to give you some advice, email your questions to cocktails.atl@gmail.com.This week they answer questions regarding: 1. Penis size insecurities2. How to get your sexual partner to be more open-minded (56:00) Cocktales:Do you have a sexual experience you're dying to tell someone? Share it with us at cocktails.atl@gmail.com.Follow Our Guest:
@the_morganbrother Follow Us:
@cocktalespodcast
@kikisaidso
@coffeebeandean
This week Madison Belfort talks to us about escorting in Palm Springs, Only Fans, and hooking up with client's friends. Are you looking for something to help with getting some good rest? Try Som Sleep!https://getsom.com/pages/cocktalespodcastFollow Our Guest@madisonbelfortFollow Us @cocktalespodcast@kikisaidso@coffeebeandean
United States