Discover
Crimes and Consequences Hardcore True Crime
Crimes and Consequences Hardcore True Crime
Author: Crimes and Consequences
Subscribed: 8,931
Played: 67,638
© Crimes and Consequences, Inc.
Description
Can't get enough true crime? Join two attorneys as they dive deep into the gritty details of true crime stories. Listen to true crime cases you have never heard before and the classic tales you hate to love. From serial killers to stalkers, Crimes and Consequences covers them all in intimateate detail with a hint of dark humor.
Imagine you are a member of an internet support group for problem drinkers. One day as you are perusing through the chatroom discussions, you stumble upon a disturbing post from a regular named Larry. In his post, Larry details murdering his child three years earlier and how he got away with it. What do you do? This is the shocking story of the 200 members' reactions to Larry Froistad's confession of murder and the power of the Bystander Effect. Looking for our missing episodes? They are now free at www.tntcrimes.comIG and Facebook: @hardcoretruecrimeHelp support us and get ad-free, exclusive episodes at patreon.com/tntcrimesSources: https://archive.nytimes.com/www.nytimes.com/library/tech/98/10/biztech/articles/10confession.htmlhttps://nymag.com/nymetro/news/crimelaw/features/2668/https://www.nytimes.com/1998/04/30/us/on-line-trail-to-an-off-line-killing.htmlhttps://scholar.google.com/scholar_case?case=6608691232651917520&q=Larry+Froistad&hl=en&as_sdt=80000006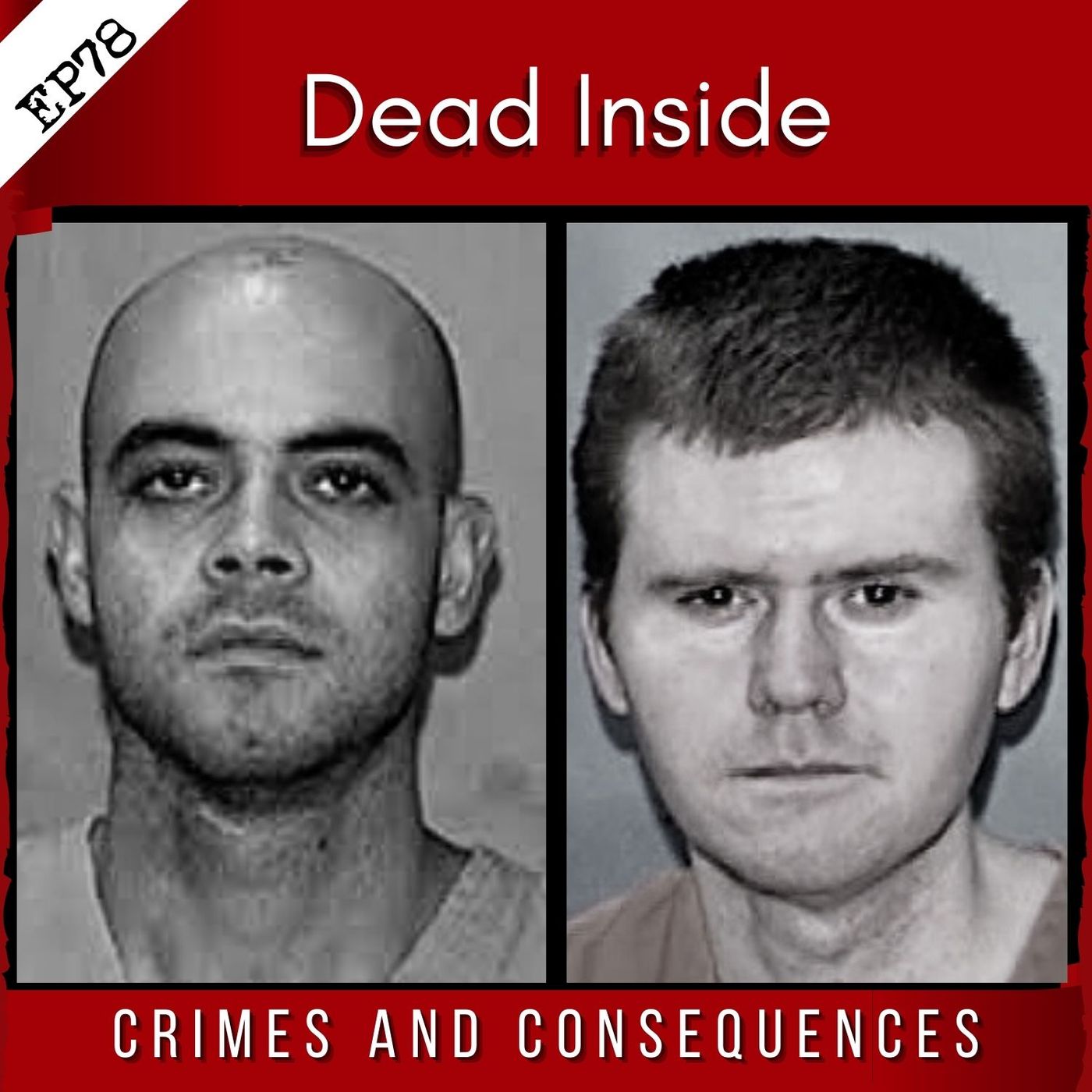 EP78: Dead Inside
2021-04-0559:18
1
Jeremiah Rodgers and Jonathan Lawrence were two young men who met in a mental institute for the criminally insane. They quickly formed a friendship, bonding over the anger and rage brewing inside them. This dangerous comradery continued even after both men were released from prison. Fueled by their dark fantasies of murder, necrophilia, and cannibalism, Jeremiah and John set out on a murderous campaign, culminating in the needlessly cruel deaths of two young adults. Listen as we dive into the disturbed and chilling minds of these terrifying killers.Looking for our missing episodes? They are available free on our website www.tntcrimes.comGet Ad-Free, Early Releases, Mini-Episodes, and Exclusive Full Episodes by going to Patreon.com/tntcrimes or www.tntcrimes.com and become a memberIG & Facebook: @hardcoretruecrimeSources: Court RecordsThe Flesh Collectors by Fred Rosen
On June 29, 2003, a 14-year-old boy was fighting for his life, laying in a pool of his own blood in an alley in Greater Manchester, United Kingdom. He had been stabbed by a contracted assassin that was working on behalf of The Secret Intelligence Service, or MI6. Listen to this week's episode to find out why the British Government would want a 14-year-old boy dead, and the events that led up to his near-fatal stabbing. The twists and turns in this episode are straight out of a James Bond movie!Looking for our missing episodes? They are available free on our website www.tntcrimes.comHelp support our podcast by joining our Members Only Patreon Group where you can get access to all of our Online-Only episodes, early releases, ad-free episodes & more. Go to www.tntncrimes.com or patreon.com/tntcrimesFacebook & IG: @hardcoretruecrimeSources:Vanity Fair, "U want me to kill him?" by Judy Bachrach, October 10, 2006Grunge.com, "The Truth About the First Person in UK History to be Charged with Their Own Attempted Murder" by Richard MilnerThe Guardian, "Bizarre tale of boy who used internet to plot his own murder" by Helen CarterCasefiles Podcast, Episode 104, "Mark and John"
Maury Travis was a very, very disturbed man. Since he was 14-years-old he fantasized about murder. As an adult, he turned his basement into a torture chamber where he killed at least 17 women, all the while videotaping their suffering and eventual death. Listen to this episode to get a glimpse into the crazed mind of this killer.Looking for our missing episodes? They are available free on our website www.tntcrimes.comHelp support our podcast by joining our Members Only Patreon Group where you can get access to all of our Online-Only episodes, early releases, ad-free episodes & more. Go to www.tntncrimes.com or patreon.com/tntcrimesFacebook & IG: @hardcoretruecrimeSources: The Bi-State Strangler by Ken DyeCourt Records for Wrongful DeathMurderpedia
Warning: This episode is extremely gruesome.From 1984 to 1988 there was a serial killer loose in the streets of Kansas City. The victims were mostly male sex workers, street kids, and drug addicts and the killer knew, after getting away with the first murder, that the police were not quick to solve these crimes involving this often forgotten about population. Fueled by his fantasies, Robert Berdella brutally tortured and murdered six men. His would-be seventh victim was able to escape and expose the world to a horrifying story, unlike anything you may have heard.Looking for our missing episodes? They are available free on our website www.tntcrimes.comHelp support our podcast by joining our Members Only Patreon Group where you can get access to all of our Online-Only episodes, early releases, ad-free episodes & more. Go to www.tntncrimes.com or patreon.com/tntcrimesFacebook & IG: @hardcoretruecrimeSources:Robert Berdella: The True Story of the Kansas City Butcher by Jack Rosewood
Marc Dutroux is a monster who created a secret prison in his basement, complete with a ventilation system, to hold his victims in. Marc, along with his wife Michele, was arrested in 1989 for the abduction and rape of five girls and young women. After serving only three years, the couple was released. Marc's evil desires only grew and by 1995, Marc had four young victims held prisoners in his home. Within a year, Marc had murdered at least five people, including another accomplice, whom he tortured for six days before burying him alive. Listen to this graphic and shocking episode to learn why Marc is deemed "The Monster of Belgium."Looking for our missing episodes? They are available free on our website www.tntcrimes.comHelp support our podcast by joining our Members Only Patreon Group where you can get access to all of our Online-Only episodes, early releases, ad-free episodes & more. Go to www.tntncrimes.com or patreon.com/tntcrimesFacebook & IG: @hardcoretruecrimeSources:I Choose to Survive by Sabine Dardenne
In March 1991, 11-year-old Junny Rios-Martinez won a kite-flying contest. Due to this award, Junny's photo appeared in a local newspaper called Florida Today. Junny and his family had no idea that this public recognition would ultimately lead to an elaborate scheme to kidnap and kill him. Listen to this week's episode to find out more.Looking for our missing episodes? They are available free on our website www.tntcrimes.comHelp support our podcast by joining our Members Only Patreon Group where you can get access to all of our Online-Only episodes, early releases, ad-free episodes & more. Go to www.tntncrimes.com or patreon.com/tntcrimesFacebook & IG: @hardcoretruecrimeSources:Court records
In 1996, Rachel Timmerman filed rape charges against a monster named Marvin Gabrion. As the trial approached, witnesses came up missing. Then Rachel disappeared along with her baby after going out on a date. She had no idea that the date was part of an elaborate murder plot by a serial killer. Three letters, written in Rachel's own handwriting, were mailed to her father and the prosecutor shortly following her disappearance. Then, a month later, Rachel's dead body was found and details revealed she died a horrific and terrifying death. What did the letters say? What happened to Rachel Timmerman and the four other victims of serial killer Marvin Gabrion? Listen to find out more!Looking for our missing episodes? They are available free on our website www.tntcrimes.comHelp support our podcast by joining our Members Only Patreon Group where you can get access to all of our Online-Only episodes, early releases, ad-free episodes & more. Go to www.tntncrimes.com or patreon.com/tntcrimesFacebook & IG: @hardcoretruecrimeSources:Court recordsThe Color of Night by John Timmerman
On Saturday, May 16, 1987, 14-year-old Alecia and 12-year old Monica were on their way to shoot an anti-drug video in Lake Tahoe, Nevada. They were teen models who were hired through Showcase Models by a photographer. The video shoot was supposed to only last for one day, however, Alecia and Monica had a terrifying weekend they would never forget. The man who had hired them for the video said his name was Mark—but he was actually serial killer Herb Coddington. Listen to this week's episode to find out more.Looking for our missing episodes? They are available free on our website www.tntcrimes.comIG & Facebook: @hardcoretruecrimeTicTok: TruecrimepodcastJoin our Patreon Members Only and get over 50 exclusive episodes, plus commercial-free, early releases and access to our LIVE episodes.Sources:Court recordshttps://murderpedia.org/male.C/c/coddington-herbert.htmhttps://www.tahoedailytribune.com/news/supreme-court-upholds-death-penalty-for-tahoe-killer/
In 2017, 25-year-old Jenna Van Gelderen disappeared while house-sitting at her parent's home. Her car was found two weeks later abandoned on the side of the road in Atlanta, Georgia. During that year, Jenna started hanging around a new group of friends, some with sketchy pasts. Many of them have given false information to authorities or simply refused to talk. What are they hiding?Looking for our missing episodes? They are available free on our website www.tntcrimes.comIG & Facebook: @hardcoretruecrimeGet exclusive Online-Only and Ad-Free Episodes: www.Patreon.com/tntcrimeswww.tntcrimes.comIf you have any information on this case please call 404-577-TIPS or email FINDJENNANOW@GMAIL.COMFacebook: @helpfindjennavgHelp support Crimes & Consequences by going to Patreon.com/tntcrimes where you get access to Exclusive Members Only Episodes, Early Releases, LIVE Episodes & More!Sources: https://www.facebook.com/HelpFindJennaVG/Twitter: #jennacaseWebsleuths: https://www.websleuths.com/forums/threads/ga-jenna-van-gelderen-25-atlanta-18-aug-2017-5.477847/Oxygen Channel: https://www.oxygen.com/searching-for/what-happened-jenna-van-gelderen-things-know-case-atlantaThe Vanish Podcast: http://www.thevanishedpodcast.com/episodes/2017/12/21/episode-105-jenna-van-gelderen-
On April 22, 1999, the bodies of Mary Kopatz, and her 3-year-old daughter, Carley were found in the Kopatz's family van, parked in a parking lot about a mile from their home. The crime scene inside the van seemed to have been staged to make it look like a robbery had occurred. Kim Kopatz, Mary's husband and Carley's father, reported Mary and Carley missing after Mary failed to show up to work. Listen to this week's episode to find out what happened to Mary and Carley and who was responsible for their deaths--the motive will make you sick.Looking for our missing episodes? They are available free on our website www.tntcrimes.comIG & Facebook: @hardcoretruecrime
In 1983, four American Jehovah's Witnesses inadvertently knocked on the door of drug lord Ernesto Fonseca. Paranoid they were undercover DEA agents, he had his henchmen (one being El Chapo) kidnap, torture, rape, murder, and dismember them. Then, a month later, two American tourists walked into a seafood restaurant for dinner, unaware that it had been reserved for a cartel party. The tourists were also kidnapped, tortured, and murdered. But it was only when the Guadalajara Cartel kidnapped, tortured, and murdered DEA Agent Enrique Camarena, that the United States finally put an end to their murderous rampage.Looking for our missing episodes? They are available free on our website www.tntcrimes.comHelp support us by going to www.tntcrimes.com or Patreon.com/tntcrimesIG: @hardcoretruecrimeFacebook: @hardcoretruecrimeSources: https://allthatsinteresting.com/kiki-camarena https://www.cnn.com/2013/08/22/justice/mexican-drug-lord-release-reaction/index.htmlhttps://www.wfaa.com/article/features/originals/el-chapo-may-face-new-charges-for-the-murder-of-six-americans-dea-agent/287-546210570https://www.latimes.com/archives/la-xpm-1985-06-18-mn-3197-story.html https://www.ncjrs.gov/pdffiles1/Digitization/121533NCJRS.pdf autopsyhttps://www.washingtonpost.com/archive/politics/1985/03/08/blow-to-the-head-killed-dea-man-agents-say/9eaa3eb3-f586-4dfe-ac81-cde61e496642/ trial transcript machian https://www.supremecourt.gov/pdfs/transcripts/1991/91-712_04-01-1992.pdfhttps://reneverdugo.org/transcripts.html# verdugo transcriptshttps://reneverdugo.org/Camarena.html transcripts of torture and autopsy http://www.reneverdugo.org/pdf/Pleadings/9th%20Cir%2097-2929/Gov't%20Lodge%20Trans.pdf
The "Secret Witness" hotline was established in Shasta County, CA to take anonymous tips about crimes that occurred in the county. On the evening of June 19, 1985, a tip came in concerning a missing person, Averill Weeden. Averill disappeared on May 23, 1985, and the caller said he knew where Averill's body was and wanted to know how much money he could get in exchange for this information. Listen to this week's episode to find out more about what the Secret Witness knew and his connection to Averill's disappearance—as well as other crimes.Looking for our missing episodes? They are available free on our website www.tntcrimes.comHelp support us by becoming a member and getting exclusive episodes at www.patreon.com/tntcrimesVisit us at www. tntcrimes.comIG & Facebook: @hardcoretruecrime
The media in Columbus, Georgia gave the name "The Stocking Strangler" to a serial killer in the area that preyed on elderly white women in 1978. In April of that year, a local newspaper and the police began receiving letters from an alleged vigilante group calling themselves "The Forces of Evil." This group warned that if the Stocking Strangler didn't stop killing caucasian "grannies" the Forces of Evil would begin killing African-American women. Within a few days, the brutal body of their first victim was discovered. Looking for our missing episodes? They are available free on our website www.tntcrimes.comGet Online Only Episodes, Early Releases, and access to LIVE episodes by going to www.tntcrimes.com or patreon.com/tntcrimesIG & Facebook: @hardcoretruecrimeSources:https://www.ledger-enquirer.com/news/local/crime/article173756466.htmlhttps://www.ledger-enquirer.com/news/local/article194938679.htmlhttps://www.wtvm.com/story/17093915/dna-results-reveal-new-questions-in-columbus-stocking-strangler-case/https://www.ledger-enquirer.com/news/local/article205699234.html
In the 1970s there was someone lurking, stalking, and attacking women in the Metro Detroit area. The viciousness and brutality increased with each attack until women were ending up dead in truly grotesque ways. The attacks in Michigan ended in 1981 because the killer, later determined to be Coral Watts, decided the heat was getting too hot and moved to Texas to continue his killing spree. By the time he was caught, Coral Watts ended up admitting to over 100 murders. Listen to this week's episode to learn about Carl Eugene "Coral" Watts,  one of the most prolific serial killers in American history.Looking for our missing episodes? They are available free on our website www.tntcrimes.comDon't forget to subscribe/follow us on your favorite app!IG & Facebook: @hardcoretruecrimeGet exclusive Online-Only and Ad-Free Episodes: www.Patreon.com/tntcrimeswww.tntcrimes.comHelp support Crimes & Consequences by becoming a member and getting all of our exclusive online episodes, access to live episodes, bonus content, and more by going to www.Patreon.com/tntcrimes You can get more information on this story by going to our website www.tntcrimes.comIG: @tntcrimespodcastFacebook: @tntcrimespodcastSources for this episode:Radford University, Dept. of Psychology ResearchMurderpedia.orgNY Times Article Coral Watts Serial Killer Podcast
A week before Christmas in 1983, Kathy Smith went shopping for gifts for her three children.  Later that evening, when she returned home in Philadelphia, she noticed the lights weren't working throughout most of the house.  She called her mother, who lived next door, and she came over with a flashlight.  Together, they went to the basement to see if a fuse was blown.  That's when their nightmare began...Looking for our missing episodes? They are available free on our website www.tntcrimes.comIG & Facebook: @hardcoretruecrimeGet exclusive Online-Only and Ad-Free Episodes: www.Patreon.com/tntcrimeswww.tntcrimes.com
Mark Kilroy and his friends decided to go on Spring Break 1989 to South Padre Island in Texas. In the midst of their partying, Mark and his friends decided to cross the American/Mexican border one night to check out the nightlife in Matamoros, Mexico. Little did they know but Matamoros was holding a secret—people were disappearing at an alarming rate. On the night of March 14, 1989, Mark's friends lost him in the excitement of the night and reported him missing. When police finally uncovered what actually happened to Mark, it was a story that was unbelievable—one with black magic and the practices of Palo Mayombe at its core. Drug dealer and serial killer Adolfo Constanzo and his followers were running wild in Matamoros and they believed the more their victims suffered, the bigger the reward for the cult.  Listen to this week's episode to find out what happened to Mark during the last hours of his life. Looking for our missing episodes? They are available free on our website www.tntcrimes.comIG & Facebook: @hardcoretruecrimeGet exclusive Online-Only and Ad-Free Episodes: www.Patreon.com/tntcrimeswww.tntcrimes.comDon't forget to subscribe/follow us on your favorite app!Sources for this episode:Aldolfo Constanzo--Murderpedia.comSara Aldrete--Murderpedia.comPavementPieces.com Article
Brittany Killgore was a beautiful 22-year-old woman married to Marine Cory Killgore.   Originally from Pennsylvania, she moved to Fallbrook, California, near the Camp Pendleton base.  While there, Cory got sent to Afghanistan and their marriage fell apart.  In 2012, she filed for divorce and started packing to move back east.  Before she left, she really wanted to go on a dinner cruise called the Hornblower that her best friend Liz told her about. Brittany Killgore knew Louis Perez, his girlfriend Dorothy Maraglino and her best friend Jessica Lopez, through Liz.  Louis, Dorothy and Jessica were into the BDSM lifestyle.  Together, they shared a dark fantasy of kidnap, rape, torture and murder.  On April 14, 2012, they decided to act out this fantasy.  They tricked Brittany into believing she was going on the dinner cruise with Louis, but it didn't take long for Brittany to realize something was very wrong.  Ten minutes after being picked up by Louis to go on the dinner cruise, she texted a friend "Help."  That was the last anyone ever heard from her. Looking for our missing episodes? They are available free on our website www.tntcrimes.comIG & Facebook: @hardcoretruecrimeGet exclusive Online-Only and Ad-Free Episodes: www.Patreon.com/tntcrimeswww.tntcrimes.com
In the early morning hours of March 1, 2008, a call came into the local sheriff's department that there had been a shooting at the Caffey family home in Alba, Texas. The deputy that responded to the call found the Caffey home ablaze when he got there. Where were the family members—dad Terry, mom, Penny, and their three children Erin, Matthew, and Tyler? Who set the fire? Listen to this week's episode to find out the answers to all of these questions and more.Looking for our missing episodes? They are available free on our website www.tntcrimes.comIG & Facebook: @hardcoretruecrimeGet exclusive Online-Only and Ad-Free Episodes: www.Patreon.com/tntcrimeswww.tntcrimes.comDon't forget to subscribe/follow us on your favorite app!MurderpediaArticle in Texas Monthly By Pamela Colloff
The women of San Diego, California were near hysteria in 1990.  Headlines in the news read "Eerie Serial Killings Have San Diego Women on the Edge."  A monster was breaking into the apartment of young women during the day and murdering them.  Six women were killed within one year, and dozens of others were burglarized.   In addition, a handful of women barely escaped the clutches of this serial killer.  A profile was developed by the FBI who determined the assailant was a "signature killer" who was also a piquerest.  Unbeknownst to the police, they had spoken with the murderer, Cleophus Prince, Jr. on multiple occasions, but he didn't fit the profile, so they never pursued him as a viable suspect. Looking for our missing episodes? They are available free on our website www.tntcrimes.comDon't forget to subscribe/follow us on your favorite app!IG & Facebook: @hardcoretruecrimeGet exclusive Online-Only and Ad-Free Episodes: www.Patreon.com/tntcrimeswww.tntcrimes.com
United States