Discover
FE News: #FutureofEducation News Channel
FE News: #FutureofEducation News Channel
Author: FE News
Subscribed: 15
Played: 161
© Copyright FE News
Description
Thought Leadership, Good News, Events, Videos & Podcasts in #EdTech #Apprenticeship #Skills #FE #HE & #Employability
www.fenews.co.uk
Ufi VocTech Trust launched their VocTech Challenge White Paper in April, at the EdTech Summit, with a £2m commitment for grant funding, best practice sharing and sector partnerships to unlock the potential of digital technology to help those most impacted by the digital divide to get the skills they need for work. The initial "discovery phase" Challenge question to the FE community was "How can VocTech improve vocational outcomes for people most impacted by the digital divide and at greatest risk from the long-term impact of the pandemic on access to training and jobs? How do we then link those vocational skills to real employment opportunities?" A set of assumptions was published about the wider landscape Ufi had seen through their work during the pandemic and the desk research that they had undertaken. But the most important thing was to talk to people about their own lived experiences. Ufi undertook three months of consultations with learners, employers, and education providers of all kinds, to try to uncover what the big issues were for them. Participants were asked, what, in their direct experience, were the underlying needs of learners and employers? How can VocTech help with these needs? How can VocTech improve vocational outcomes / the working lives of those who need it most? And what could Ufi, either alone or with partners, do to reduce the digital divide? At the end of the process, a Green Paper was published focusing on the key findings: There was a lack of access to both devices and bandwidth and alongside that, learning design was not tailored to the devices that people were able to access content on Learners most at risk of digital exclusion have real issues of confidence and motivation which are real barriers to getting started and sticking with their learning Digital skills barriers remain prevalent, but are more complex than might be expected – not all young people are digital natives and not all older people lack digital experience It is particularly difficult to deliver practical skills remotely, and social aspects of learning need to be built into VocTech solutions The VocTech market is still a difficult one to introduce innovations into, and there is a need for champions in the sector to take a risk and adopt new approaches Ufi's mission is around vocational skills, so they were not in a position to address all of these issues. A subsequent White Paper was published with responses to the consultation, including the VocTech Challenge funding call and activities in partnership with other key organisations in the sector to address some of the wider questions. They are now in full flow delivering on the commitments made in the White Paper, but it's important to Ufi to continue to explore the themes that were uncovered, to see what's changing over time, so they are working on a 'one year on' analysis of what change they have been able to catalyse or support. The VocTech Challenge funding call applications are currently in the process of being assessed to make sure that Ufi funds those that are addressing the issue of confidence and motivation within their target learner group – finding out what really works for those learners most at risk of remaining disadvantaged by the digital divide. Ufi are looking for projects that really engage with users to find out about their underlying needs and they know that these user groups can have complex needs to help them gain the skills they need for work. But the VocTech Challenge is about more than Ufi's grants and learner needs. As part of the Discovery Phase for their Challenge process, Ufi spoke with teachers and educators across the sector to see what issues they were facing. It was clear that problems of confidence and motivation also applied to those supporting learners as they grappled through 2020 to learn new skills and work remotely. Ufi was well placed during the pandemic to fund a number of projects across the FE sector and private training providers to respond to the immediate needs of learners, and educators to keep delivering vocational skills in very difficult circumstances. As things are progressively returning to 'normal', Ufi is keen to see the VocTech that was adopted really embedded into daily usage, in a blended model or fully remote, depending on circumstances. And to champion what really good VocTech looks like, as an experience for staff and students. Initiatives like AmplifyFE run by the Association for Learning Technology are helping to share that message of 'what good looks like' and embedding best practice, and the VocTeach team are gathering and developing resources to help take the strain out of finding good online content. In this episode, Hilary Stringer, who co-ordinated the Challenge Discovery Phase will introduce guests Geoff Elliot, who worked at Pembrokeshire College and has led several Ufi funded projects and Peter Kilkoyne who is working with Pembrokeshire's Audactive project – an innovative solution that enables teachers to create learning activities so learners can have a 'conversation' with coursework and avoid using a keyboard.
Future of Assessment: Adapting assessment – this year and beyondHosted by Gavin O'Meara and Zac Aldridge (Director of Qualifications and Assessments, NCFE), we invited Chris Tubbrit (Product and Content Development Manager, NCFE) and Mike Saunders (Head of Quality Improvement, York College) to discuss how the pandemic changed the way we assess and award qualifications – and what this means for the future. At NCFE, four principles shaped the changes they made to their approach - supporting learning progress, maintaining rigour and robustness, streamlining and supporting centres, and working in partnership for the benefit of learners. After seeing hundreds of thousands of learners succeed in an exceptional year, this show explored what new and innovative methods of assessment emerged as a result of Covid-19.YouTube video playerThe discussion also looked at the challenges and barriers still being faced by learners and institutions (including the well documented impact of learning loss), the successes that we saw, and how we can better collaborate as a sector to drive learner success. Ultimately, the sector (and the world!) was not ready for the seismic change that it experienced - how we can build systematic resilience into the education eco-system so we are future proofed for whatever comes out way?
#AntiRacismInAction: Higher Education with Oliver Young, Charles Egbu and David Mba Episode 3 of 9 BFELG Livestreams #AntiRacismInAction - Making the Most of an Ethnically Diverse Britain, co-produced by BFELG and FE News, was aired today Monday 18th October.The Episode, #AntiRacismInAction: Higher Education, was special in that it featured Professor Charles Egbu and Professor David Mba, two eminent academicians who are *Black and who are leaders of Higher Education institutions in the UK. Black Vice-Chancellors and Black Deputy Vice-Chancellors are very few and far between in UK Higher Education.Professor Egbu is Vice Chancellor, Leeds Trinity University. Appointed in 2020, he is the first UK university Vice-Chancellor of African heritage. Professor David Mba is the Deputy Vice-Chancellor, Research, Knowledge Exchange and Enterprise, University of the Arts (UAL), London.In a sector where 25% of students are from Black communities, sadly, only 2.9% of university Vice-Chancellors/Principals (7 of 238) are Black. This situation is even worse than in Further Education where 8.1% (19 of 234) of college CEOs/Principals and 30% of students are Black. Very few board Chairs are from Black communities in both sectors and hardly will one find a Black leader in the senior hierarchy of regulatory bodies and organisations that provide both sectors with support. Black students are less likely to gain a place in high tariff universities or achieve a first or 2:1 degree. This cannot be right.Introducing the Episode and the Guests, Oliver Young, Chief Diversity Officer, University of Exeter Business School, and a member of the BFELG stated unequivocally: 'Anti- racism is the only way to cohesively advance our ambitions as a diverse and representative society. Anti-racism is a challenge we all need to take collective responsibility for, and address for our future generations.'Racial inequalities are a significant issue in higher education. This was identified as one of five fundamental guiding principles of Advance HE's Race Equality Charter (REC), formally launched in 2016. The Charter aims to improve the representation, progression and success of Black staff and students withing higher education.In 2019, the Equality and Human Rights Commission (EHRC) Report, 'Tackling racial harassment: universities challenged' uncovered 'widespread evidence' of racial harassment on university campuses and in November 2020 Universities UK (UUK) published guidance on tackling racial harassment in higher education. The guidance acknowledges that the higher education sector cannot reach its full potential unless it benefits from the talents of the whole population, and individuals from all ethnic backgrounds can benefit from the opportunities it provides. Importantly, the guidance acknowledges that racial harassment is just one manifestation of structural racism in higher education and points out that a wider programme of culture and policy reform is needed to tackle racism and racial inequalities of all forms.There are currently about 79 institutional REC members, 17 of which are award holders. A recent independent evaluation (March 2021) of the REC identified the need for greater strategic senior manager and institutional buy-in for race equality.Against this background, co-anchors Gavin O'Meara (CEO and Head of Digital, FE News) and Robin Landman OBE, and BFELG Executive Member, were in conversation with the featured Guests, exploring the particular Race Equality opportunities and challenges for the HE sector and their individual organisations and the specific HE system leadership actions necessary to make tangible and rapid progress.David touched on his links with the BFELG and highlighted UAL's Anti-racist Strategy. UAL is a collegiate university, specialising in arts, design, fashion and the performing arts. It is a federation of six arts colleges: Camberwell College of Arts, Central Saint Martins, Chelsea College of Arts, the London College of Communication, the London College of Fashion, and the Wimbledon College of Arts. UAL is also Europe's largest specialist art and design university and the world's second best university for Art and Design in the QS World University Ranking 2019 .Charles highlighted a specific initiative by Leeds Trinity University to address racial inequalities. The University has recently launched its Strategic Plan 2021-2026 which is built around the four strategic pillars of 'Education and Experience', People and Sustainability', 'Research, Impact and Innovation', and Careers and Enterprise' supported by the two key themes of Digital Futures and the Leeds City Region. Promotion of the principles of dignity, respect, social justice, equality, and inclusion to support each and every person in the University community is a stated important part of the Strategic Plan. The University's mission is rooted in its Catholic foundation and Leeds Trinity welcomes students from all backgrounds and beliefs.* 'Black' is used as an inclusive definition to refer to people from ethnically diverse backgrounds who share a lived experience of the effects of racism.
The Cure for Policy Amnesia? Edge's Learning from the Past project aims to do exactly what it says on the tin, learn from past experiences. We often talk about the loss of policy memory or policy amnesia and our project aims to revisit past educational policy initiatives in England that have influenced and driven change across the education system in order to learn from them.We have mainly focused on policy initiatives related to technical and vocational education, and those that have supported disadvantaged groups of young people, such as young people not in education, employment and training.Since February 2021 we have published a series of policy reviews developed by Edge's Emerging Researchers Network members. Each review offers a brief summary to support the understanding of policy context at the time and summarises what went well and what the challenges were. We aim to offer a neutral summary for the reader to draw their own conclusions. We also draw parallels with current policy initiatives where appropriate. The reviews are based on past policy documents, research evaluations and academic articles.So far we have reviewed, for example, Connexions, Entry to Employment, Young Apprenticeships, Technical Vocational Educational Initiatives and Education Business partnerships.Future reviews will include, for example, Train to Gain, the National Scholarship Programme and the Polytechnics.For example, we have reviewed two very topical past initiatives that have direct relevance now;Education Maintenance Allowance. andThe 14-19 DiplomasThe Education Maintenance Allowance (EMA) pilots were launched in England in 1999 to raise participation, retention and achievement rates in post-16 education among young people from lower income families. EMAs offer financial incentives, including weekly payments and achievement bonuses, to young people. The pilots were subject to one of the largest evaluations ever commissioned in the UK, and positive impacts were demonstrated. EMAs were subsequently rolled out nationally in 2004 and remained operationalised in England until 2011, when they were replaced by a less generous post-16 bursary programme. EMAs continue to be offered to young people in Wales, Scotland and Northern Ireland.Over a fifty-year period, an array of youth employment initiatives has been introduced across the UK. For example, starting in the 1970s, the Youth Opportunities Programme (YOP) offered six-month work experience placements to the young unemployed. This resembled the current Kickstart scheme, although the latter offers wage incentives rather than a fixed training allowance. By the early 1980s, youth unemployment had escalated to such an extent that YOP was the destination for more than half of all school leavers entering the labour market. In 1983, YOP was replaced by the much larger Youth Training Scheme (YTS), which attracted an enormous £1 billion annual budget, with an emphasis on expanding training opportunities for unemployed 16-18-year-olds. In contrast, the current Kickstart scheme has a total budget of £2 billion to meet the needs of a much wider age cohort, namely unemployed 16-24-year-olds across Great Britain until March 2022.The 14-19 Diplomas were announced in the 14-19 Education and Skills White Paper in 2005 but they never reached a full rollout. They were cut in 2010 when the Coalition Government took power. These middle track qualifications which could combine academic and vocational learning enabled learners to continue in further training, further studies as well as to enter employment. Diplomas were initially developed in 14 'lines of learning' that were linked to industry sectors. (However, in 2007 the Department for Children, Schools and Families (DCSF) announced the development of three additional general education subject Diploma lines in Science, Languages and Humanities.) Employer engagement in the Diploma qualification development was taken to a new level -employers were to contribute to and lead on the content of the new qualifications.The Diplomas were complex composite qualifications that were challenging to understand for the learners, their parents and employers. However, learners were able to complete a number of qualifications as part of their Diploma. Drawing parallels with the T-levels that are currently being developed, there are striking similarities. T-levels broadly cover similar industry sectors. There has been yet again great emphasis on engaging with employers in order to meet industry needs. Considerably greater work-experience is a fundamental part of T-levels – about 45 days in T-levels as opposed to minimum 10 days in Diplomas. T-levels are qualifications that may lead to all further training, further studies as well as to employment. So, what have we learnt from the 14-19 Diplomas?We consider it really important to understand previous policies – how they worked, what went well and what challenges they faced. This is essential to help us to identify the guiding principles, and build on and adapt the best ideas from the past to avoid repeating mistakes.
In episode 2 of the #VocTechFutures livestream, Ufi's Patrick Dunn will be exploring how VocTech is being used to provide accessible, personalised and high-quality learning in the prison sector. As part of the session we will hear from two organisations delivering innovative VocTech solutions: Meganexus, who provide access to education and training technologies and content across the UK prison sector, and who are working with Ufi to bring learning into every prison cell in the country; and Niacro who are using VR to deliver immersive training in construction skills.The discussion will spotlight how VocTech is being used to overcome the challenges of working in the prison environment and share insights into approaches and technologies that might be applied more widely. It will touch on how technology can improve access to learning in prisons, how learning can be better tailored and assessed to individual need using new technology, and how prisons and prisoners can use technology to find employment and career paths.
#FutureOfAssessment - Accessibility and Inclusion livestream Episode 2. This episode was hosted by Gavin O'Meara and Jessica Blakey (Assessment Design Manager, NCFE), we invited Gem Turner (award winning disabled lifestyle blogger) and Dan Howard (Director of Operations and head of EDI group, NCFE) to discuss the importance of accessibility and inclusion in assessment design and practice.
#AntiRacismInAction Episode 2: Employers and Employment with Grace Haynes, Amarjit Dhillon and Robin Ghurbhurun - Making the Most of an Ethnically Diverse Britain, was aired today, Monday 11th October and co-produced by BFELG and FE NewsIn a poignant and passionate introduction to the Episode, Grace Haynes, Head of People & Culture, Coventry City Council, said 'Anti-racism means everything to me'. Juxtaposing racism to Covid 19, she also said that we might have to learn to live with the latter, but we must never accept living with racism. She called for collaborative action to fight to ensure that eradicating racism is at the forefront of everything that we do.The Episode focused on #AntiRacismInAction: Employers and Employment. Co-anchors Gavin O'Meara (CEO and Head of Digital, FE News) and Stella Ngozi Mbubaegbu CBE, BFELG Executive Member, were in conversation with the featured Guests, Amarjit Dhillon, Turning Point's Chief Information Officer also with accountability for Commercial Ventures, and Robin Ghurbhurun, Managing Director, further education and skills at Jisc. Turning Point is a leading social enterprise with over 4,500 staff. It provides health and social care services that help over 100,000 people annually in over 300 locations across England, live they life they want. The organisation's vision is to constantly find ways to support more people to discover new possibilities in their lives. Amarjit Dhillon belongs to a small group of business leaders brought together by Sir Ken Olisa OBE, Lord-Lieutenant of Greater London, and Dan Brown, Founder and CEO of Positive Transformation Group. The purpose of the small group is to create cross-industry sector support for the message of Anti- racism in the business community throughout the UK in support of the BFELG's mission, working alongside Education. With a staff of approximately 900, Jisc is the UK higher, further education and skills sectors' not for profit organisation for digital services and solutions. It champions the importance and potential of digital technologies for UK education and research. Its vision is for the UK to be the most digitally-advanced higher education and research nation in the world. Jisc also welcomes customers from local government, public sector, non-profits and industry. Robin Ghurbhurun has been an outstanding supporter and advocate of the BFELG from its inception and Jisc as an organisation is also a strong supporter and ally.Responding to questions, both Guests talked about their personal and respective organisations' response to ethnic diversity, the steps they are taking to move forward on this agenda, their engagement with the BFELG and how the Corporate and Education sectors can work together. There were interesting observations about why given the 'business case' for ethnic diversity in corporate leadership - referencing the McKinsey Report 2020, Diversity wins: How inclusion matters, there appears to be very little progress in this area in UK plc.Amarjit highlighted the important role of wellbeing practices to address the race agenda and how Turning Point as an employer is applying these practices in the workplace and with their our own apprentices and are working with training providers to support them to apply the same offering to their schemes. Jisc has an interesting approach whereby Diversity & Inclusion and Race Equality are pursued as two separate strands of activity. Robin spoke about challenging staff recruitment, selection and development practice and also shared how the BFELG 10 point plan is being implemented across Jisc.Watch the Livestream for Amarjit Dhillon and Robin Ghurbhurun's suggestions for accelerating ethnic diversity in the workplace and their call to action to Employers!
How can VocTech support skills for work in FE? In this first episode, Sarah Axon, from Ufi VocTech Trust will explore what VocTech is, how it is being used and the impact it is having on learning delivery. Voctech are digital technologies that support vocational training and help improve skills for work. Voctech describes the digital tools which are used to teach vocational skills to adults: skills which will be used by the workforce in the workplace. What's the difference between edtech and voctech? Edtech is a generic term which covers all types of educational technologies used in all sorts of settings - schools, colleges, universities - for all sorts of educational purposes. Voctech is the specific application of edtech in a vocational context. While the basic technologies are the same, when applied in a vocational context for adults existing tools often need adjustment or redesign to ensure they work for adults in a work skills context. Ufi is an independent charity which has been around for c 10 years. We believe in the power of digital technologies to change lives; only through the use of voctech will we be able to scale up and give wide access to skills training and tackle the UK vocational skills shortage. Our aim is to catalyse change across the UK to achieve the change in scale that we need in vocational learning for adults. Grant funding projects which demonstrate how innovation in digital learning has an impact Investing via our Ufi Ventures programme in order to help create a market in voctech Working in partnership with organisations who have influence in the sector Helping to build the voctech community and sharing knowledge We've funded all types of organisations to demonstrate voctech in all types of innovative ways. In FE for example, there is some real innovation. Bracknell College is working with Century Tech to use AI to provide adaptive personalised learning pathways for students. Hereford and Ludlow College used augmented reality for their animal care course. The National College for Nuclear and Bridgewater and Taunton college used VR to create a safe place to practice skills for the nuclear industry. Ufi's VocTech Directory is a great resource for exploring other examples of how VocTech is being used. We understand the barriers to adoption of voctech in colleges. Resources – time and money are a real issue. FE colleges are really stretched. Government spending on FE has dropped by a third since 2010 (Institute for Fiscal Studies) and the budget for entire country is £3.5bn - less than the combined annual operating costs of Oxford and Cambridge universities. But the primary barrier has always been cultural – any change to how learning is delivered requires new skills and approaches, and that's a challenge. The pandemic forced a shift. Necessity became the mother of invention. During the pandemic technology ensured that learning and teaching could still continue. Our VocTech Now funding call provided immediate help to 11 FE colleges to help them make the transition. Some great work and creative problem solving emerged. CPD for staff is an ongoing issue and we are working with ALT to create a network of FE voctech professionals - Amplify FE. The future? AI will undoubtedly help unlock voctech in colleges. When online, AI mediates almost everything – Google, Google Scholar, YouTube, Facebook, Twitter, Instagram, TikTok, Amazon, Netflix. And AI will play a great role in learning – which we are beginning to see. AI can create content powerful personalised learning - at scale. Data-driven approaches can also deliver push techniques, such as nudge learning and spaced-practice. If AI is the rocket, data is the fuel. In future episodes the FE livestream will be looking in more detail at practical applications of VocTech and how they can be applied to FE.
Hosted by Gavin O'Meara and Janine Oliver (Head of Assessment Innovation, NCFE), we invited Olly Newton (Exec Director, Edge Foundation) and Isabel Sutcliffe (Independent consultant in Education and Skills) to discuss what assessment innovation means in practice and what the future holds, as we find new ways of working that meets the needs of learners and educators today.NCFE is focused on exploring the future of assessment to ensure that learners have access to the world-class products and services that help them to fulfil their potential, not just in terms of academic attainment or employment outcomes, but also their wellbeing, mental health and happiness. In order to achieve this, we know we need to look at assessment used in a variety of ways and at different stages of the learning journey - from pre-programme diagnostic assessment, formative micro and milestone assessment, through to summative end-point assessment and beyond.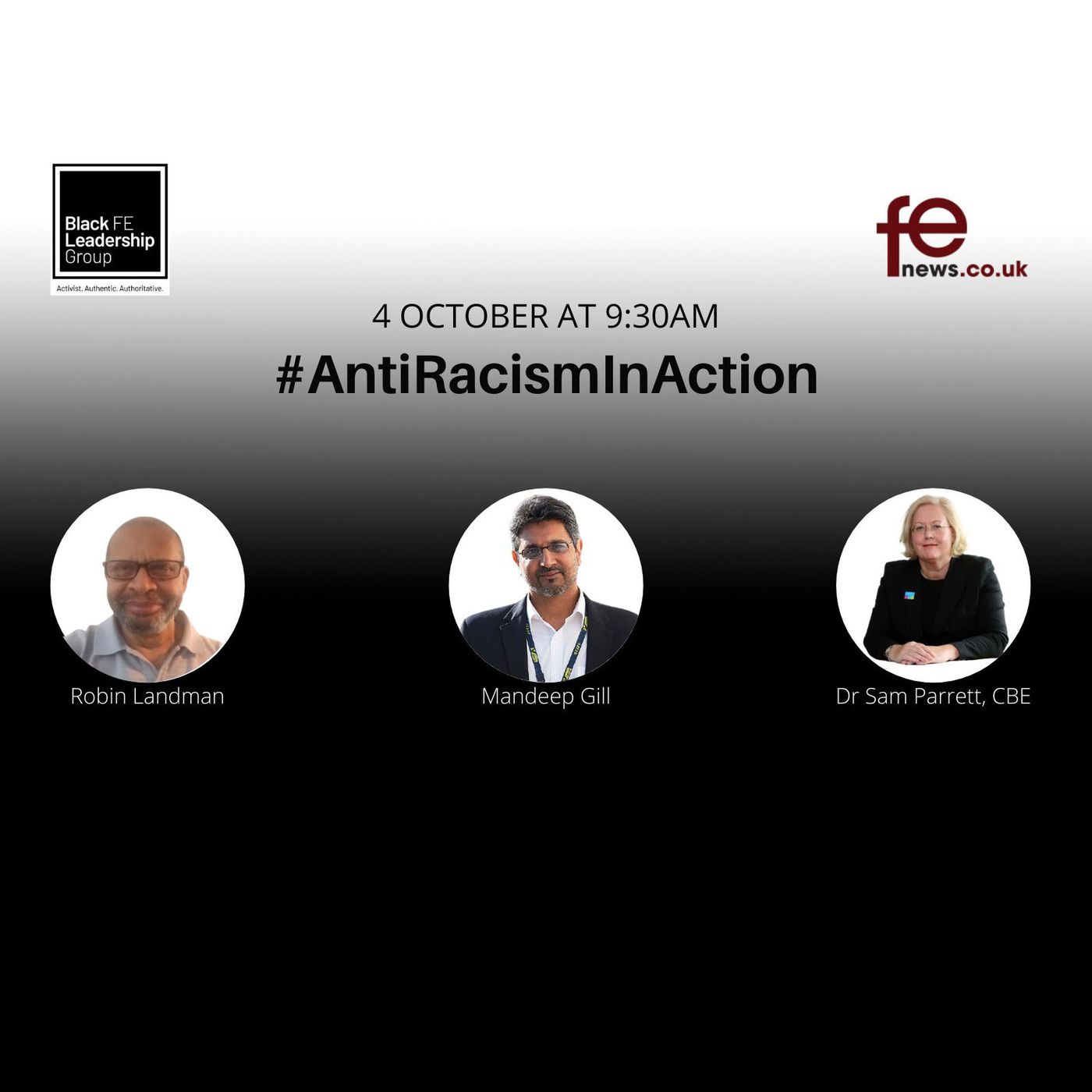 #AntiRacismInAction with Shaid Mahmood, Dr Sam Parrett OBE and Mandeep Gill BFELG Livestreams #AntiRacismInAction - Making the Most of an Ethnically Diverse Britain, co-produced by BFELG and FE News was launched today, 4th October, with the first of 9 Episodes.The launch episode was introduced by Shaid Mahmood, Chair of the Association of Colleges (AoC) and Chief Officer Transformation and Change, Leeds City Council who spoke powerfully about what #AntiRacismInAction means to him – personal accountability; common purpose; proactive, conscious, determined effort to tackle racism in all its multidimensional forms, and to eradicate it.Co-anchors Gavin O'Meara (CEO and Head of Digital, FE News), and Robin Landman OBE, BFELG Executive Member were in conversation with the featured Guests, Mandeep Gill, Principal and CEO, Newham Sixth Form College (NewVIc), and Dr Sam Parrett CBE, Group Principal and CEO of London South East Colleges (LSEC). Both CEOs were early signatories to the BFELG 'Open letter' and both institutions have affiliated with the BFELG. Board Chairs, Stephen Howlett CBE, DL (LSEC) and Martin Rosner (NewVIc), are strong supporters and allies of the BFELG.In a wide ranging conversation, Guests talked about their engagement with the BFELG, the particular Race Equality opportunities and challenges for the FE sector and their respective organisations, and touched on specific FE system leadership actions necessary to make rapid progress.Mandeep Gill touched on why data no longer matters and honesty does. The never-ending cycle of looking at data, getting shocked into action, the data shifting slightly and people patting themselves on the back for a job-well-done, only to come back to the data (often a few years later), getting shocked… is not having impact.Rather than the data, answer honestly the question: are we absolutely confident that we are treating each other fairly and respectfully? If not, then do something about it. A topic of discussion was LSEC's experience of developing a sustainable and long-term diversity and inclusion strategy which has led to the creation of their 'Enough is Enough – Tackling Racial Inequality' ten-year grants programme. The idea behind this programme is to enable students and staff to develop their own projects, tackling issues that are important to them. The College Group has committed funding over a 10-year period; sufficient time to bring about real, lasting change.
To mark the launch of Edge's new grant fund – the Edge Innovation Fund – Jane Samuels, Director of Projects and Operations at the Foundation joined Gavin O'Meara to talk all things funding.The Edge Innovation Fund is a new approach to funding for Edge. The fund, which opened on 14th September 2021 will stay open until the end of 2025. There is £300k available for the balance of 2021 and then the fund will be refreshed every 1st January until 2025. The minimum amount available is £20k and the maximum for a one year project is £100k. Projects which run for multiple years (up to a maximum of 3 years) can bid for up to the entire amount in the funding pot.Edge is looking for disruptive innovators with ideas and plans to challenge the current approach to education in the UK. All projects must support Edge's strategic aim for a broad, flexible and engaging curriculum, providing high quality vocational and professional education which is employer and community engaged. More details about the Fund, the criteria and how to apply can be found here.In the first episode of Edgy Thinking, Jane and Gavin discussed the new grant fund and how important it is to provide a source of funding for innovative education. They were joined by two organisations previously funded by Edge. Stefano Pacelli, at Blackburn College talked about their two successful bids, one centred on automotive engineering and one on eco-construction. Stefano stressed the Edge funding had allowed the College to not only develop state of the art facilities but also to provide lecturers the time and resources to develop deep and long-lasting employment engagement. This enables the College to put learners at the heart of relationships with local and national employers and engage with their community,The second guest was Harriet Bird, who is Senior Trusts and Grants Manager at the Barbican Centre. Harriet spoke about Edge's support for their Careers Rewired programme which looked to raise awareness and understanding of careers opportunity within the creative sector. Edge funding allowed the Barbican to develop a new approach to engagement with local schools which brought inner city students to the Barbican Centre for the first time and took creative professionals into the classrooms.Both Stefano and Harriet spoke about the challenges of securing funding and of the impact that the projects had had. Measuring the impact and evaluating the success of grant funded projects is key to Edge, who have recently released an Impact Report on the whole of their Grant Funding programme.
In this episode, Aman Merchant, the Co-Founder and Chief Provocateur at Radicle, a futures lab that delivers transformative solutions, discusses why he co-founded the RewirEd Sandbox. This global platform is set to transform education systems and will help bring together pioneers, leaders, and innovators within and beyond the education sector to design 'RewirEd Provocations', the solutions to some of the biggest challenges facing the education system globally today.With 1.6 billion children missing out on an education – the RewirEd Sandbox will help create the RewirEd Provocations, north-star statements or questions that will help to move current thinking from the usual to the unusual and address systemic, complex, and structural challenges impacting the education system. The RewirEd Sandbox and Provocations will help shape the new global narrative for the education sector, and will be presented on a global scale at the RewirEd Summit during Expo 2020 Dubai.For more information on the RewirEd Sandbox and Provocations, visit: https://provocations.rewired2021.com/homeThe RewirEd Summit will be held on December 12th to 14th, 2021 at Expo 2020 Dubai.
Due to the pandemic we have seen drastic changes within the World of Education, changes to the World of Skills, changes to the workplace and new skills required by employers. The pandemic has shone a spotlight on traditional qualifications, employability for young people and disadvantaged groups, mental health and wellbeing and as a result of the pressures of the pandemic, the fourth industrial revolution has become a reality; so Gavin from FE News chats with David Gallagher about the future of education, the future of work and employability.They also discuss the future of qualifications, the currency of qualifications and what the future could be for qualifications. They also discuss how the sector can come together to offer impactful change to learners, employers and to communities.
Juliet Kyobweine, Deputy Program Manager at Educate talks about the need to equip young people in Africa with the skills to attain further education, overcome gender inequities, start businesses, get jobs, and drive development in their communities.
#NoLearnerLeftBehind - Welcome to the first @FENews #Livestream in conjunction with @CognAssist We all know that learner dropout is a serious issue. Approx 35% of Apprentices drop out. The big question is, how do we prevent apprentices from dropping out?Your host is Gavin O'Meara, CEO of FE News and your panelists are:Dr. Louise Karwowski, Director of Education, Cognassist,Sally Dicketts, AoC President and CEO Activate Learning, and Helen Wilson, Science Communication Manager, Cognassist and handbook author of How to Prevent your Apprentices from Dropping out.The panel explores how recent events have impacted dropout rates of Apprentice completion rates. We explore if non-completion rates are an age old problem and the panel shares successful tactics reduced Apprentice dropout, particularly for learners with Additional Learning Support needs.The panel then explores the recent updates from the ESFA and the new rules added for August 2021. These are updates from ESFA to Apprenticeship Rules 21-22, the panel in particular focus on the new rules about Additional Learning Support and how the ESFA is discouraging blanket screen learners, which appears counterintuitive.The panel discuss the new ESFA recommend changes and how this will have an intended knock on effect for learner outcomes and Apprentice drop out rates.How would the proposed ESFA changes could impact the ability of colleges and ITPs to properly fulfil their legal requirements of the Equalities Act 2010 and how the changes could impact the Ofsted requirement to establish starting points and tailor delivery to all learners?Check out the livestream with Gavin, Sally, Louise and Helen who explore how to Prevent Apprentice Dropout, particularly with learners with Additional Learning Support needs
#VirtualCoffee podcast with Mims Davies, Minister for Employment
#RewirEdSummit - Dr Tariq Al Gurg, CEO @DubaiCares, joins this @FENews podcast episode to discuss RewirEd; a Dubai Care's led initiative in partnership with Expo 2020 Dubai and in close coordination with the UAE Ministry of Foreign Affairs and International Cooperation (MoFAIC), delivered in partnership with global stakeholders.This first of its kind global platform is calling on the international community to rethink and reimagine the future of education, for a prosperous and sustainable future, by encouraging disruptive dialogue and empowering new and diverse voices as pillars of a future-ready global education ecosystem.Dr Tariq Al Gurg discusses the current global problems the education sector faces, the potential solutions to "rewire" education and the current initiatives in place by RewirEd to take action, including the upcoming RewirEd Summit; a ground-breaking 3-day global education Summit taking place in December 2021 in the UAE, which will bring together key education stakeholders from around the world to collectively tackle education challenges by exploring entirely new approaches as well as offering participants a unique opportunity to agree on a shared vision and concrete action.
Welcome to Episode 4 and the final instalment of the #ExploringNeurodiversity podcast, a co-produced podcast mini-series brought to you by @FENews and @CognAssist.In this episode, your hosts Gavin O'Meara from FE News and Louise Karwowski, Head of Science at Cognassist are joined by Charles Dall'omo, CEO of Train Together and his colleague Nicola Clark, Senior Learning Coordinator at Train Together. This episode of Exploring Neurodiversity is called Implementing Inclusivity. We are joined by Charles who will share some ideas and tips from a CEO or Leader perspective and Nicola from a delivery and operational perspective. Nicola is an Inclusivity Champion, so it is fantastic to hear from someone who has lived and successfully breathed successful inclusivity implementation. Charles discusses how communication is key, not just with the team and staff members, but also with key stakeholders. Charles shares some tips on how they successfully rolled out an inclusive model in their Training Provider. Nicola then shares how to support individual Neurodiverse learners, but most importantly how to equip and support all of the team to support learners.Please check out the podcast below to hear how Charles and Nicola have Implemented Inclusivity to support Neurodiverse learners, so #NoLearnerIsLeftBehind:
Welcome to Episode 3 of the #ExploringNeurodiversity podcast, a co-produced podcast mini-series brought to you by @FENews and @Cognassist.In this episode your hosts Gavin O'Meara from FE News and Louise Karwowski, Head of Science at Cognassist are joined by Karl Bentley from RSM to discuss Neurodiversity Funding Fears. Karl has over 20 years in the FE sector and is a funding, data and audit specialist.We explore what additional funding is available to support Neurodiverse learners and how the funding is available to support all learners from levels 2-7.Louise explains that from over 100,000 learner assessments completed so far at Cognassist, that on average one in three Apprenticeship learners at level 3, are being identified as requiring additional support for Neurodiversity. So this is a massive challenge and need and highlights the importance of providers utilising the additional funding to support their Neurodiverse learners.Karl and Louise then explore why Training Providers and Colleges could be hesitant to take this additional funding due to funding clawback. Karl shares some best practice tips to evidence additional support for Neurodiverse learners, particularly around Assessment of Need, Planning and Evidence of Activity for the learner.Karl explains how colleges and providers should evidence additional learning for Neurodiverse learners and the importance of all of the team working together to evidence additional support and the importance of quality compliance. Karl also explains the importance of data, how long to keep the data for each learner, data security and the importance of planning for the long term security of your data.We then explore what an actual Audit looks like and what an auditor will be asking for and how to start preparing the evidence and impact of the additional funding support for learners.
Exploring Neurodiversity Podcast – Steps to Outstanding with Marina GazeWelcome to Episode 2 of the Exploring Neurodiversity podcast, a co-produced podcast mini series brought to you by FE News and Cognassist. In today's episode your hosts Gavin O'Meara from FE News and Louise Karwowski, Head of Science at Cognassist are joined by Marina Gaze to discuss Steps to Outstanding. Marina is an expert in quality processes and used to be the Deputy Director for Further Education and Skills at Ofsted. Marina shares her views and insight for Providers, Colleges, Individual educators and teams to be outstanding everyday when supporting learners with Neurodiversity, not just when thinking of Ofsted of the new Education Inspection Framework. In this Exploring Neurodiversity podcast we explore what steps we can take to encourage teams to be outstanding when we support learners with Neurodiversity. Marina and Louise explore how to start to remove the stigma and encourage everyone to be open and comfortable talking about Neurodiversity and supporting Neurodiverse learners. Marina explores Providers responsibilities around quality, particularly with Ofsted in mind whilst supporting Neurodiverse learners. She also unpacks the recent Education Inspection Framework – (EIF), changes, particularly for supporting Neurodiverse learners. As the key changes came in September 2019, which was only about 6 months before the pandemic and the lockdown measures came into force in the UK. As Covid-19 has transformed education delivery, we explore moving forward into the next stage to the response to the pandemic, how can we ensure that no learner is left behind? We also explore what the future of hybrid learning, online learning and face to face learning could be in FE and Skills, and what lessons can be learned whilst supporting Neurodiverse learners. Marina then provides some helpful advice and insight as to what happens in an actual Ofsted Inspection (she used to be the Deputy Director for Further Education and Skills at Ofsted) and discusses data and what is a 'Deep Dive' when it comes to an Ofsted inspection and what should providers, their teams, so basically everybody be evidencing and keeping as data from now to prepare for this.? To close the podcast we discuss how we can encourage high quality provision everyday and by everyone across the sector for every learner, particularly neurodiverse learners and to 'keep it real', not just for an Ofsted tick box or aiming for the Ofsted quality badge. Check out the Exploring Neurodiversity – Steps to Outstanding podcast:
United States